Reception (The Seals)
Fortnight beginning 6th June 2019

Fortnight beginning 6th May 2019

Fortnight beginning 23rd April 2019

In Reception, we have been reading the story of Jack and the Beanstalk. The children have enjoyed writing all about Jack and his adventures and some children have even had their writing published on Pobble! All of the children are very proud of their work and so are all of the adults. They are trying extremely hard to become more independent in their writing and use the classroom environment for support. In Maths, the children are trying very hard to consolidate their number recognition and formation.
The class have also started their afternoon sessions with the ECO centre and Mrs Sherwood on a Friday afternoon. They are learning all about the outdoors and how to care for plants and animals. We have also been busy planting our own beans and we are tracking their growth weekly to see how they are coming on.
Fortnight beginning 25th March 2019

In Reception, we have had a lot of fun learning all about dinosaurs. The children now know lots of interesting facts and show-cased their knowledge when one of the dinosaur eggs hatched and the baby dinosaur escaped! Luckily the dinosaur left us lots of clues so we were able to work out that our baby dinosaur had 4 feet, which he moved slowly. Plus, he left lots of half eaten leaves, which suggested that he must be a herbivore. Mr Bedford then came to say that a tree had been knocked down on the back field, which confirmed our dinosaur must have been eating leaves and knocked the tree down with his long neck. The children used their clues to help write wanted posters so we could catch our dinosaur. The posters were very informative and the children really showed off their fantastic writing skills. Next we are looking forward to learning all about Spring and Easter.
Fortnight beginning 11th March 2019

Fortnight beginning 4th February 2019

In Reception, the children have finished looking at Space. They have really enjoyed the topic, learning lots of new facts and contributing to the learning environment. The children especially enjoyed their alien party for 'Nog' the visiting alien.
This term, we are moving on to dinosaurs and so far the contributions from the home learning activity have been fantastic. The children have been very proud to show their excellent work and tell us lots of interesting facts about dinosaurs. We'll continue to explore dinosaurs, their diets, physical features and habitats. The children are also looking forward to our PE sessions on a Wednesday with Mr Parker as well as Balanceability.

Fortnight beginning 21st January 2019

In Reception we have continued our journey into space. The children have visited the moon and now the children have decided to plan their own space party with aliens. The children wrote their own invitations to the aliens, which we then sent off into space with a helium balloon. We even had time to make our own telescopes to watch our invitations float into space! The children have also been using their phonics skills to help us come up alien names such as 'Zeeb', 'Quort' and 'Shurp'. The children did a fantastic job at sounding out the diagraphs and finding them on the sound mat.
In Maths we have moved onto subtraction. We have talked about how this is the same as 'take away', and the children have shown a good understanding of what will happen to our number or group of objects when we take away. They are looking forward to showing you their maths skills on Tuesday 12th February during our join in session.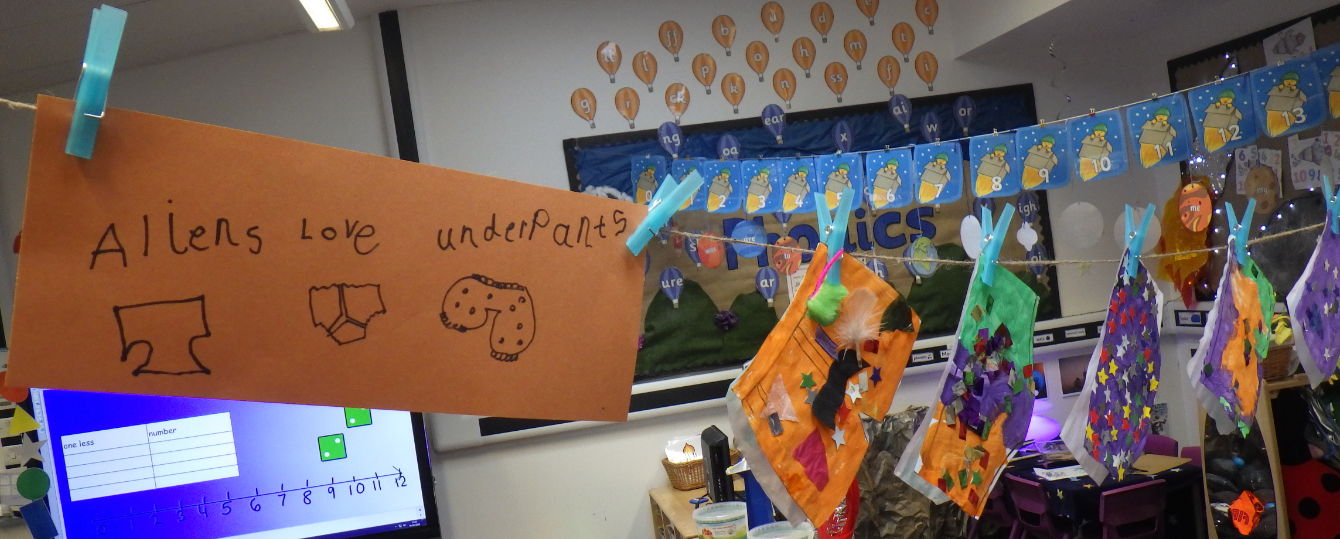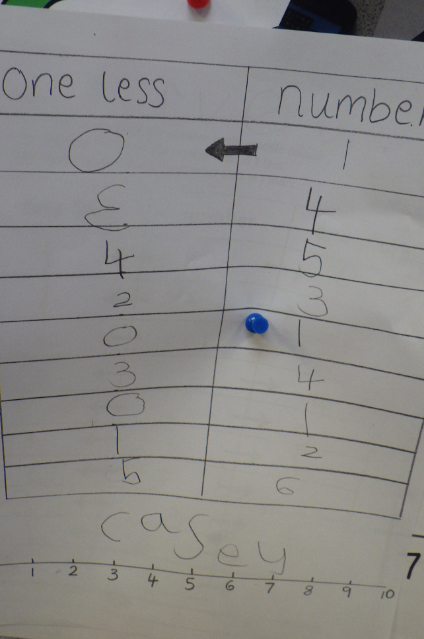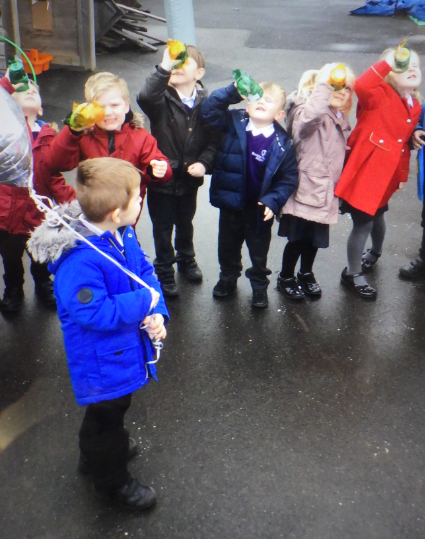 Fortnight beginning 7th January 2019
Reception have been to space! We have made passports and space hats for our visit the moon and the children had to follow a set of instructions to make their own jam sandwich to take as a snack. They have also been exploring our Solar System and we have been busy planning what we want to find out. So far they have decided to look in more detail at the moon and we have been busy using the internet and non-fiction books to find out lots of facts. In Maths, the children have been using their addition skills and they have been completing their own addition calculations using classroom resources. As well as this, we have been looking at capacity and have been making different measurements of rocket fuel for our spaceship. We are continuing to look at 2d 3d shapes and their properties.
Fortnight beginning 3rd December 2018
In Reception, the children have been working extremely hard on our Nativity and they have worked very hard with their singing practises and remembering lines. The children were very proud of themselves at the end of their performances and I know the staff are also very proud of the children too!
Back in the classroom we have been working very hard in our phonics and remembering what a diagraph and trigraph are! Our next task is to be able to spot them in words when reading and using our sounds mat to help us to write a word. In Maths, we have also been working on 'one more' using numbers up to ten. Now we have moved onto addition and introduced the children to the + and -symbols. We have had lots of discussions about what these symbols mean and tell us. We will continue with addition until the end of term and move onto subtraction when we get back in the New Year.
Fortnight beginning 19th November 2018
In Reception the children have had lots of fun learning all about Robots. We have been reading lots of Robots stories and comparing them against a selection of non-fiction texts related to technology. The children have also been creative and created a 3D model of 'No-bot', the Robot without a bottom!
As well as this, the children have been discussing the different uses for technology at home and exploring gadgets with button and switches. In our role-play area we have many household gadgets such as hoovers, irons, kettles and telephones. The children have been busy 'tinkering' using their own screwdrivers to try and take them apart and see how they work!
Fortnight beginning 5th November 2018

In Reception, we have finished our work on pets and the children were very excited when Busby the dog came to visit. He was very well behaved and the children had lots of questions ready to ask his owner.
Last week, we looked at our teeth and the importance of being healthy. We discussed why we need to keep our teeth clean and what would happen if we didn't! We turned our role play area into a dentist's surgery with lots of medical equipment and the children enjoyed visiting the dentist and showing them their teeth. On Wednesday, we even had a visit from a real dentist and he came to talk about his job. The children had lots of questions such as, 'How many teeth do we have?' and some children let the real dentist check their teeth in our own surgery. To finish the week, the children did an experiment with eggs and different drinks to see which was best for teeth.
Fortnight beginning 15th October 2018

In Reception, as part of our topic 'This Is Me', the children want to look at pets. We have turned our home corner into a vets and the children are enjoying looking after and caring for lots of poorly animals. We have talked about how a Vet is a special person because they help animals and we are even going to be having a four legged animal in the classroom very soon so we can learn even more about what happens when we visit the vets.
The children have also been busy celebrating Halloween. The children had a Busy Worker job to make their own magical potions after reading our class story of 'A Magic Muddle'. The children were very inventive with their potions and used lots of impressive vocabulary.

Fortnight beginning 1st October 2018

This week in Reception, we have been finishing our work on Autumn and animals that hibernate. After reading our story 'Don't Hog the Hedge' the children had a surprise package from an animal that needed their help! We had a hedgehog that wanted Reception to help build a new comfy home ready to hibernate in. The children came up with some suggestions and ideas of how to keep the hedgehog warm and cosy and went on the field to make it. We are all working very hard in Phonics and are trying very hard to blend sounds together. We are also working on our handwriting and how to hold a pencil correctly! It's a bit tricky but we keep trying our best. In Maths, we have finished our work on 2d shapes. The children have been on a shape hunt around school, which has been uploaded onto Tapestry for you to see. Next week we are moving onto positional language.

Week beginning 24th September 2018

The children have had a very busy week learning all about the festival of 'Harvest'. We started our week by discussing what we know and we can celebrate the special festival. The children decided after talking about farmers and growing vegetables that they wanted to make their own vegetable soup. The children had lots of fun naming the vegetables and developing our vocabulary by describing their textures. We also spoke about the importance of using knifes when cutting the vegetables and how to stay safe. Once our soup was cooked the children had a lovely afternoon trying their creation with some delicious bread.
If you have set up your account on Tapestry please remember that you can also add your own comments and observations from home. We will add some ideas for you to get busy with at home all about 'Autumn'. Thank you for your continued support.

Week beginning 17th September 2018
This week in Reception the children have continued to look at the topic 'Superheroes'. We had a special message delivered by the 'Cheese Monster' and the children had a great time discussing and coming up with a plan to save the moon! The children have even been making special potions to give them their own superpowers.
We are continuing to work very hard with phonics and the children are showing their resilience by beginning to blend simple words. Don't forget the phonics information session after school on Thursday 27th September at 5:30pm. The children are developing their counting skills and are working hard to count, recognise and order numbers up to 20.

Week beginning 10th September 2018
The children have had a very busy week this week and we have been looking at some of their personal interests. The topic we decided to look at was 'Superheroes'. The children have had a fantastic time dressing up as their favourite superheroes, reading superhero stories and creating their own hero using their handprint and paints.
We have also started our phonics sessions and they are going very well. The children are working very hard to remember each new sound and are looking forward to learning more. Keep an eye on the school calendar for our parent sessions on how Phonics works. The children also had their first PE session on Friday and they were great at getting changed and remembering to look after their clothes!
Week beginning 4th September 2018
This week in Reception, the children have all had a fantastic week. The adults have been extremely busy getting to know everyone and the children have settled well into our class routines. We have spent a lot of time talking about our expectations, including behaviour, and the children are responding very well. At the moment we are busy getting to know the children and their abilities, strengths and areas to develop. The children have been painting pictures of themselves in their new uniform and we have been sharing their 'All about Me' work completed over the holidays.
Next week we are all looking forward to our first PE session. This will be every Friday morning so can you please make sure earrings are removed. Also don't forget water bottles every day. Thank you for your support in the transition.