Year 4 (The Lemurs)
Red Nose Day 15th March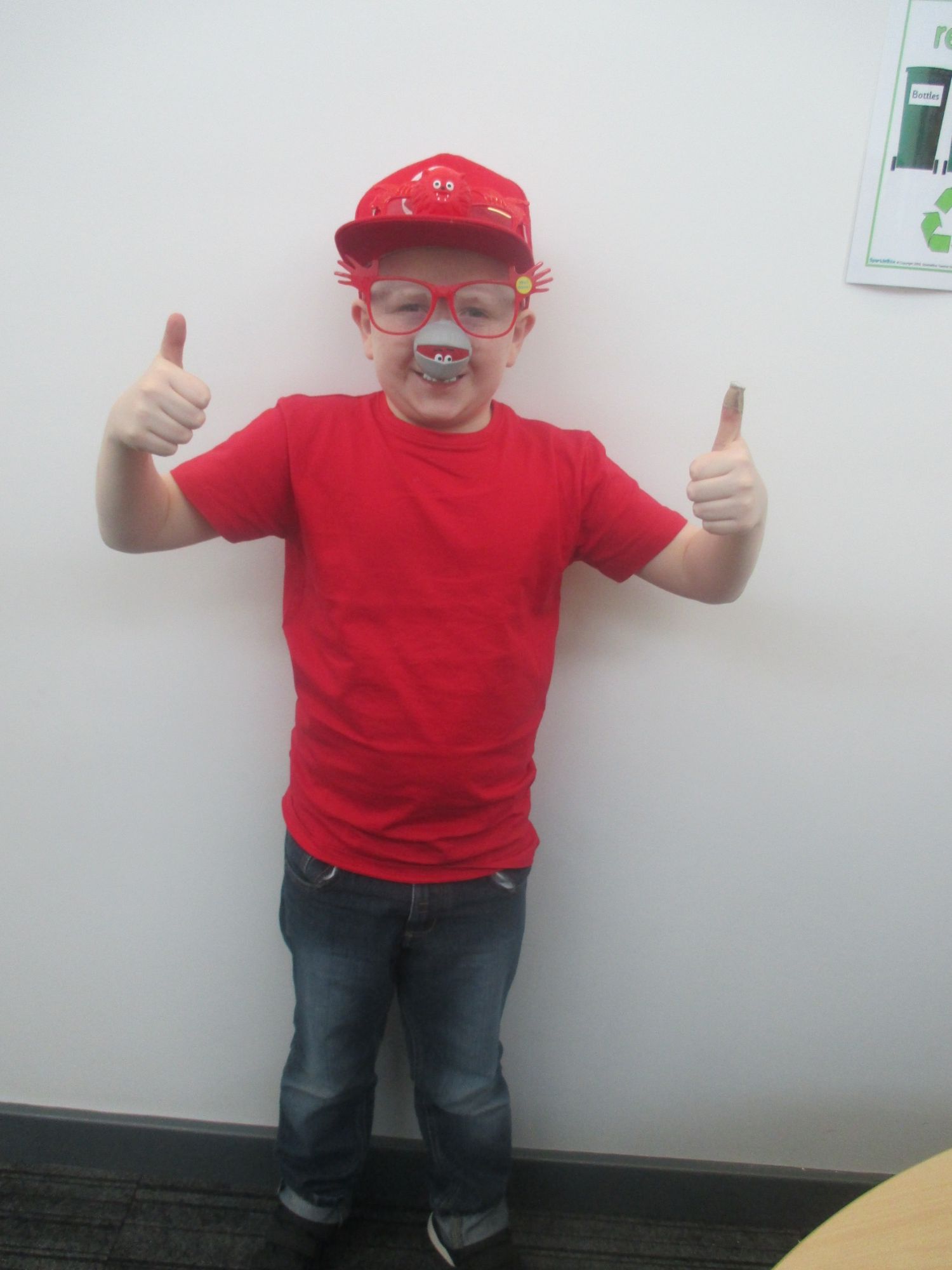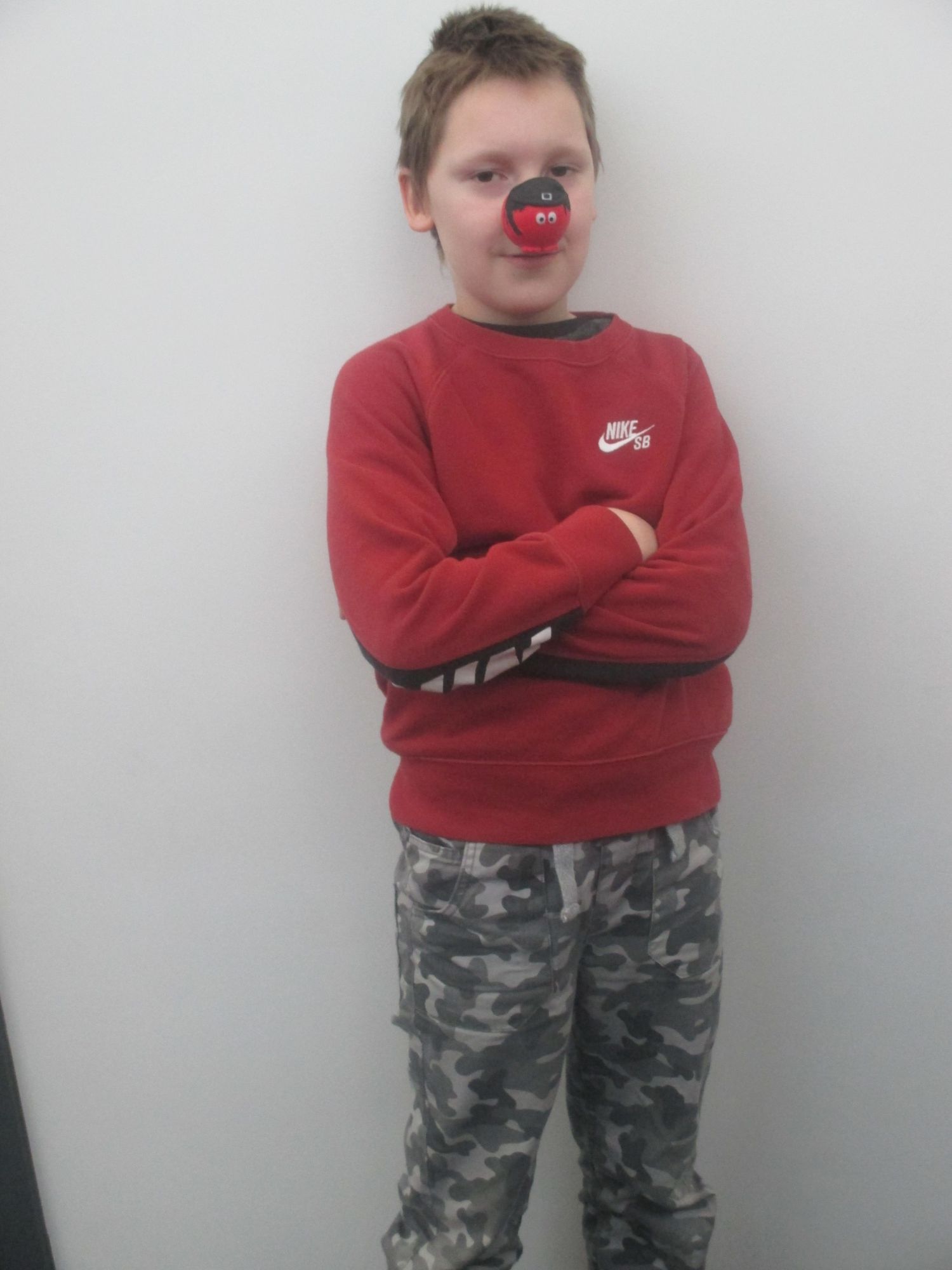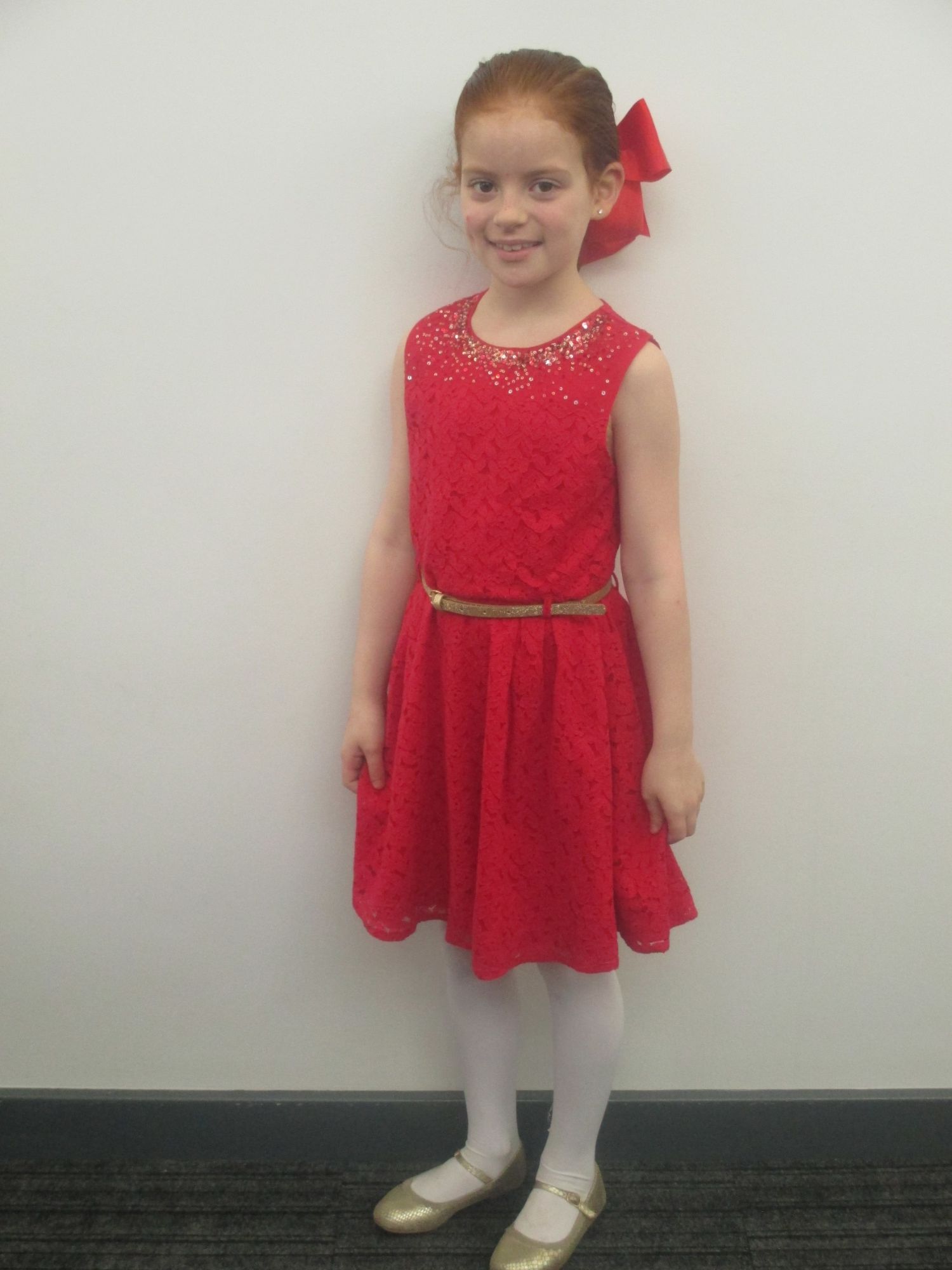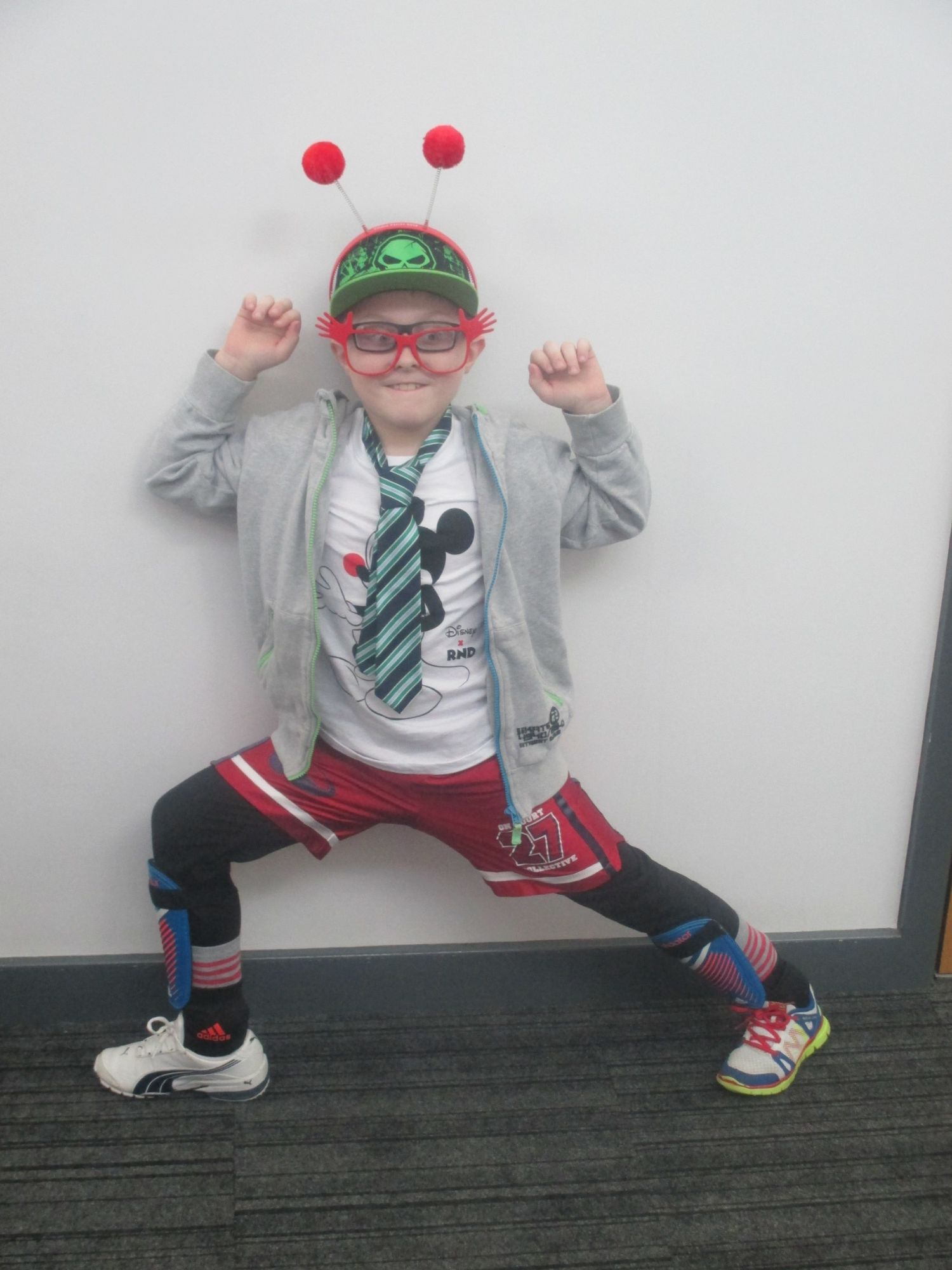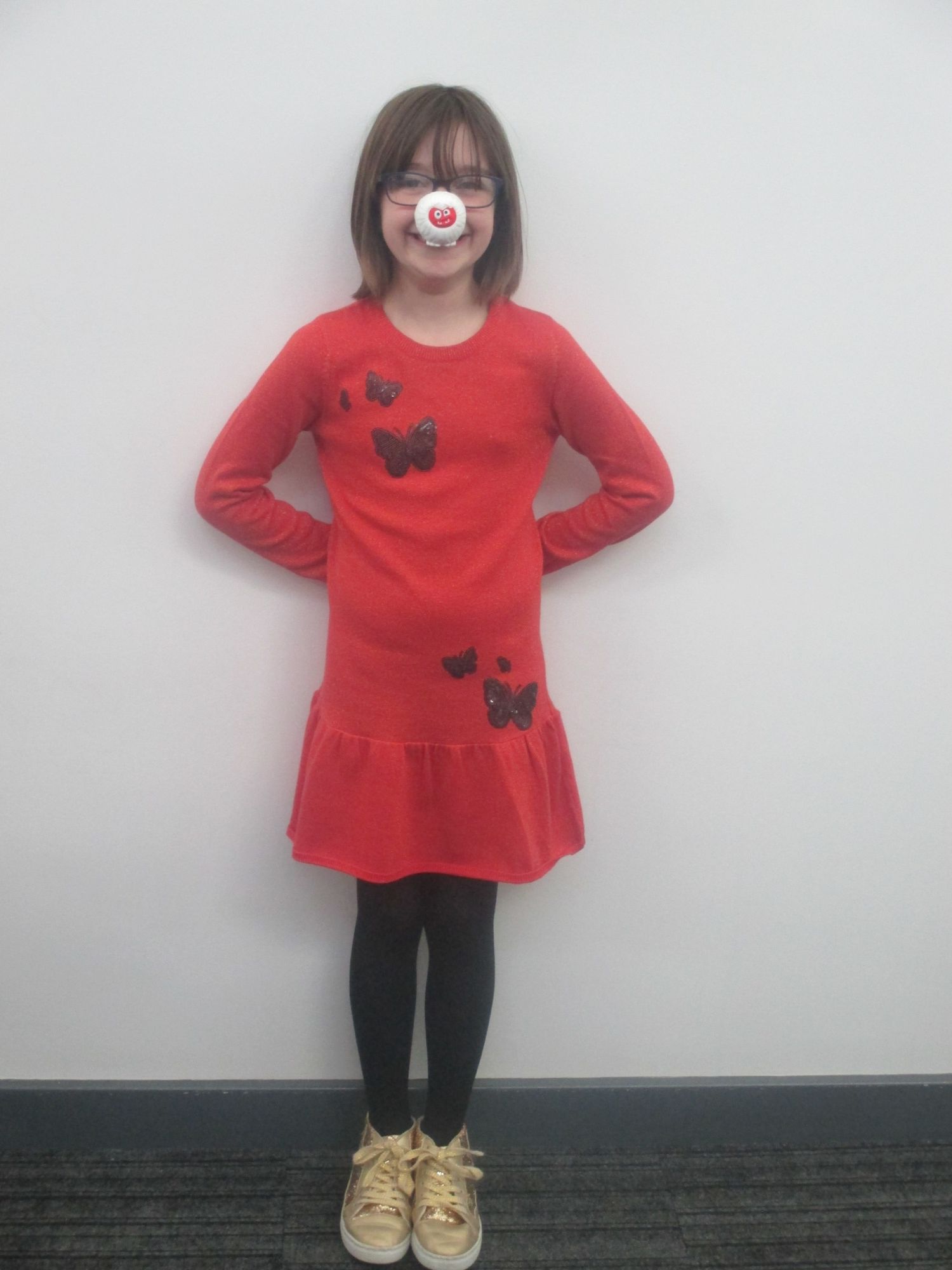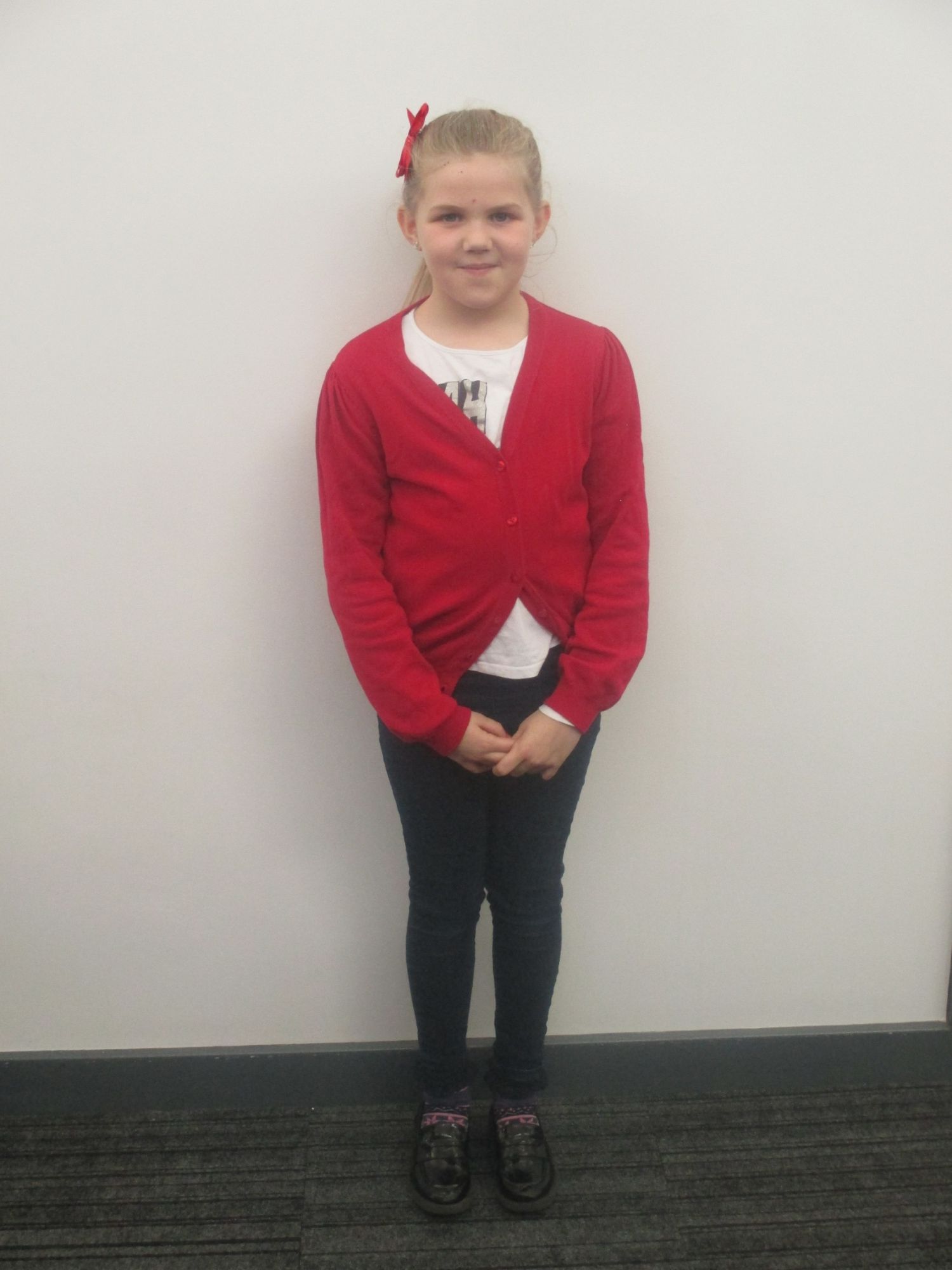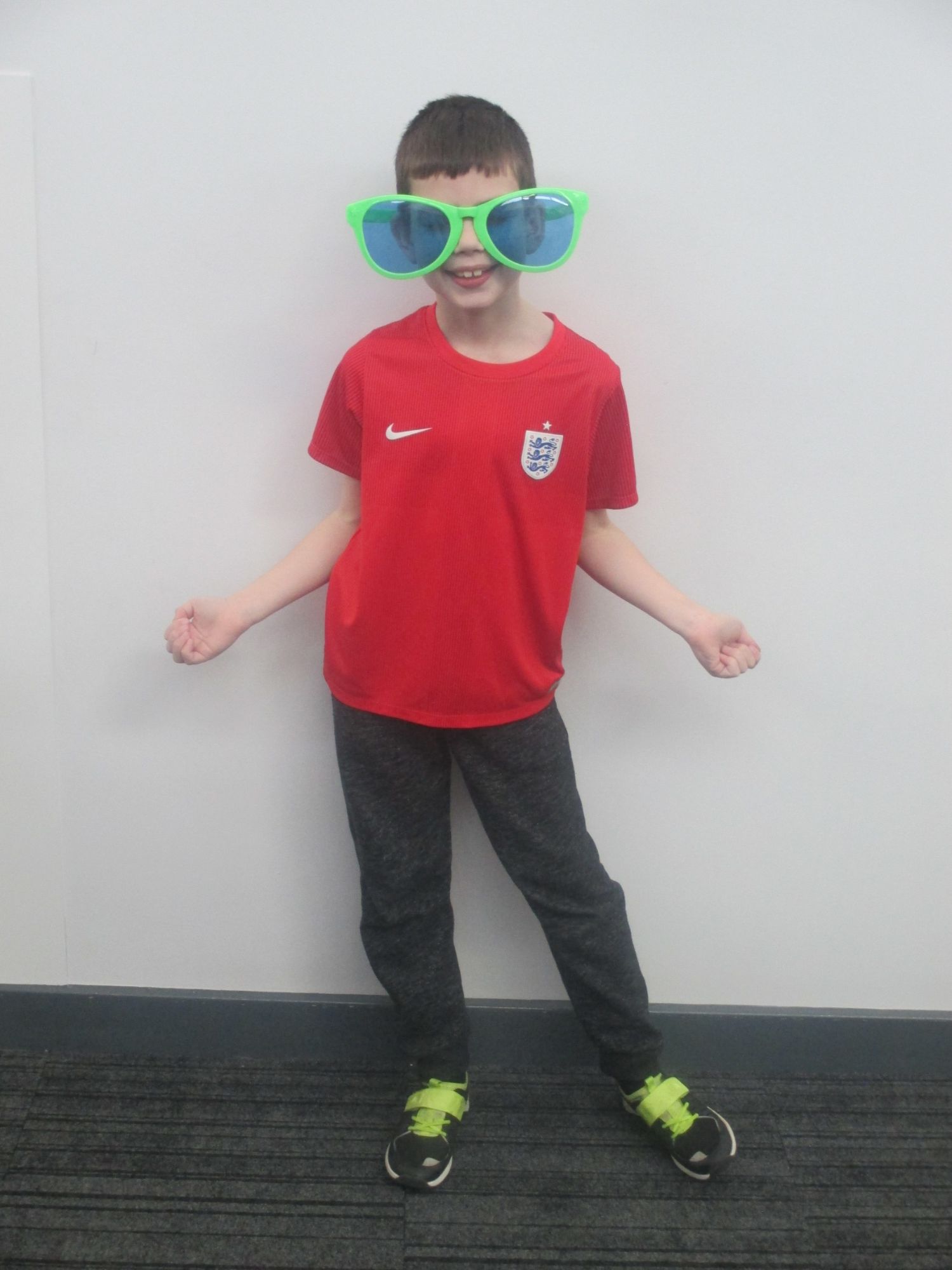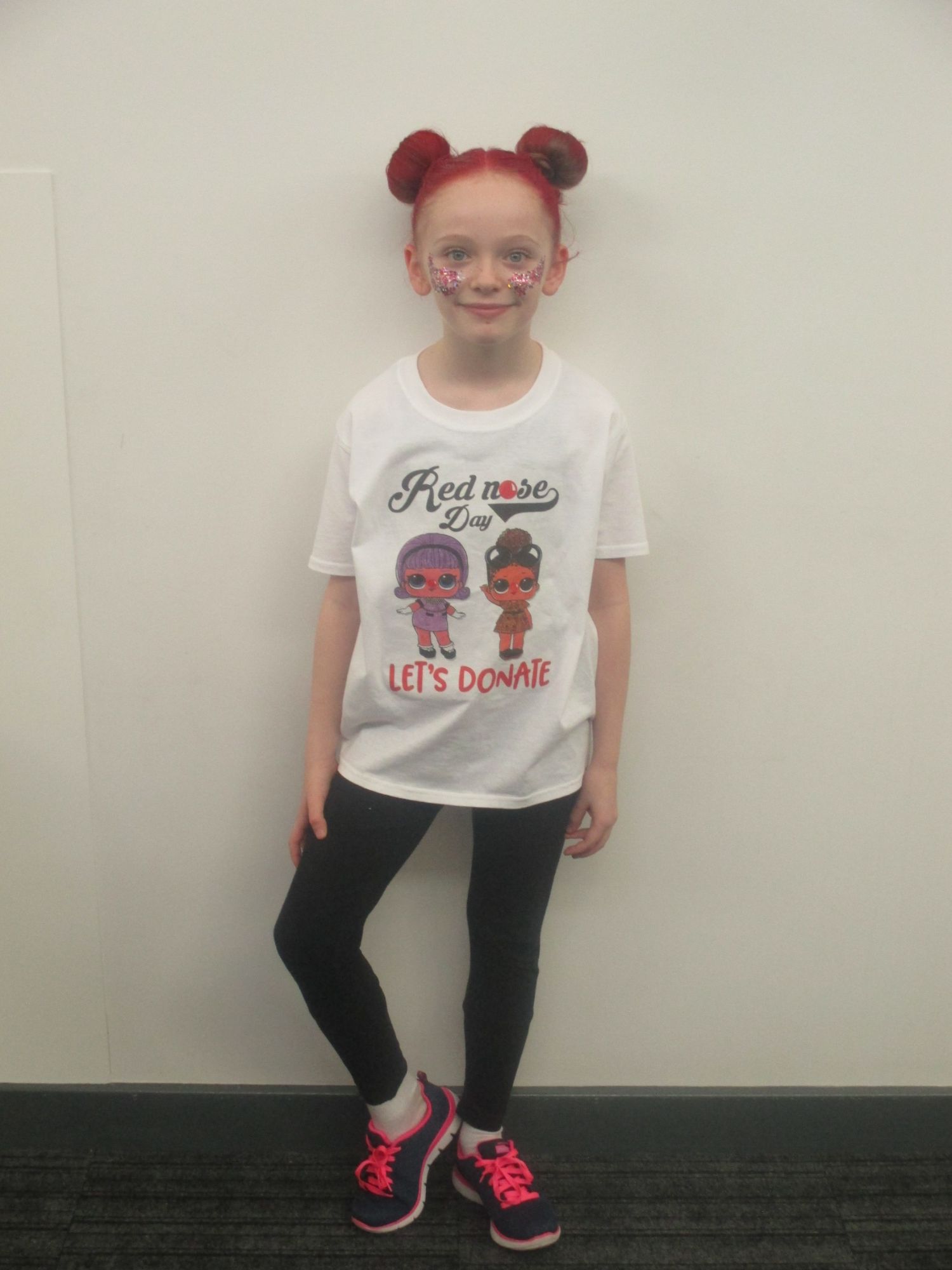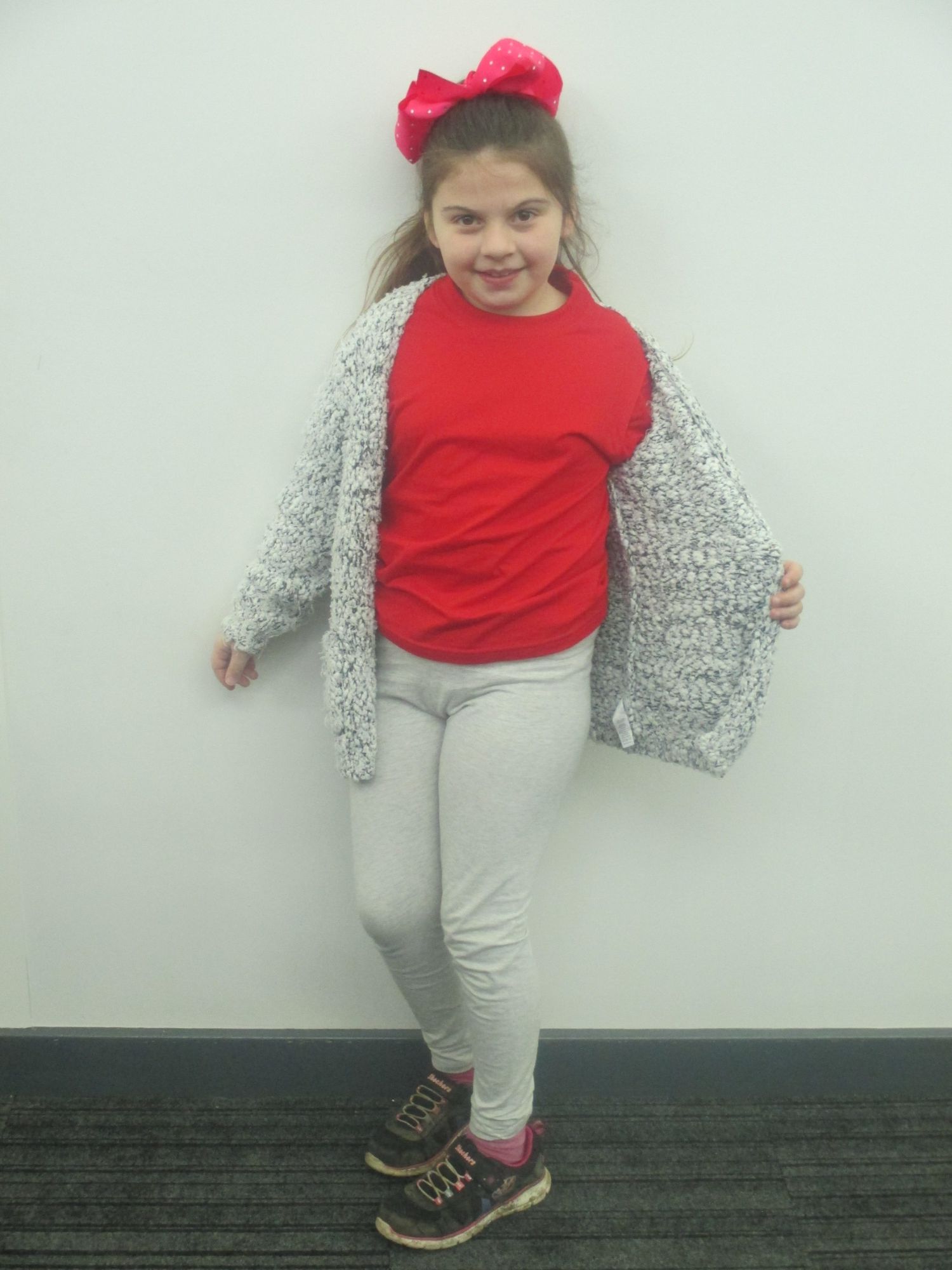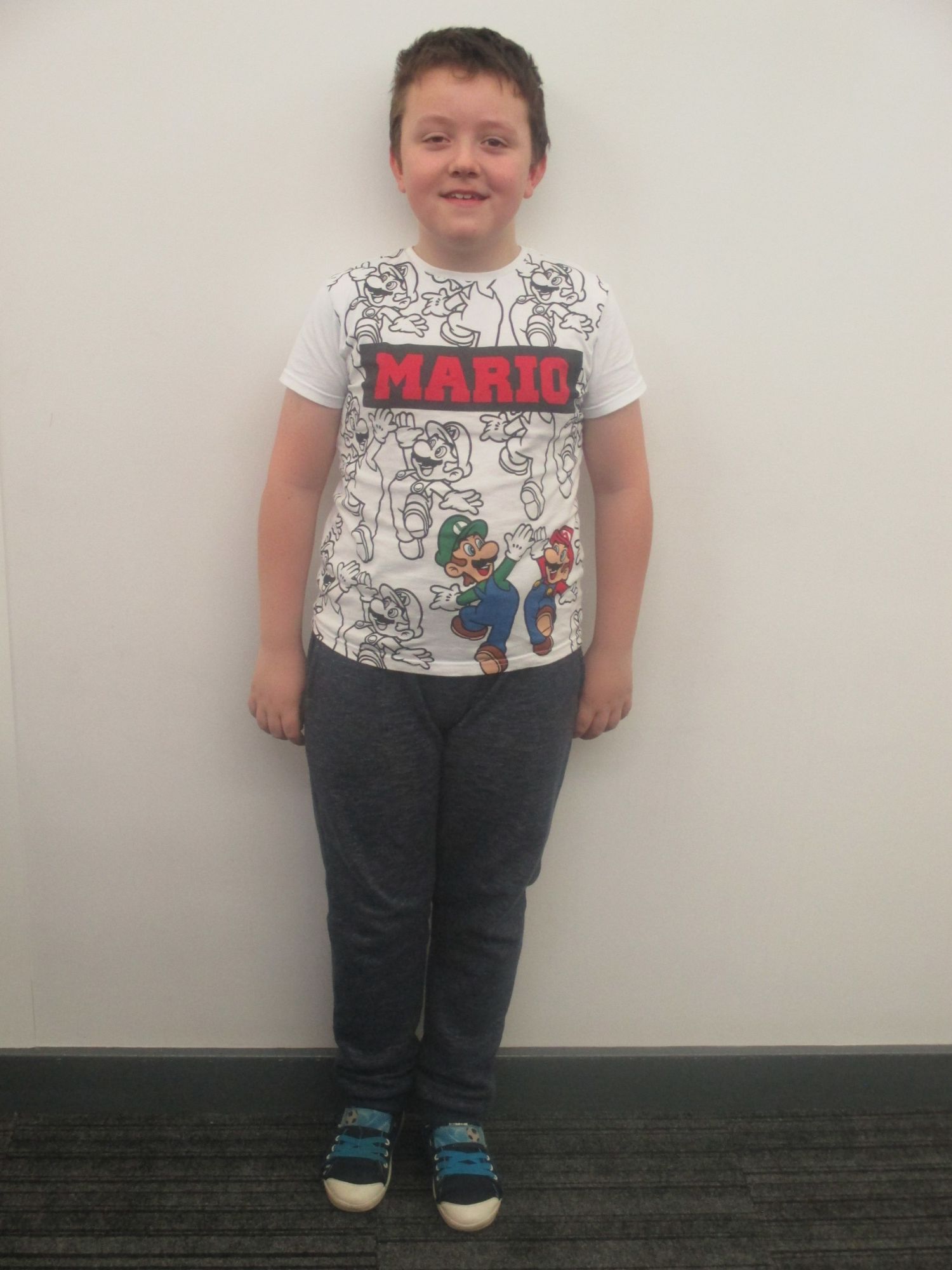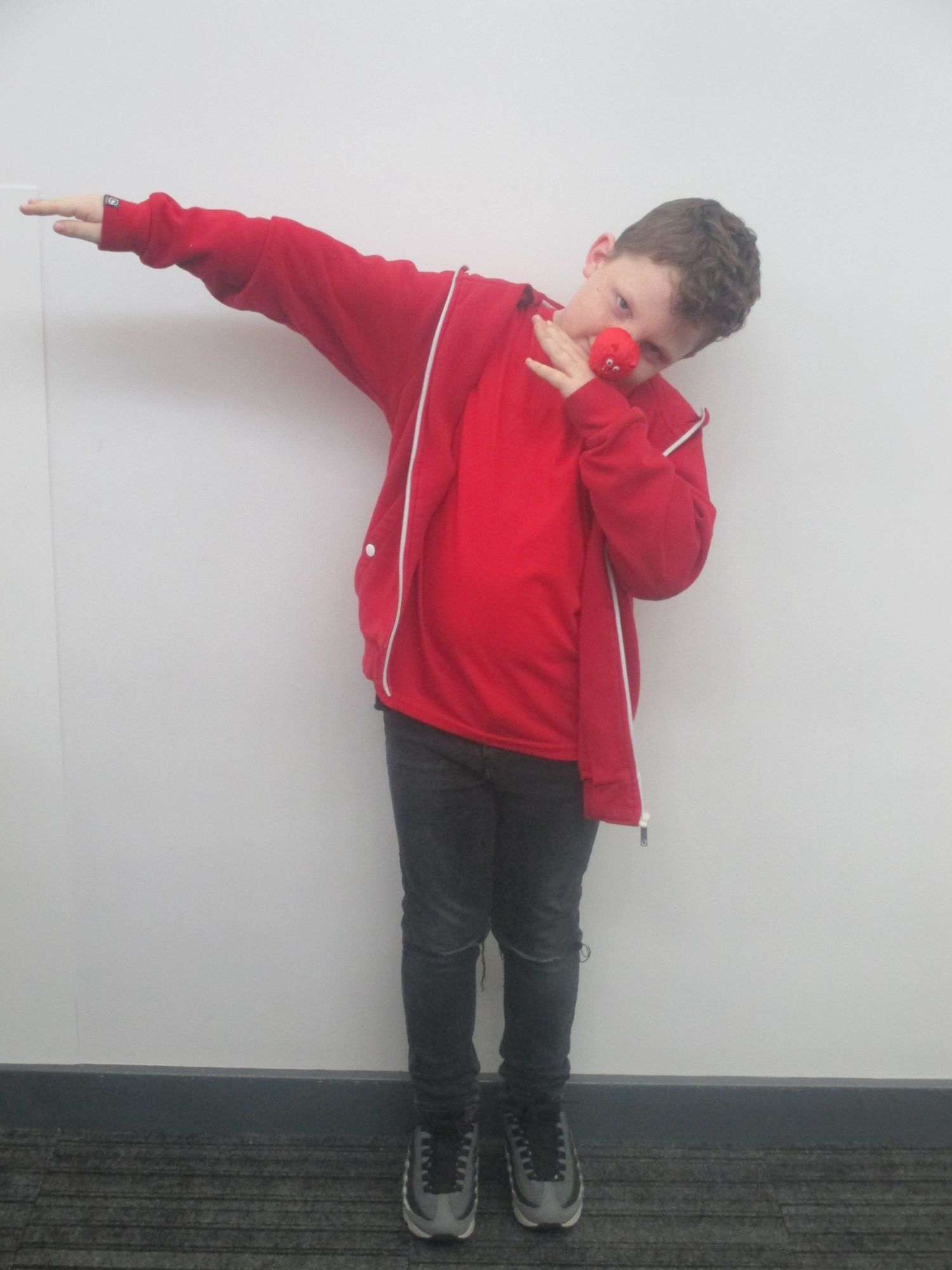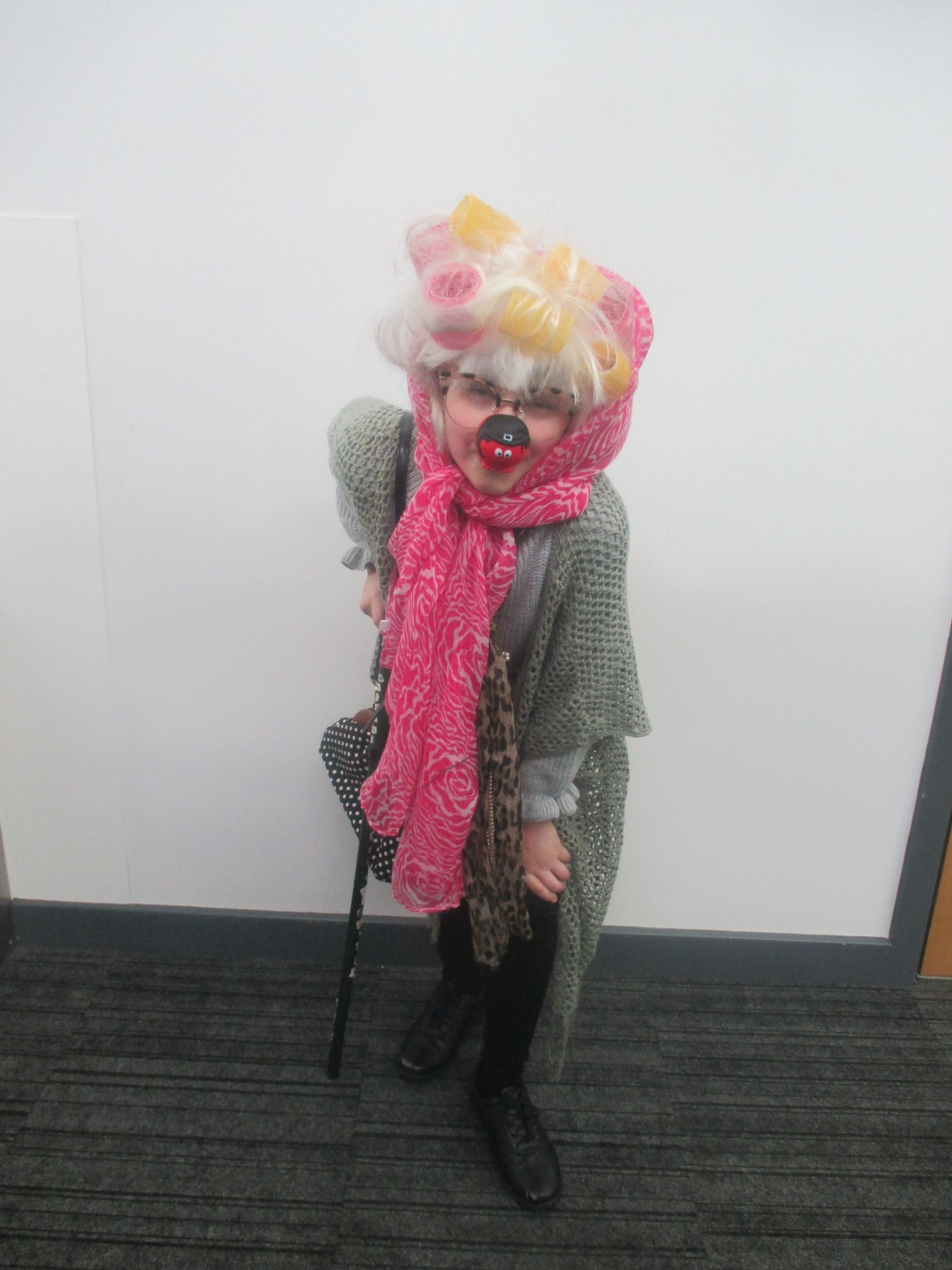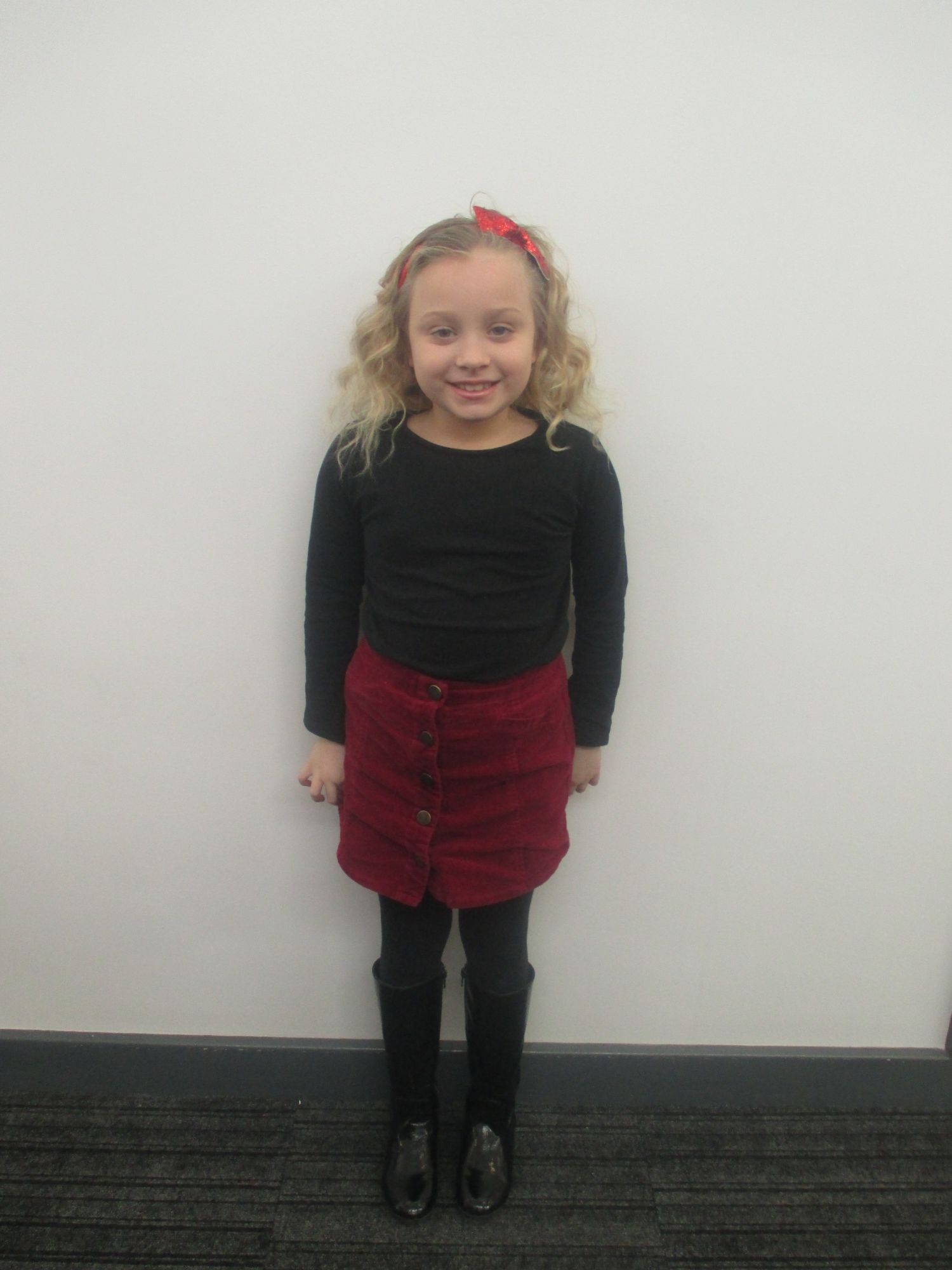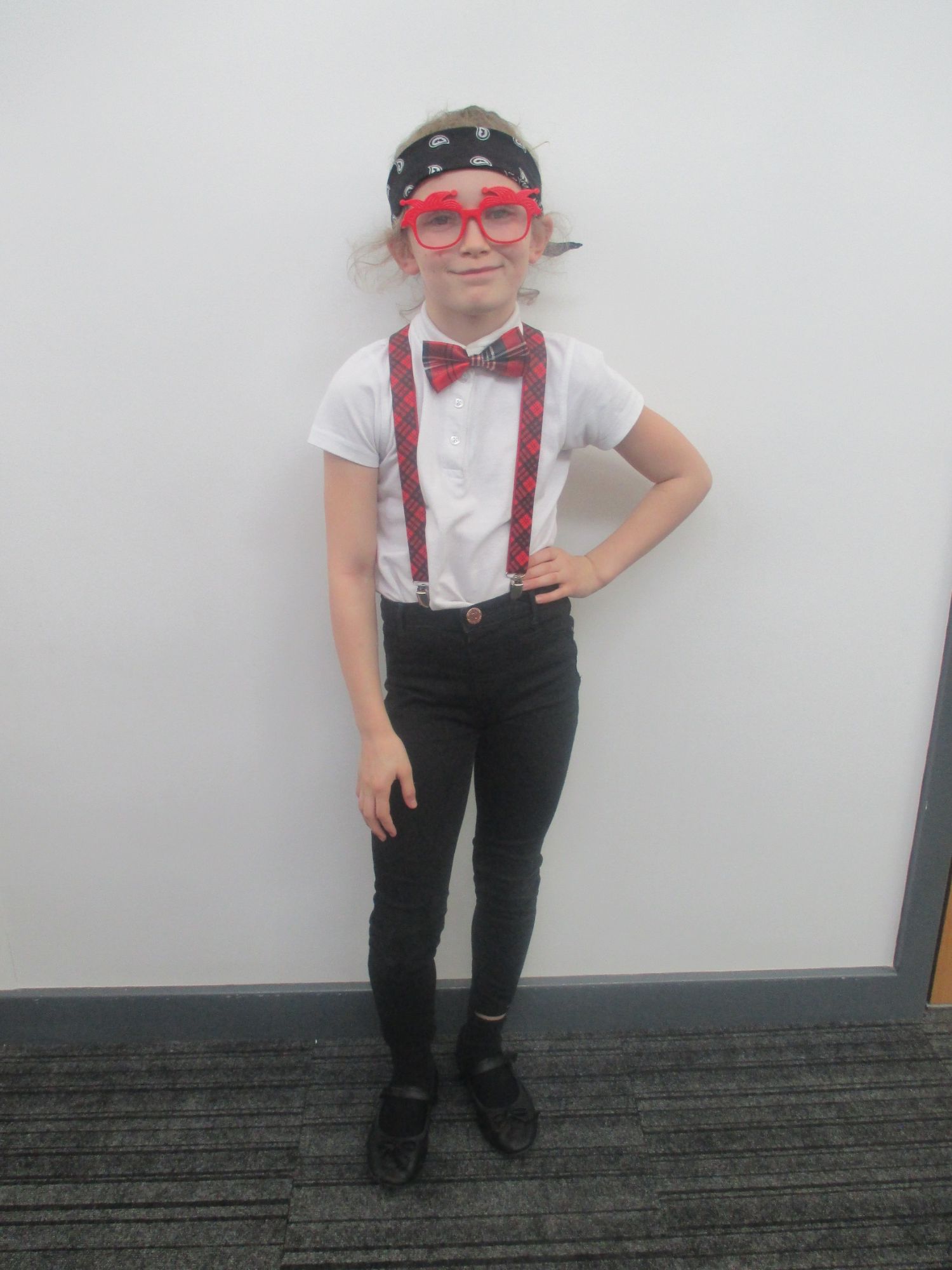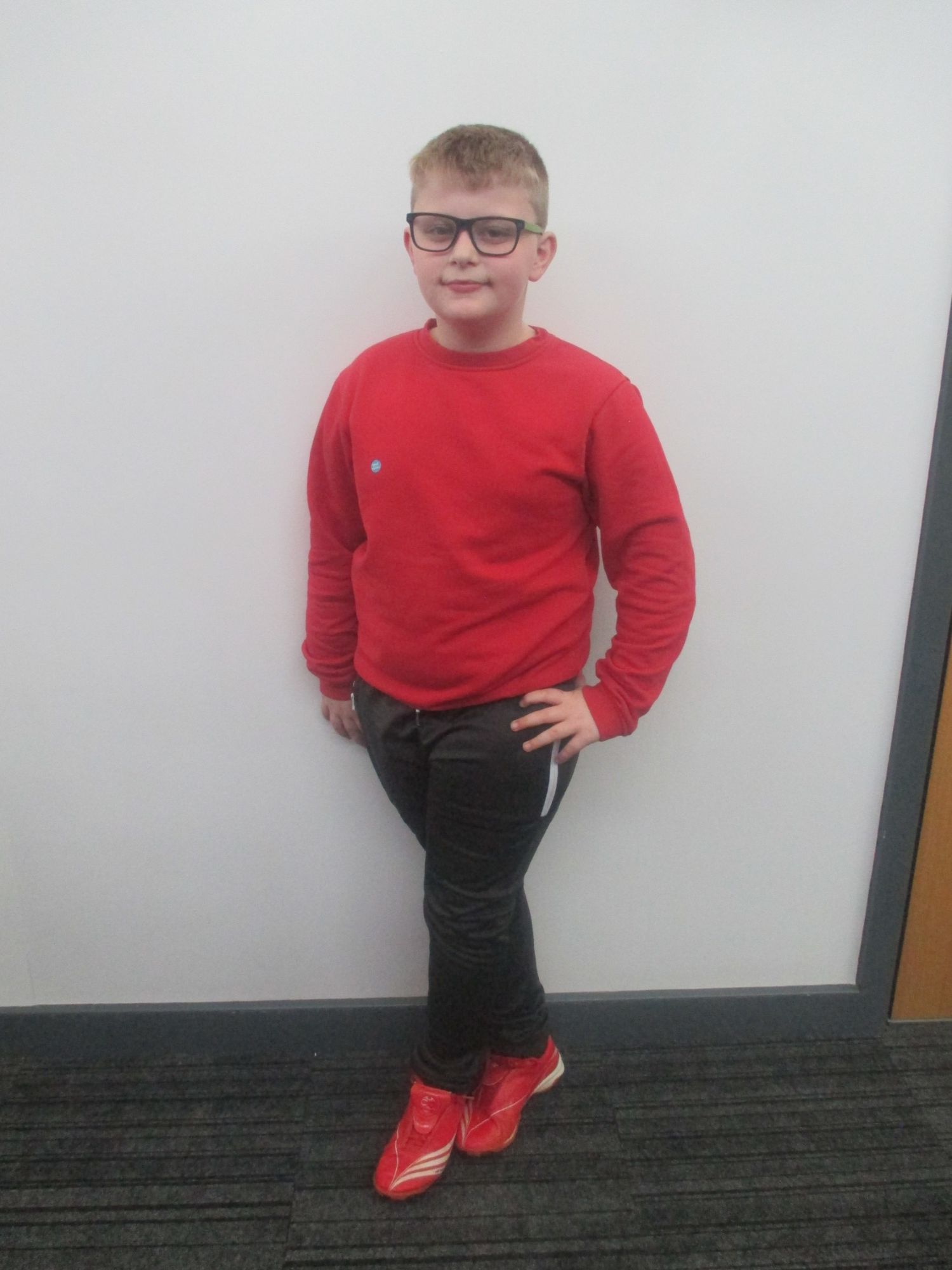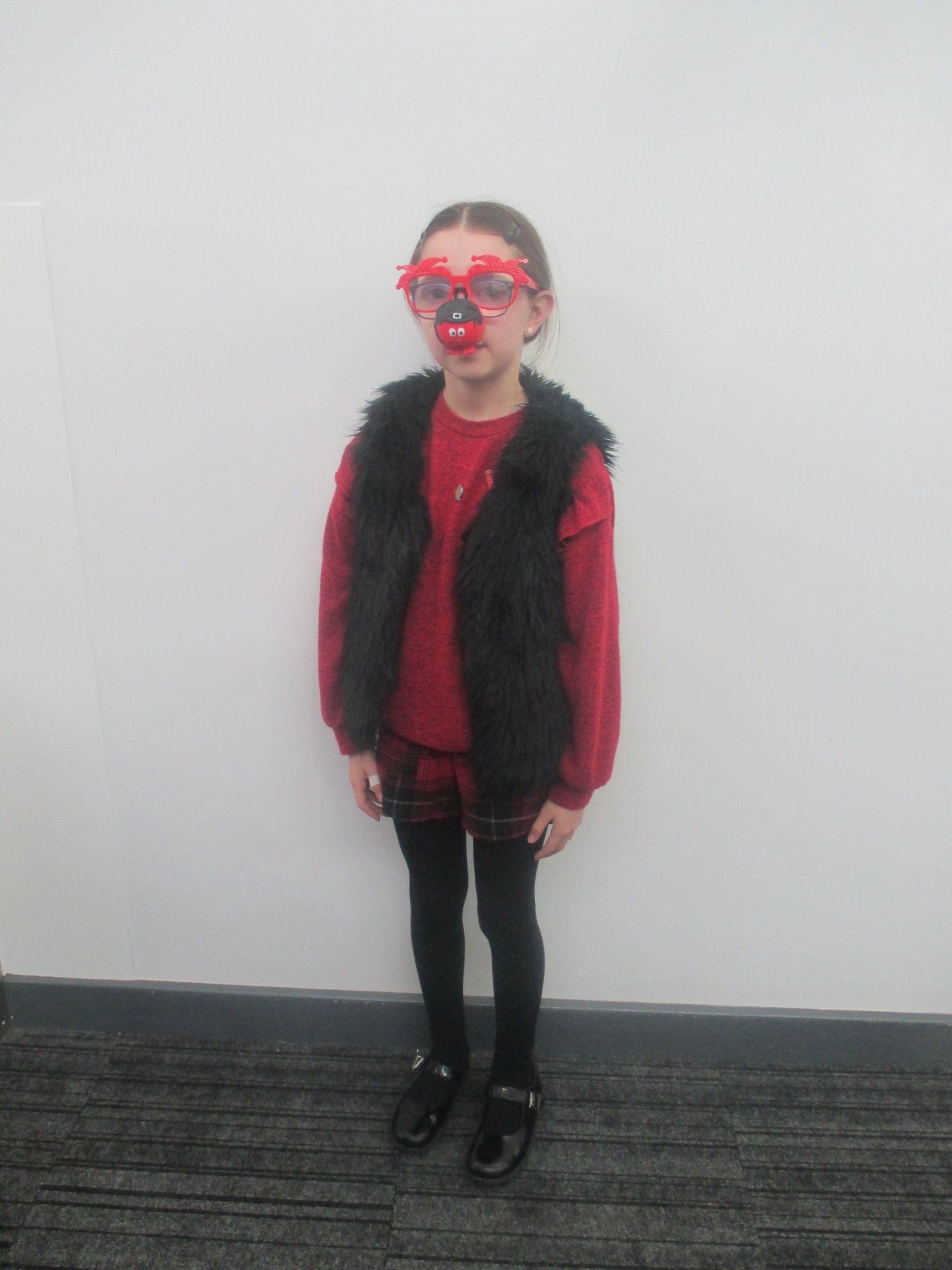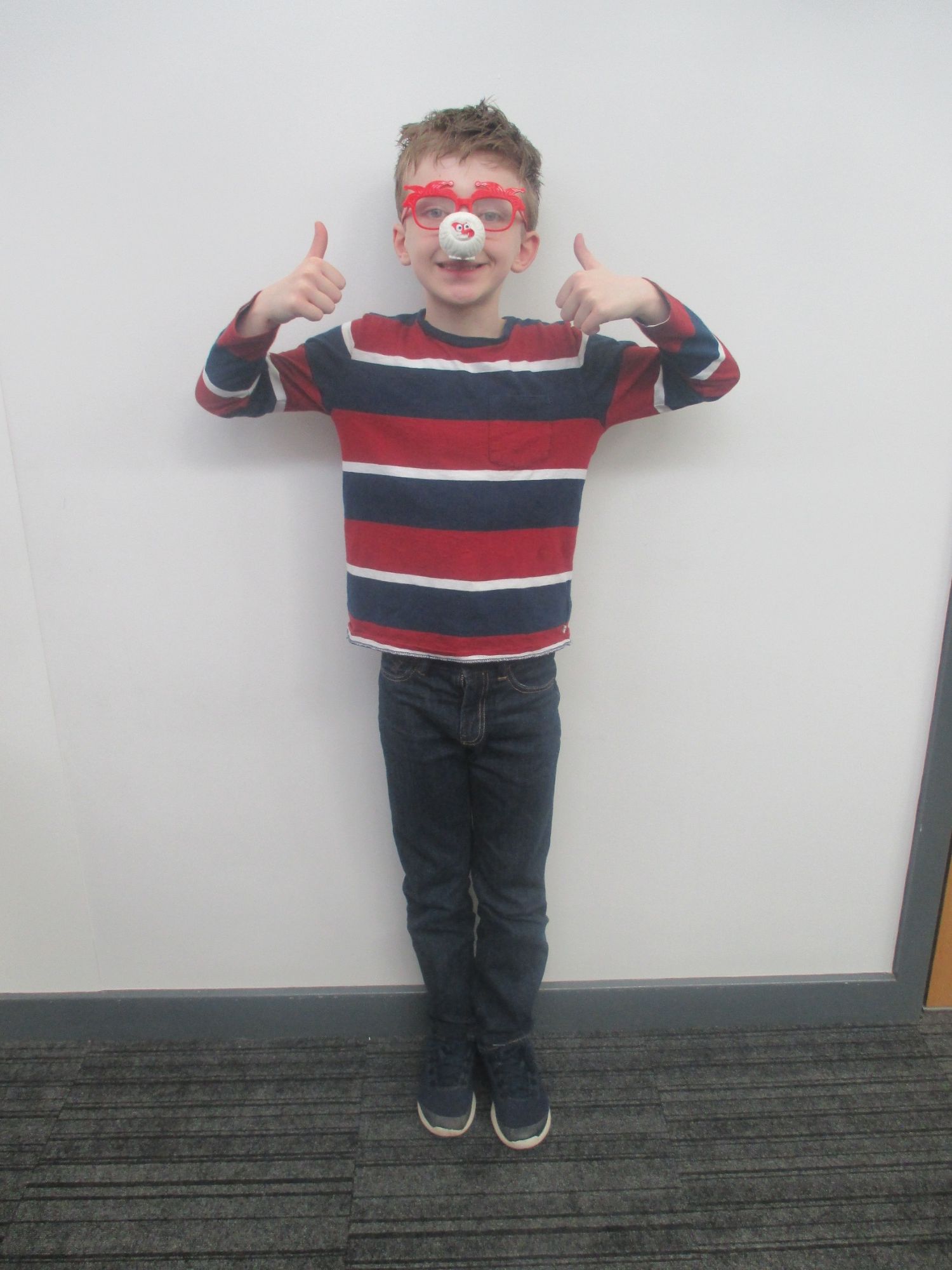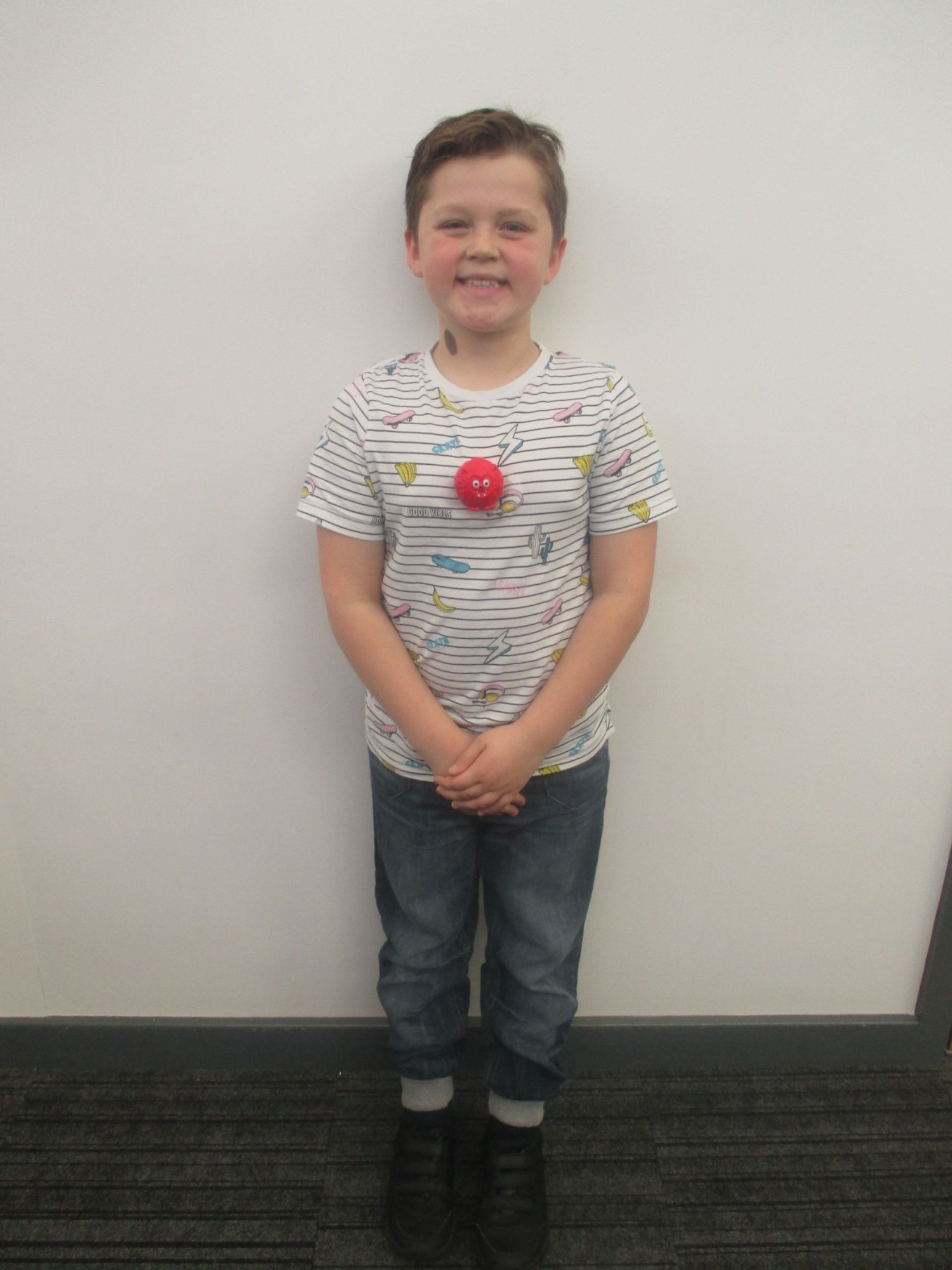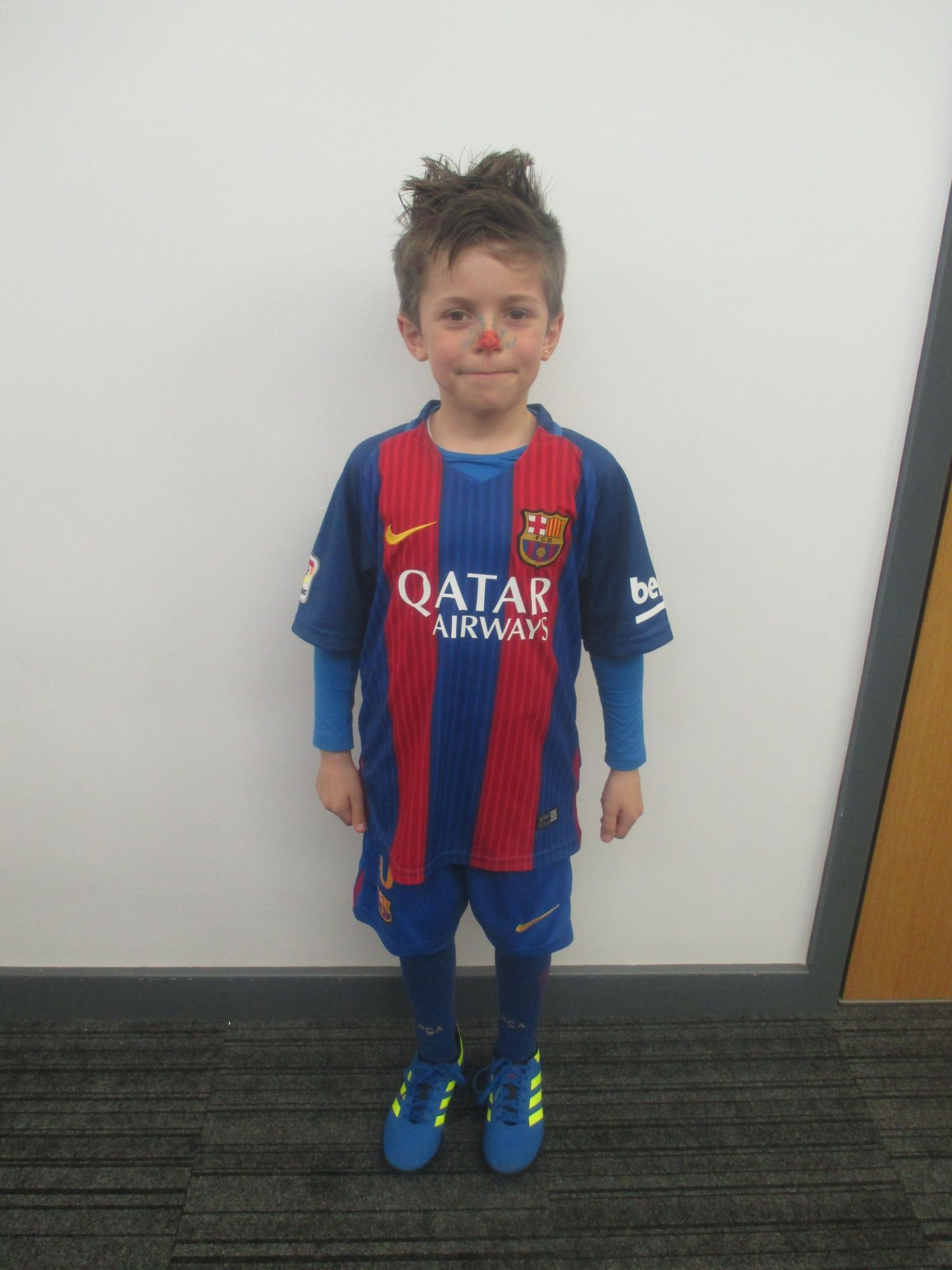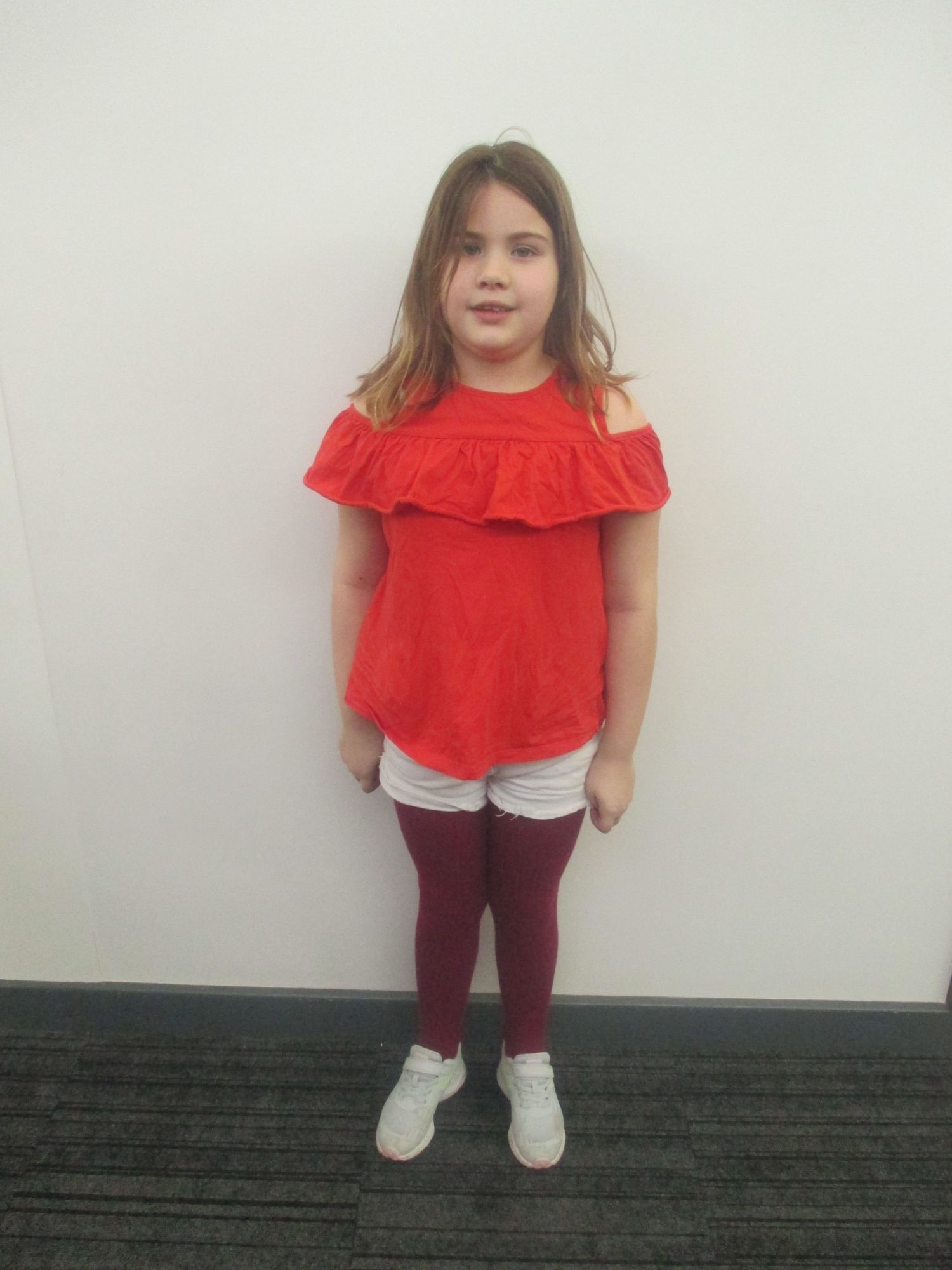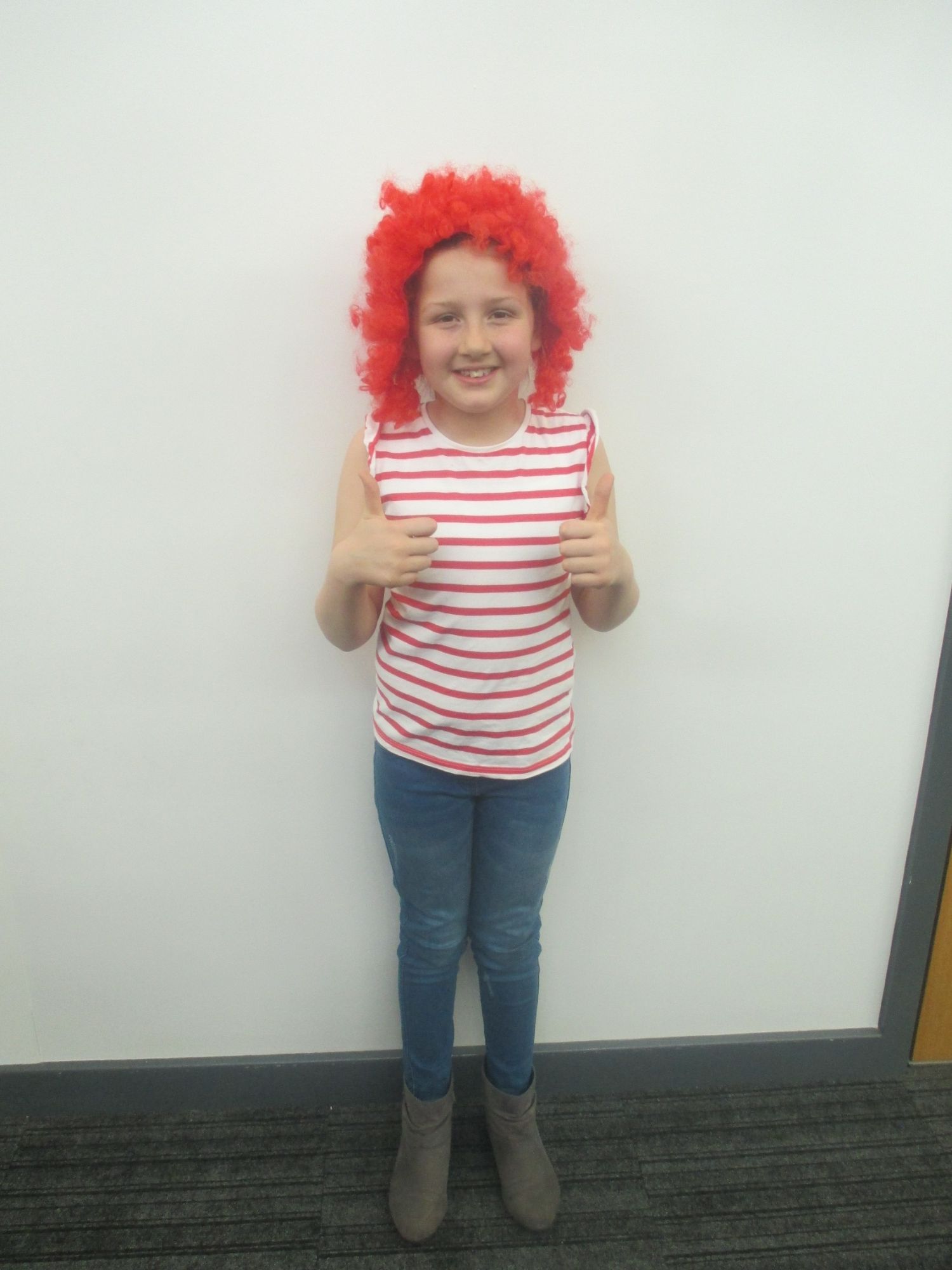 Fortnight beginning 11.3.19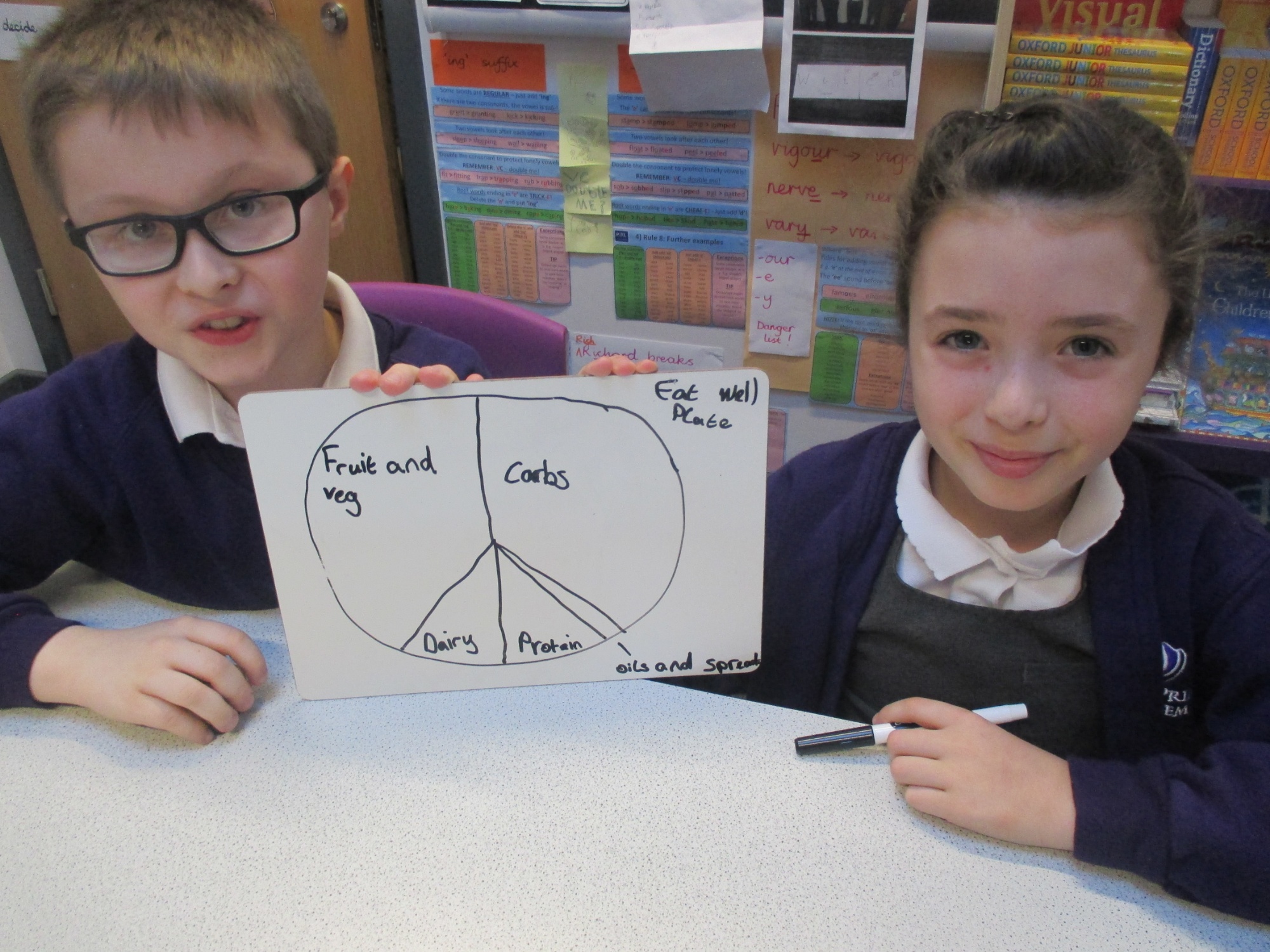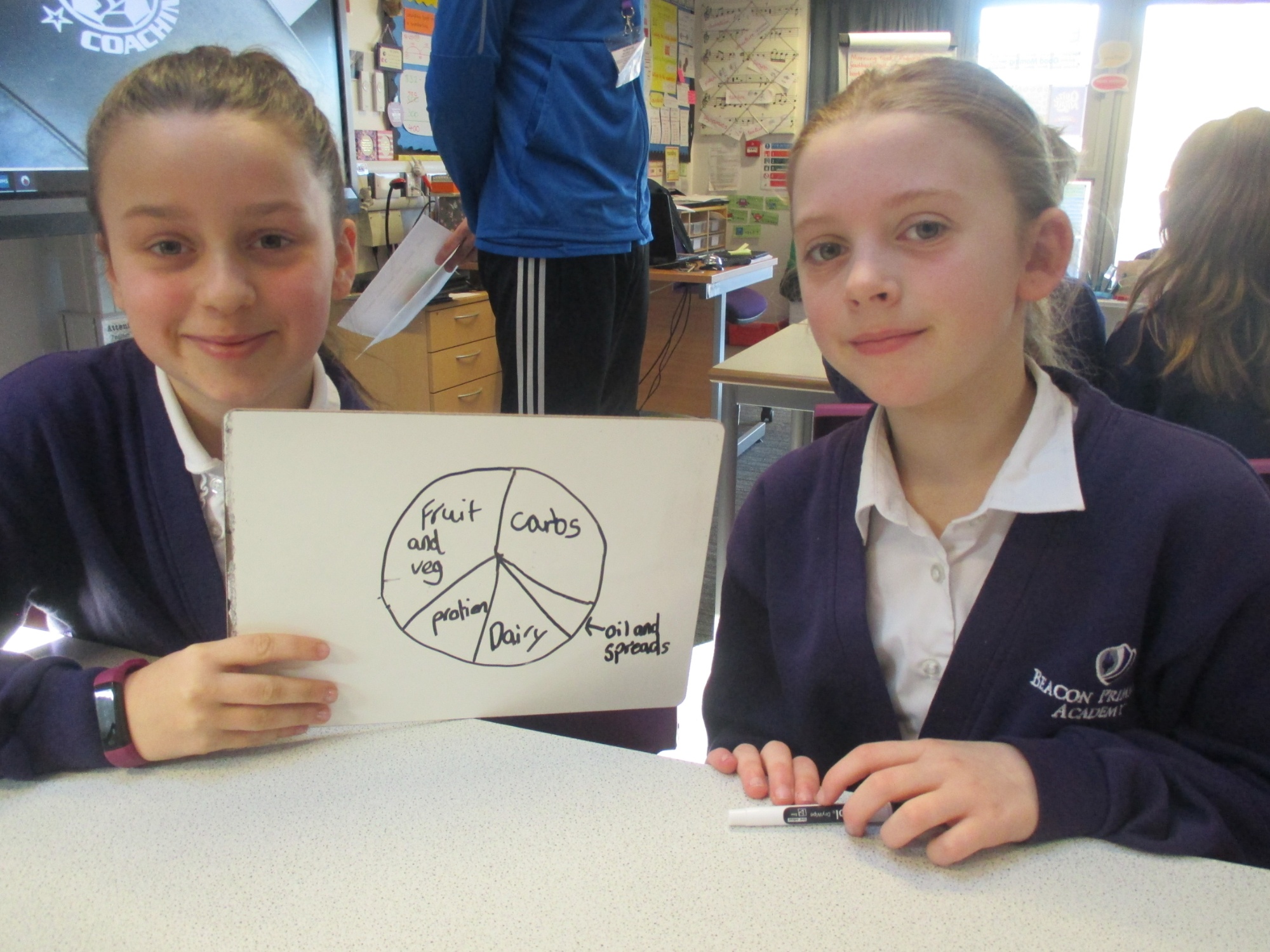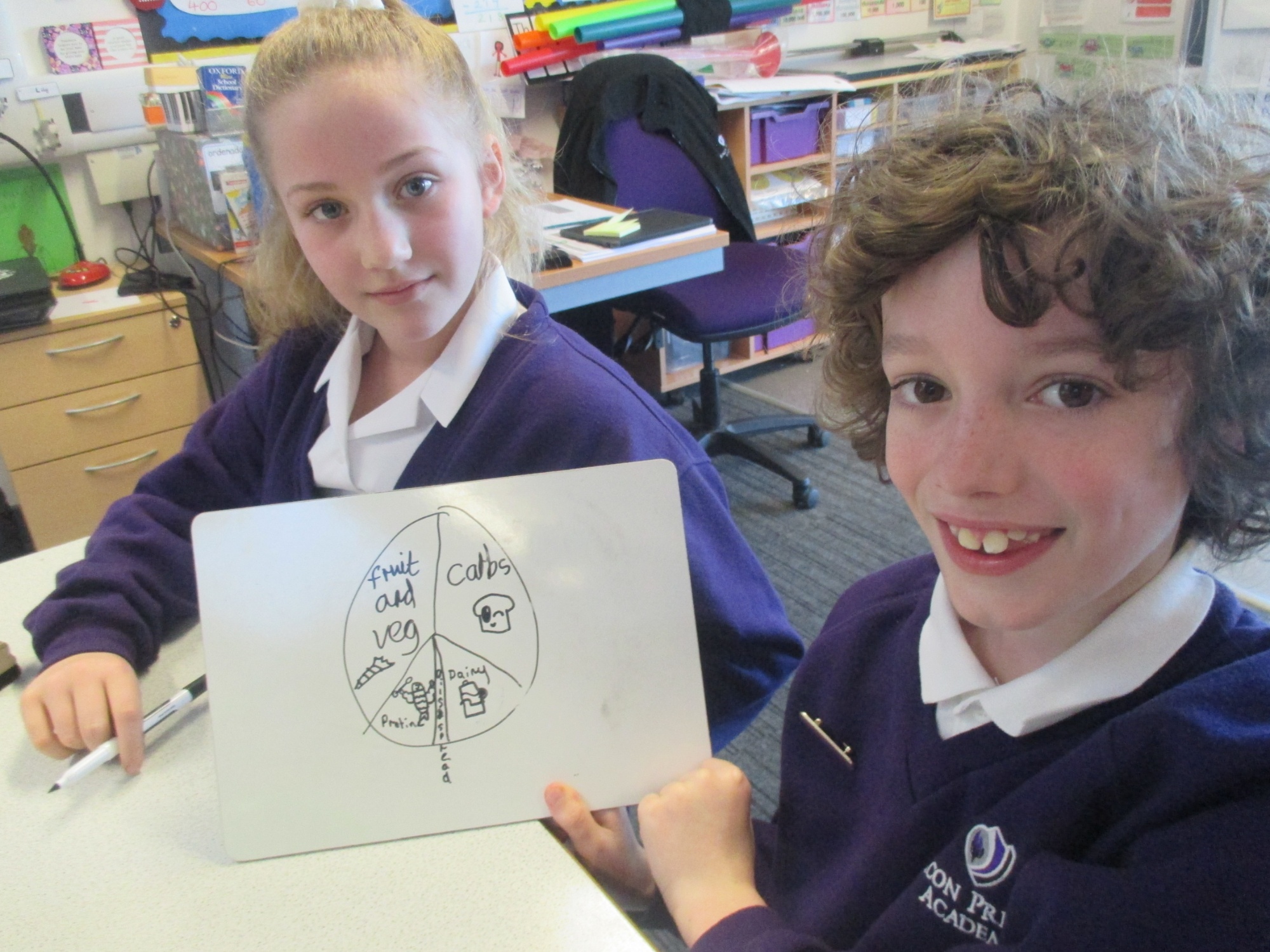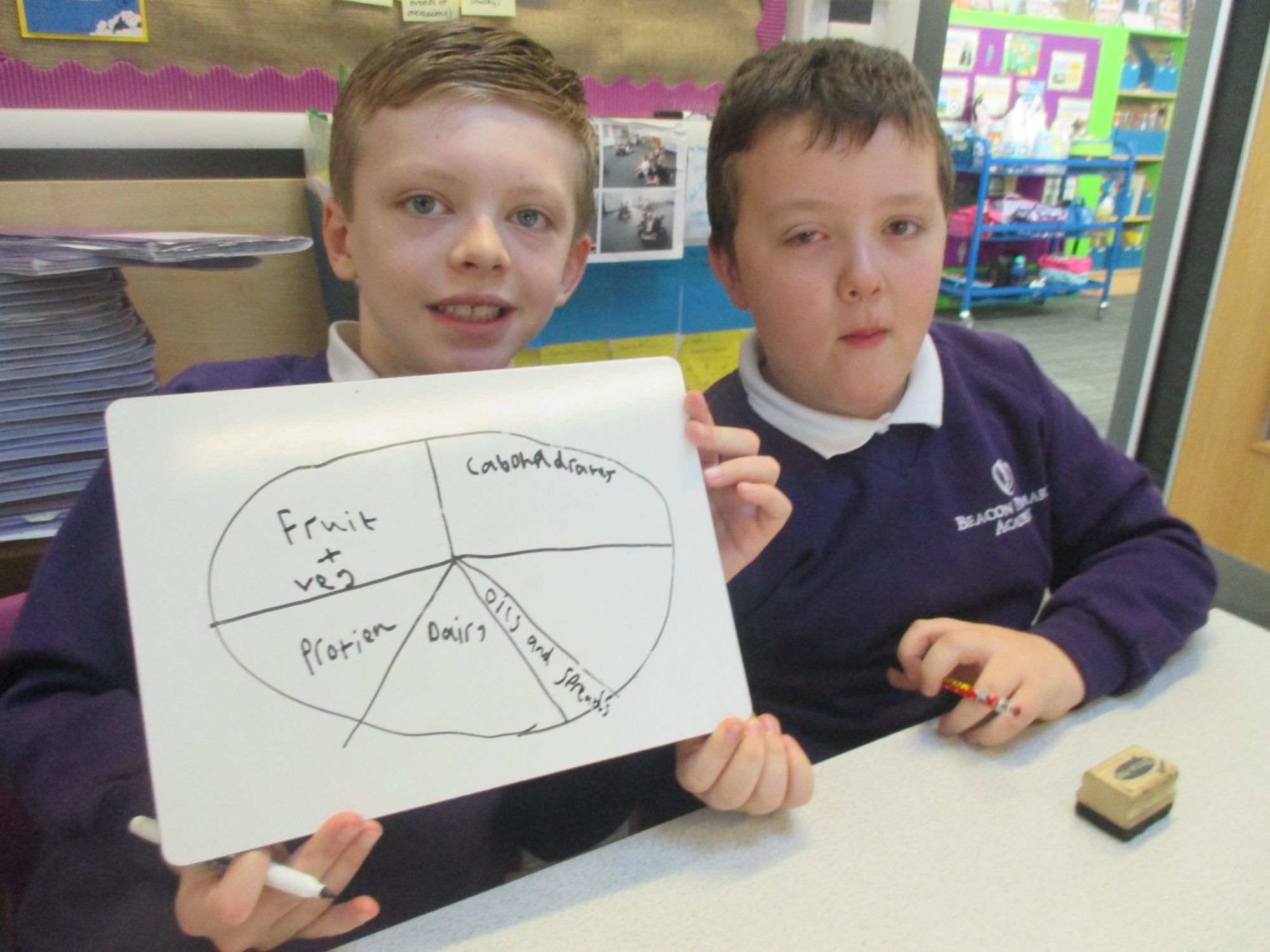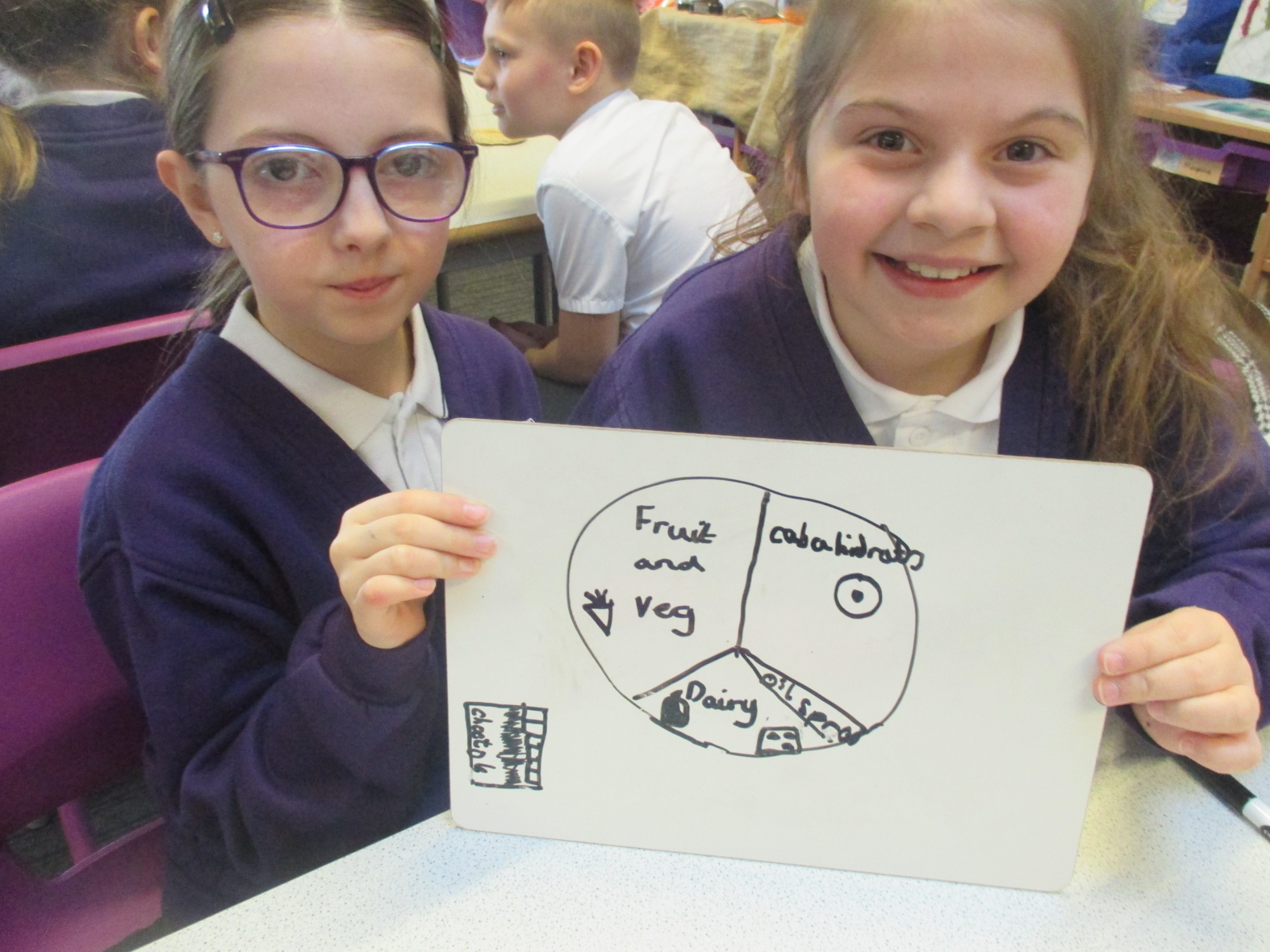 Healthy Lifestyles learning
with Mr. Parker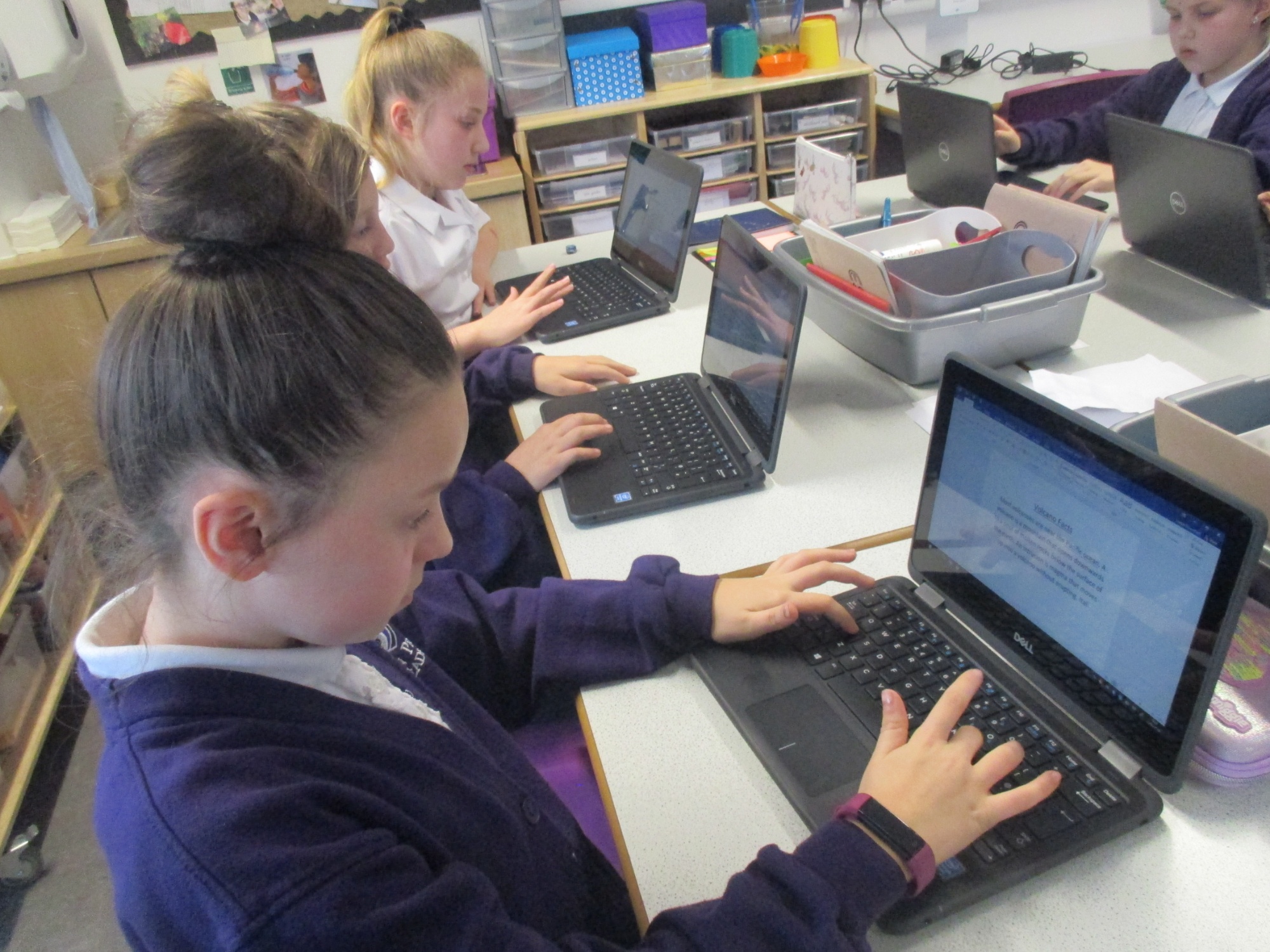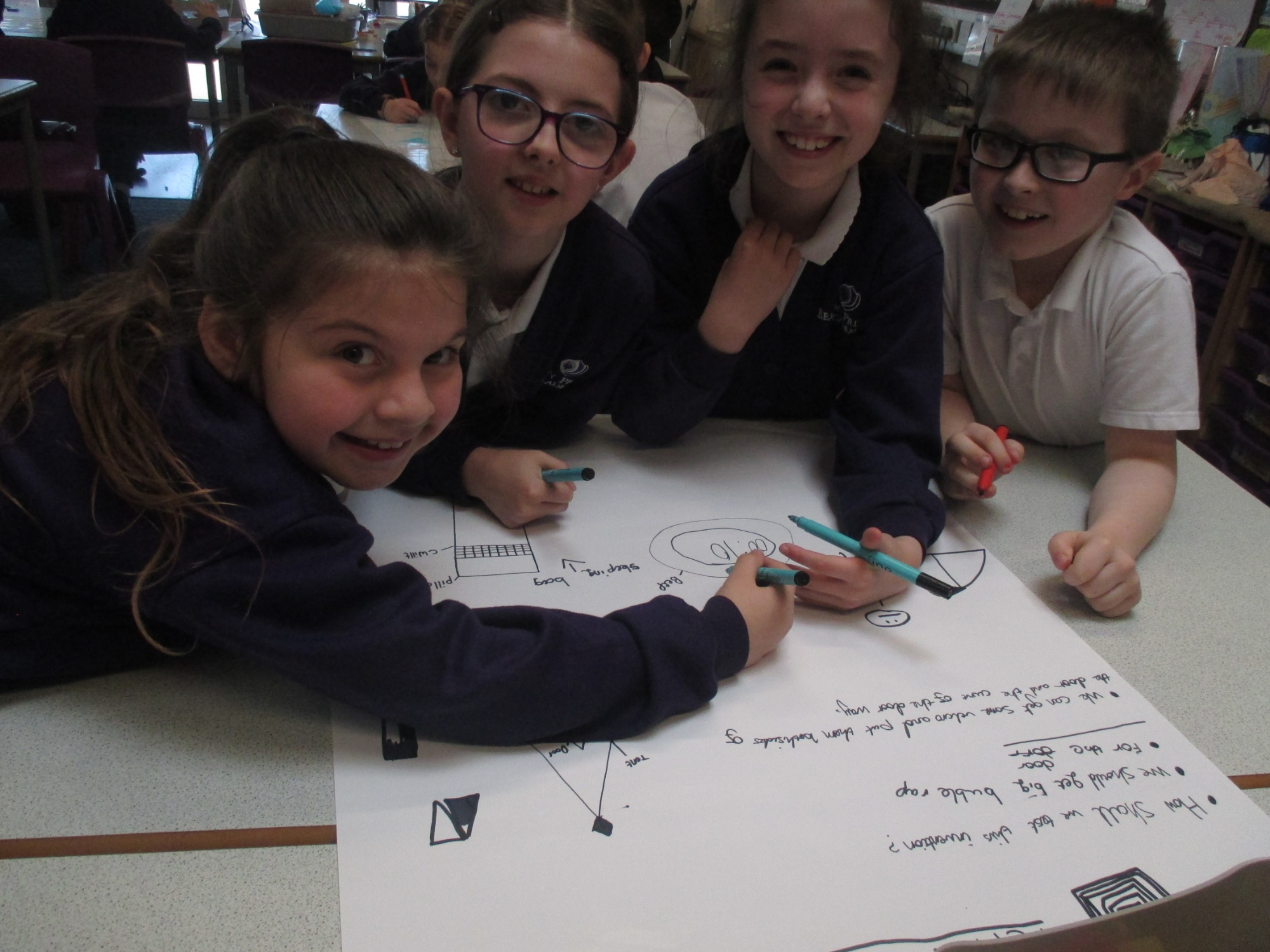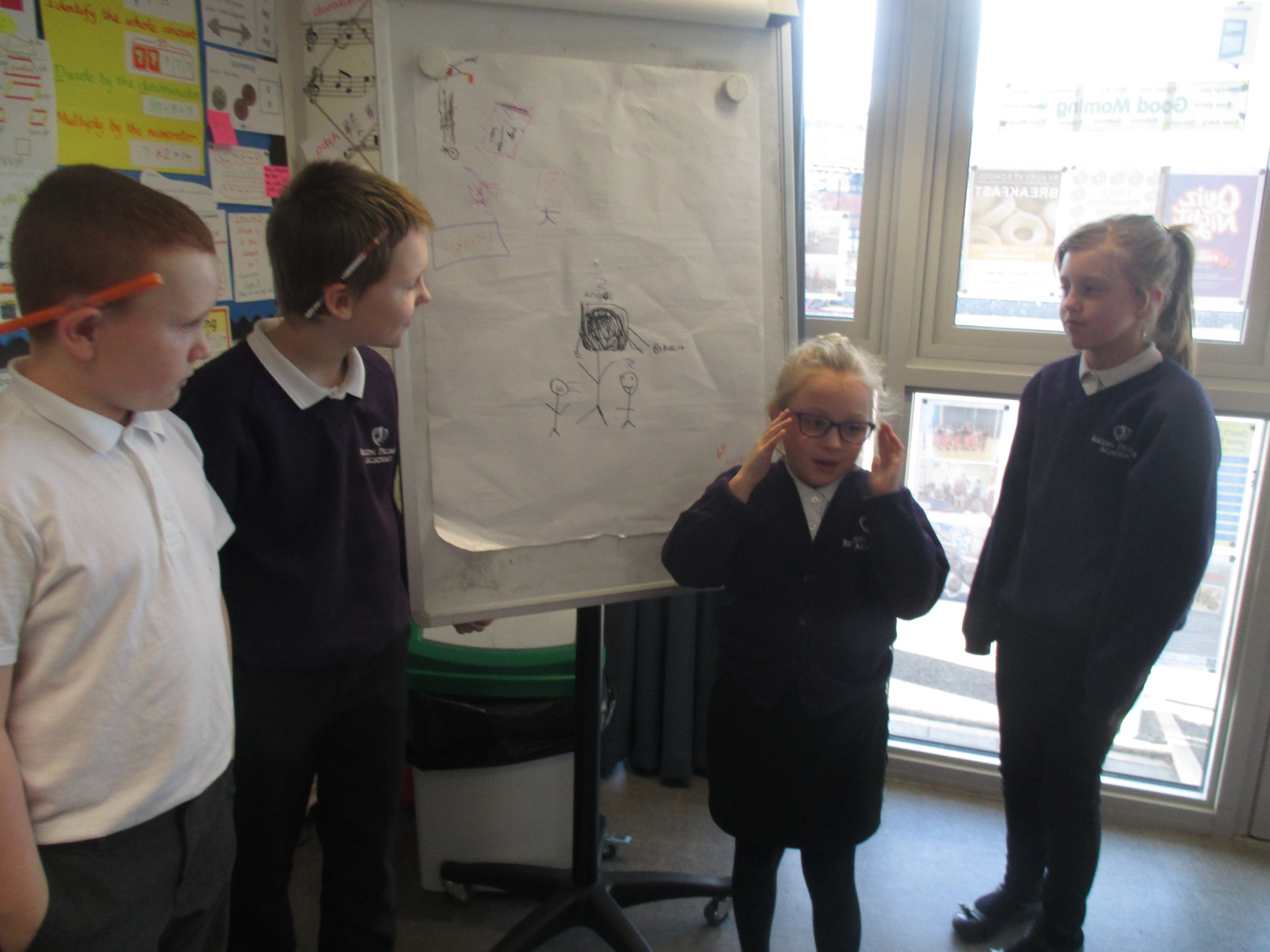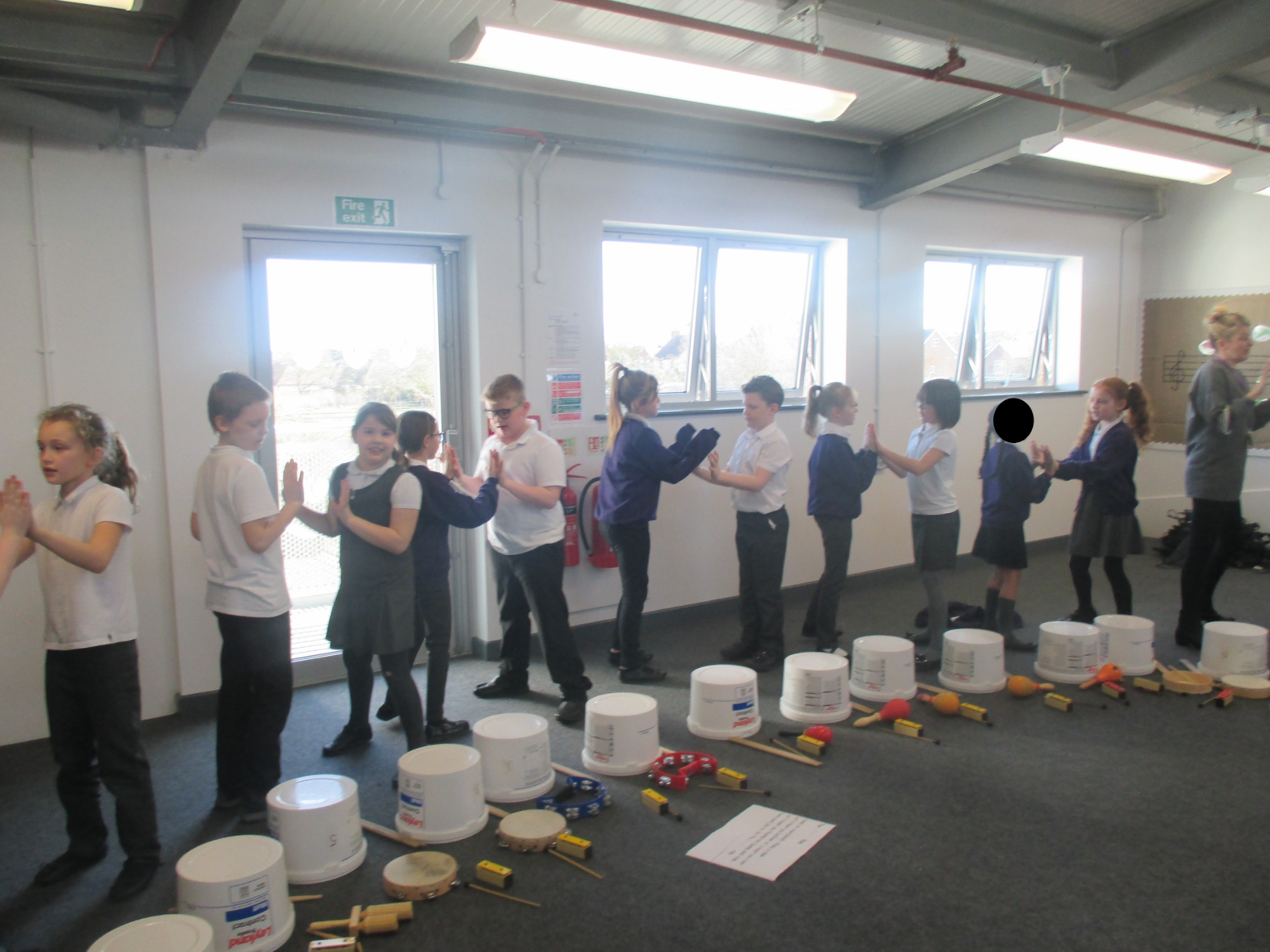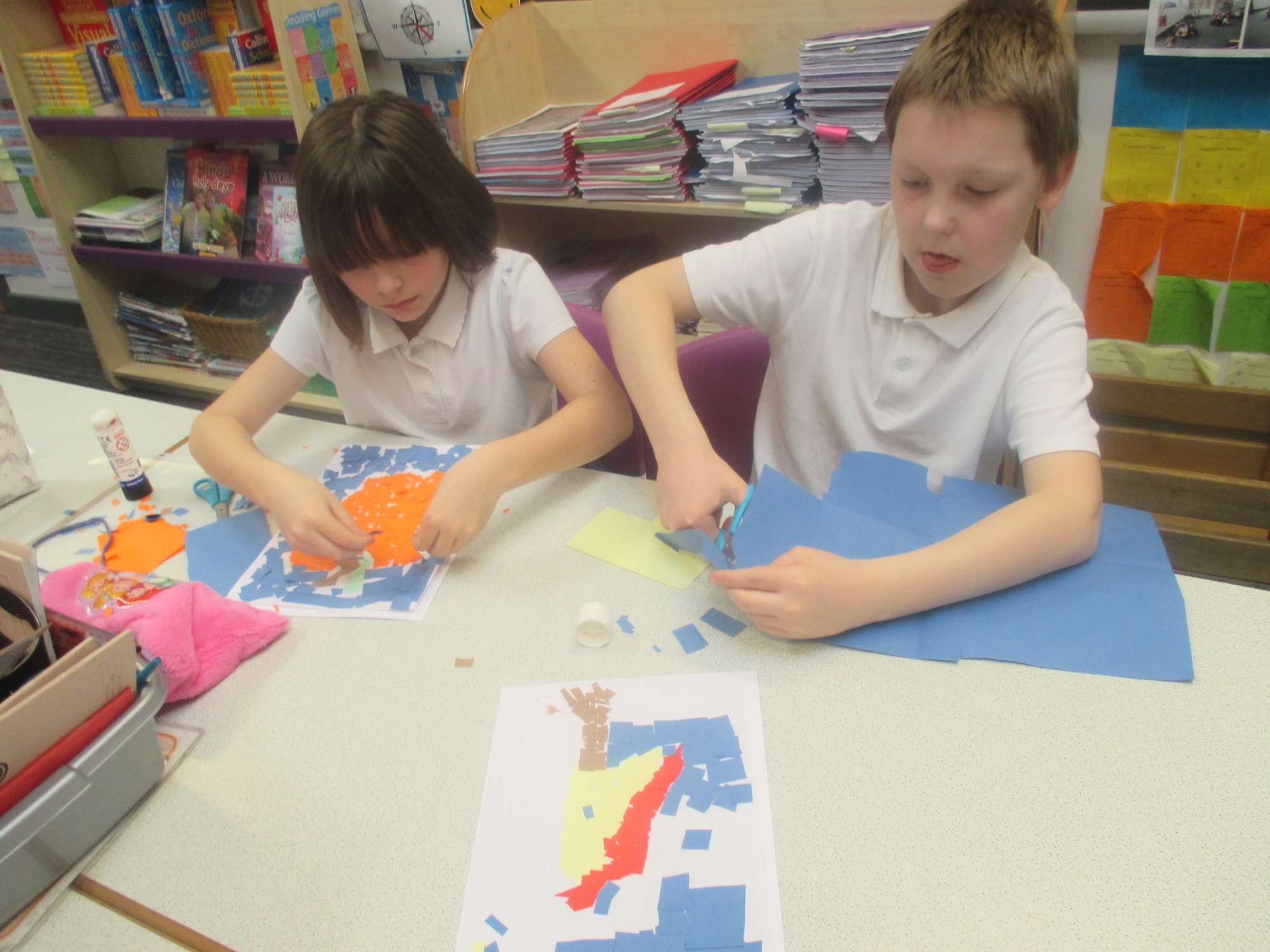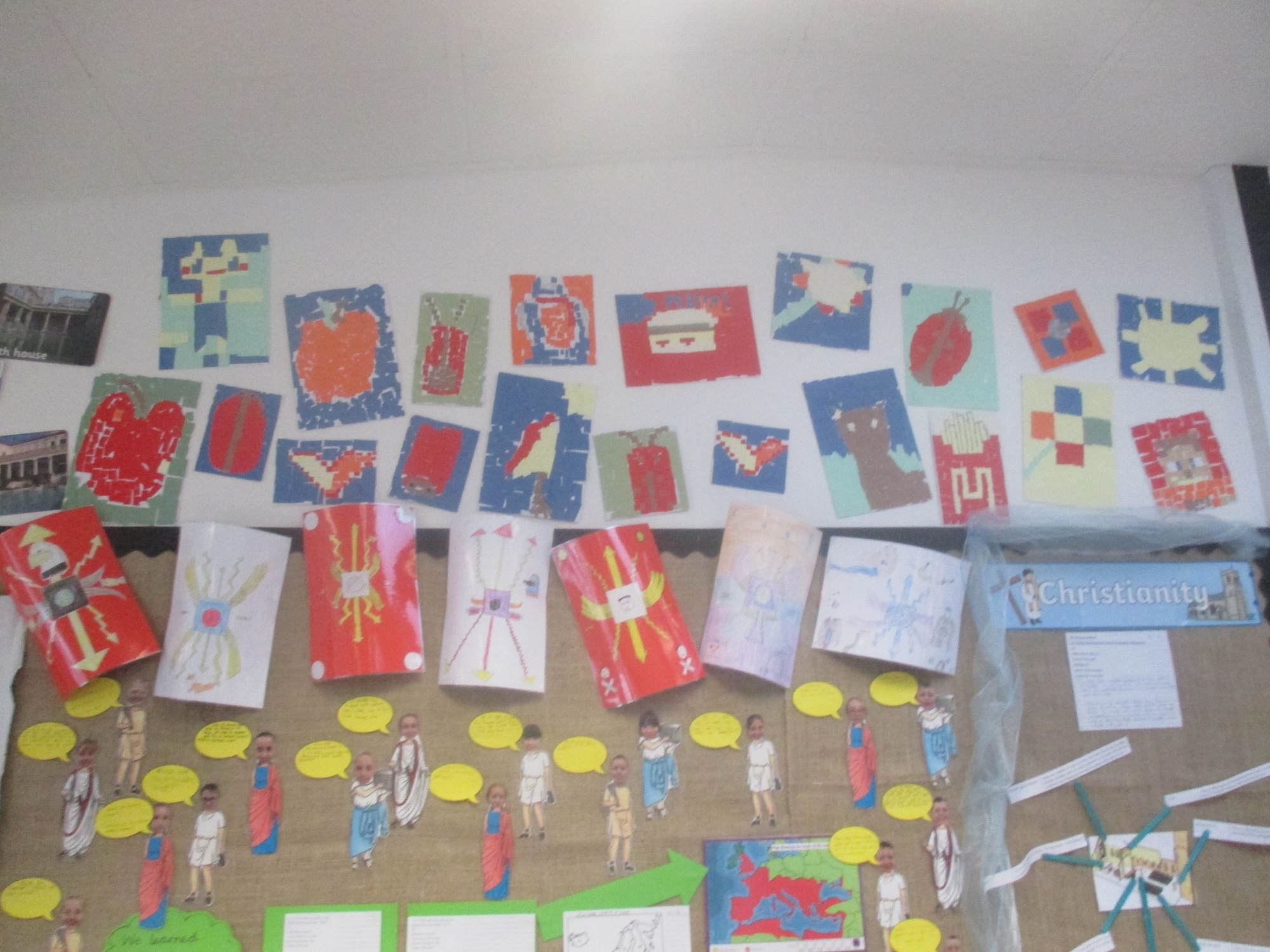 Year 4 have had an amazing fortnight of hard work! In English, we have been planning and writing a letter to a school in New Zealand to learn about cultures around the world. We can't wait for the replies! In Maths, we have been applying our addition and subtraction methods to problem solving and finding the perimeter of different shapes. Our Science topic is 'Sound' and we have had some great fun learning about how sound is made from a vibration and how the pitch (high and low notes) can be changed. All of this has been alongside our learning about Romans and, in PSHE, Healthy Lifestyles. Well done for your fantastic effort, Lemurs, especially with our amazing 100% attendance. Keep up the good work!
World Book Day 2019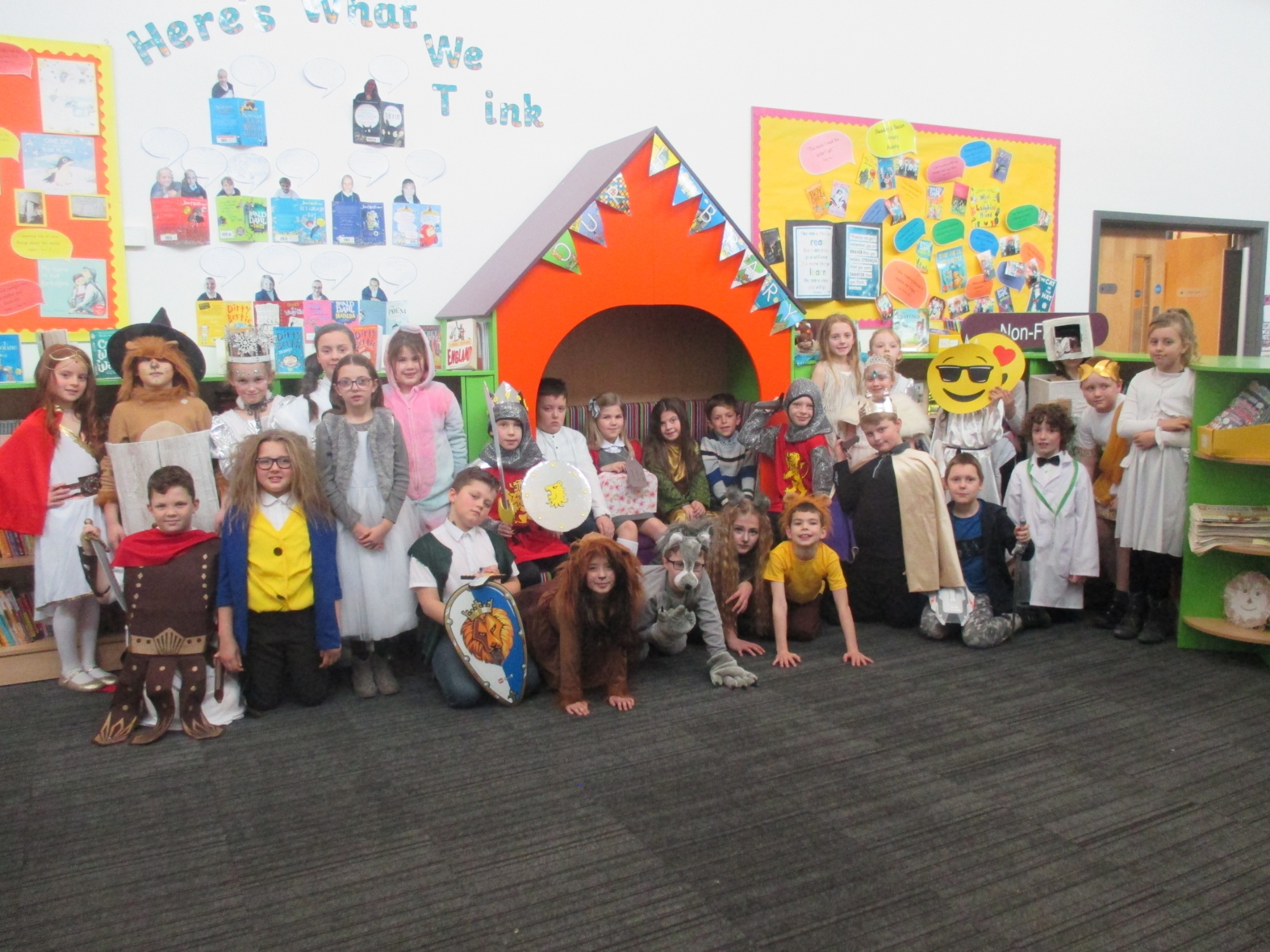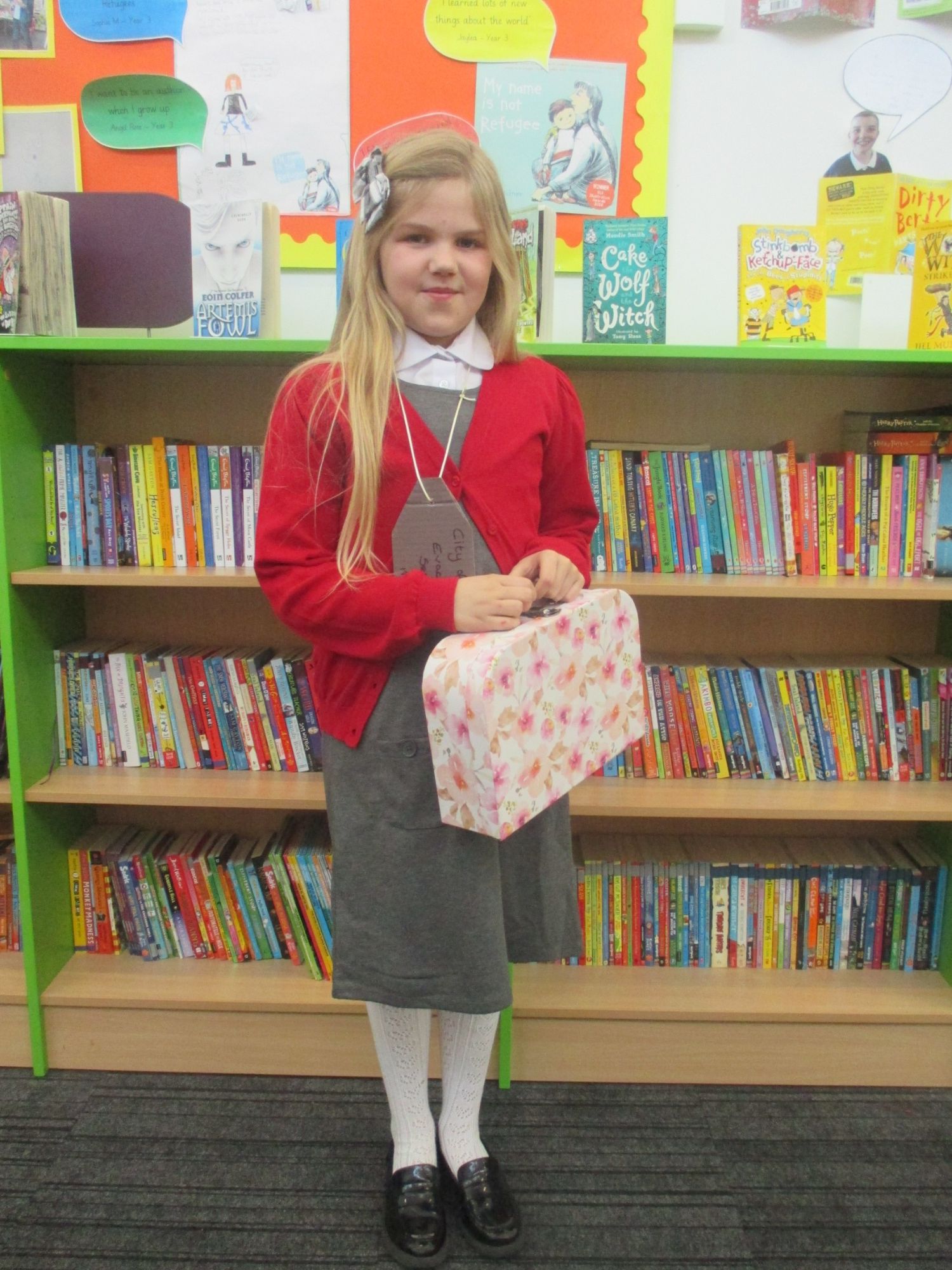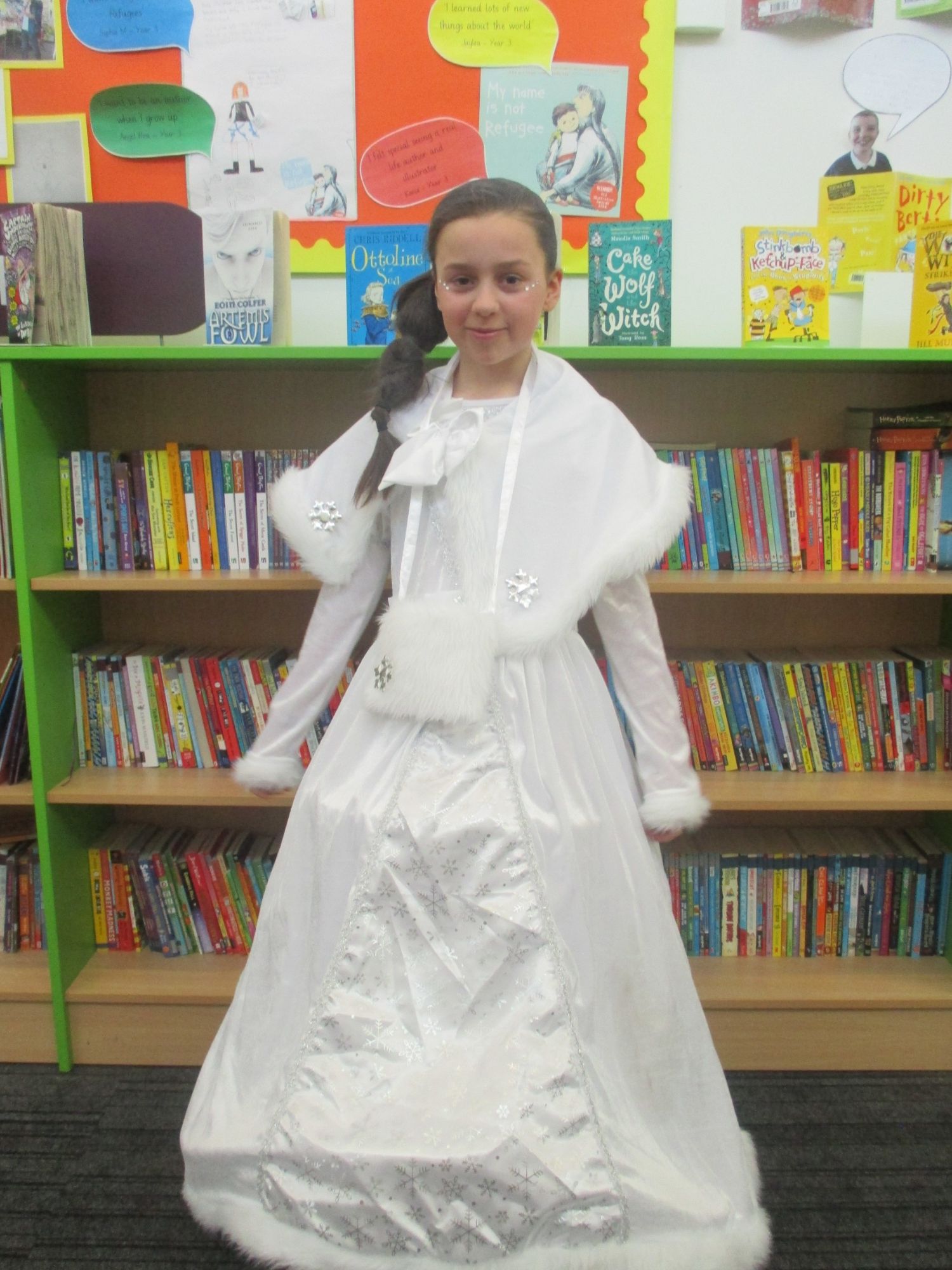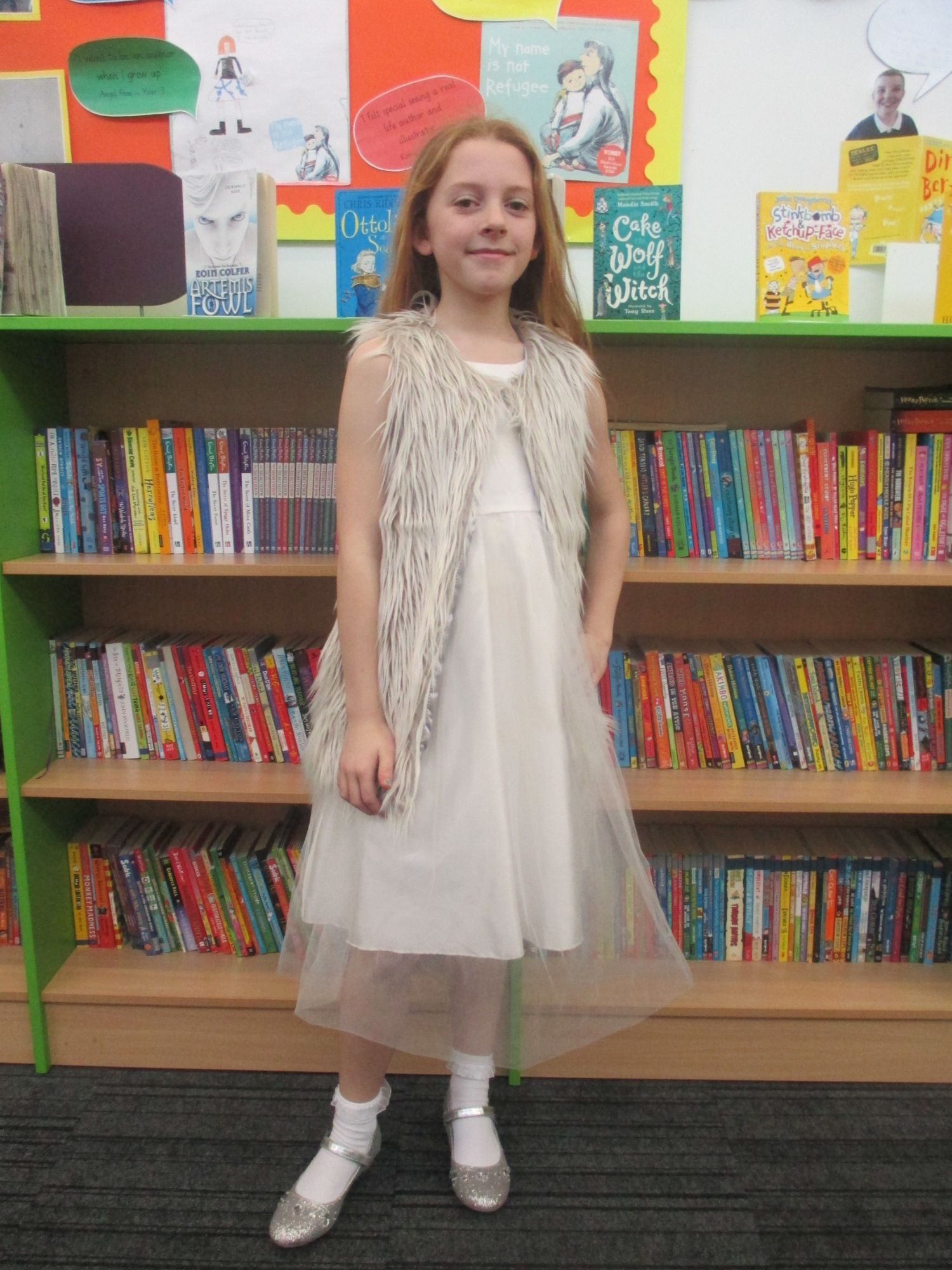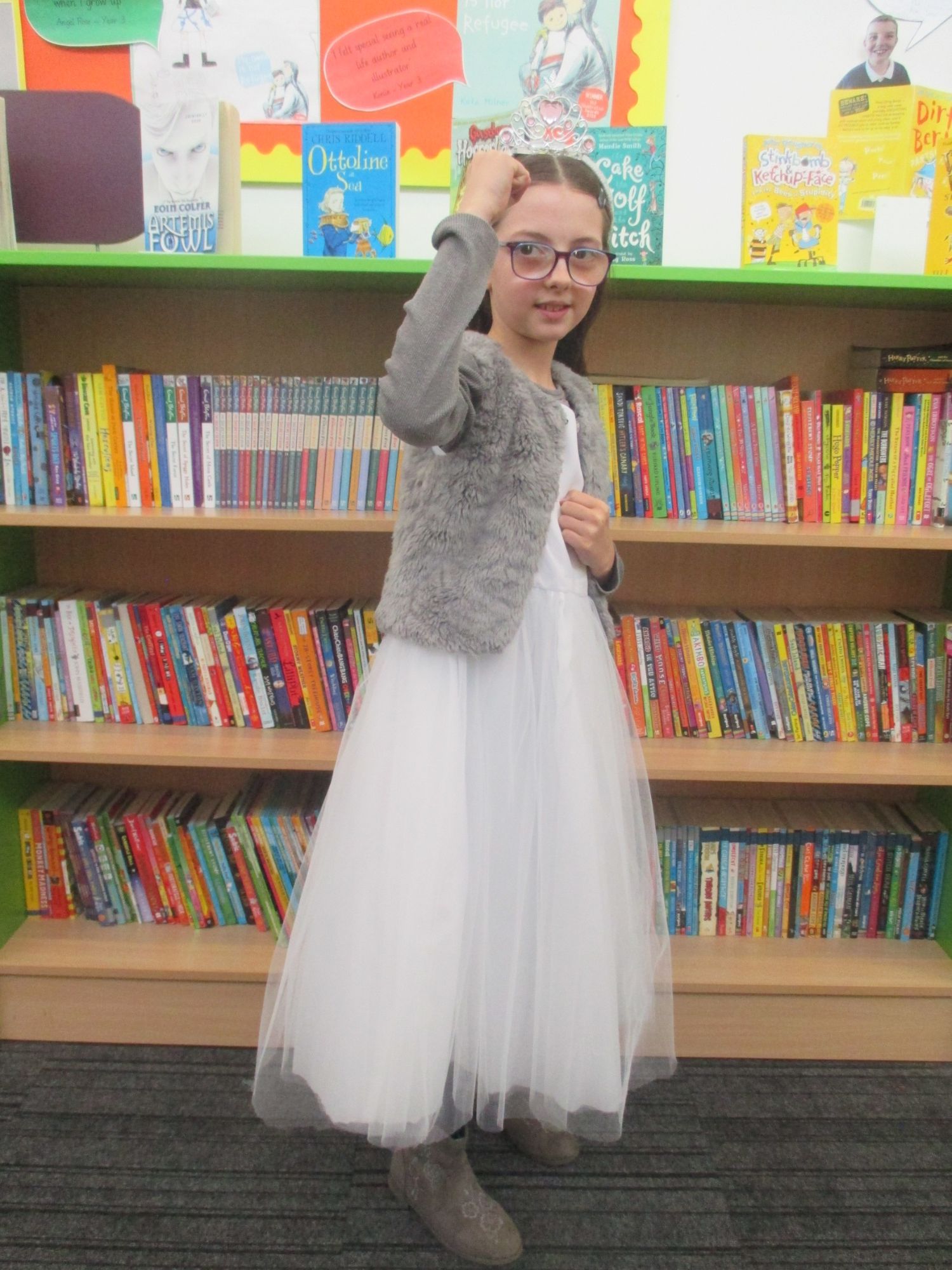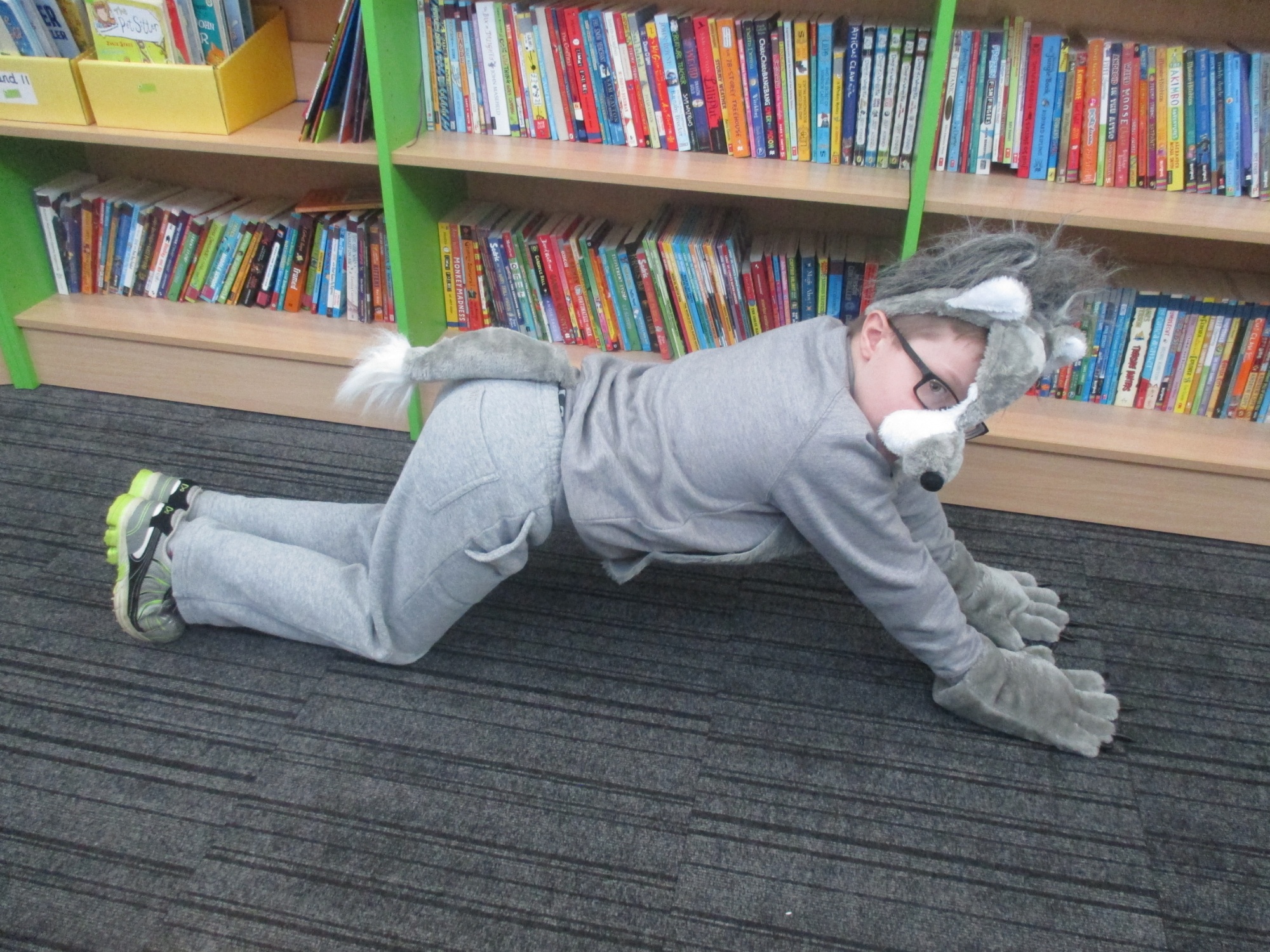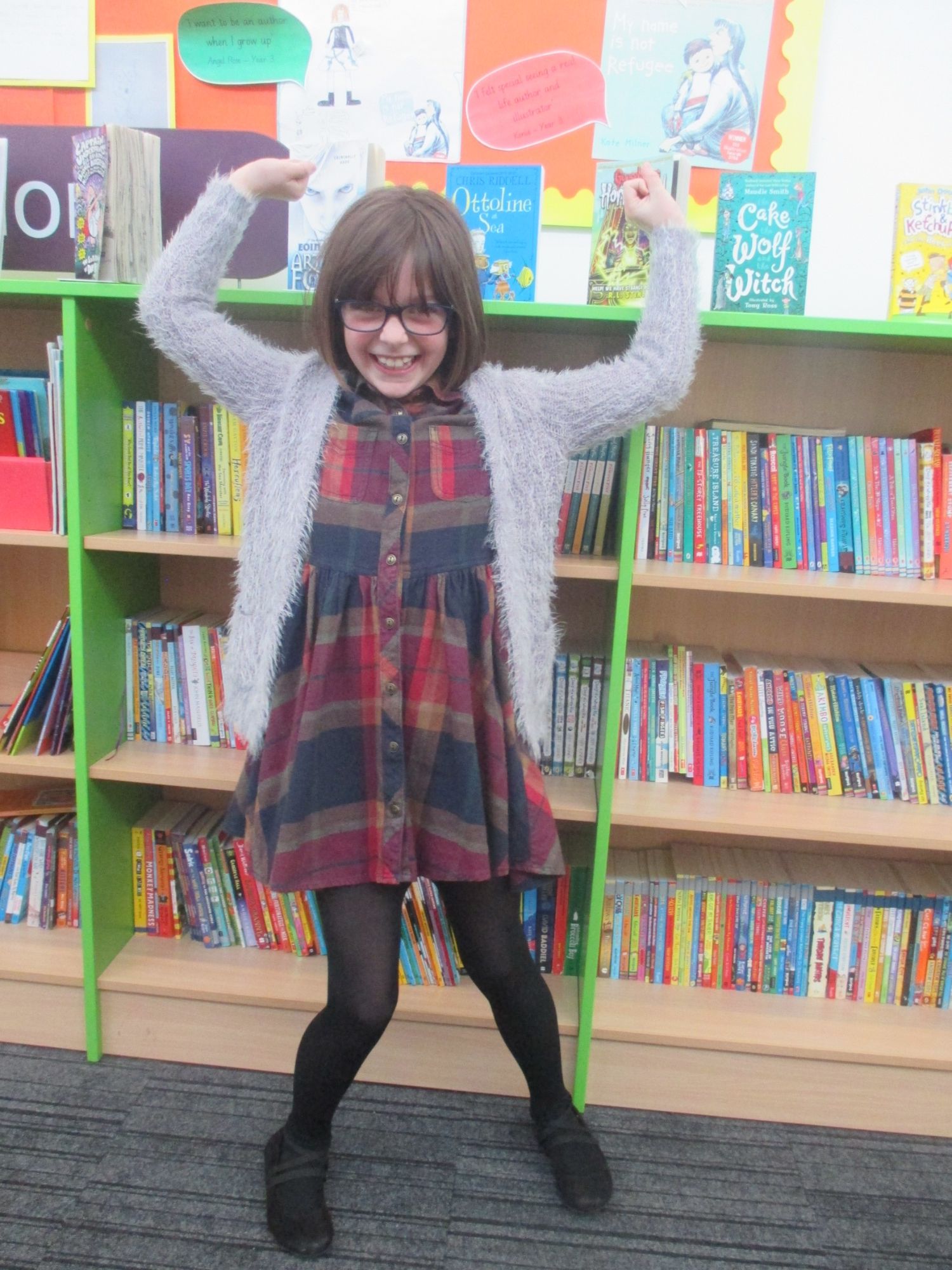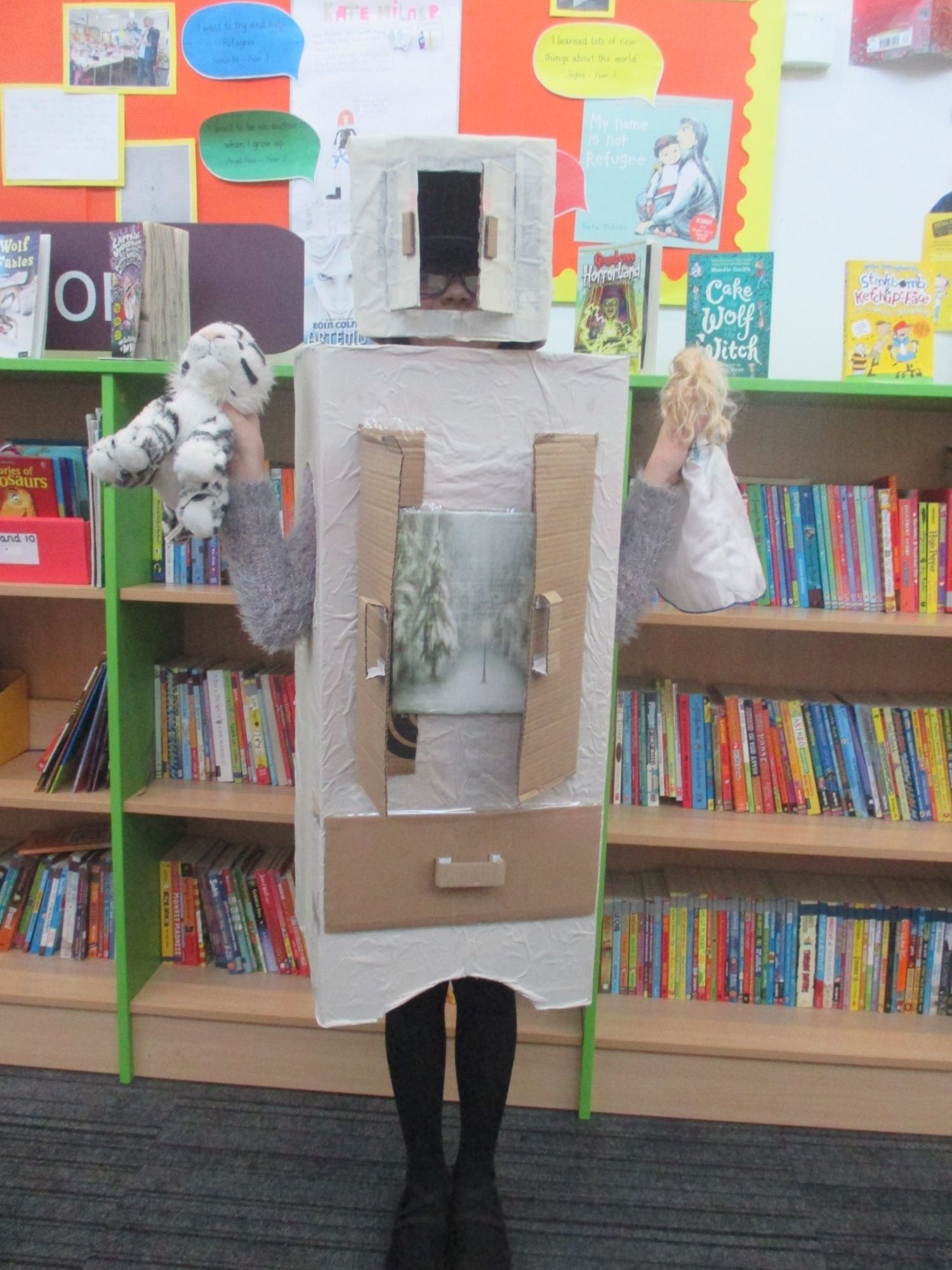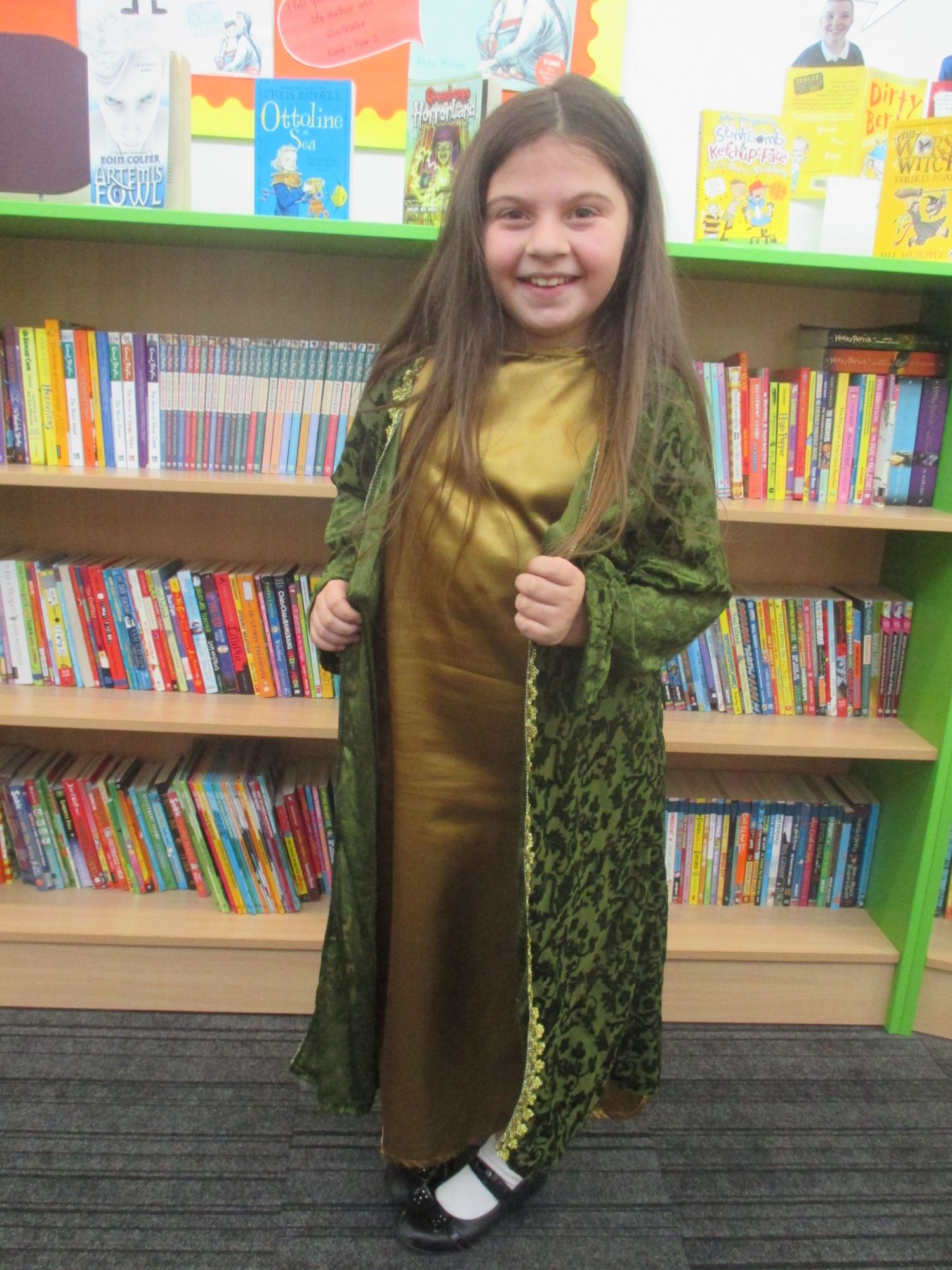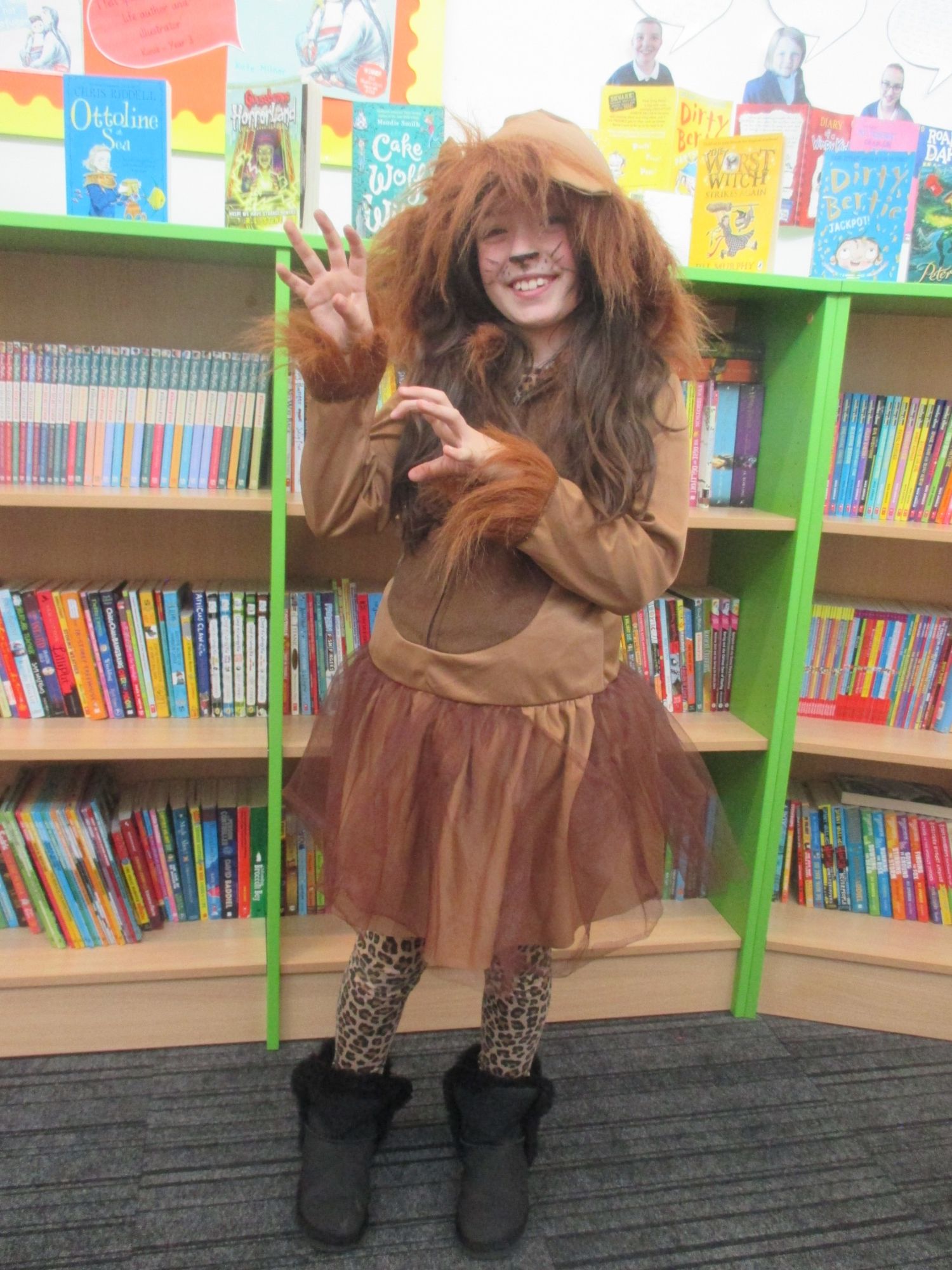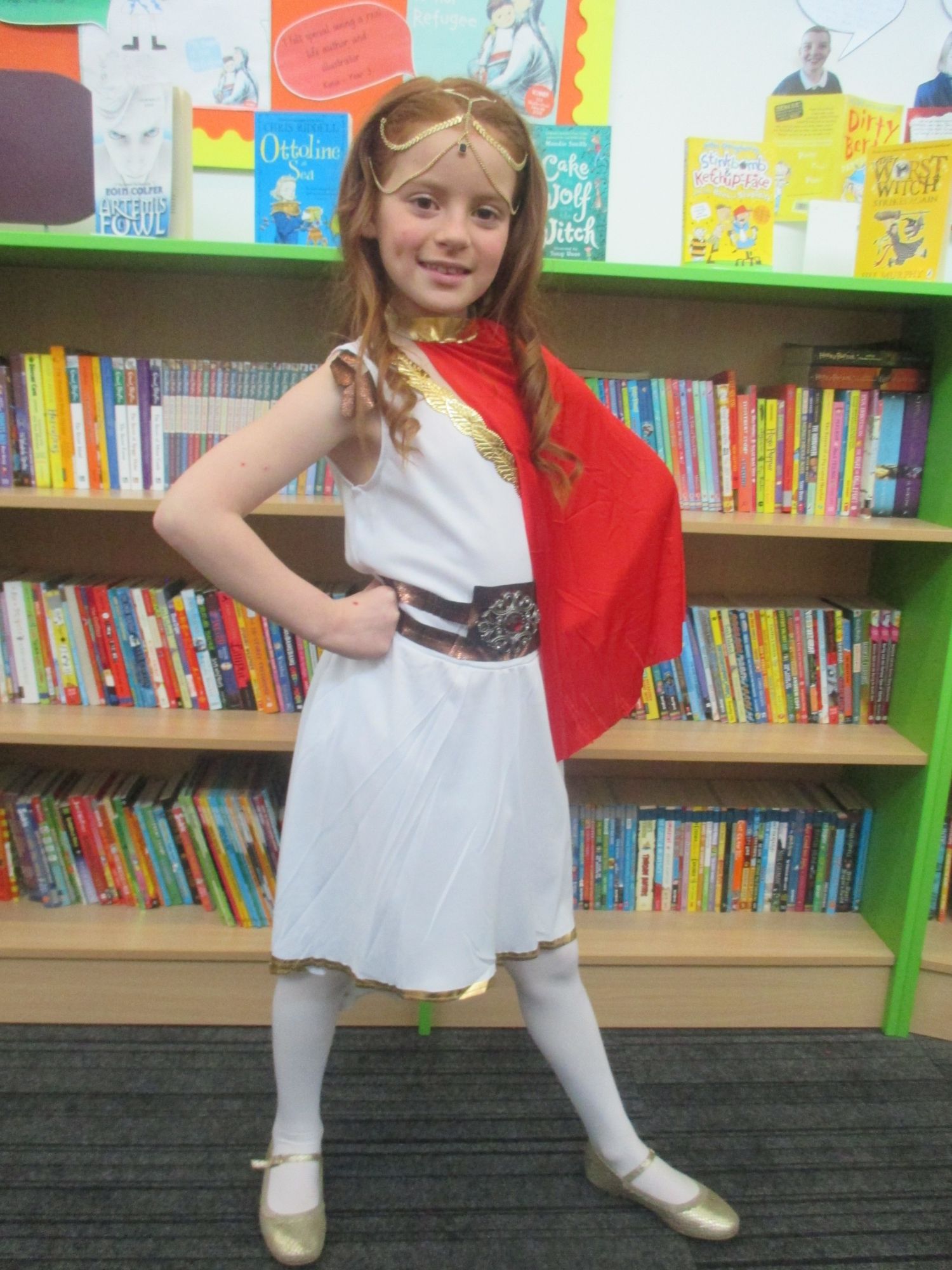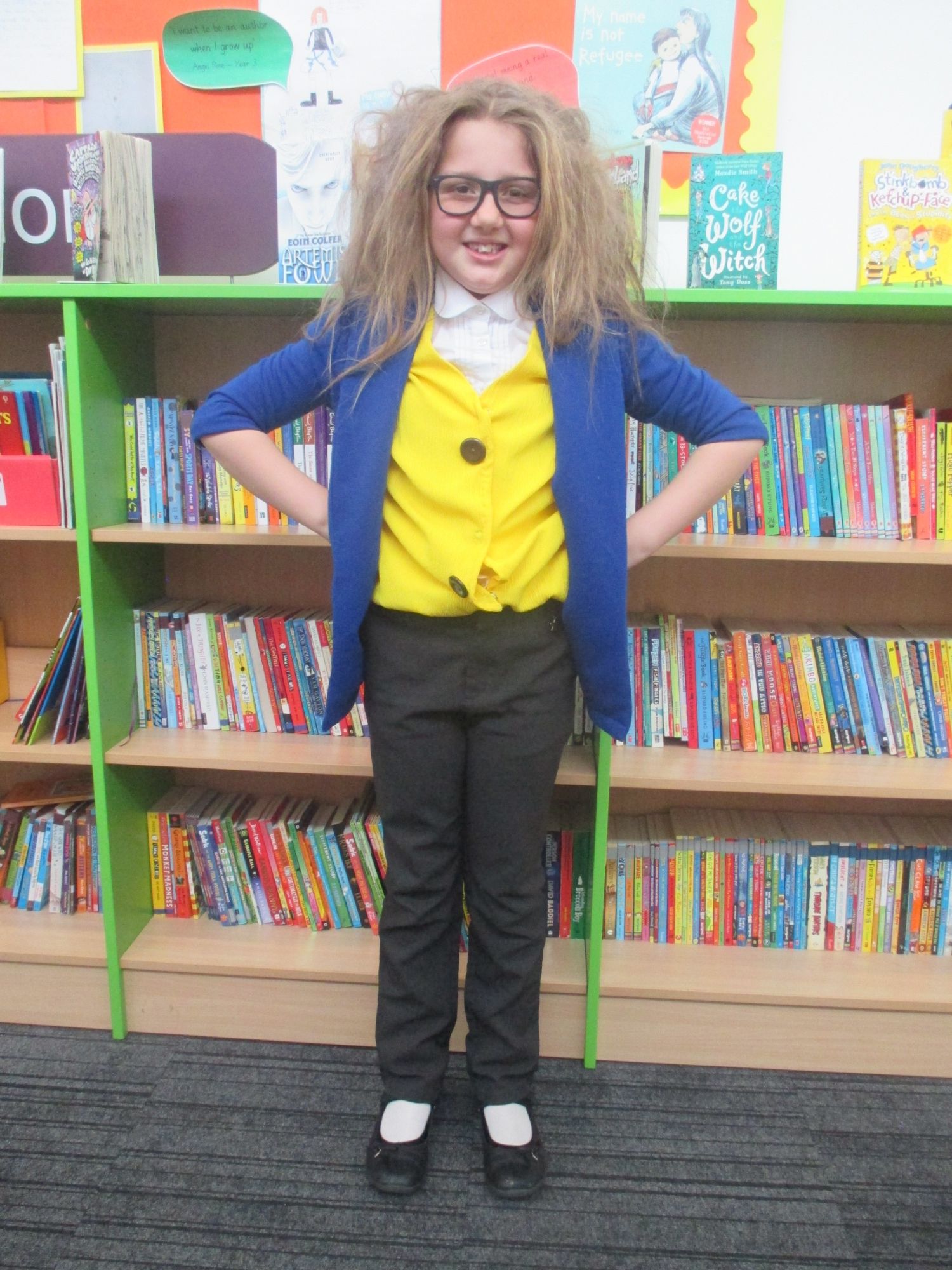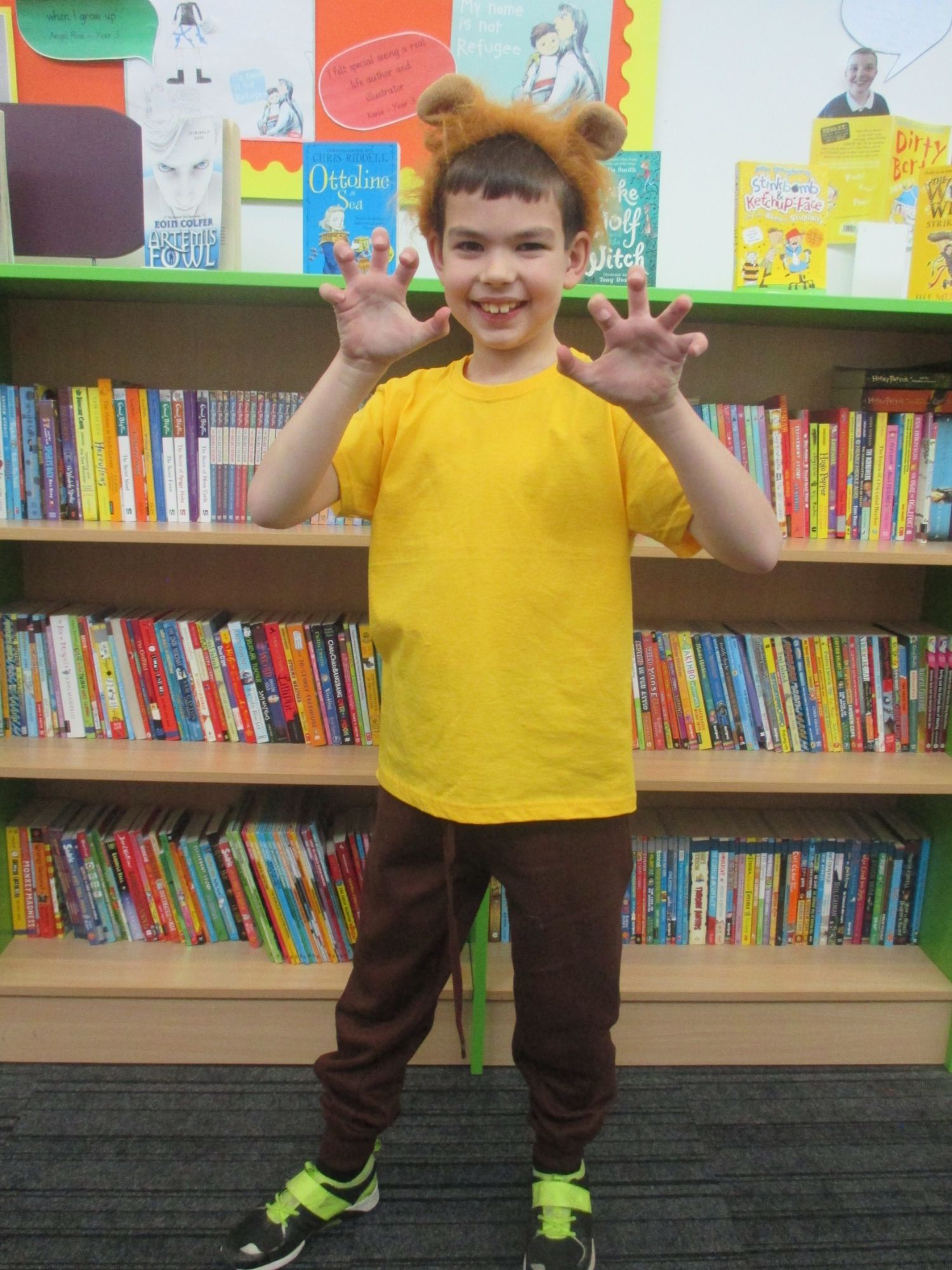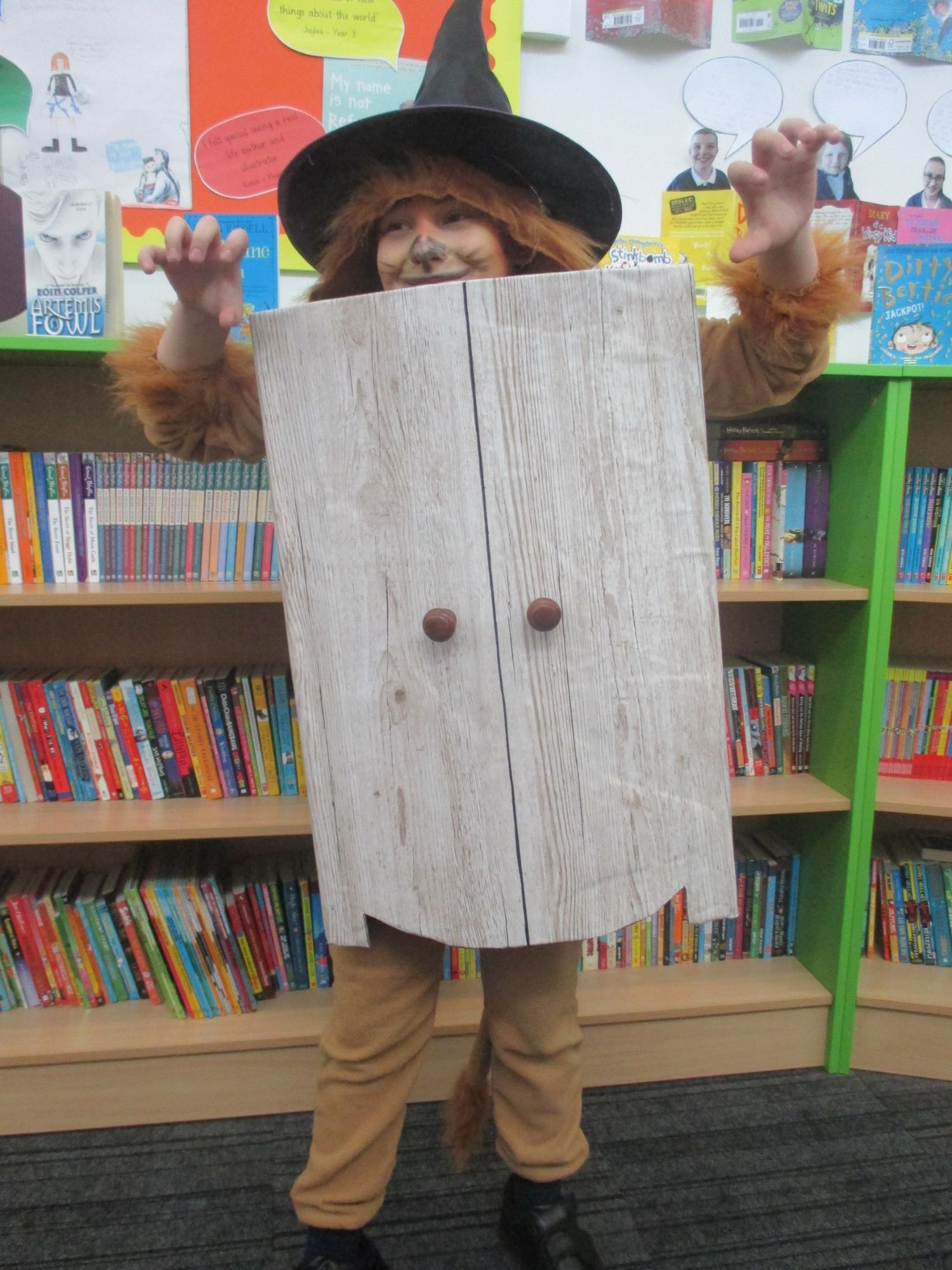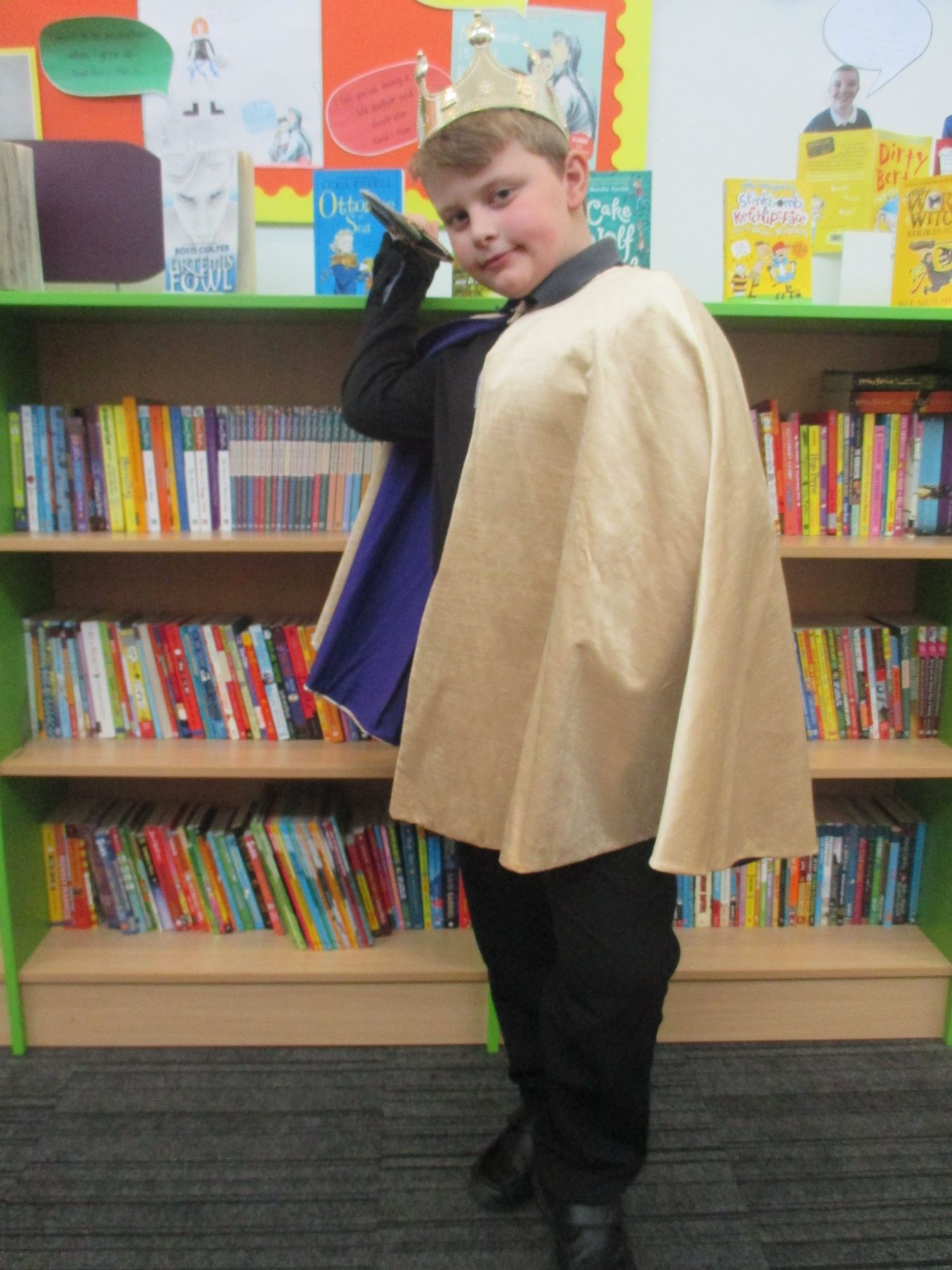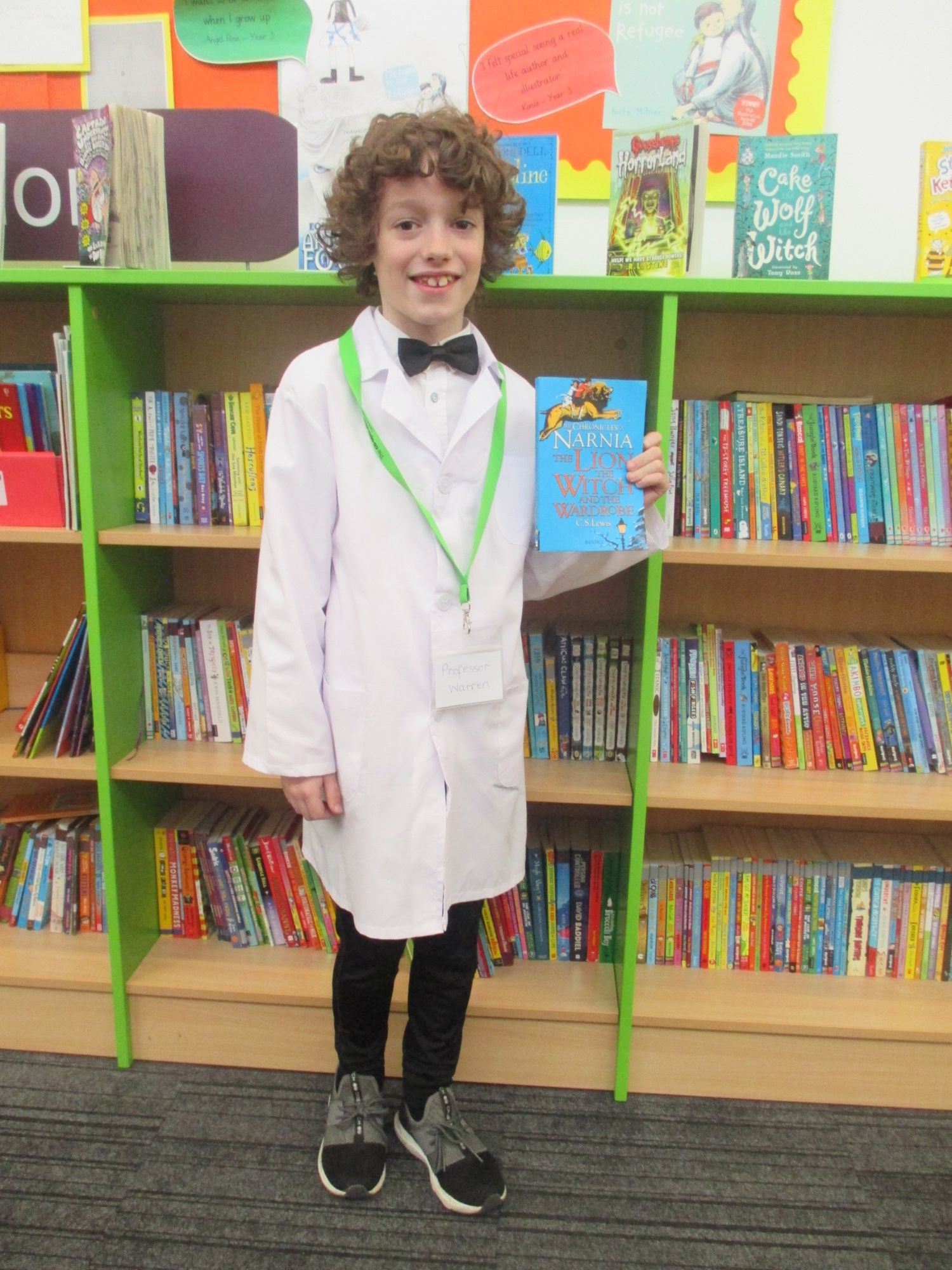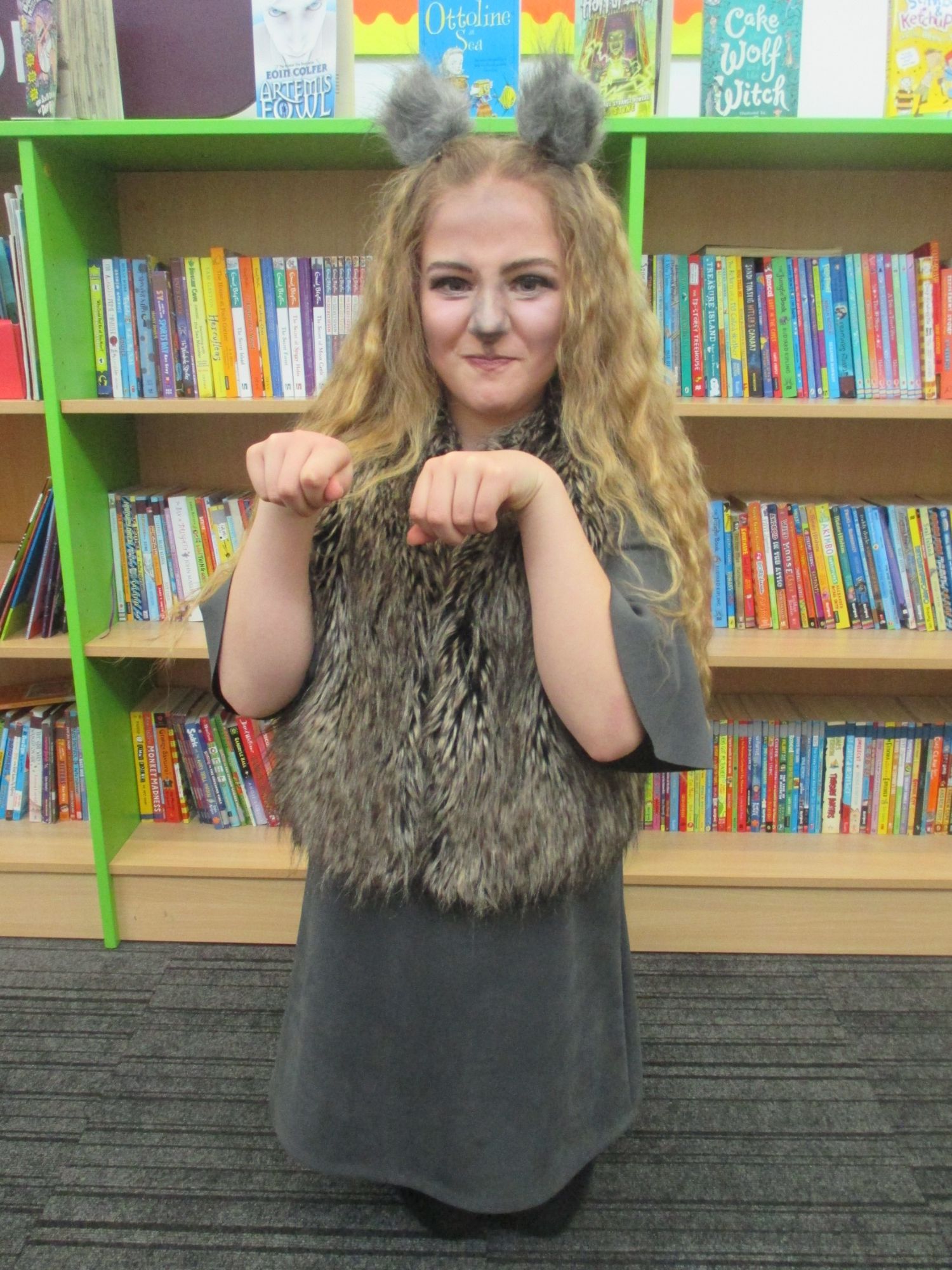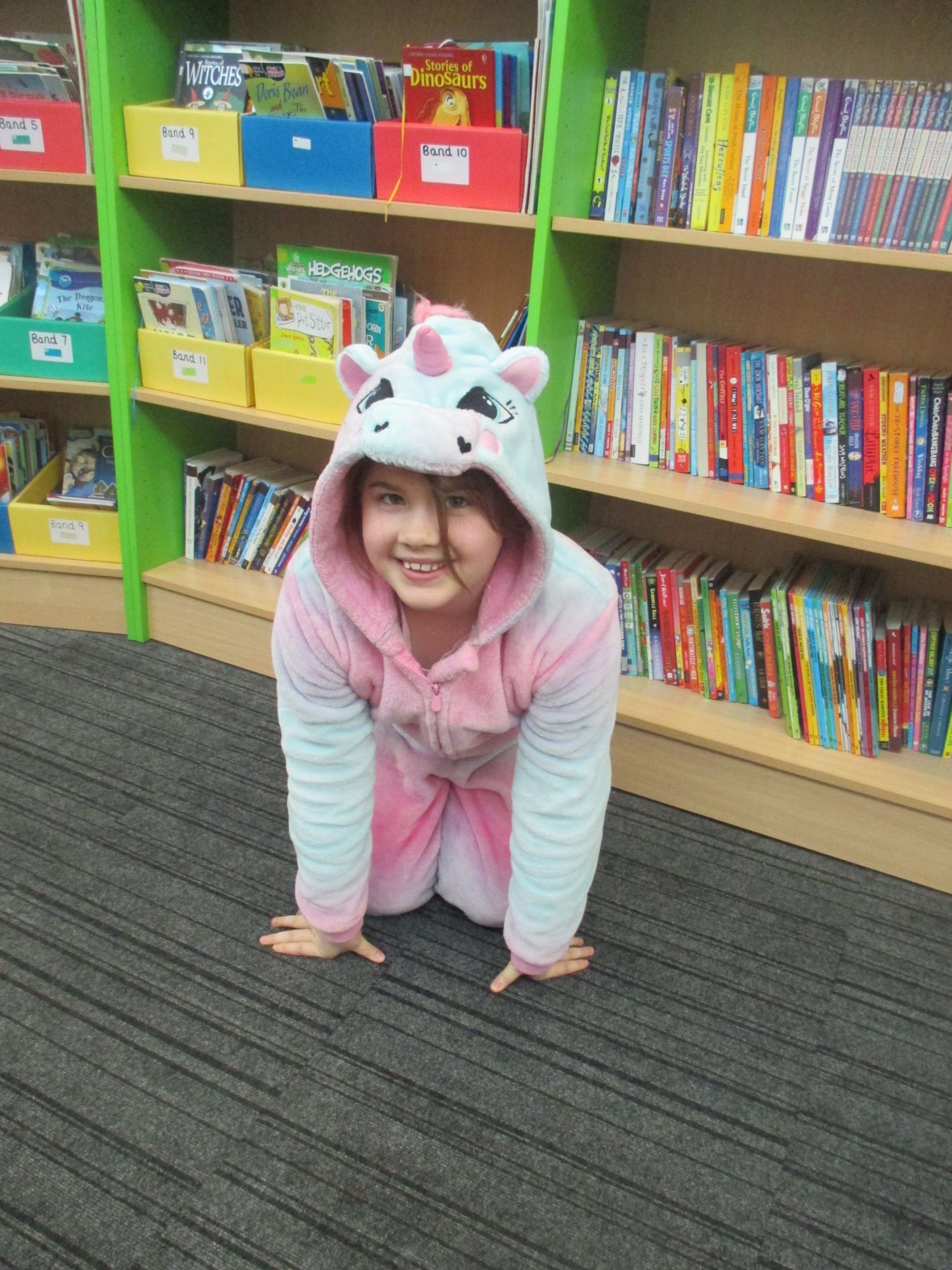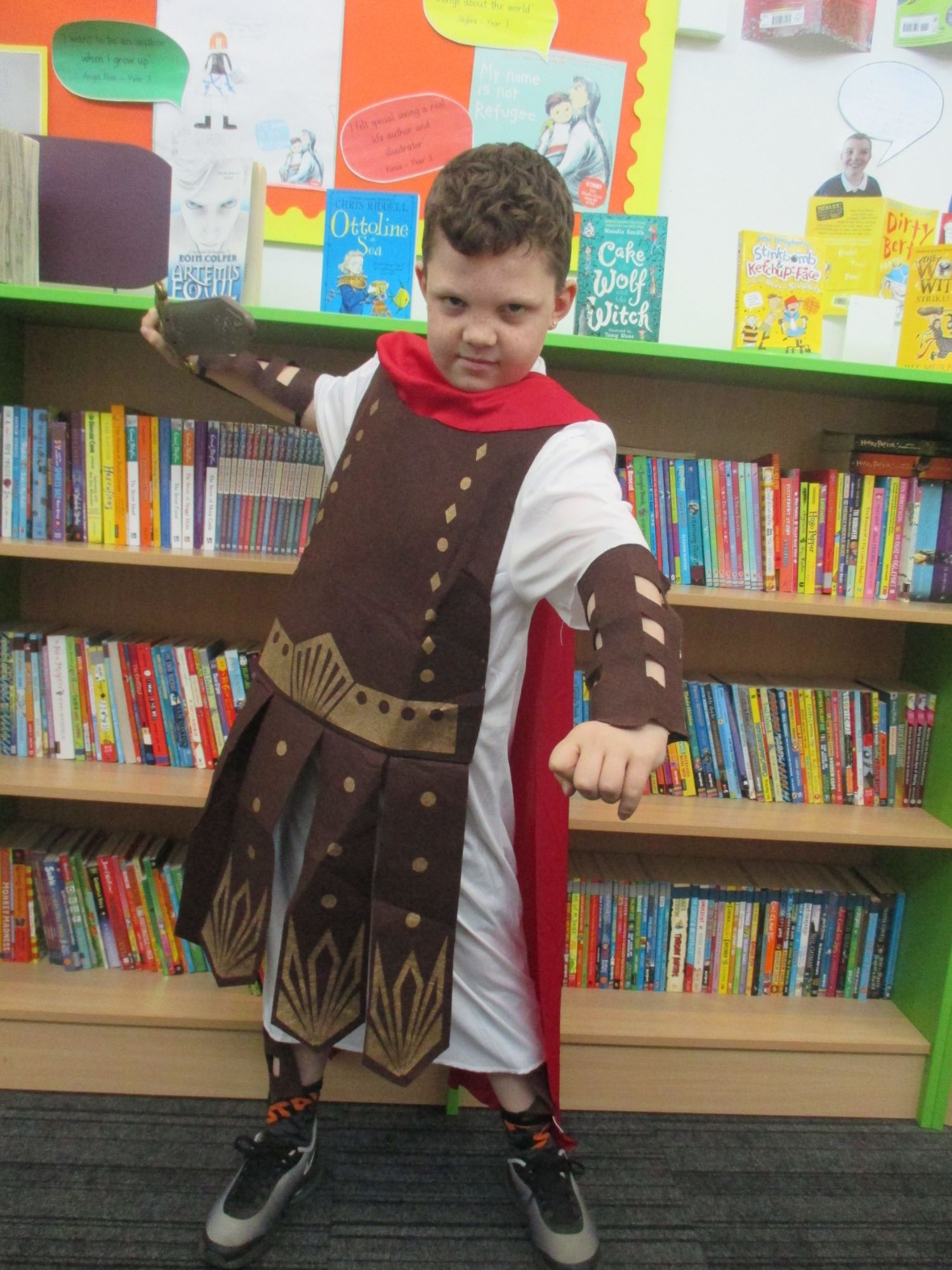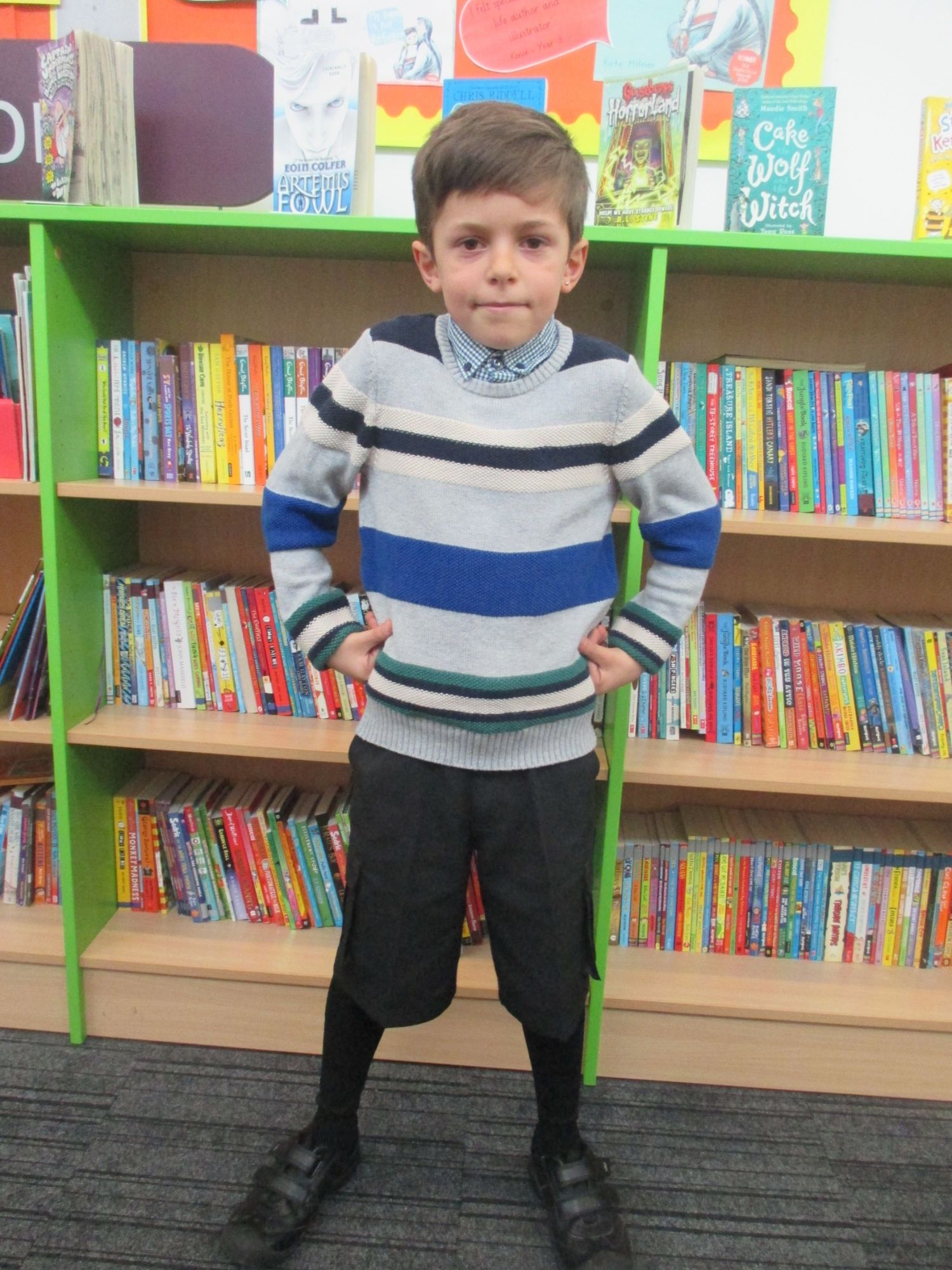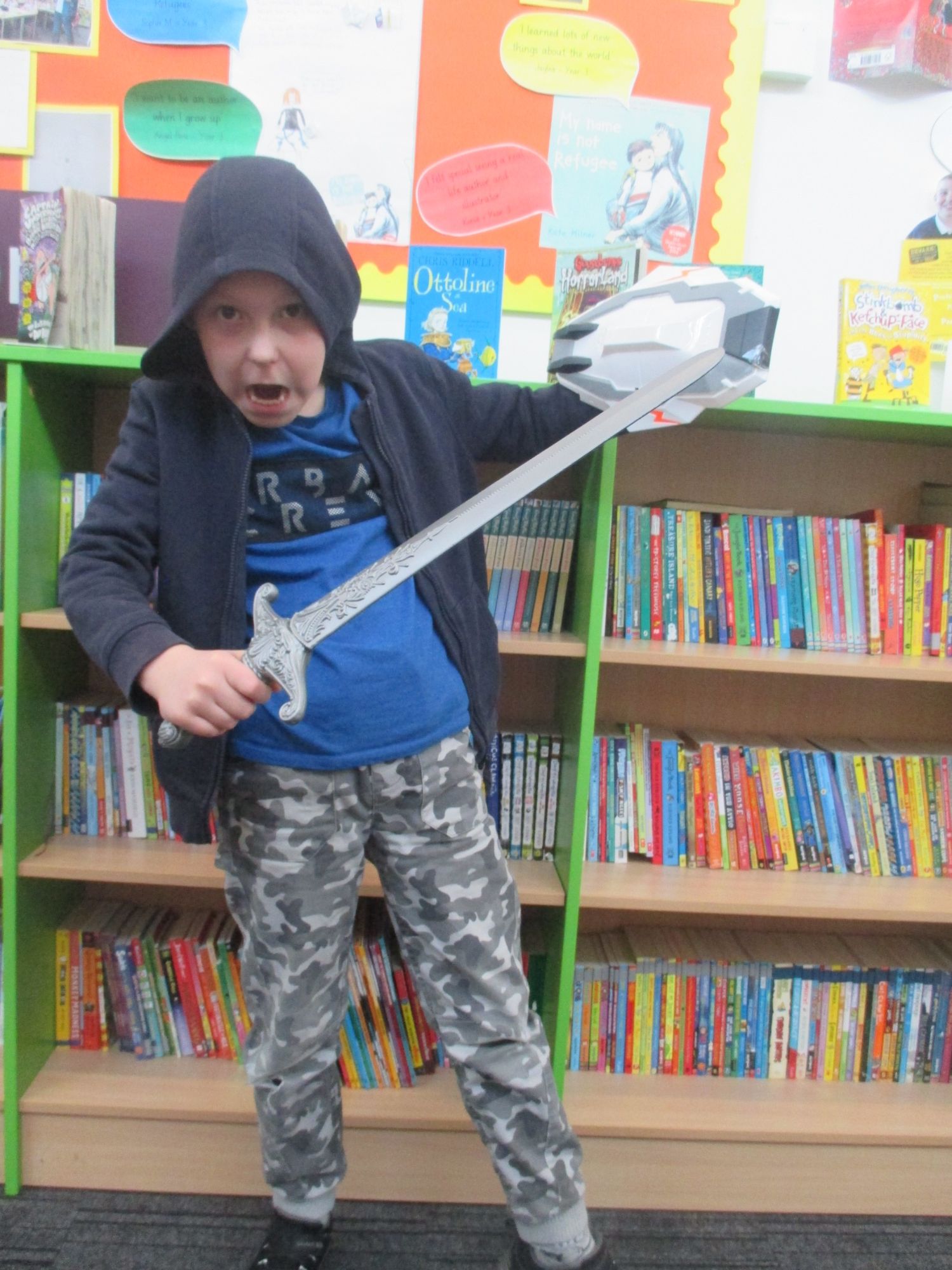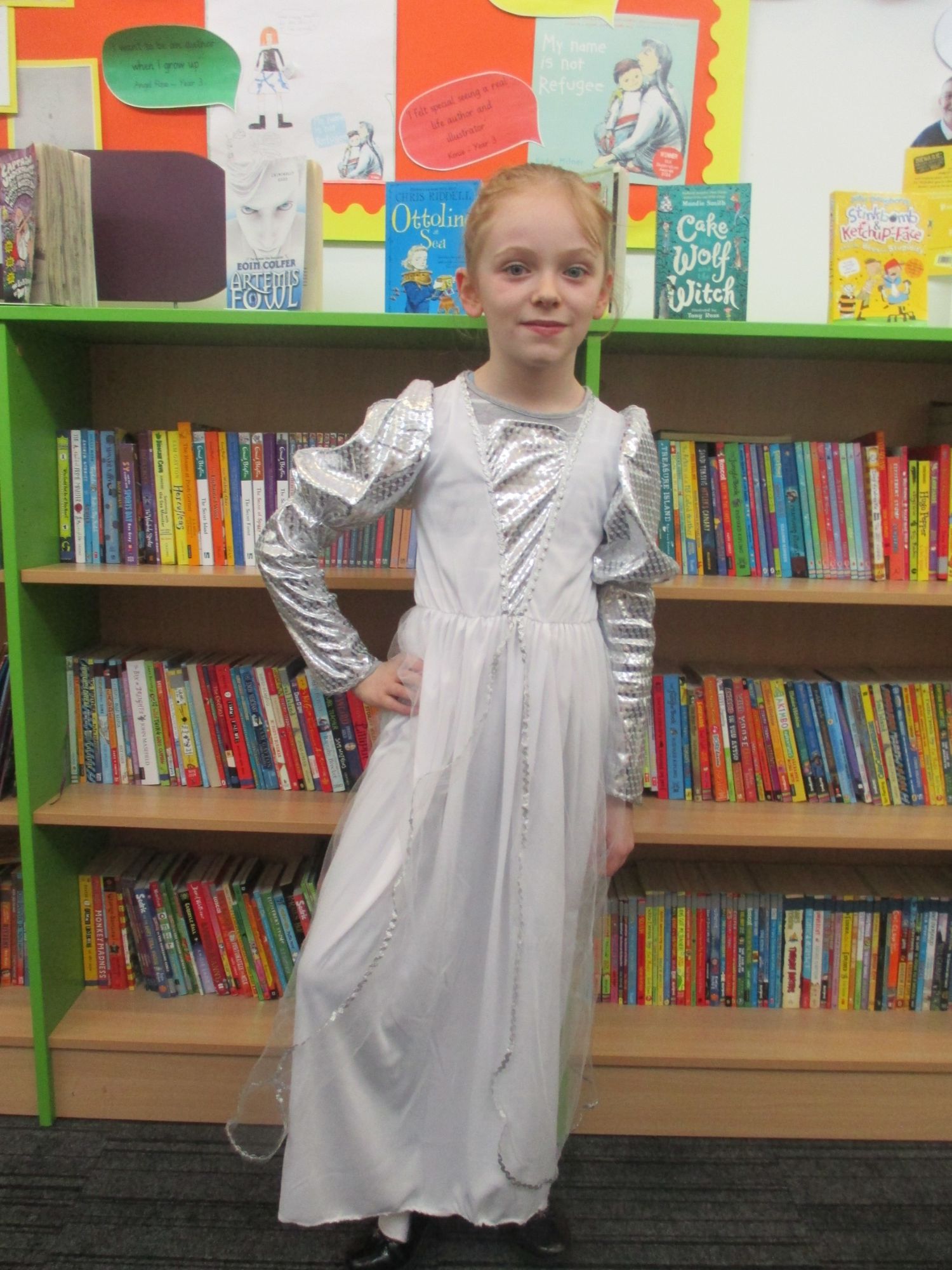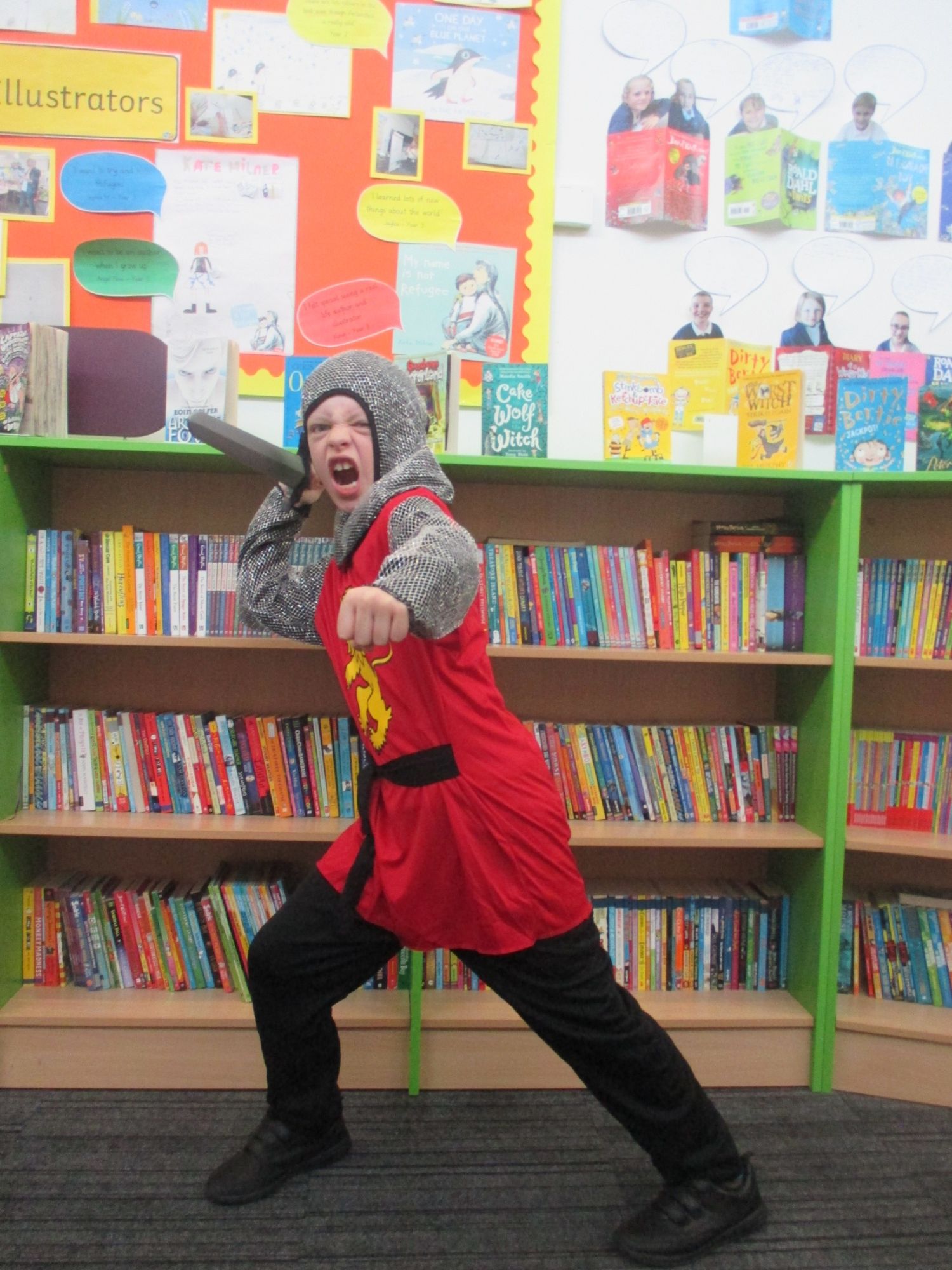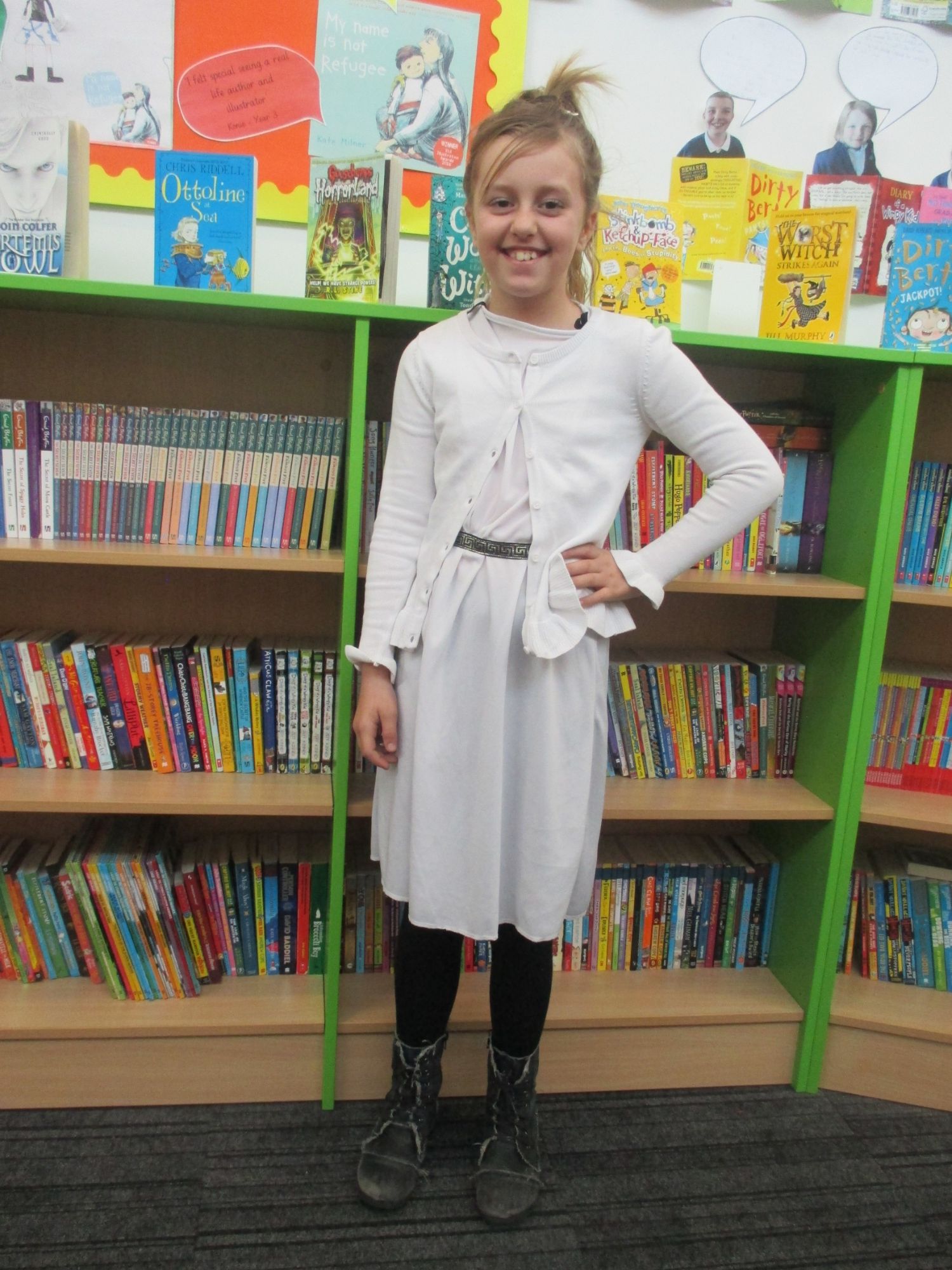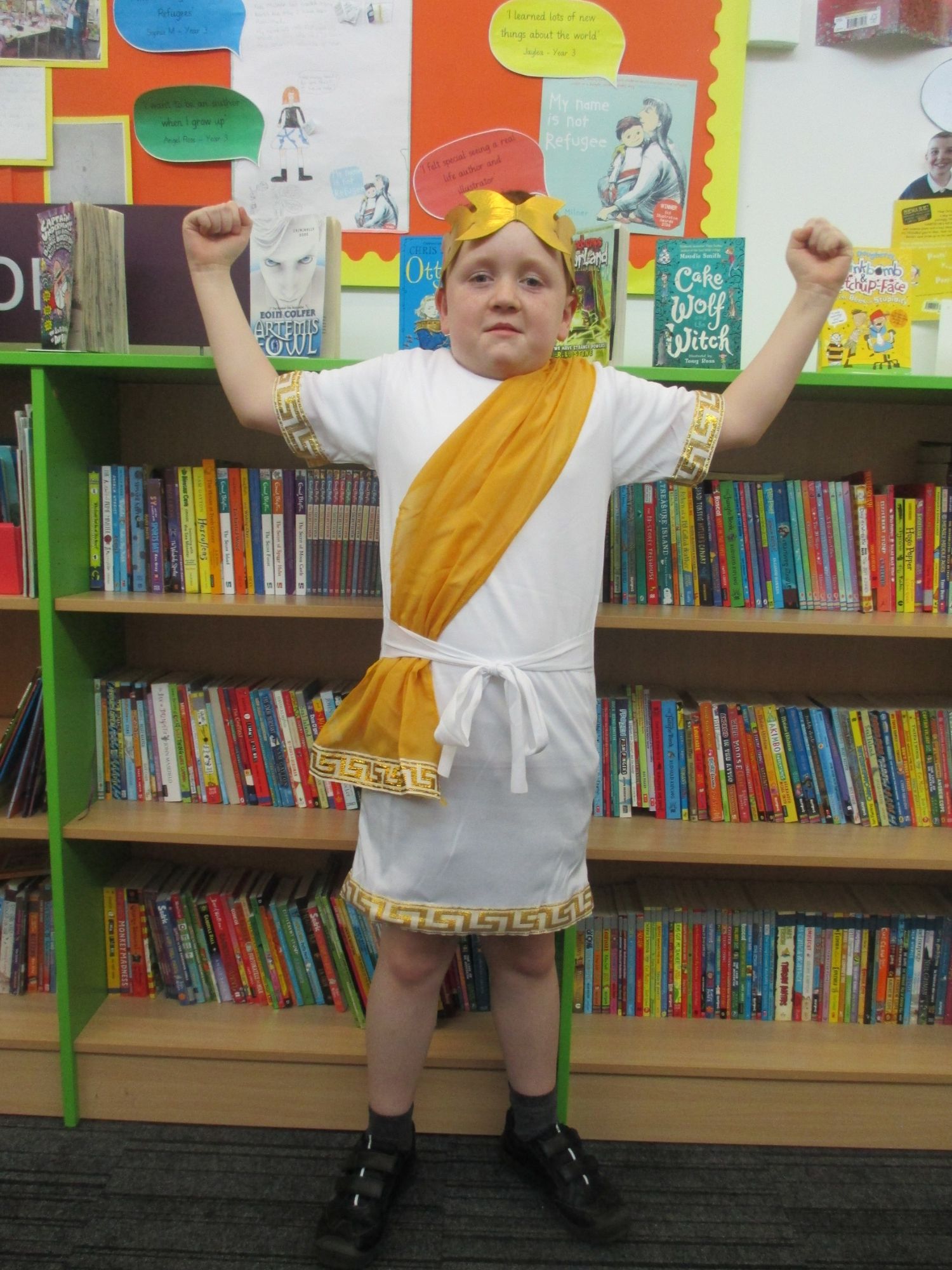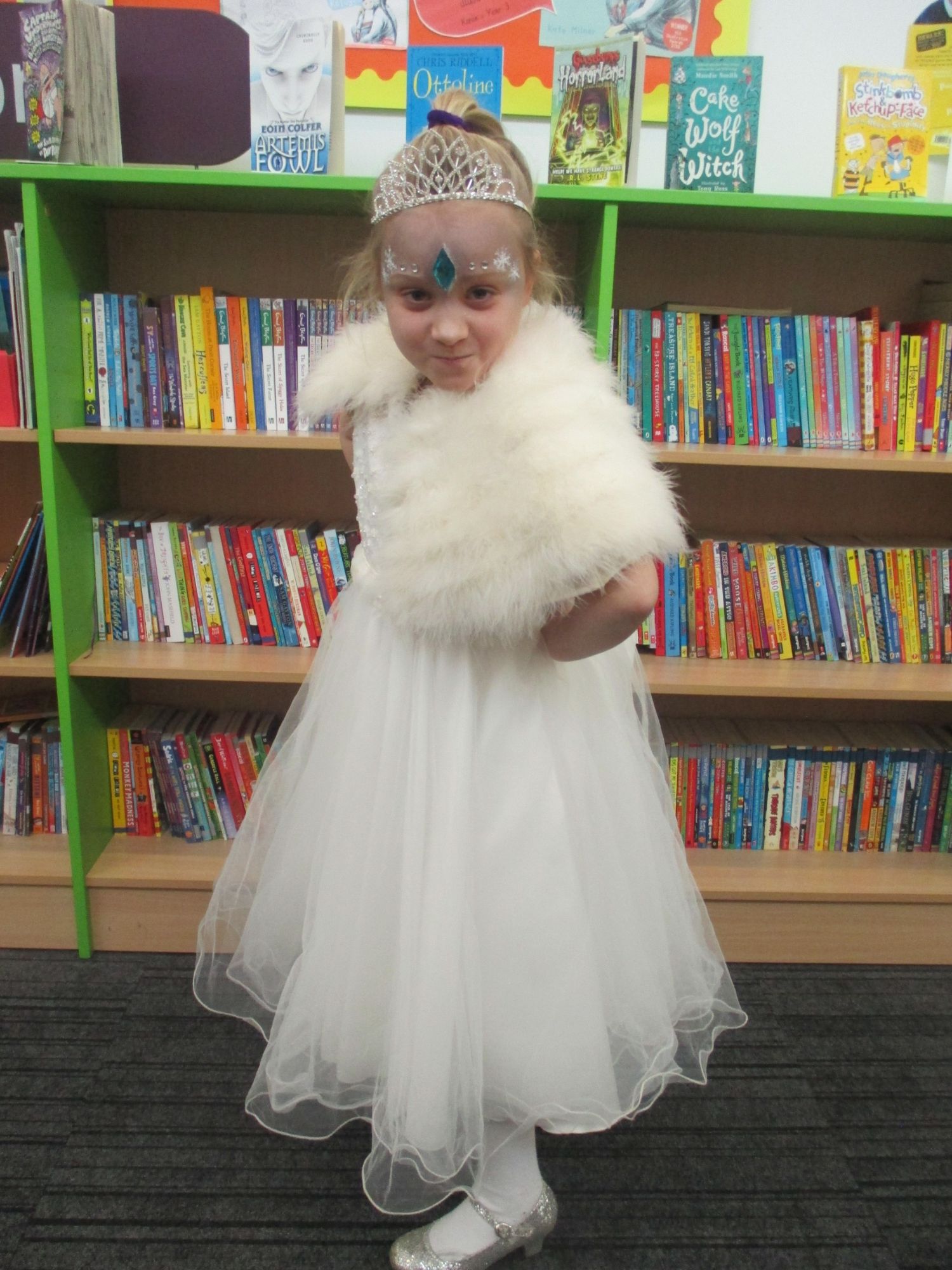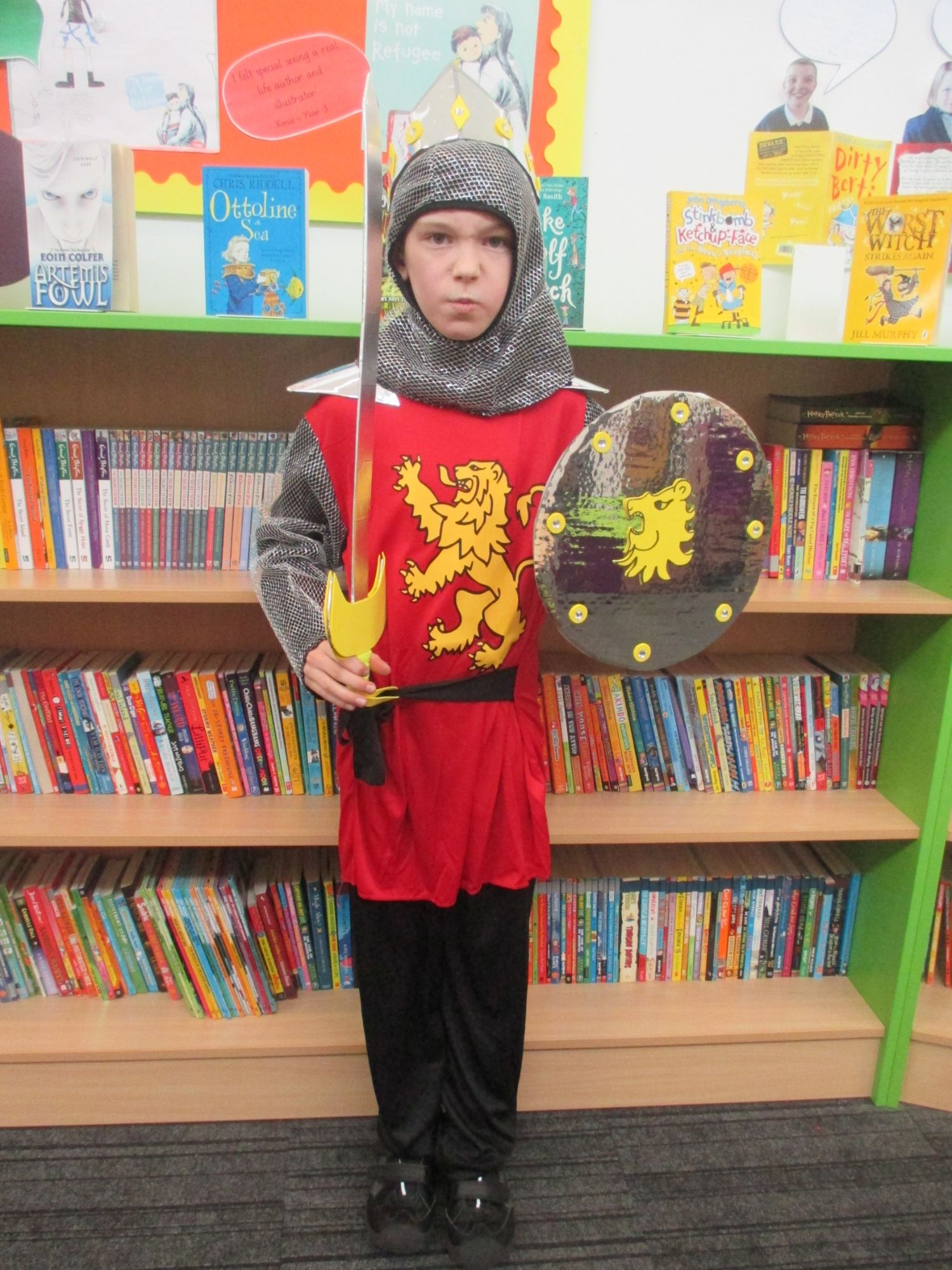 What an amazing collection of costumes!
Thank you all for your super effort.
Fortnight beginning 25.2.19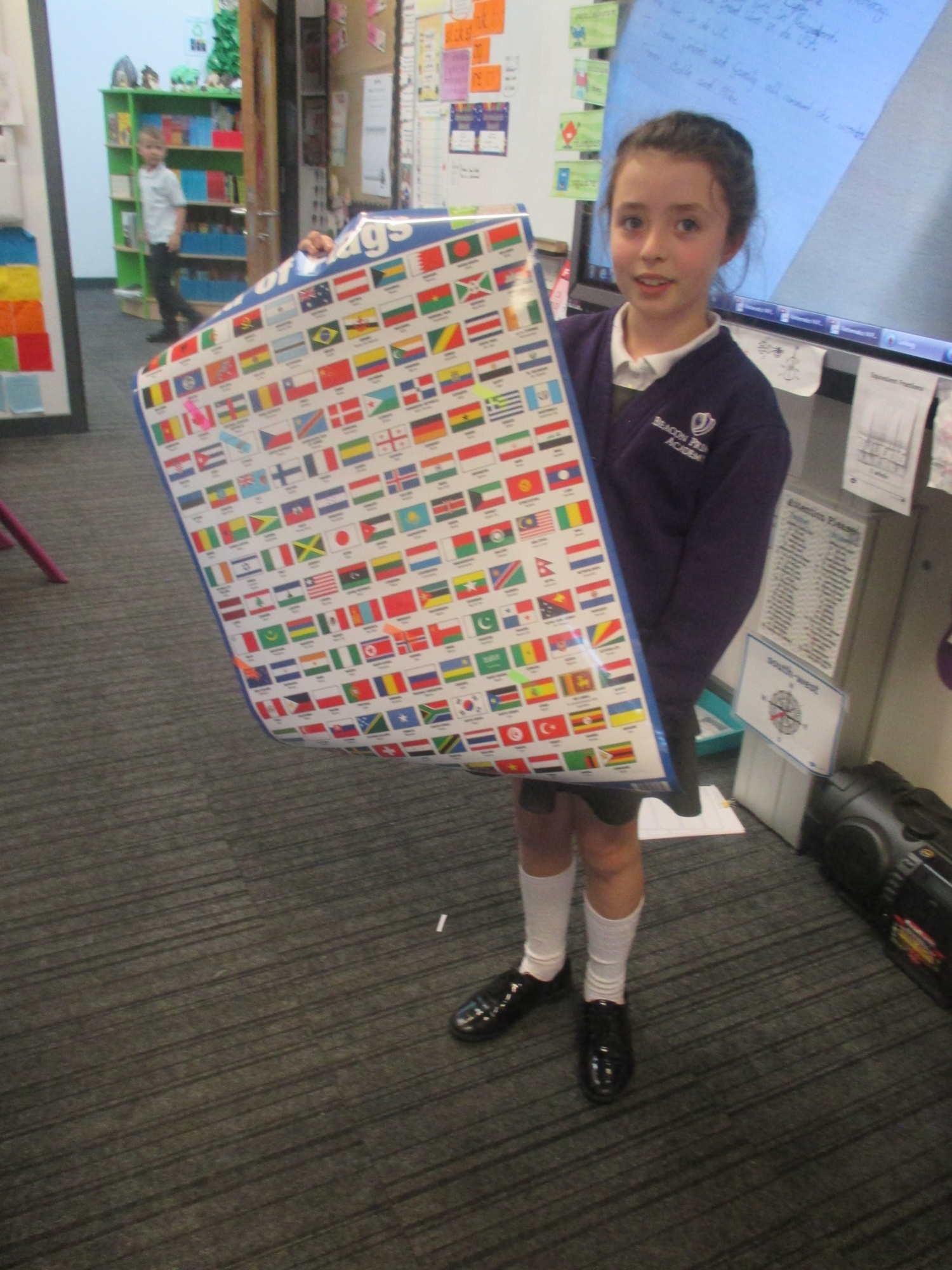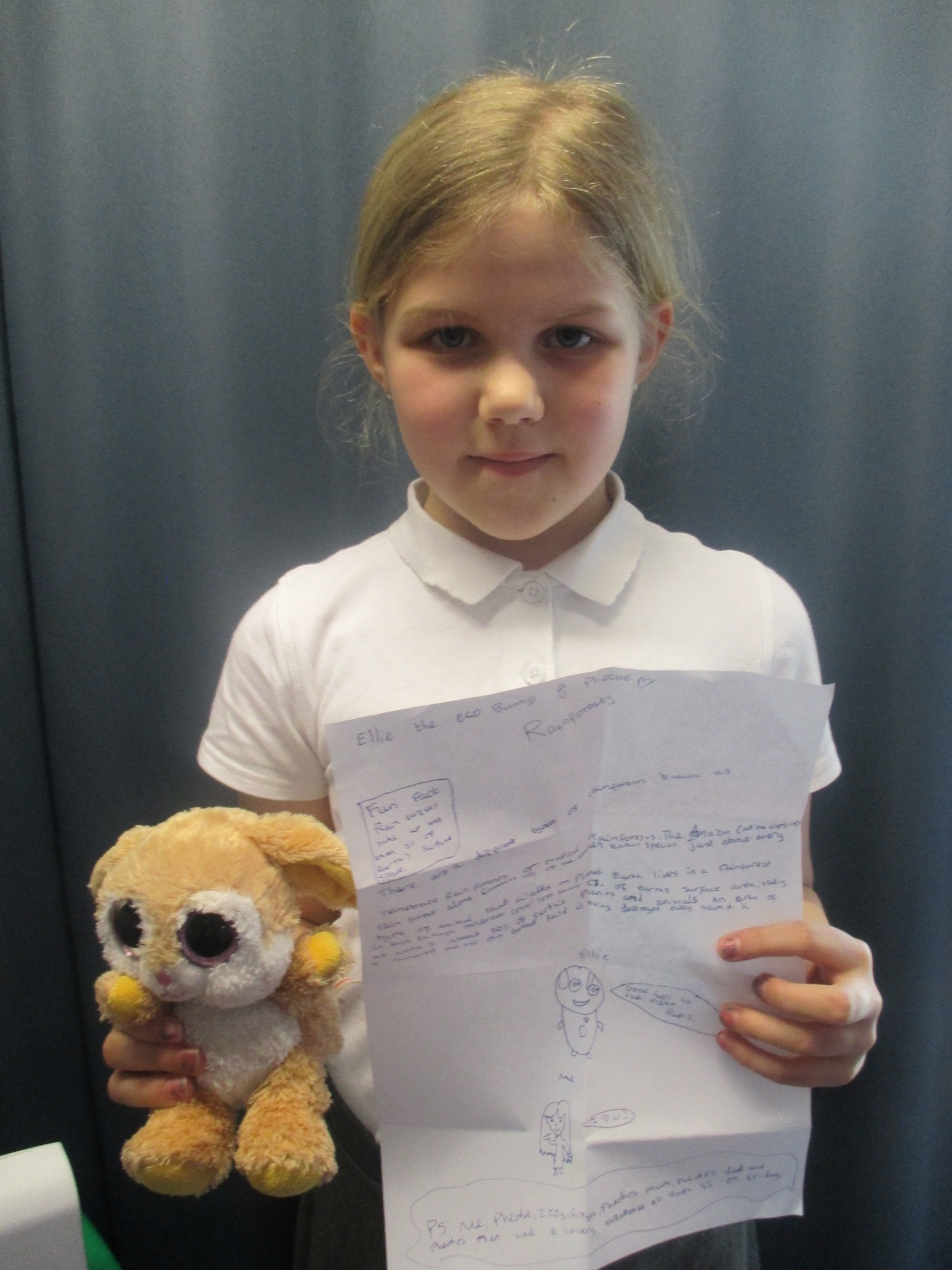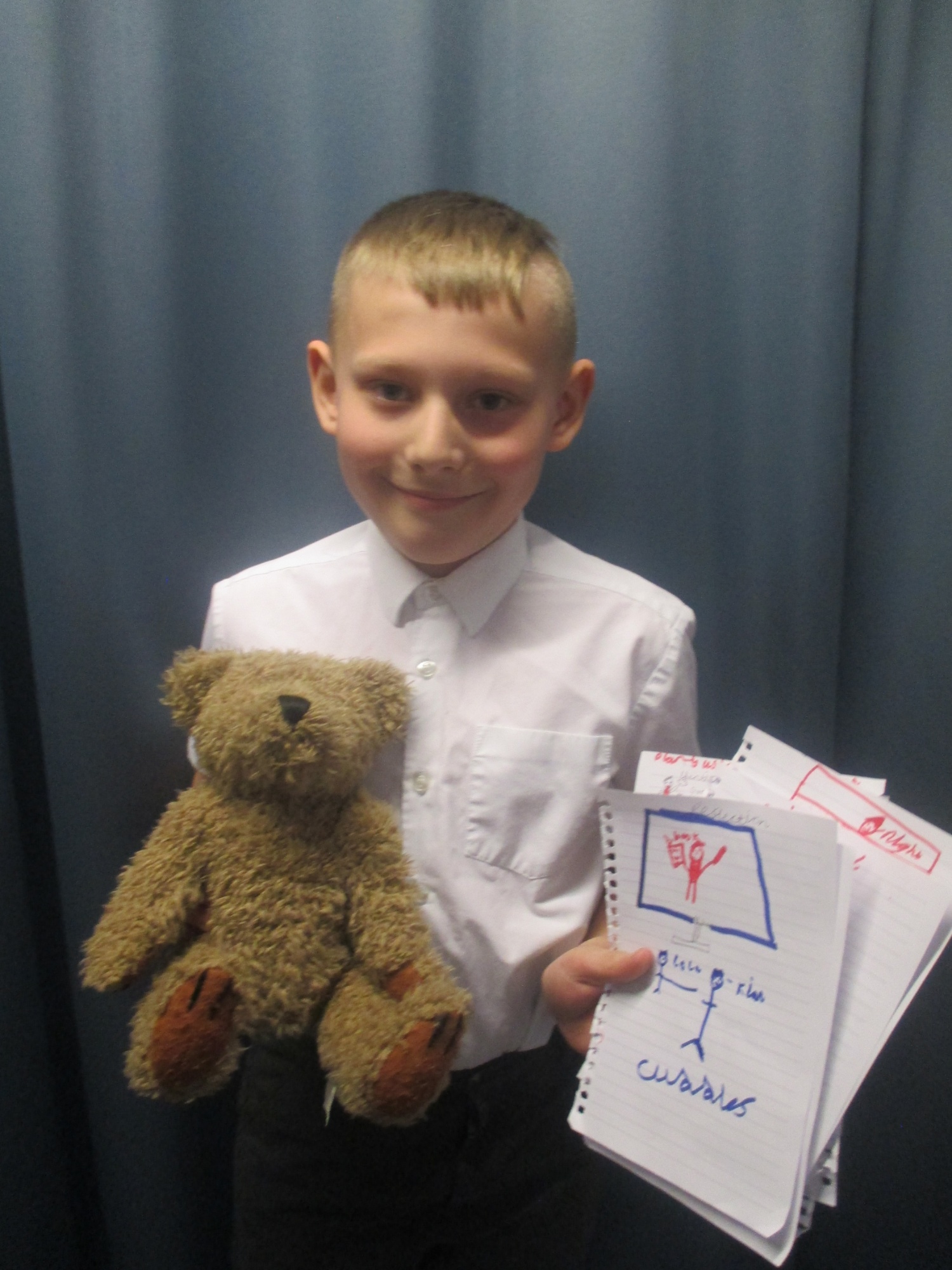 Learning with the homework buddies
Learning about how sounds are produced: Mrs. Parkins demonstrated this using her clarinet, flute, trumpet and saxophone.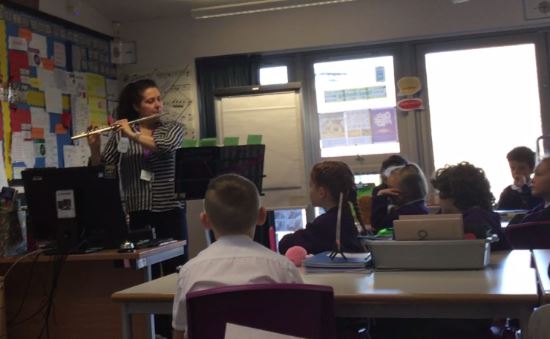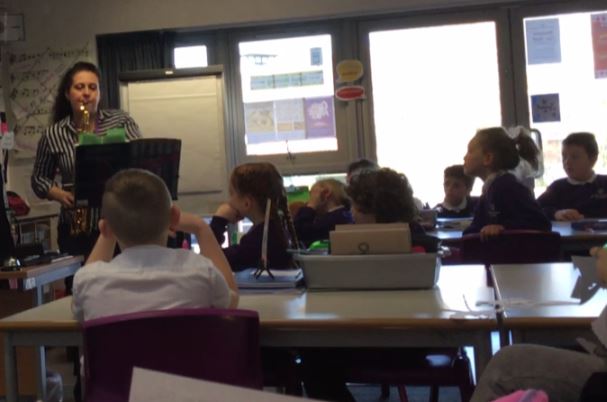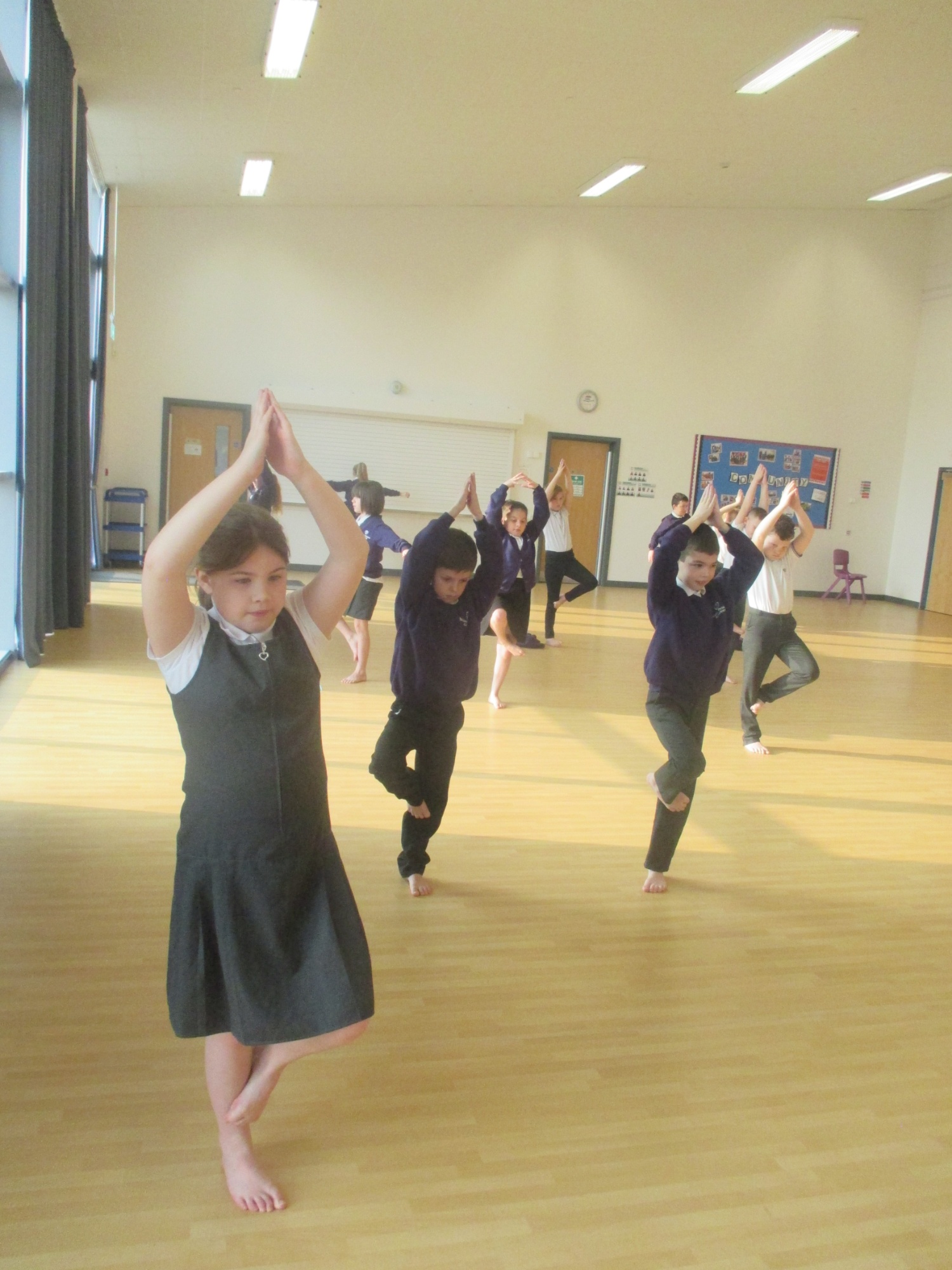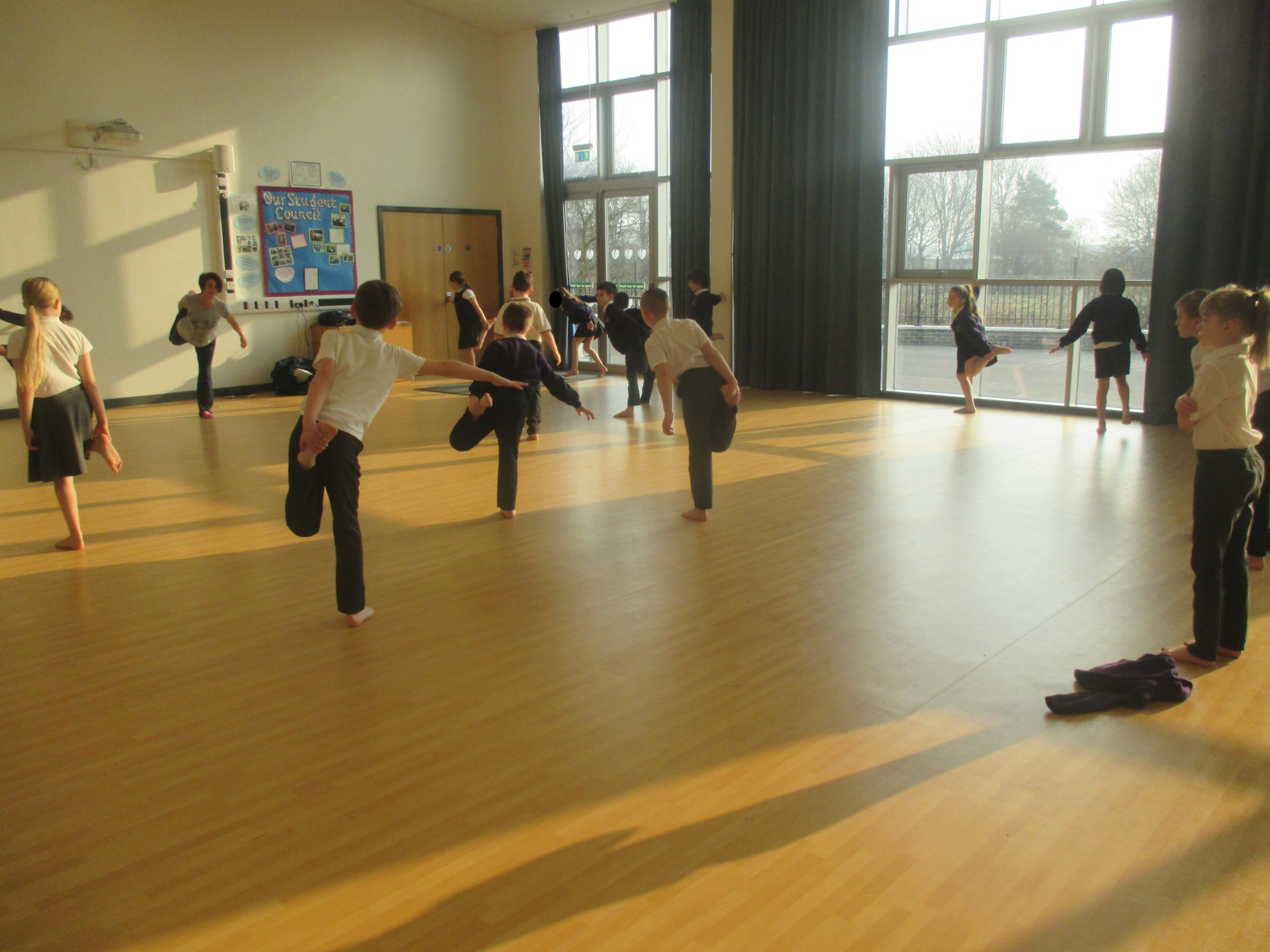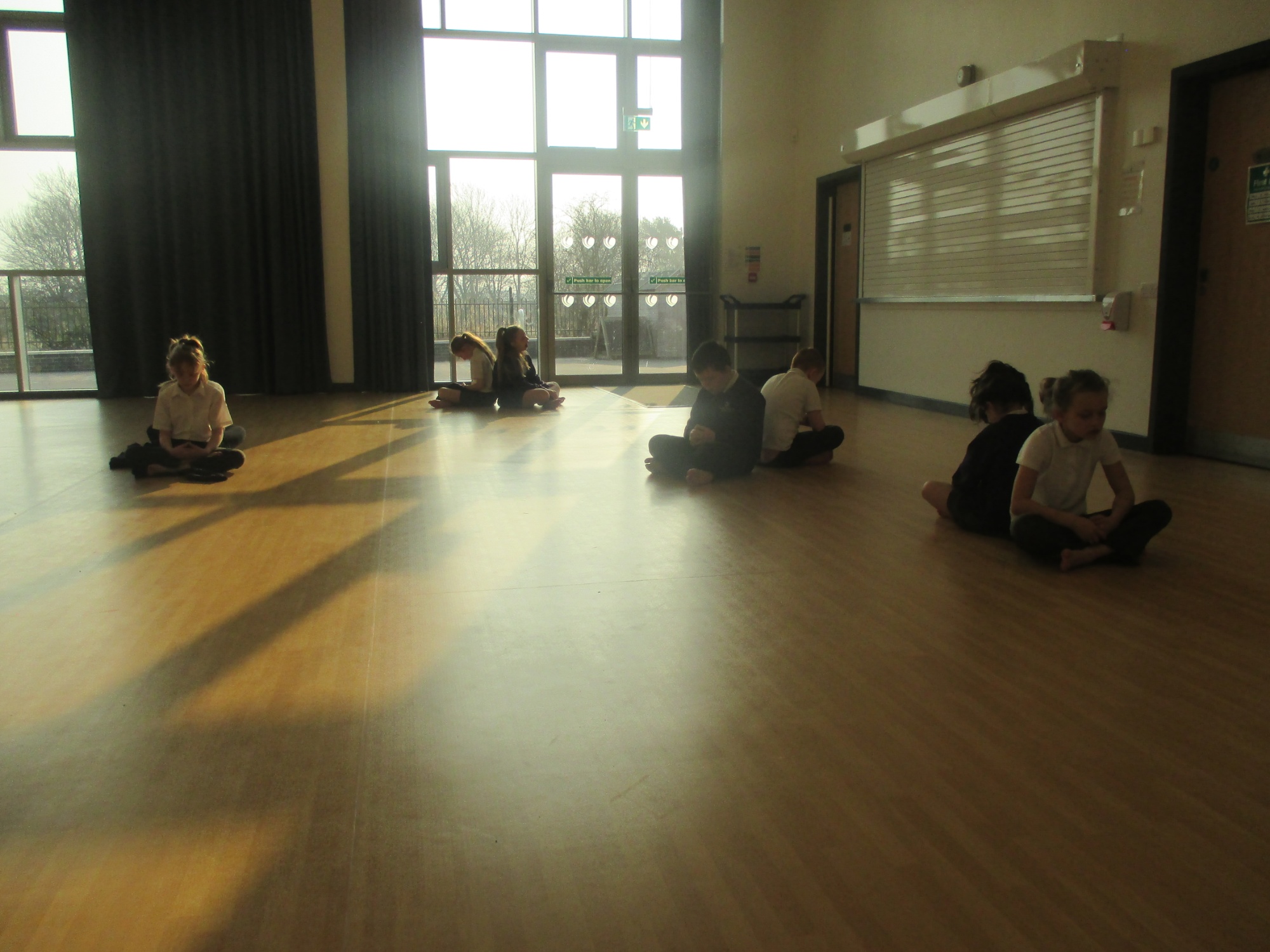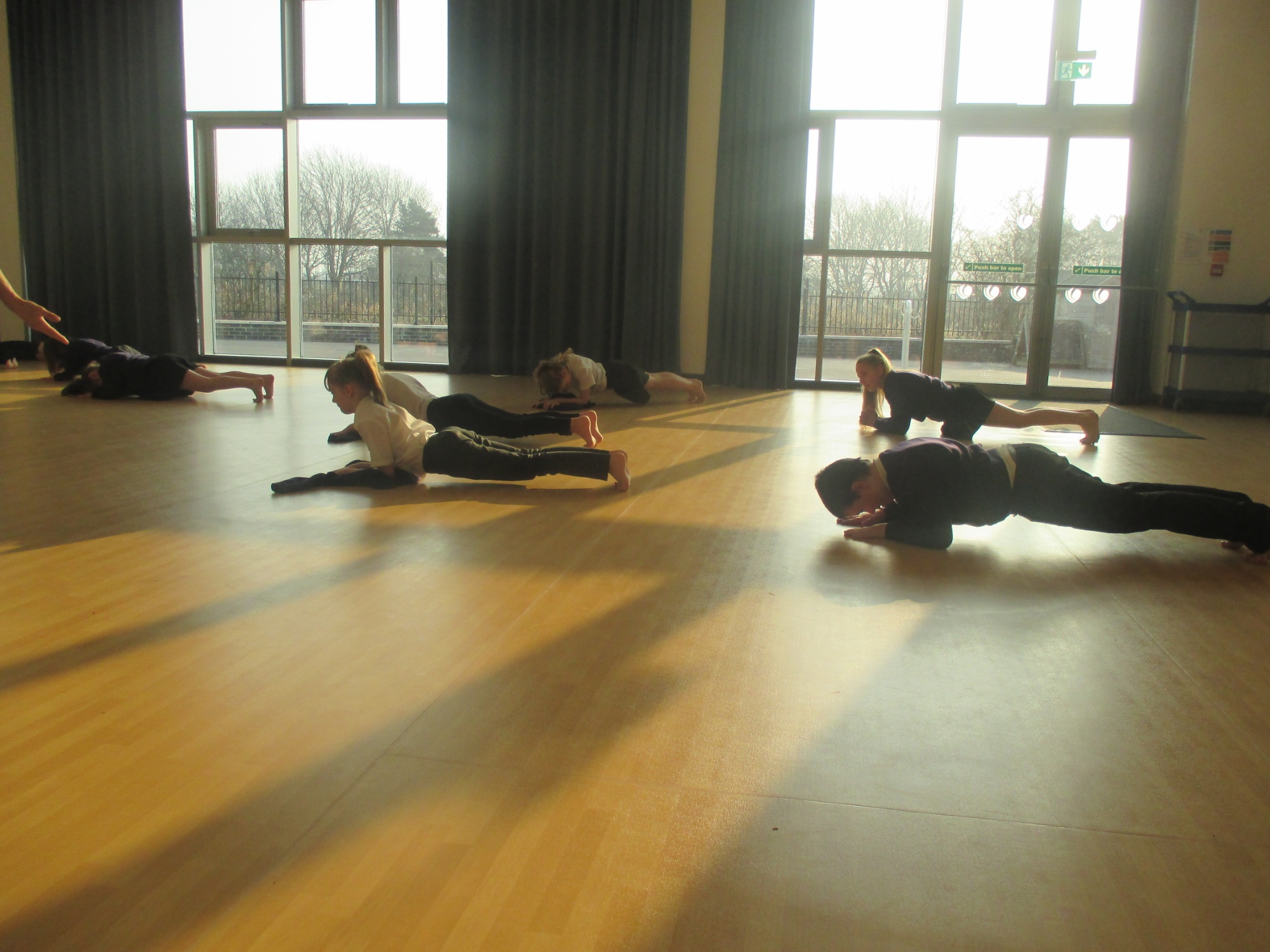 Amazing yoga!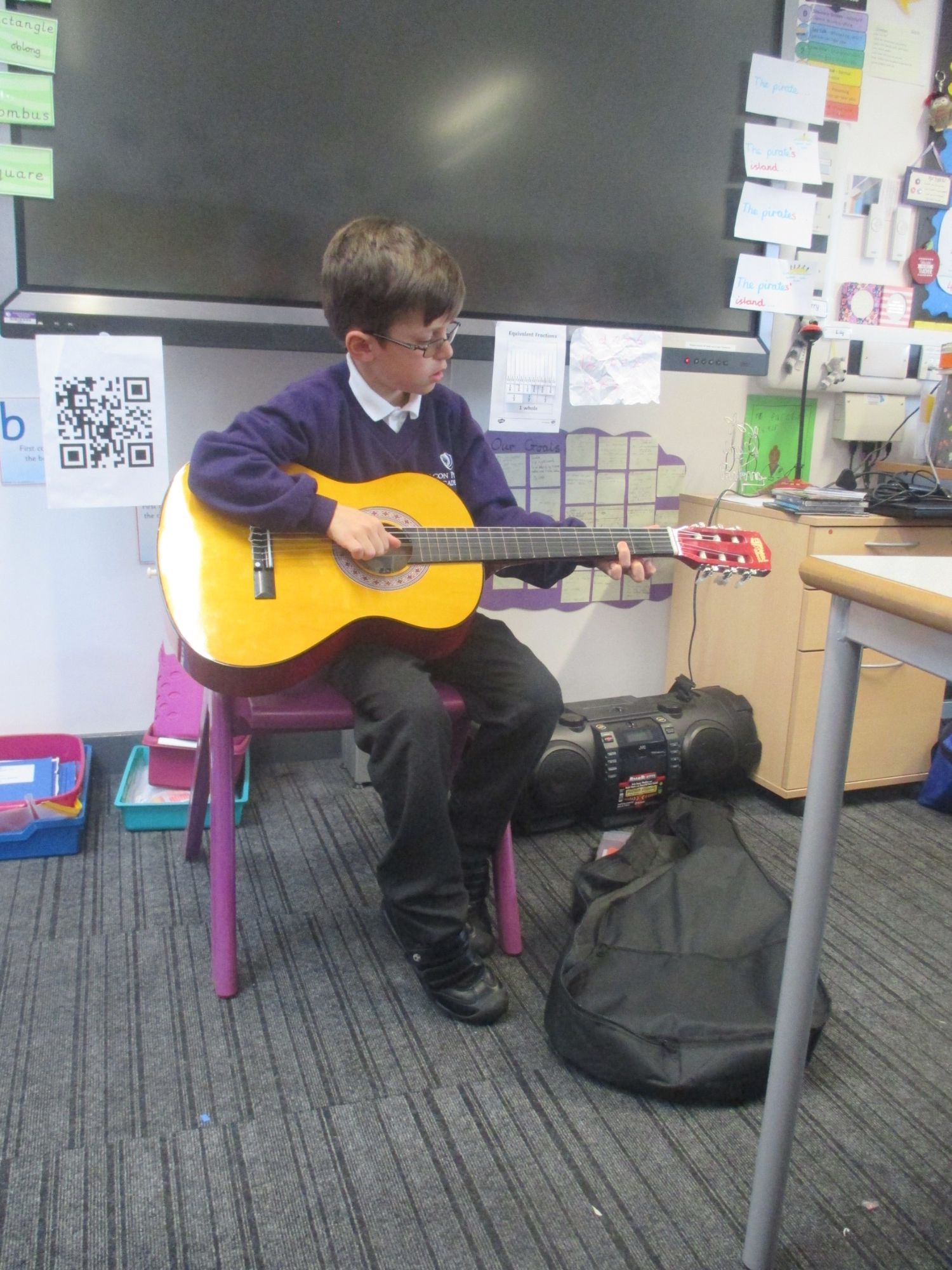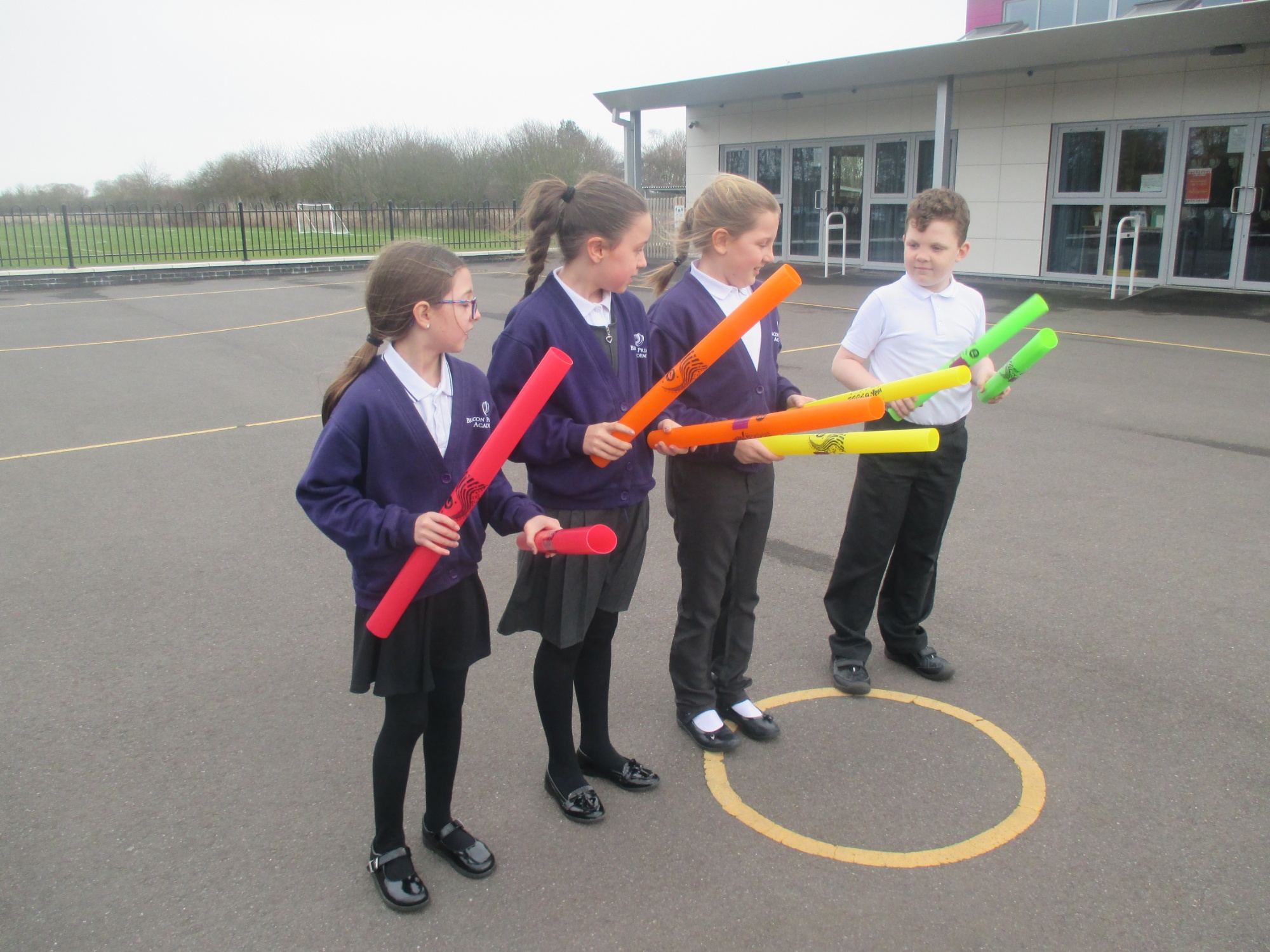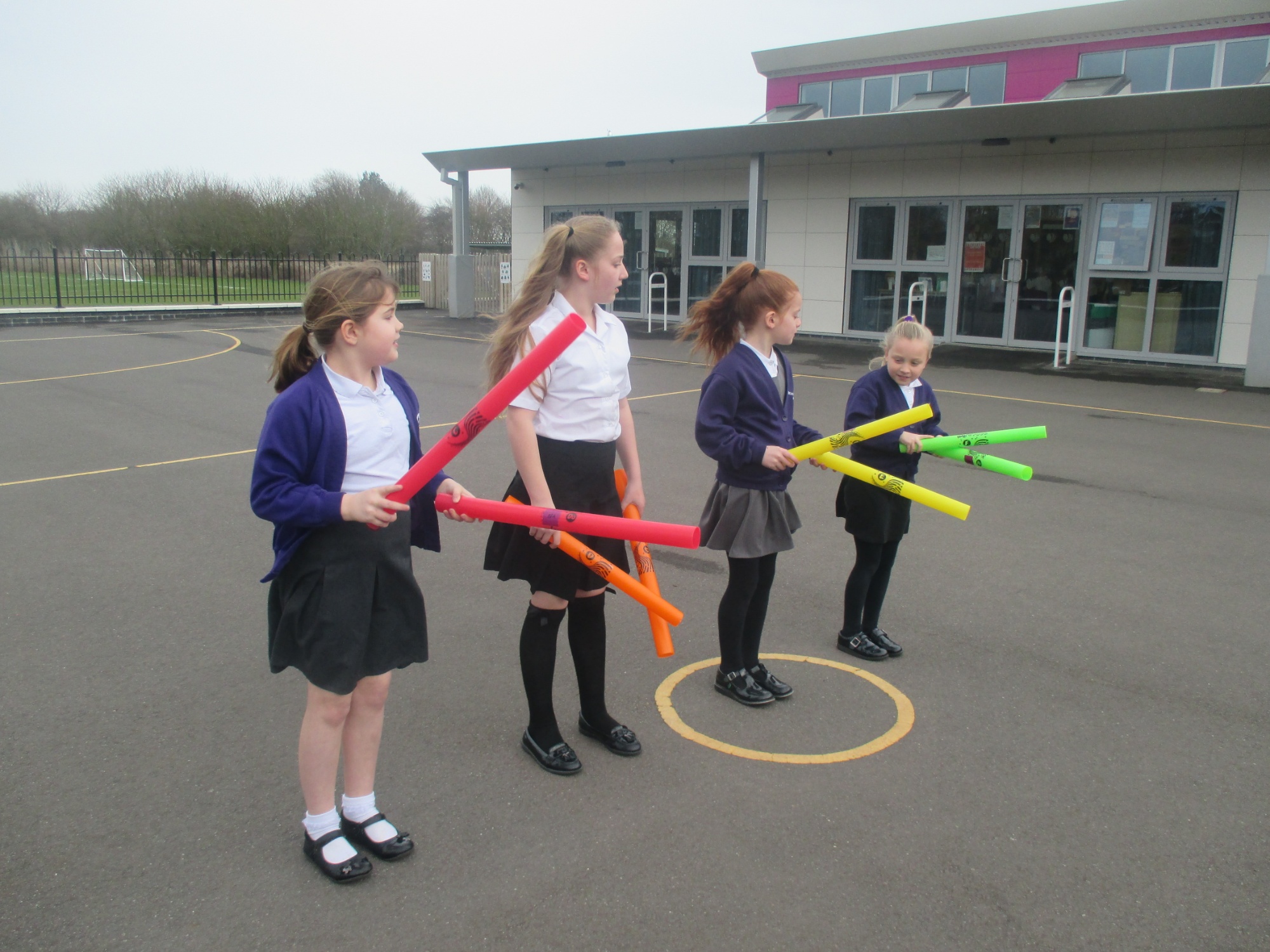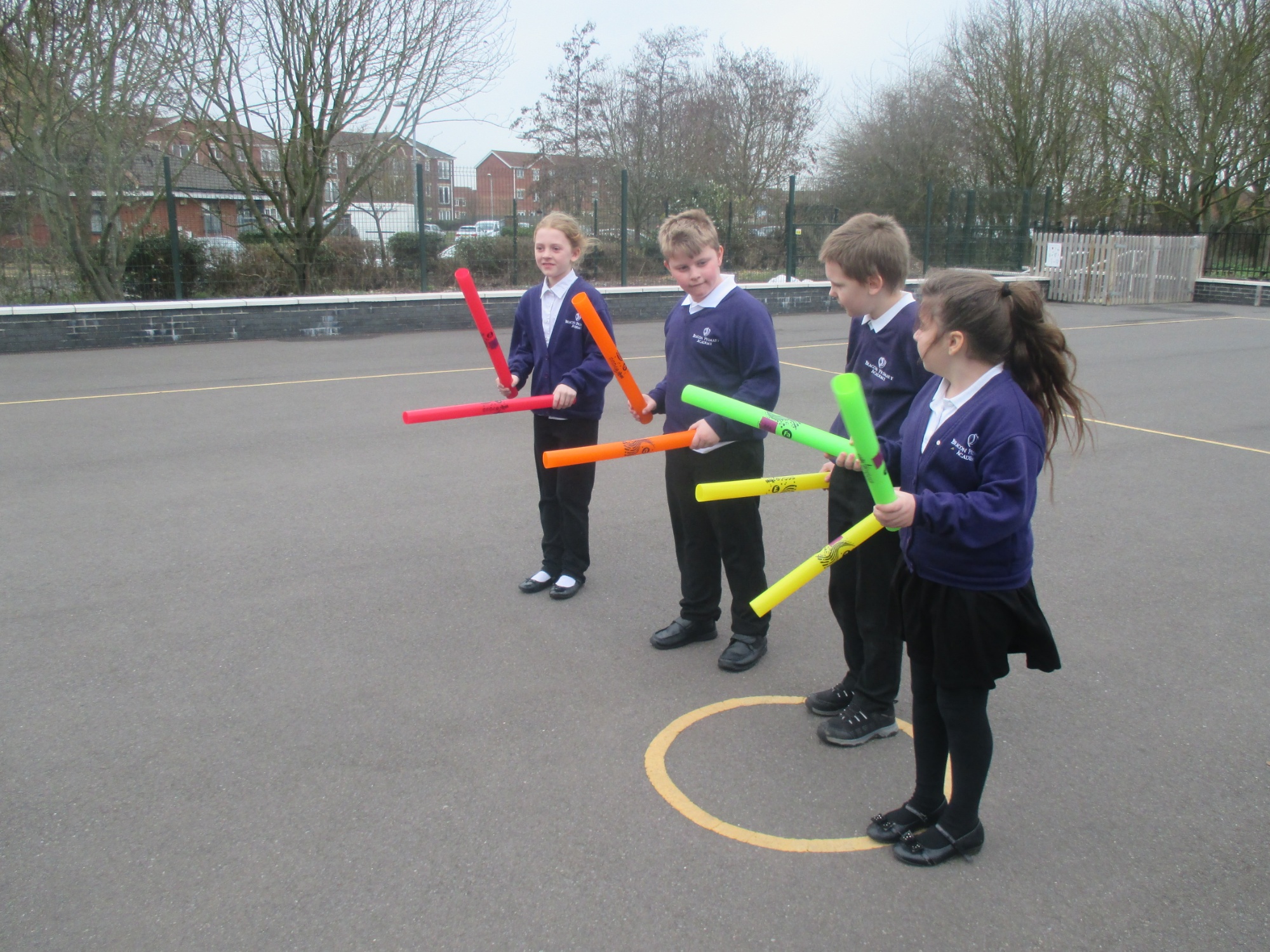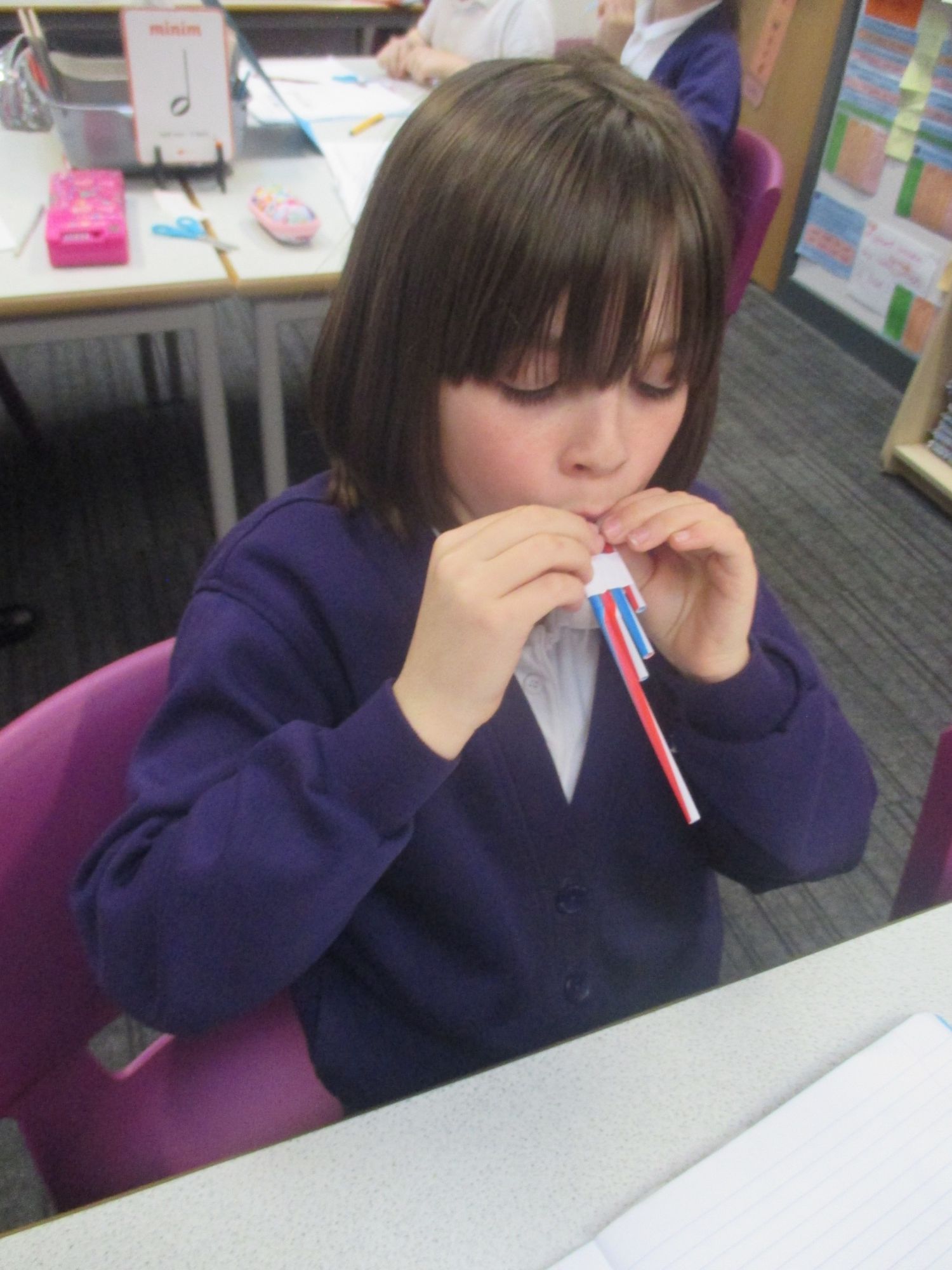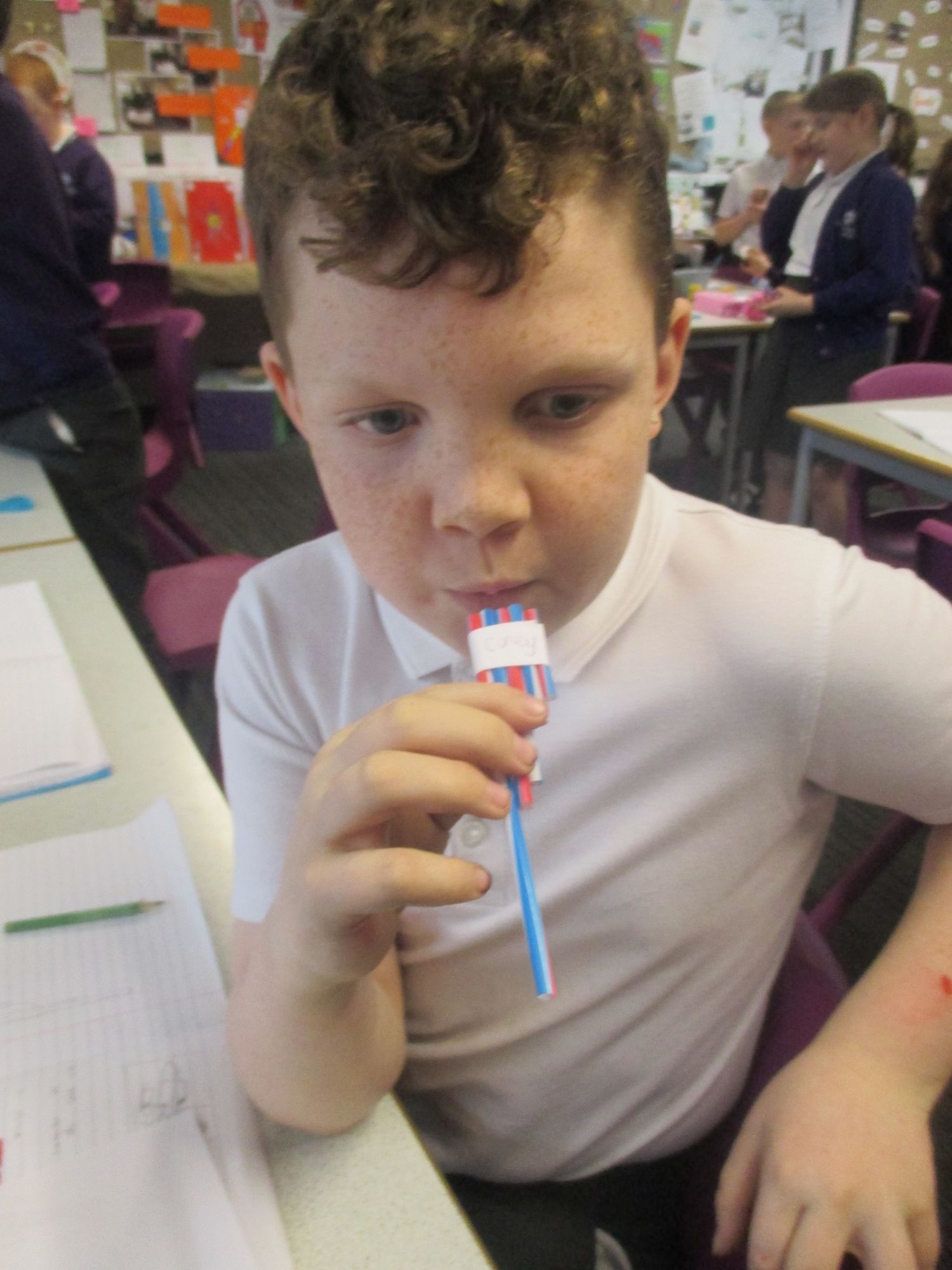 Super Science!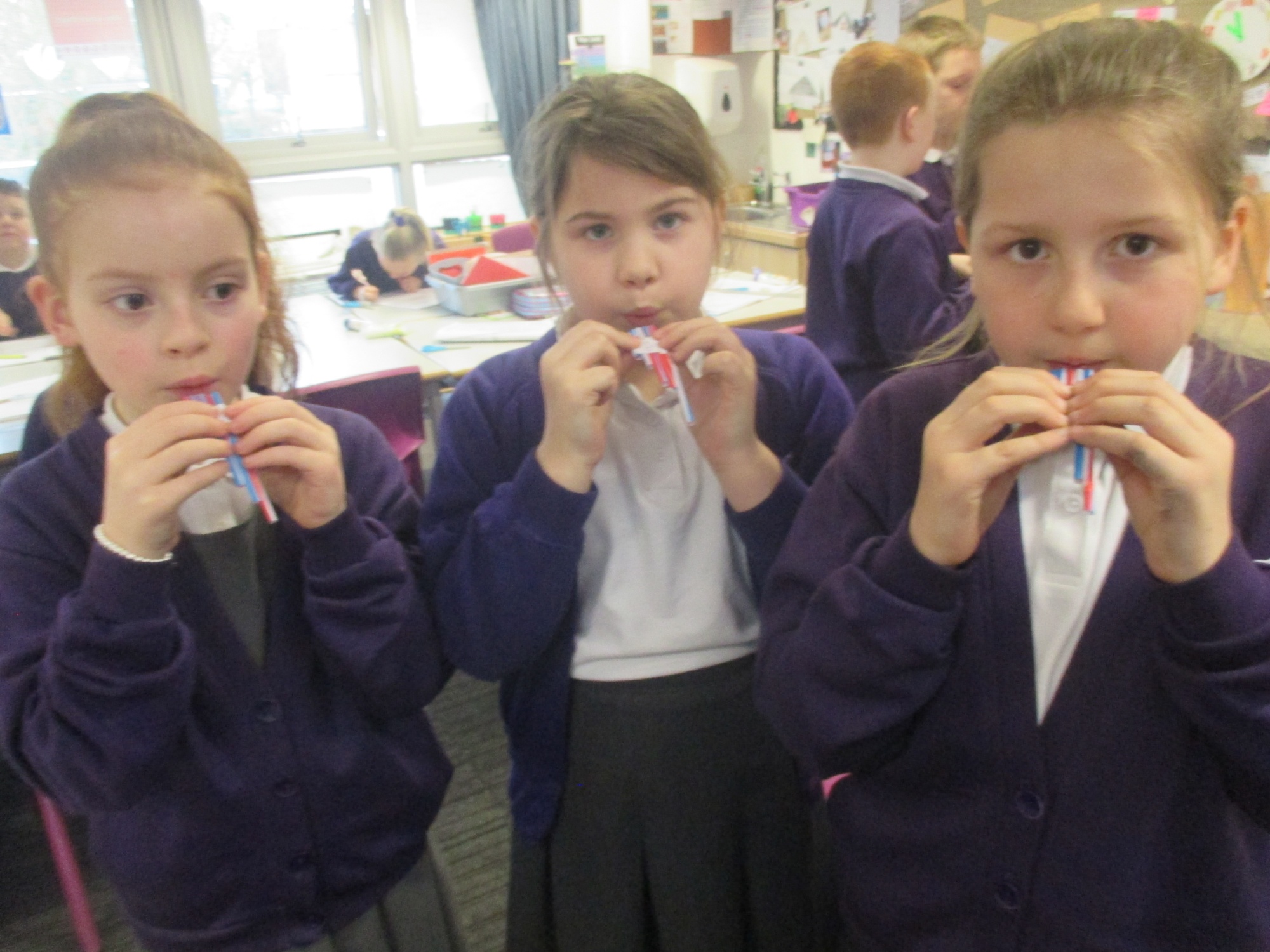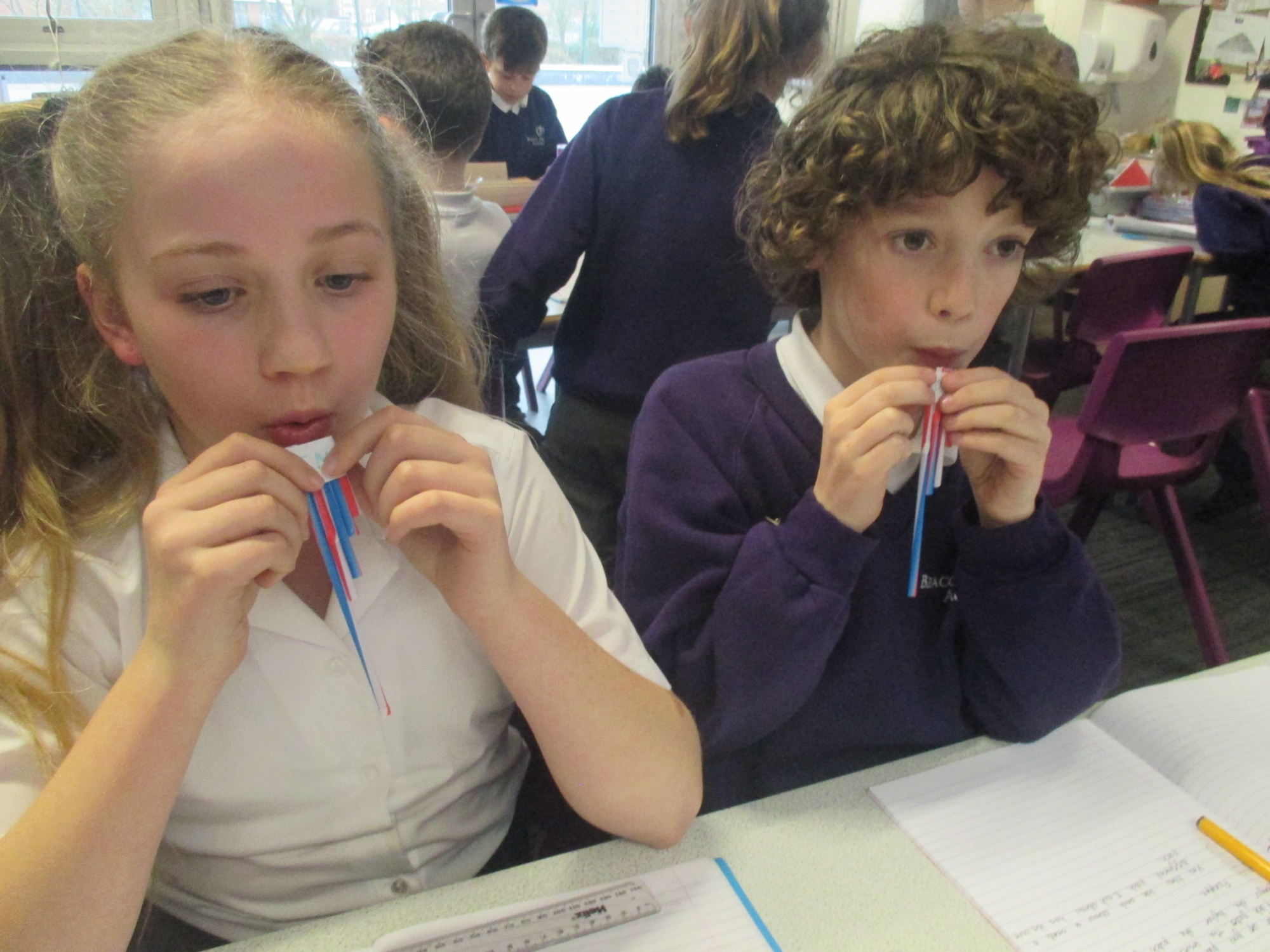 Fortnight beginning 4.2.19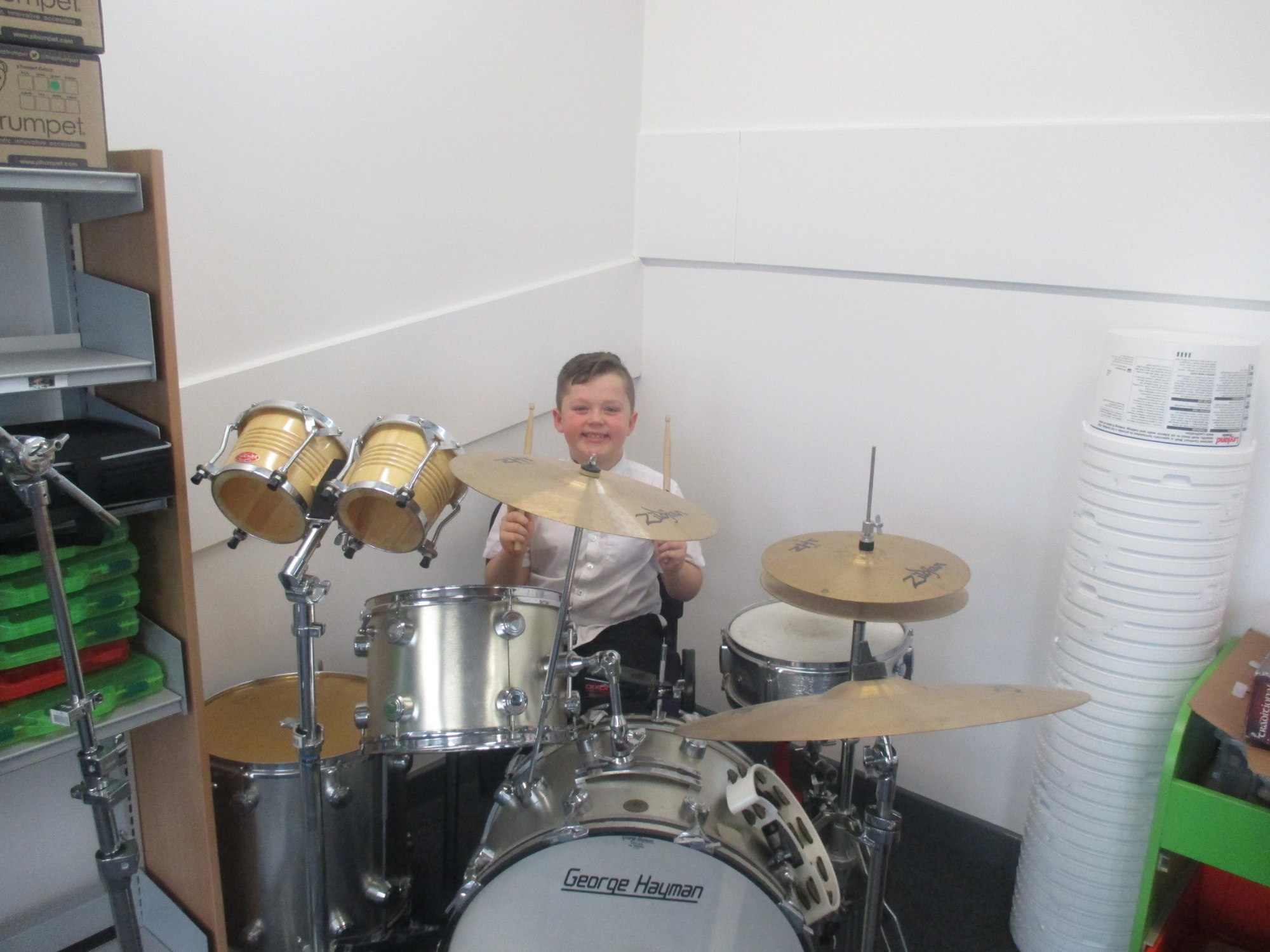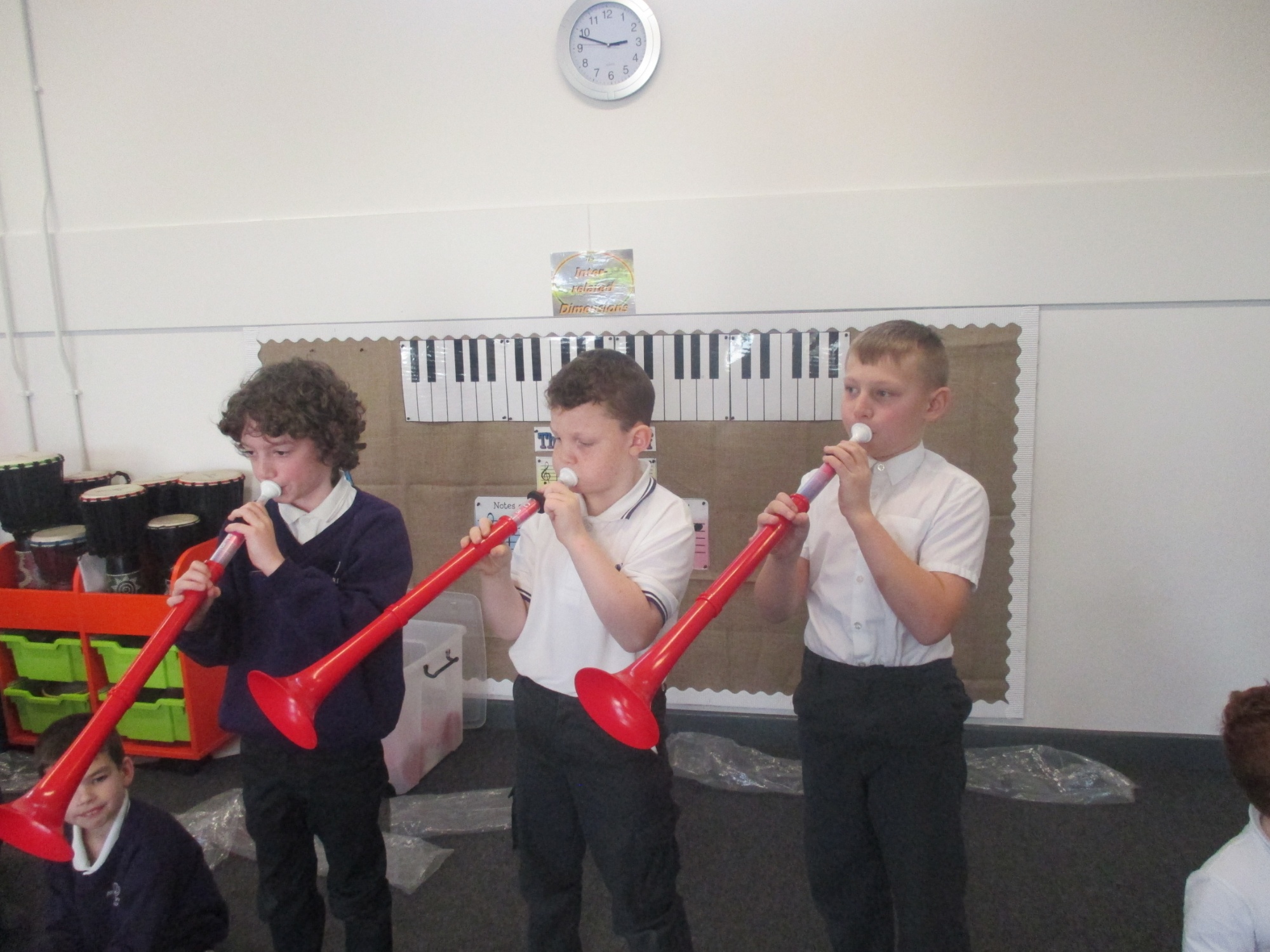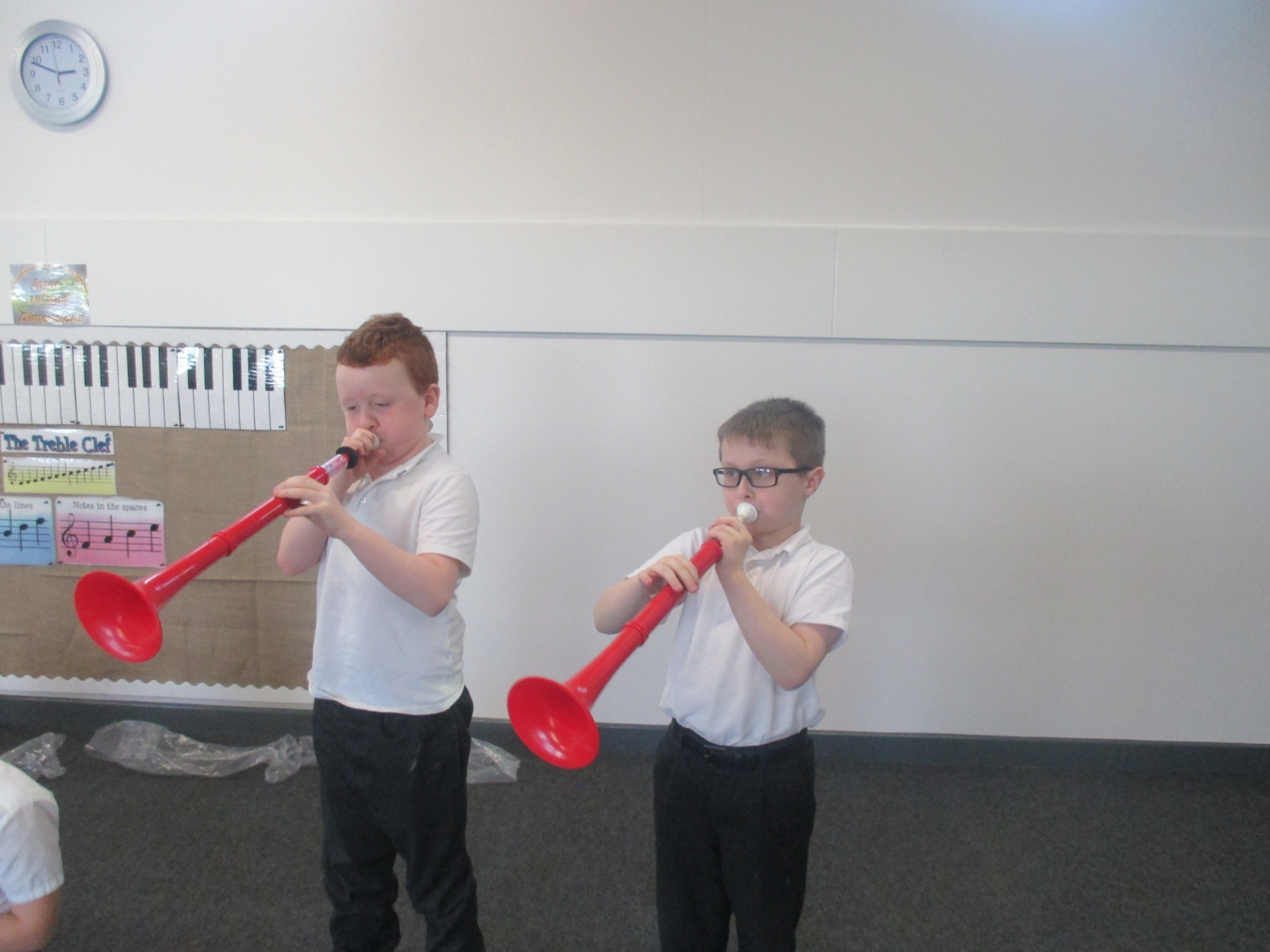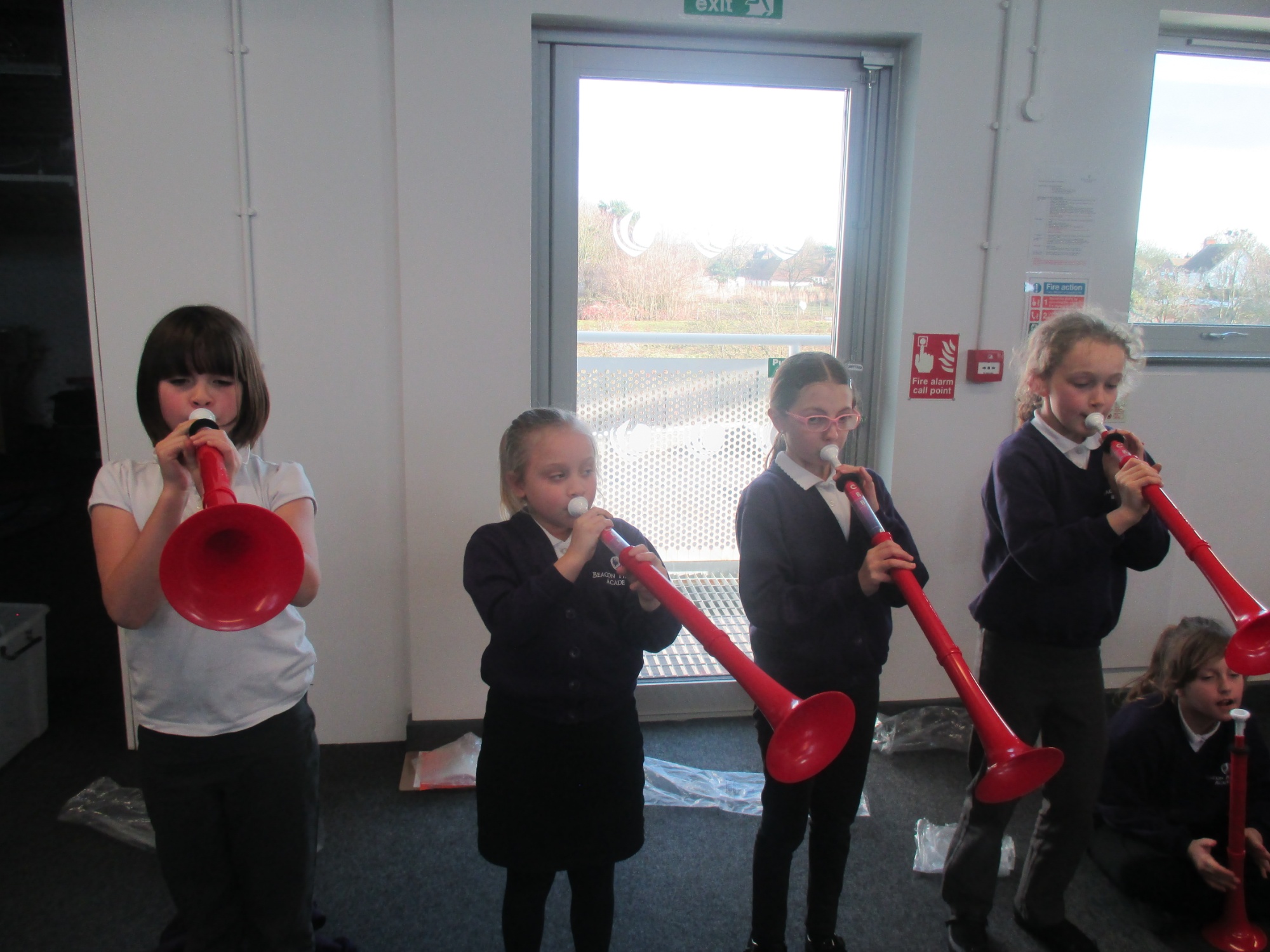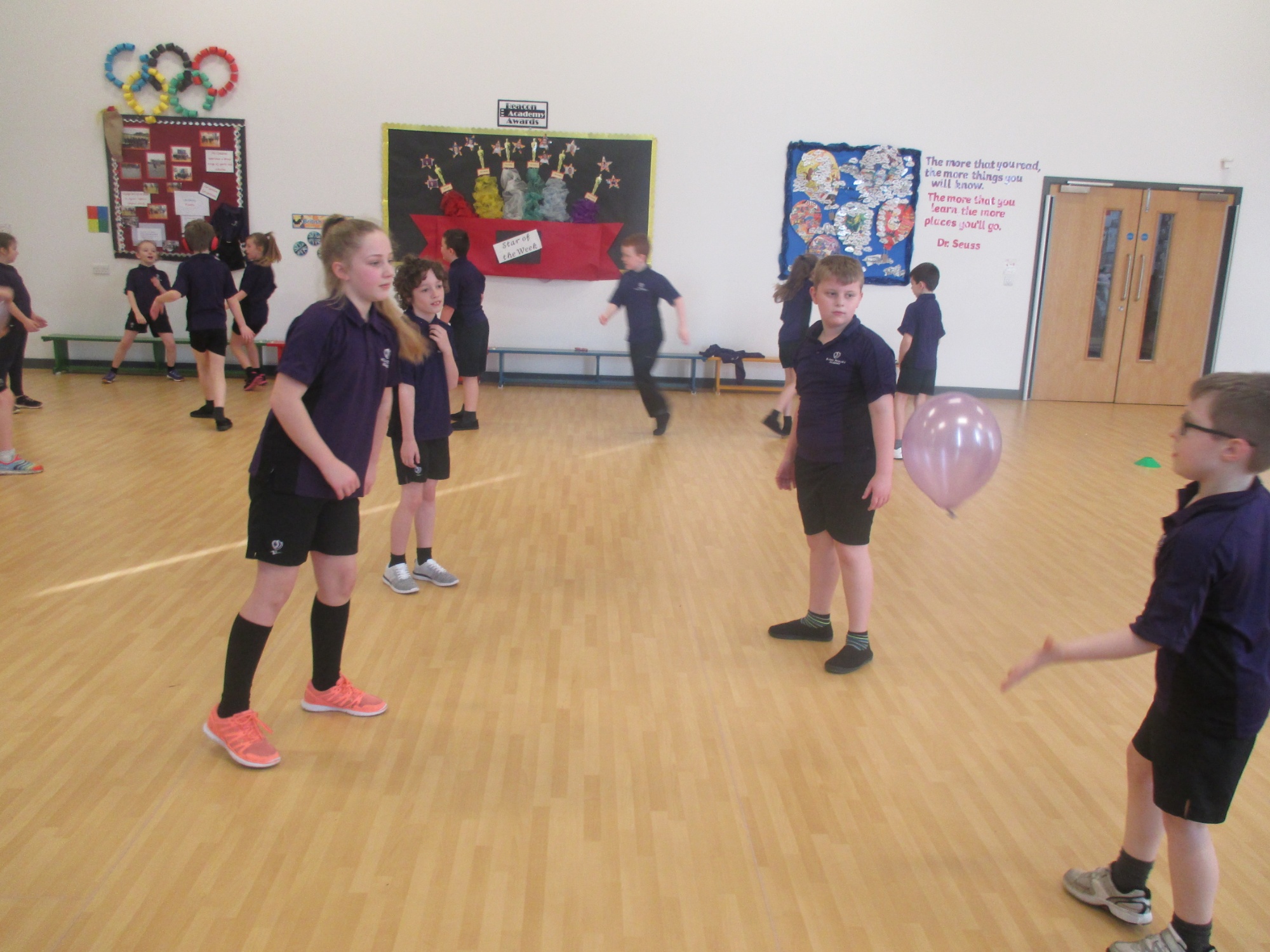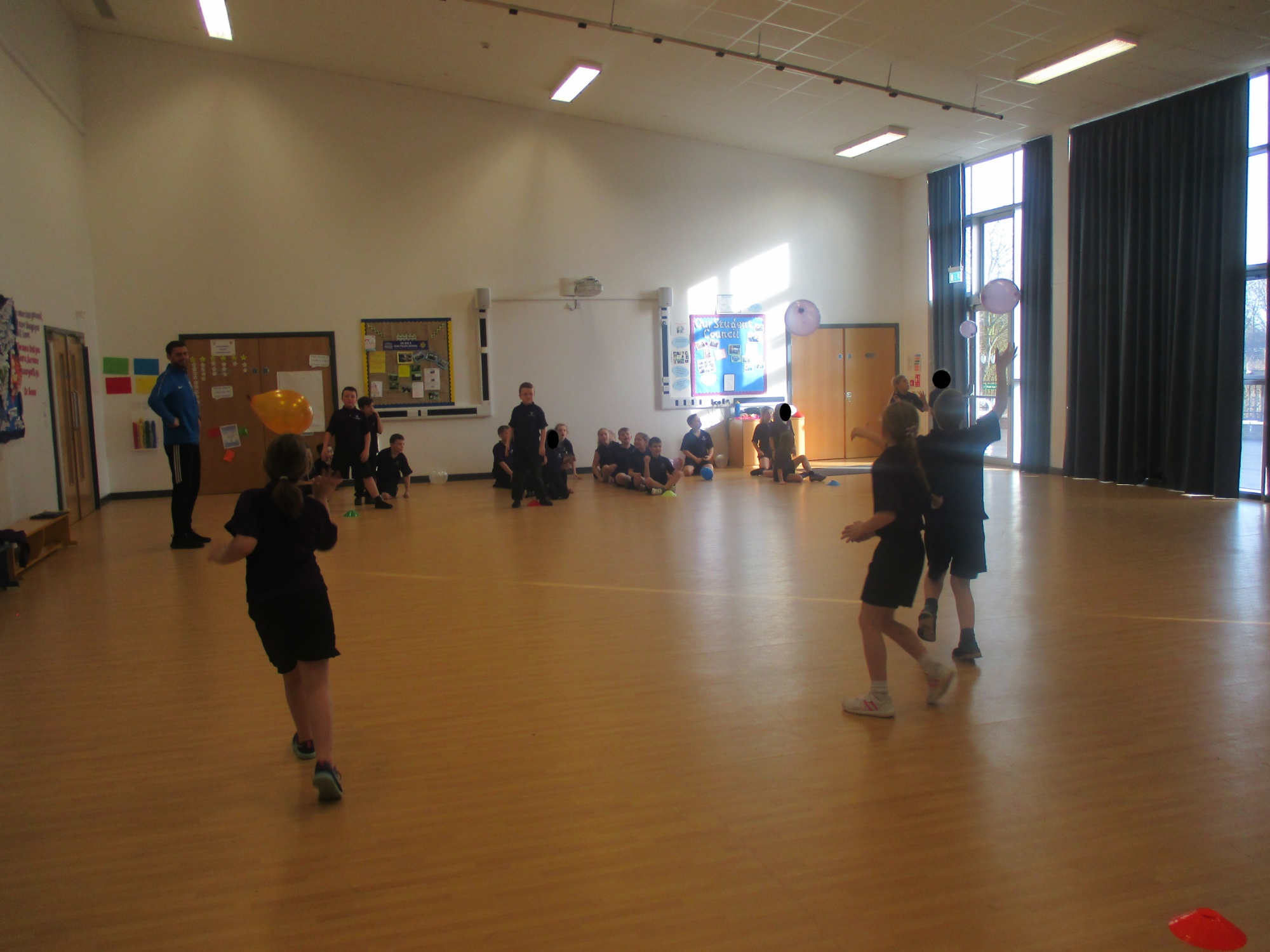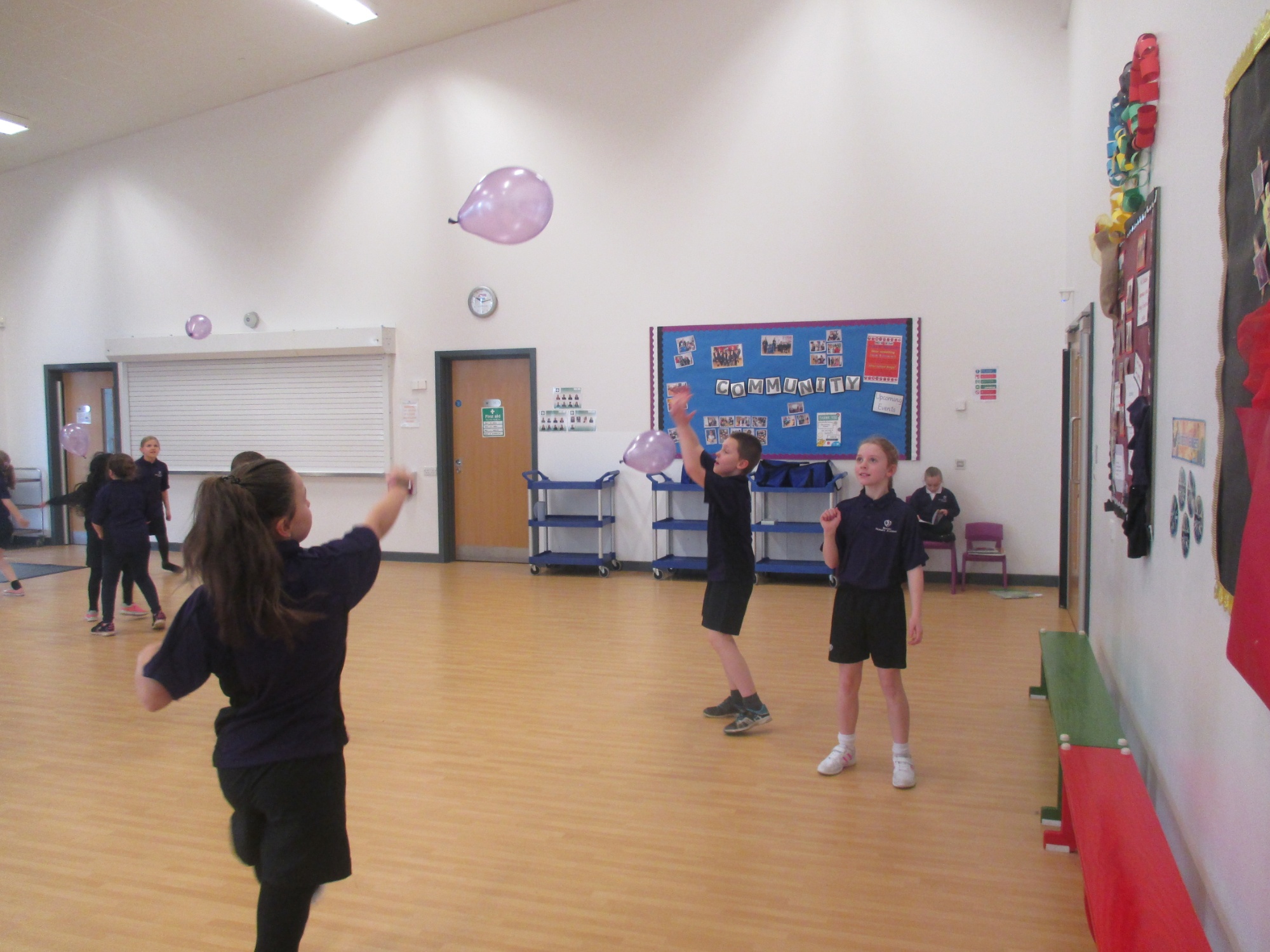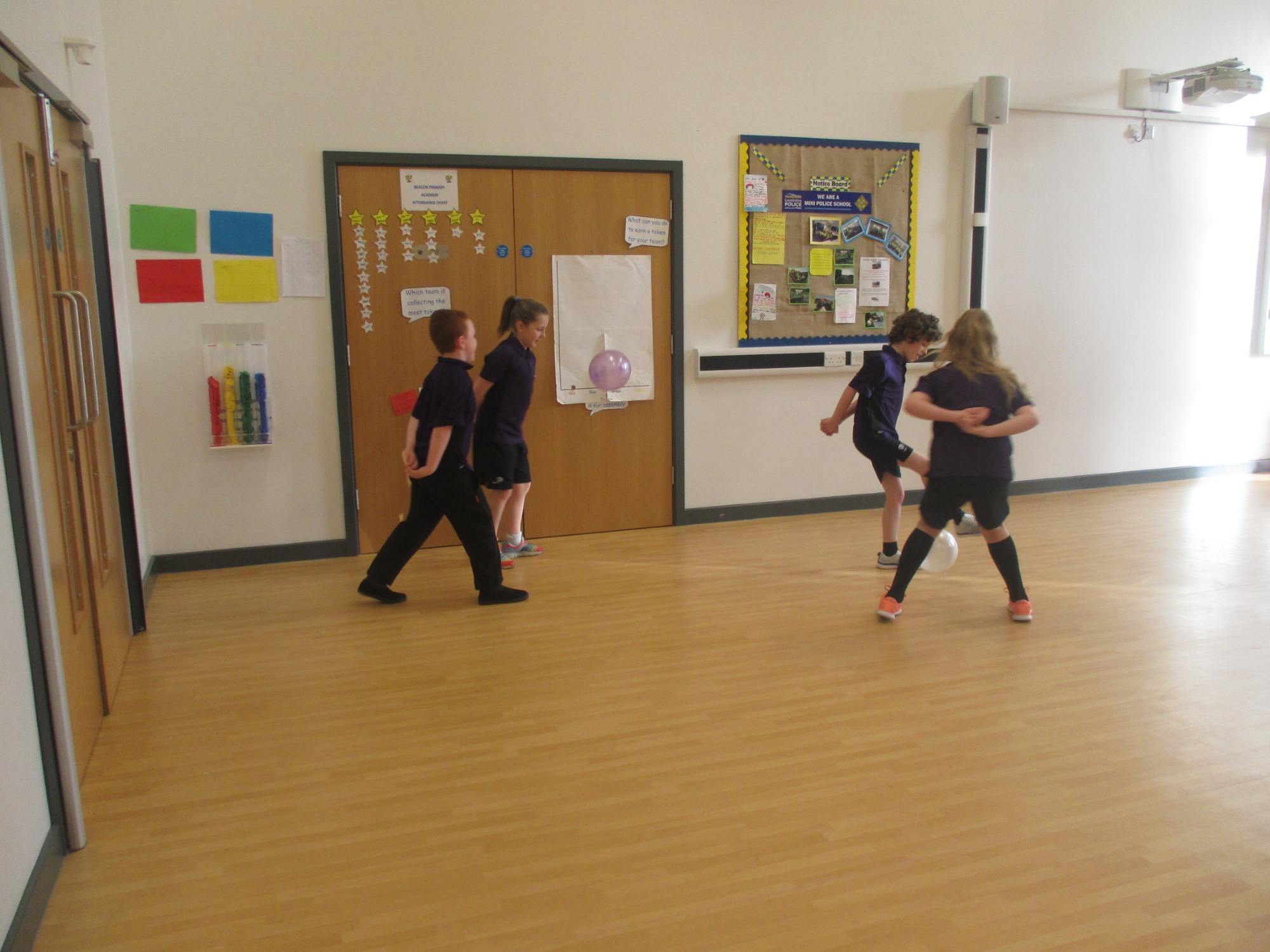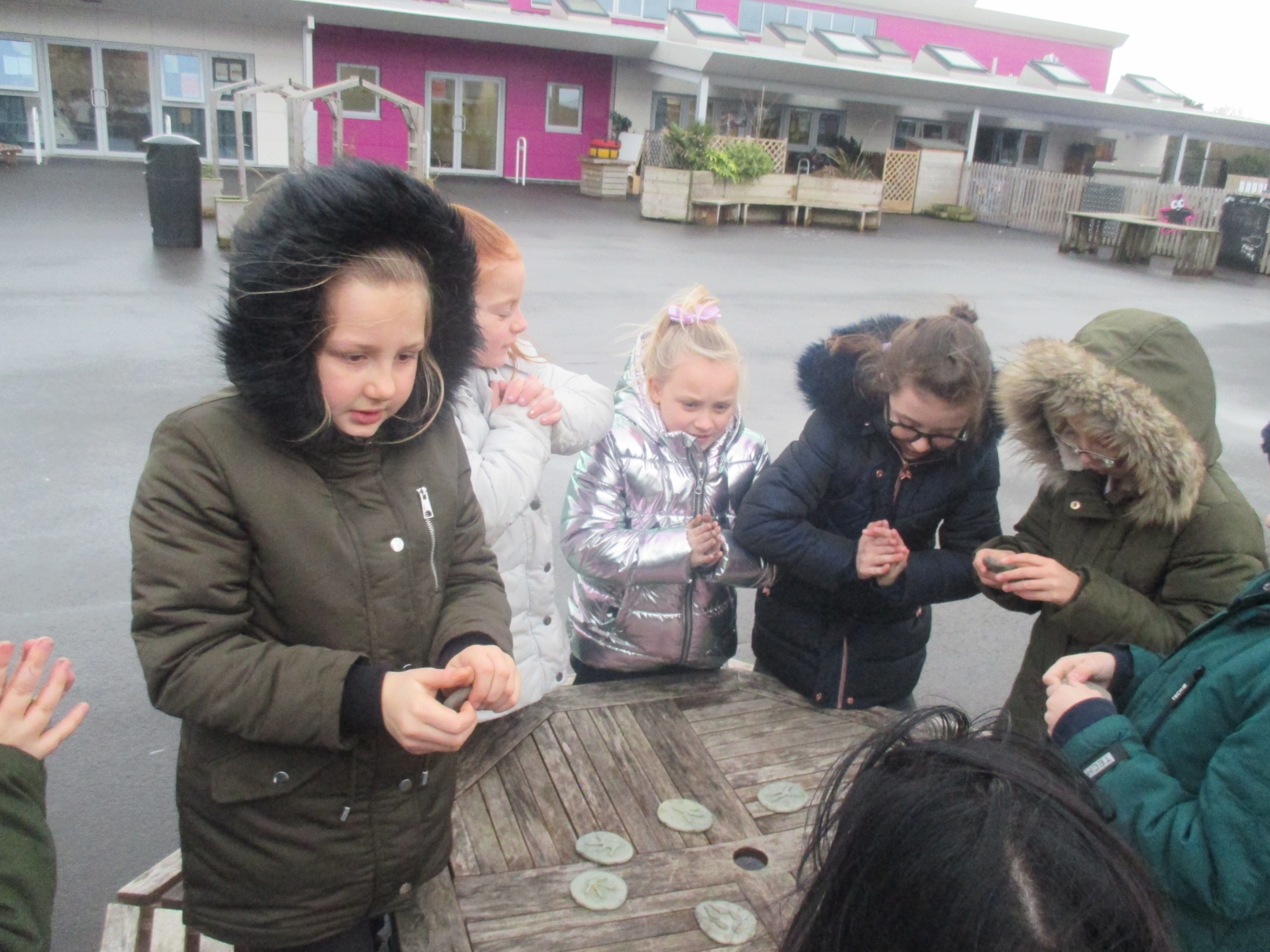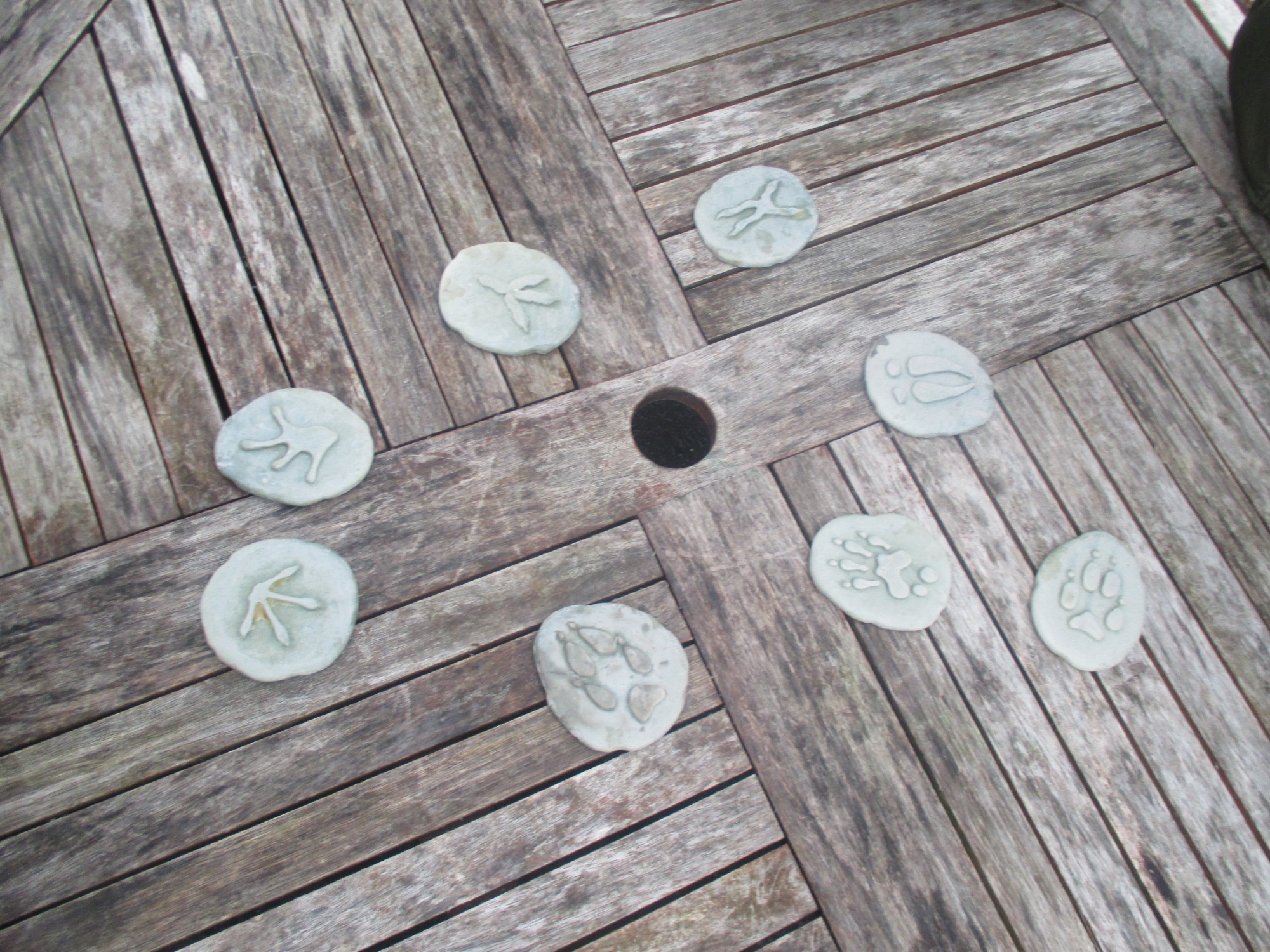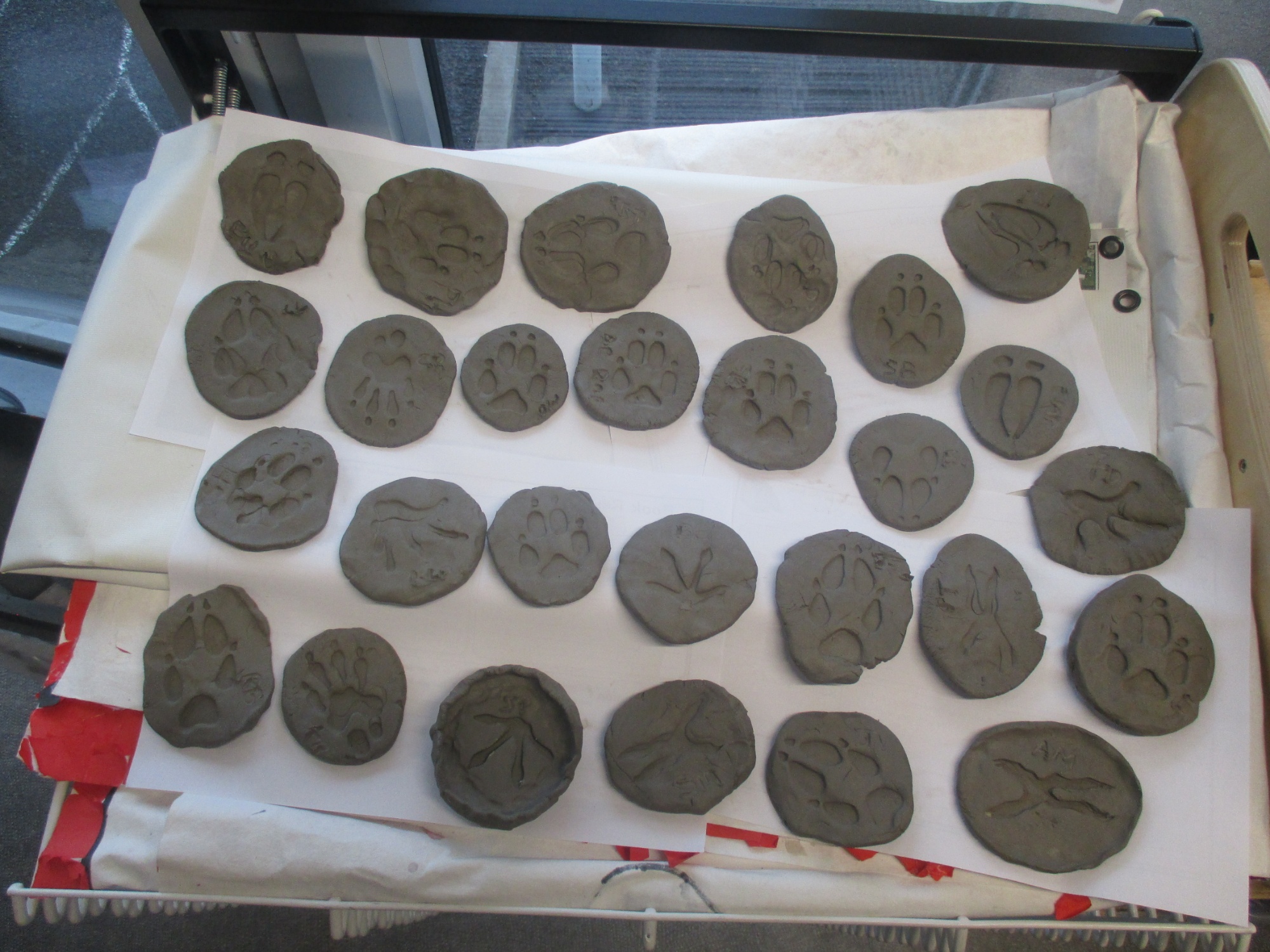 Year 4 have been busy writing a diary as a Roman slave in their topic lessons, and have been practising their spelling of homophones in English. These are words that sound the same such as there/they're/their, and your/you're. We are now looking for these words to be spelt accurately in every lesson – what a challenge! In Art, they have made some amazing Roman shields, using designs that reflect their personality and interests. In Maths, we have been learning about the properties of quadrilaterals. Ask your child to explain how we changed VIP into VIQ to help us to remember this!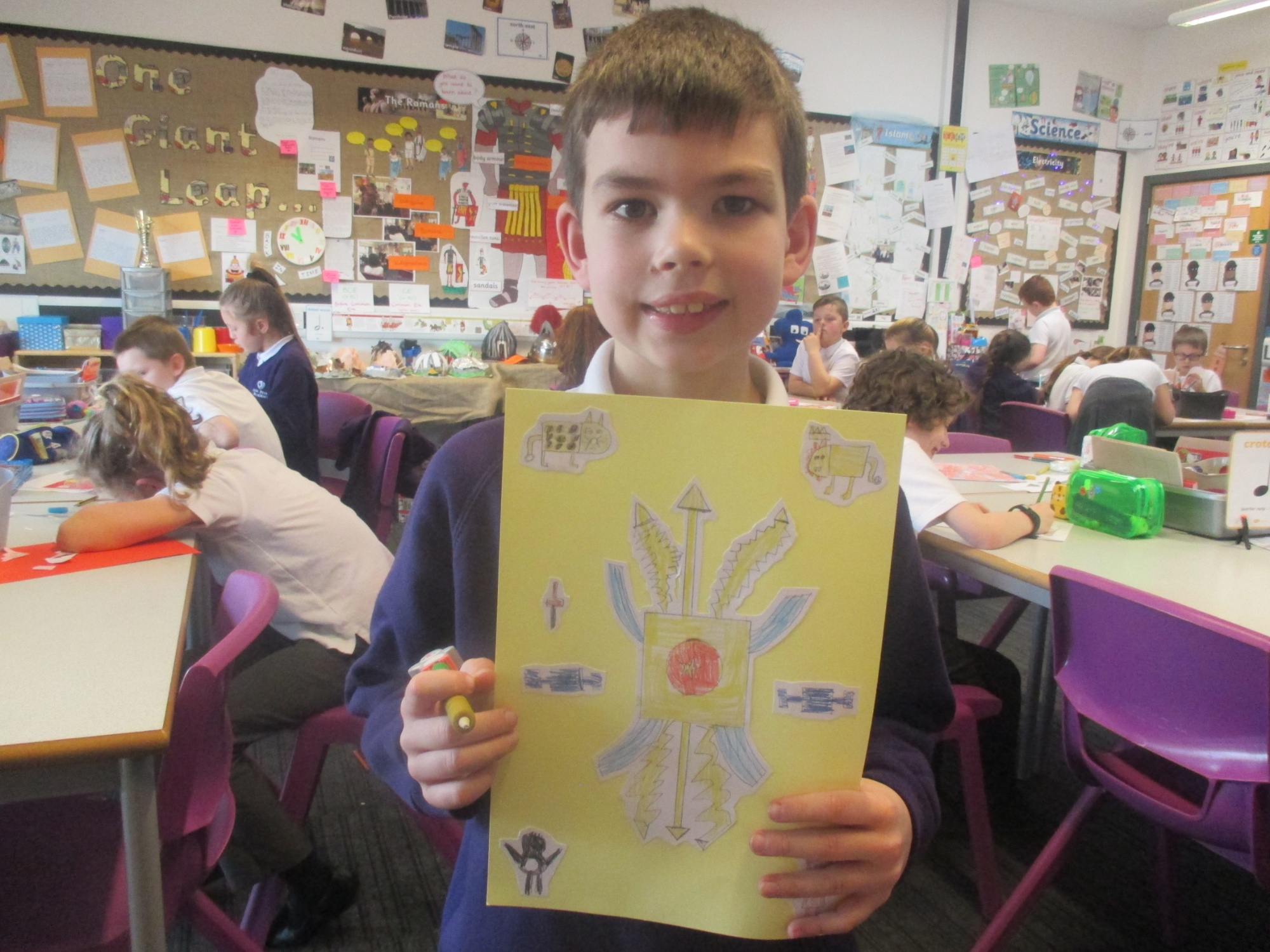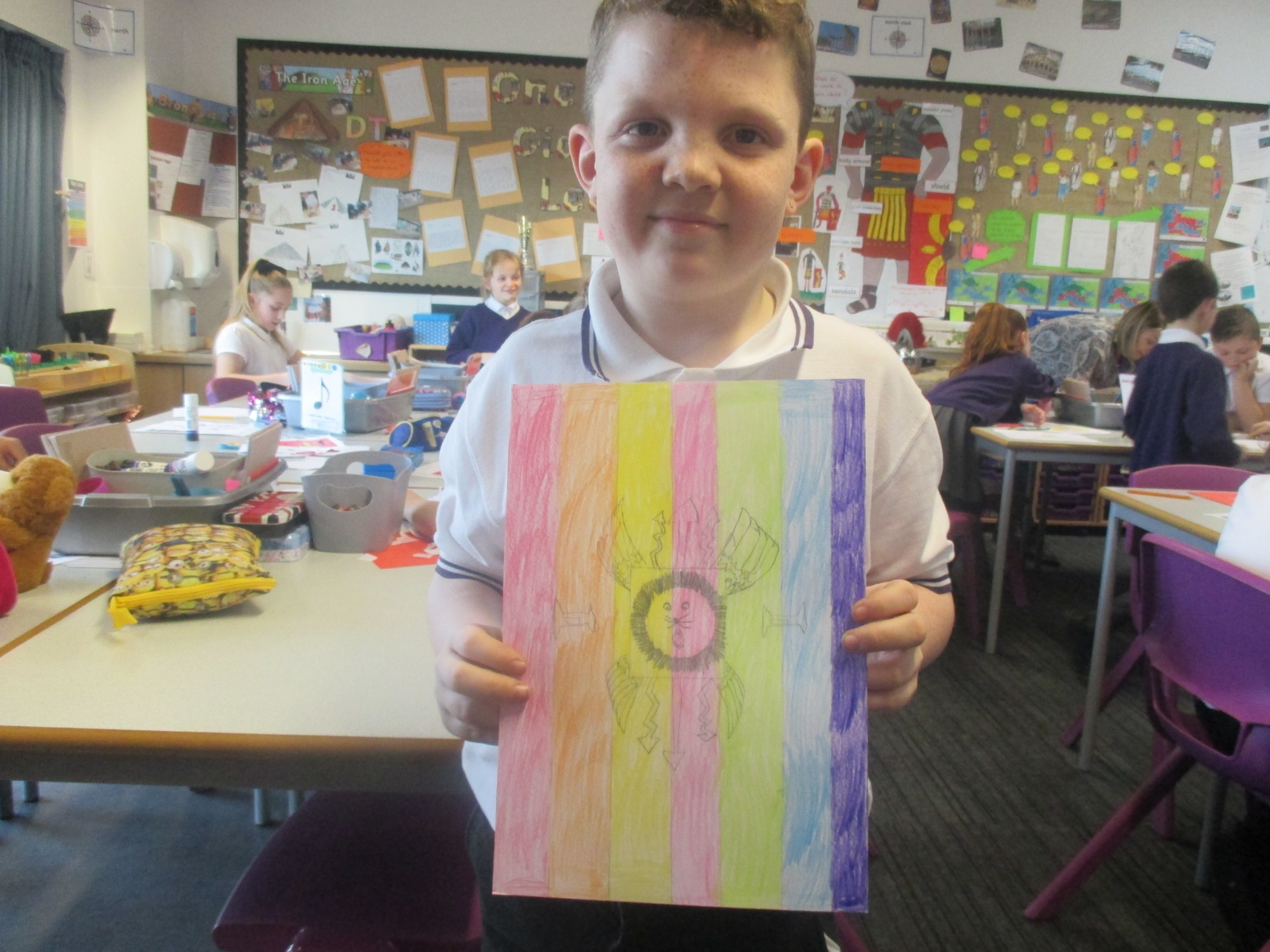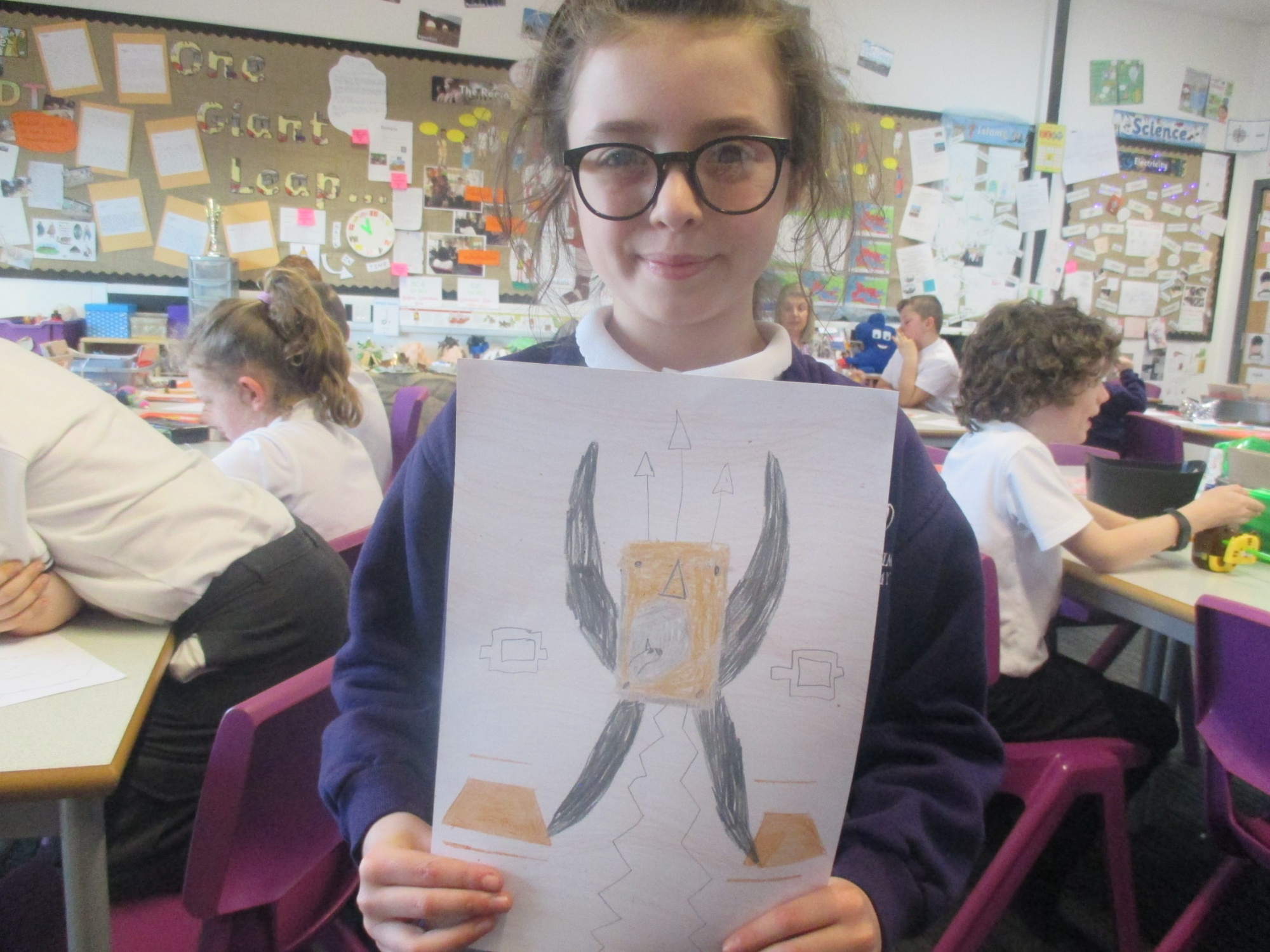 Fortnight beginning 21.1.19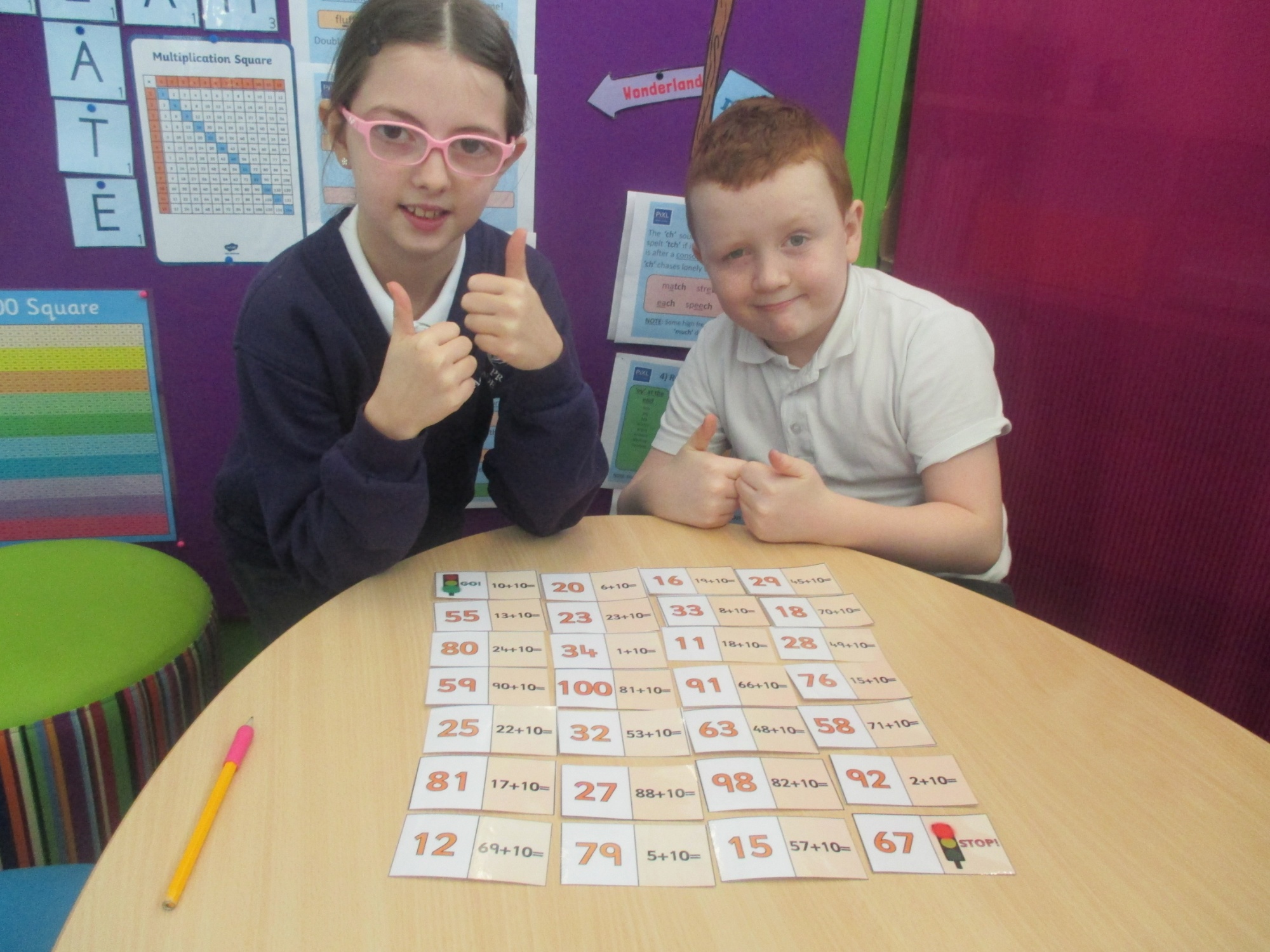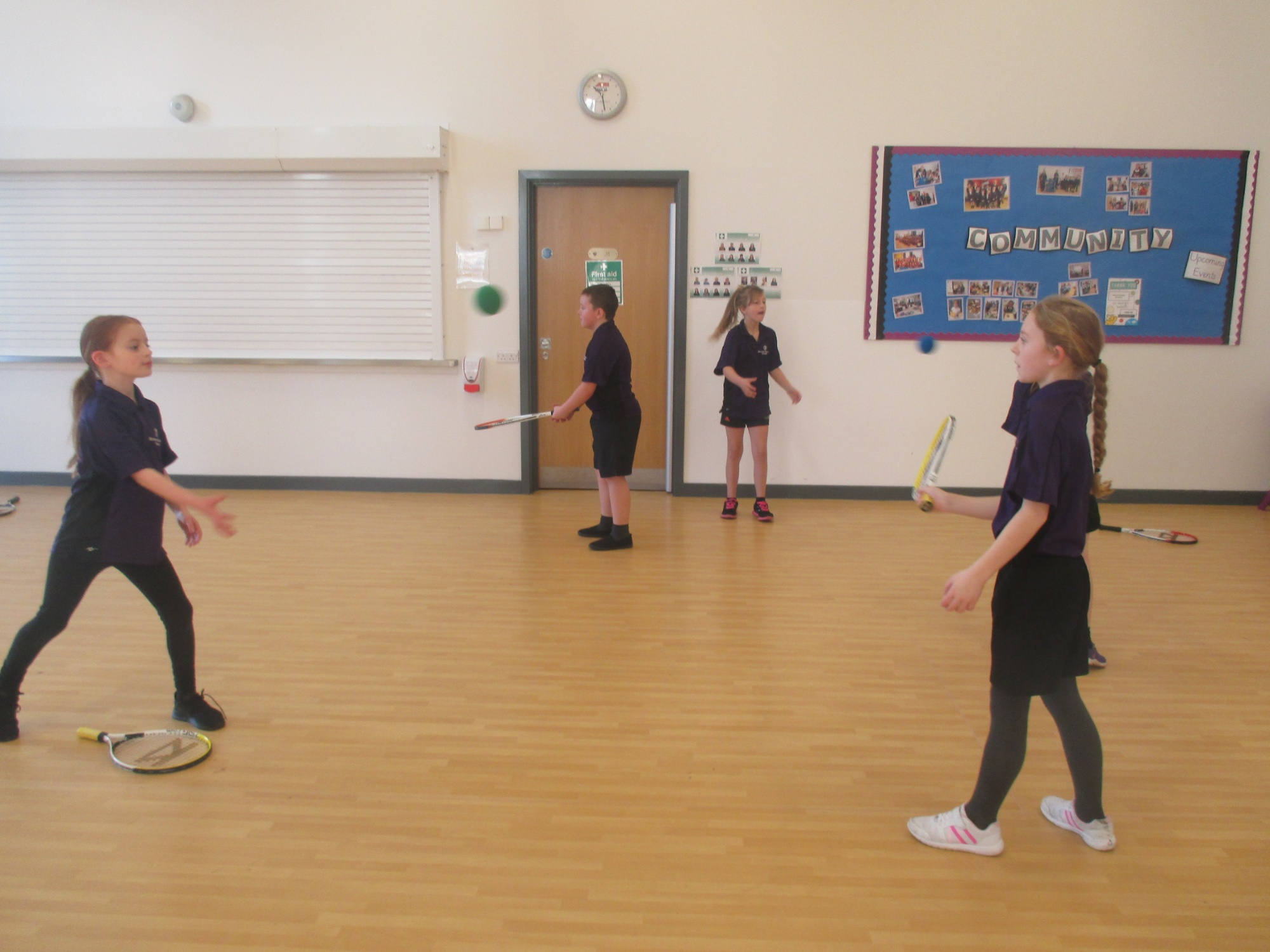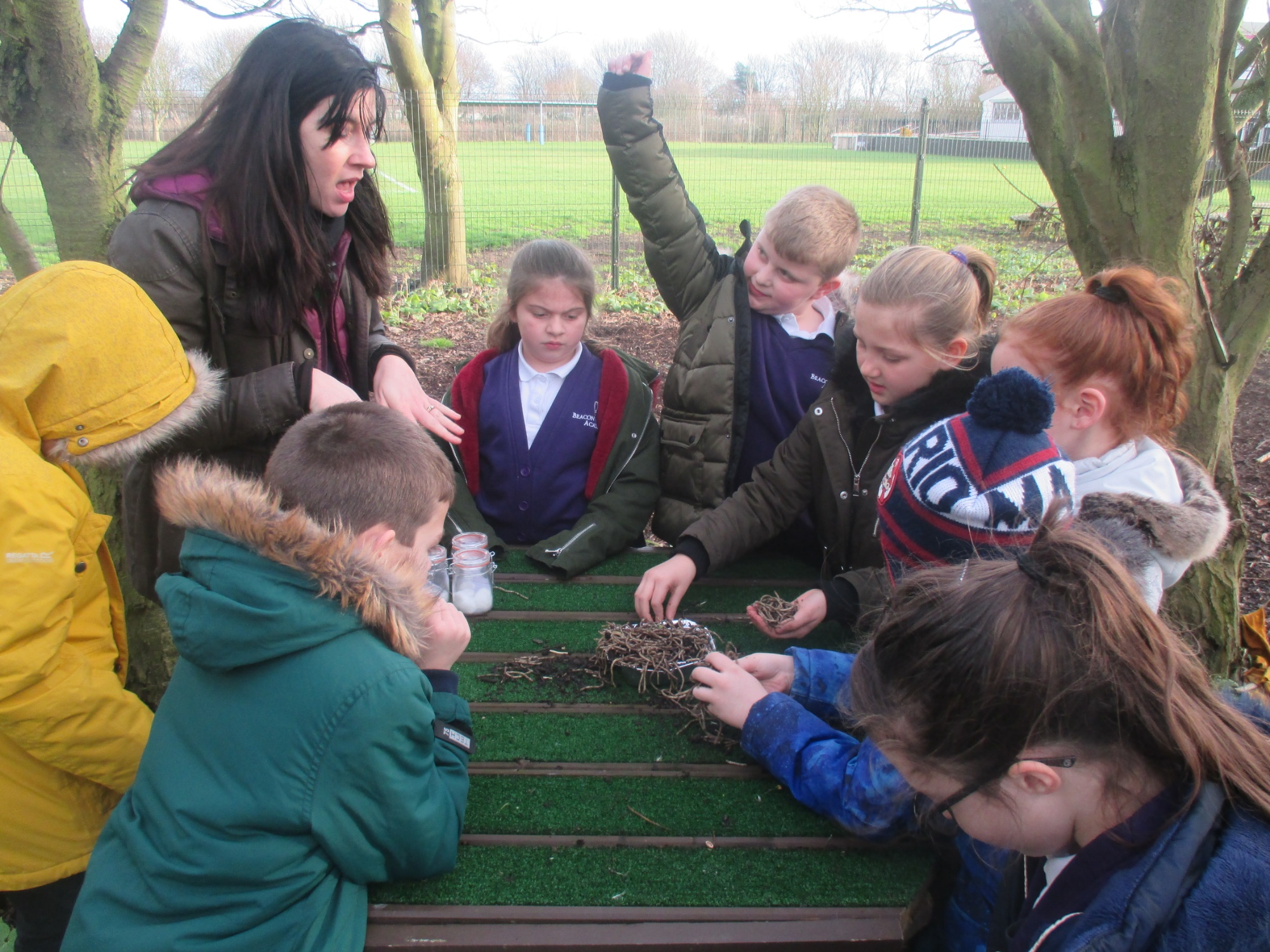 We have been learning to play 'Baby Shark' as a class on our pBuzz instruments.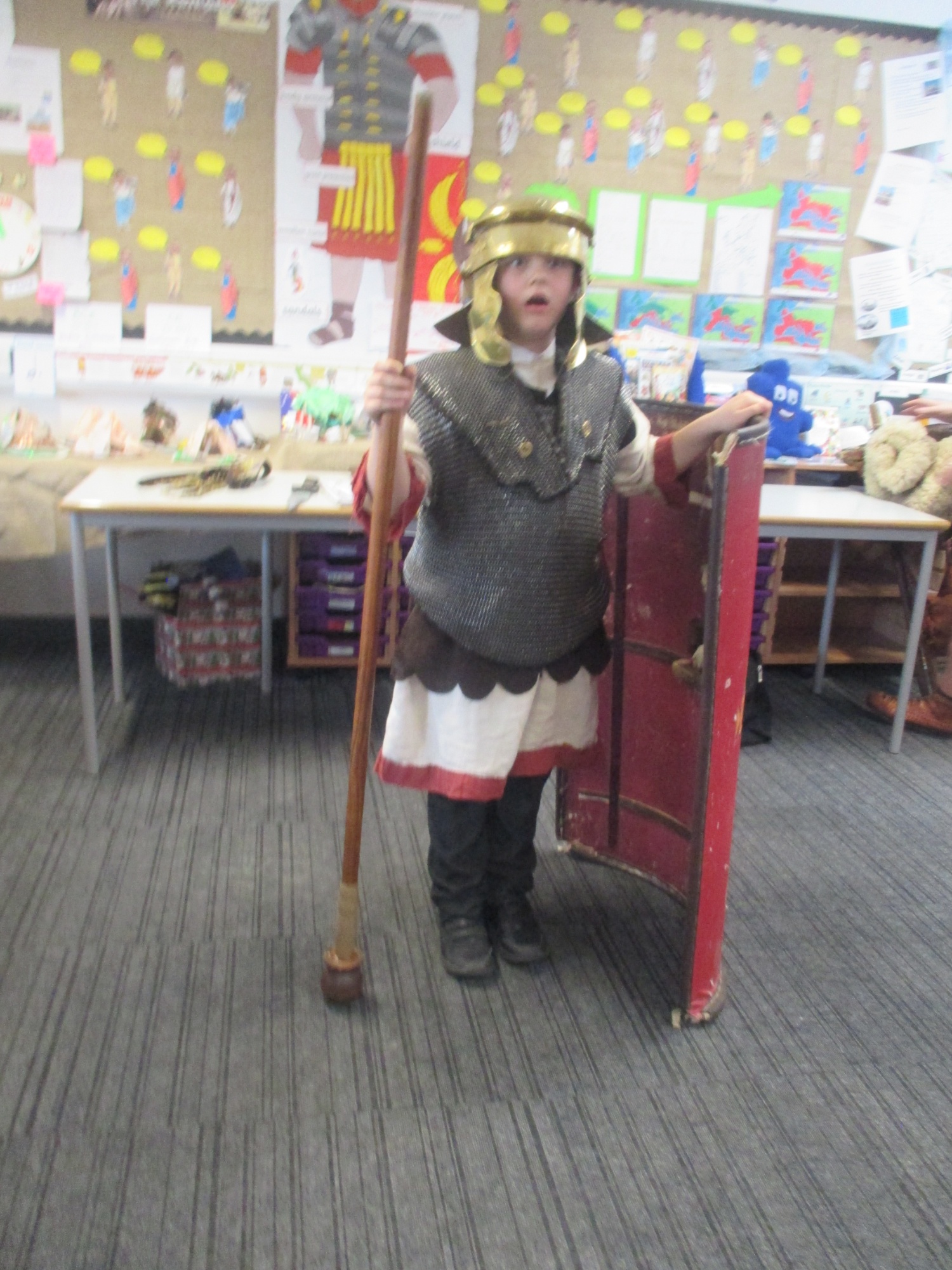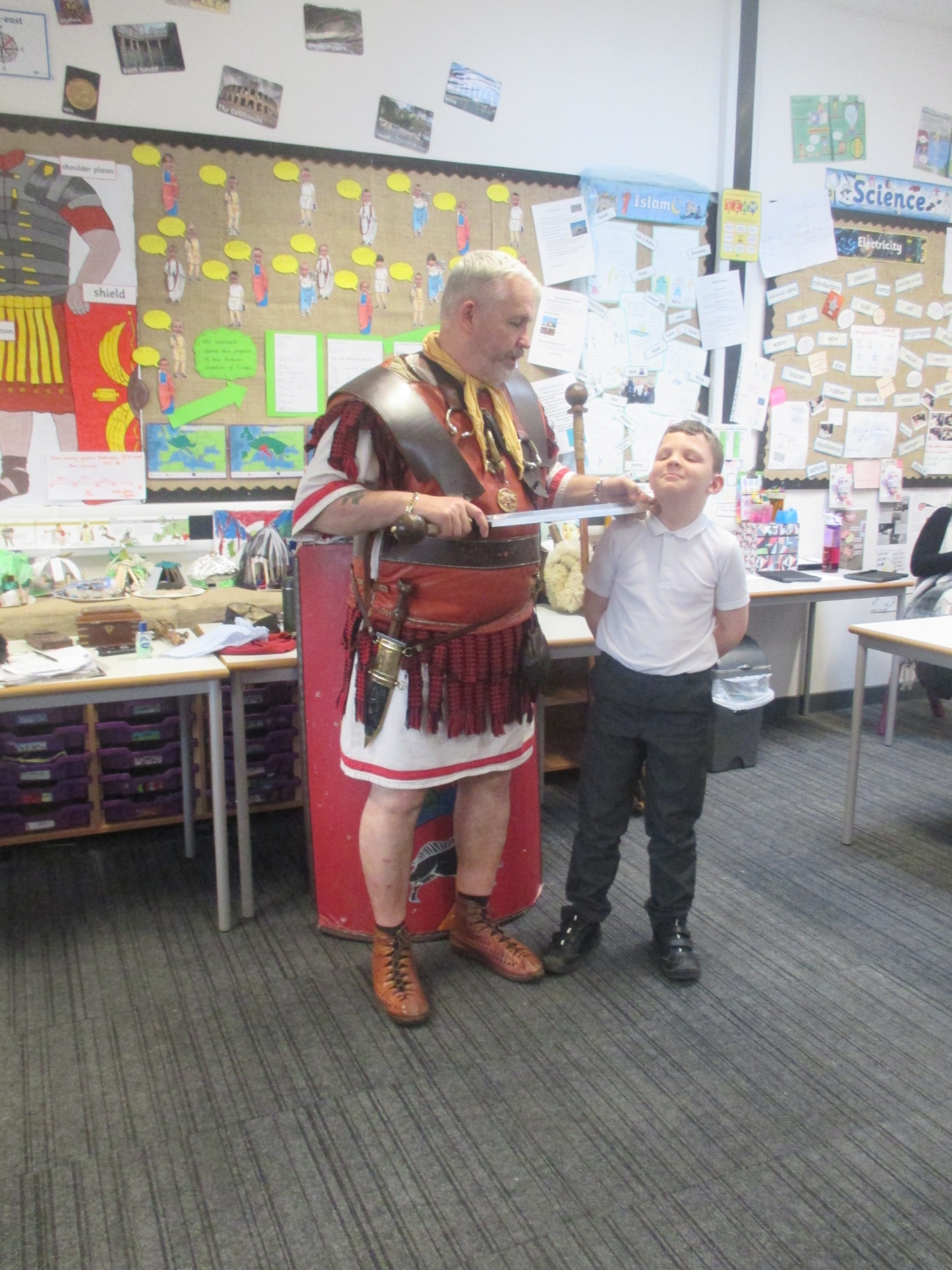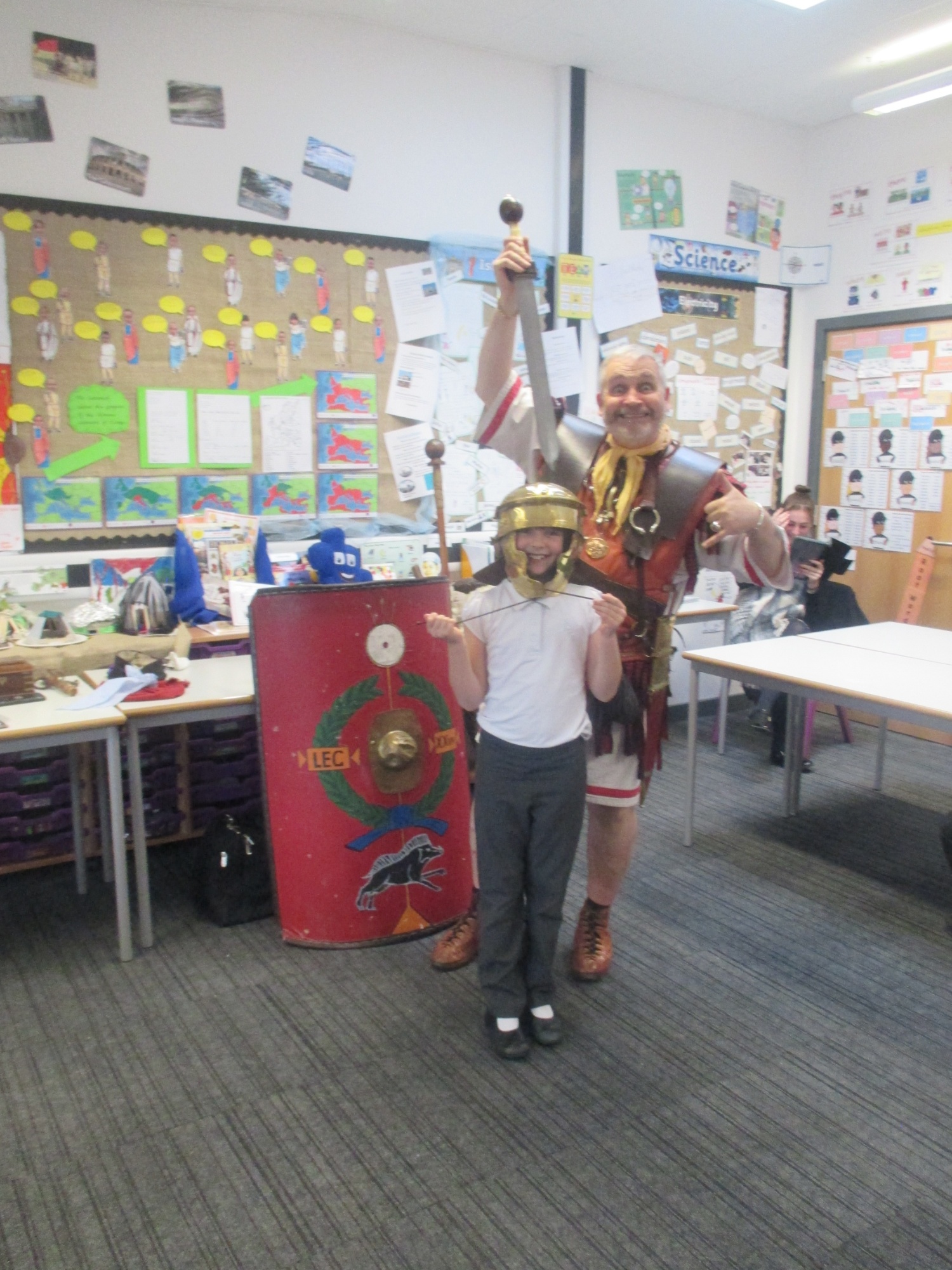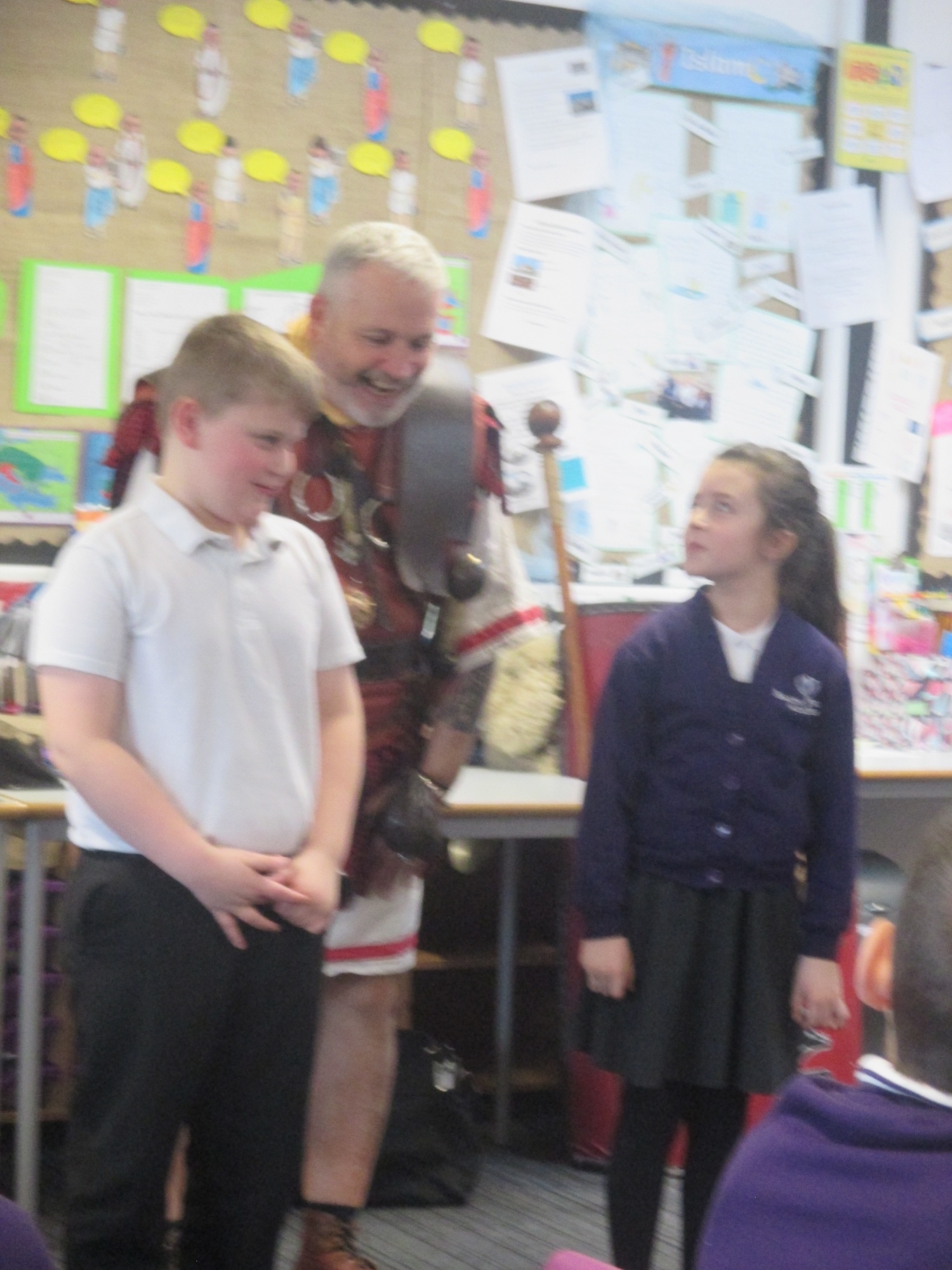 Our visit from Lupus, the Roman soldier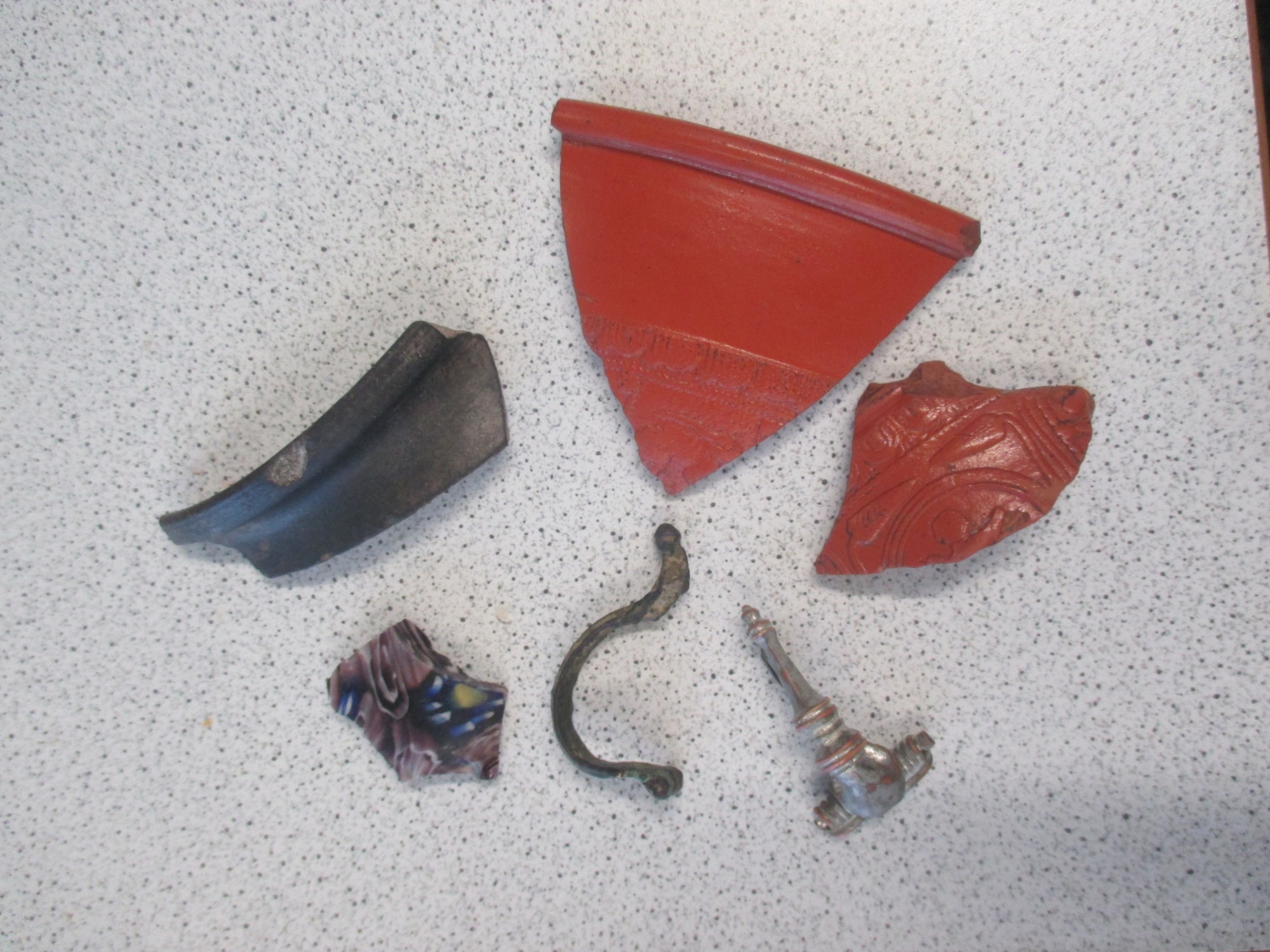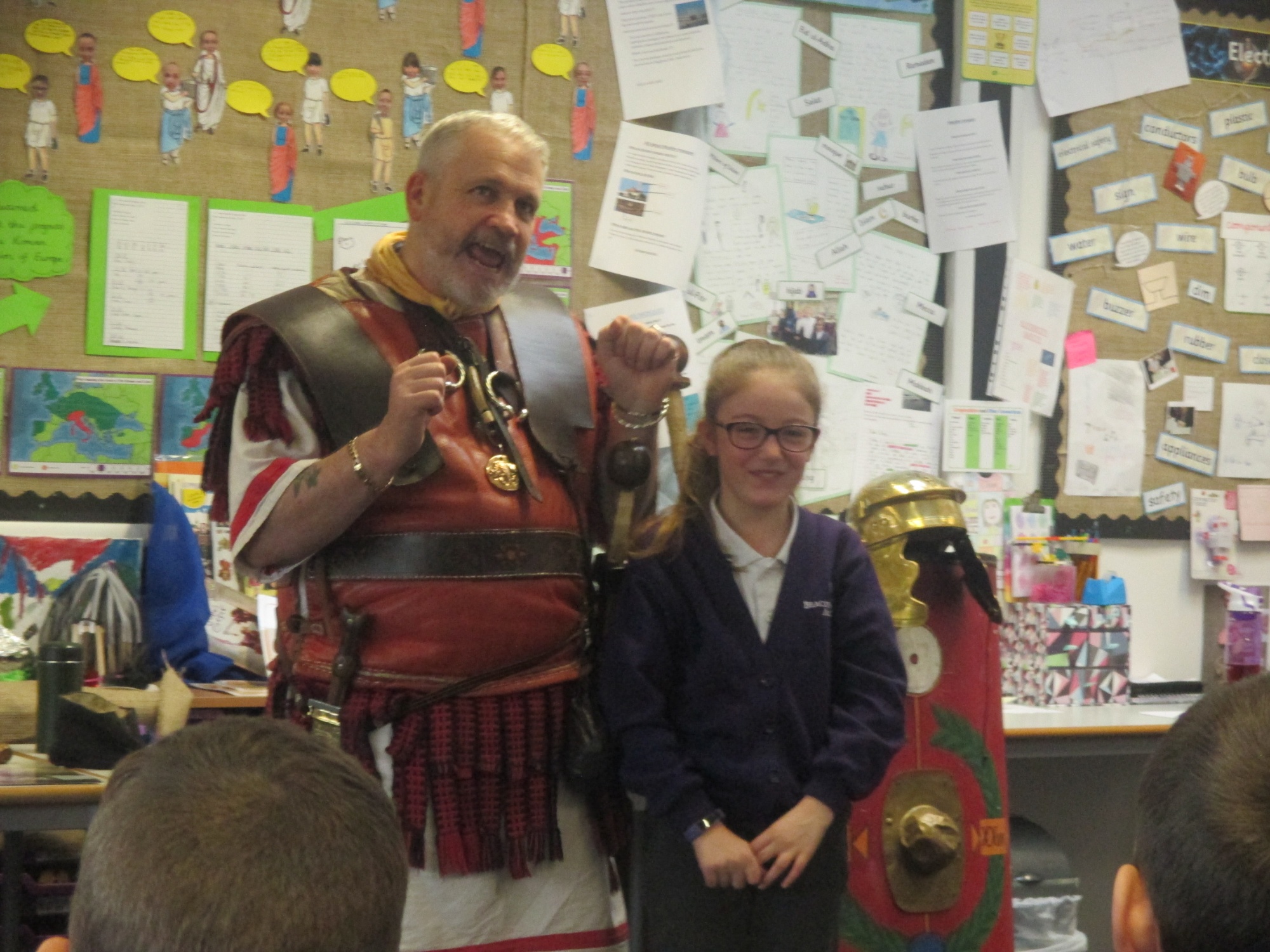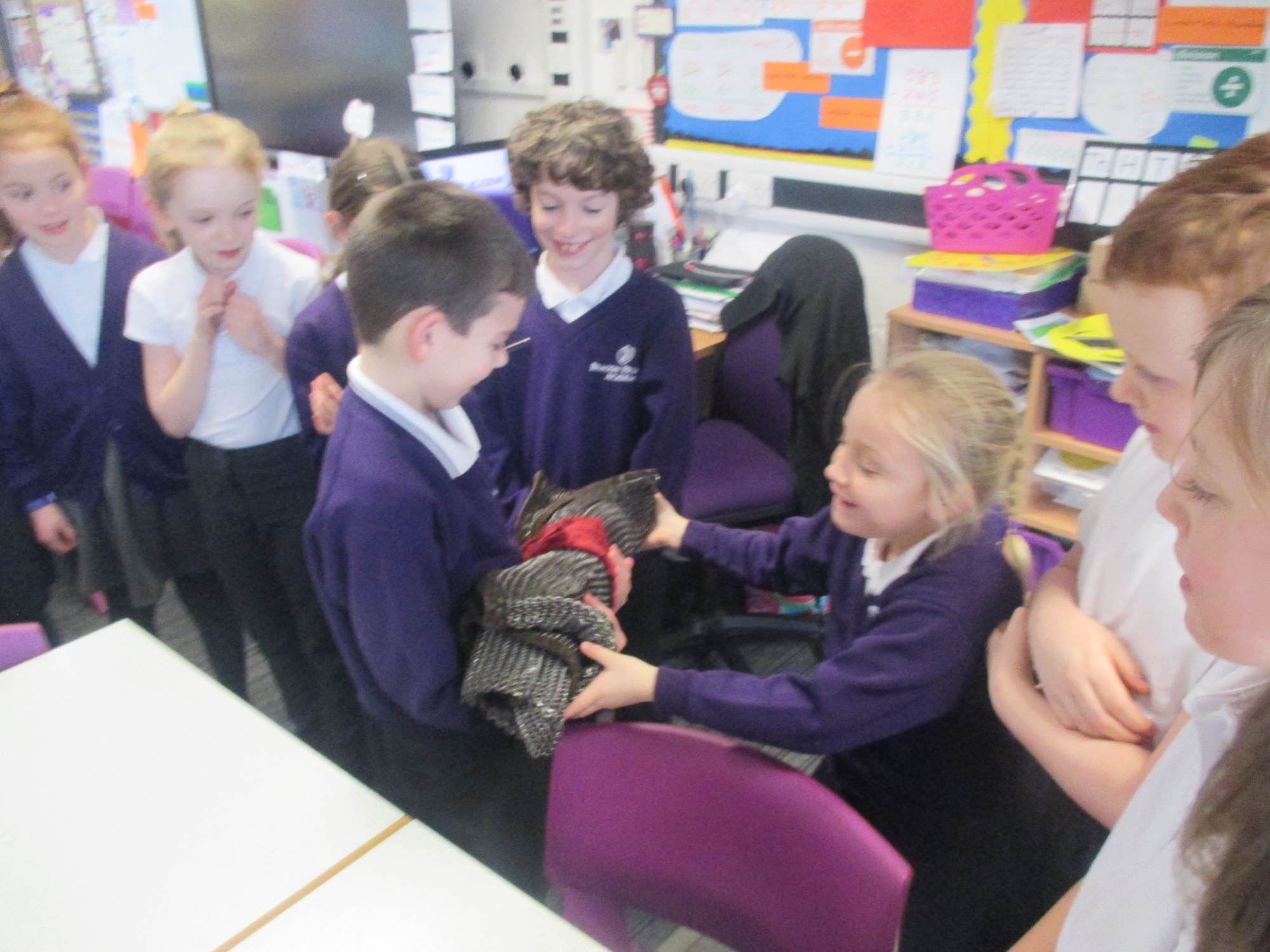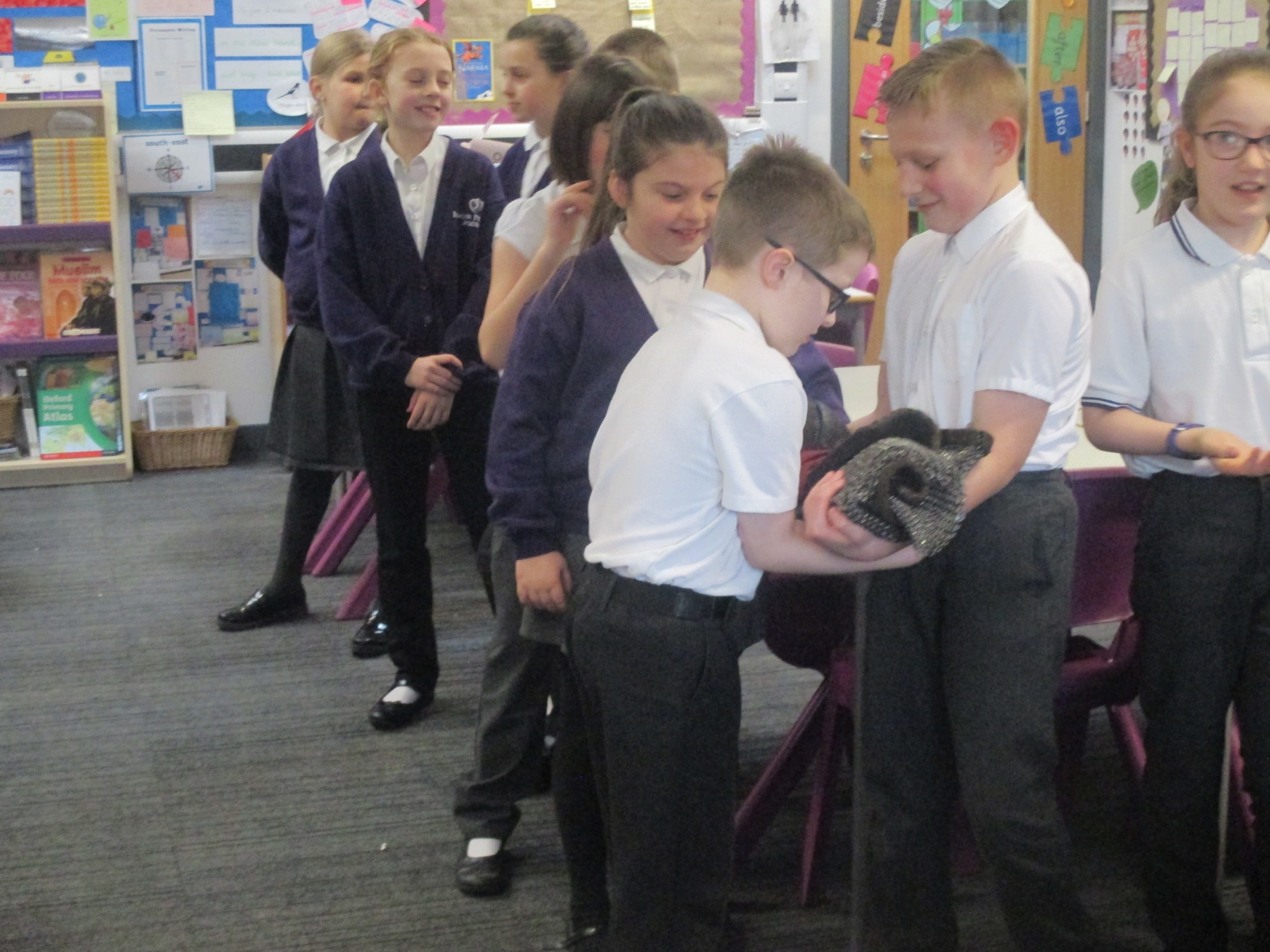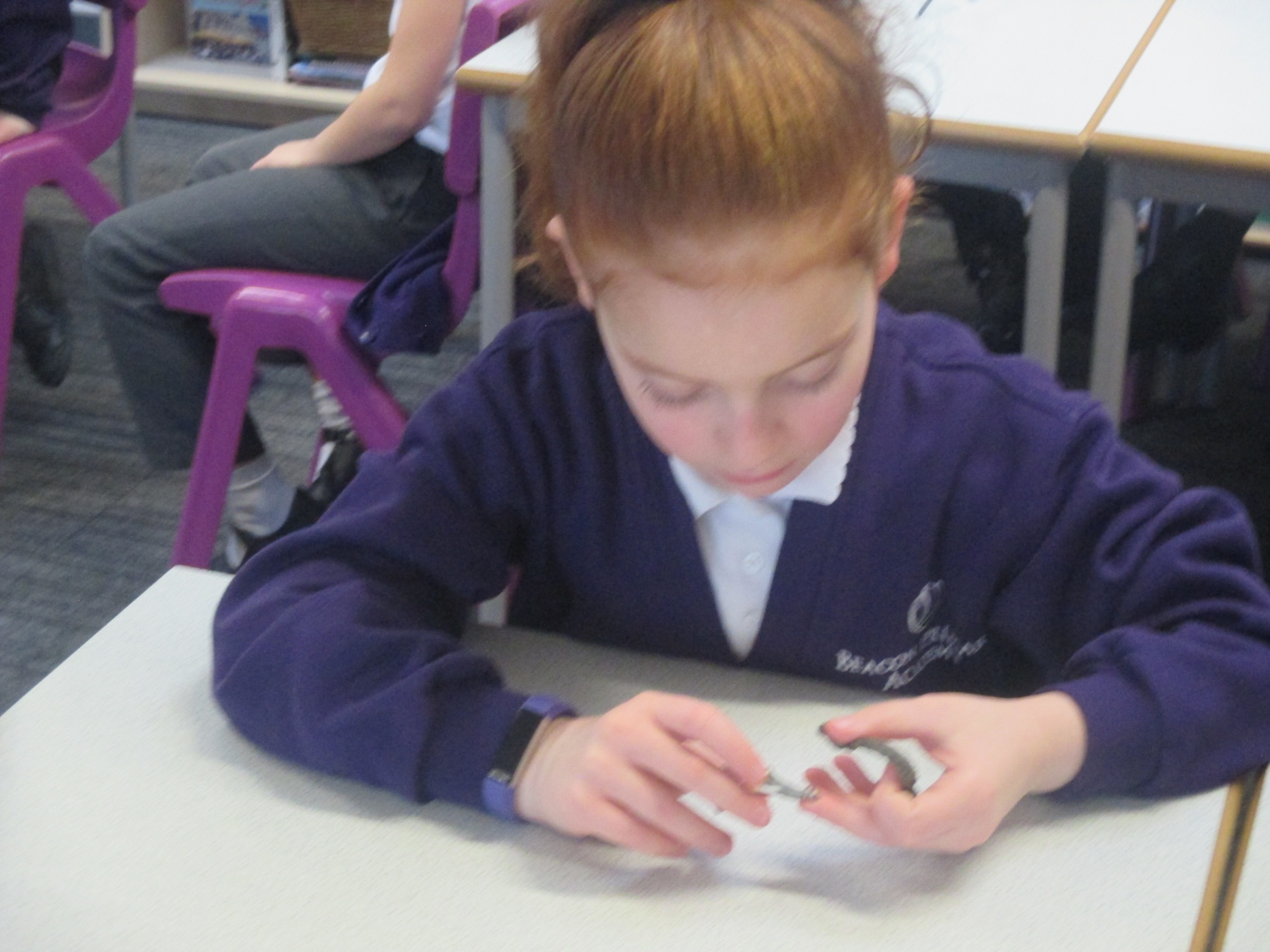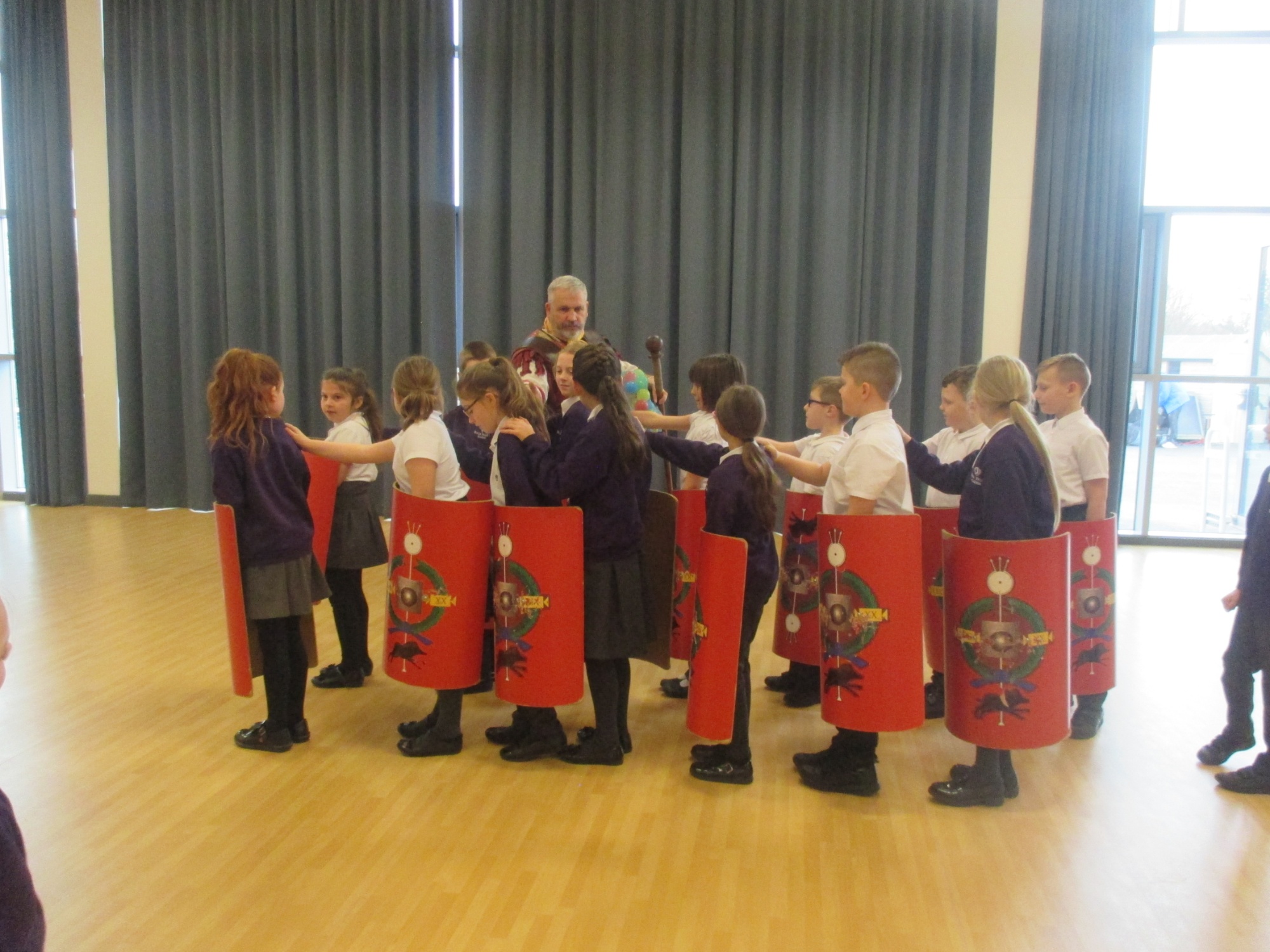 The Lemurs have been working hard on fractions in Maths, completing some very challenging problems. In English, we have been focusing on our grammar and punctuation, using conjunctions and apostrophes then applying this to our recount writing following our amazing Roman visitor. In Science, we have been designing and carrying out our conductivity tests and in Computing, writing and debugging algorithms (instructions). Our pBuzz playing is coming along brilliantly and we look forward to performing this to you next week during our join in session.
Fortnight beginning 7.1.19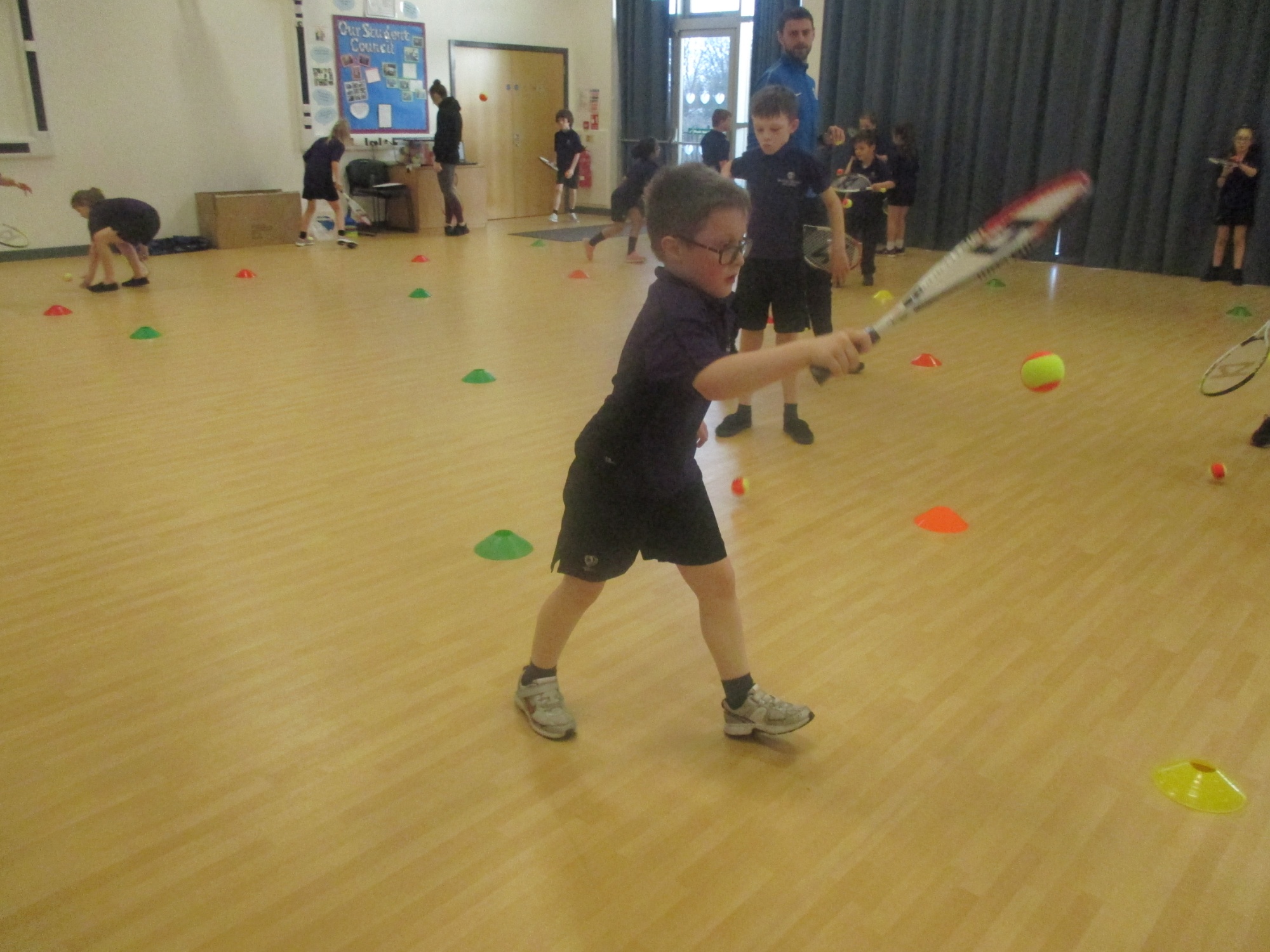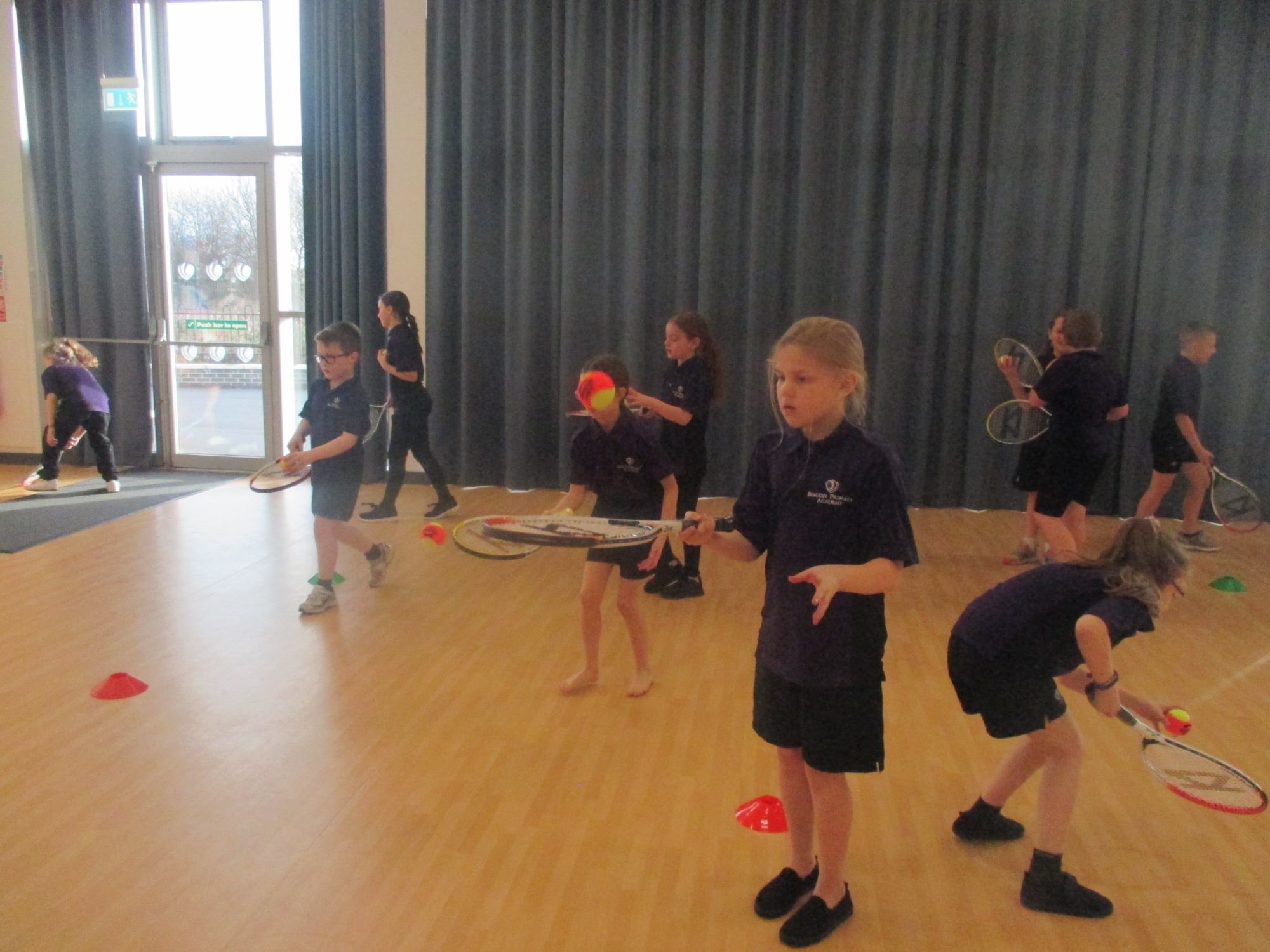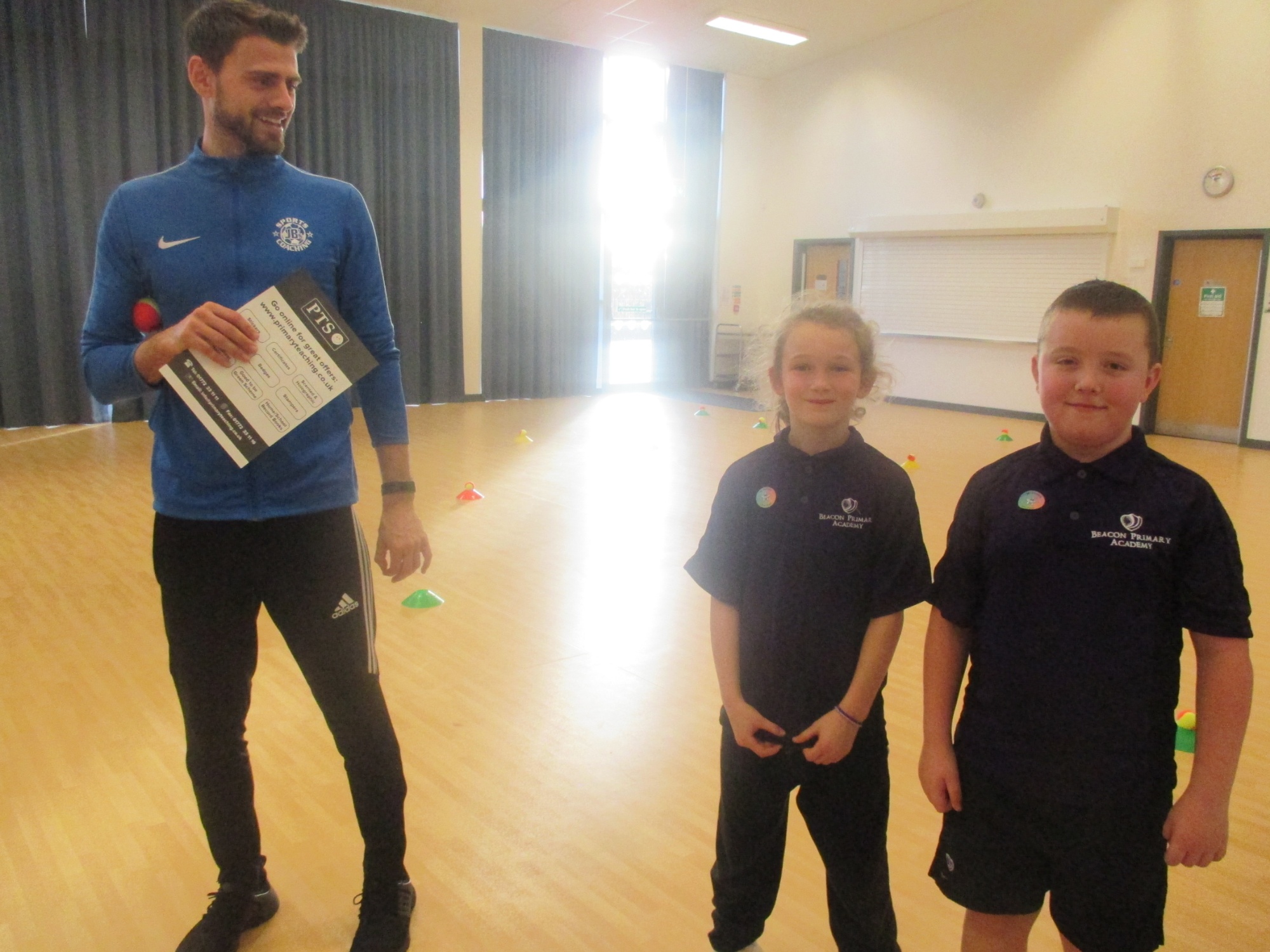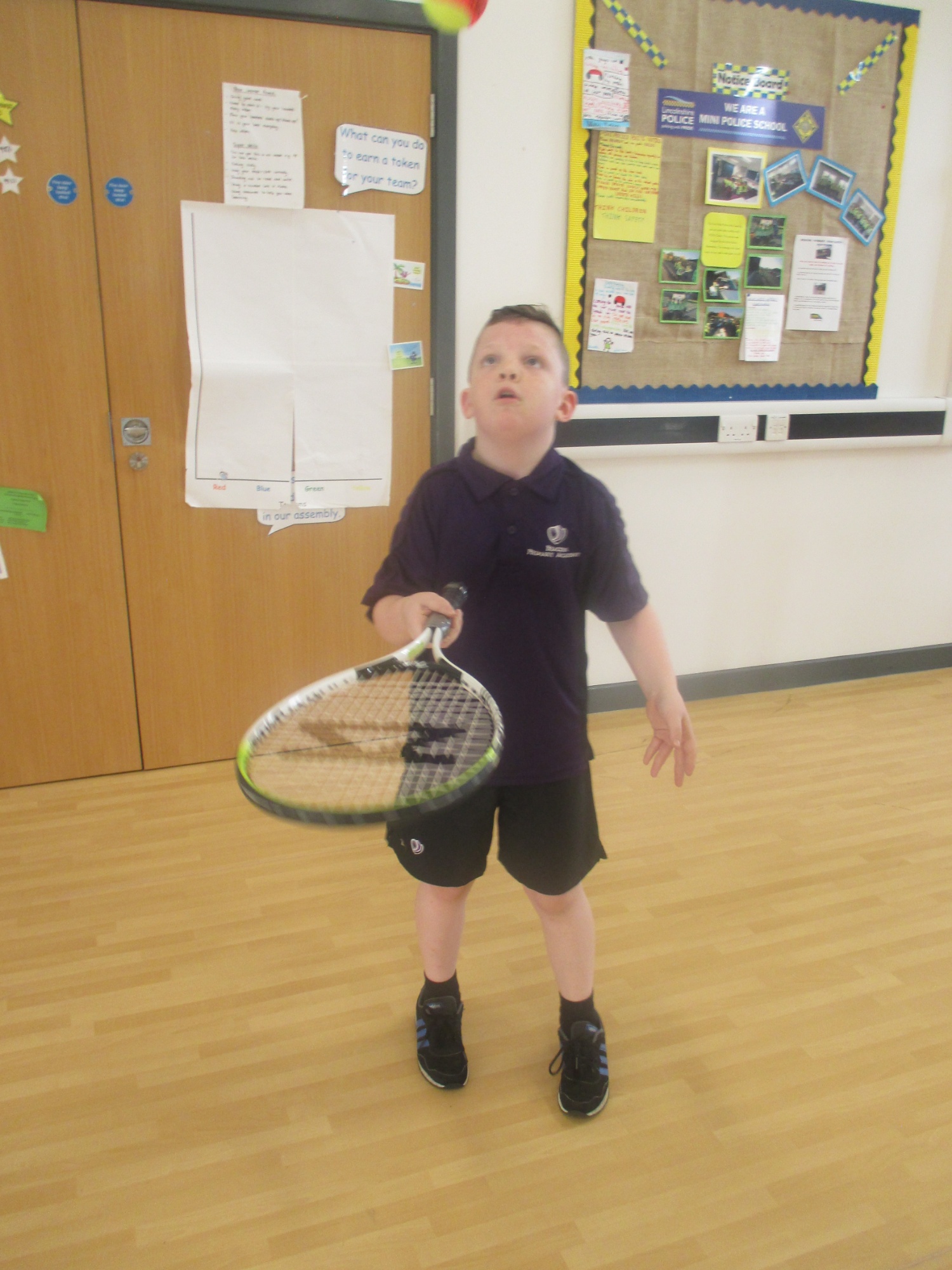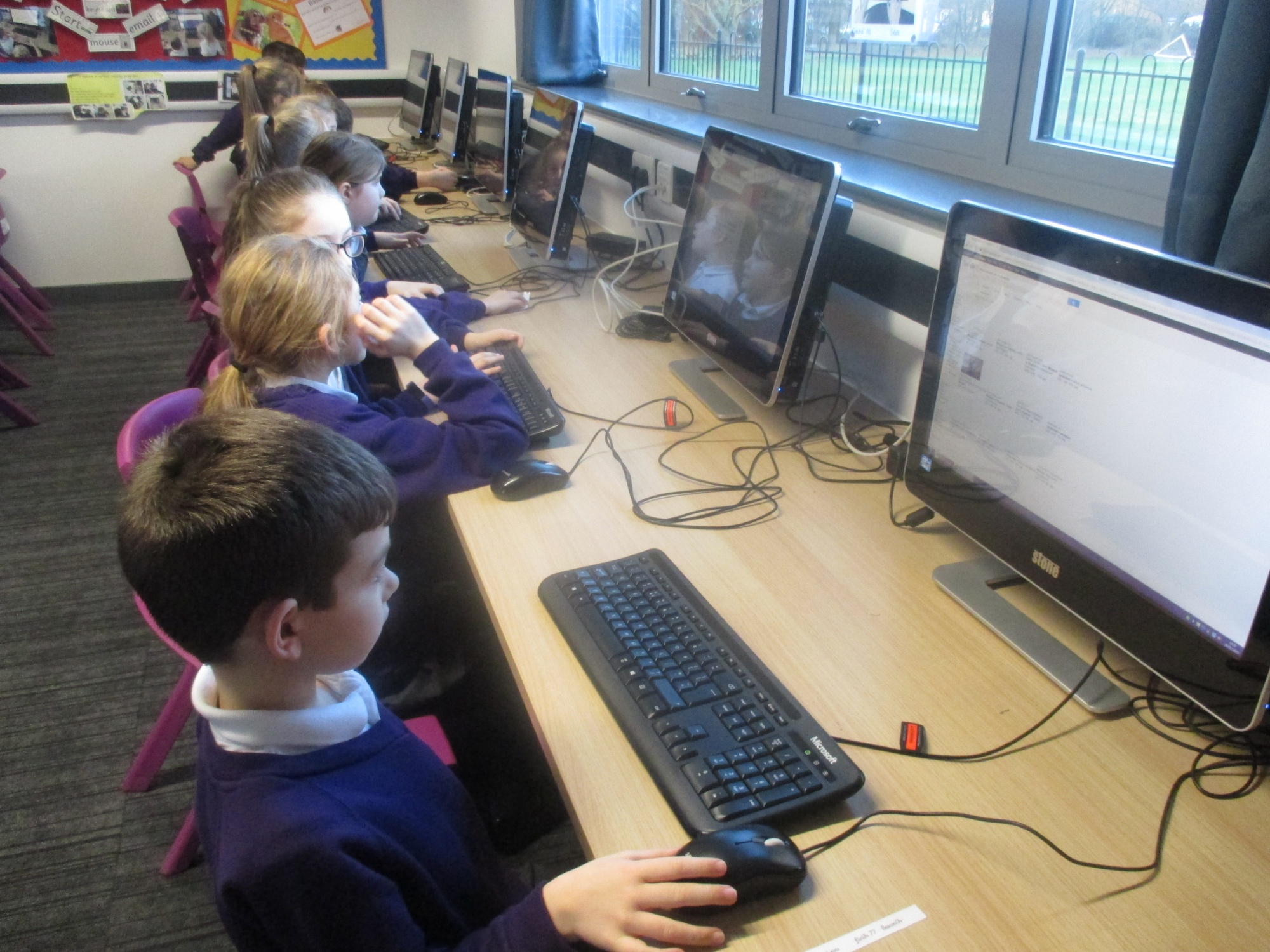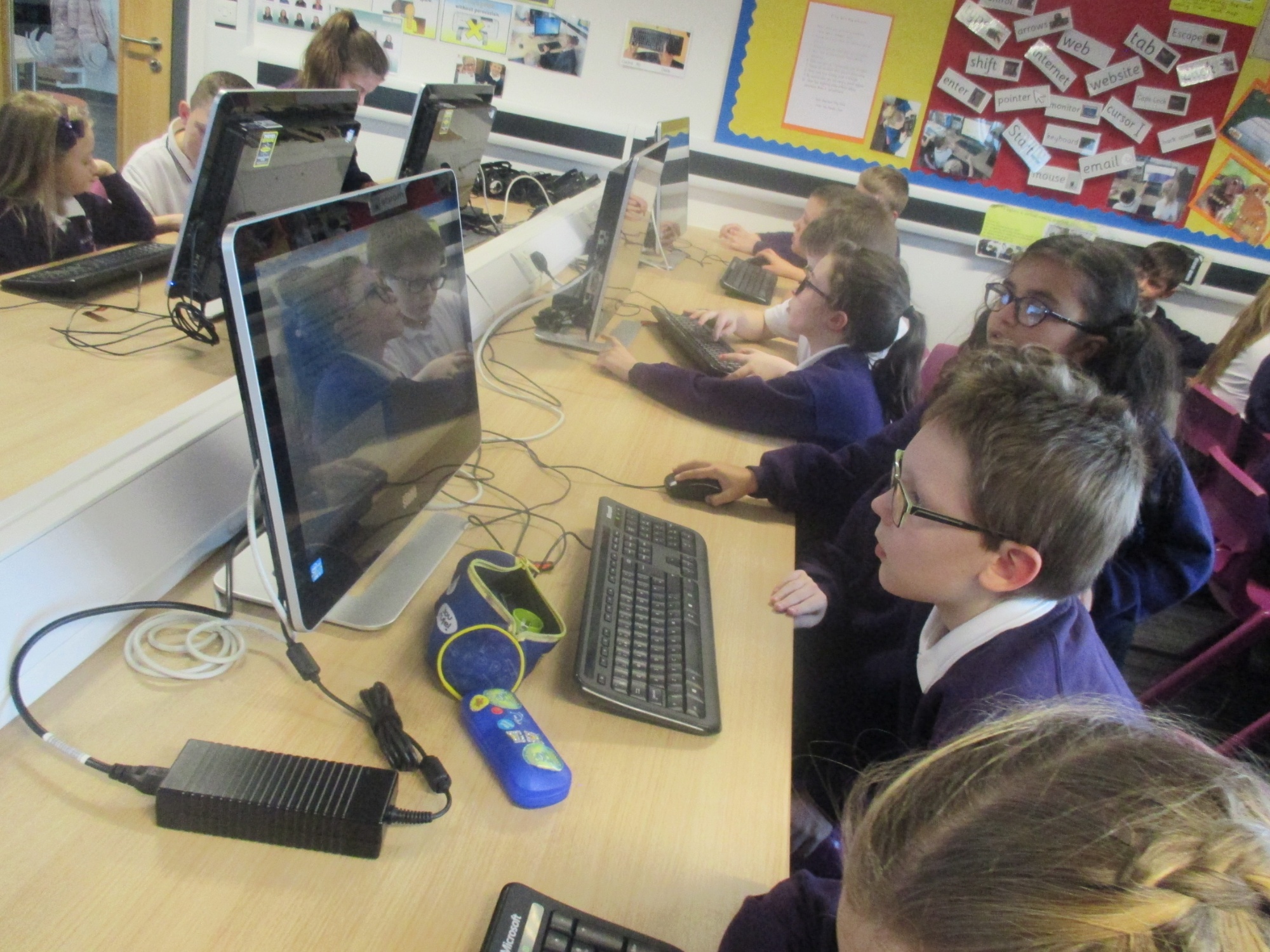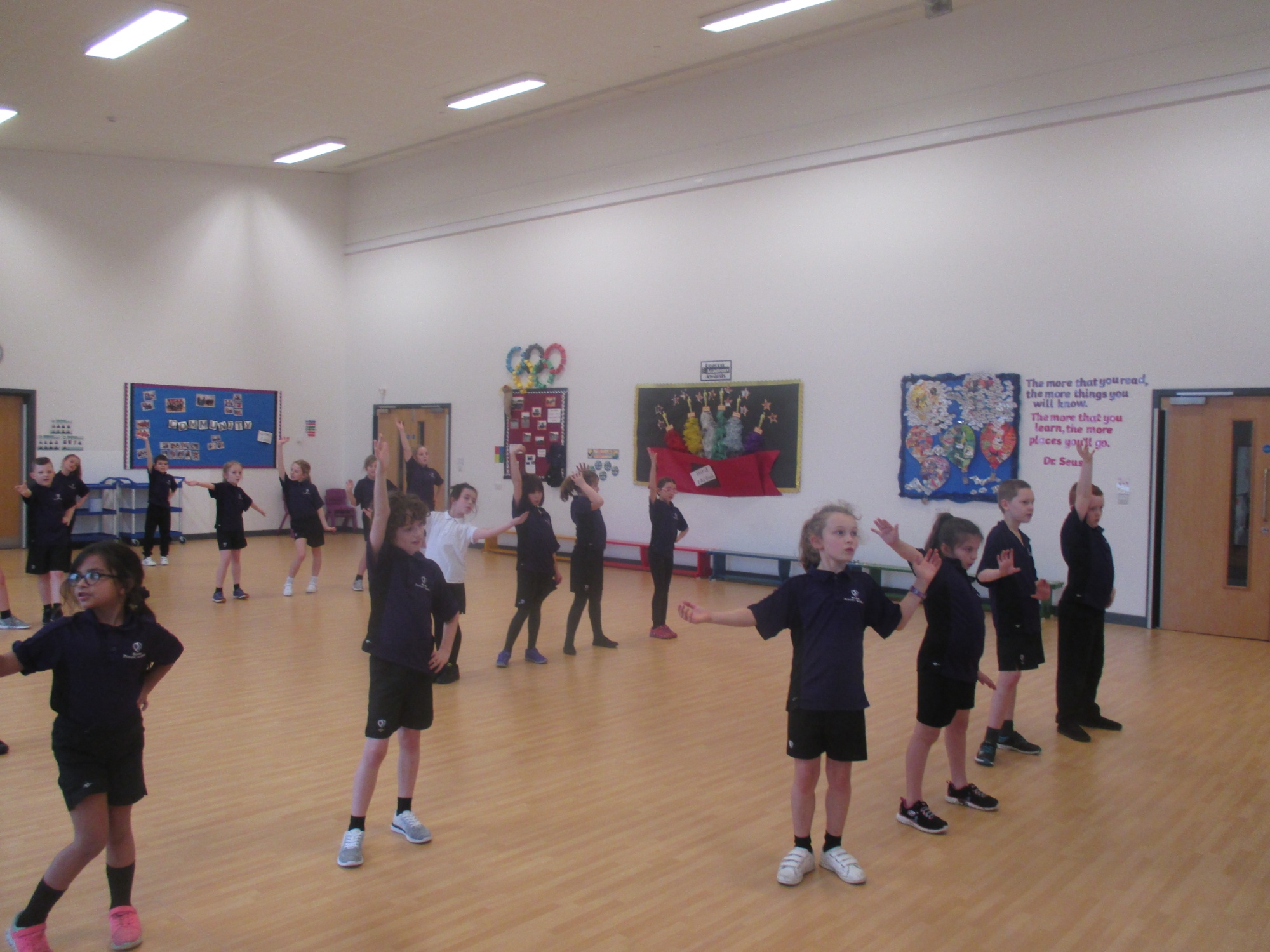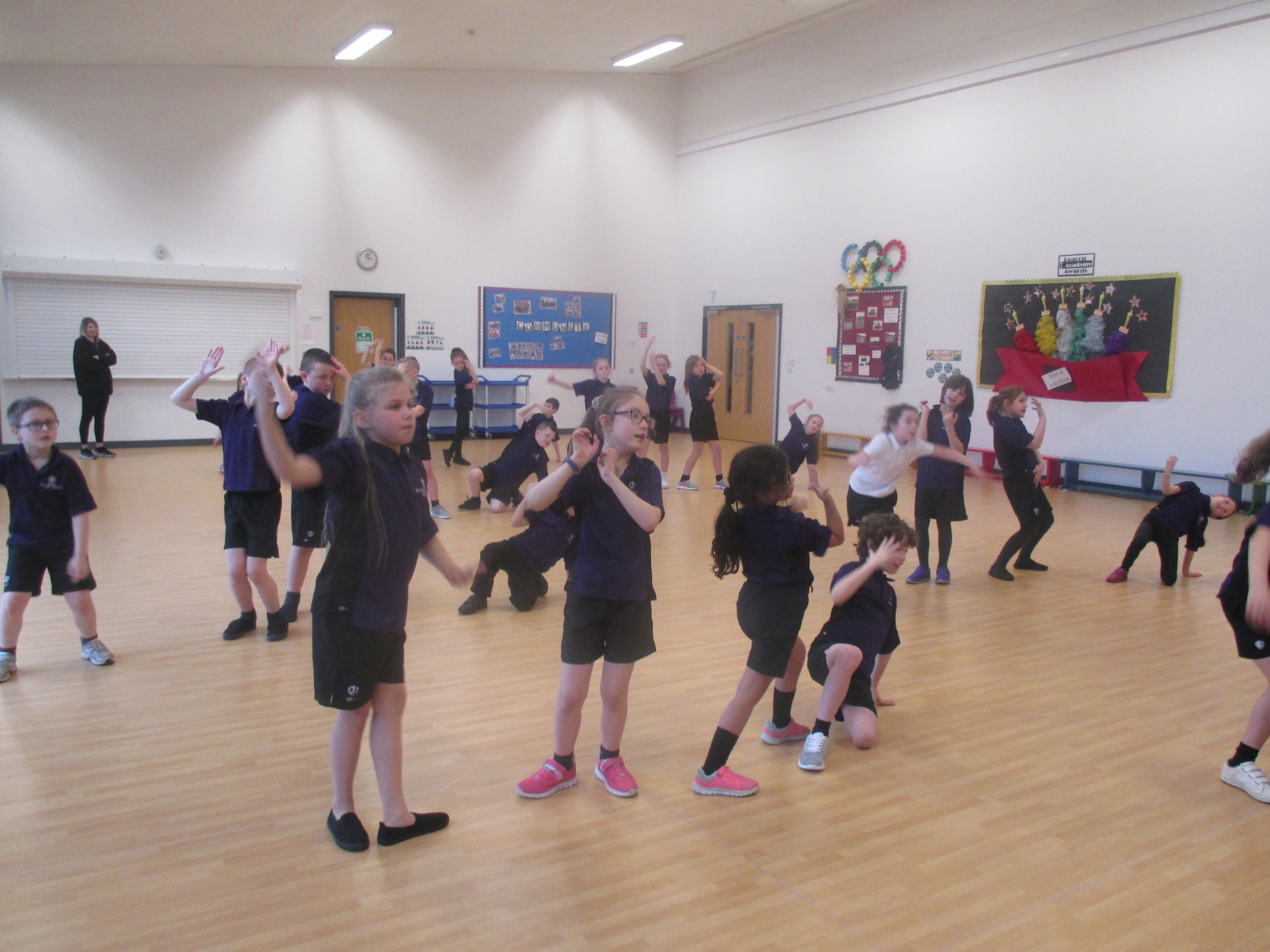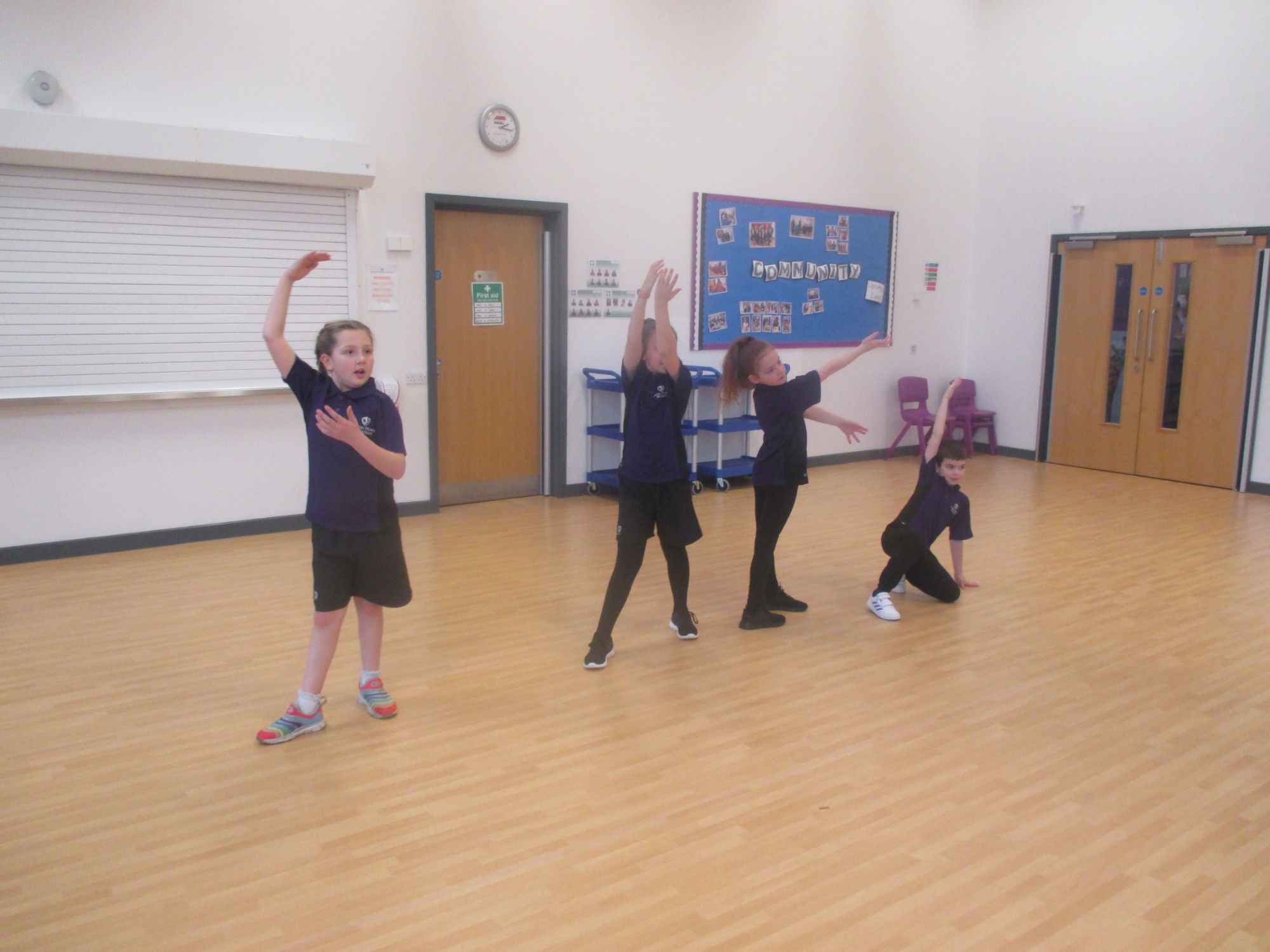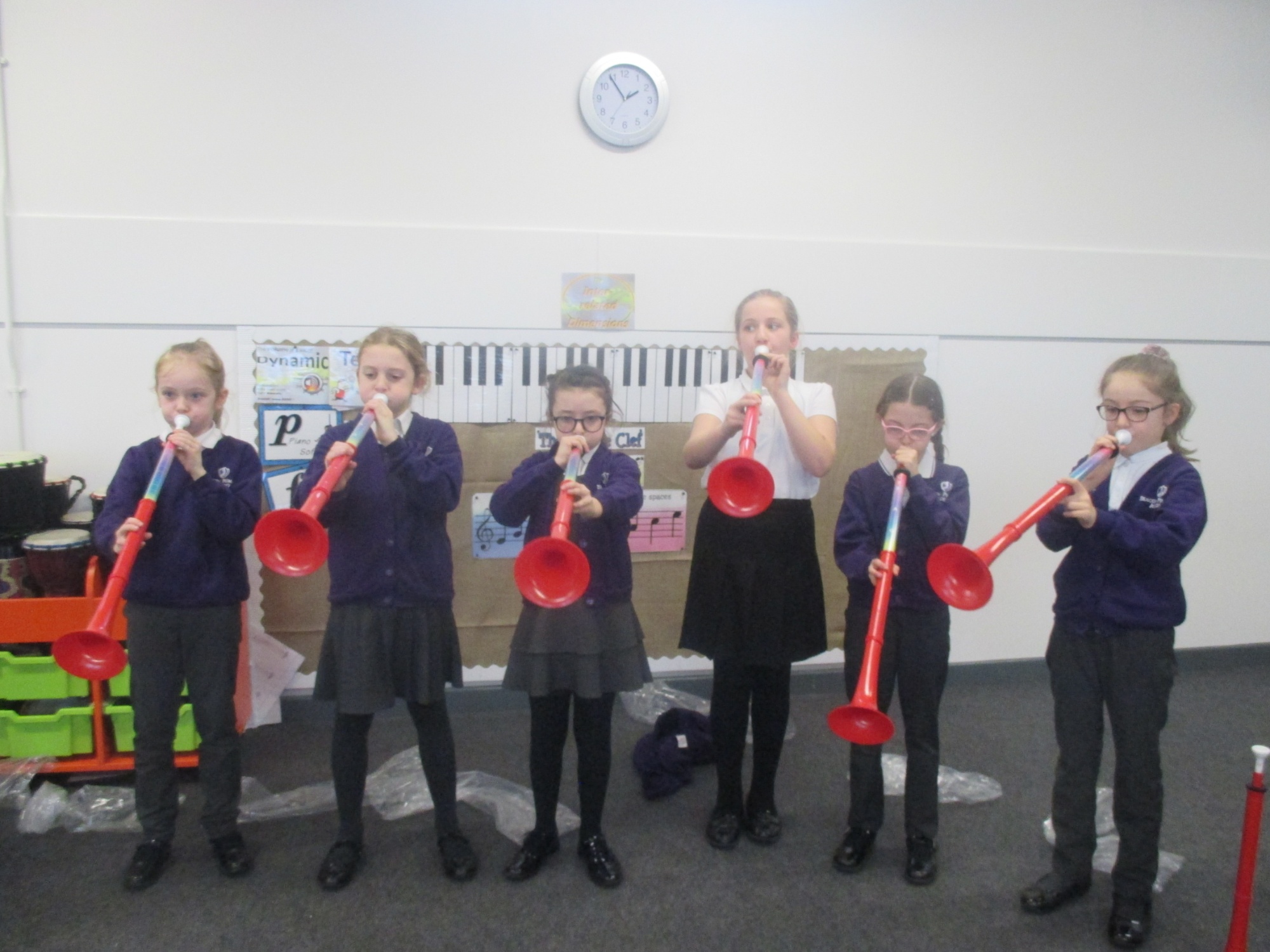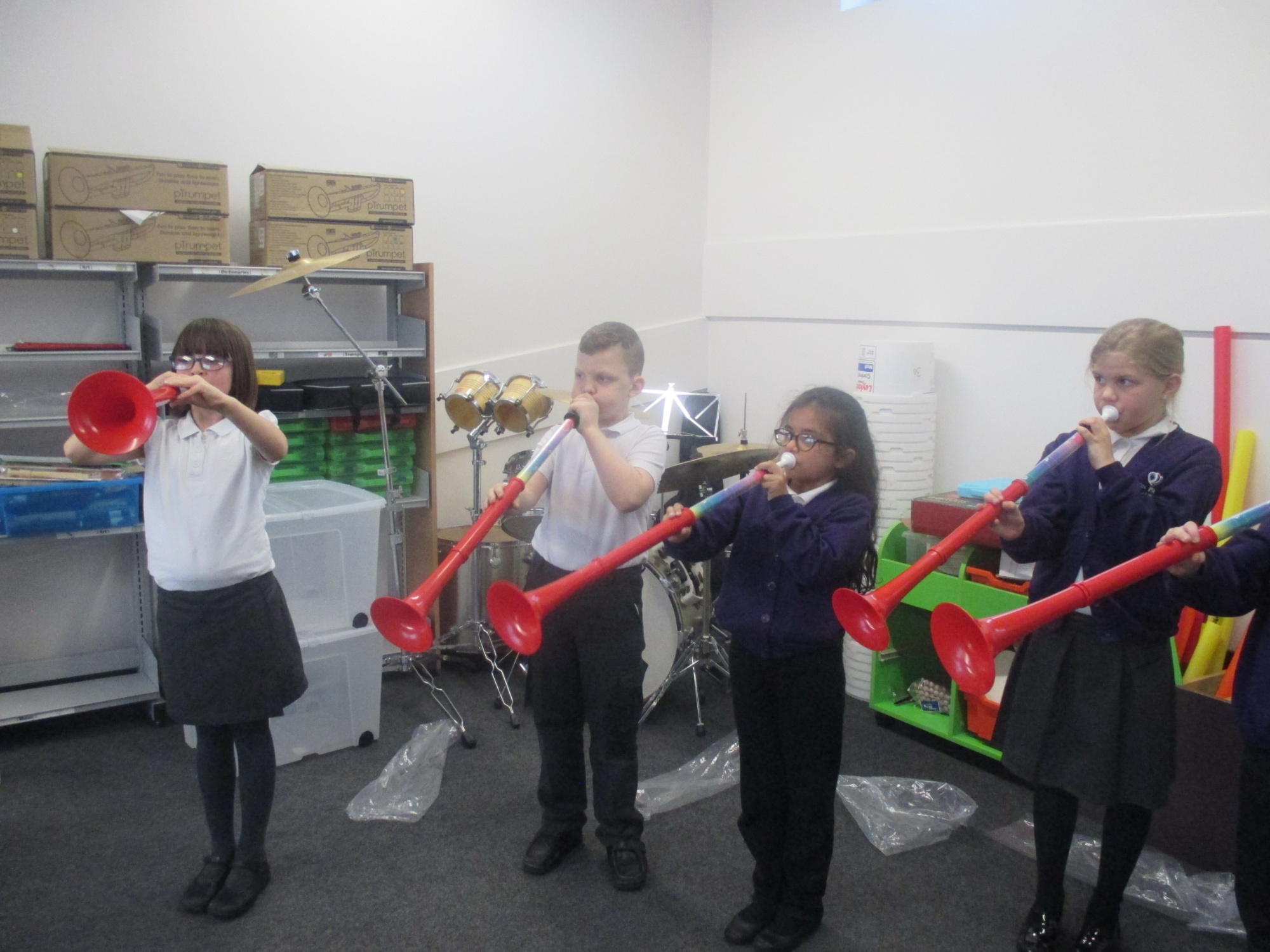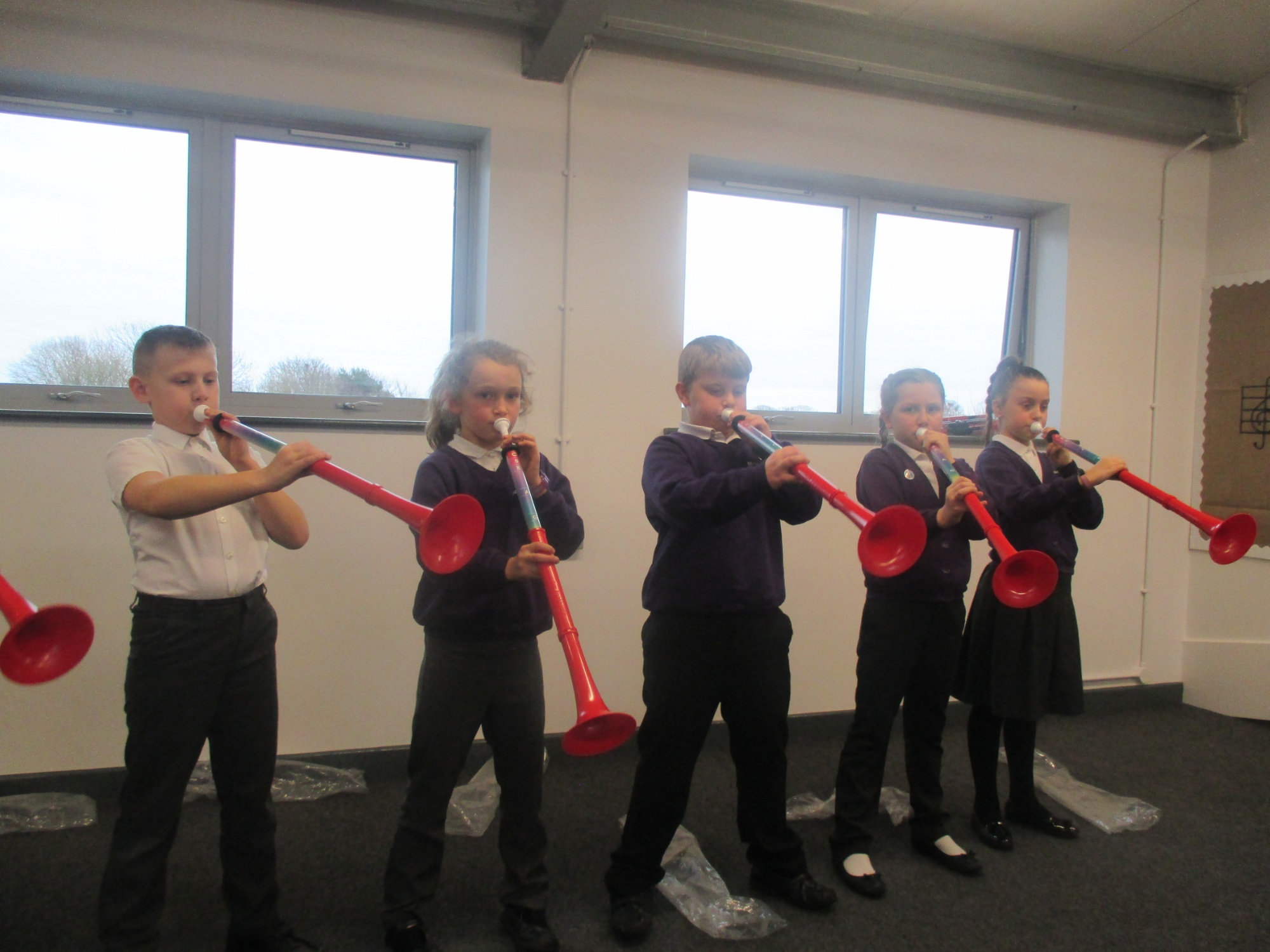 What a great start to 2019 for the Lemurs! In English, they have been learning about persuasive writing and have applied their new skills brilliantly by writing a letter to you all about our amazing Roman visitor. Please keep the donations coming in for this unique experience on 29th January.
In Maths, they have worked enthusiastically on their times tables and rounding problems, really impressing Miss Heard and Mrs. Parkins. In Science, they have planned their own investigation using circuits to test the conductivity of different materials.
In DT, they have designed and made a roundhouse from the Iron Age. In Geography, they have been locating the countries of Europe and researched information on the computers about a Muslim mosque in RE.
Keep up the amazing work, Year 4!
DT - Making Iron Age Roundhouses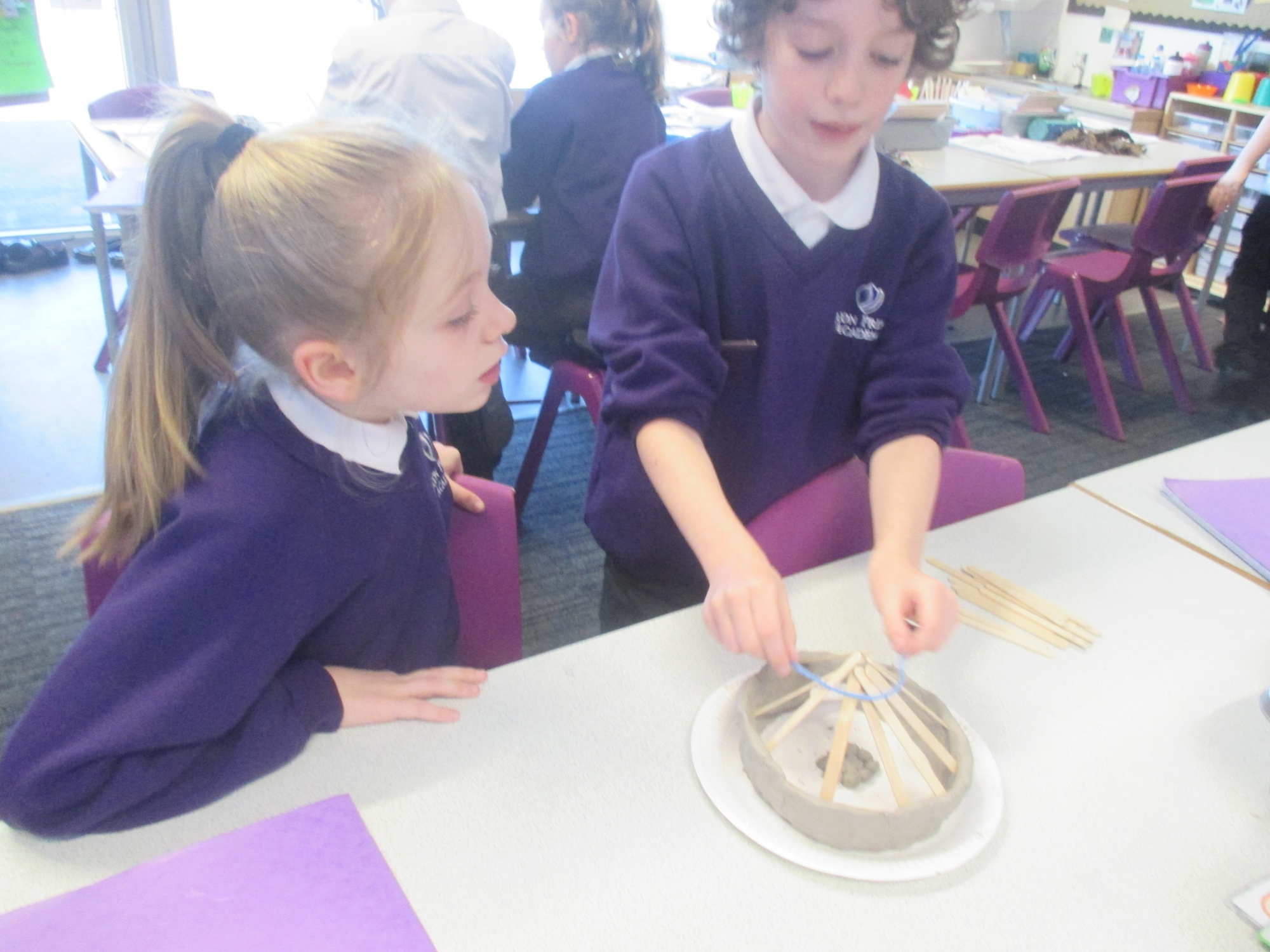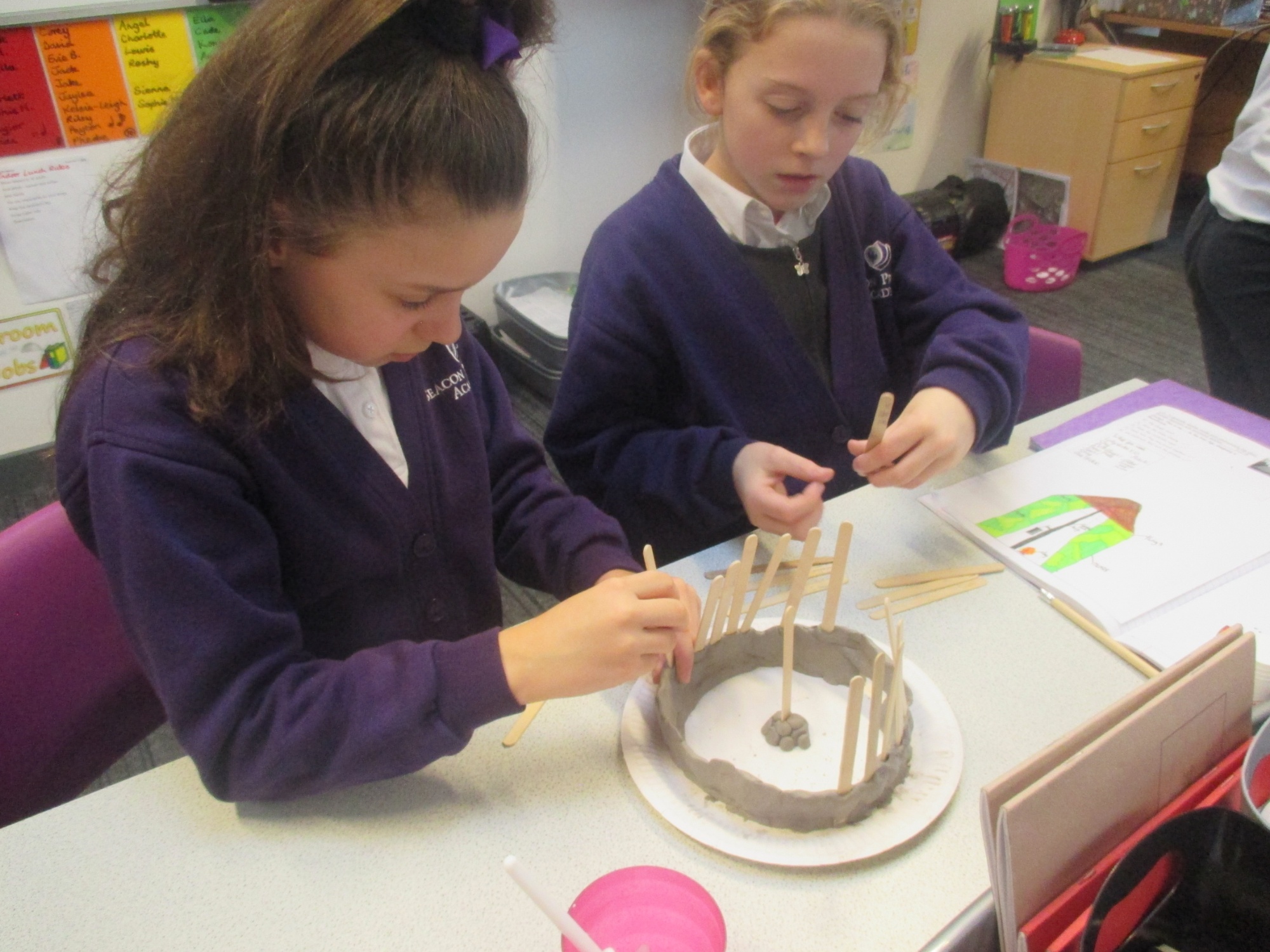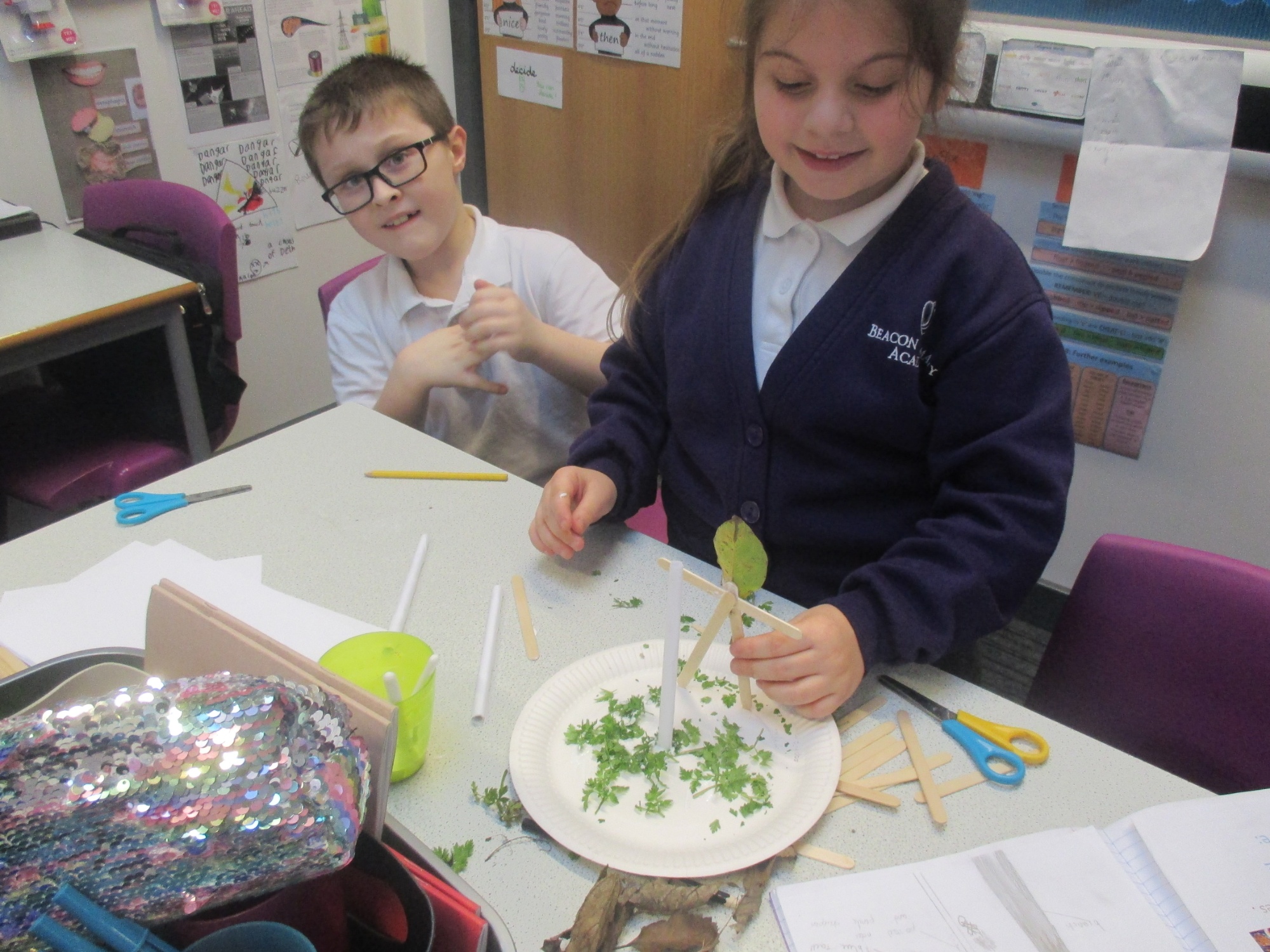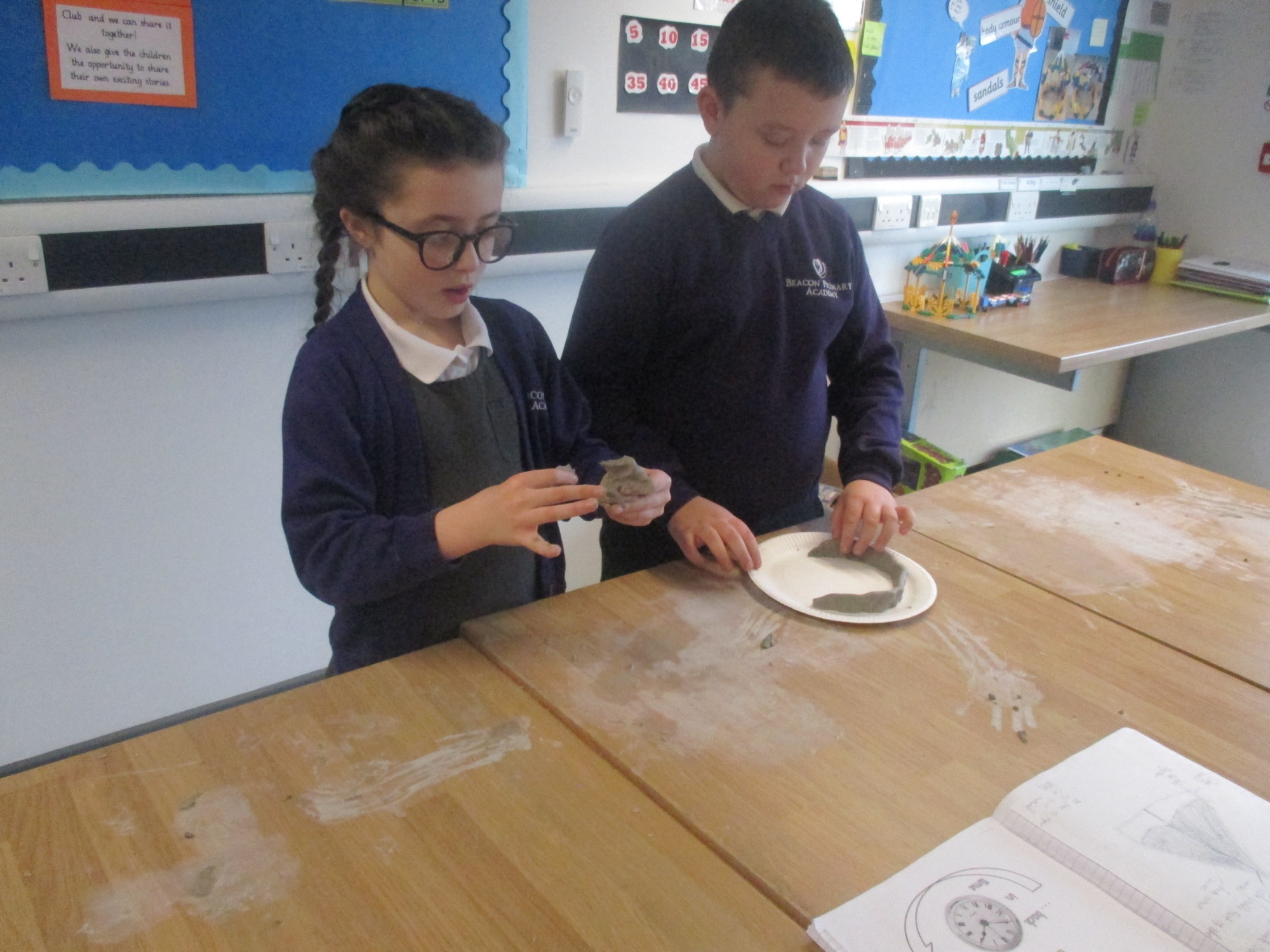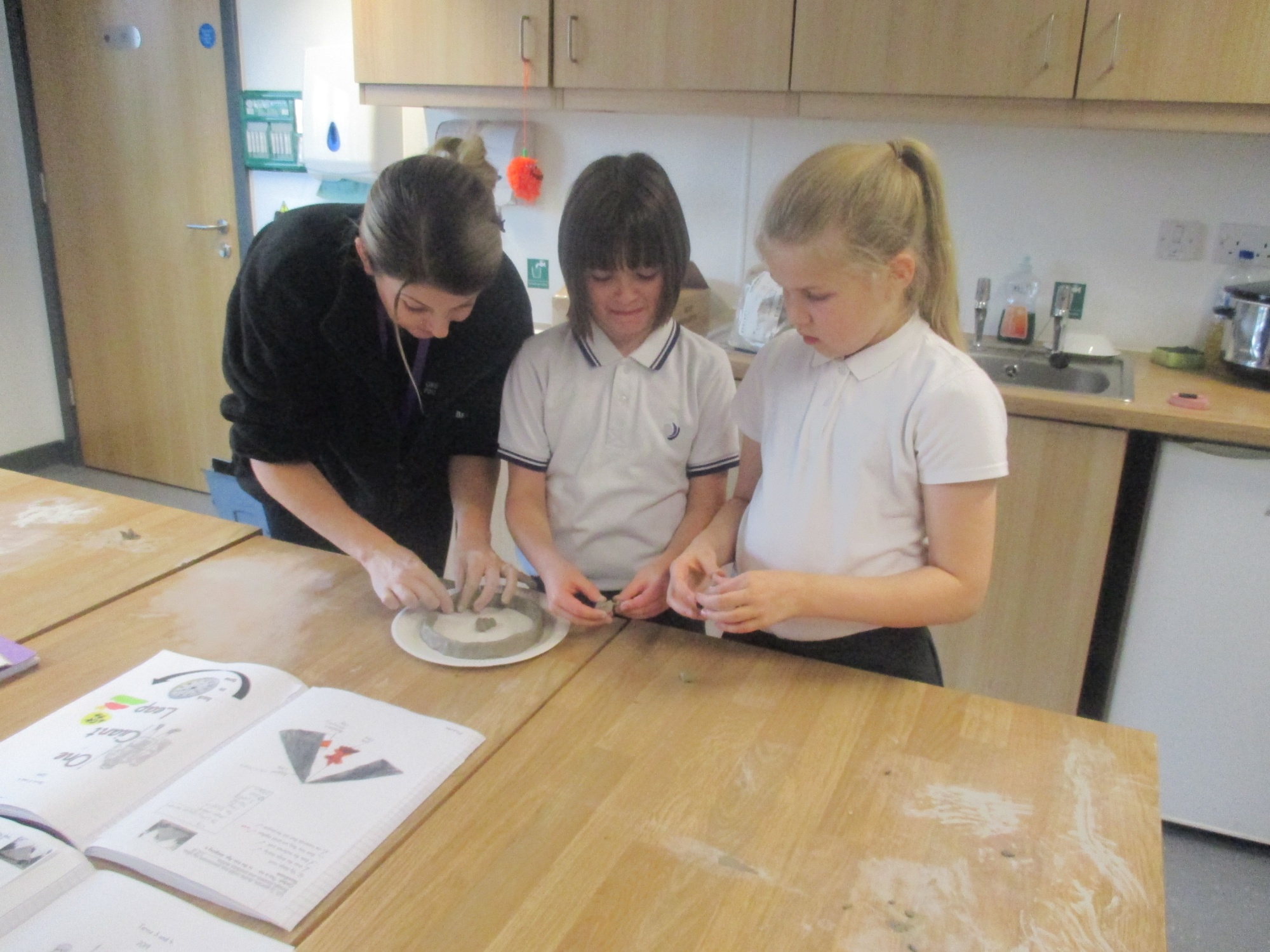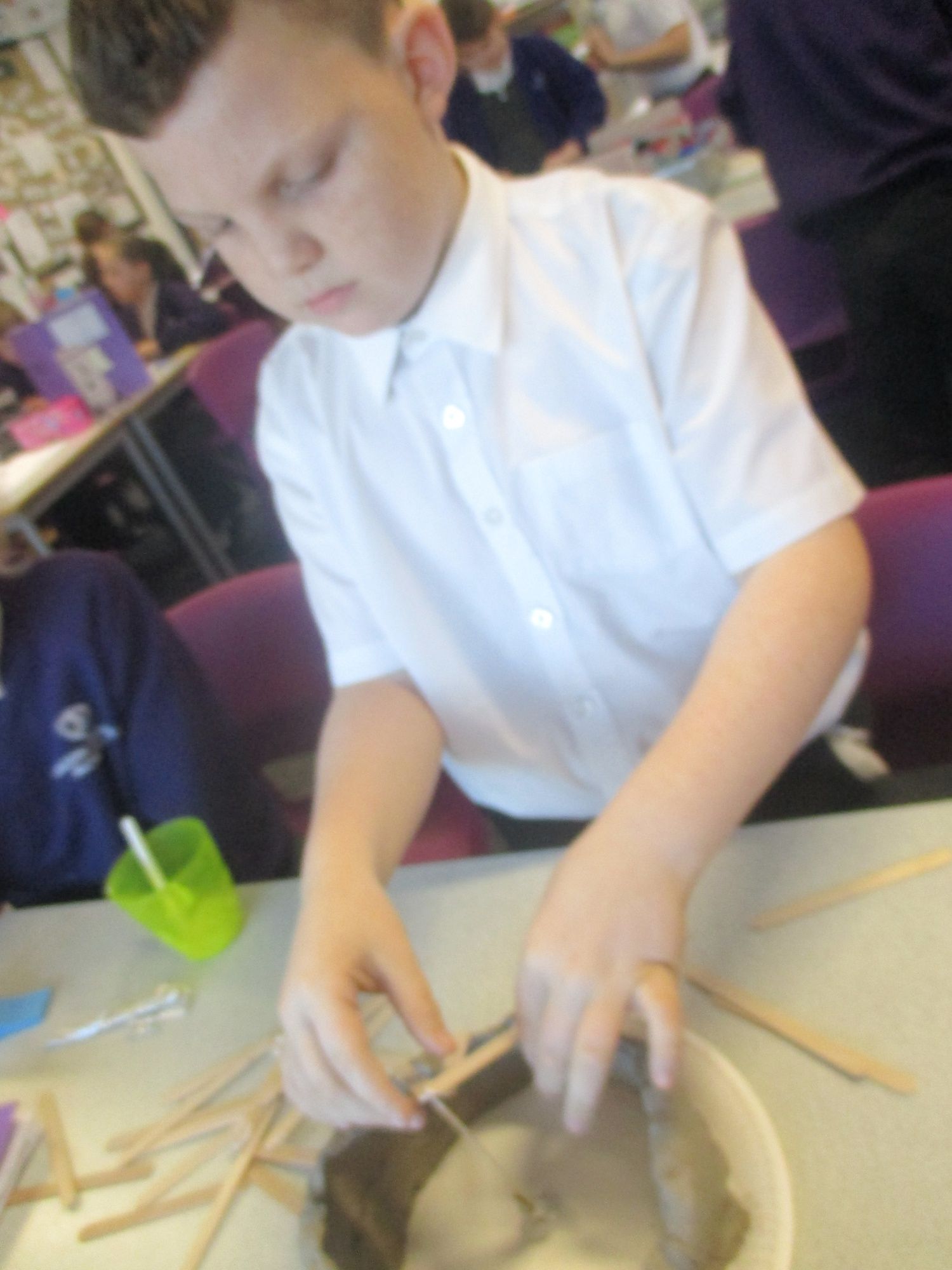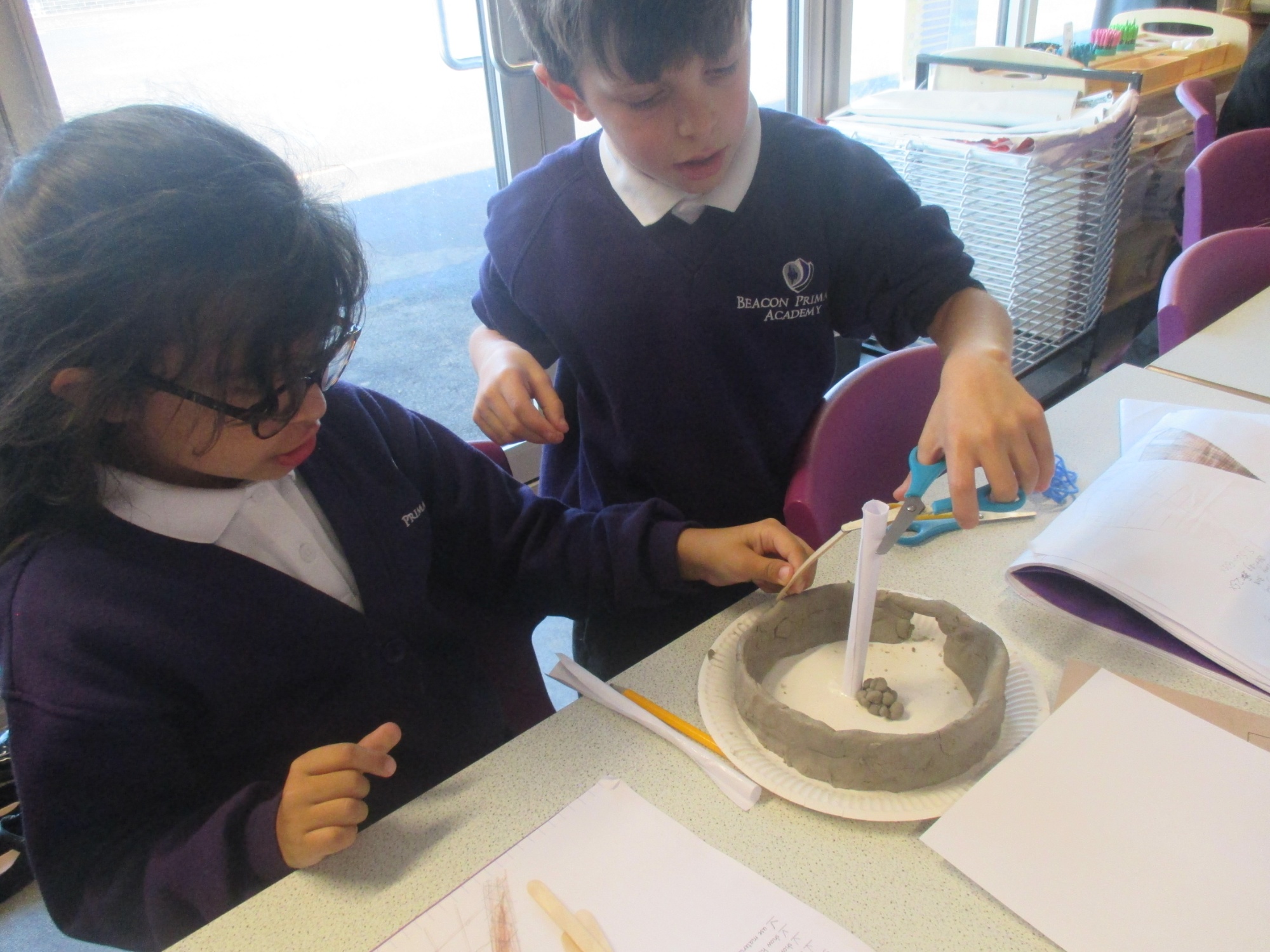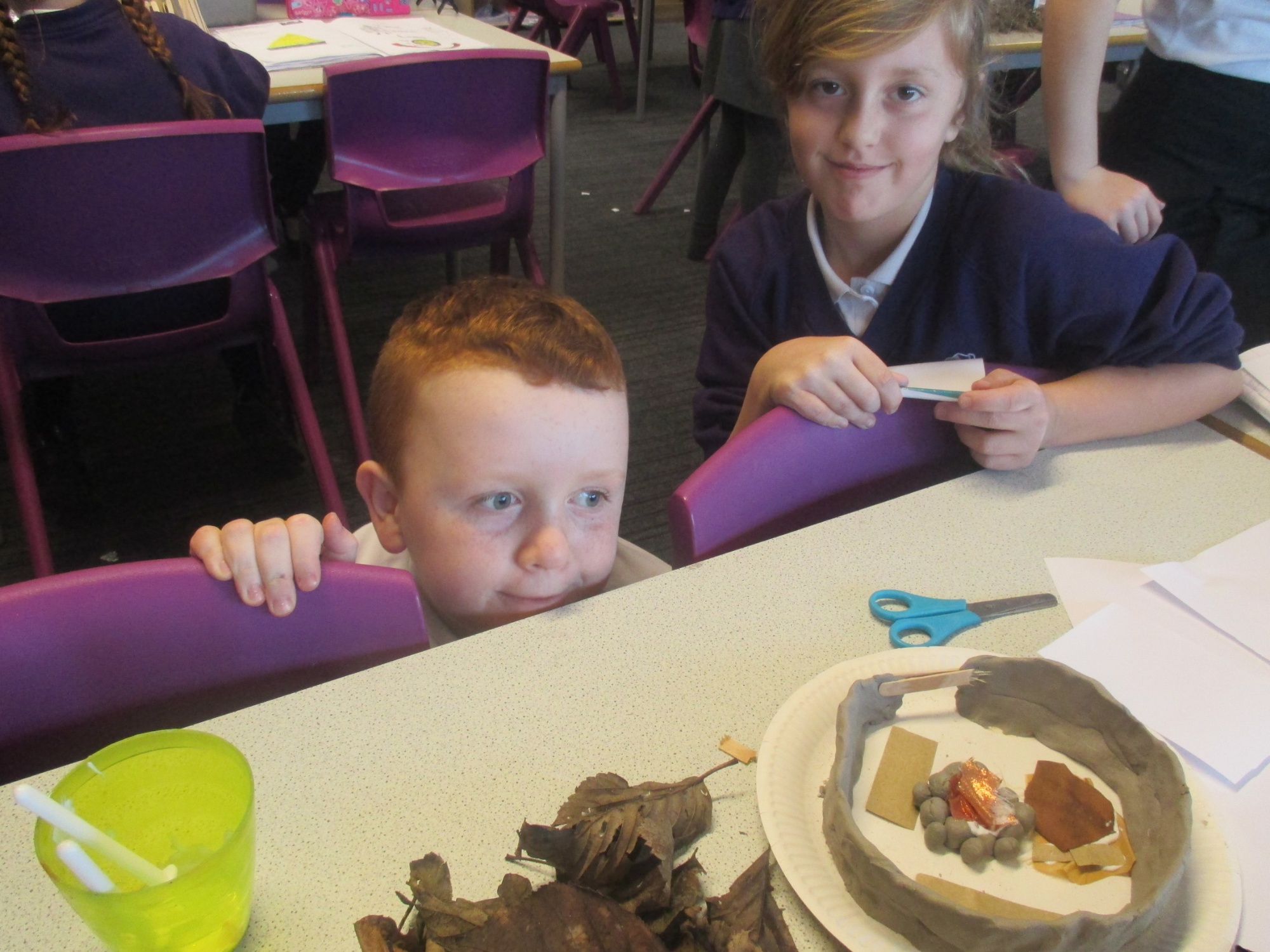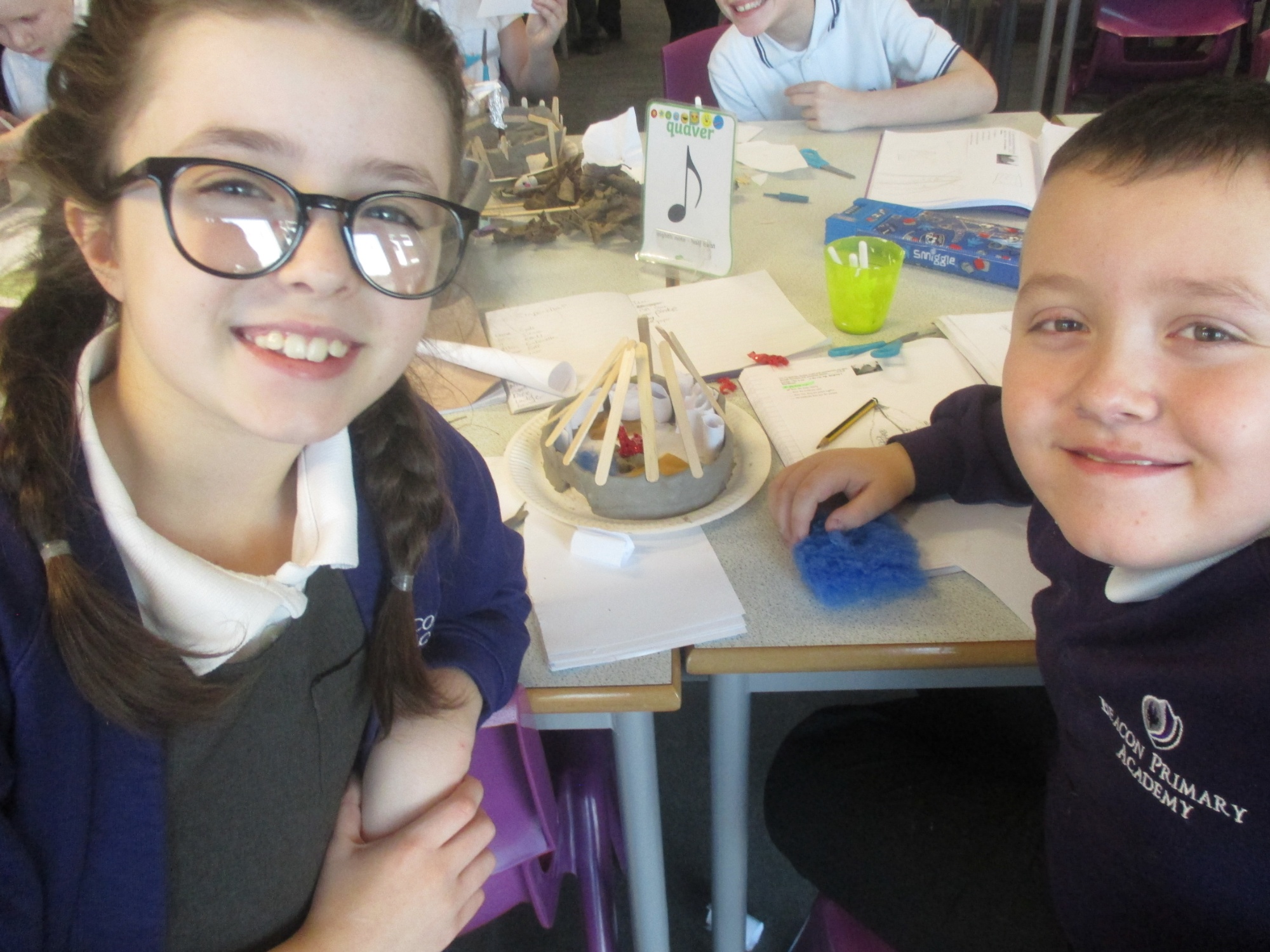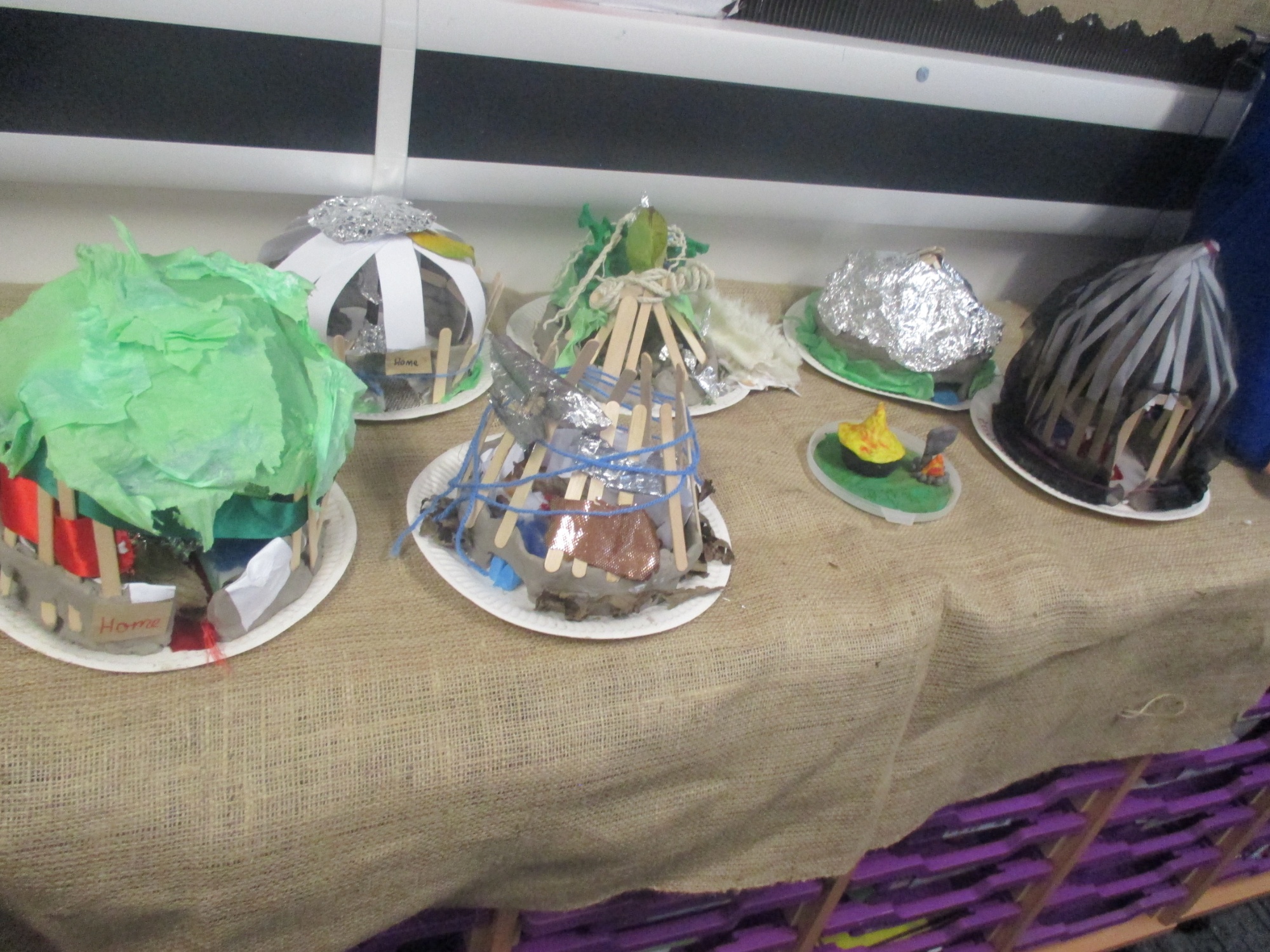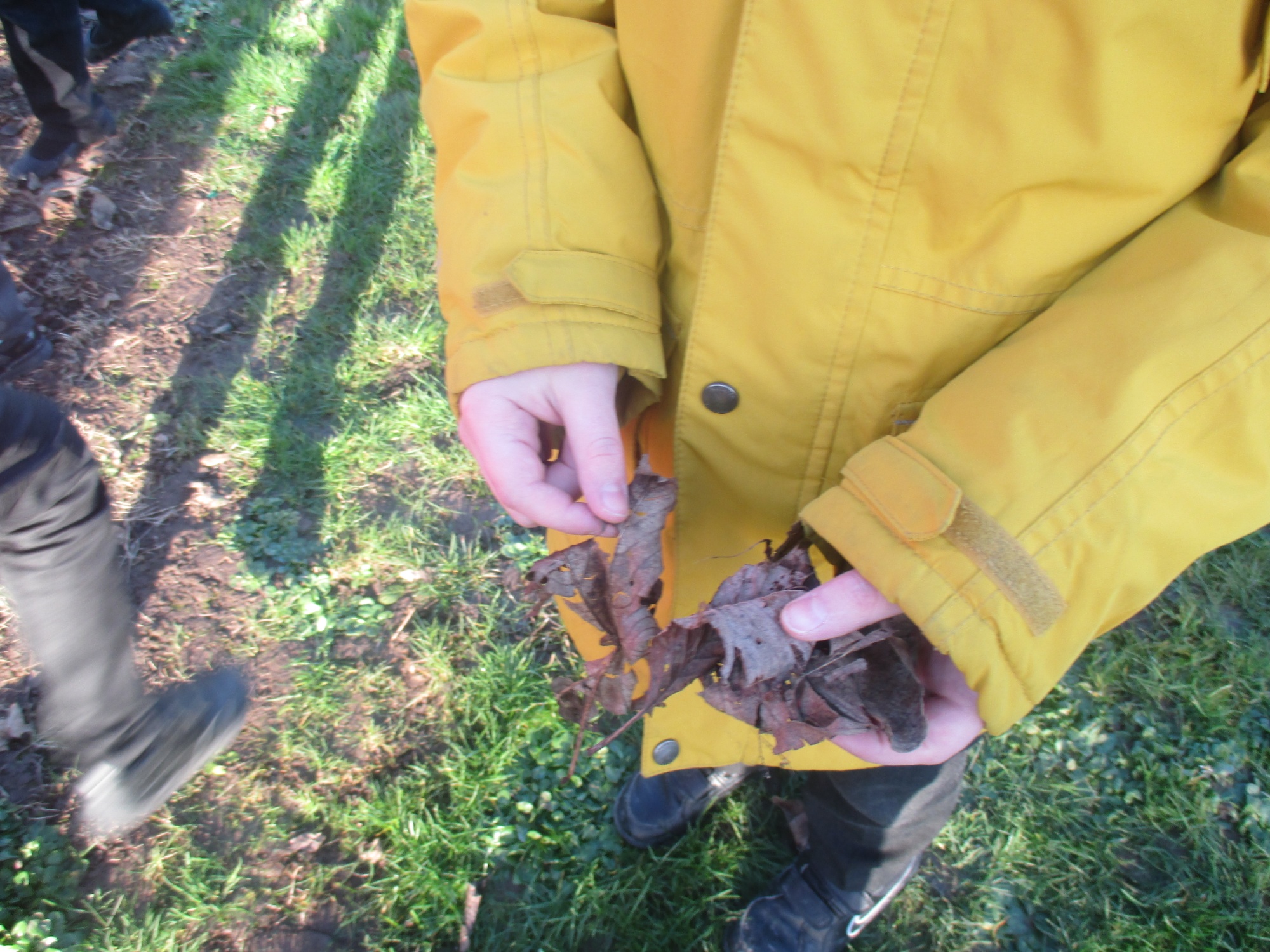 Fortnight beginning 3.12.18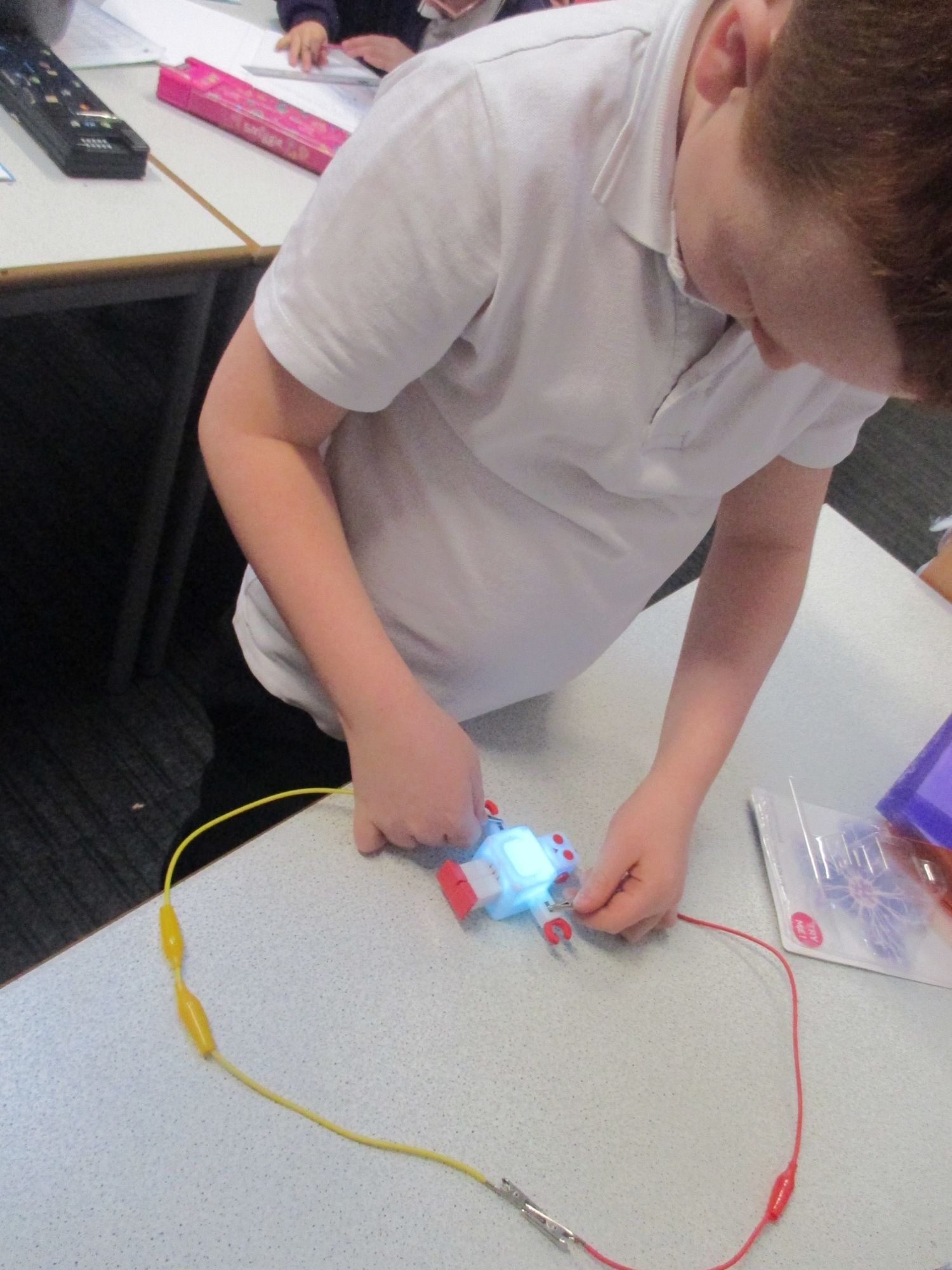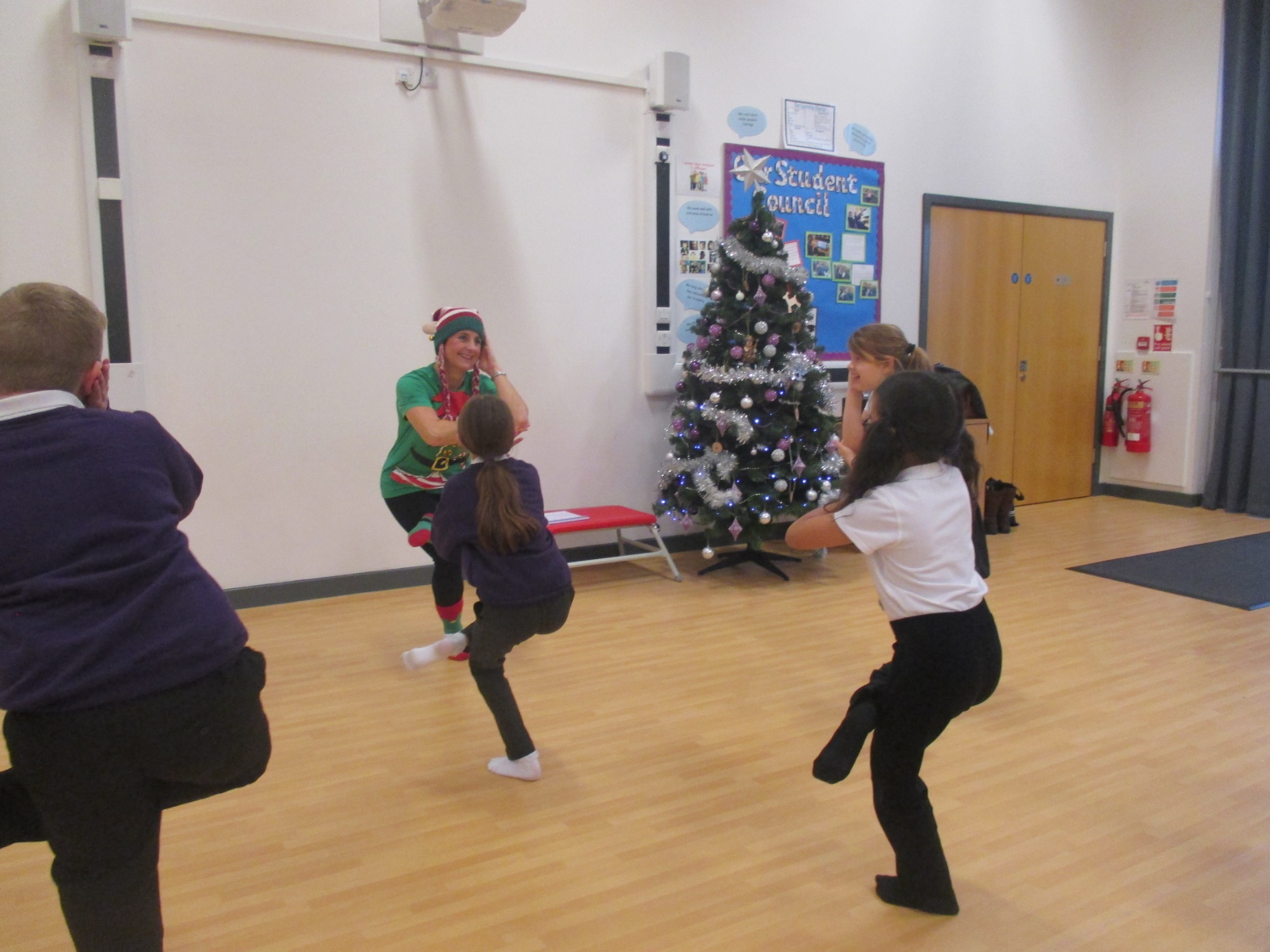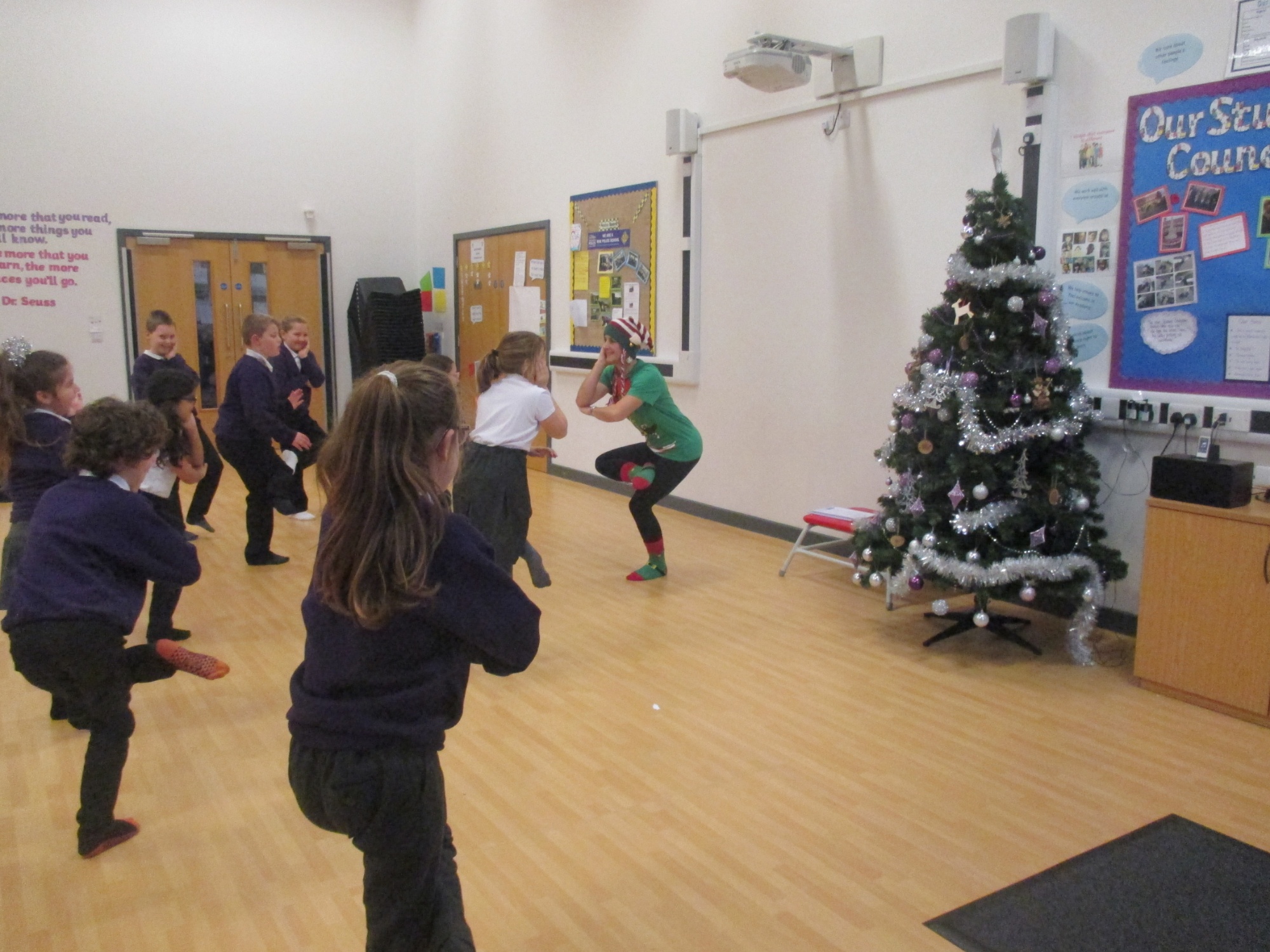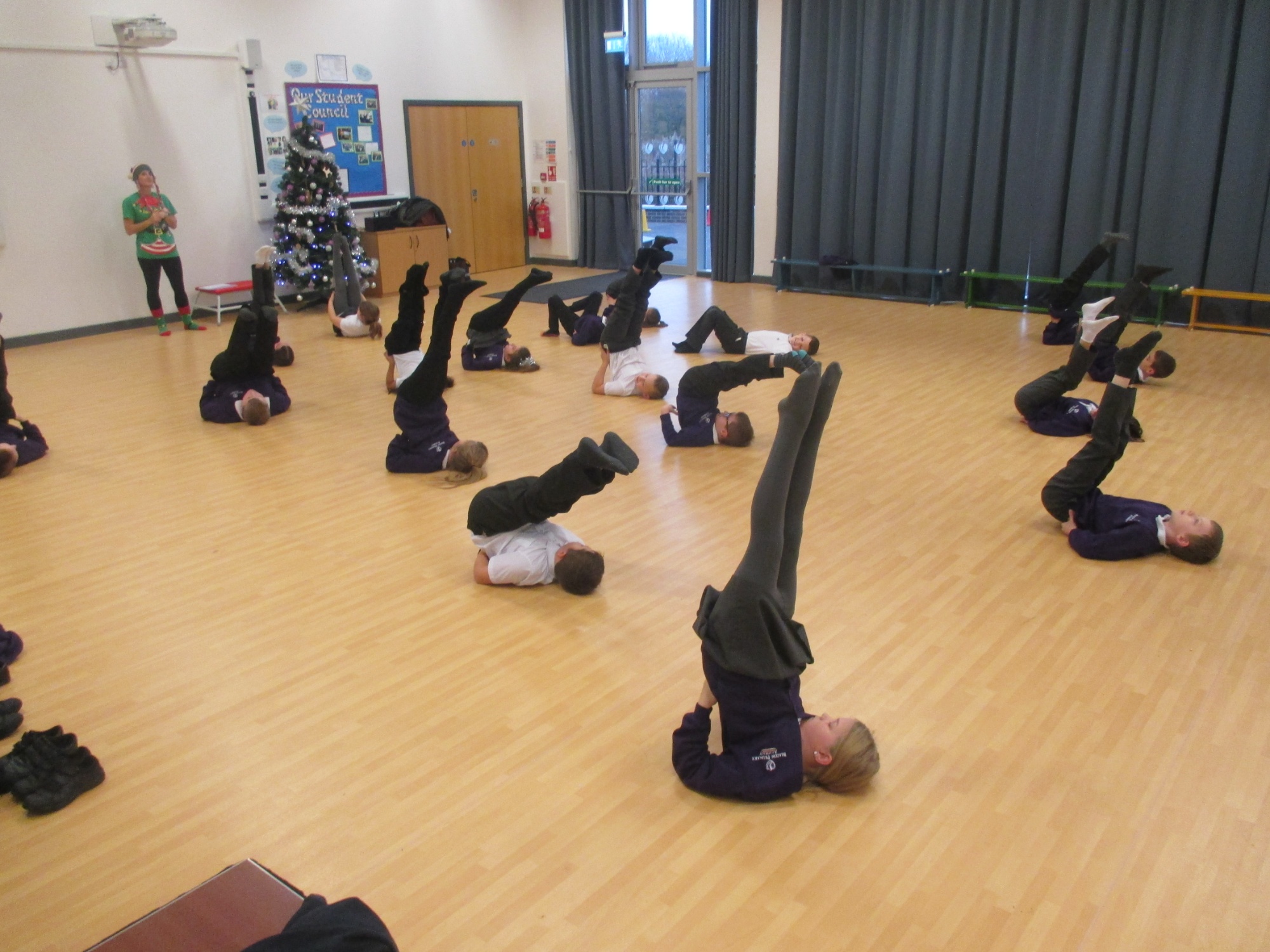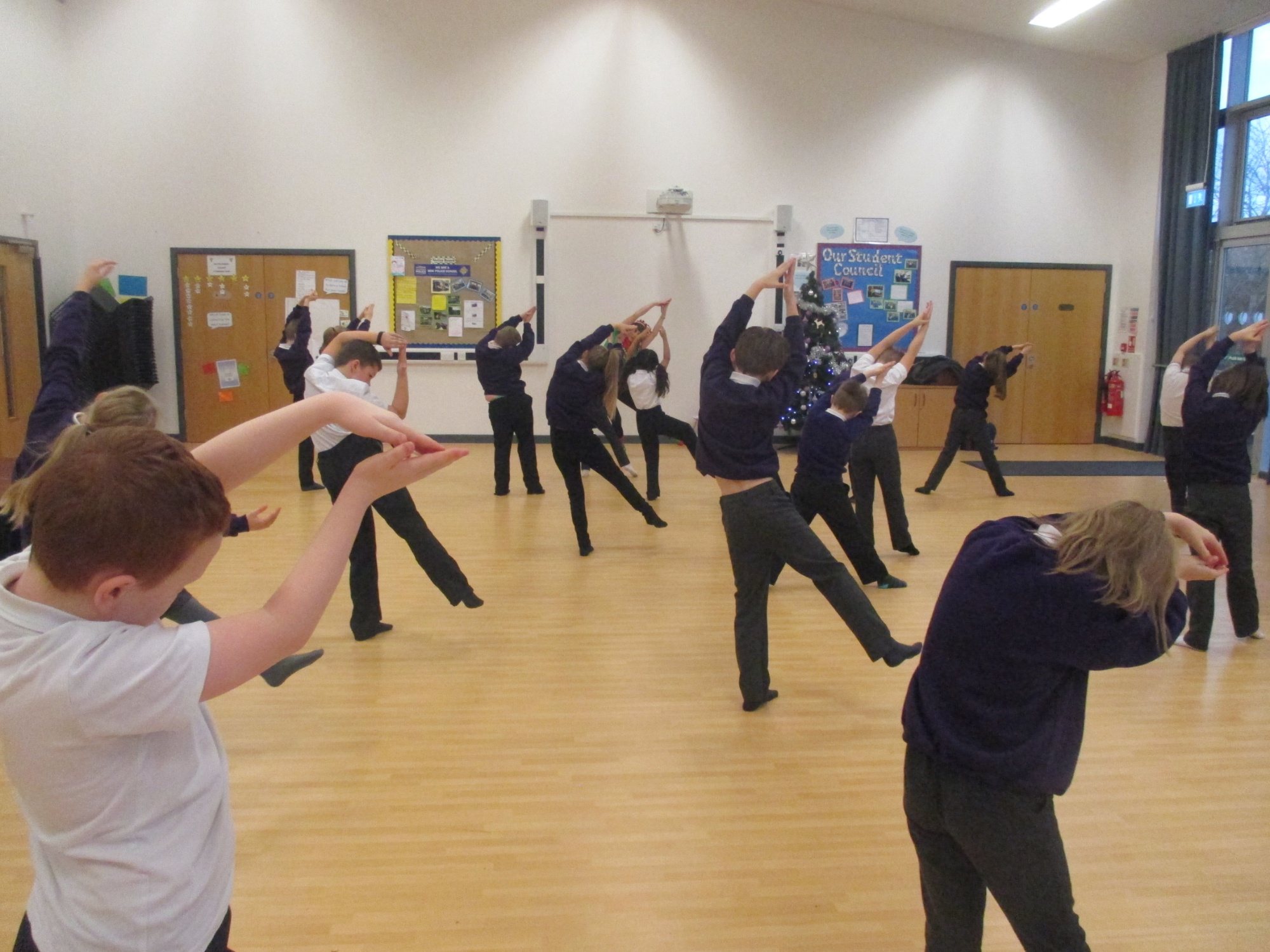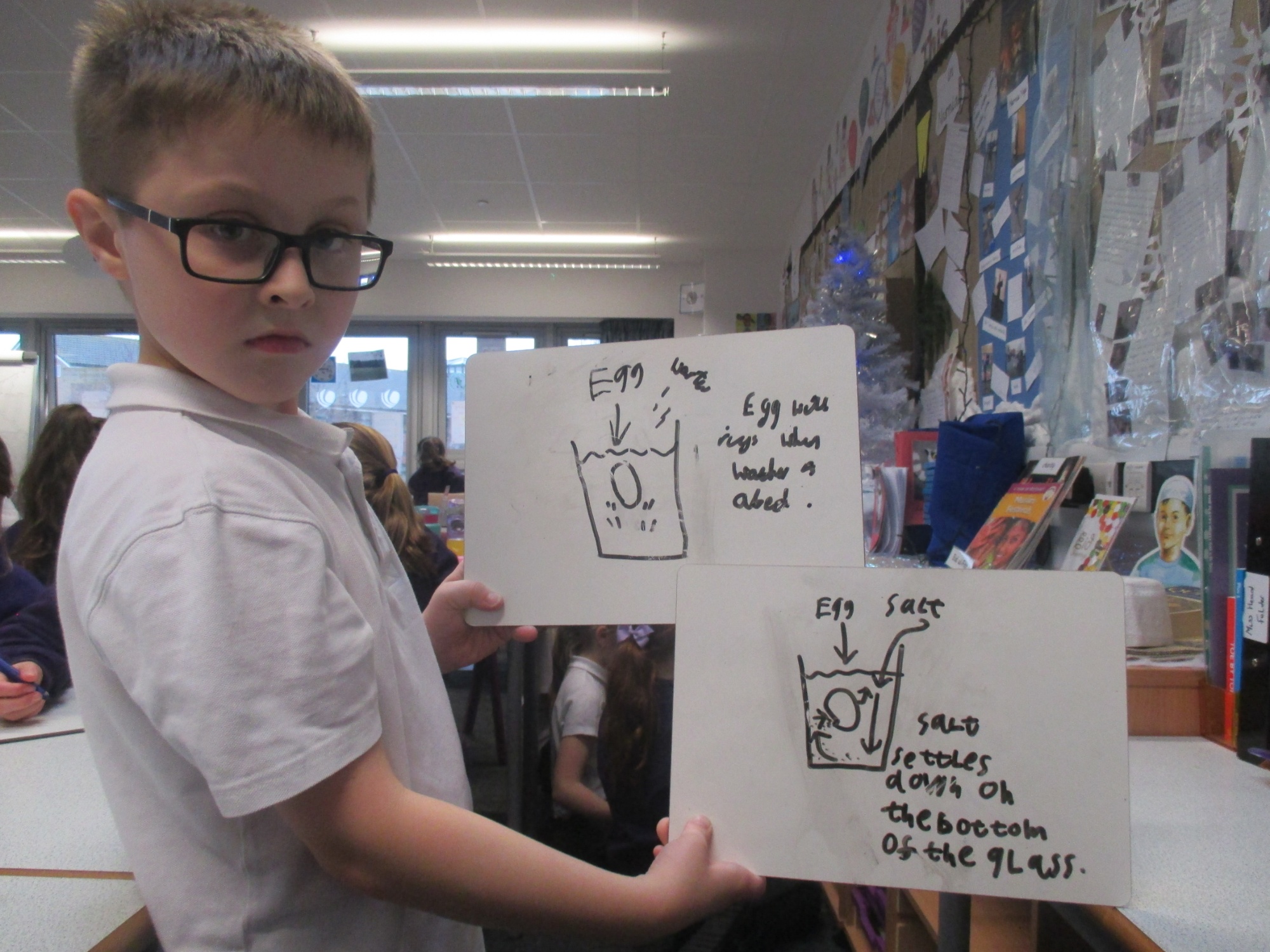 The Lemurs were very excited to have Jingle (their elf on the shelf) appear and he has been setting us different tasks and challenges each day from Maths problems to writing diaries by characters from The Lion, the Witch and the Wardrobe. The adults have been extremely impressed with their writing skills. Jingle has brought back some visitors from Y2 with him, so we have been enjoying hearing from Shakespeare, Max and Picasso as well as Lemmee with their learning and adventures. I wonder who it will be next …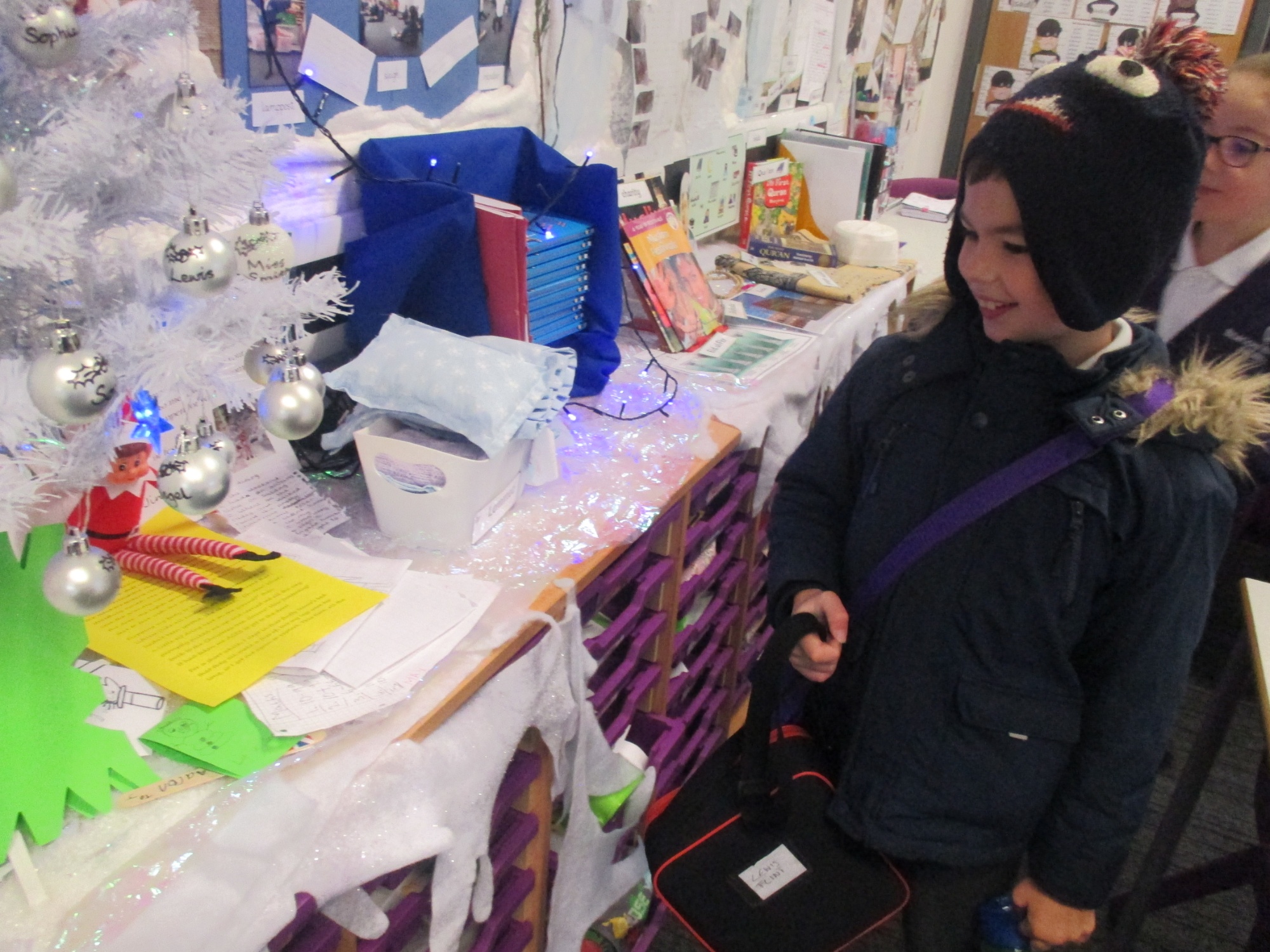 In Science, we have been investigating how to change circuits and we have been designing our own Roundhouses from the Iron Age.
Elf on the Shelf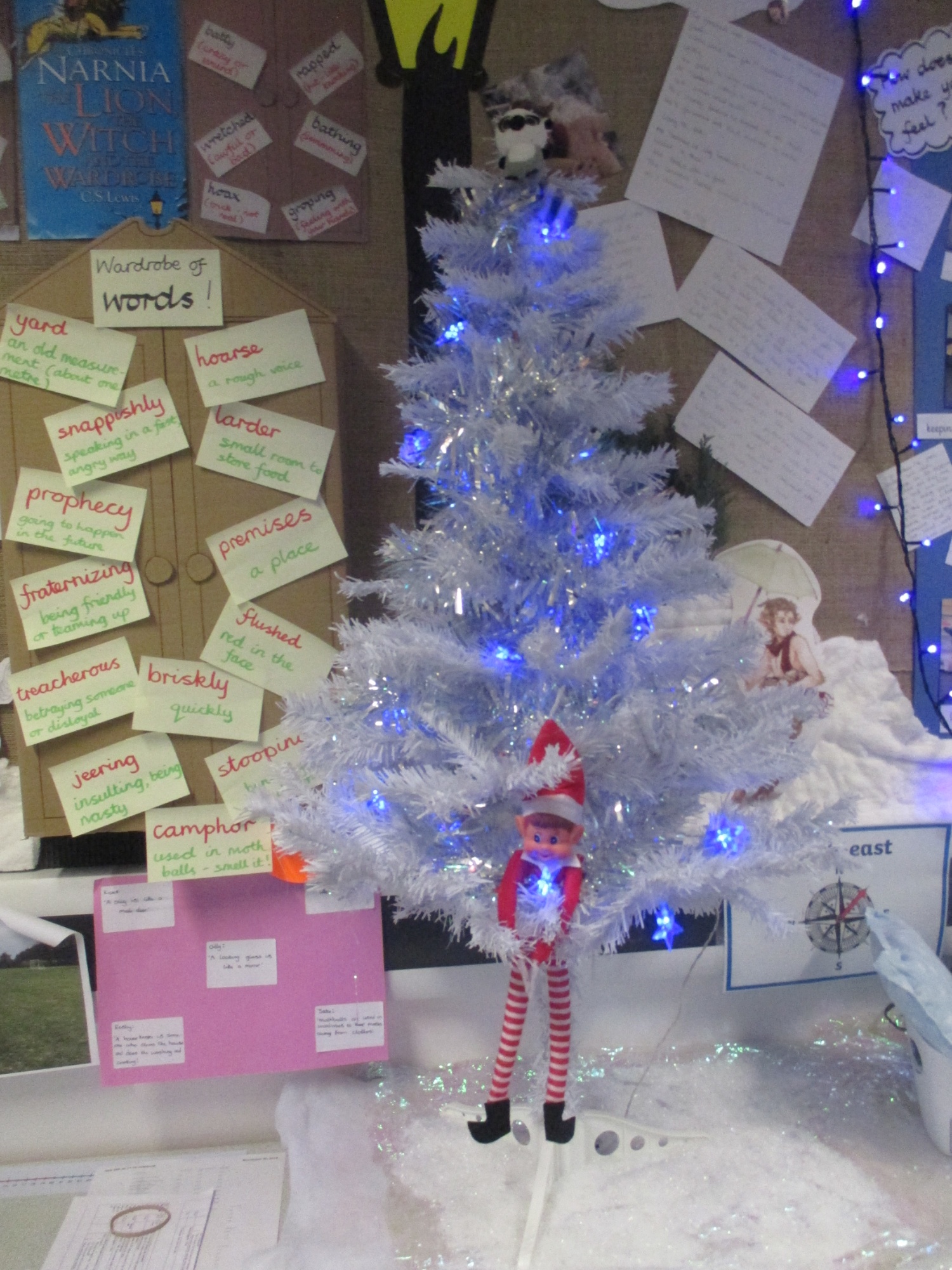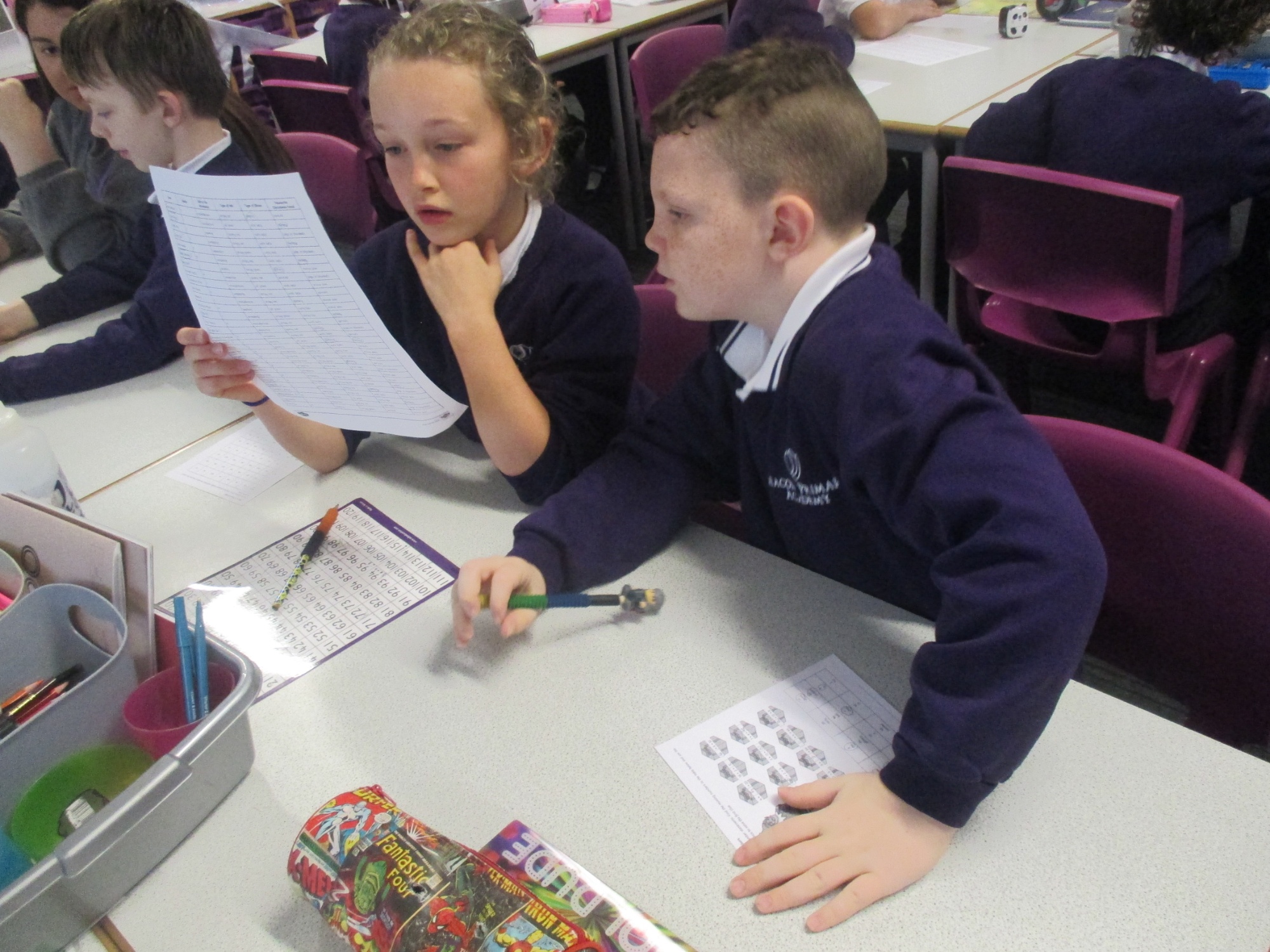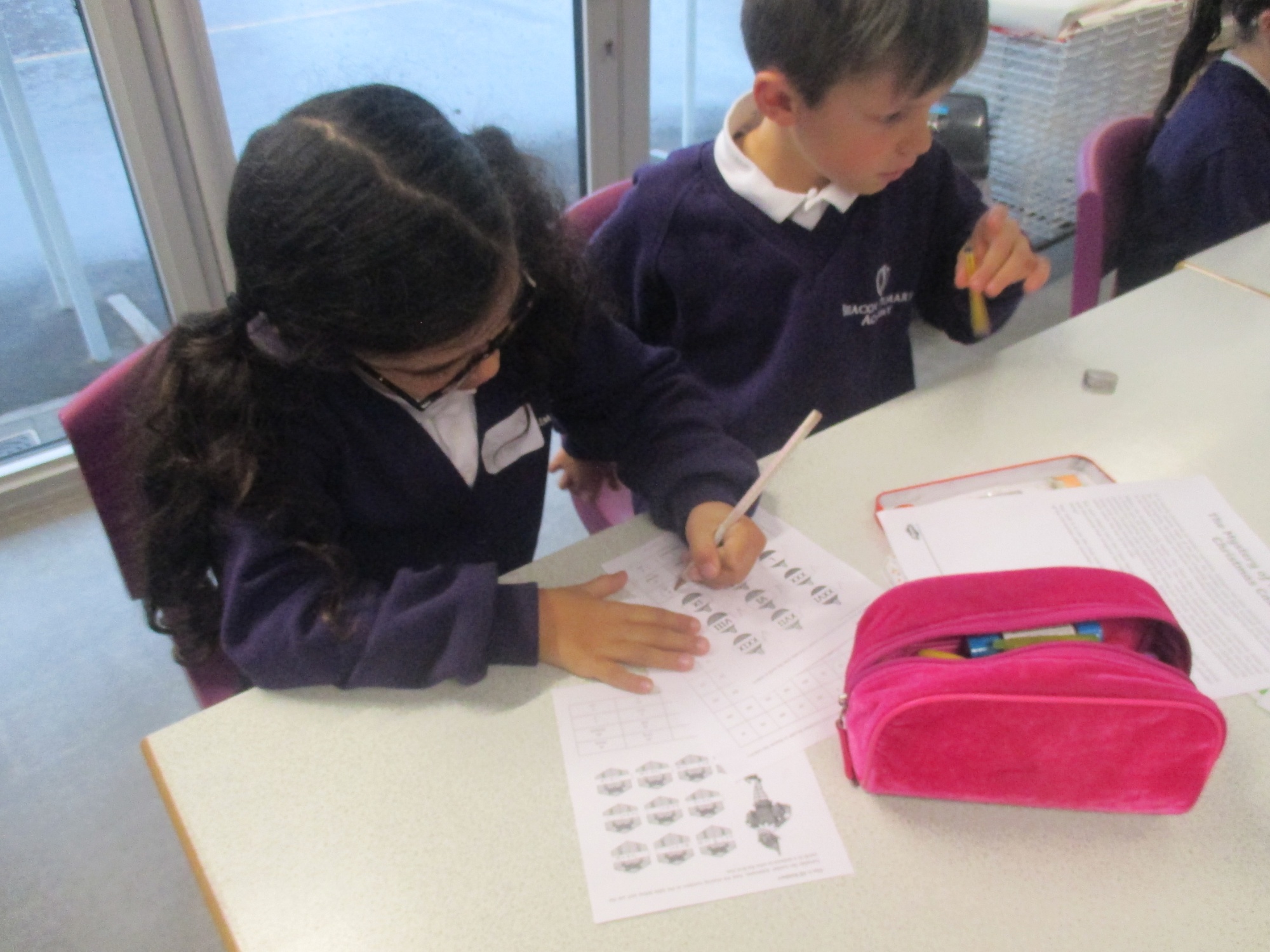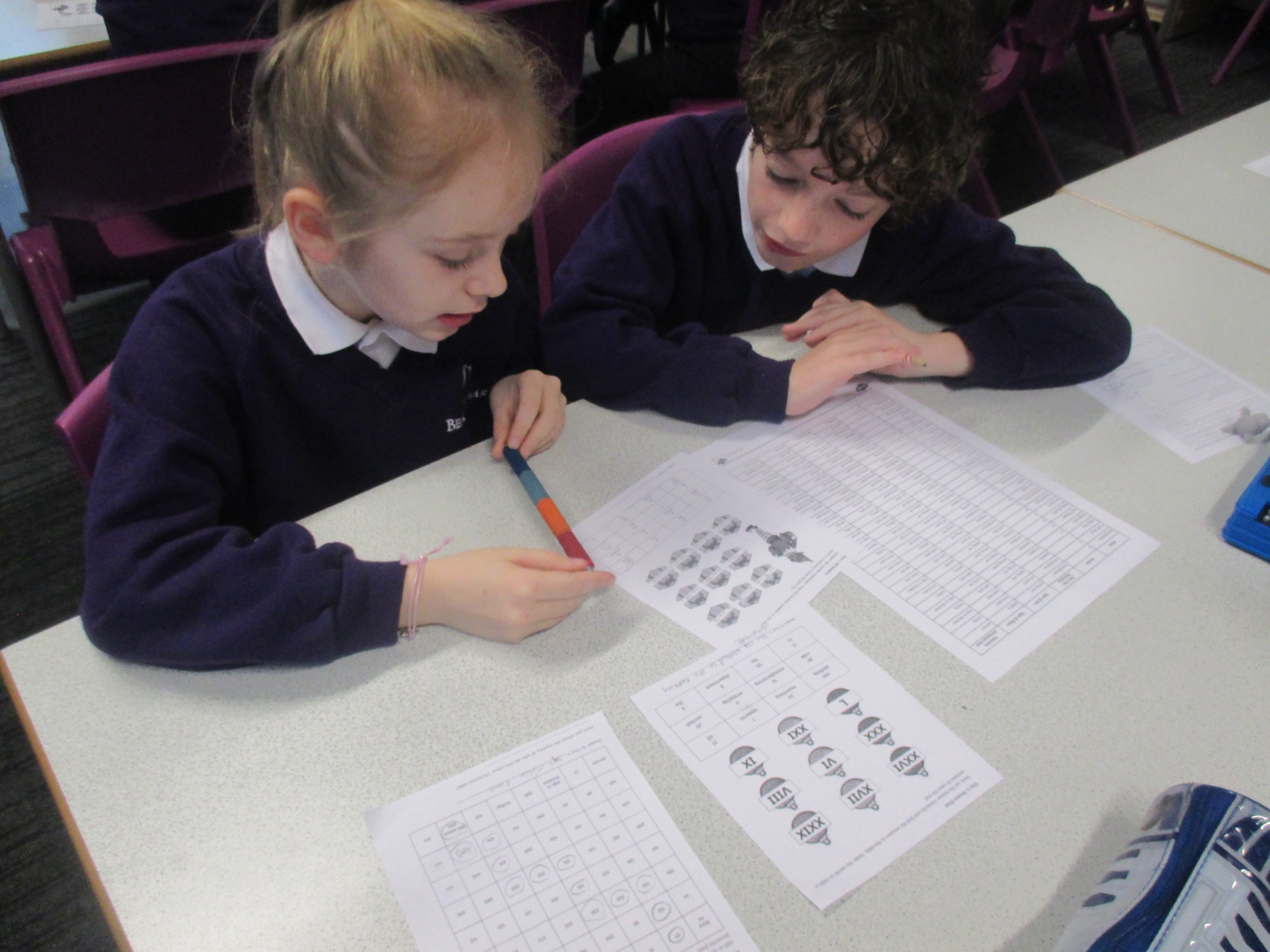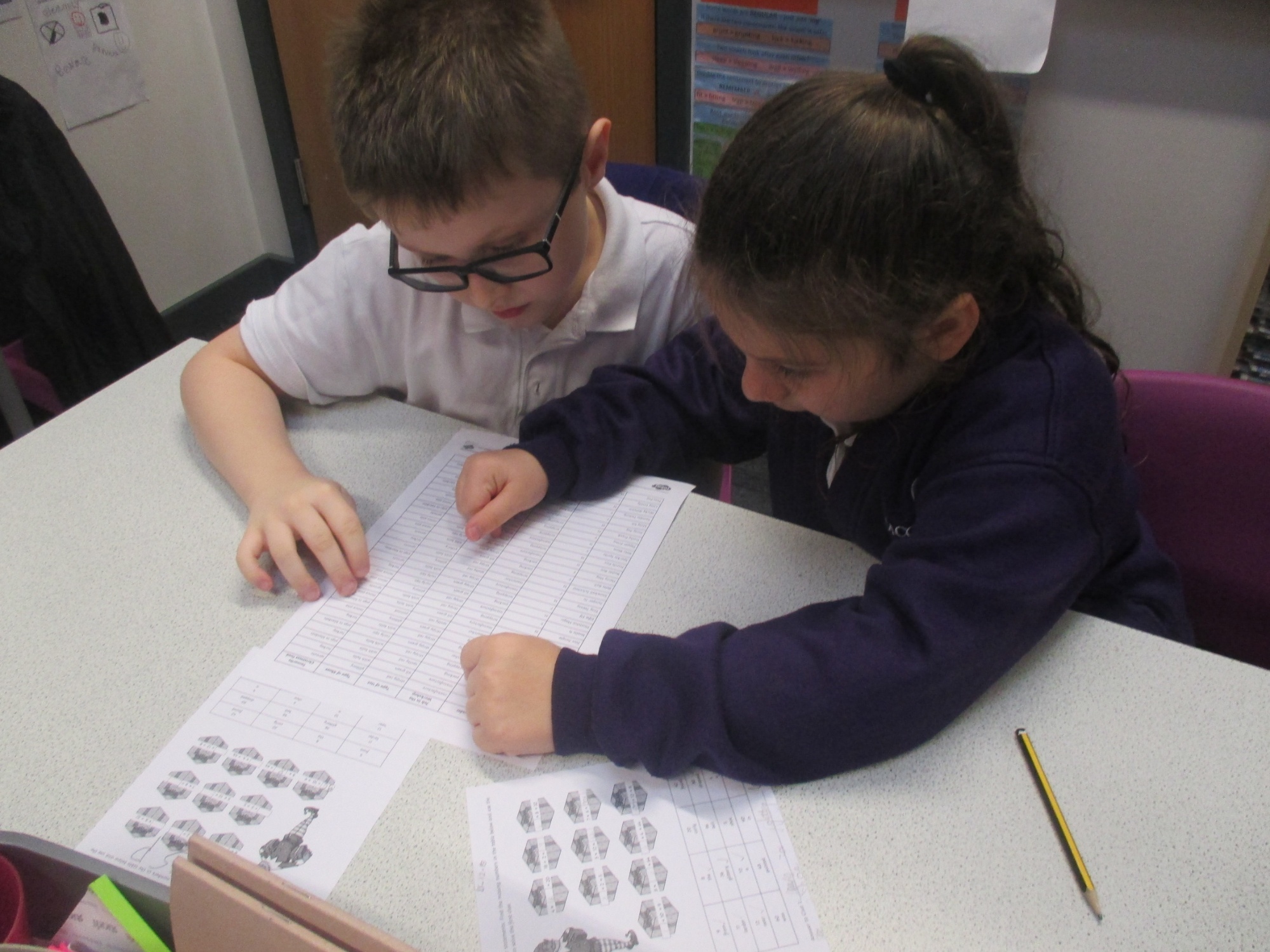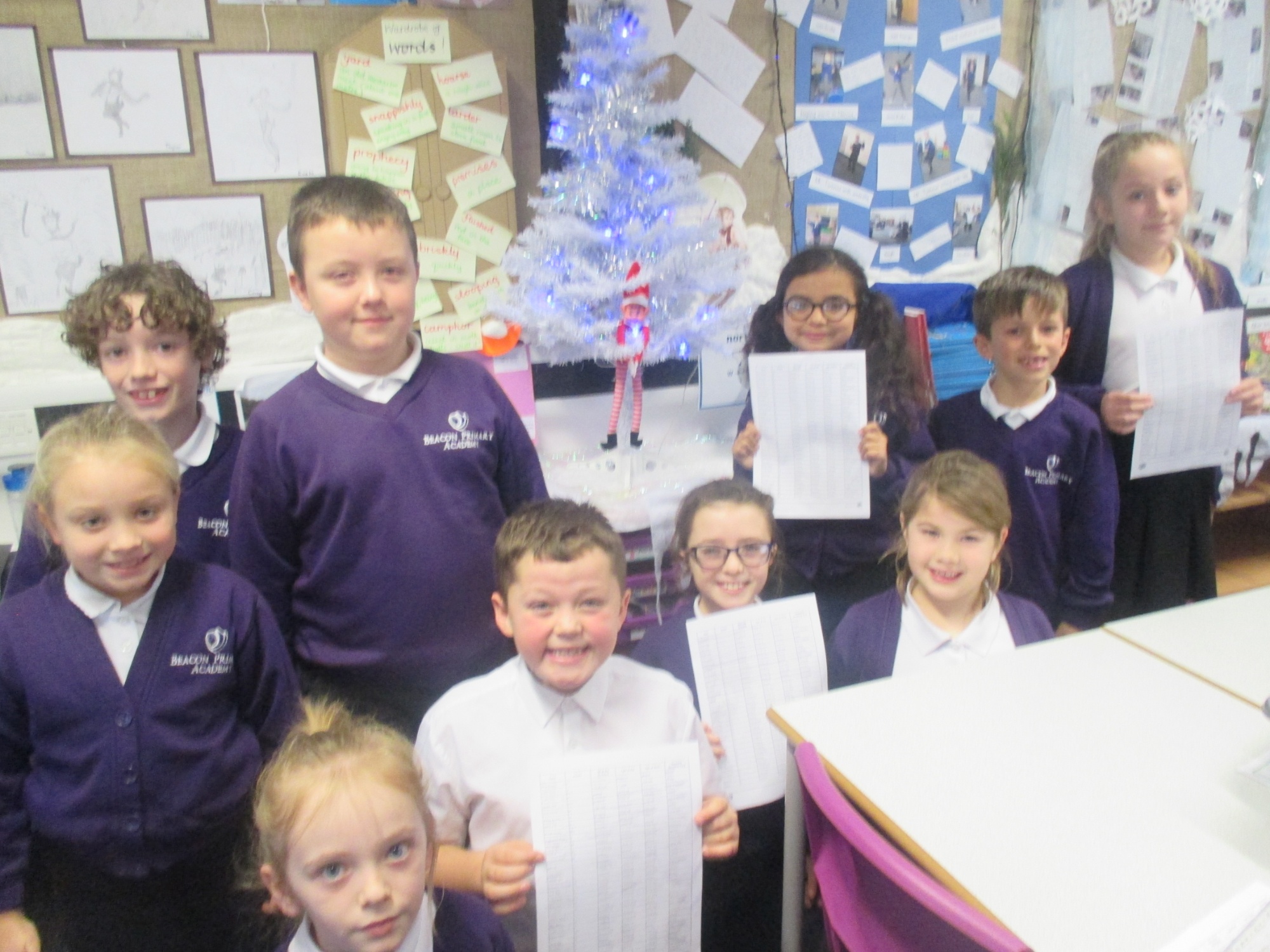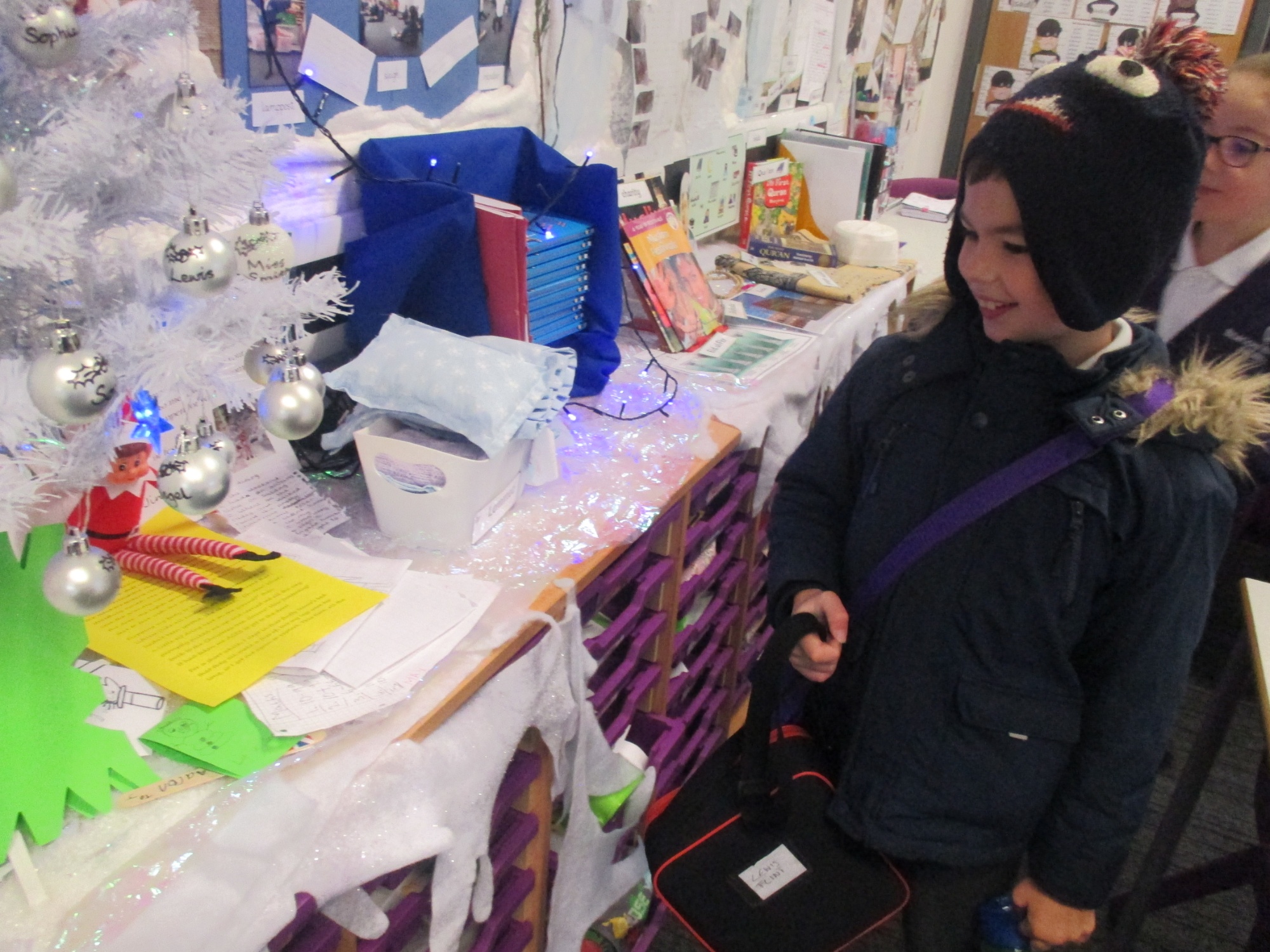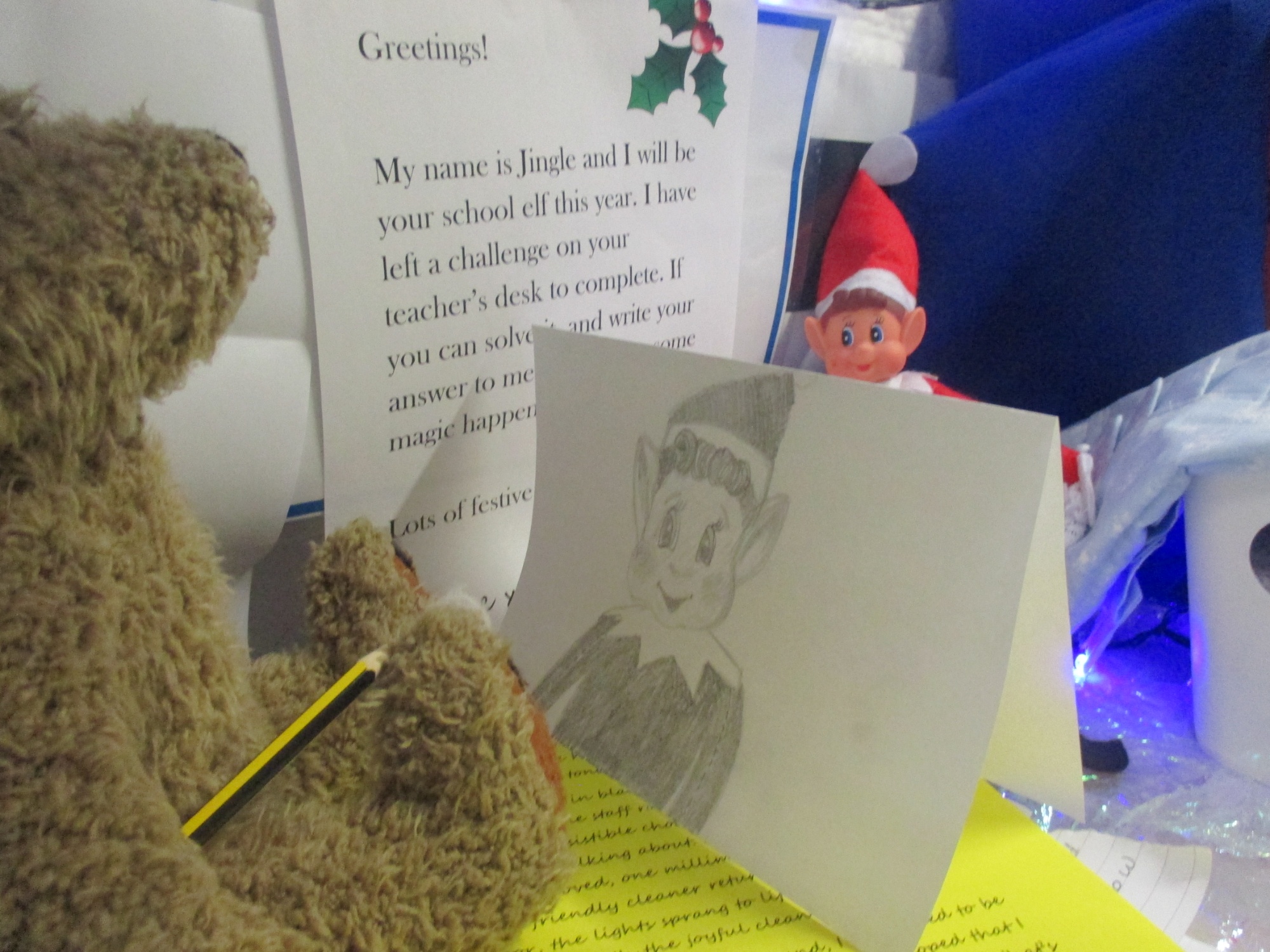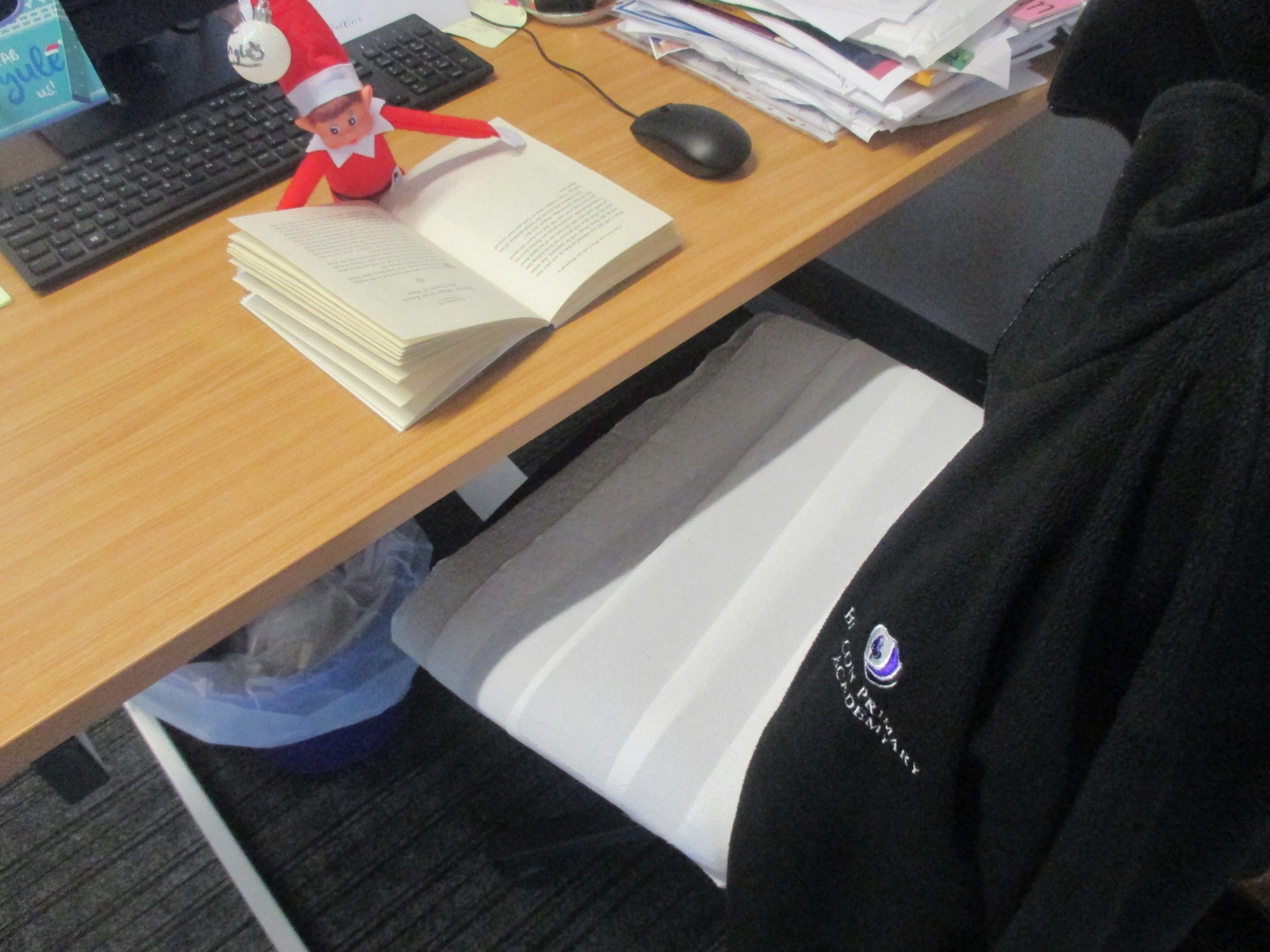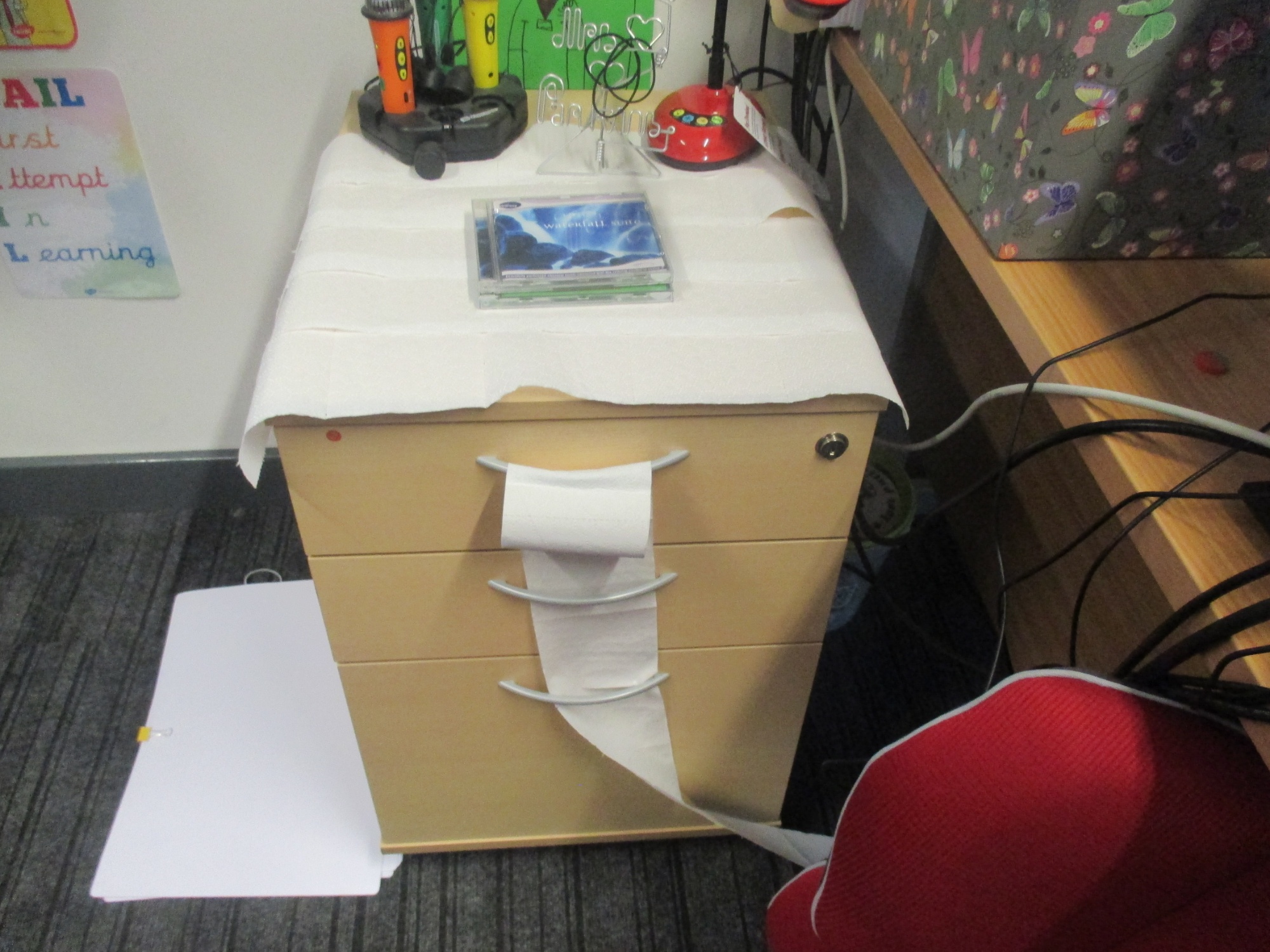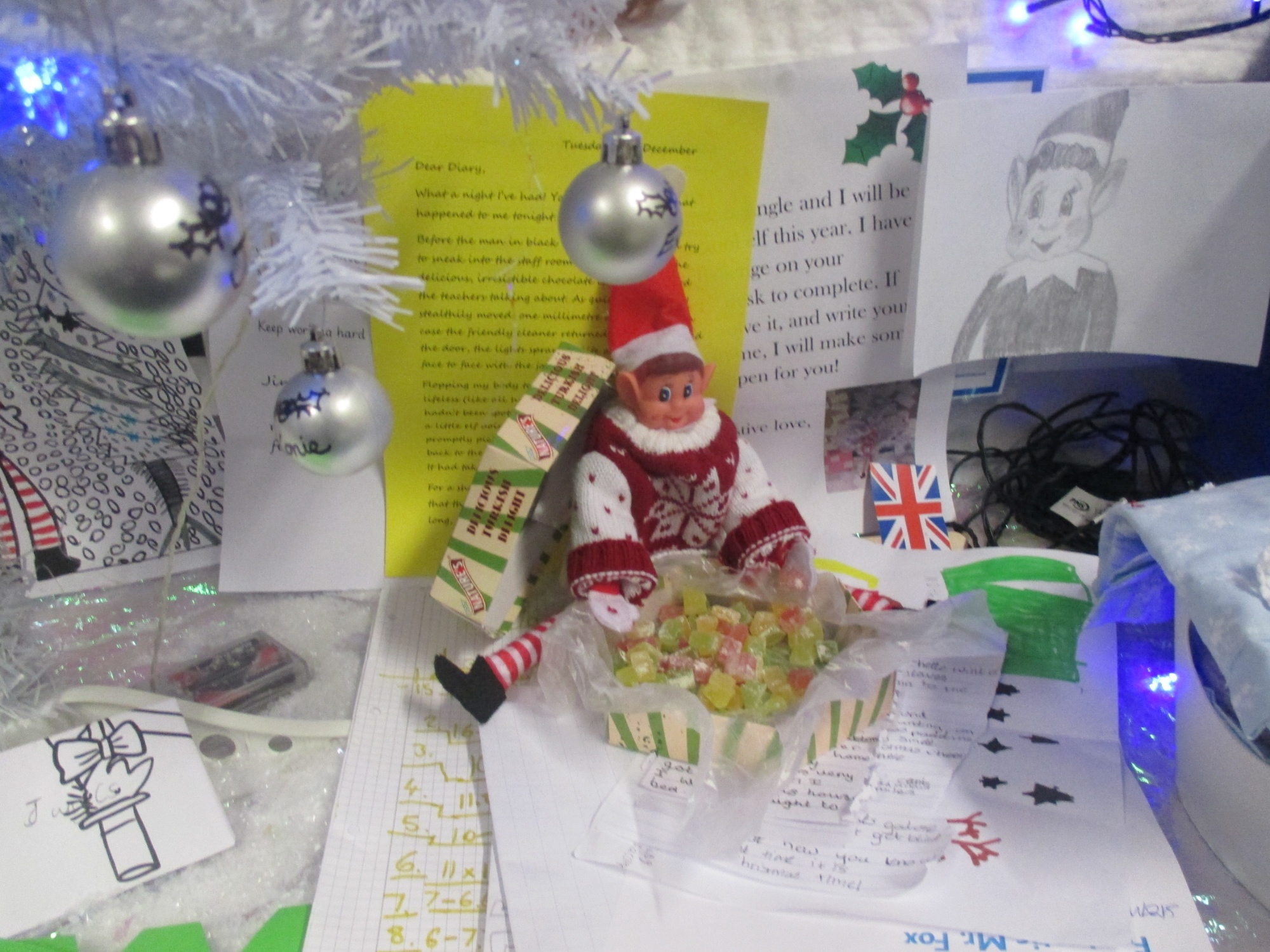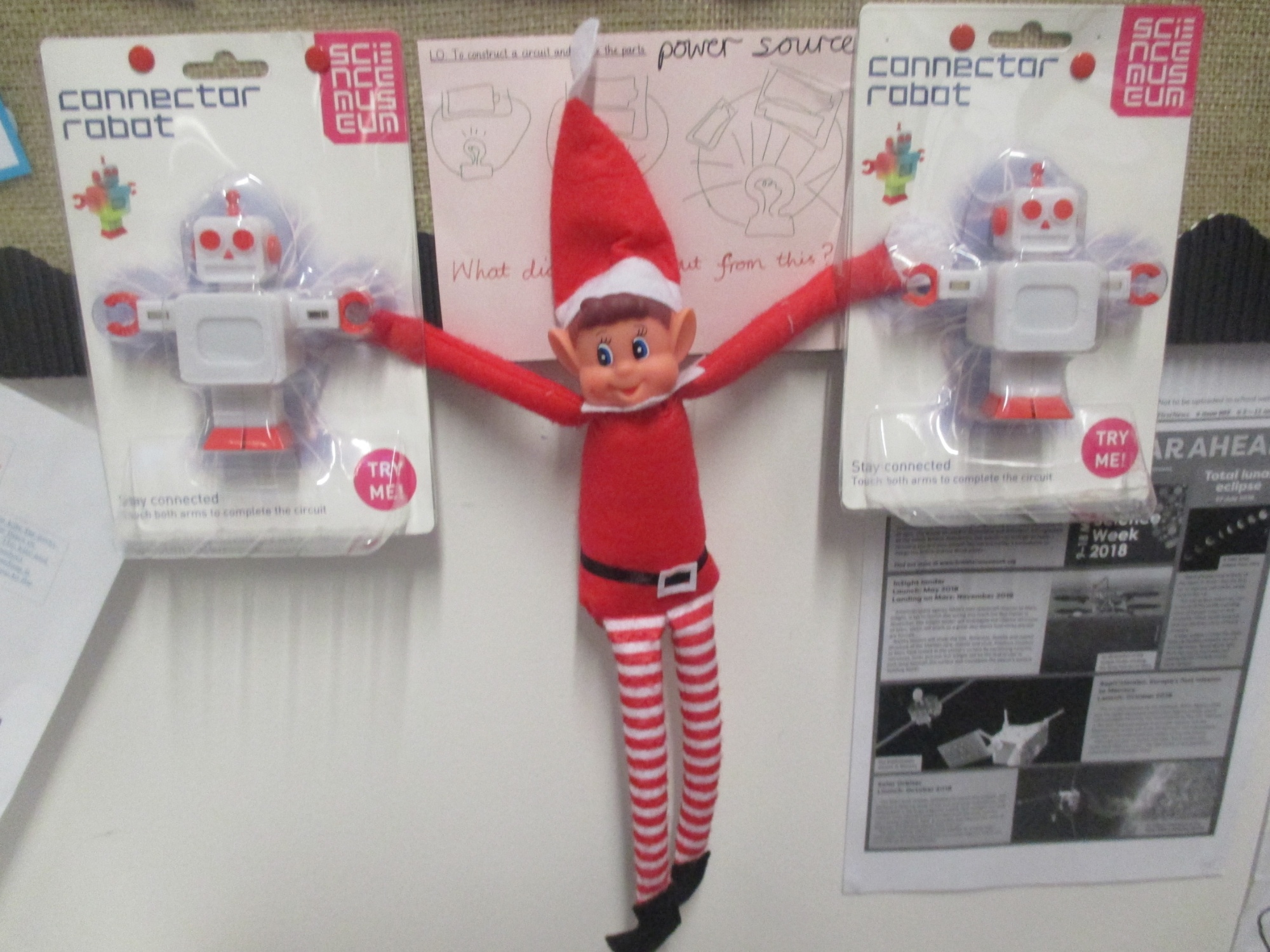 Fortnight beginning 19th November 2018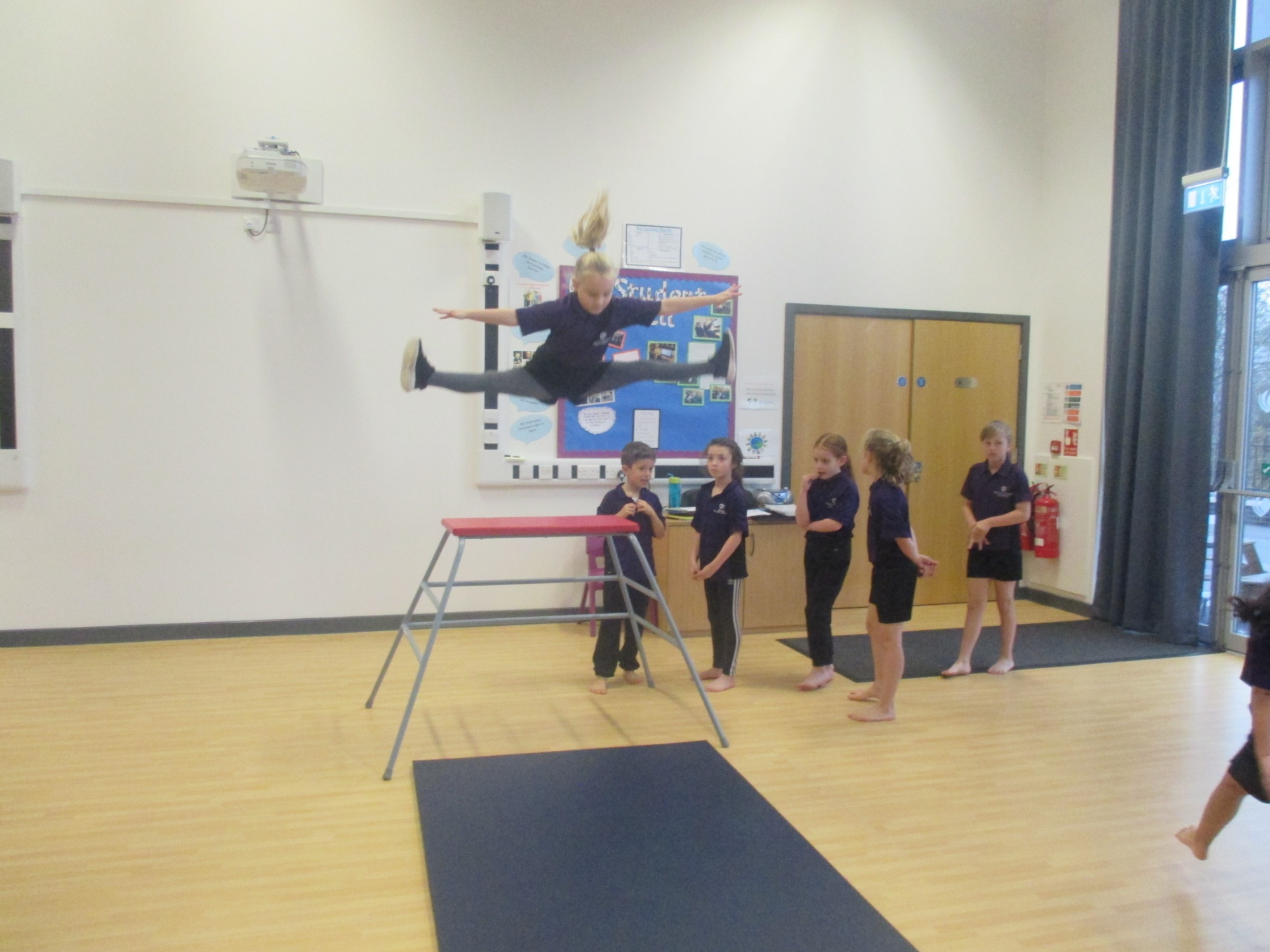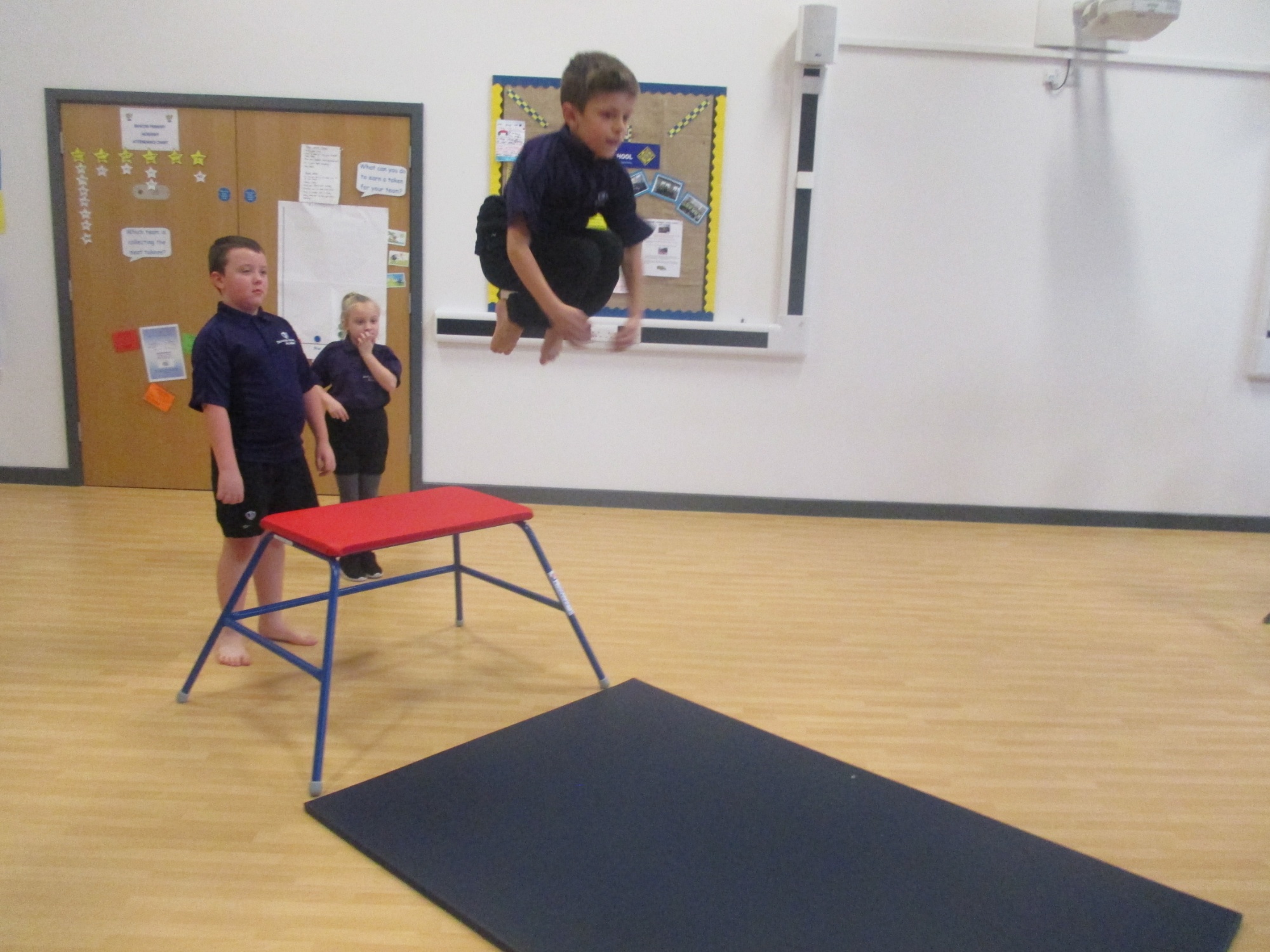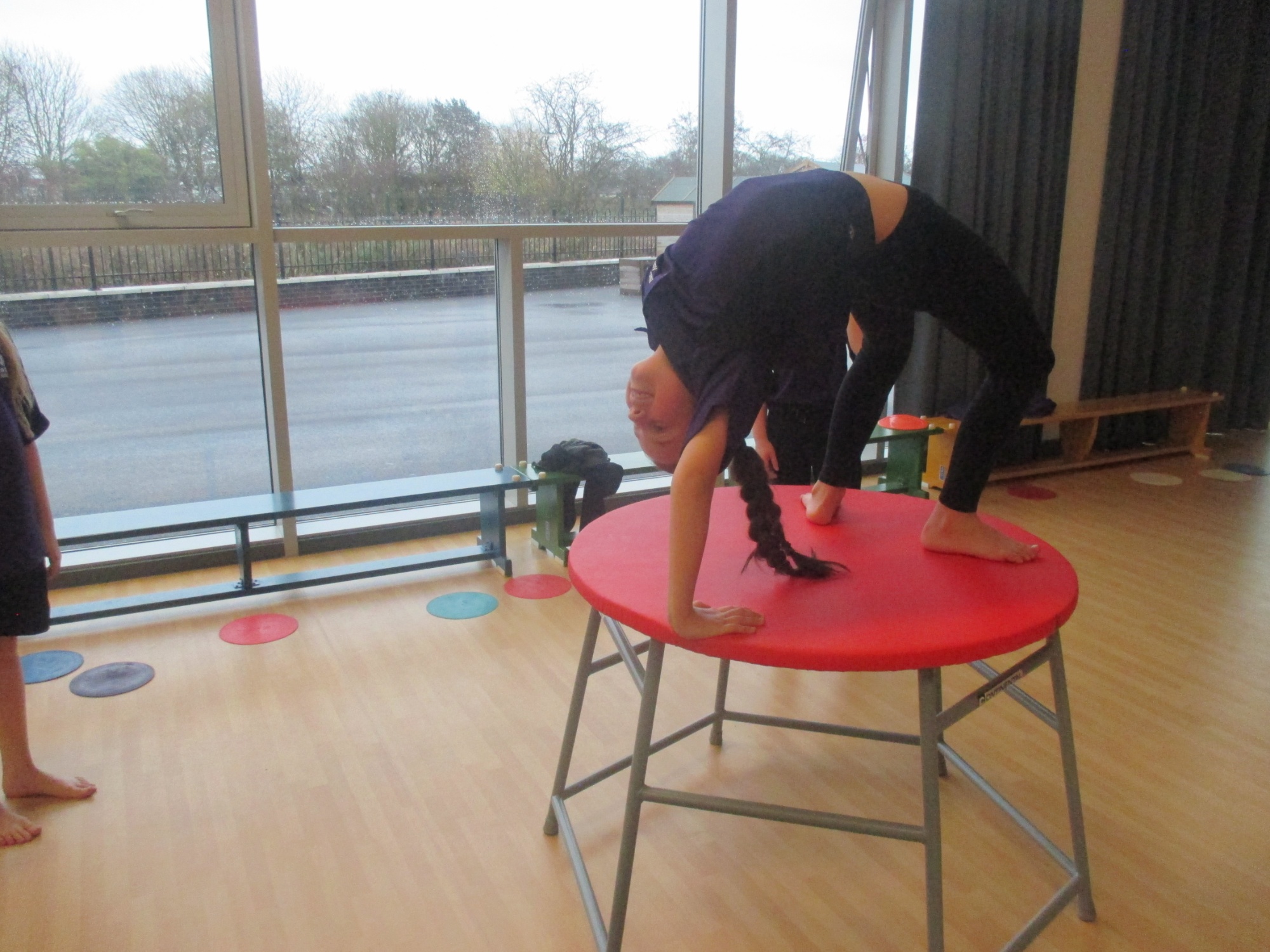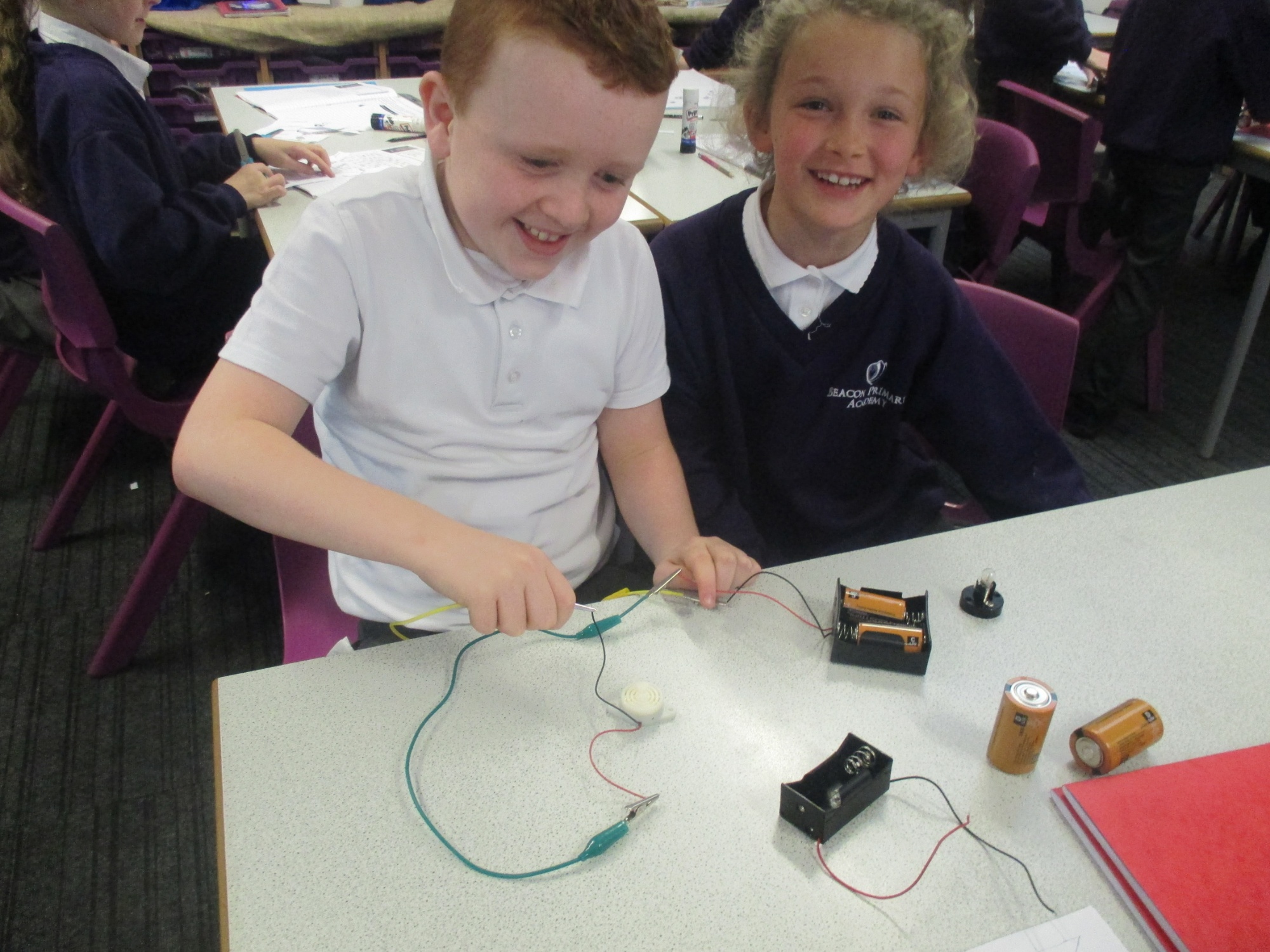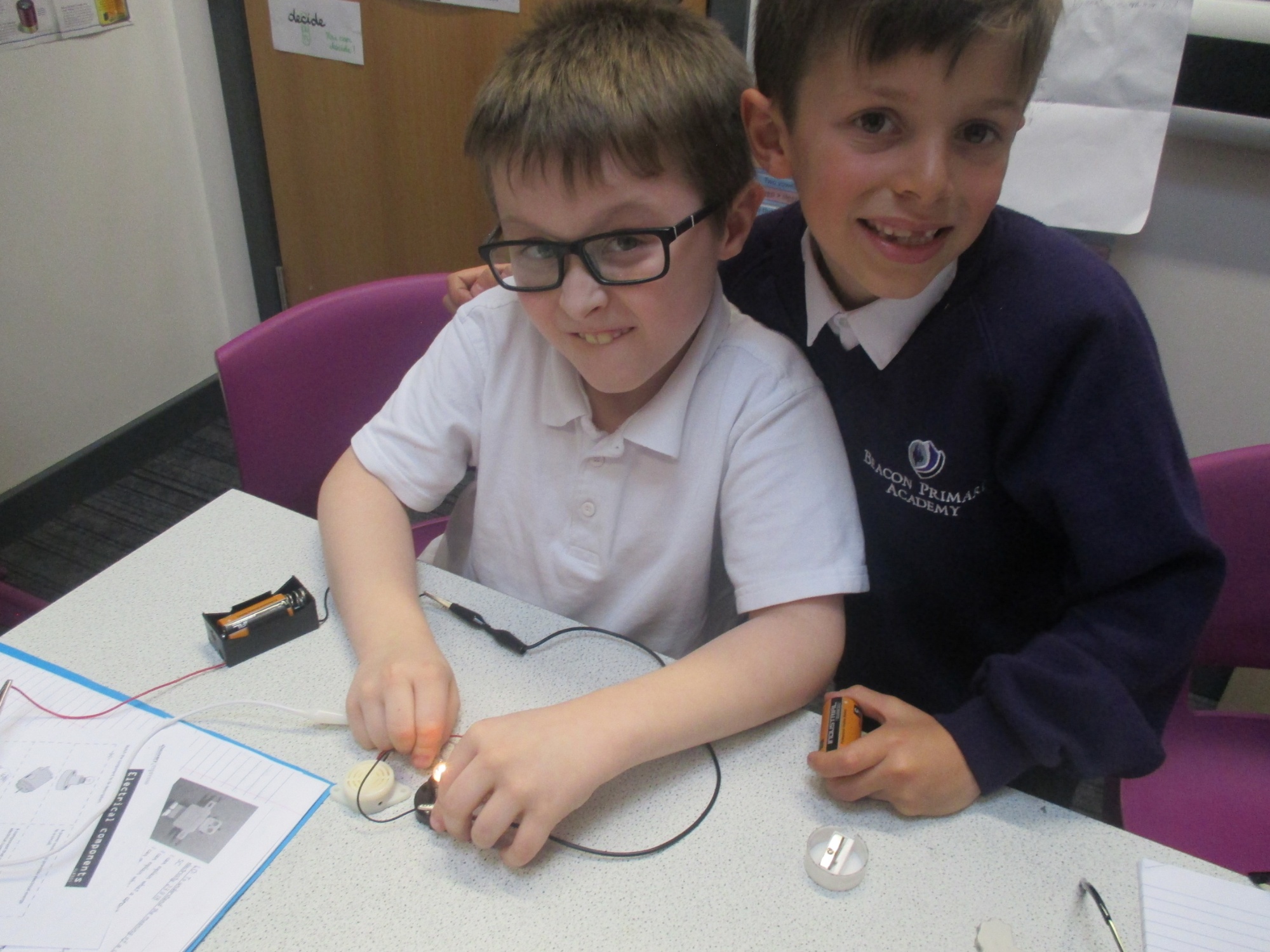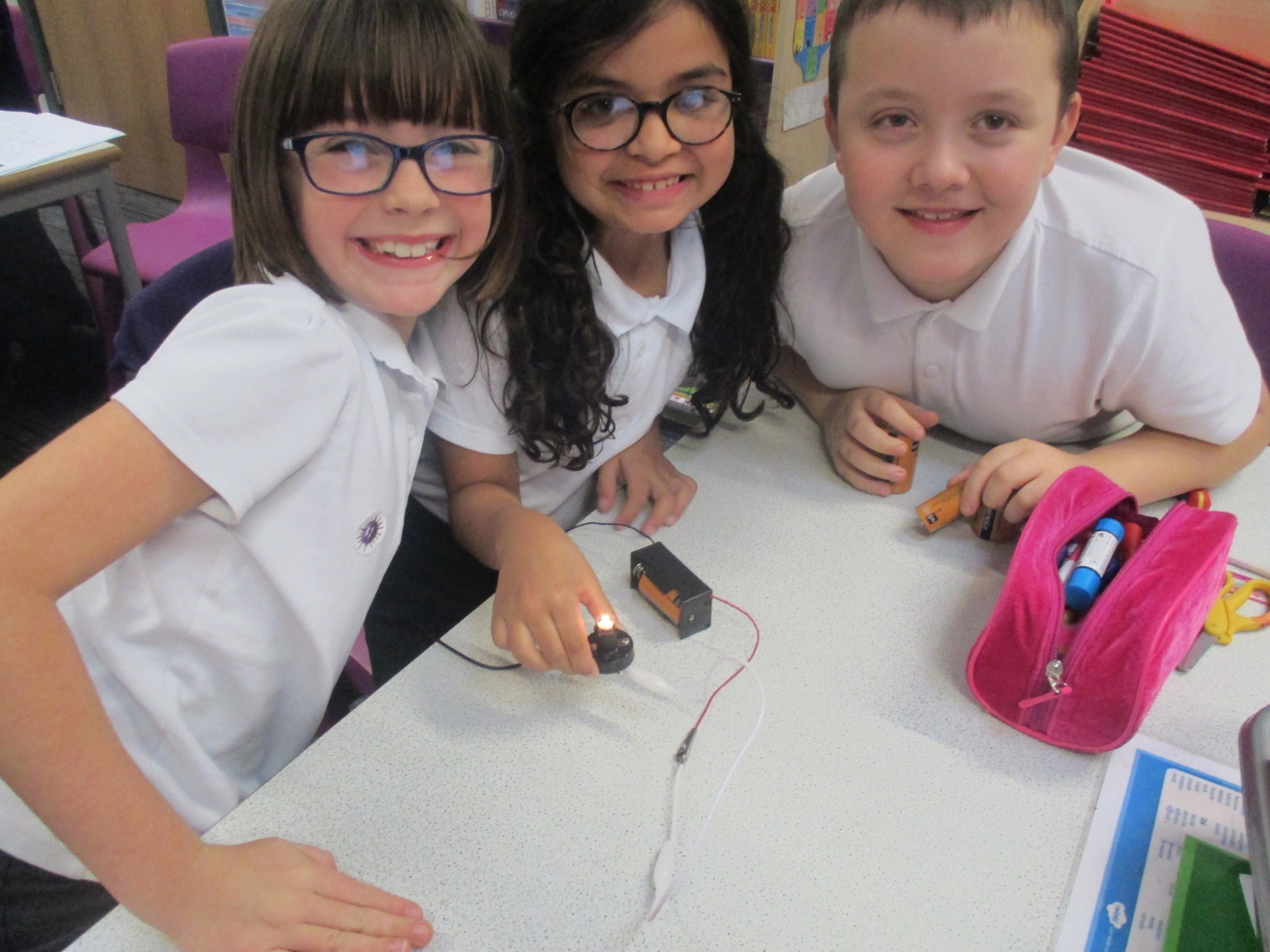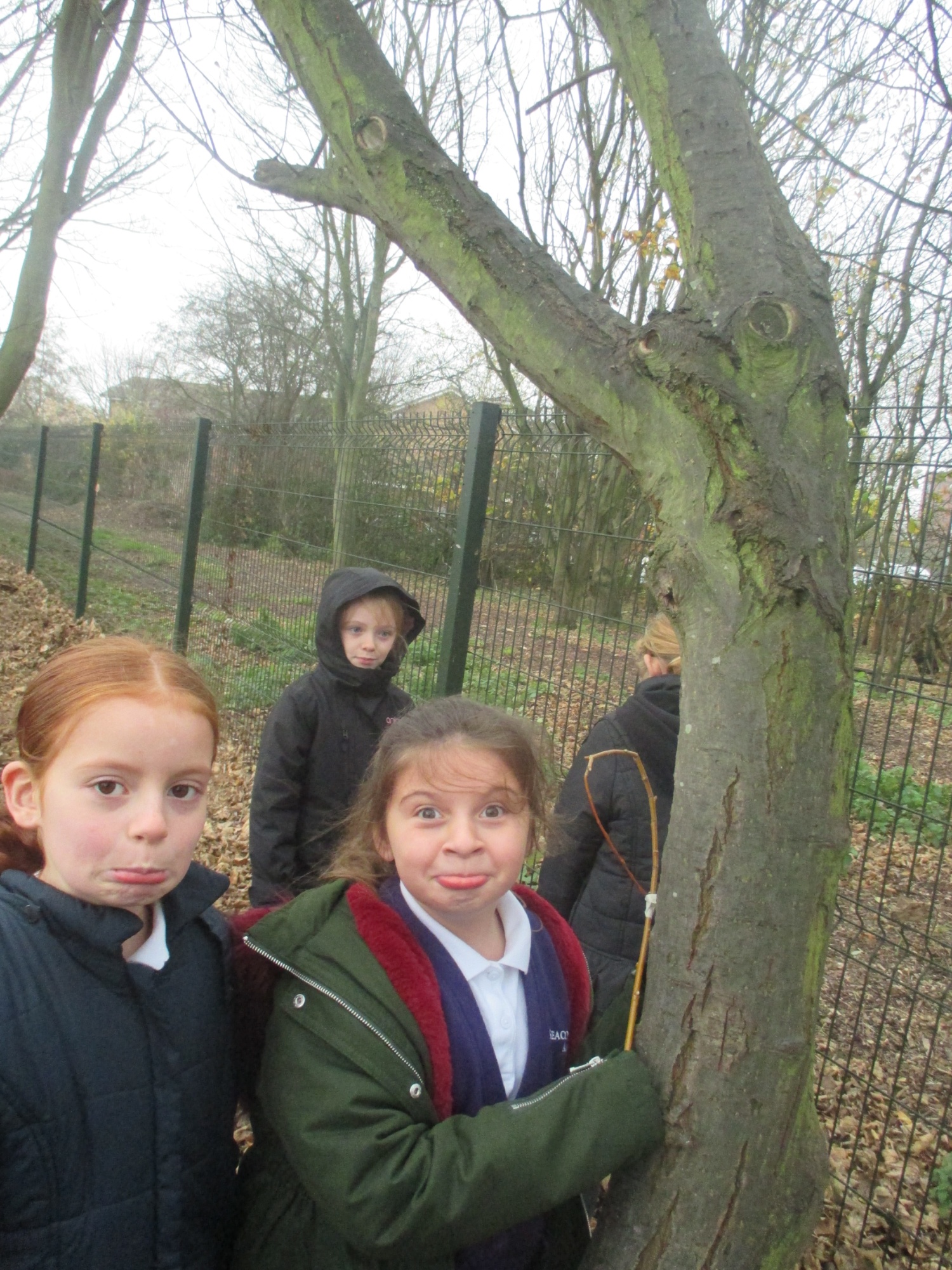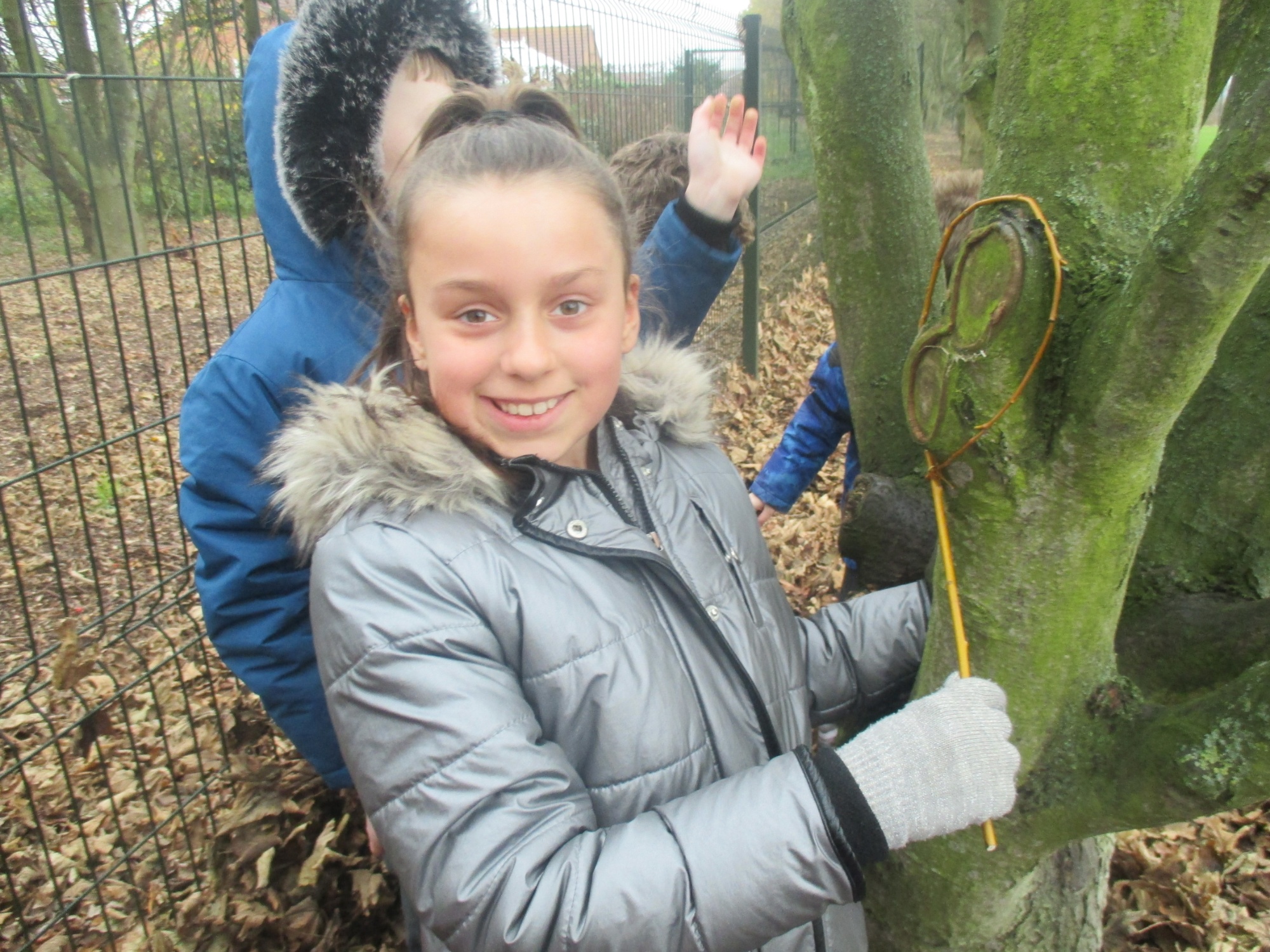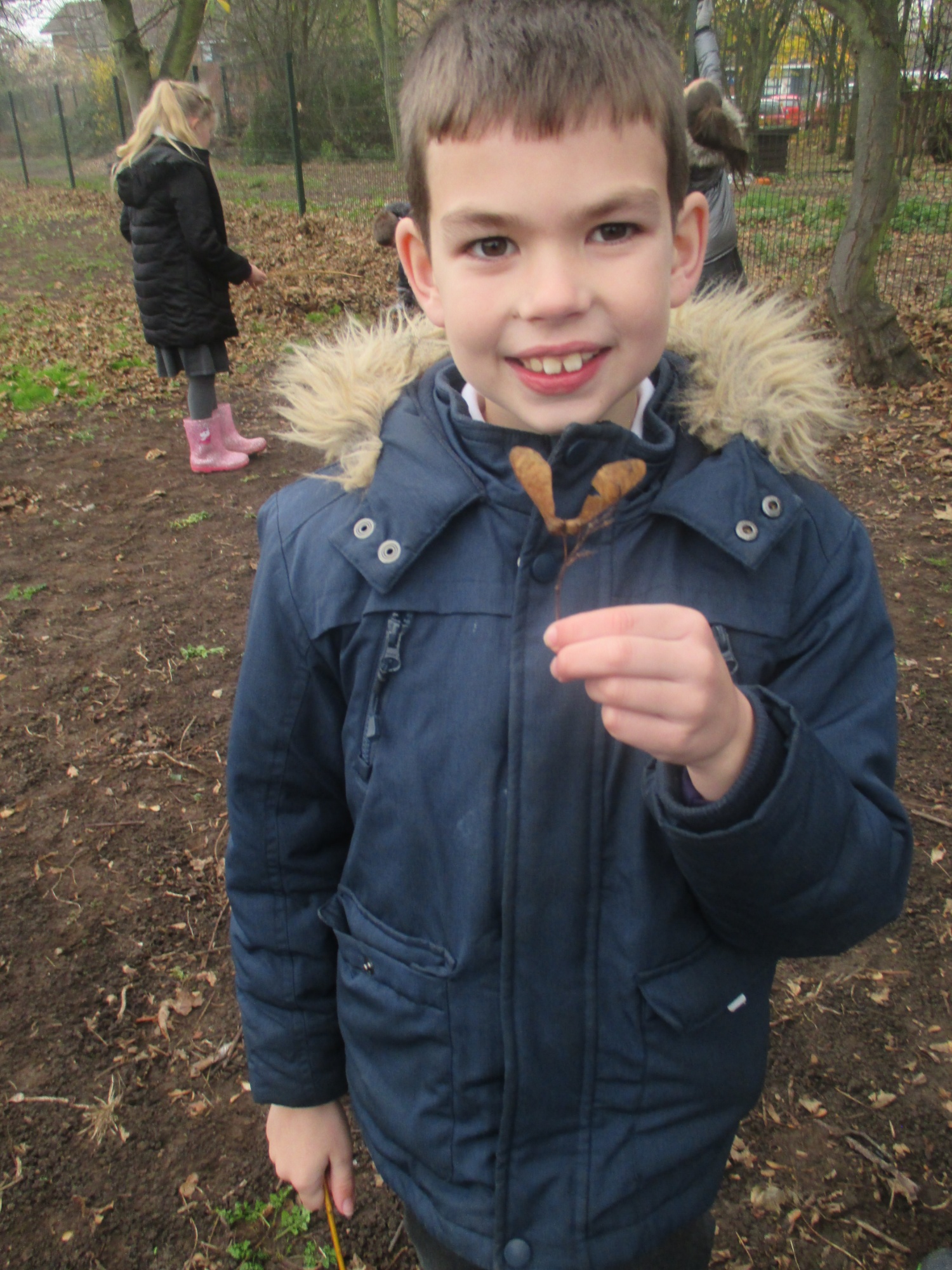 Outdoor Learning with Mrs. Sherwood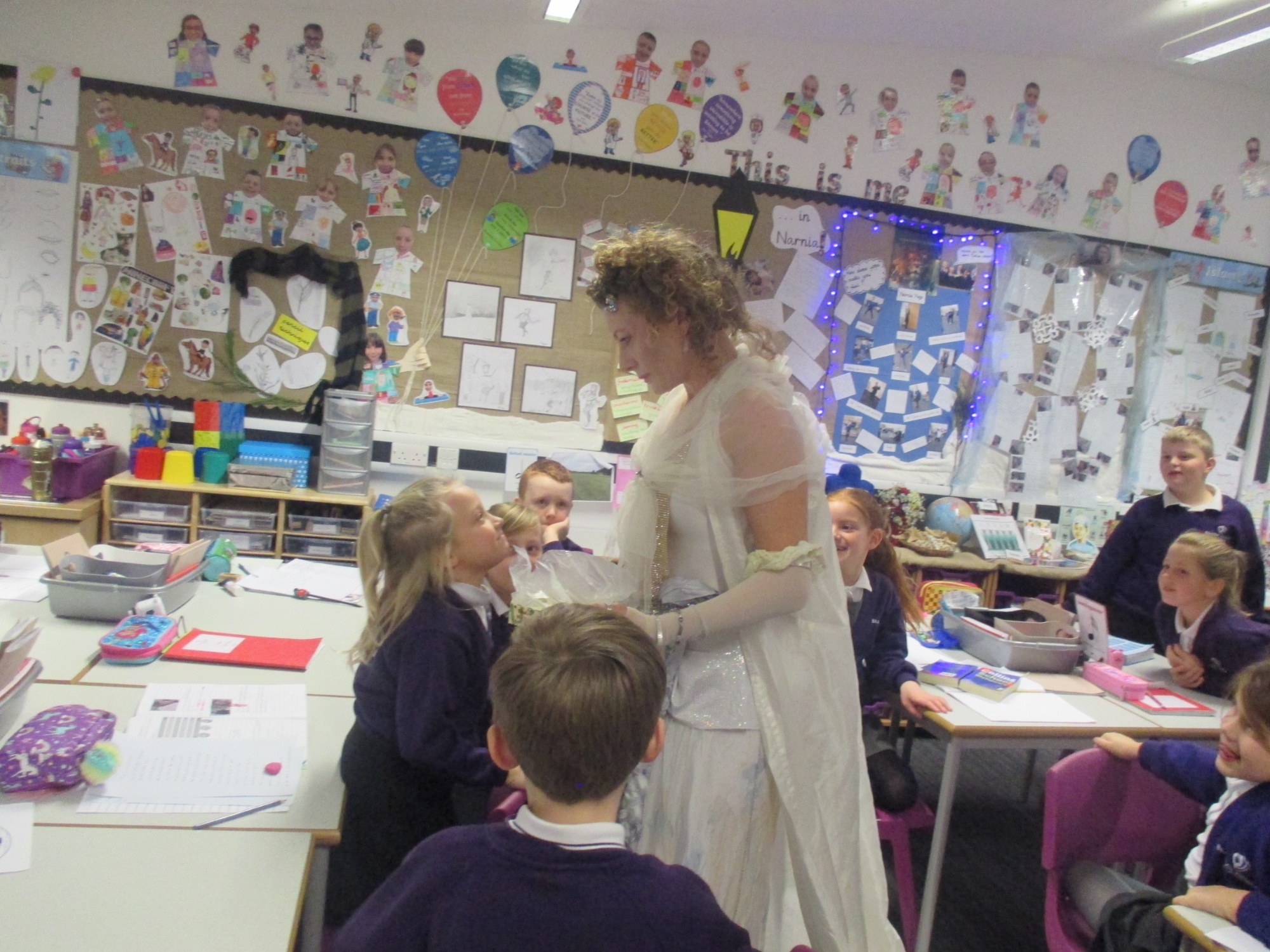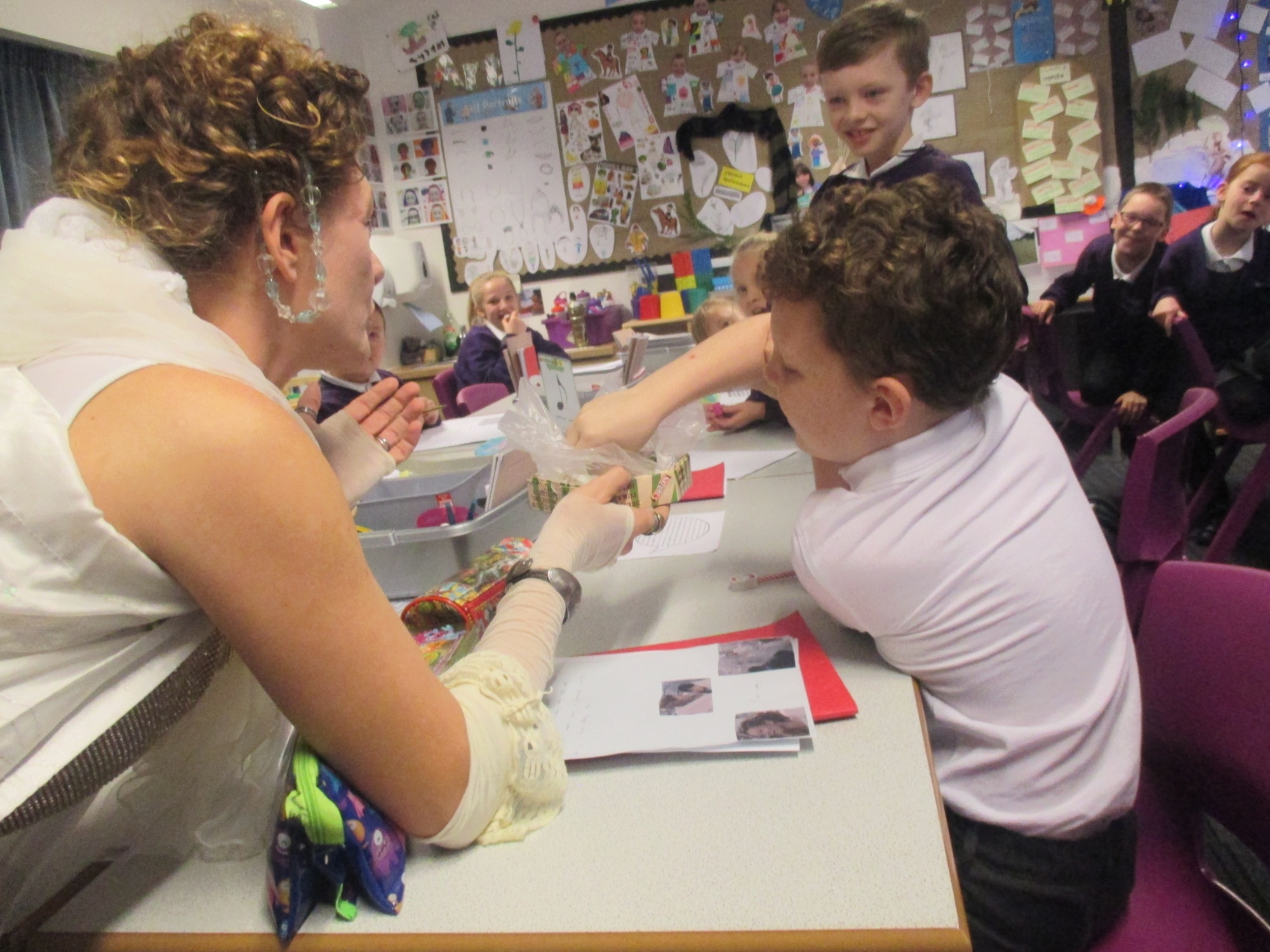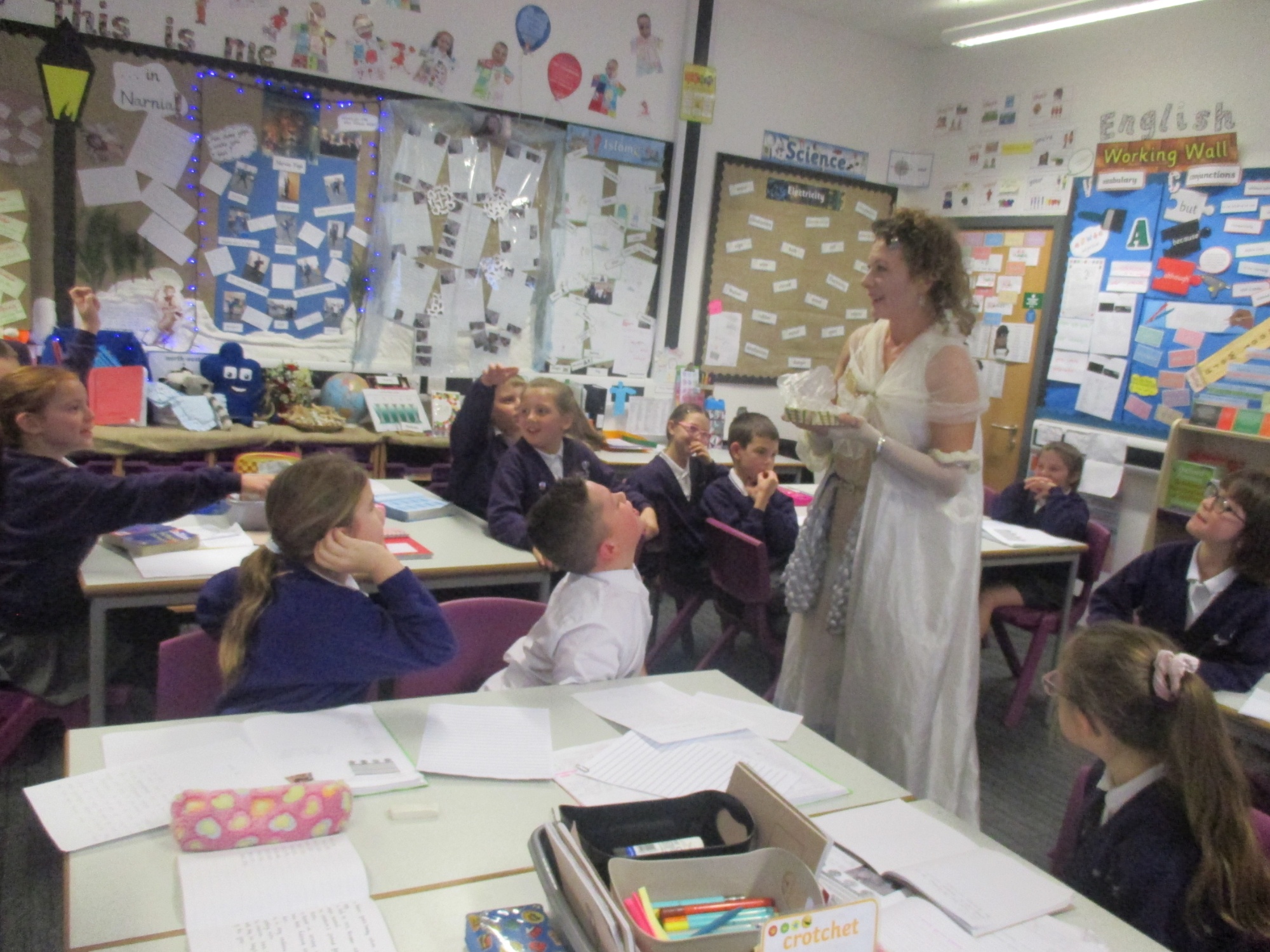 The Queen of Narnia
The Lemurs had a surprise visit from the Queen of Narnia and this led to a great discussion and debate about characters and their motives. After researching about the Bronze Age in their Computing sessions, they were able to use their knowledge to write a Bronze Age story in English. Y4 certainly have a talent for writing, as all of their poems were chosen to be published in a 'Young Writers' book. In Maths, they have been learning about fractions and then money. You can help at home by providing opportunities for using all coins, adding totals using the column method and working out the change when it is written in pounds and decimals. In Science, they have been using electrical components to create circuits and were very proud when they were successful!
Fortnight beginning 5th November 2018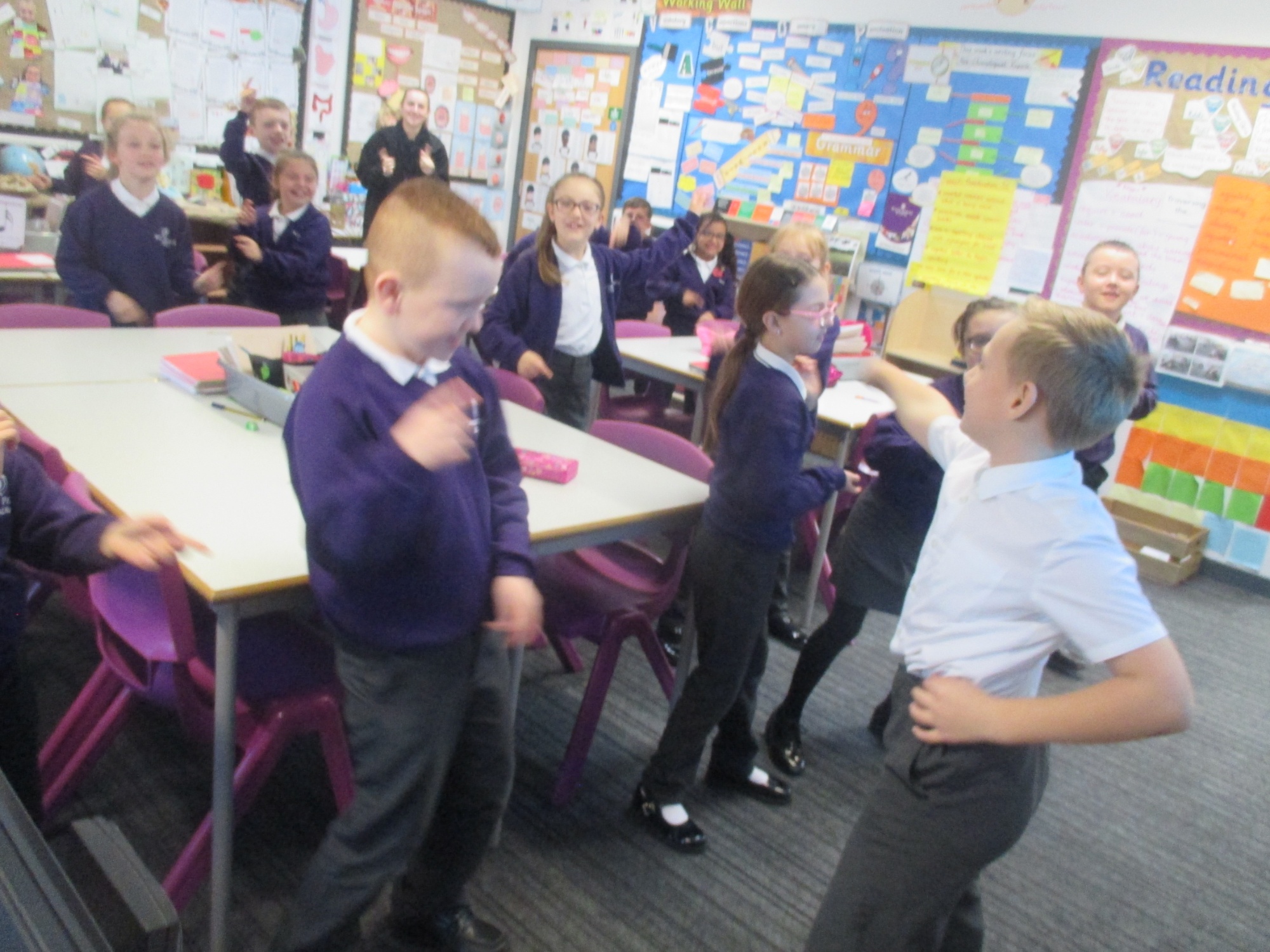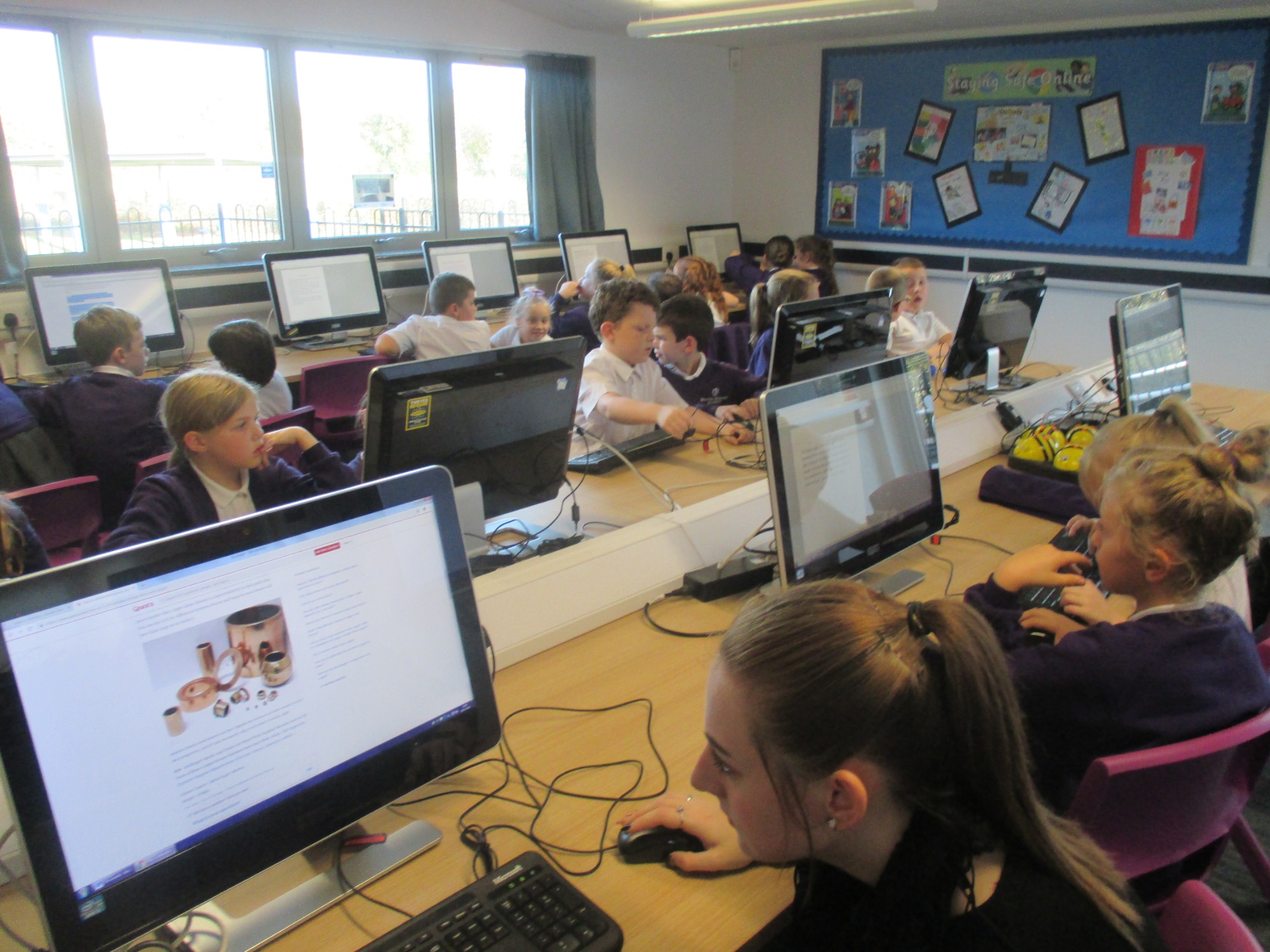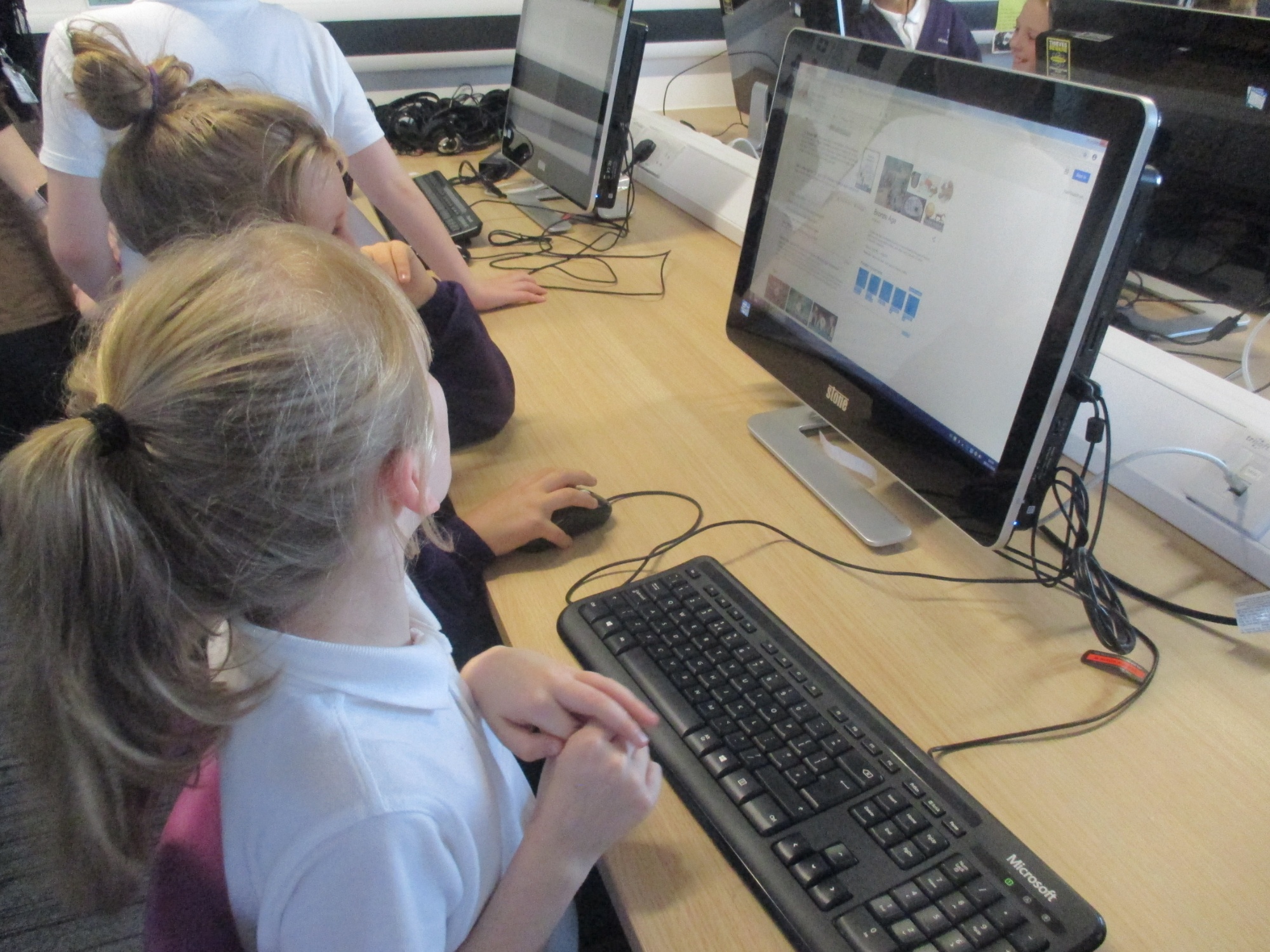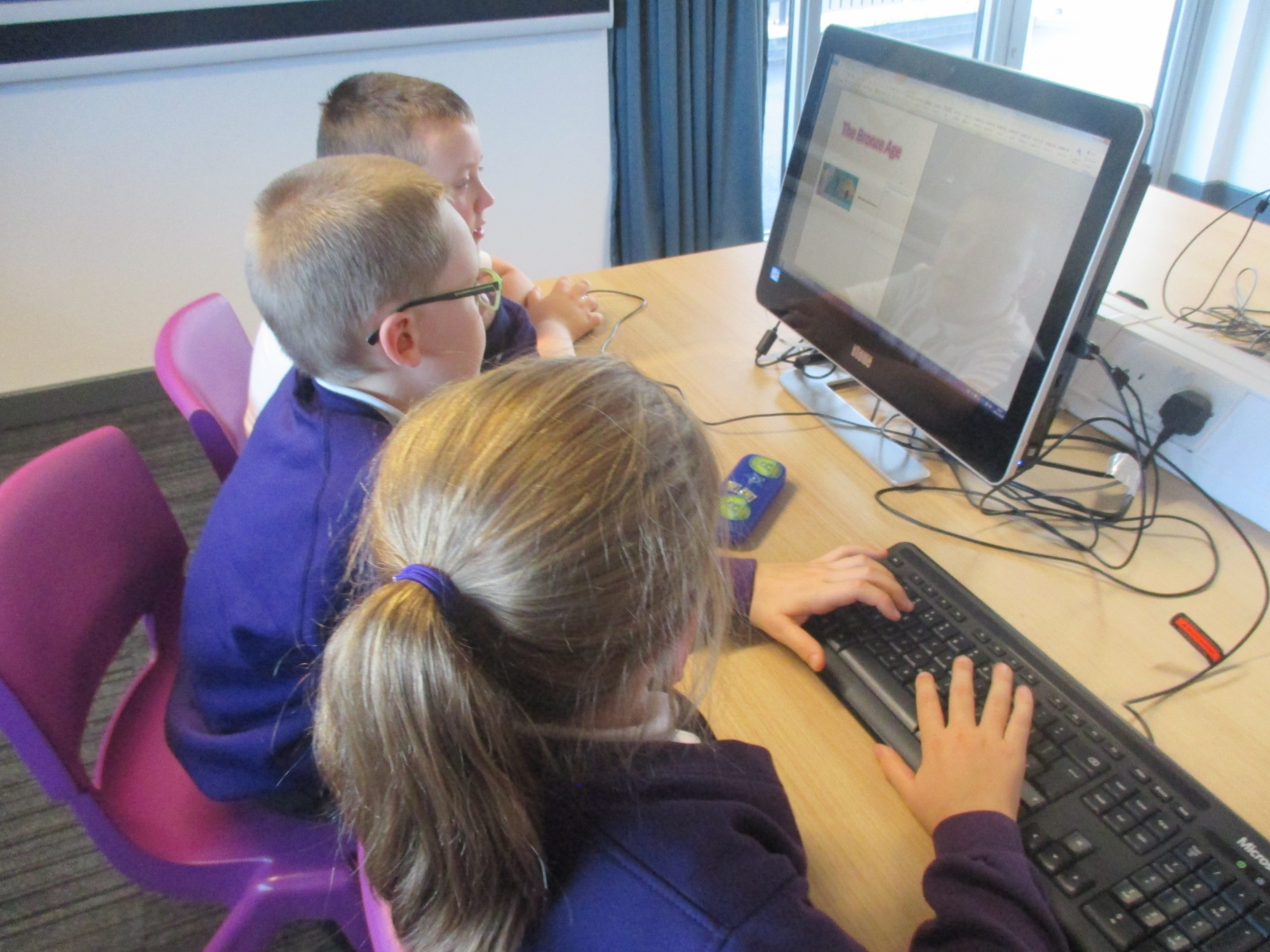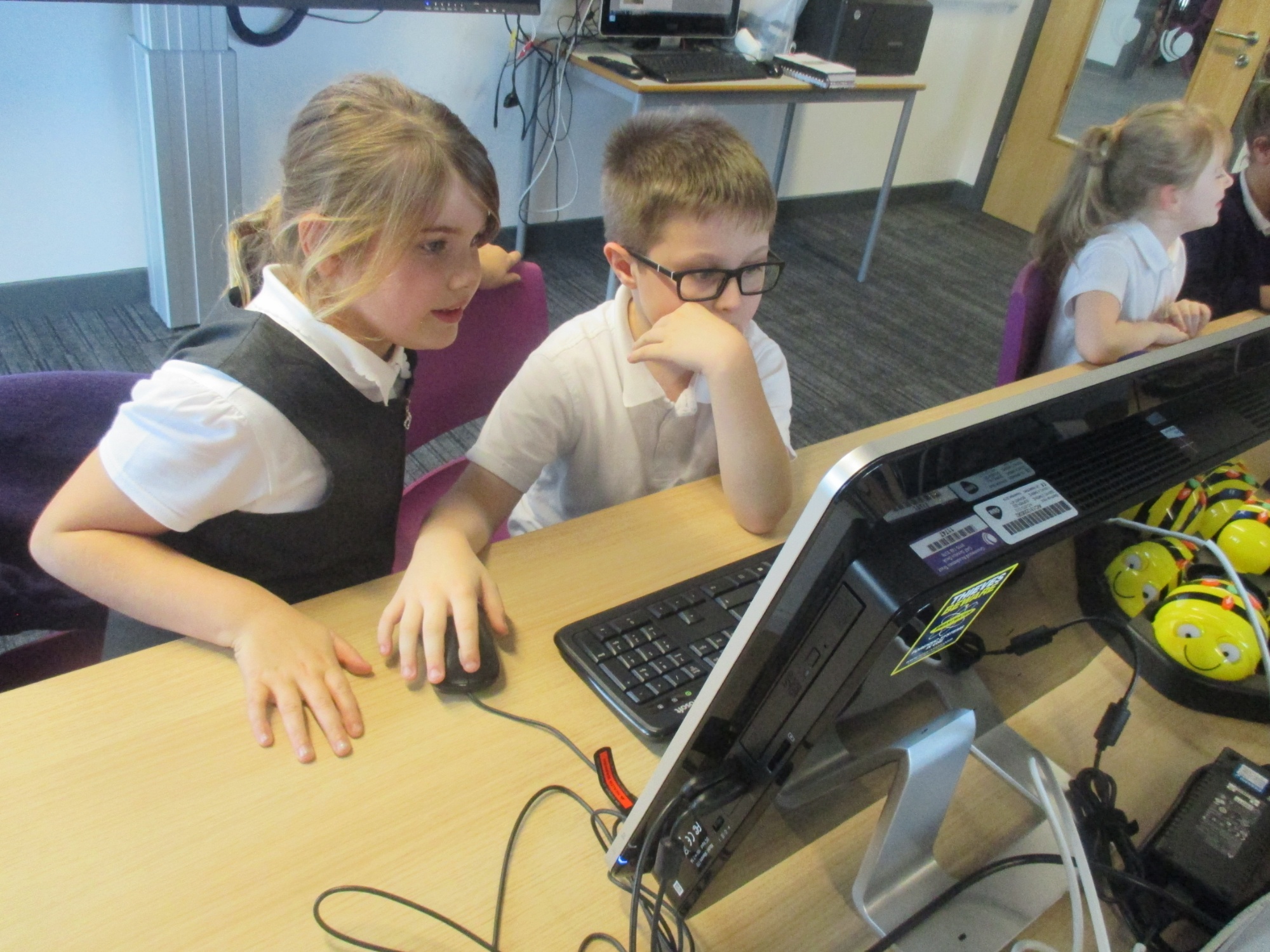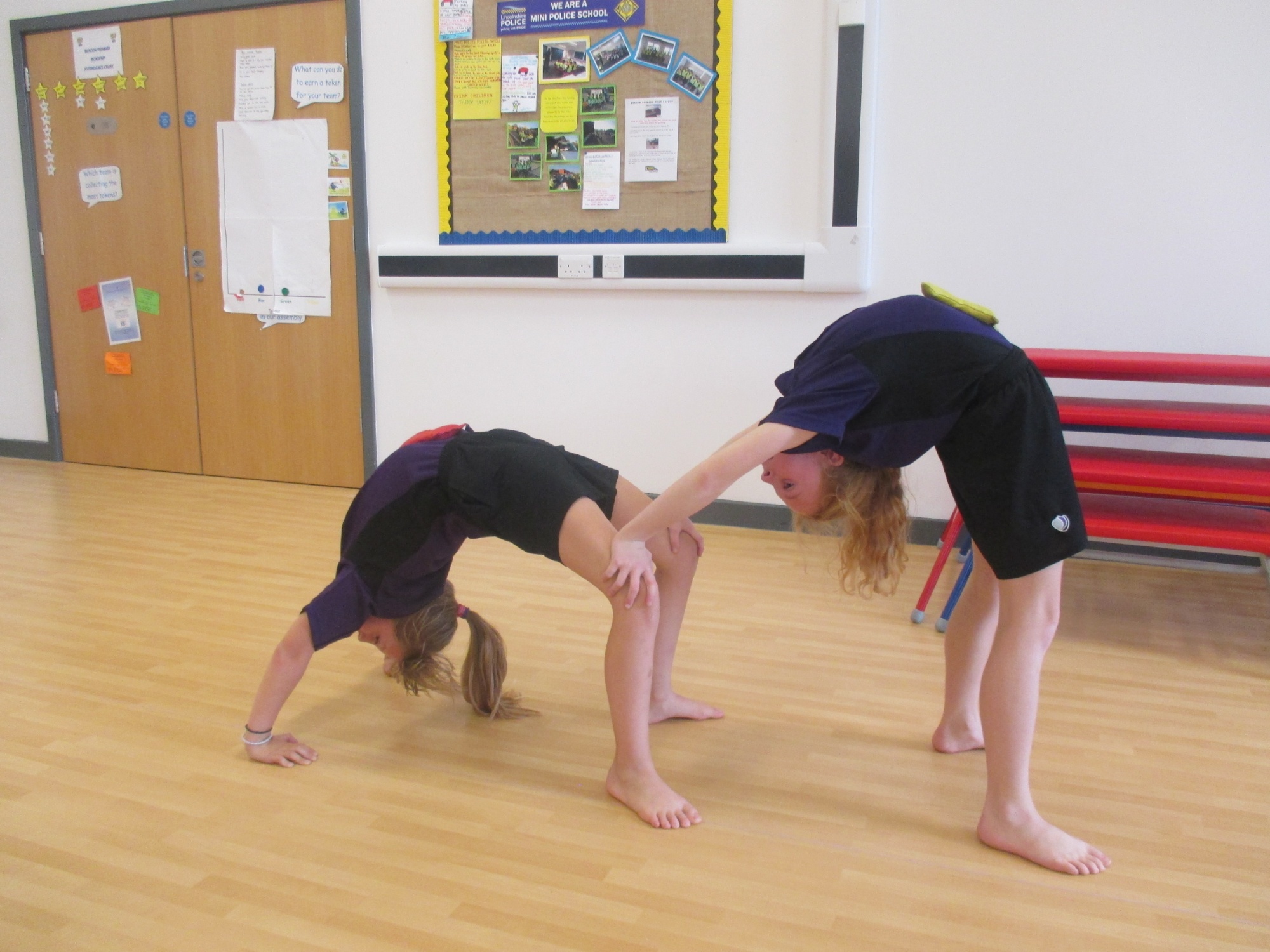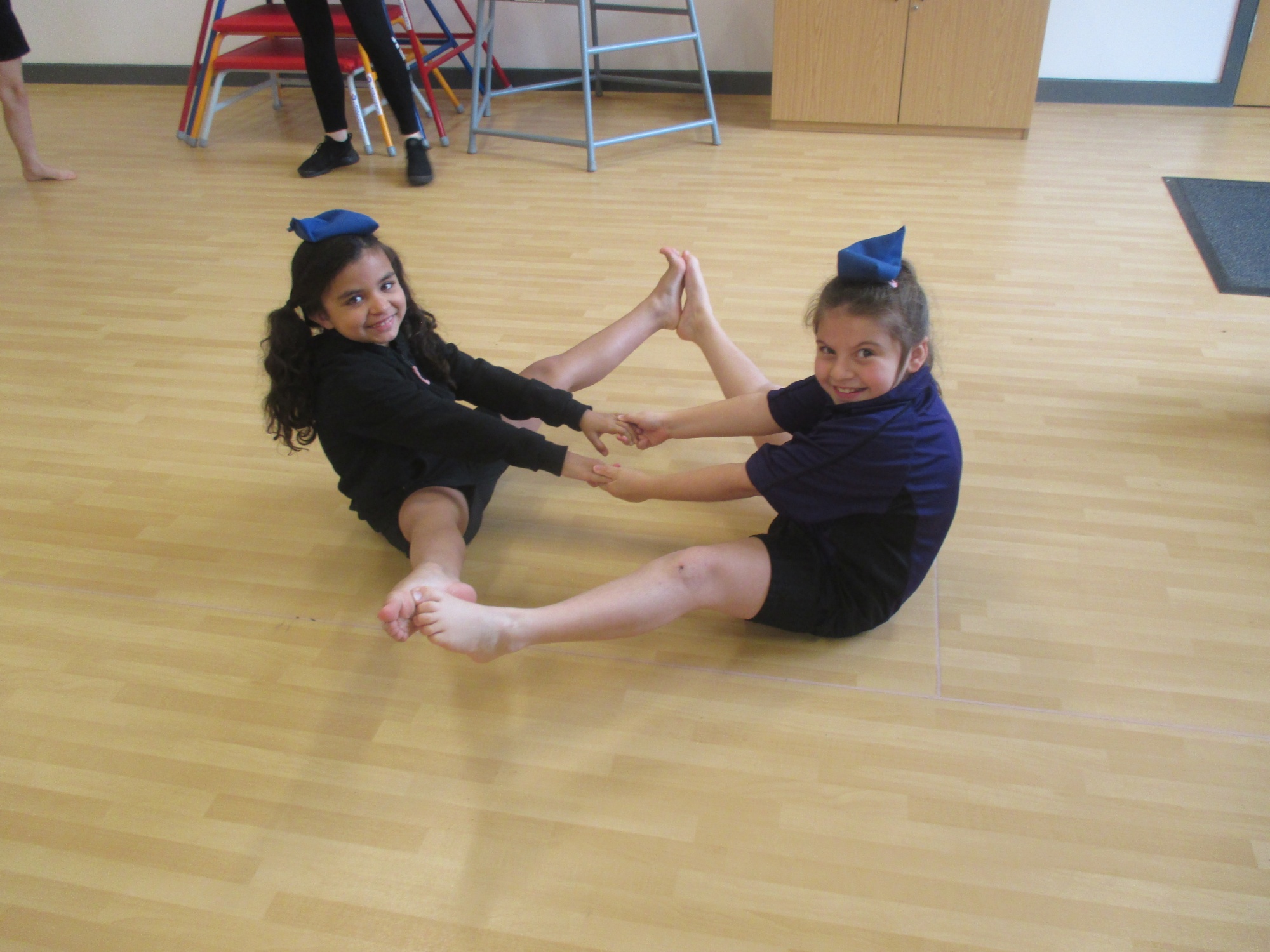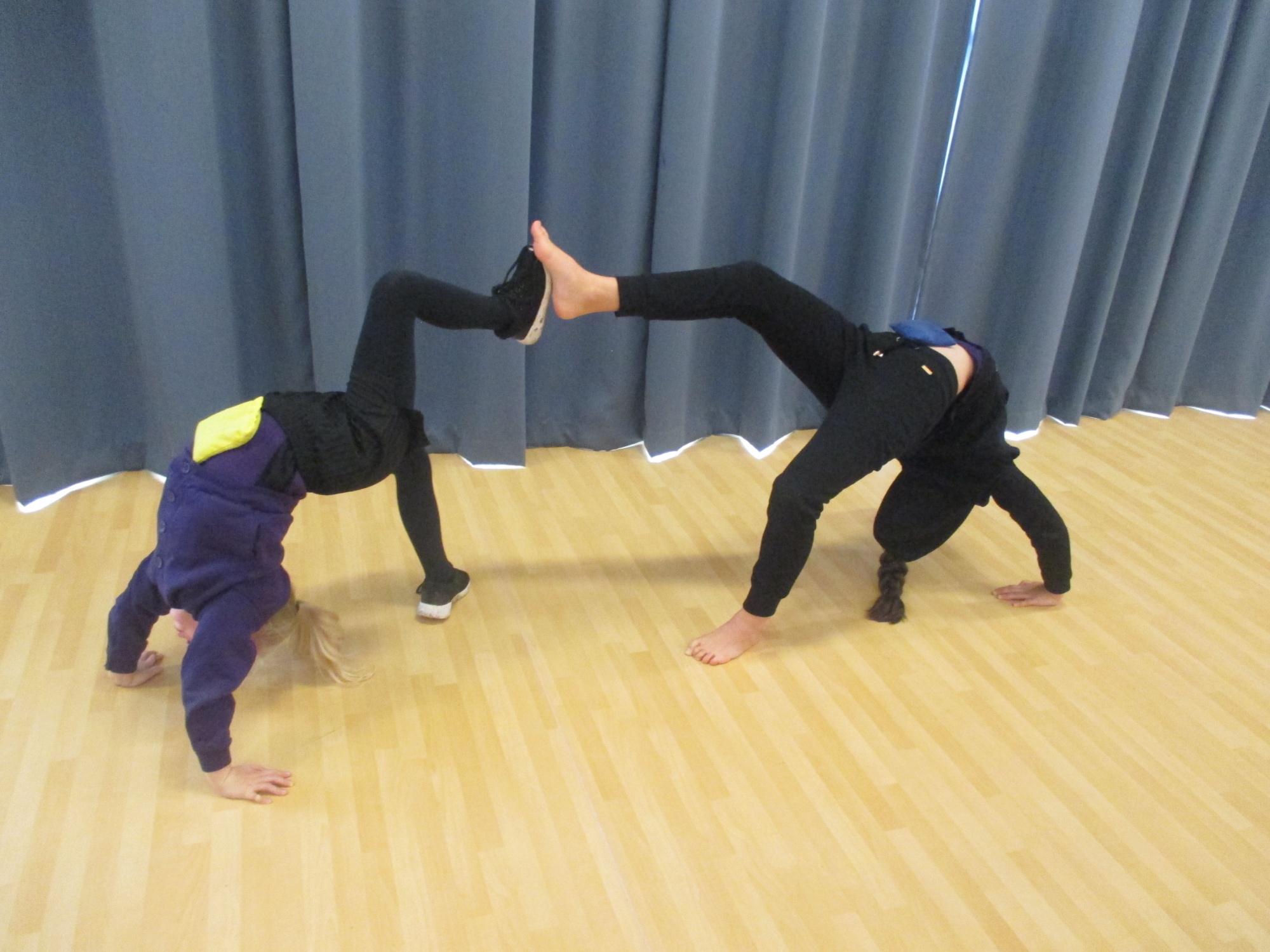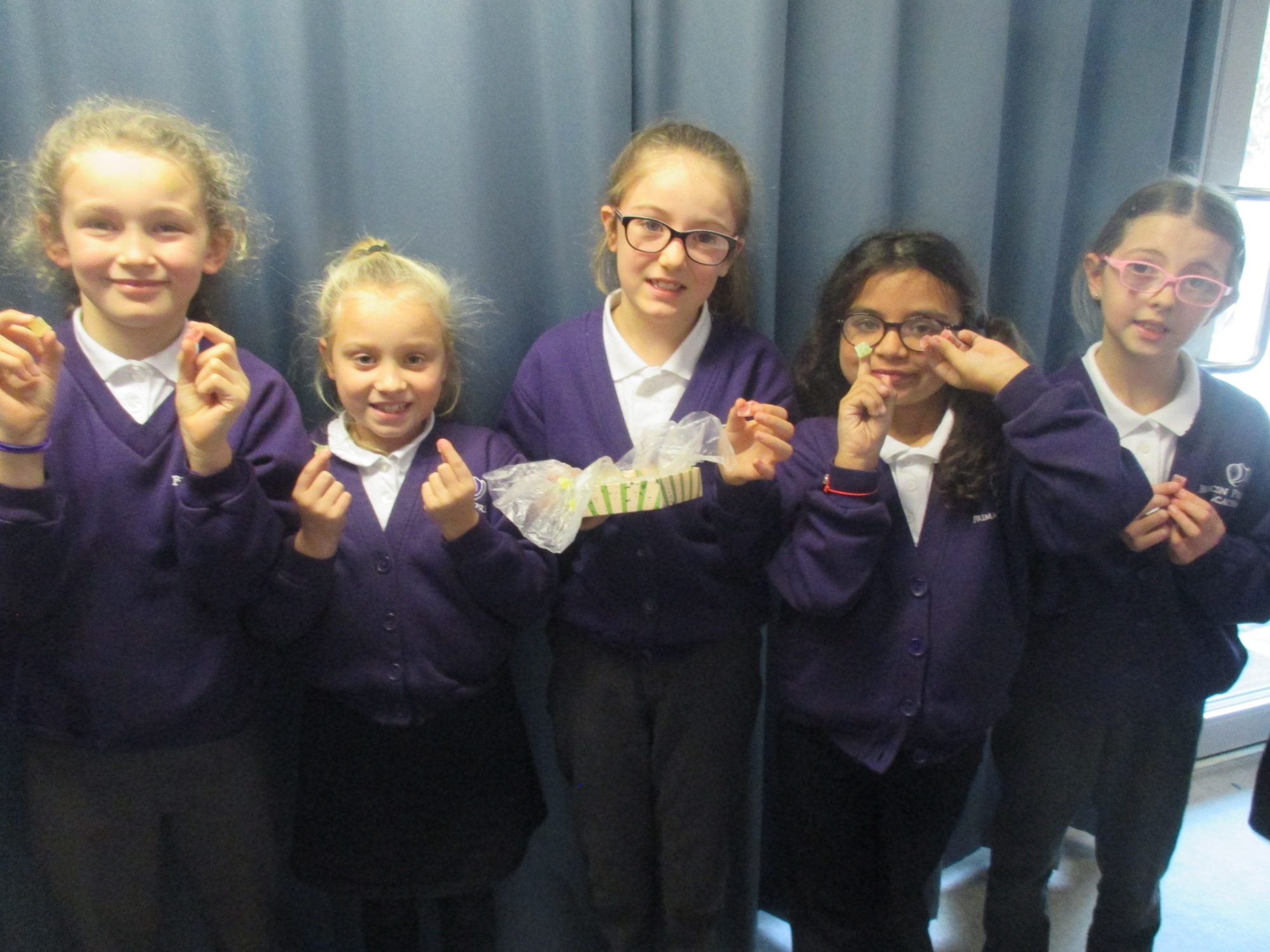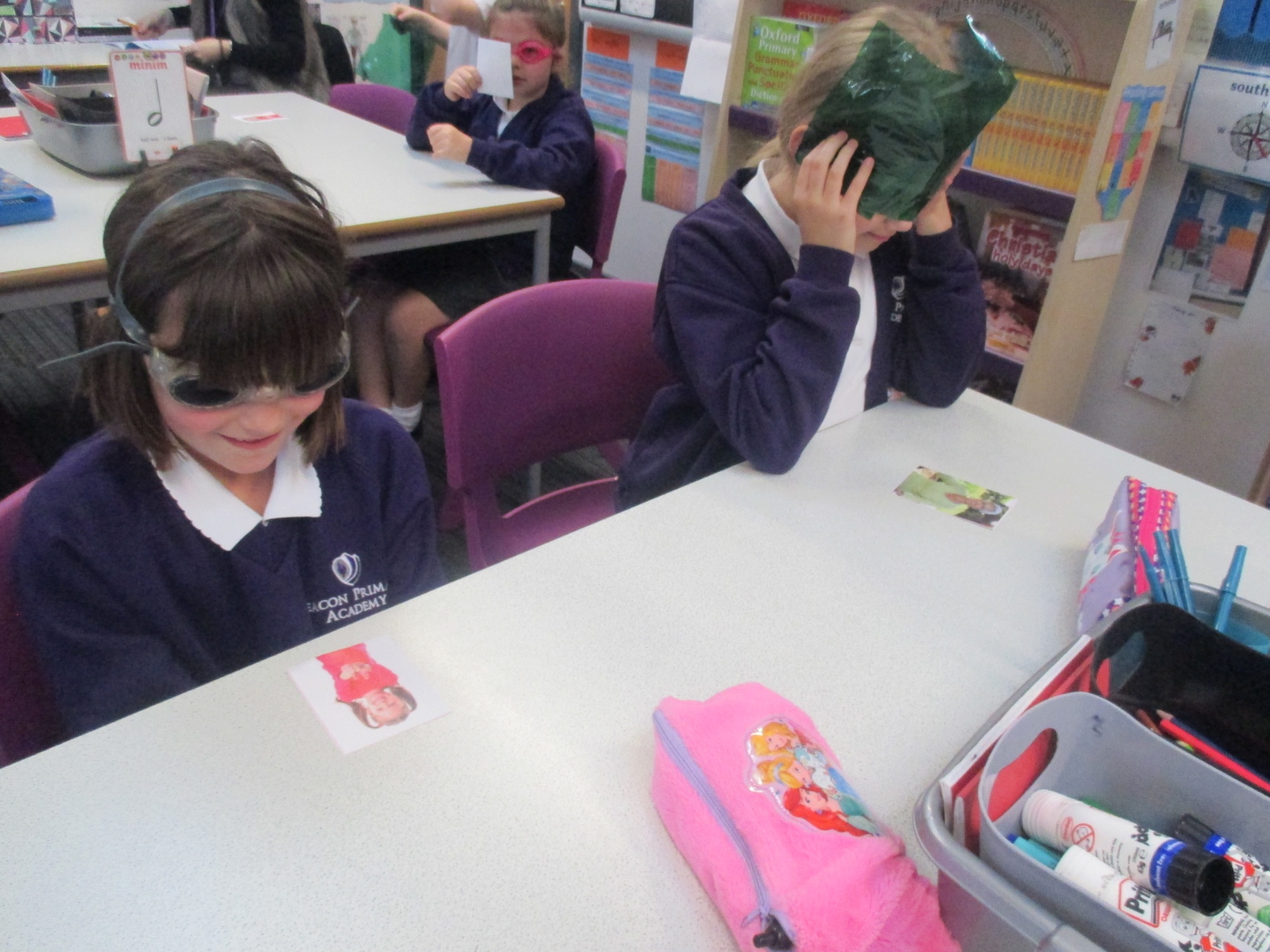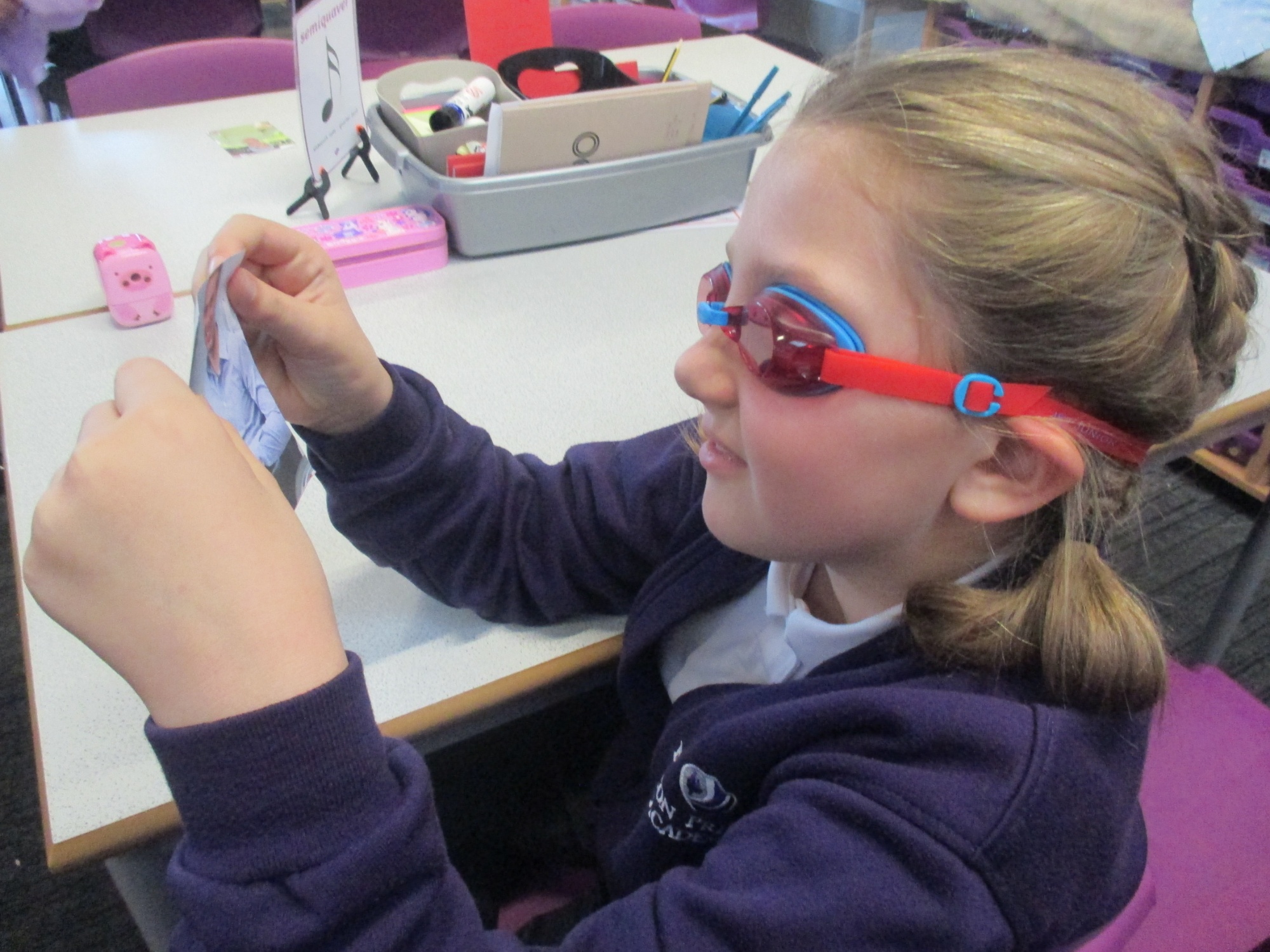 The Lemurs have been working hard with 'This is me … in Narnia' this term. Our yoga sessions allow us to imagine ourselves in Narnia and, in English, we've been writing some amazing character descriptions about the White Witch and Mr. Tumnus. We've even used our fractions in Maths to divide quantities of Turkish delight from the story; we also had a tasting session too! In Art, we've produced some outstanding sketches of Mr. Tumnus after learning to use different sketching techniques. We have researched about the Bronze Age on the computers and created fact files that really impressed the adults. Super learning, Year 4!
Fortnight beginning 15th October 2018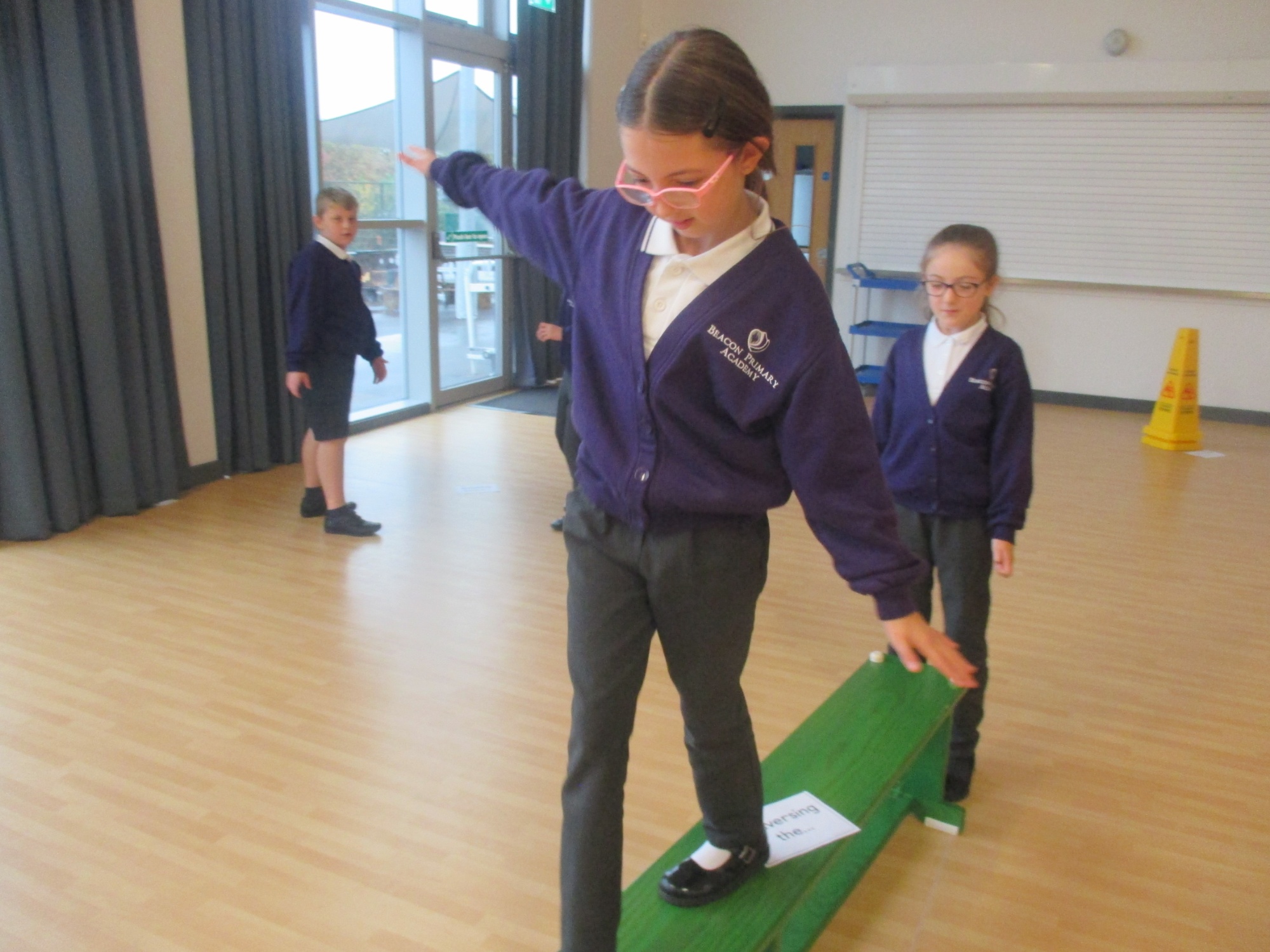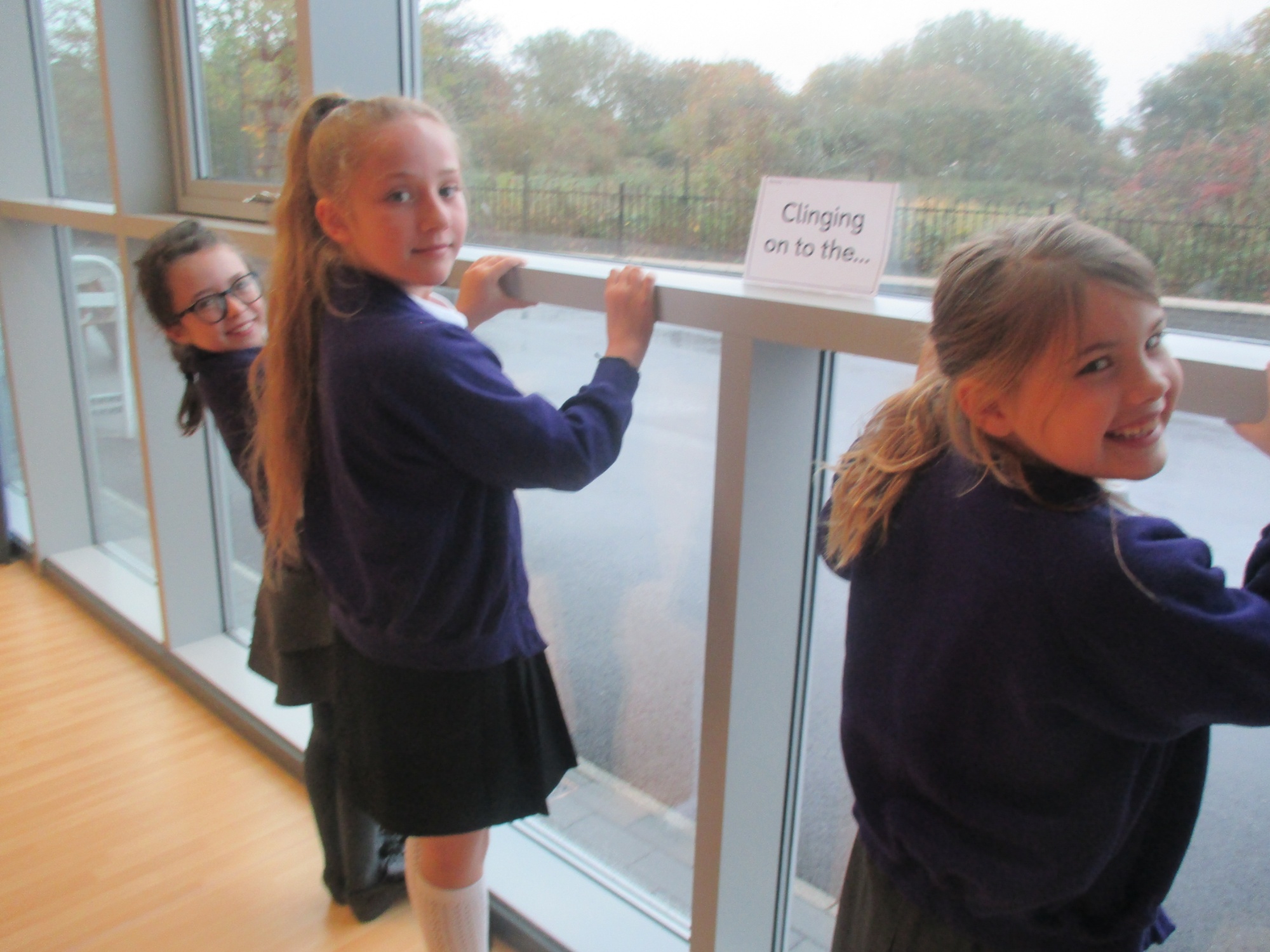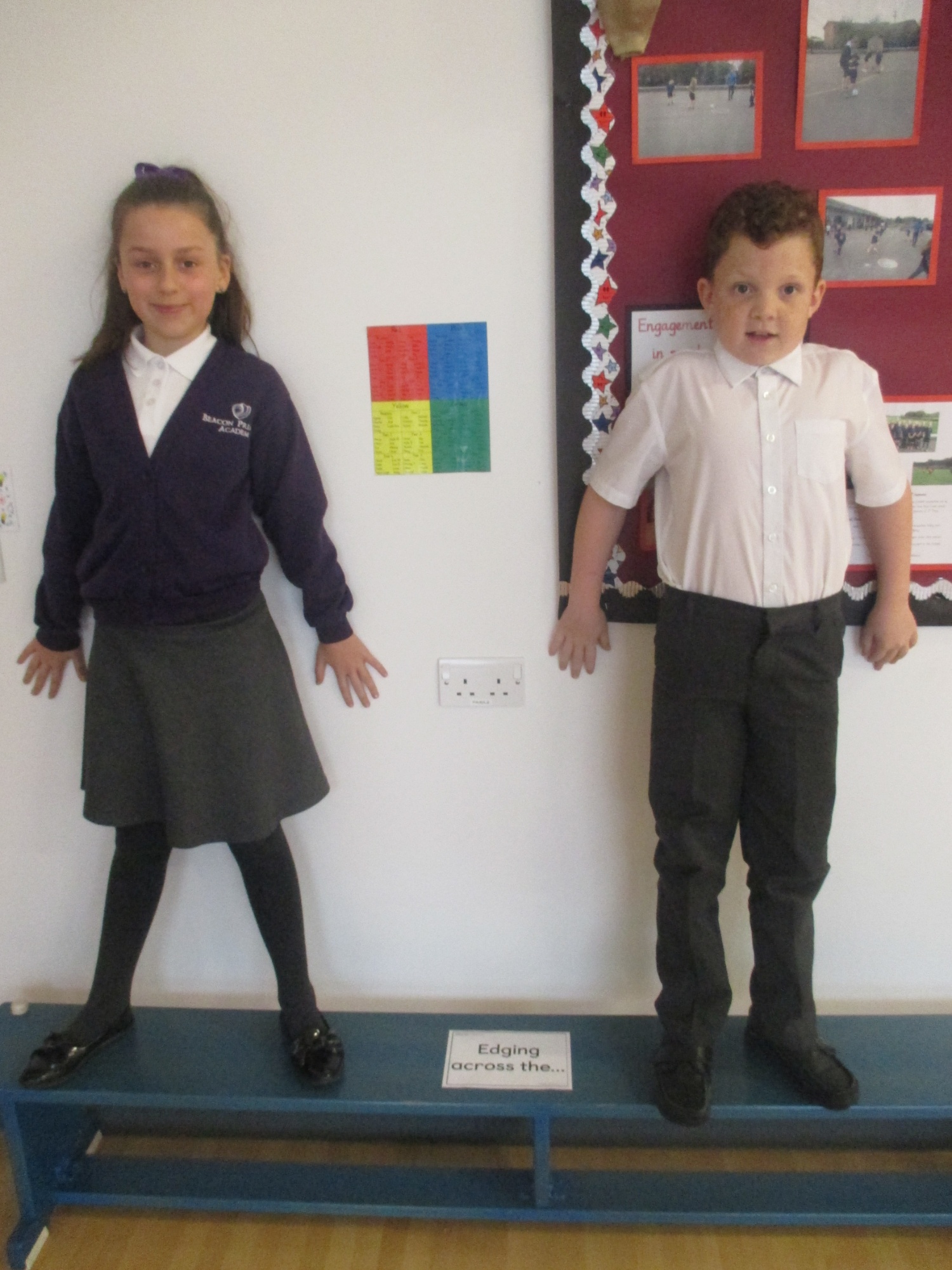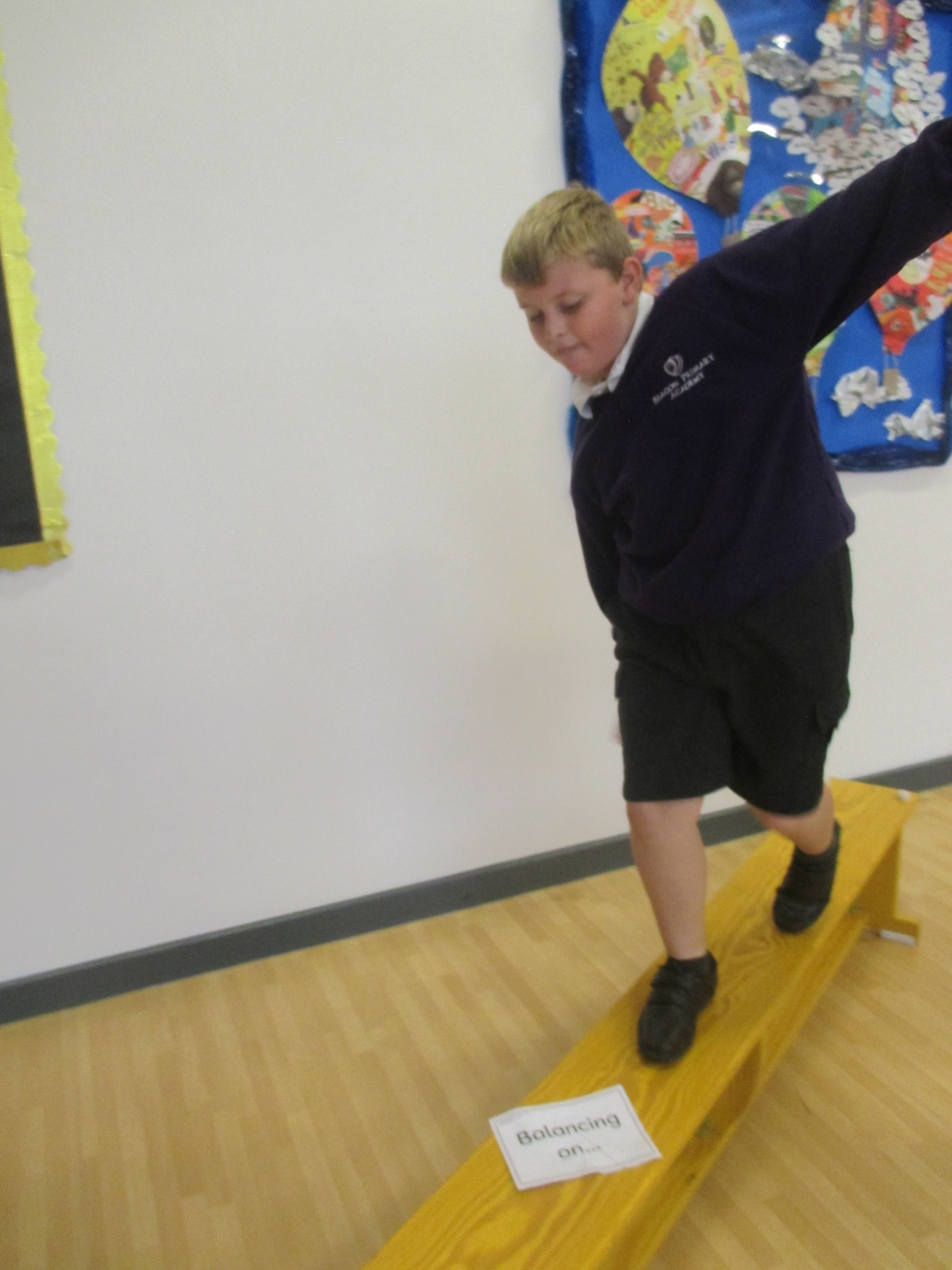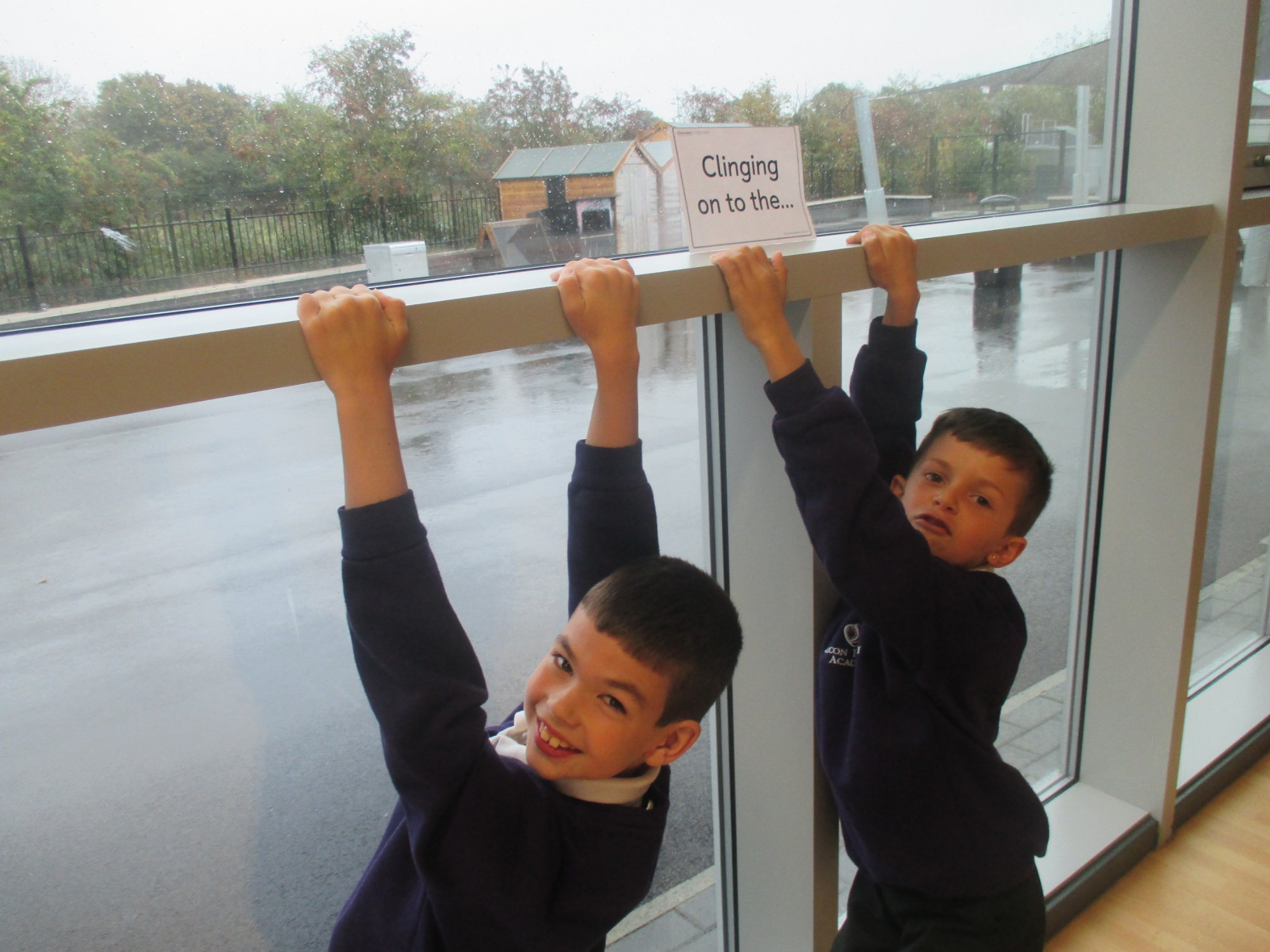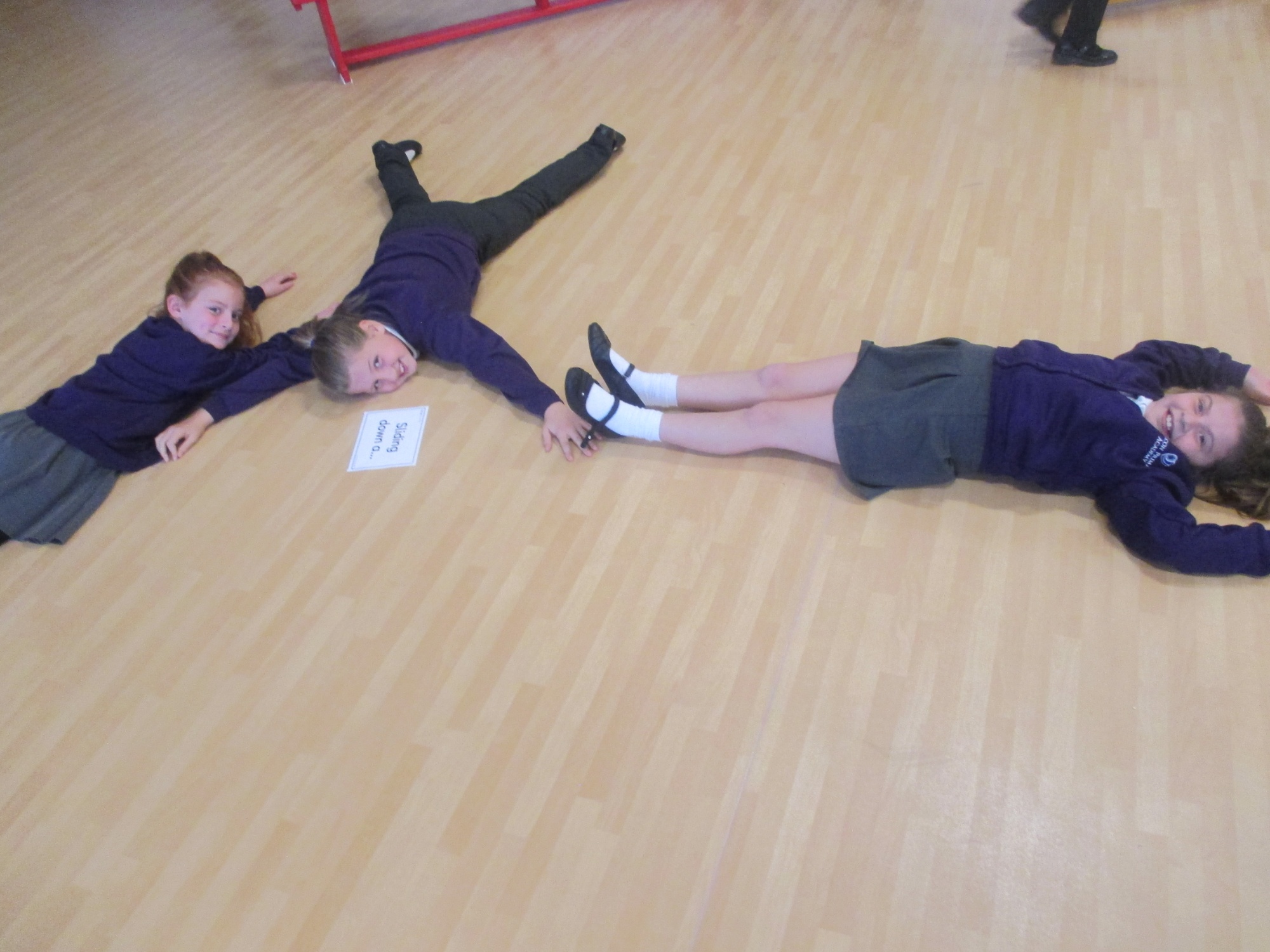 Adventure poem actions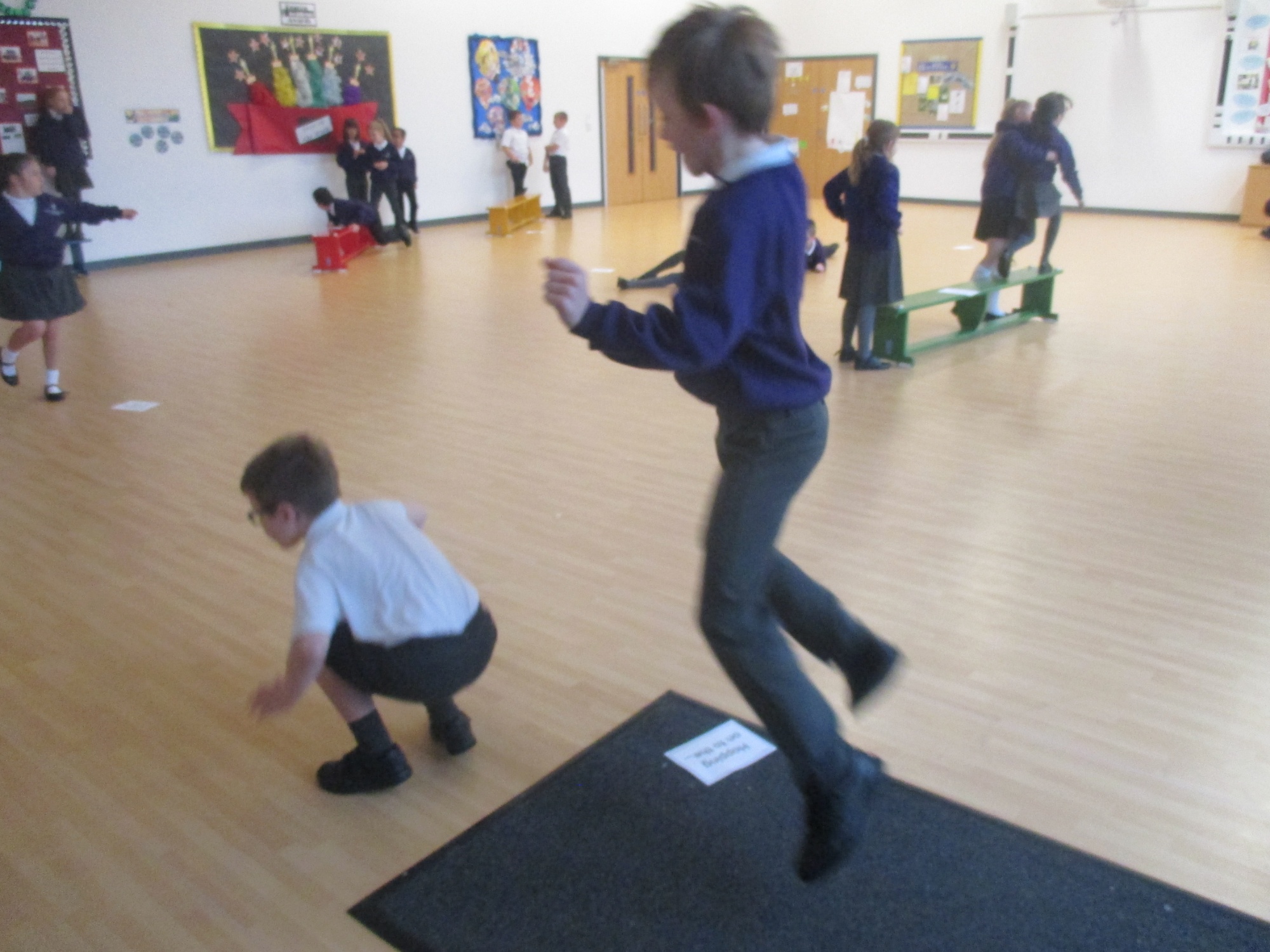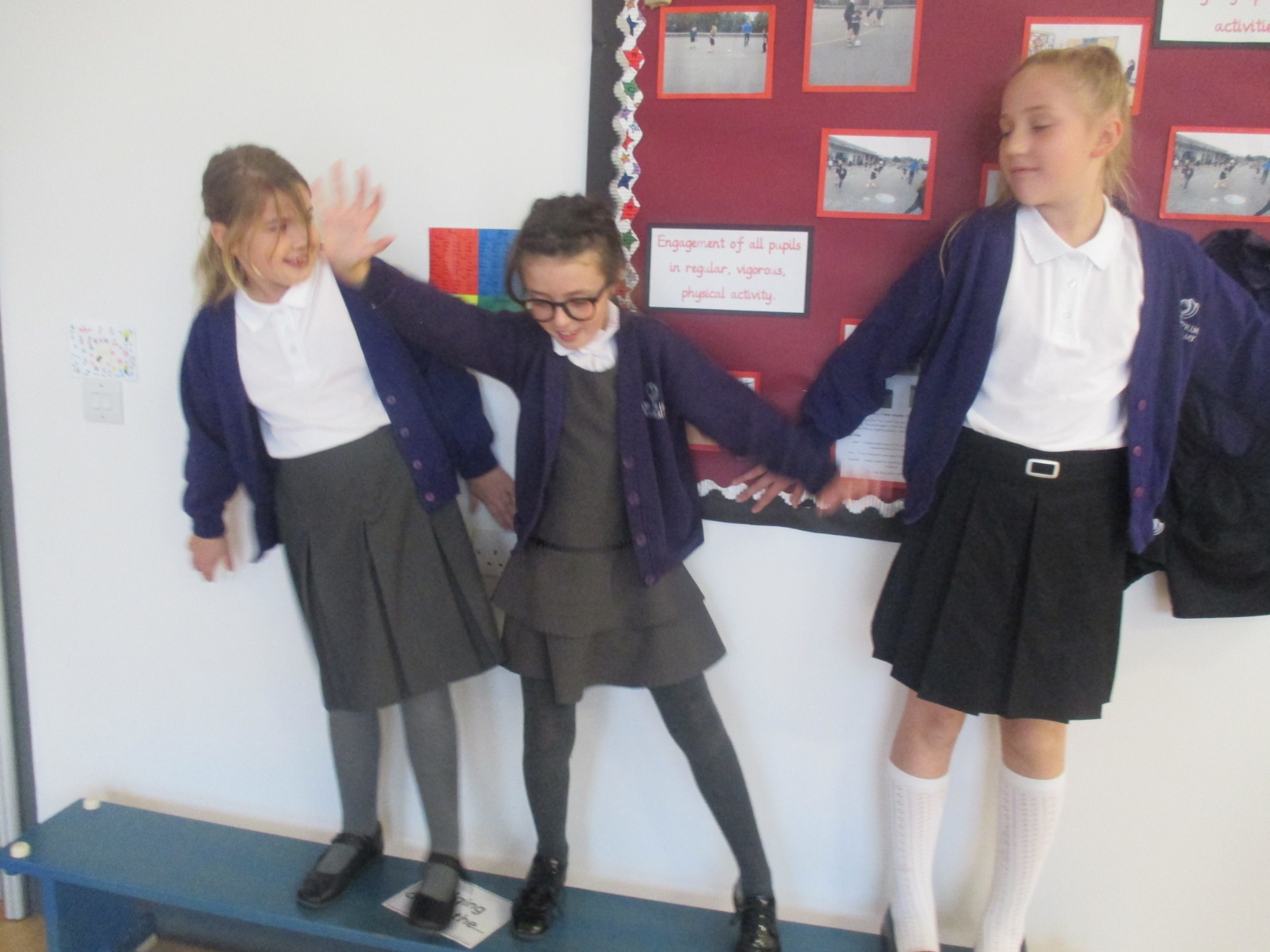 Before the holiday, the Lemurs enjoyed their senses and simile hunt outside then wrote some amazing poems for the writing competition. We will just have to wait and see if any of our poems are chosen to be published in a real book! In Science, we finished our powerpoint presentations on Human Digestion and presented these to the rest of the class. This week, we have been writing a quiz to test each other on our Science learning too. We have created some 'This is Me' collages and worked on our shading techniques in Art. Miss Smith has joined the Y4 team for this term, and we look forward to lots of super lessons, including outdoor learning on Fridays. Please remember your wellies!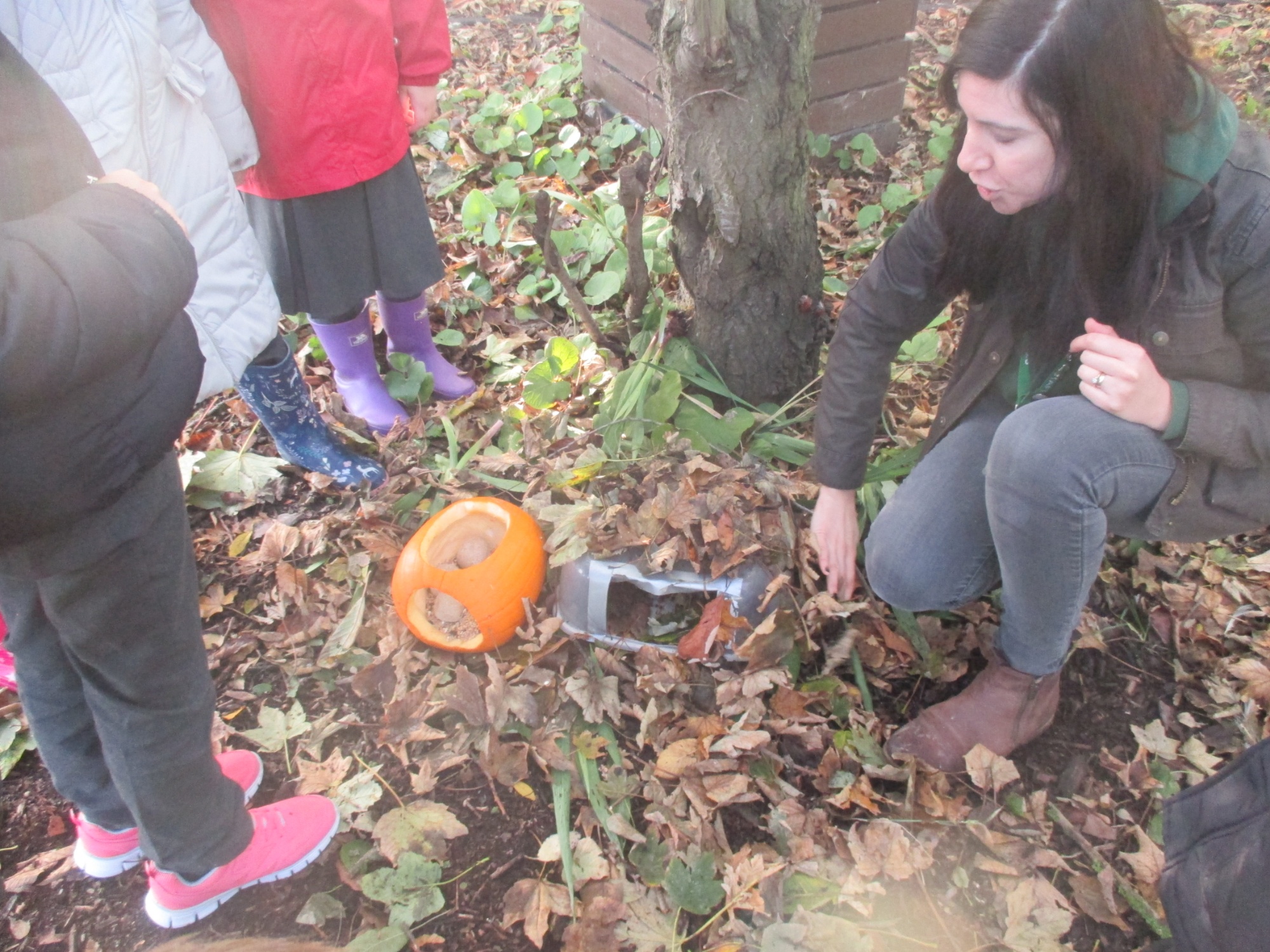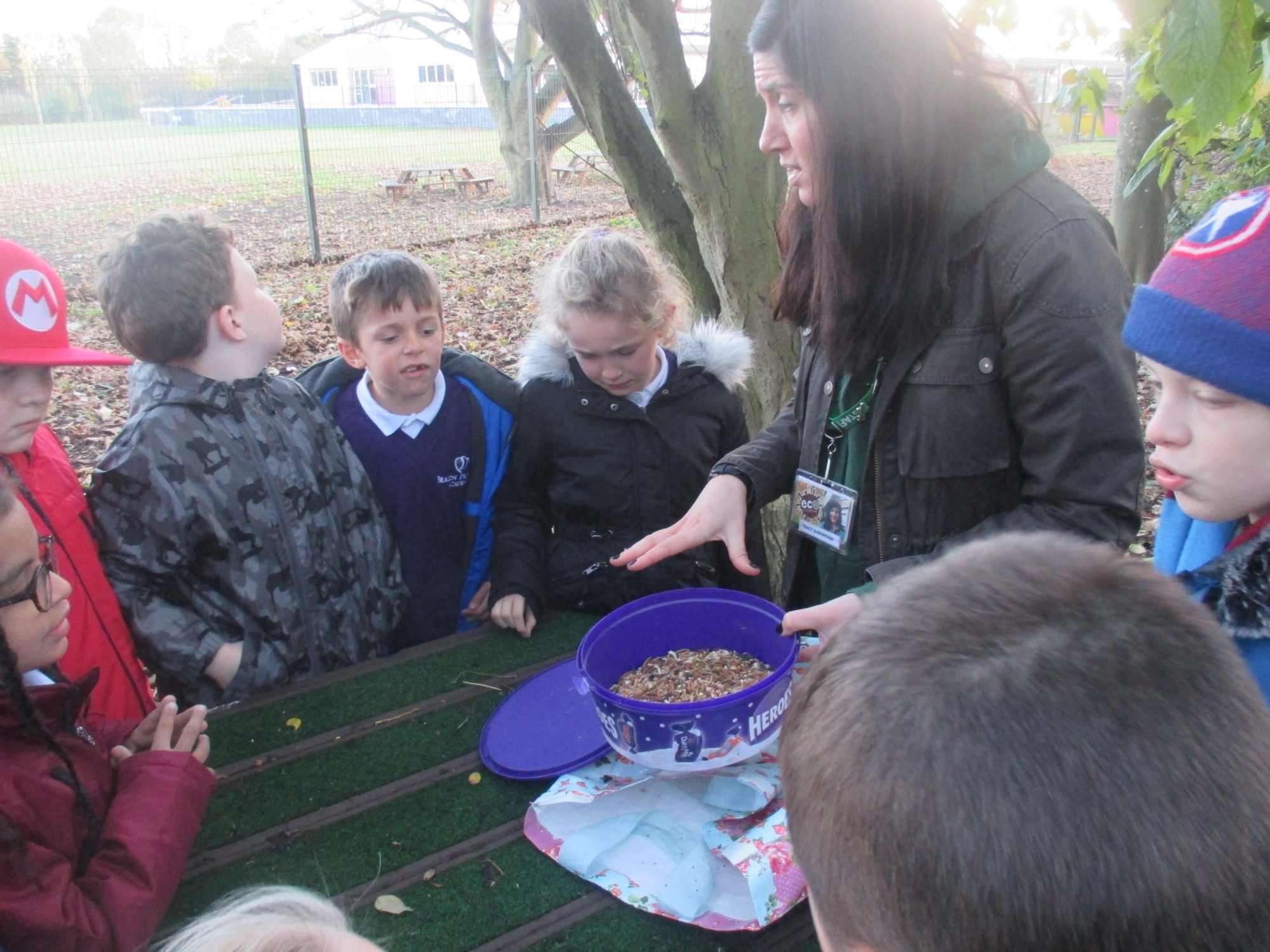 Week beginning 8th October 2018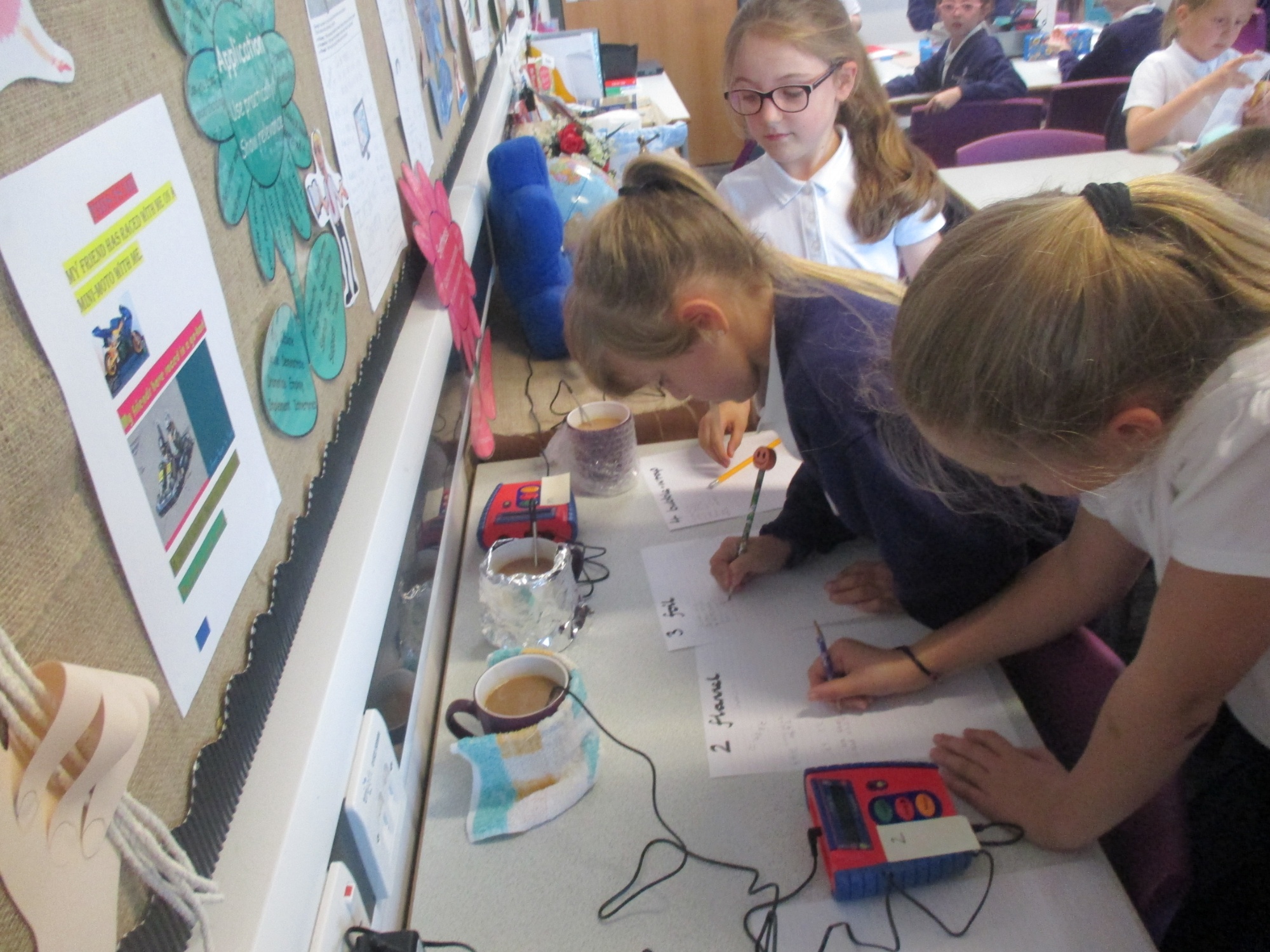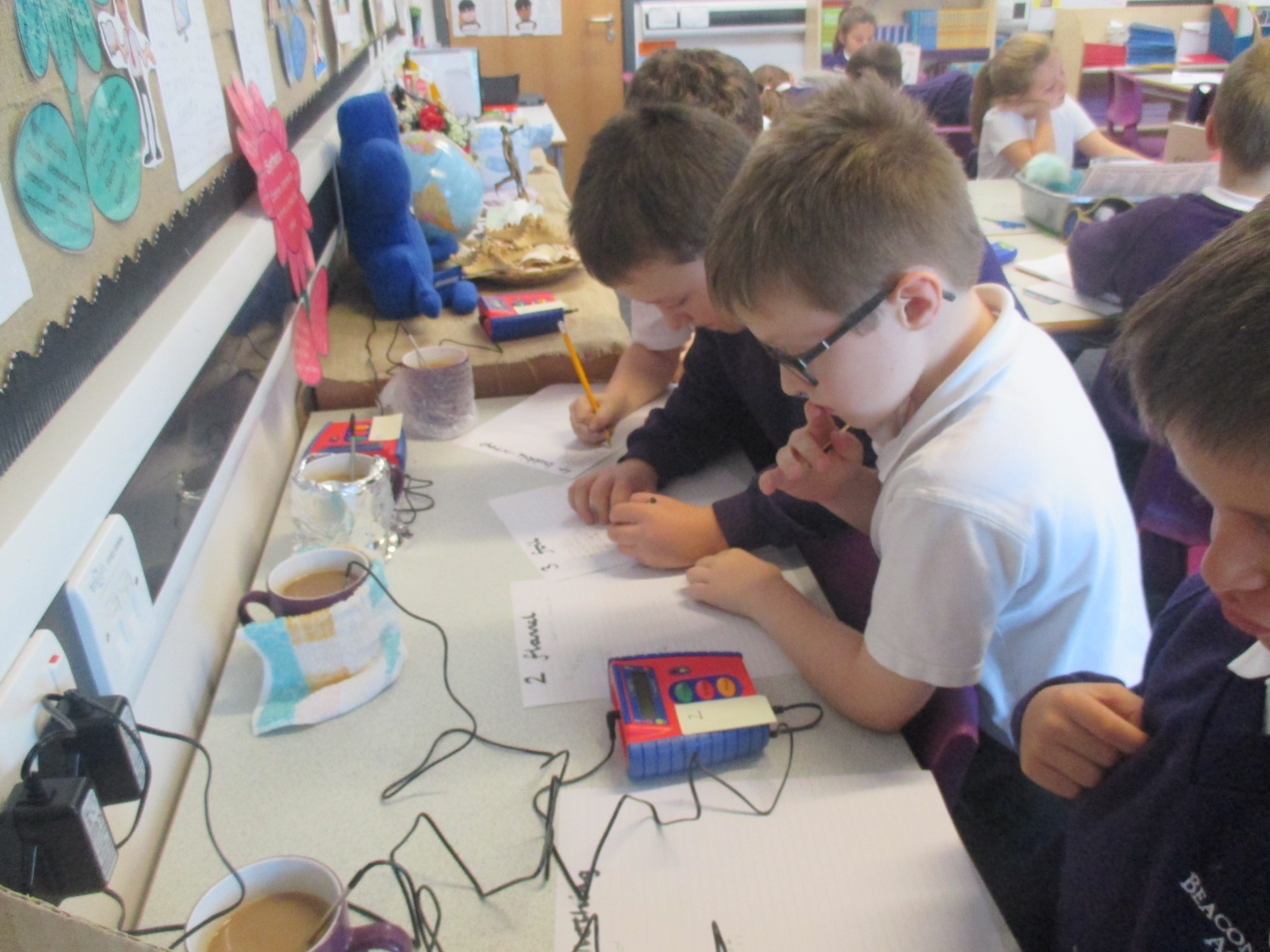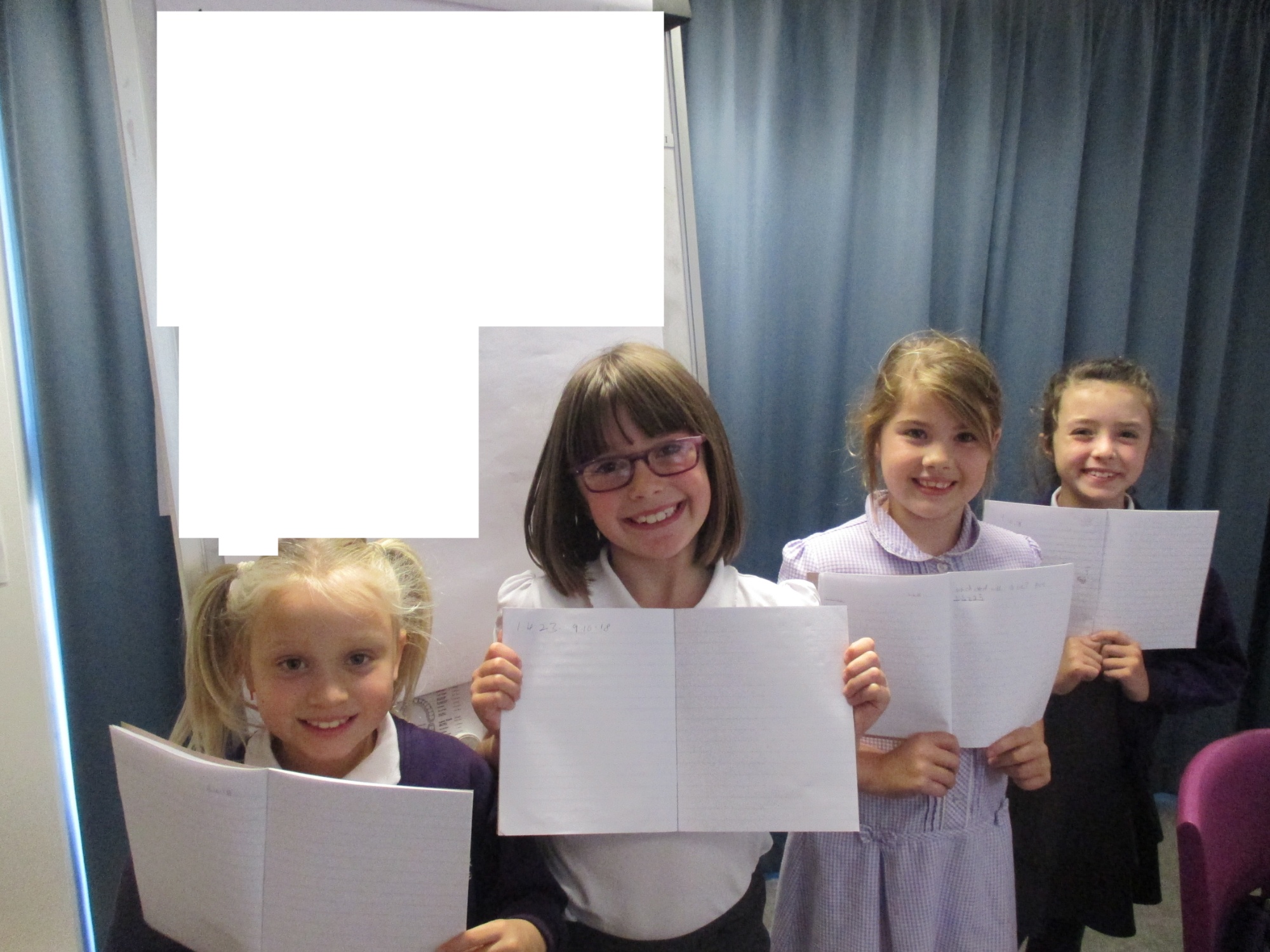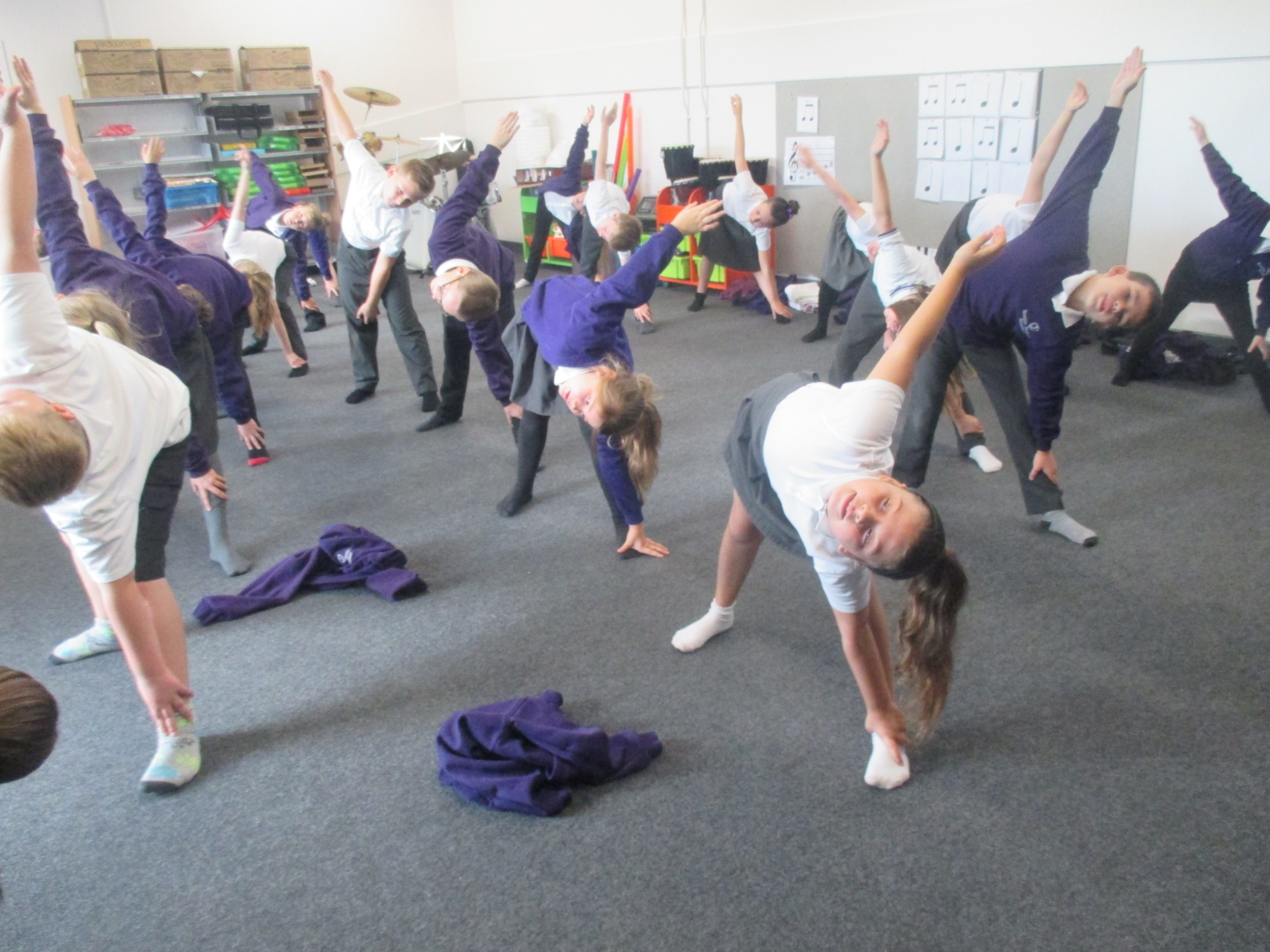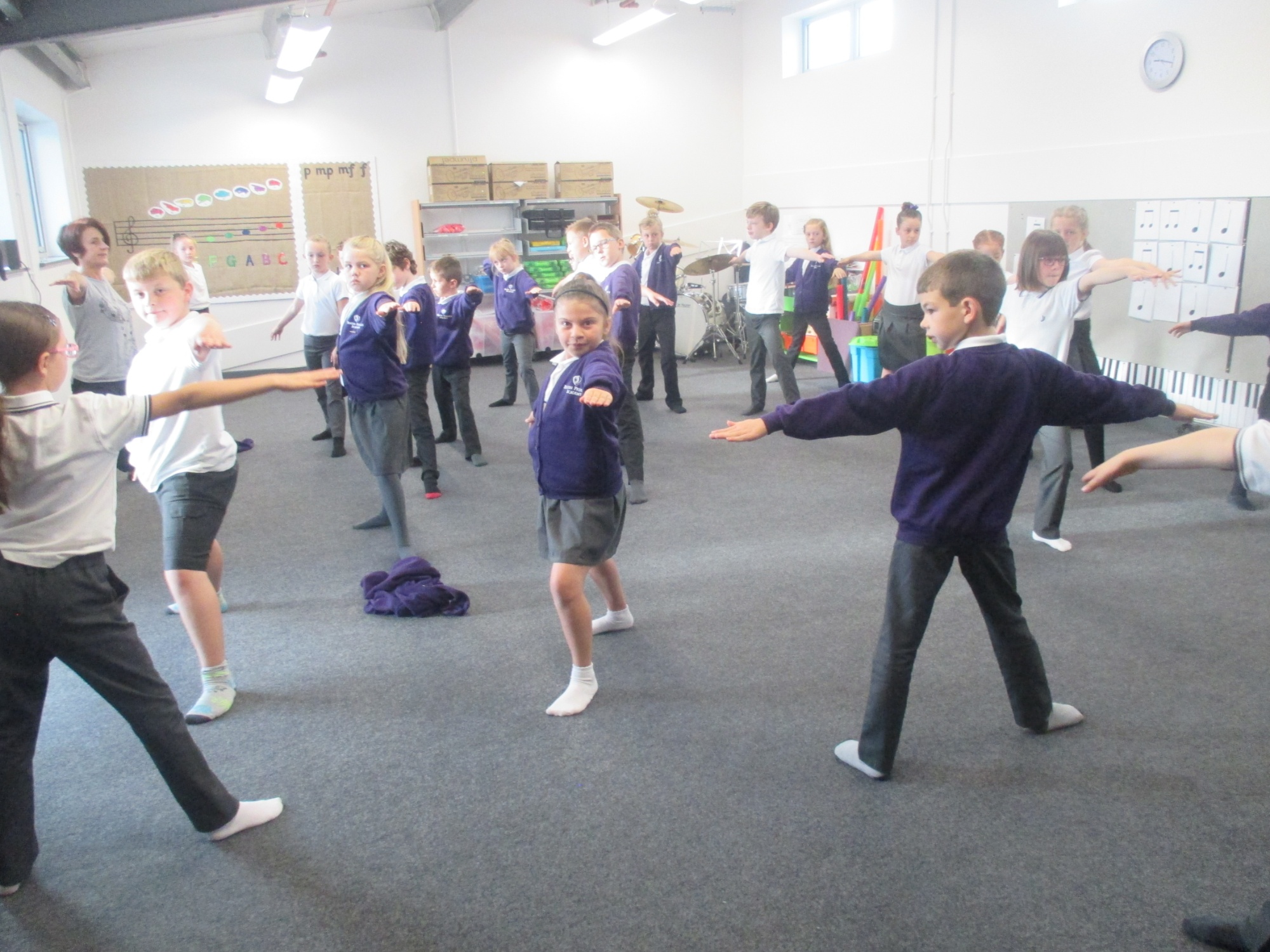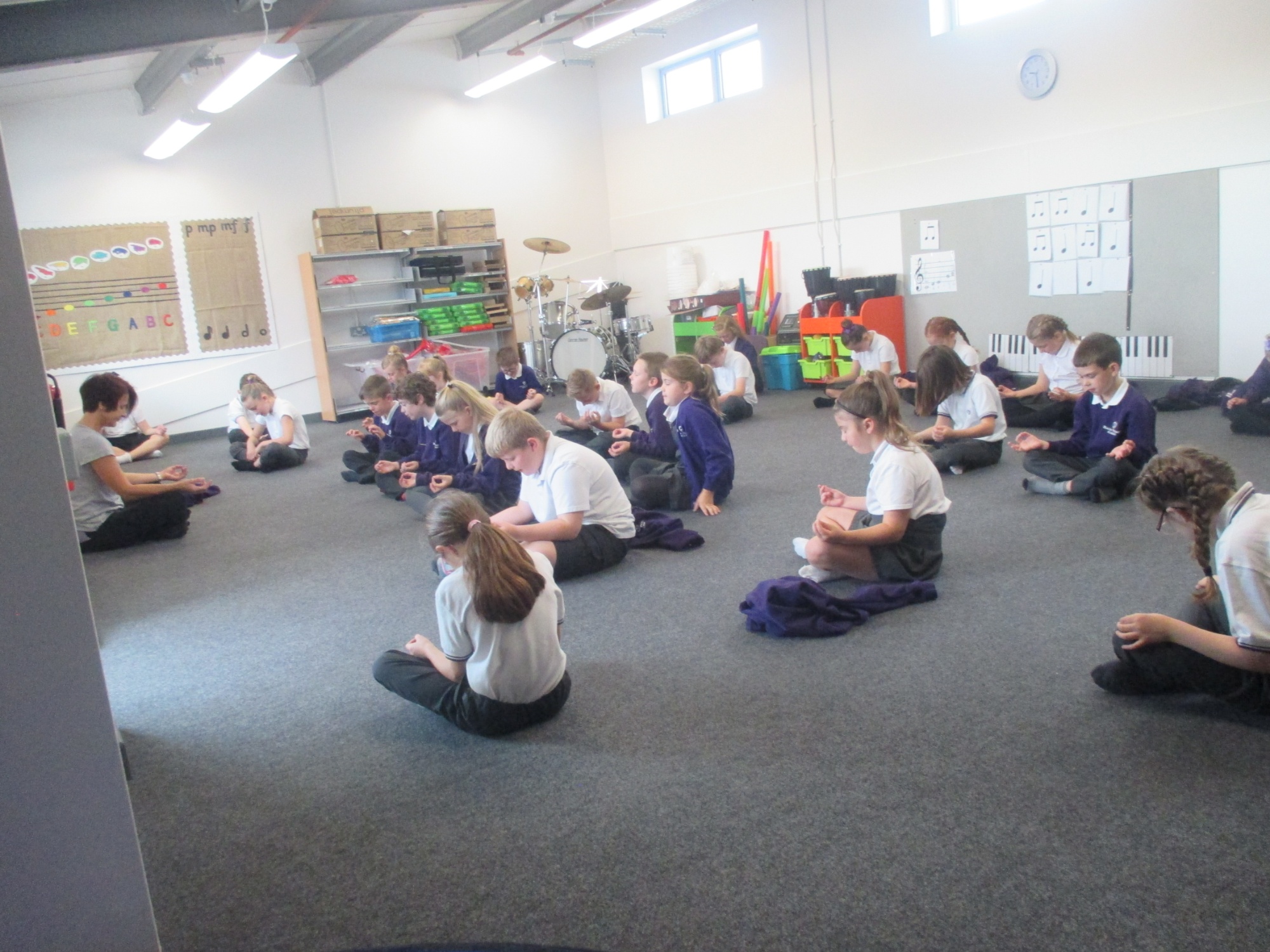 The Lemurs have continued to impress the Y4 team and other adults visiting our classroom. We had a visit from Park Dental Studio and they were so amazed by our knowledge and questions about teeth that they have asked us to design posters to promote dental hygiene in our community. Other lessons included producing a powerpoint display about human digestion, using compasses to navigate and draw our field, creating a 'This is me' collage, learning about Muslim beliefs and practices with Mrs. Hussain, a science investigation about insulation, rugby and dance. We have been learning about negative numbers in Maths and completed challenge booklets too. In English, we have written information texts about our academy for Miss Wright to use in the 'Meet the Schools' event next week. Next, we will be writing our poems for a poetry competition too. Watch this space!
Week beginning 1st October 2018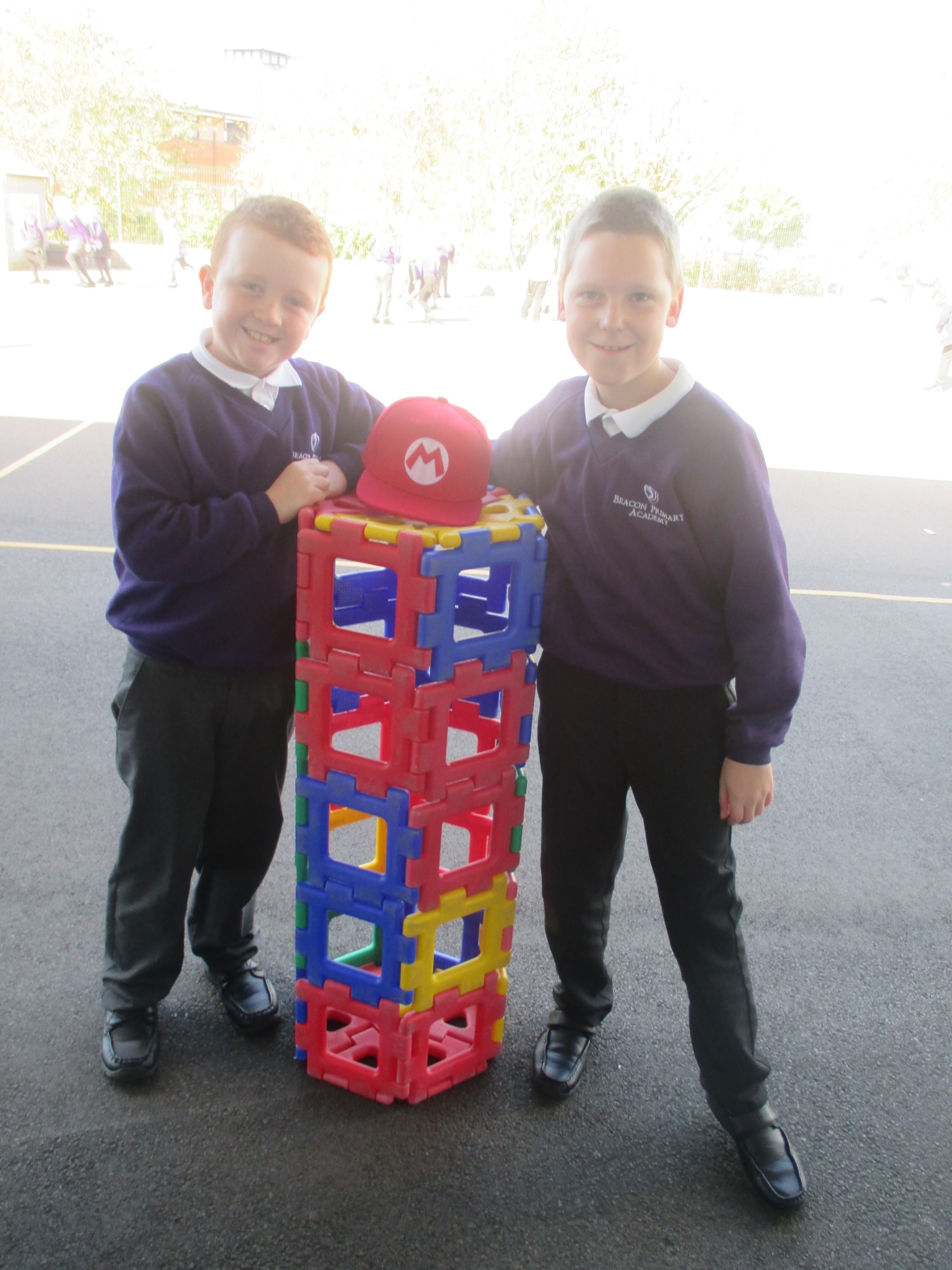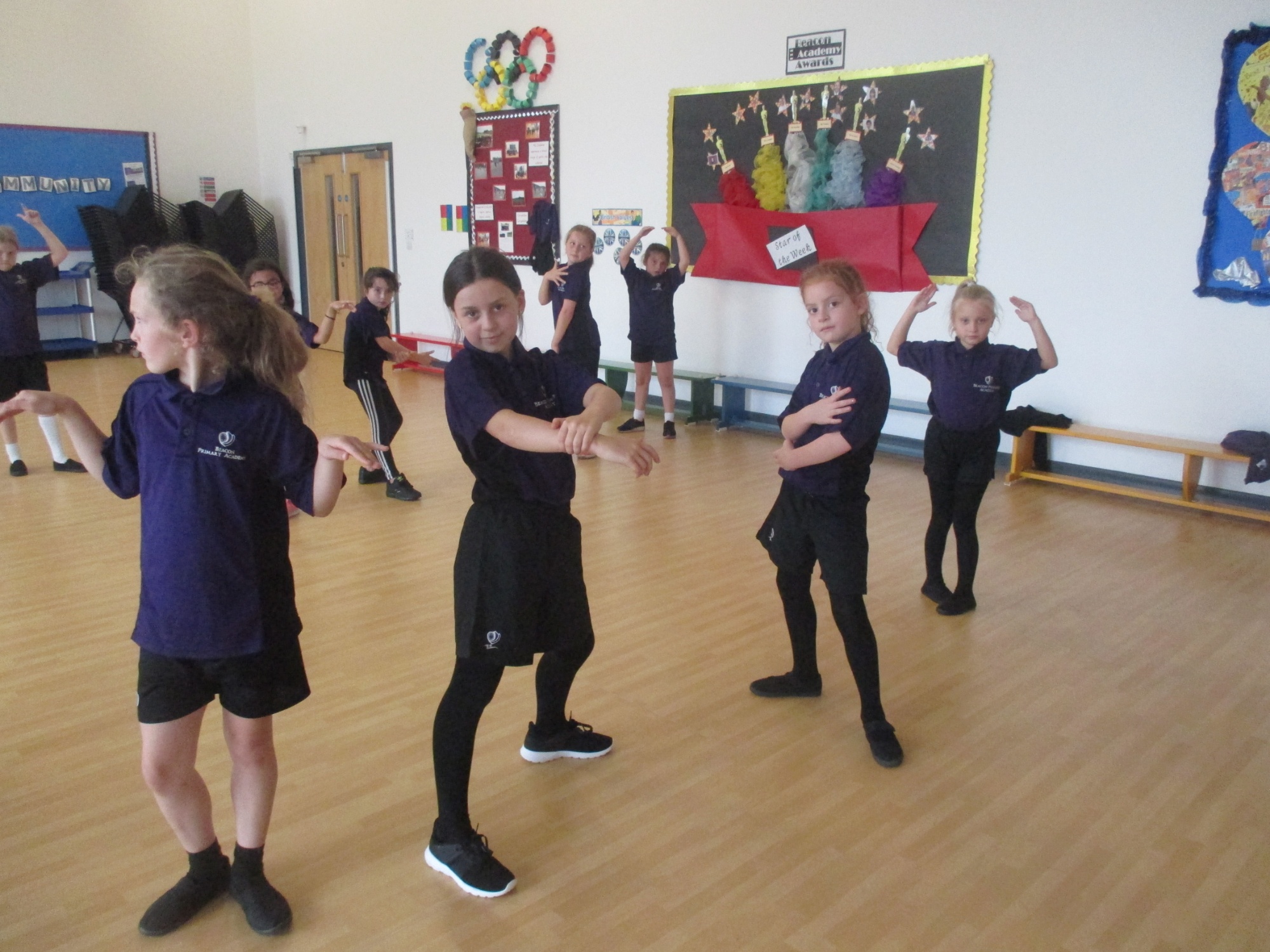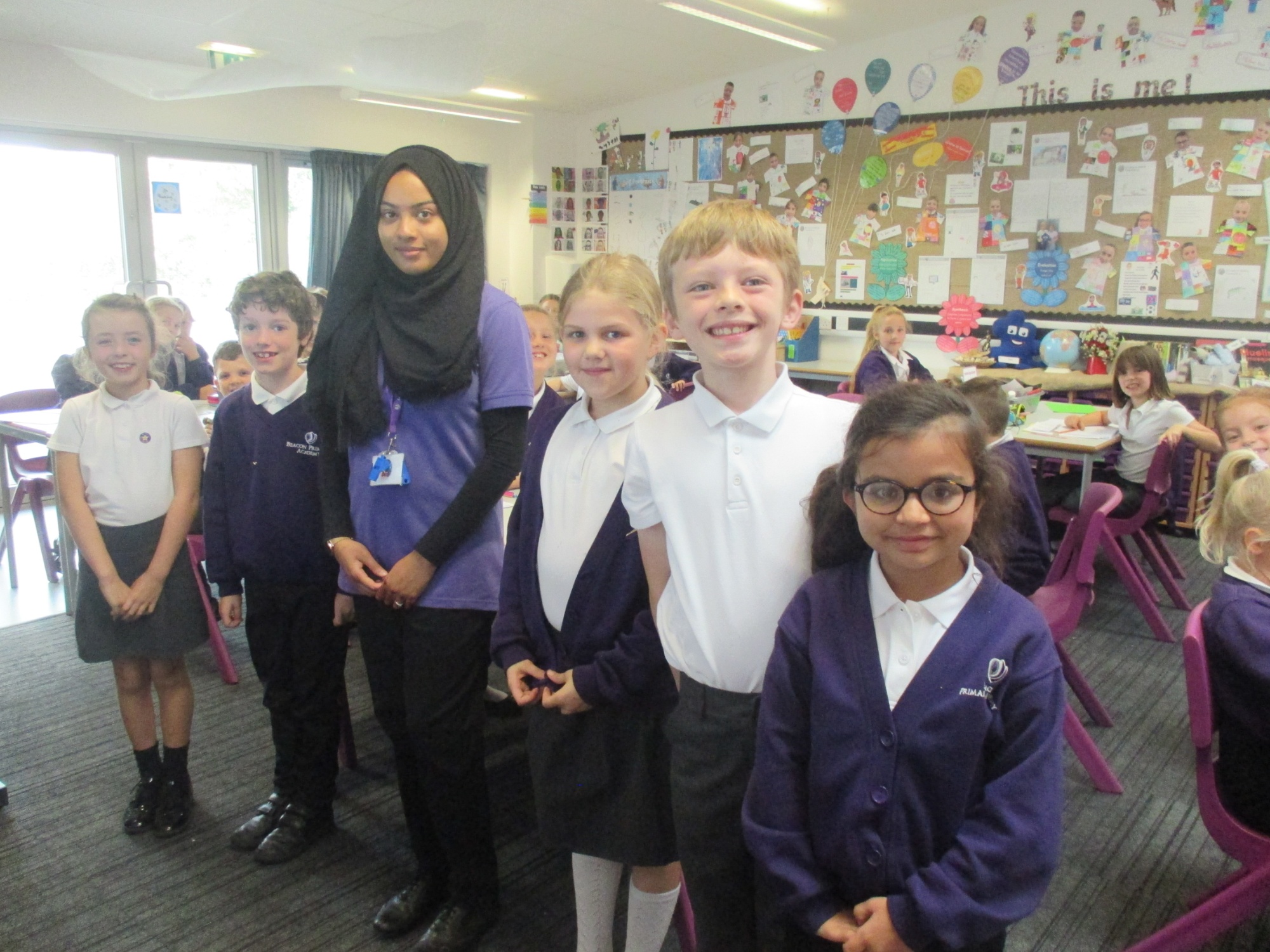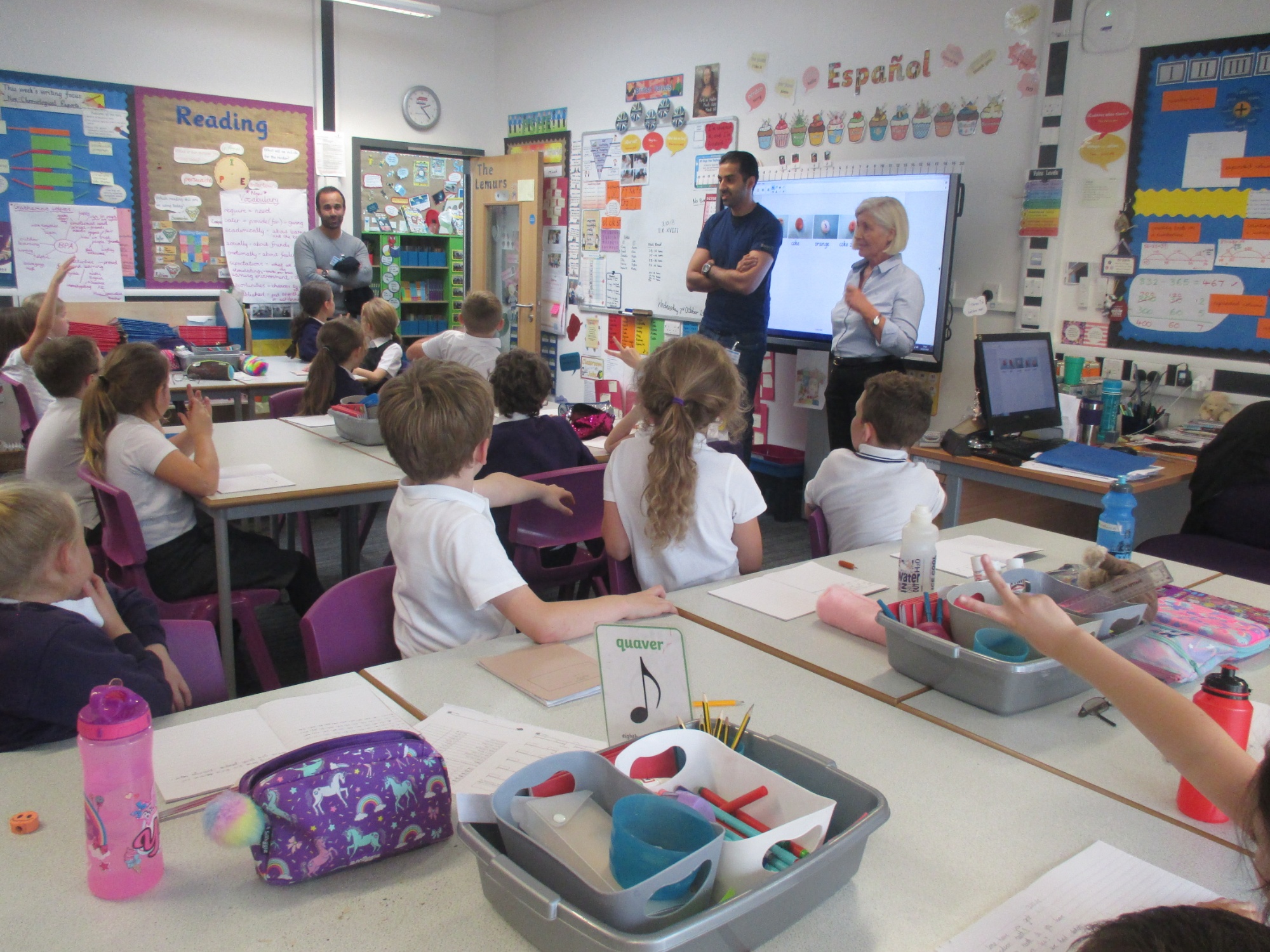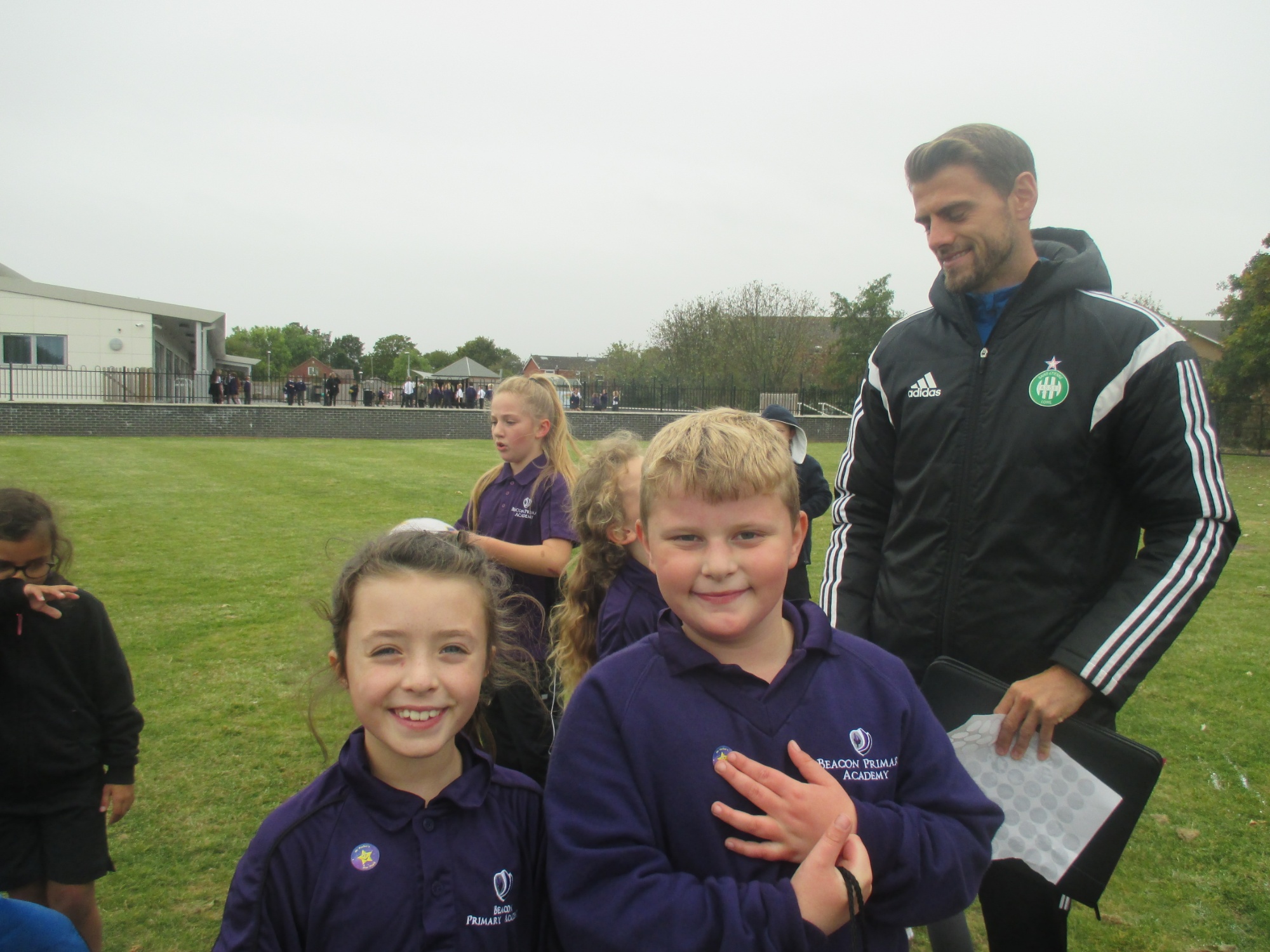 Week beginning 24th September 2018 - Harvest Festival Week!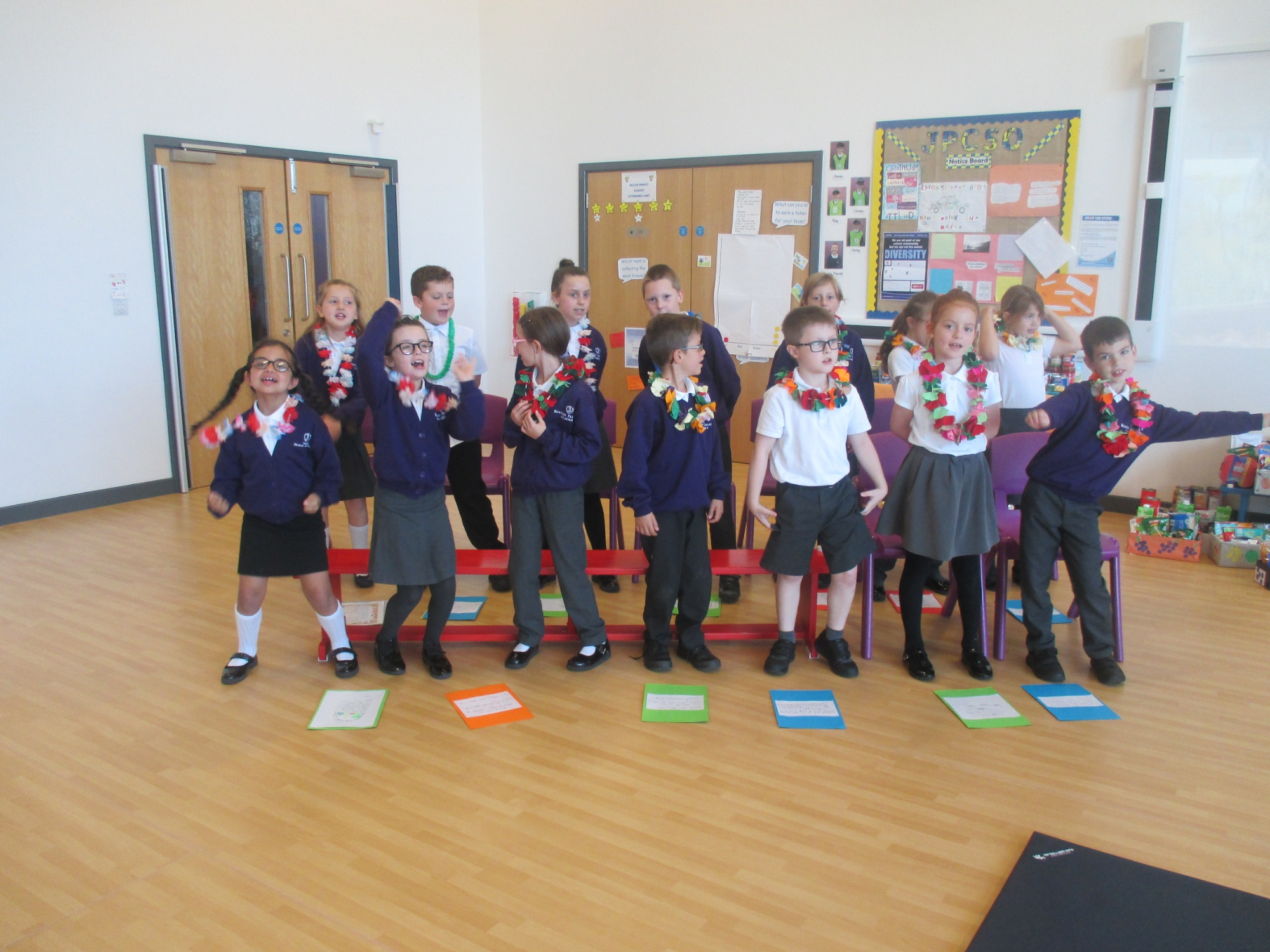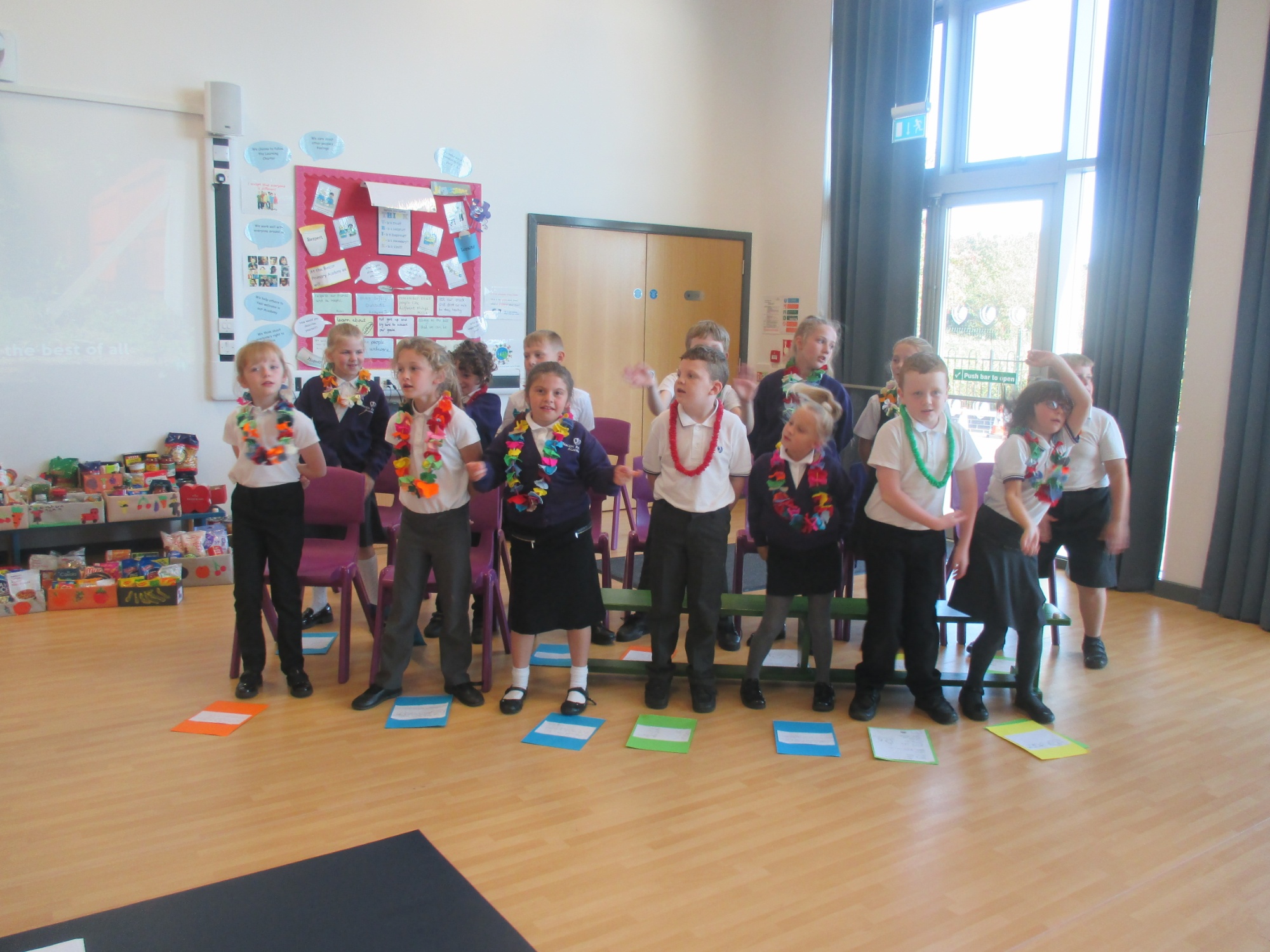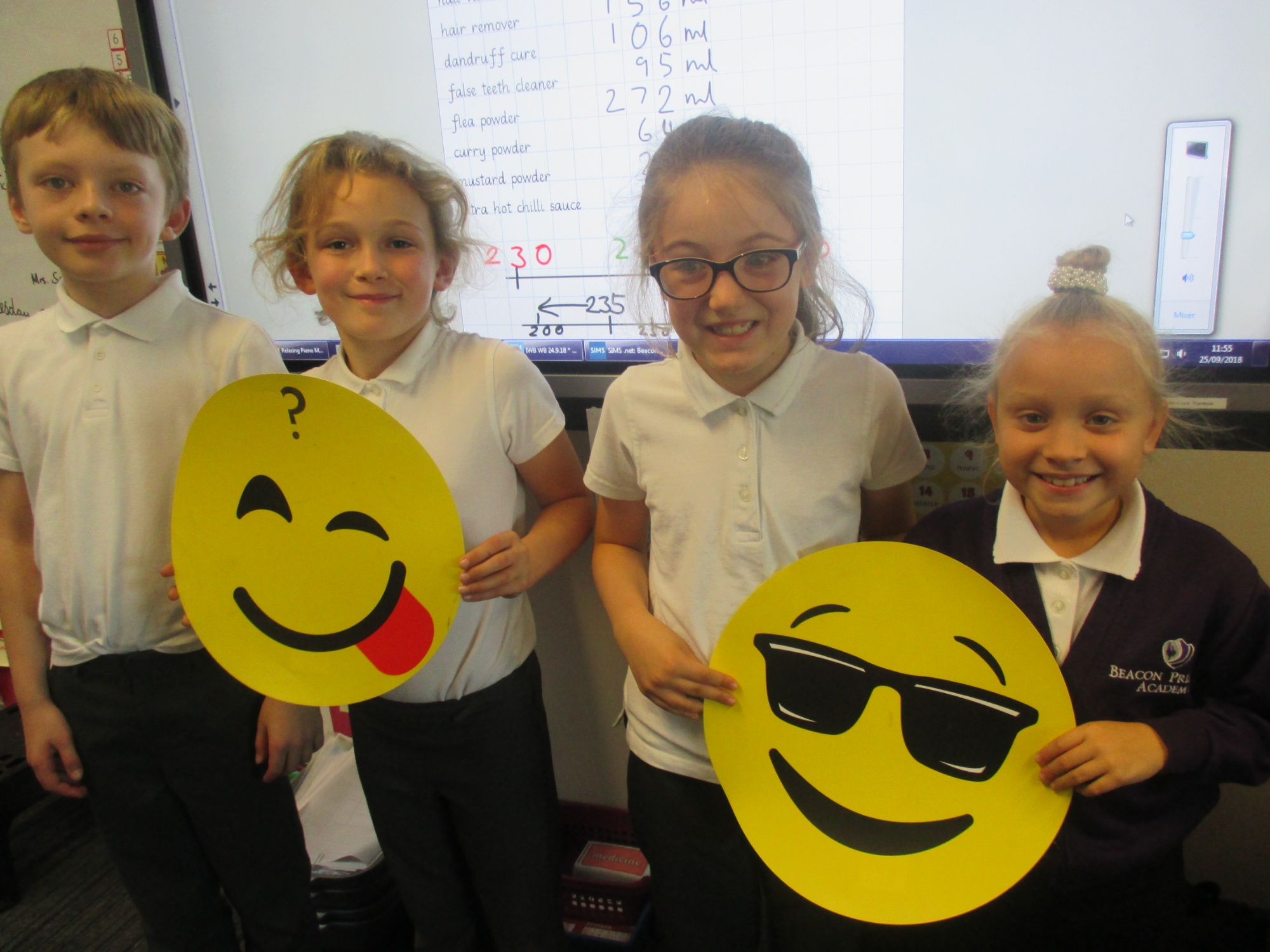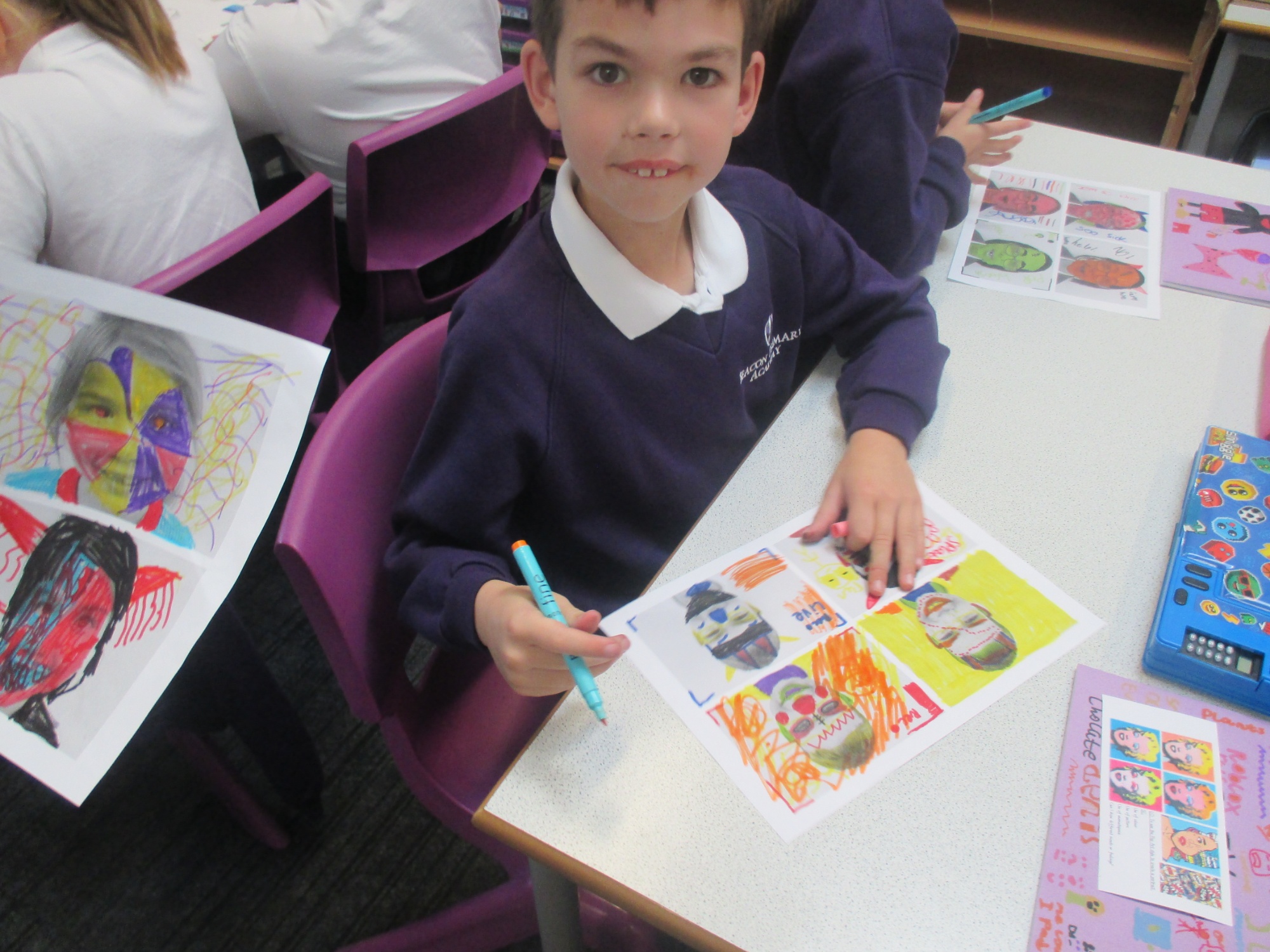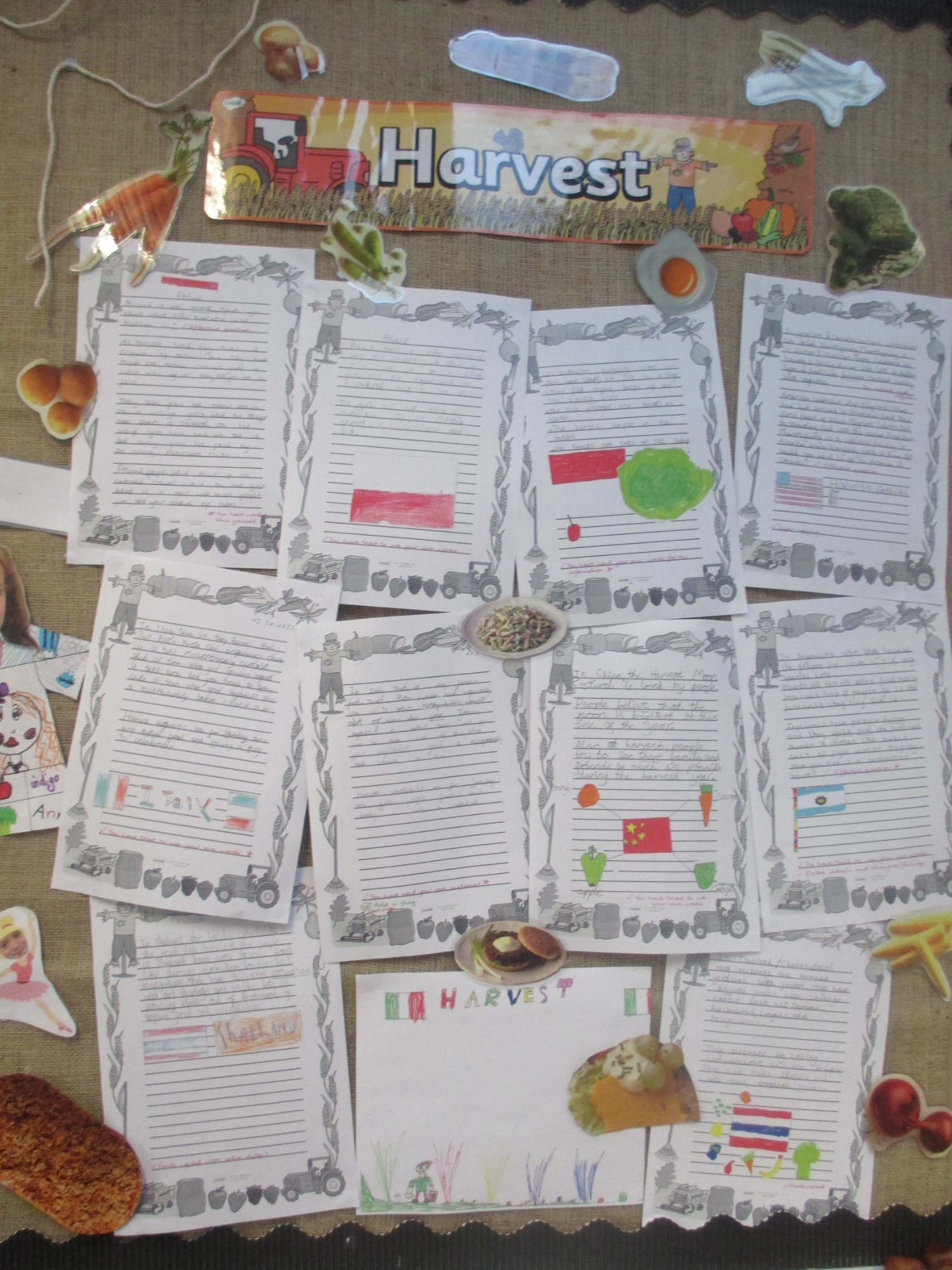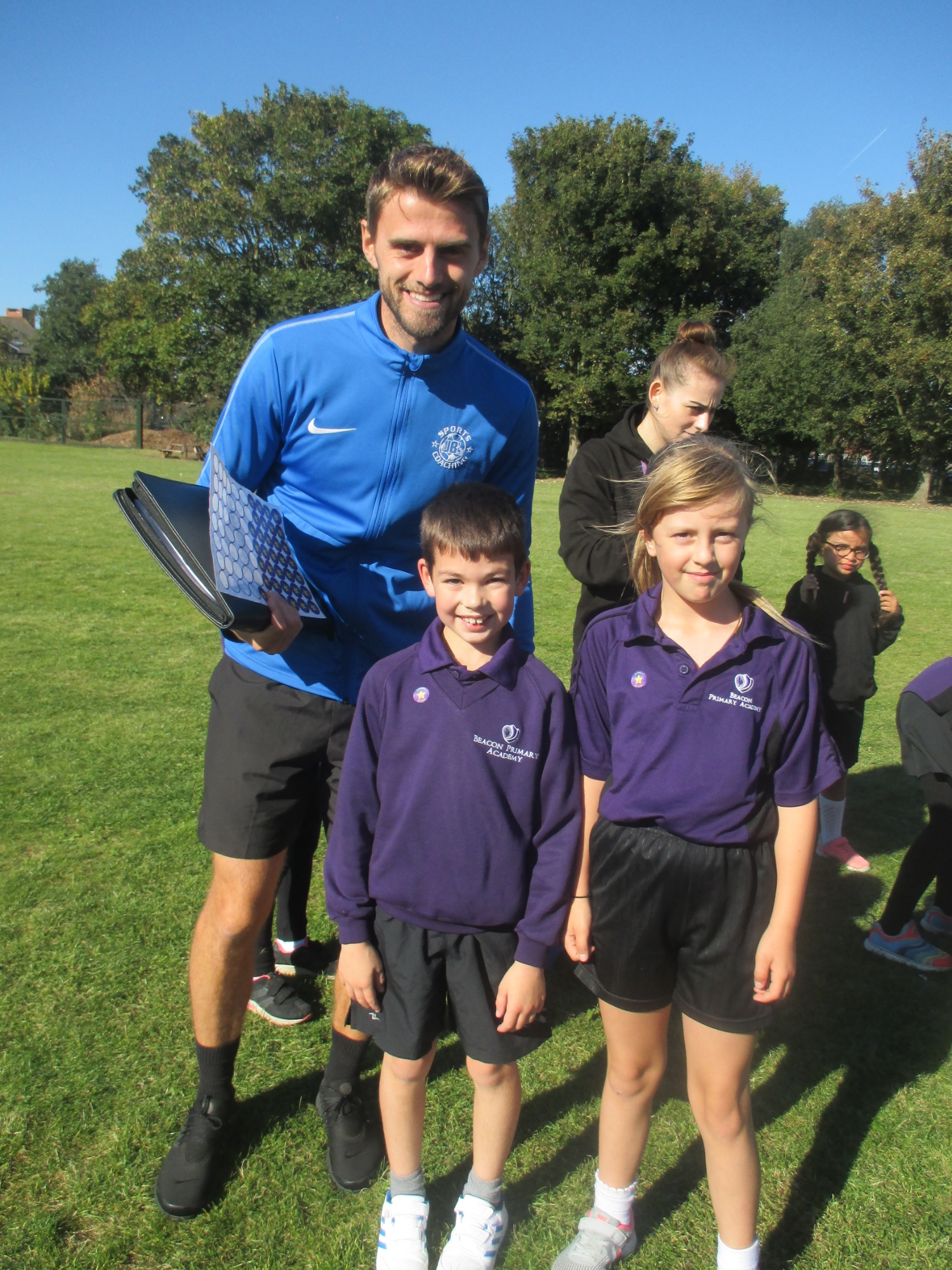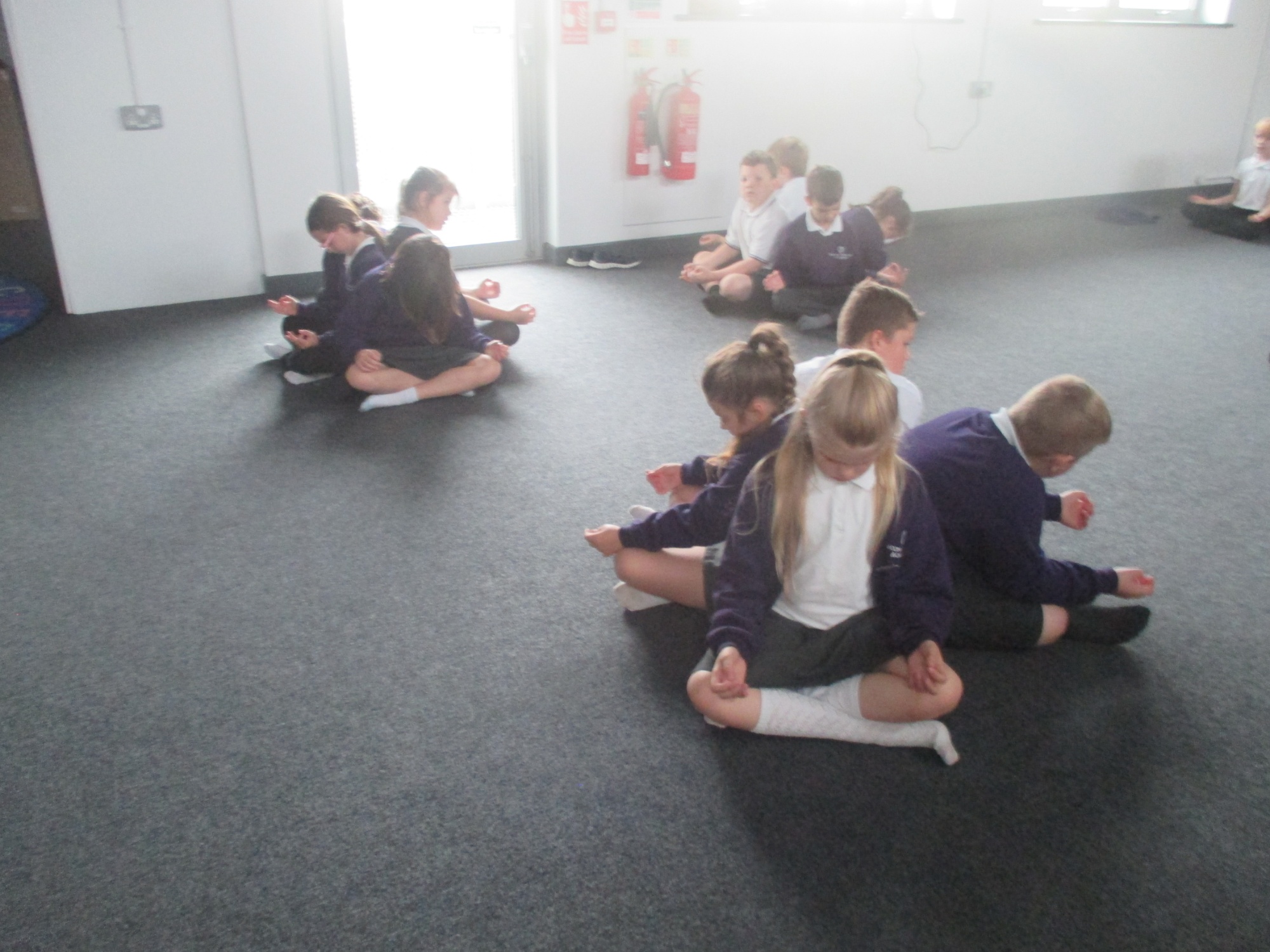 What a busy week! The Y4 team would like to thank you for making our Harvest Festival an amazing success. Please make sure that you check twitter and the home page on this website for our video! Through our Topic, we have created self-portraits in the Pop Art style this week, researched on the iPads about Muslim beliefs, learned about children's rights in PSHE, begun our own choreography in Dance and practised how to introduce ourselves in Spanish. In English, we have been studying the features of non-chronological reports (information texts) on our Science theme about teeth and looked at how we can include our Y4 writing skills. In Maths, we have been rounding numbers to the nearest 10, 100 or 1000 as well as tackling our weekly speed challenges. Keep practising those times tables at home!
Week beginning 17th September 2018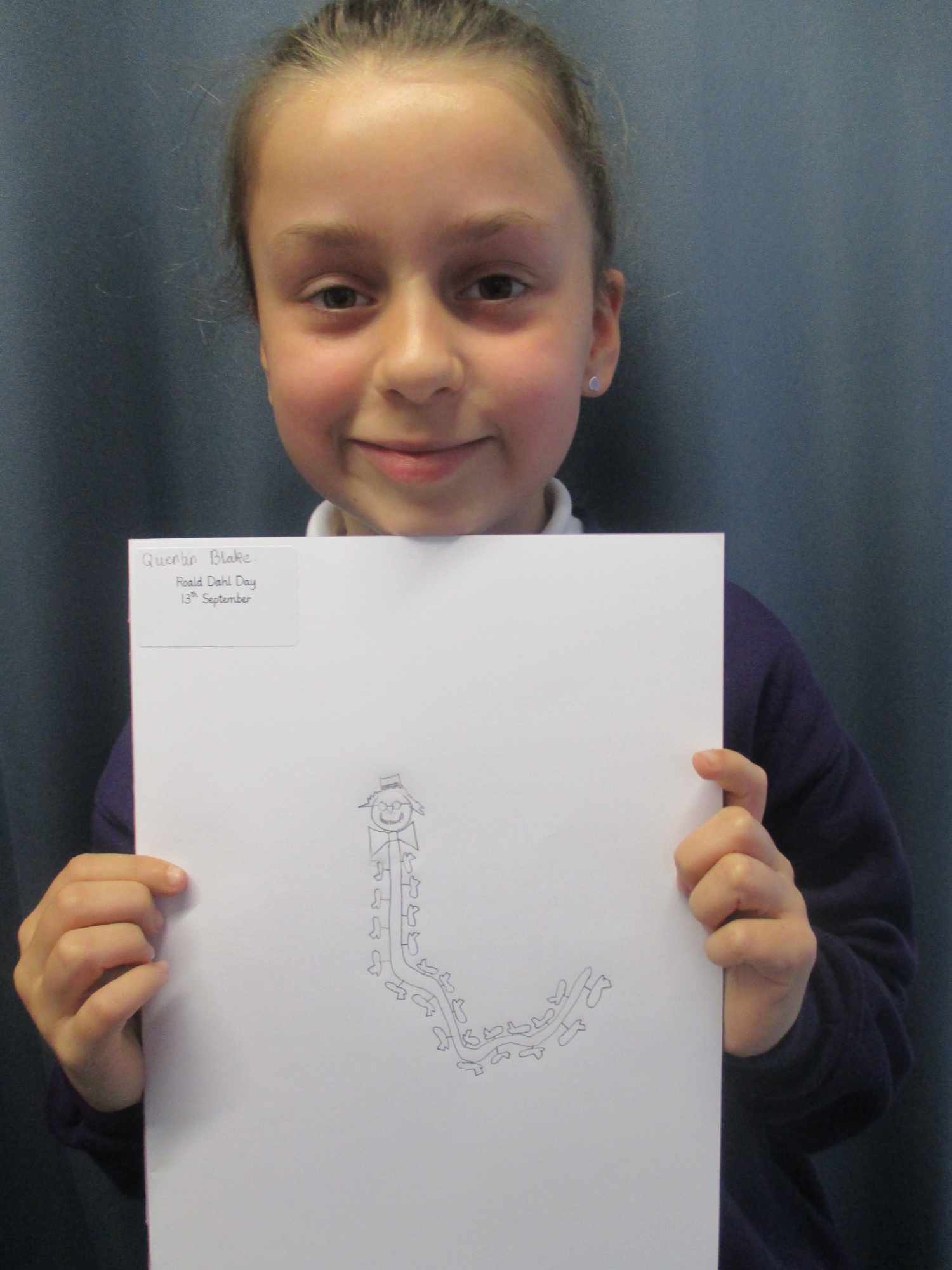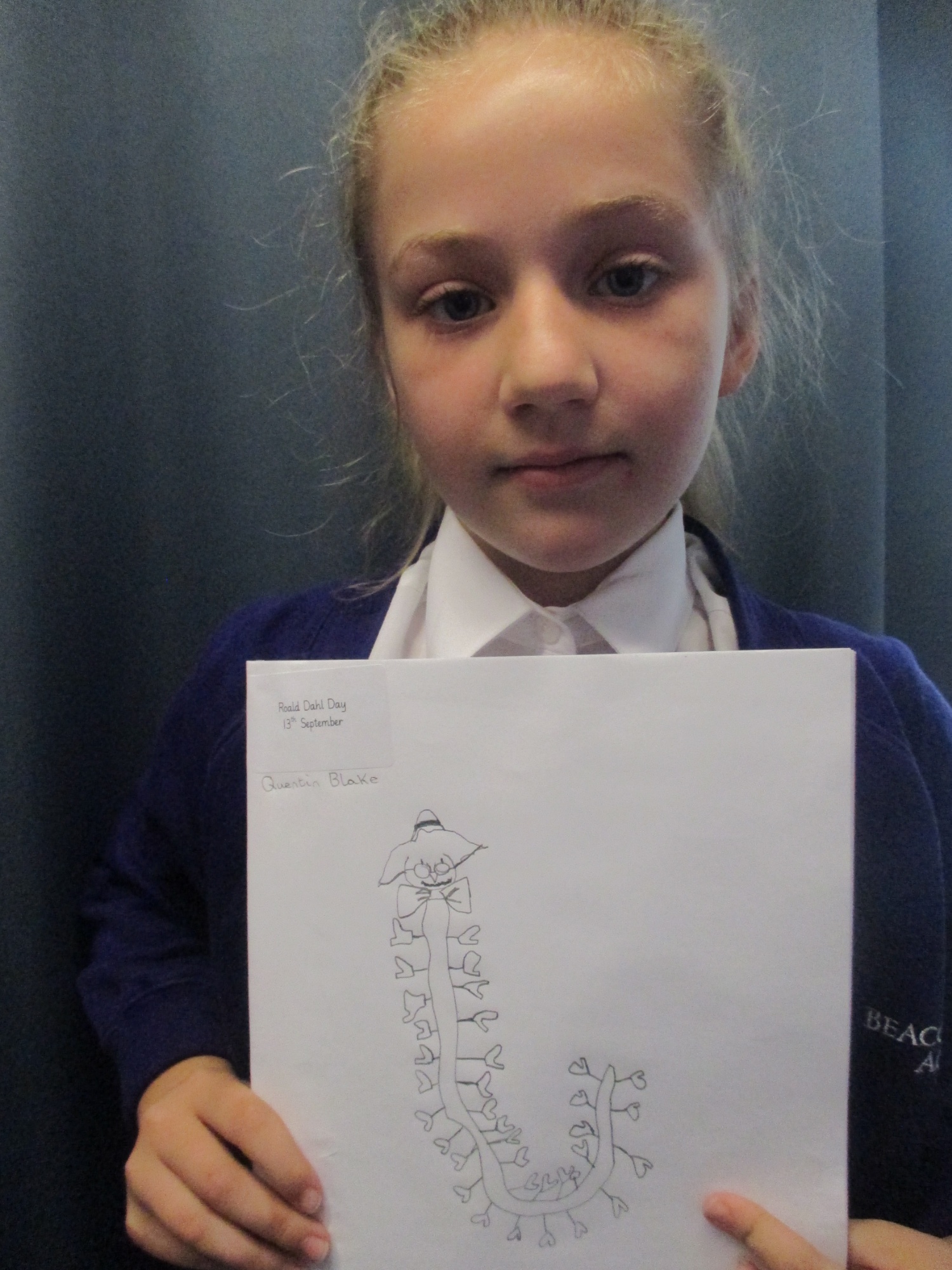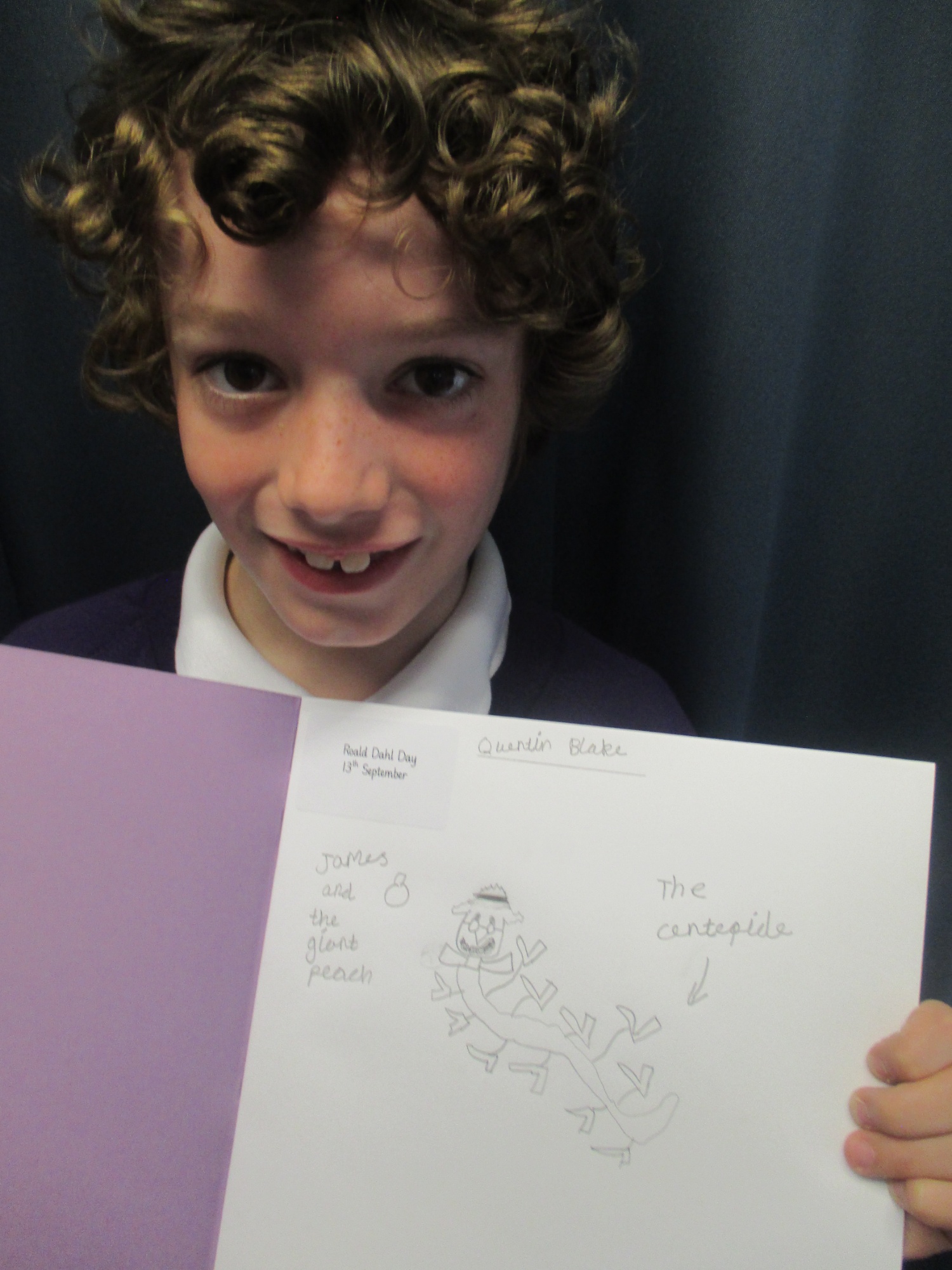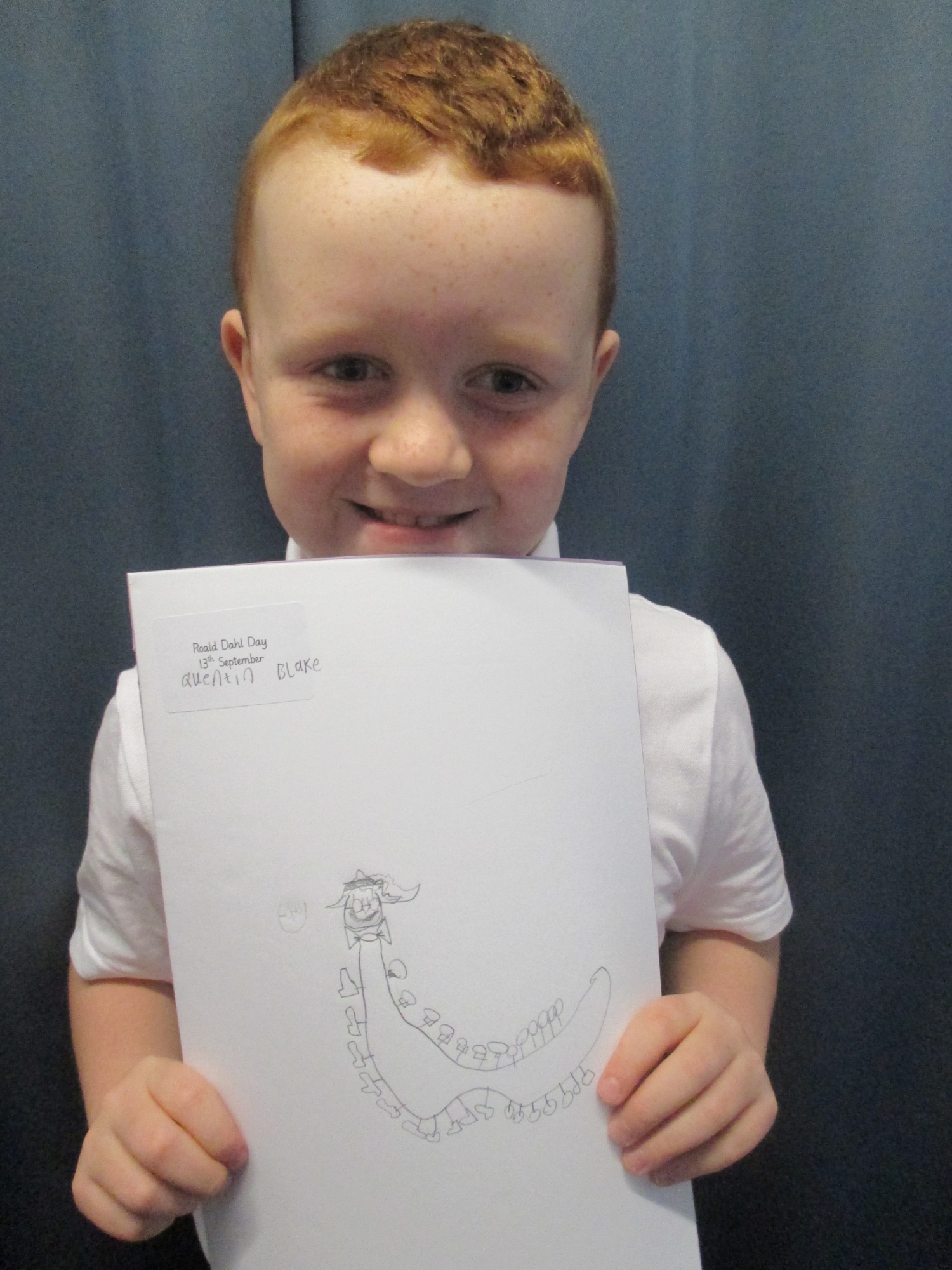 Quentin Blake sketches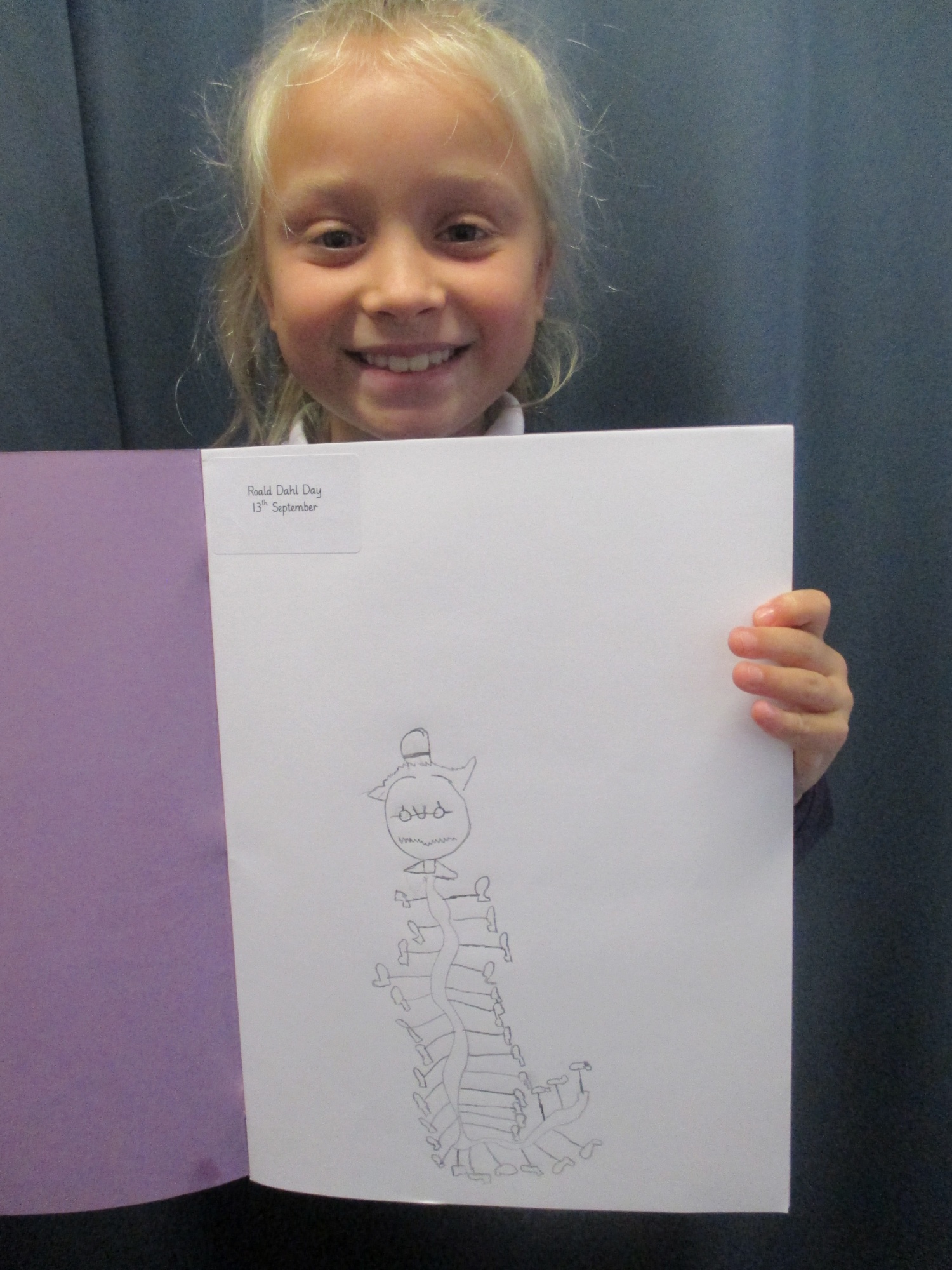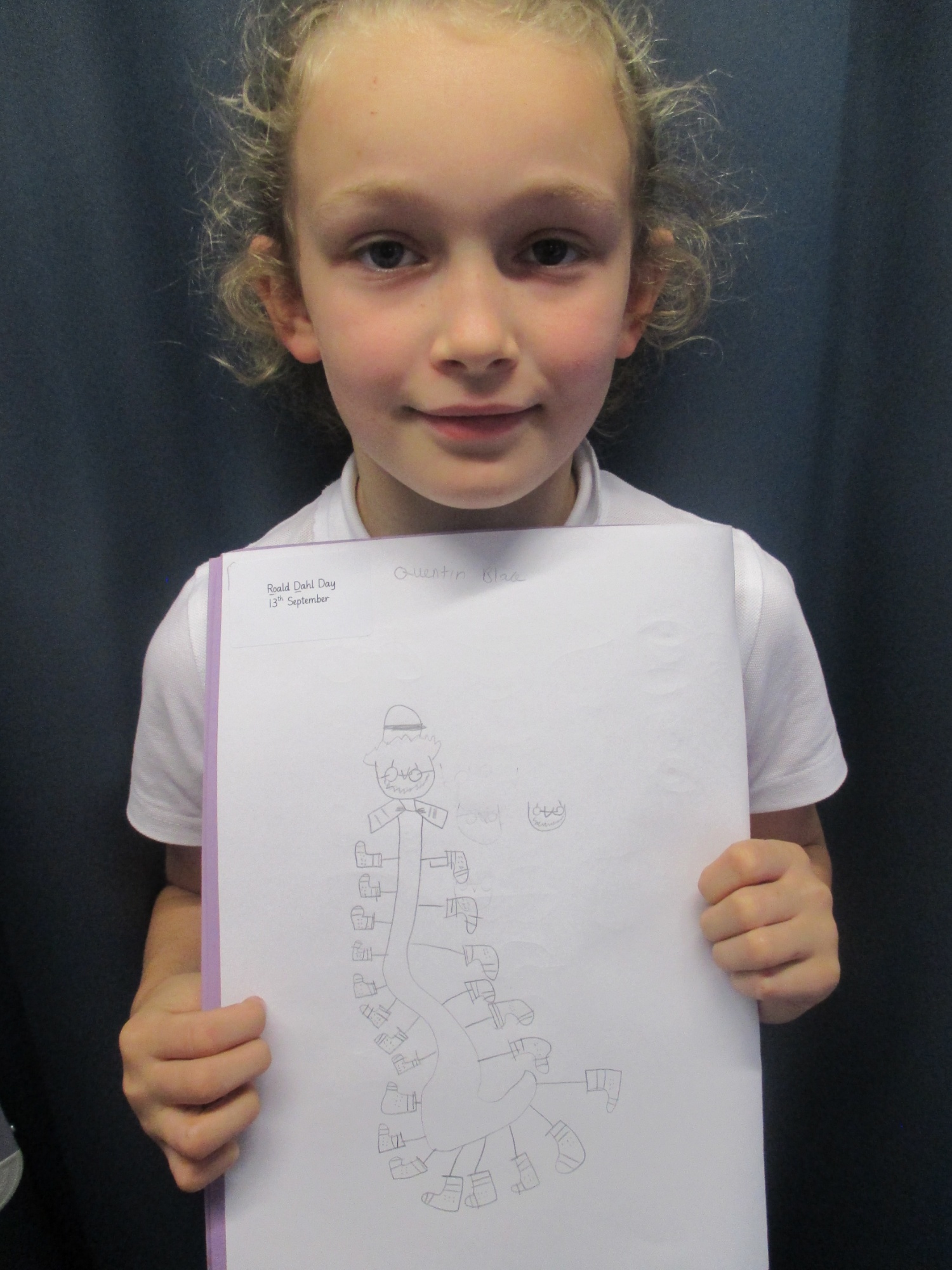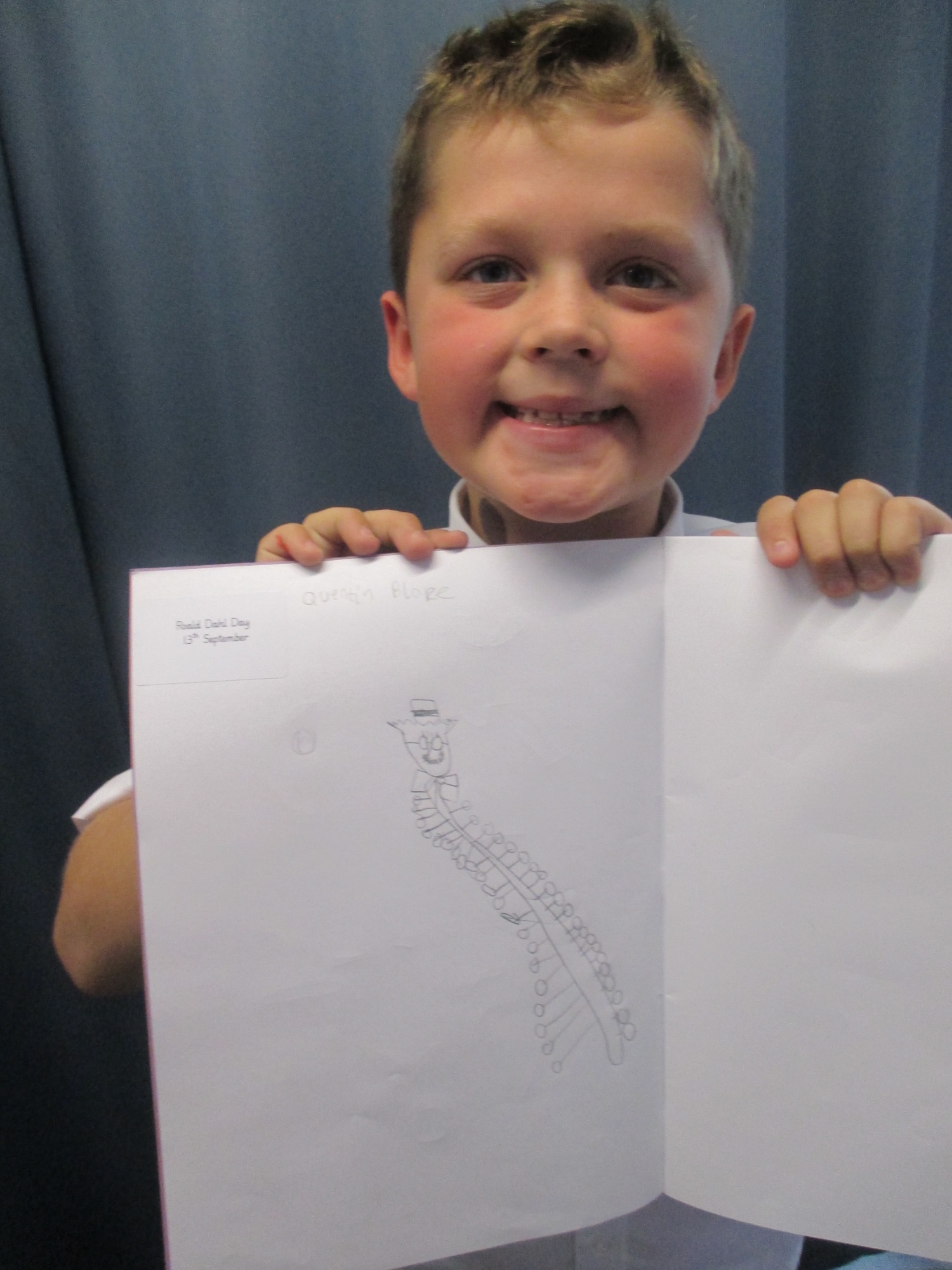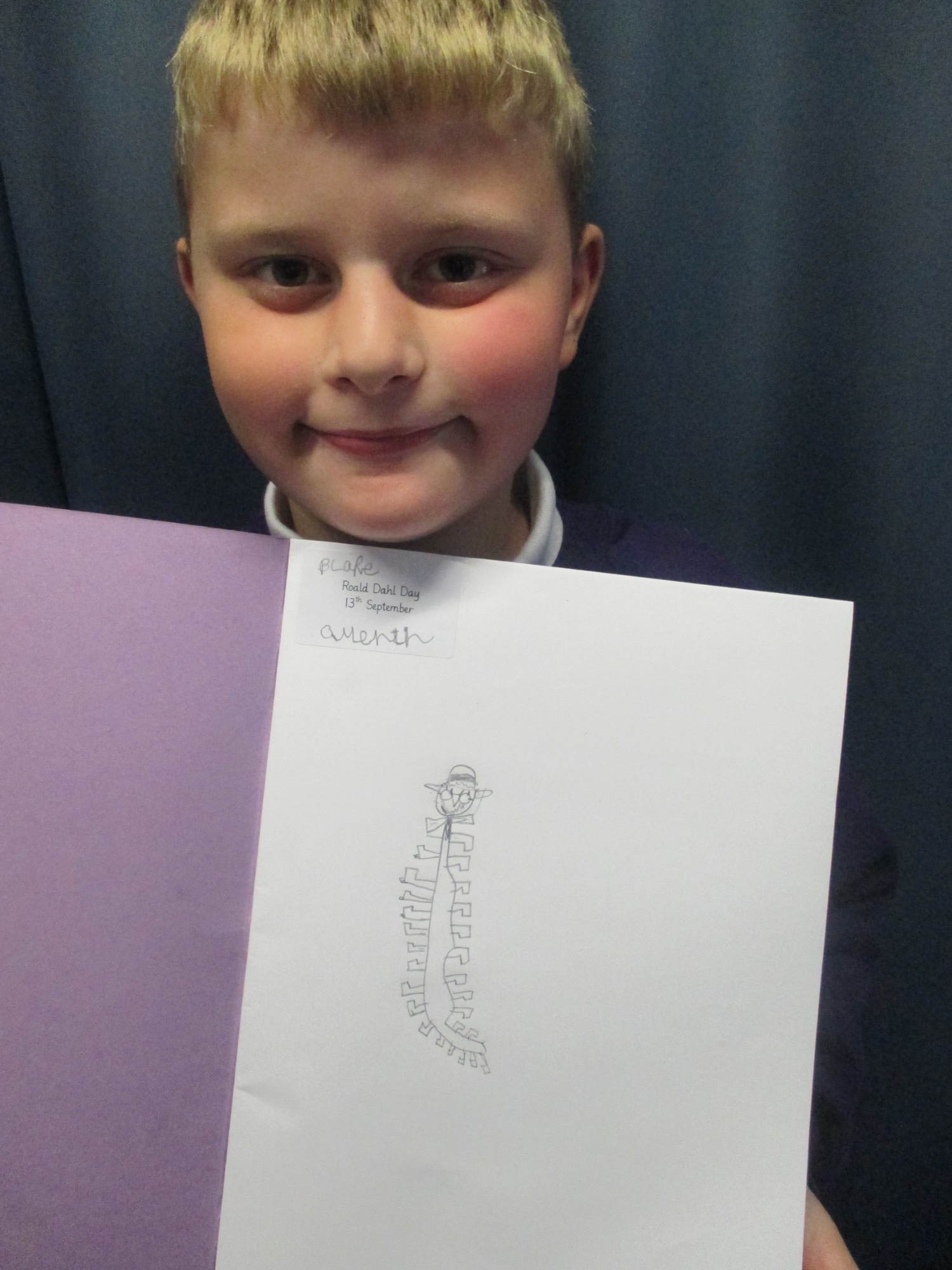 The Lemurs have had another great week of learning. We have been applying our writing skills to our harvest poems, information texts and persuasive letters as well as investigating the spelling of verbs ending in the '-ing' suffix. In Maths, we have been counting in many different multiples as well as taking on the '10 minute challenge' of mixed questions, and 'Beat the Clock' times table test. We will try to improve our scores and speed each week! We have been learning about the roles in our school community in PSHE and internet safety in Computing. We cannot wait to see the results of our Science enquiry; please ask us all about it! Amazingly, the illustrator Quentin Blake liked one of our tweets about our drawings of his characters on 'Roald Dahl Day'. This really made our week!
Week beginning 10th September 2018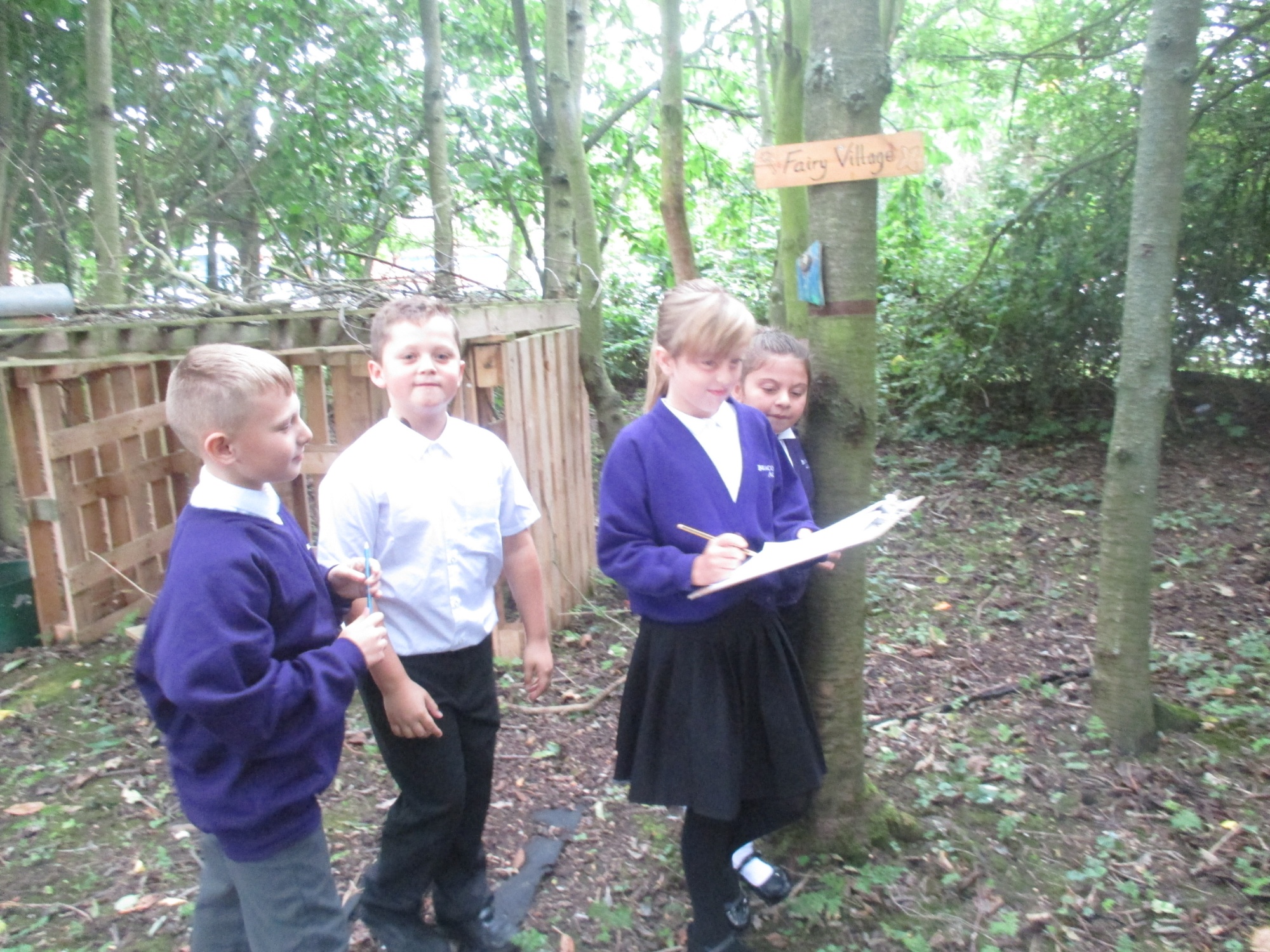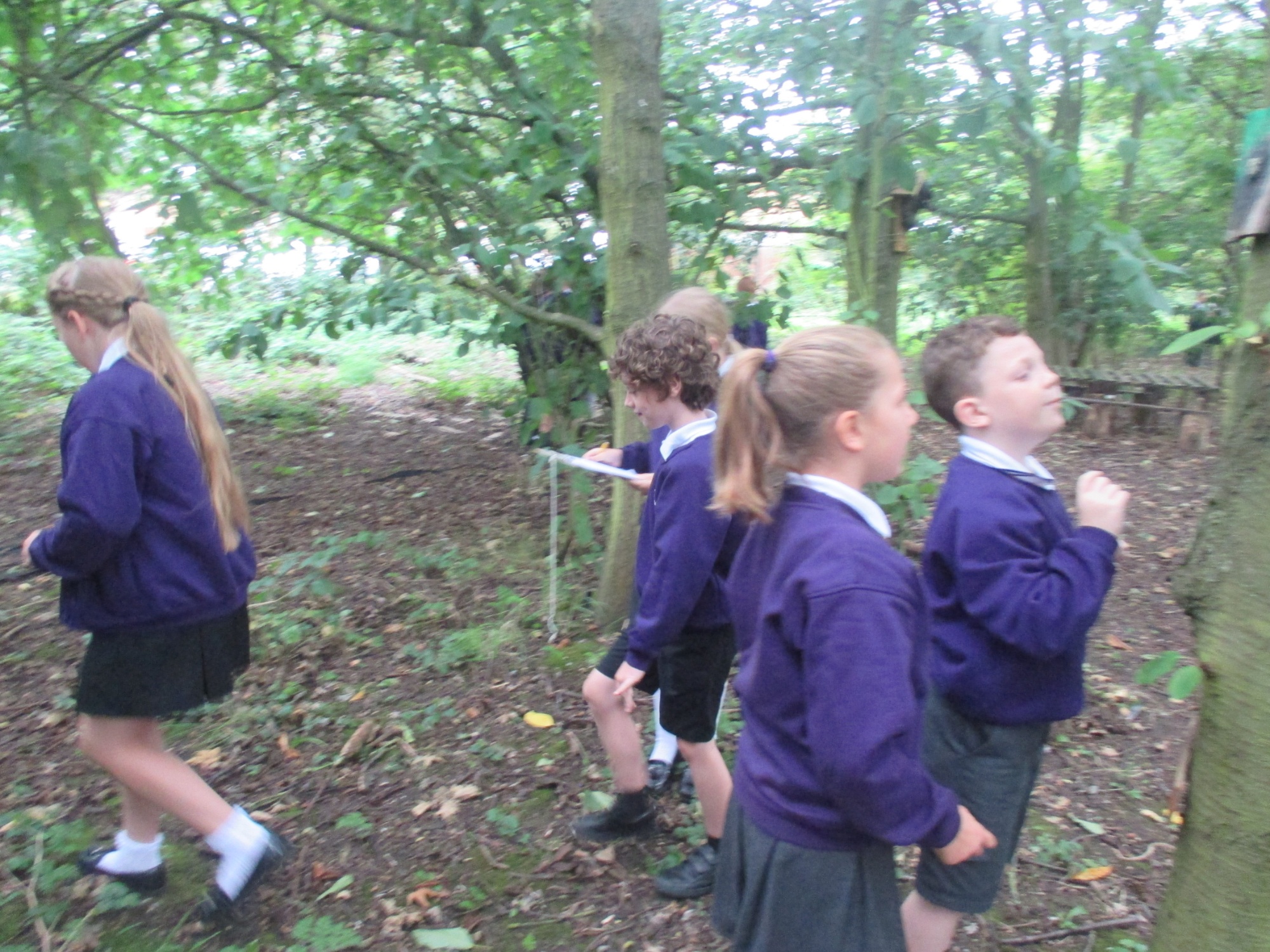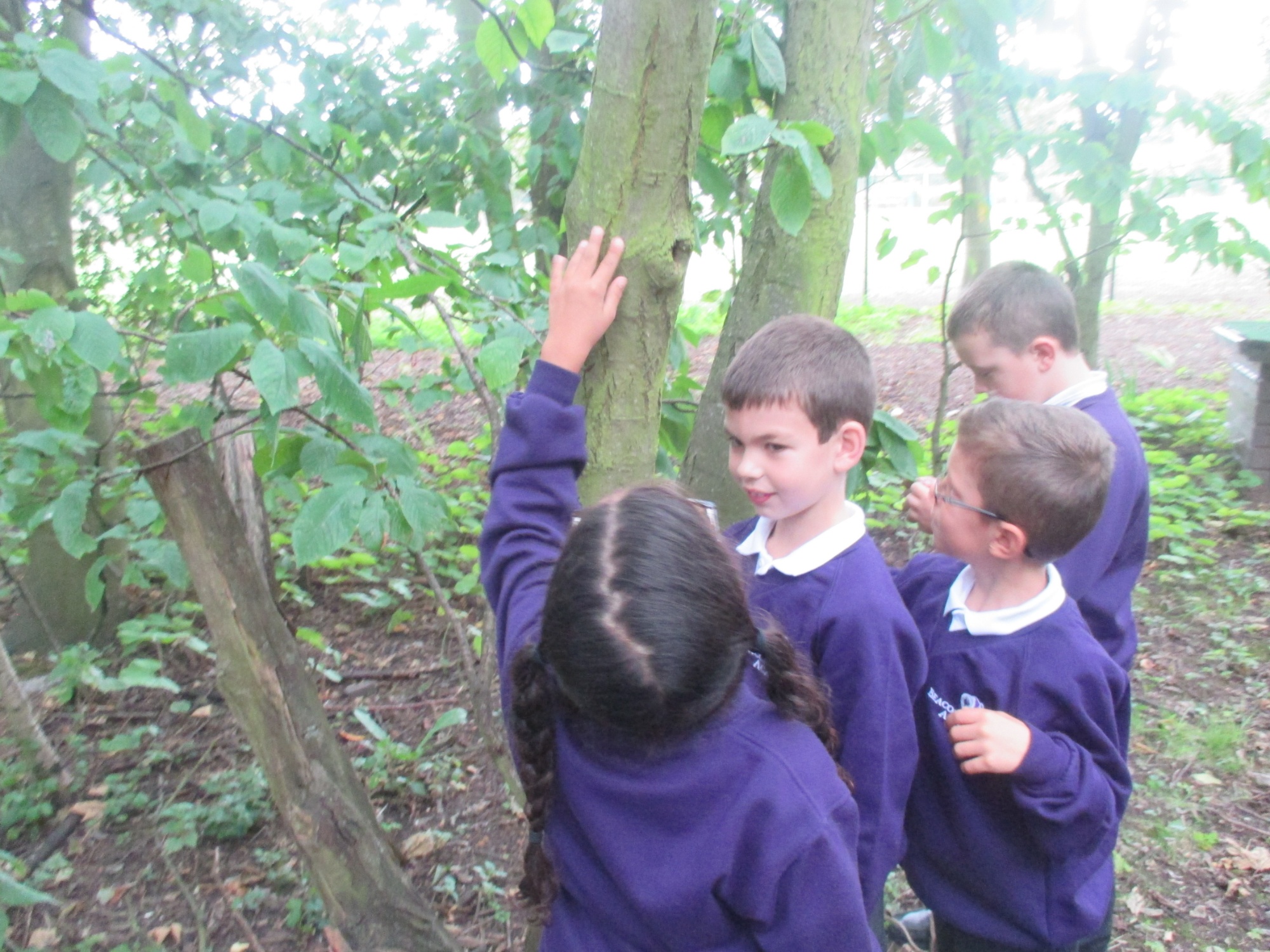 The Lemurs have been working hard with their place value calculations and problems in Maths and have been learning about our different types of teeth and their functions in Science. In English, we had a senses hunt in our woodland area to inspire our poetry writing and it really has helped our creative writing this week! We have started our self-portraits in Art, using our sketch books to practise different ways of drawing our facial features and have been thinking about teamwork in PSHE and how our attitudes and actions can have a big effect on others.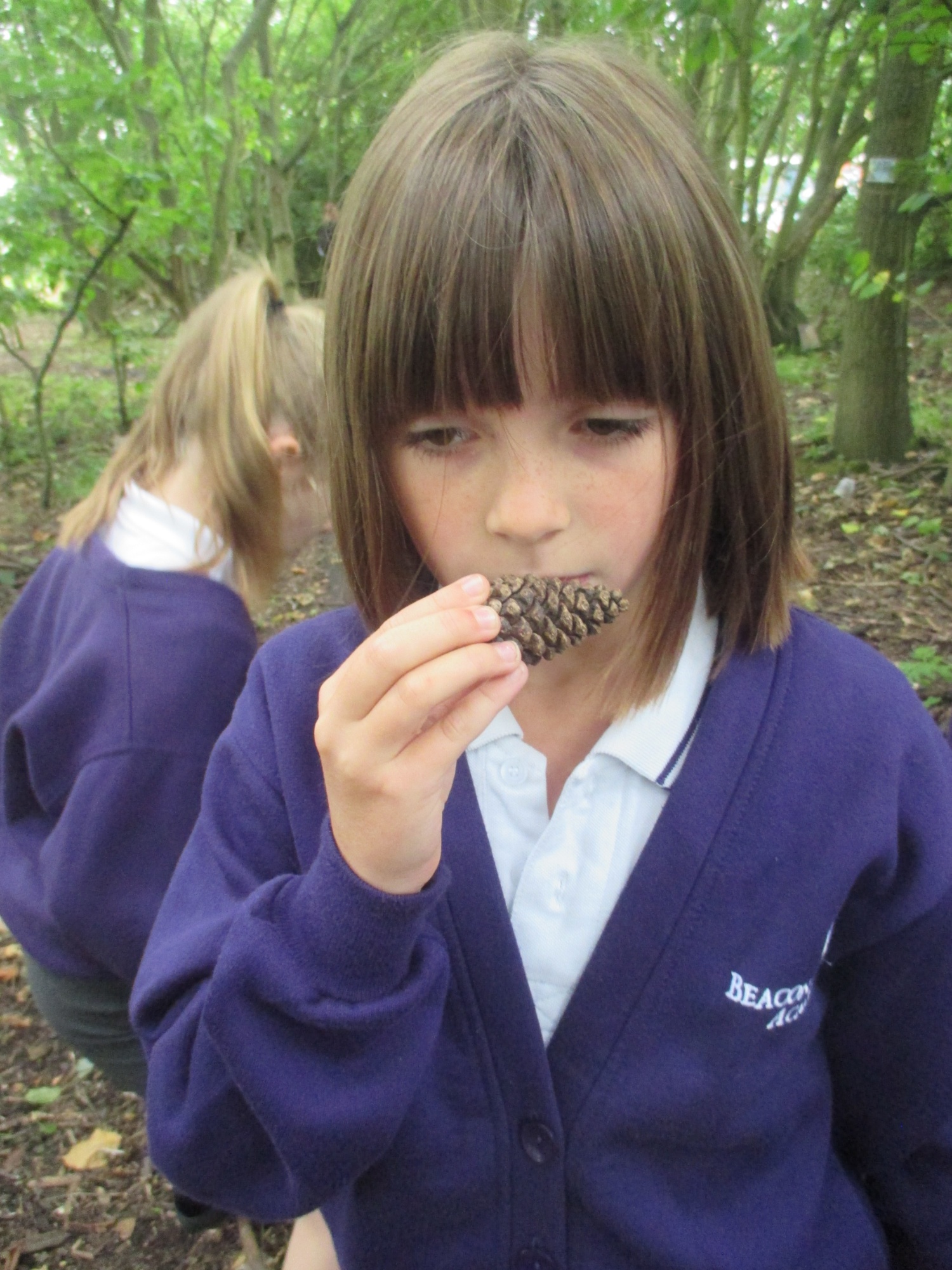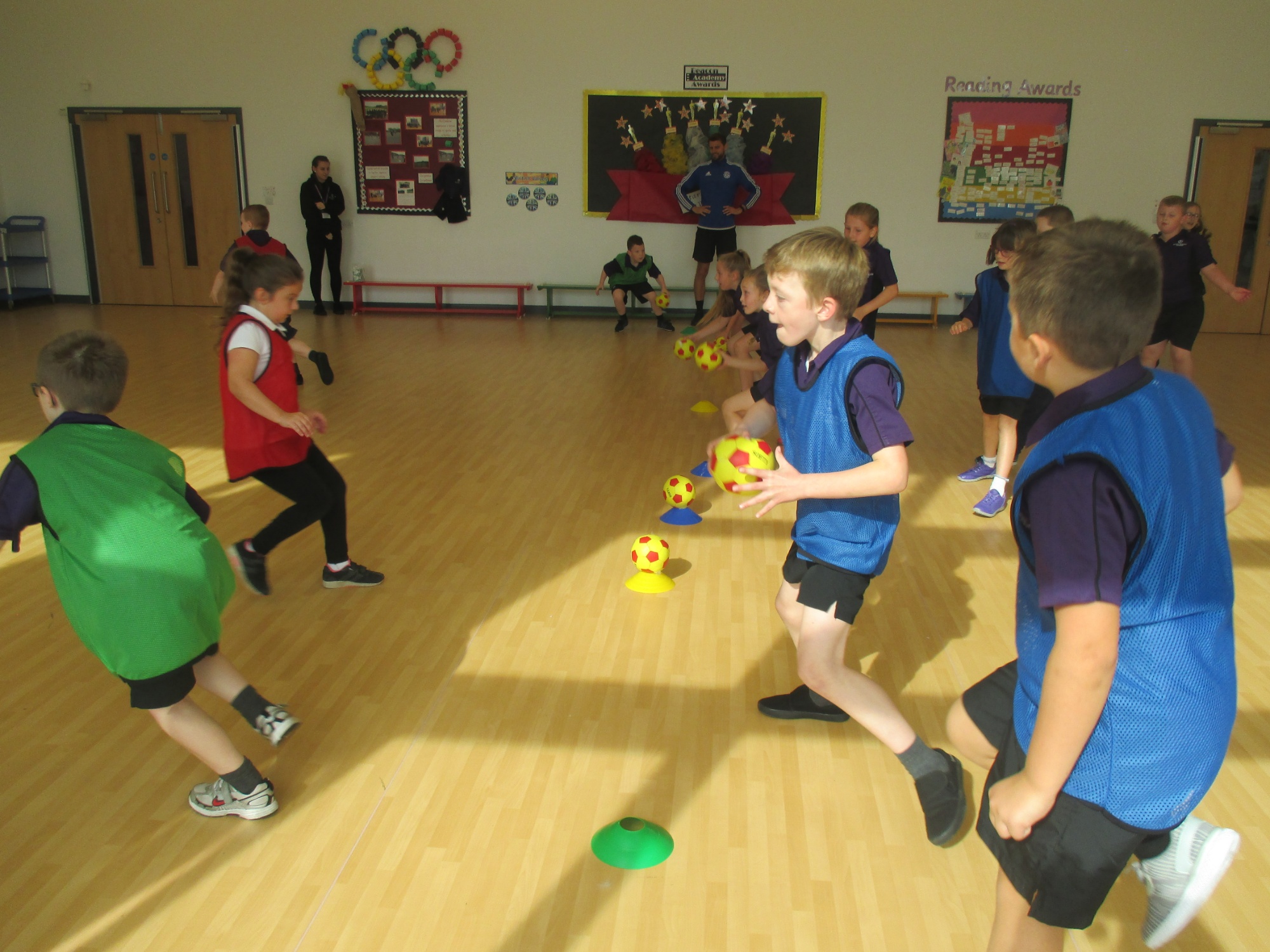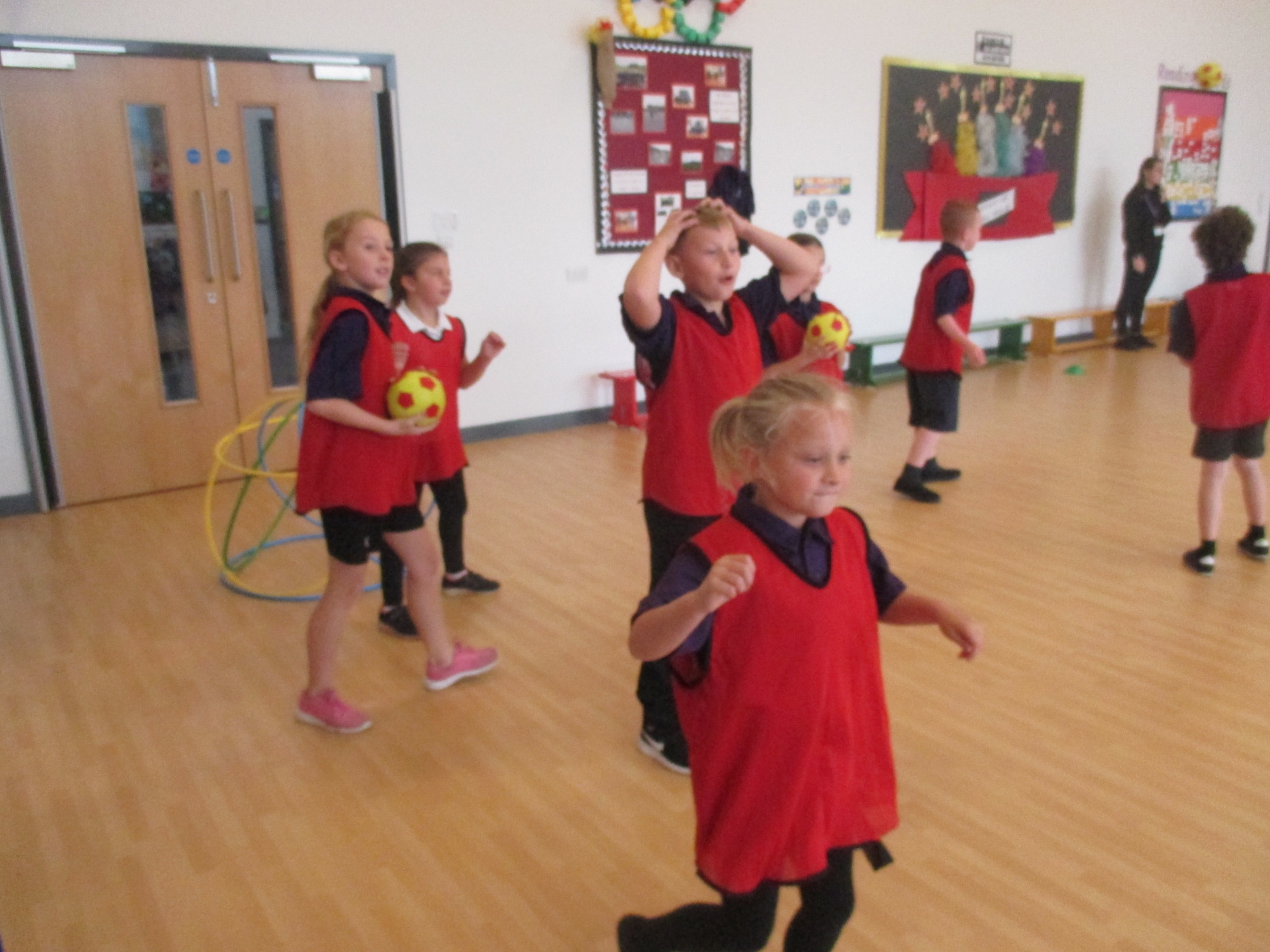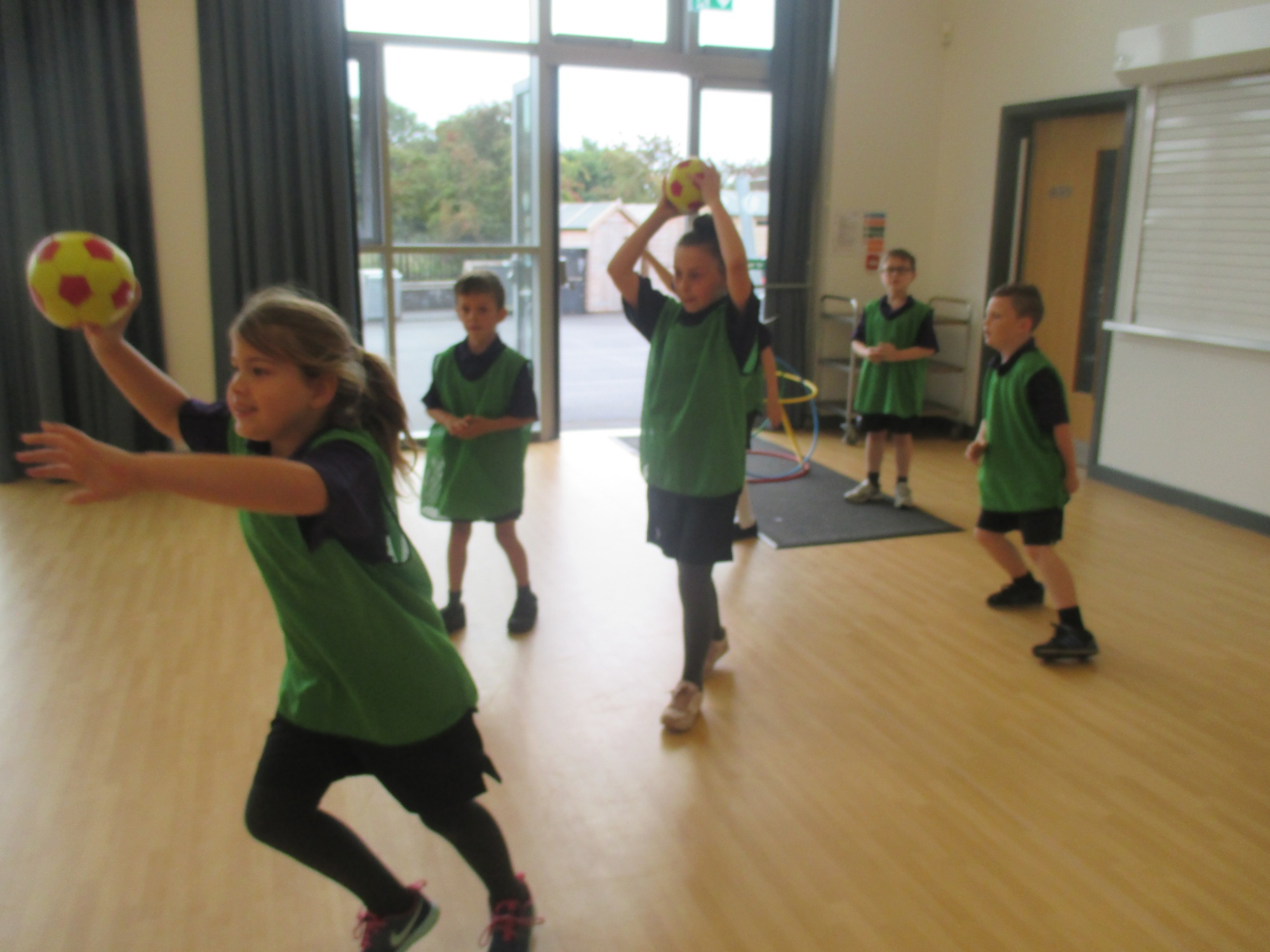 Week beginning 4th September 2018
The Lemurs have had a super first week full of learning! In English, they have been revising nouns, verbs, adjectives and adverbs whilst creating descriptive writing about a short film. We used this video in Guided Reading to explore the character's feelings and how they are shown through the film. This is something that you can do with your home reading too!
In Maths, we have been learning how to read and write Roman numerals. Can you find more at home?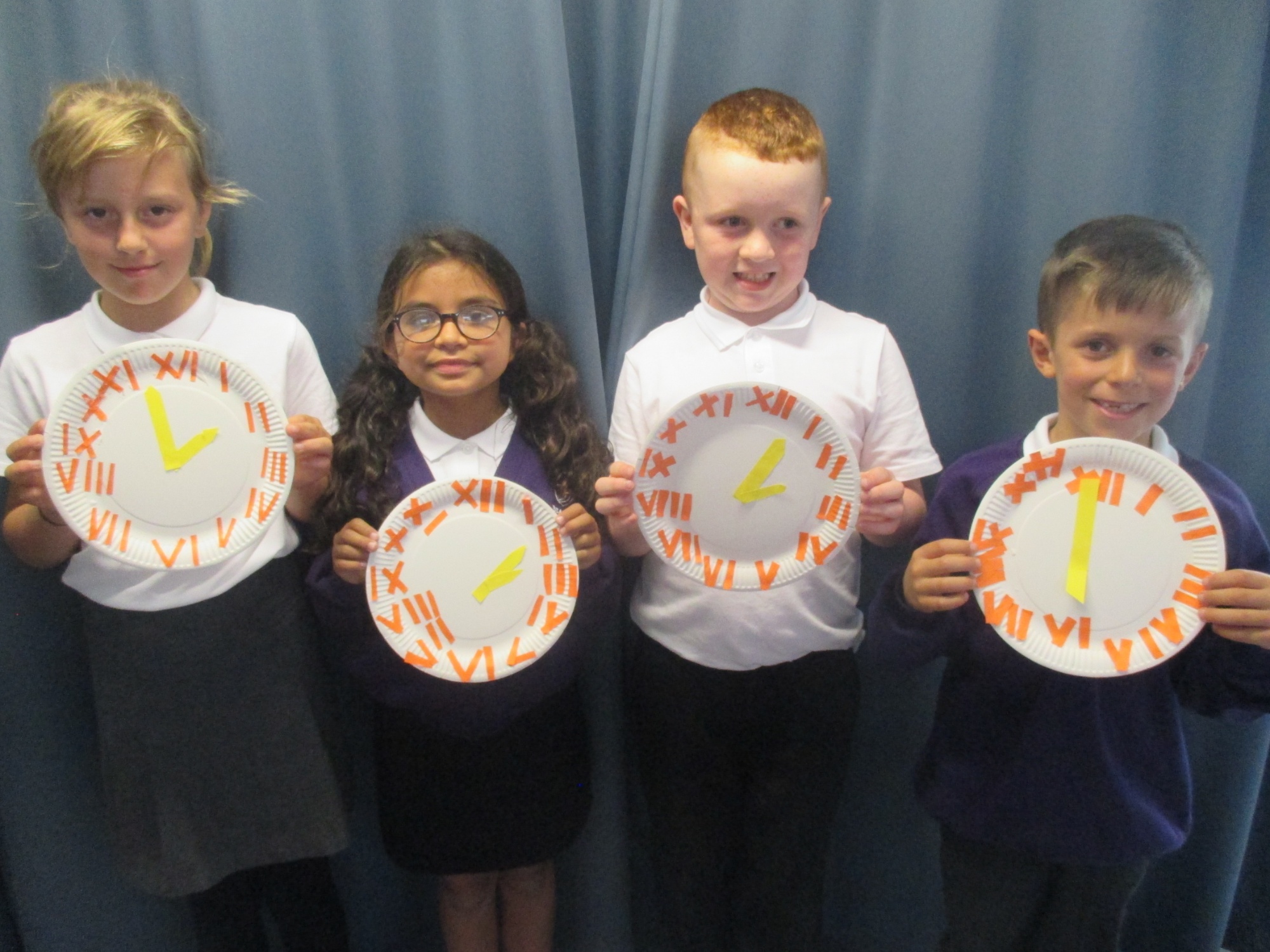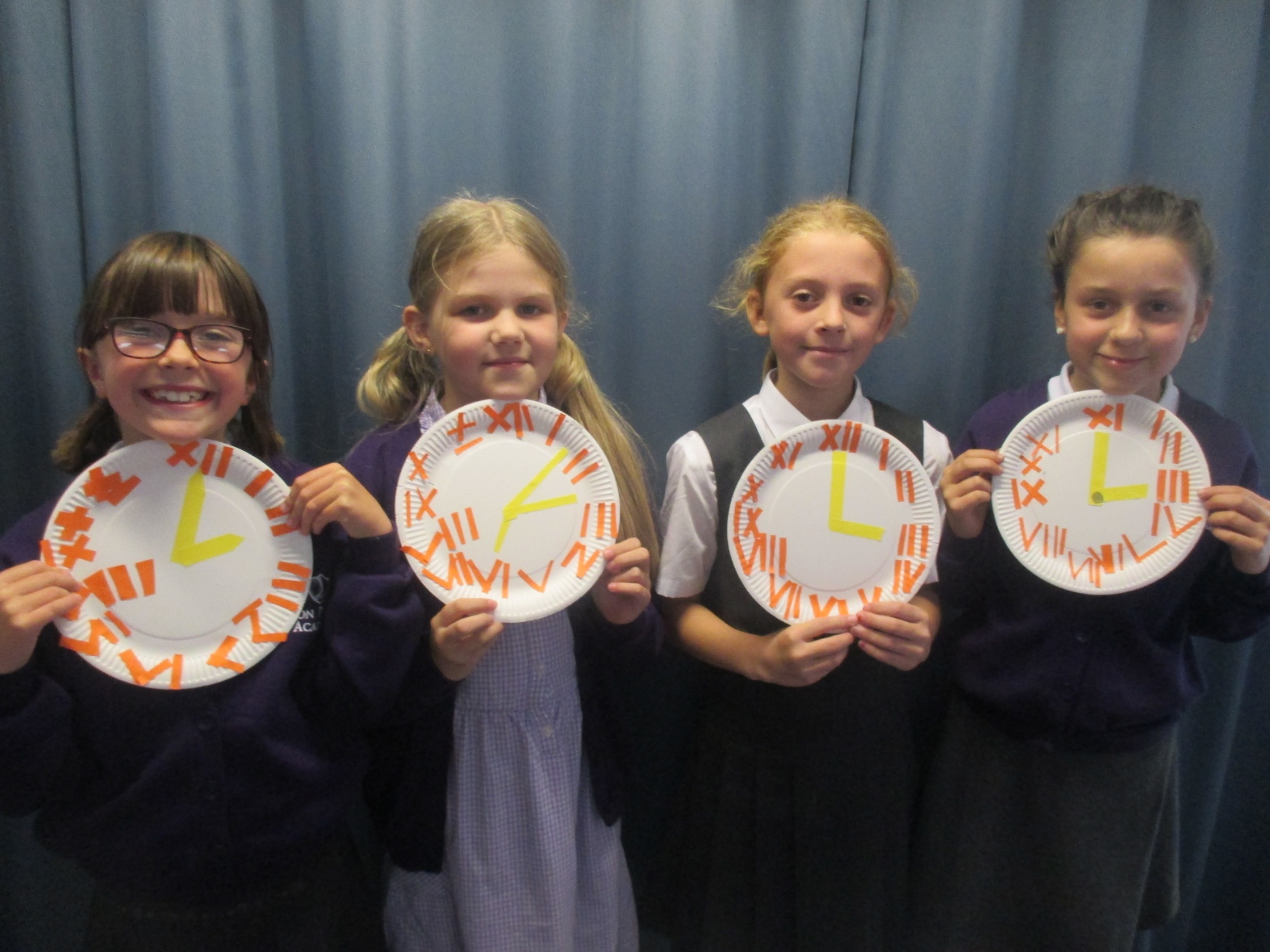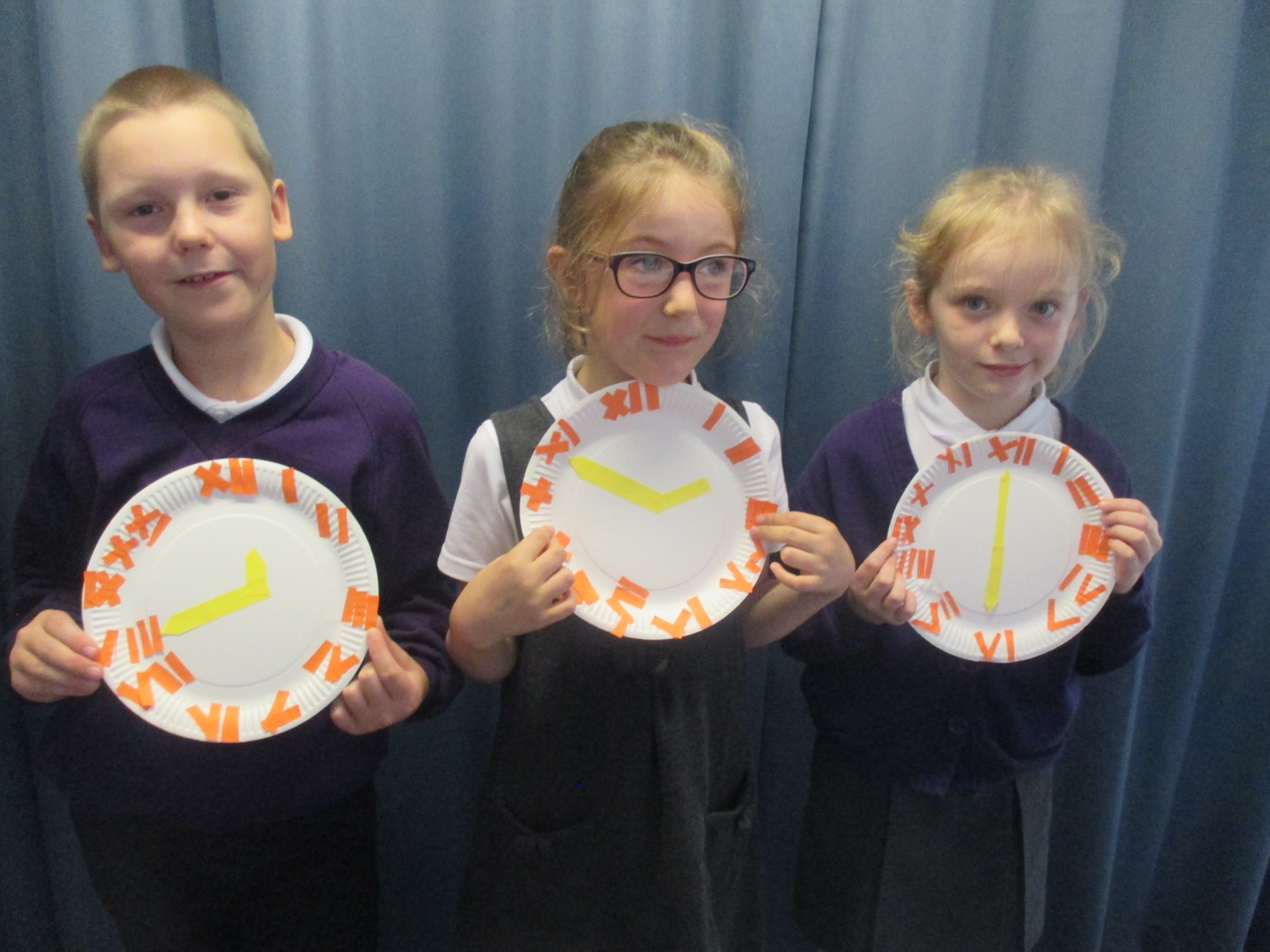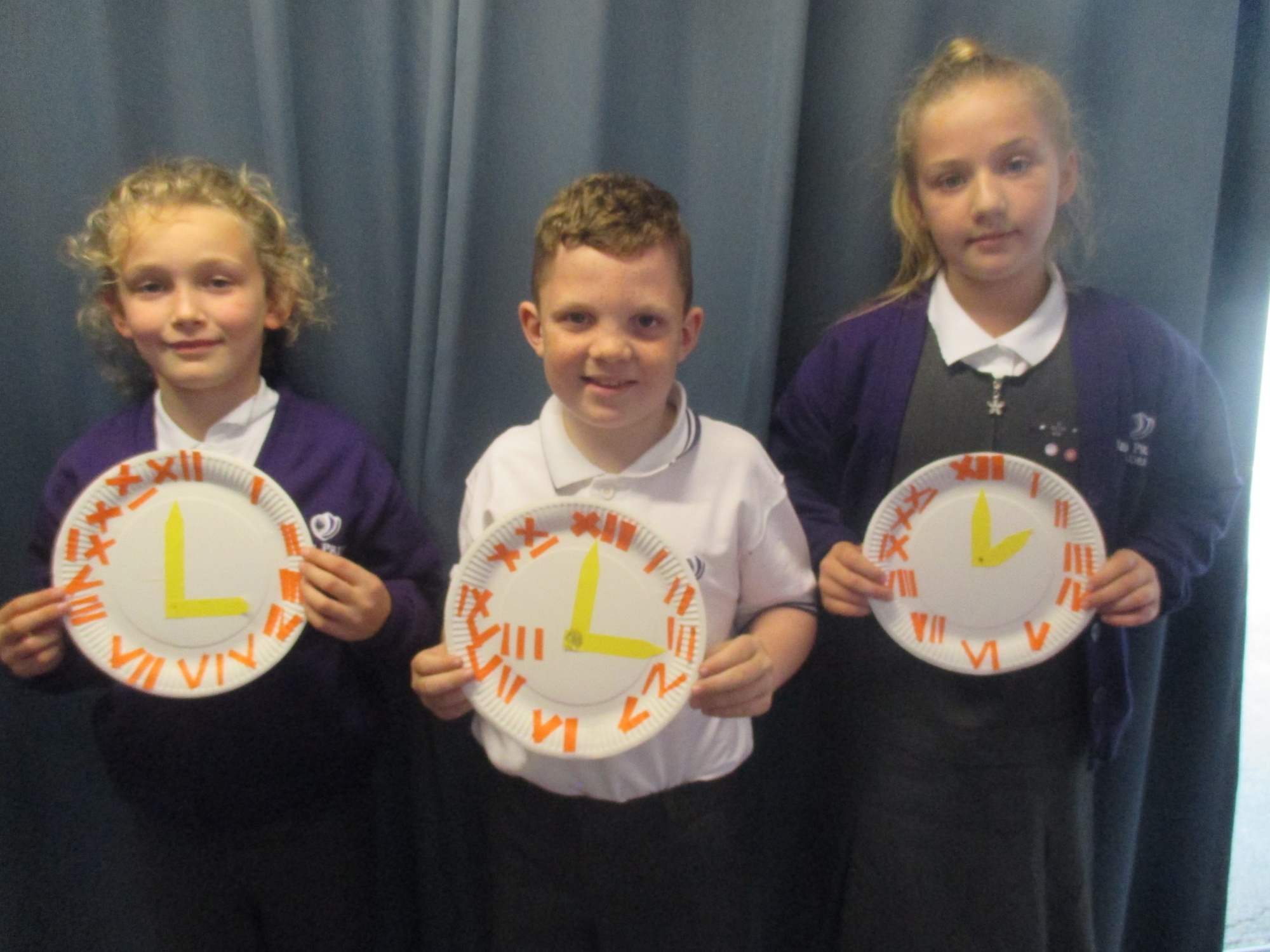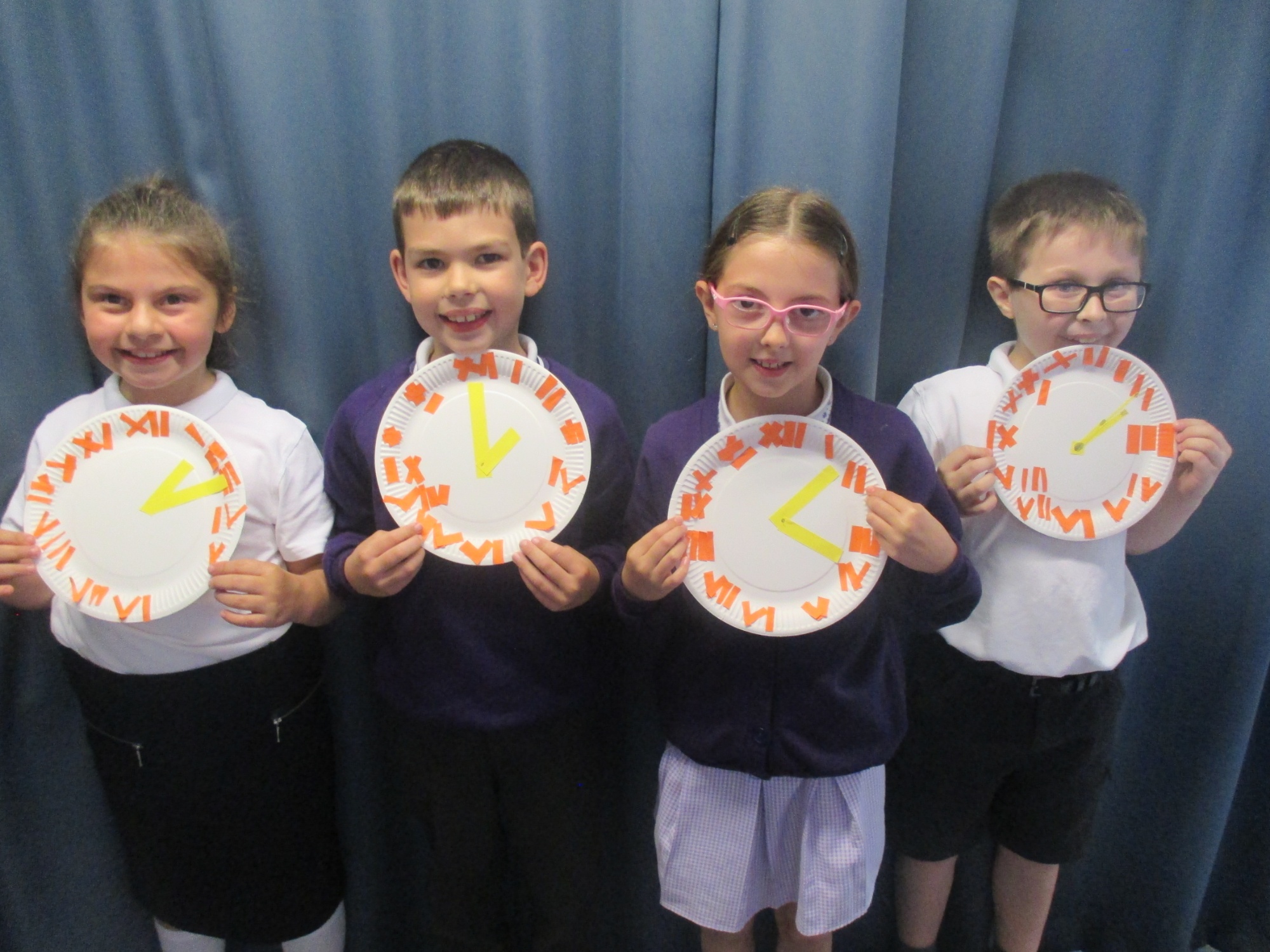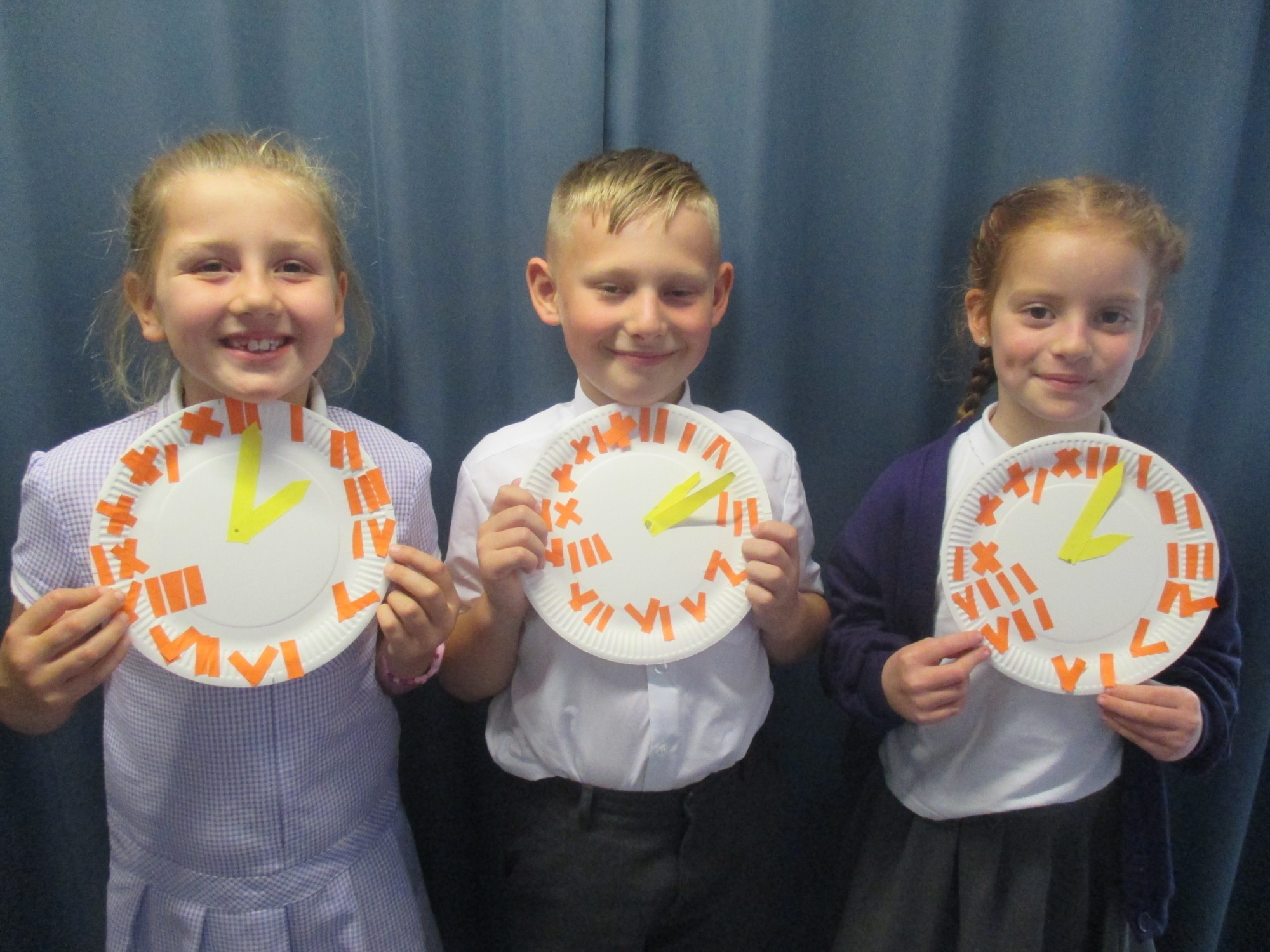 We have started our research on Harvest Festivals around the world ready for our own Harvest Festival, coming soon!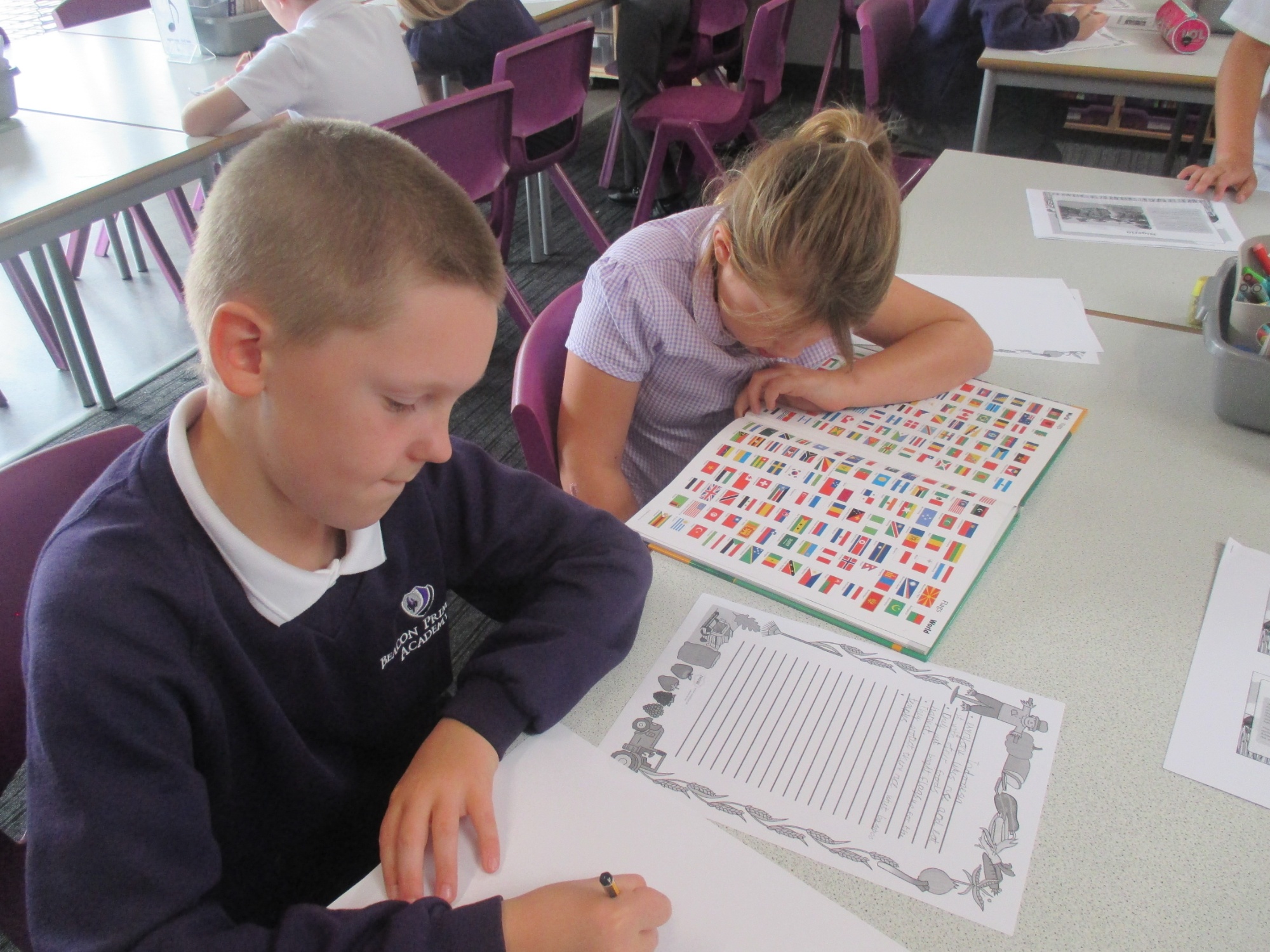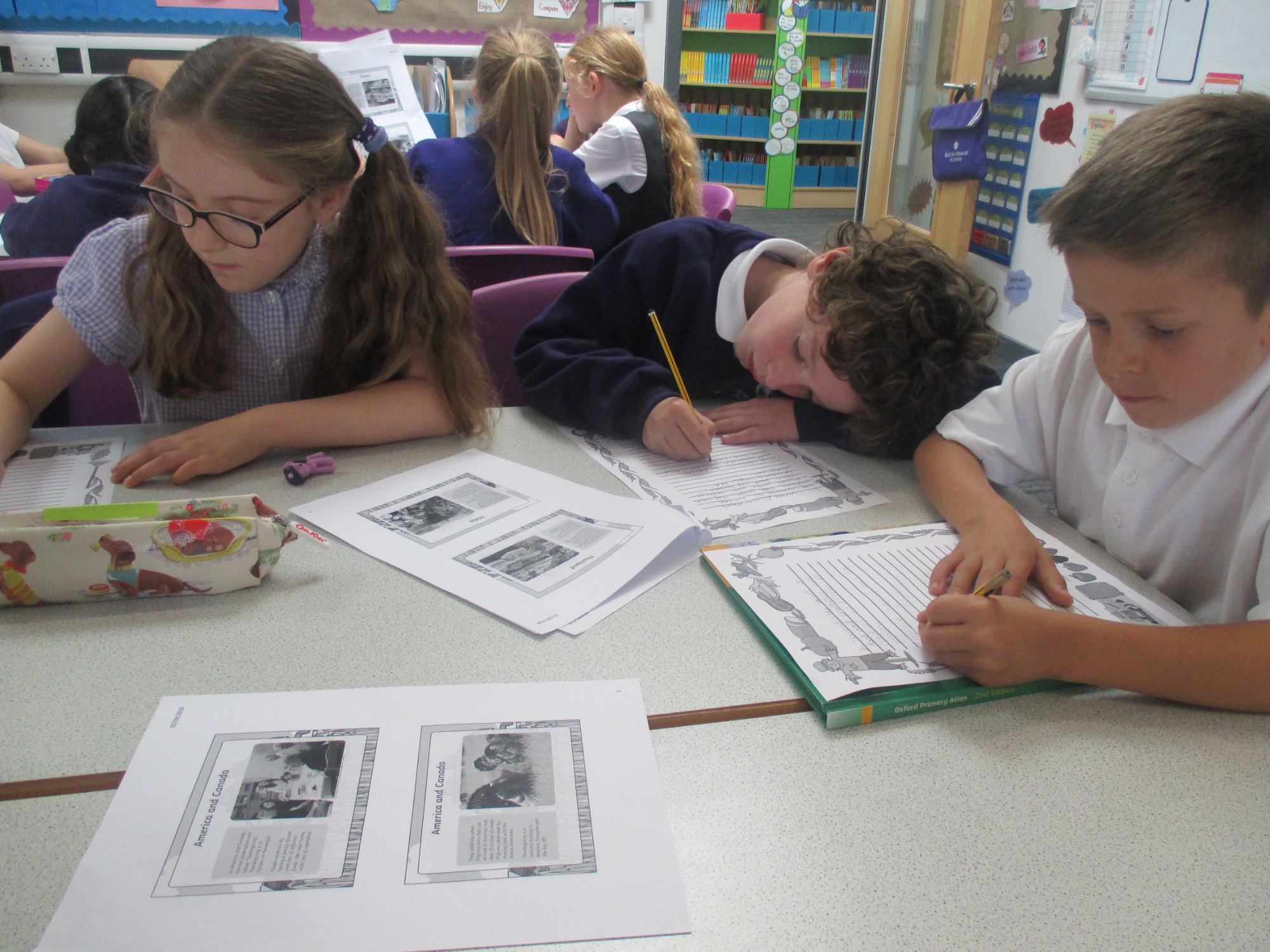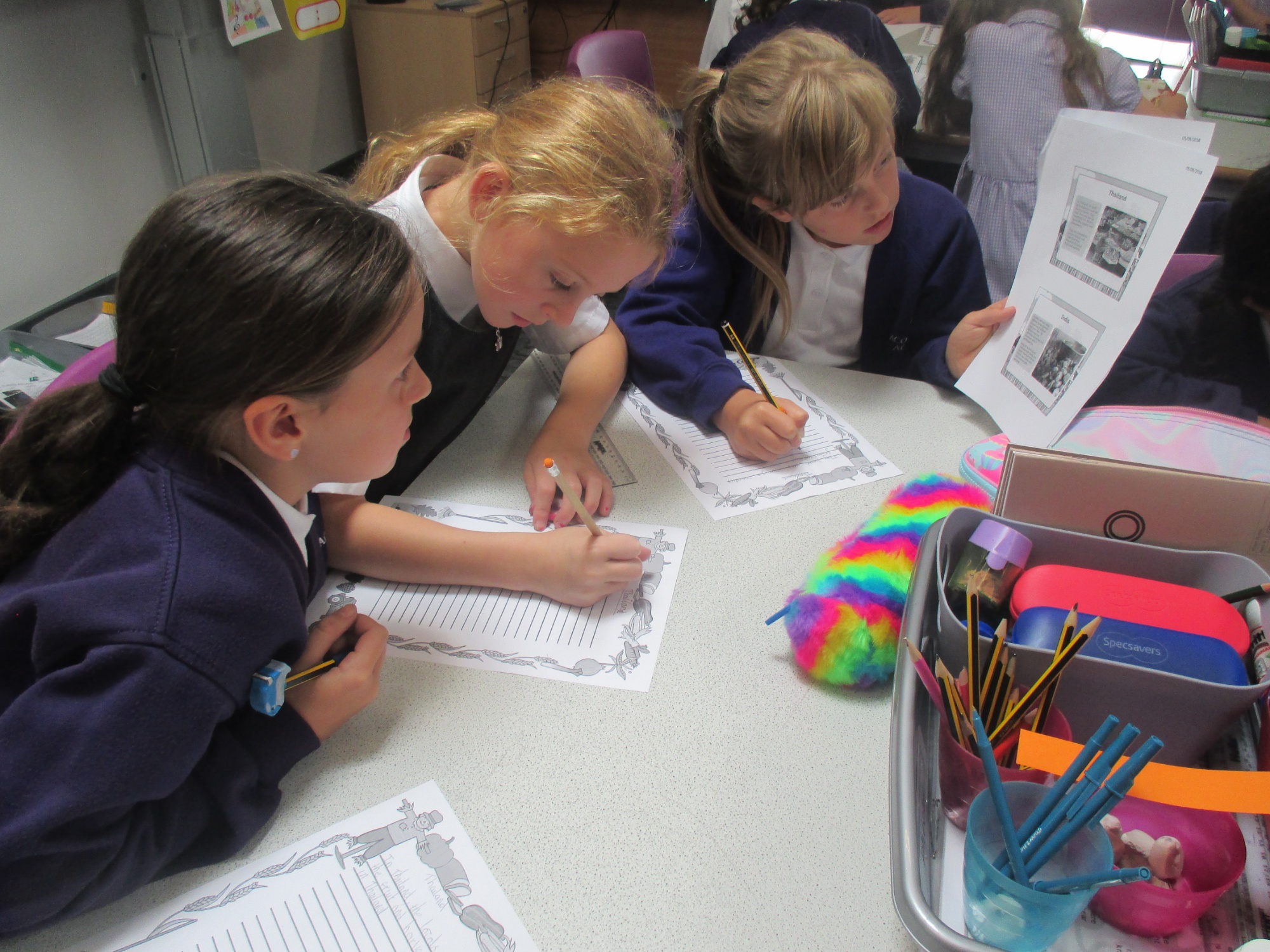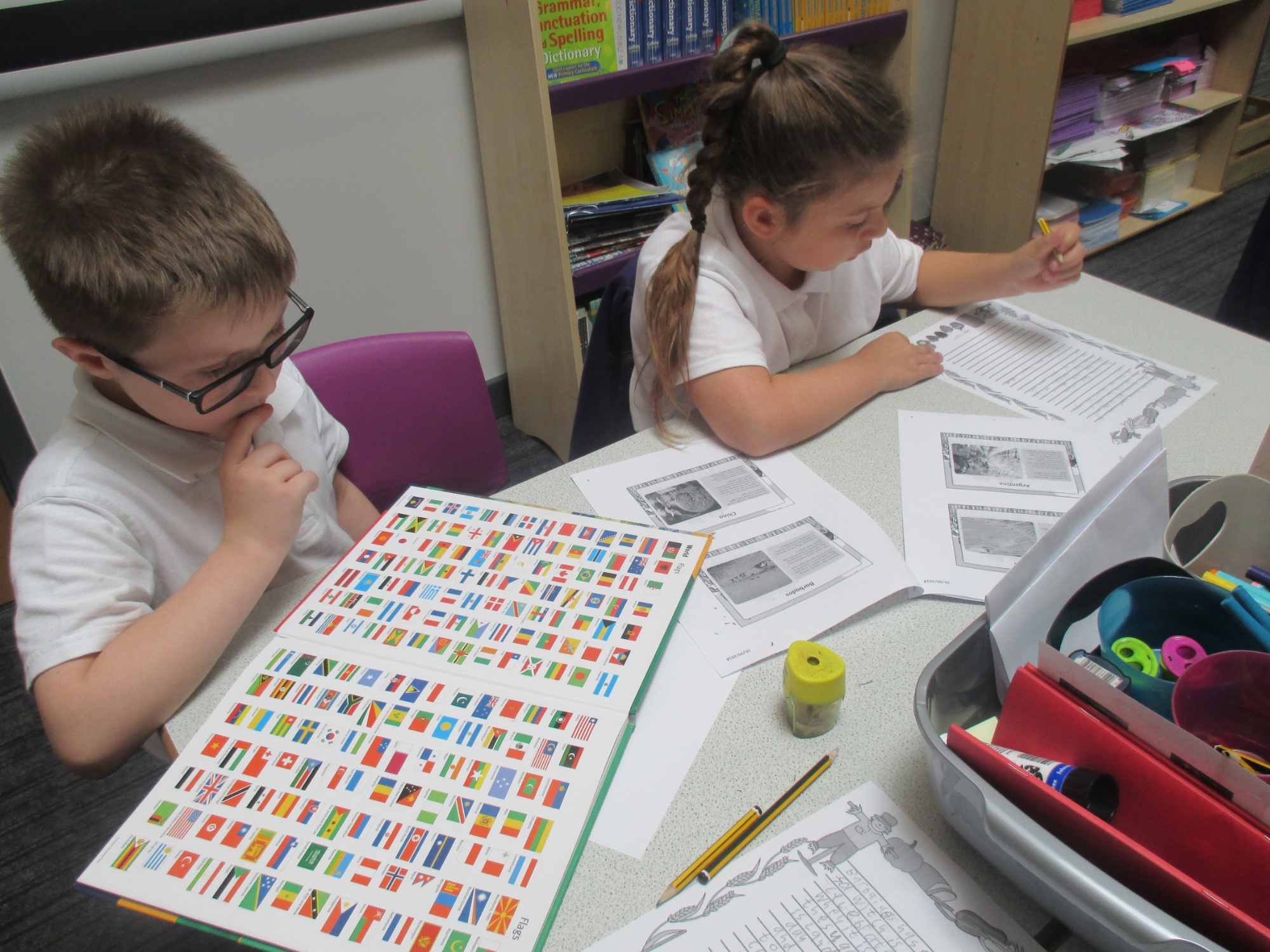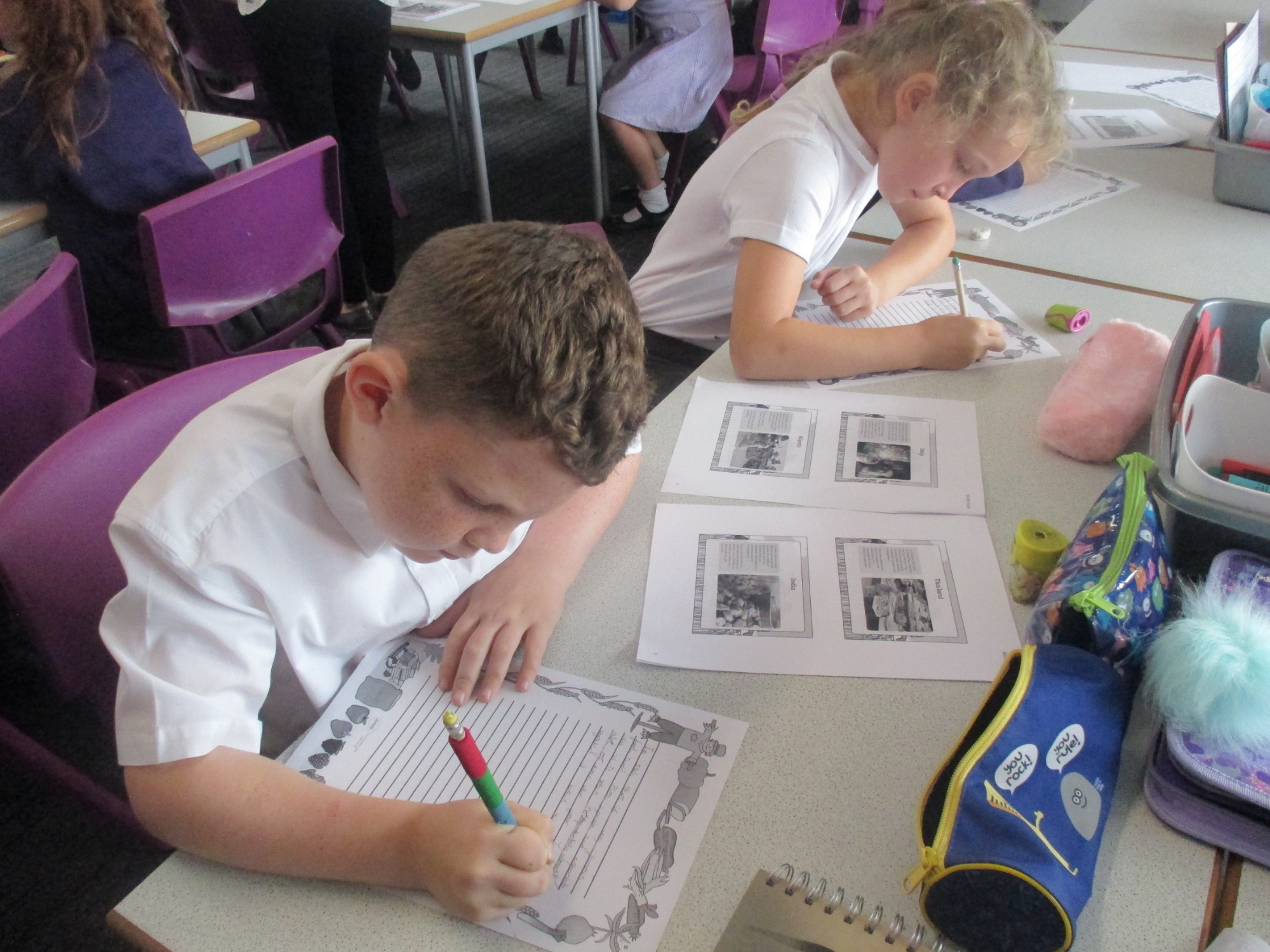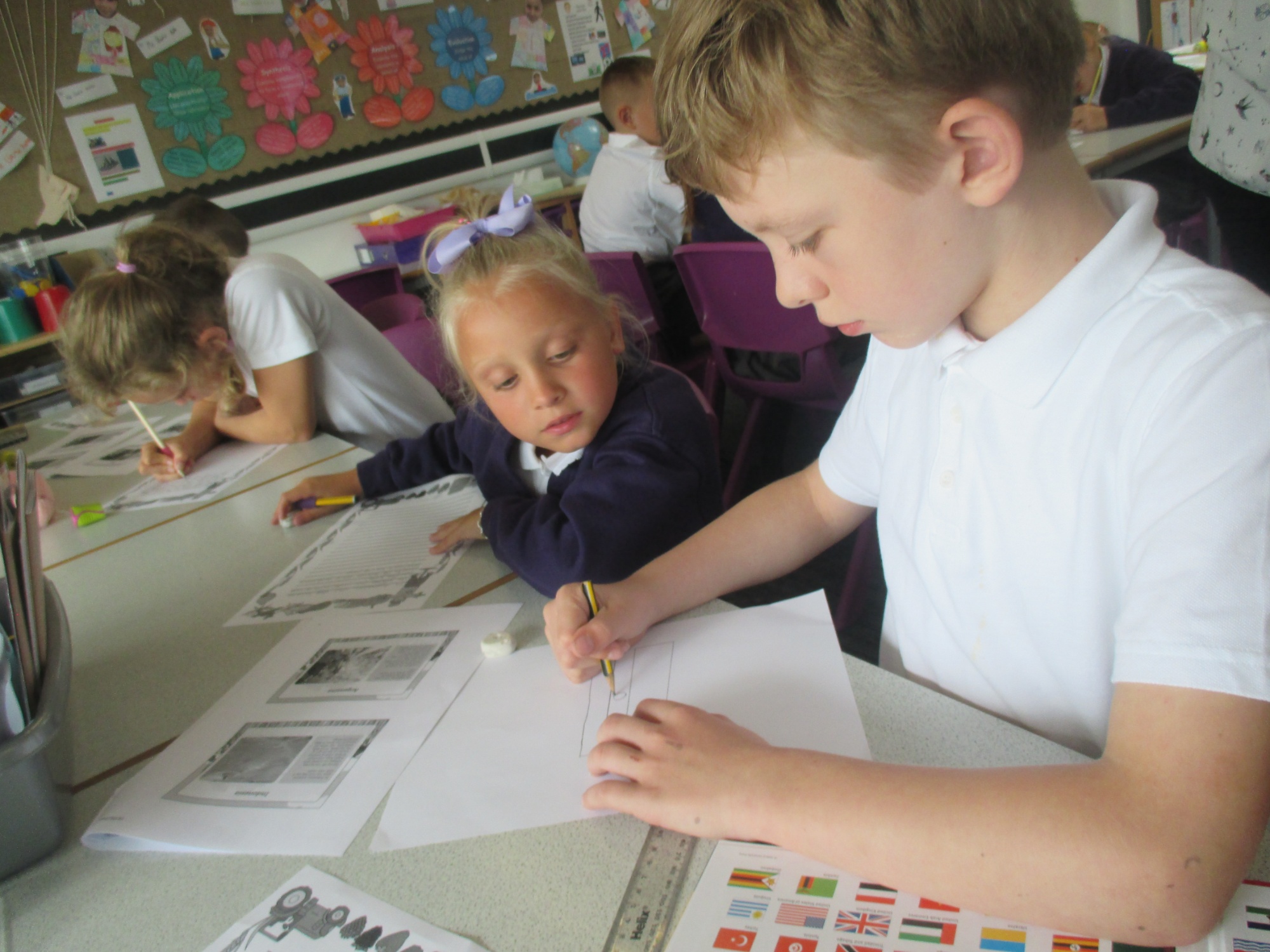 Lemmee's Diary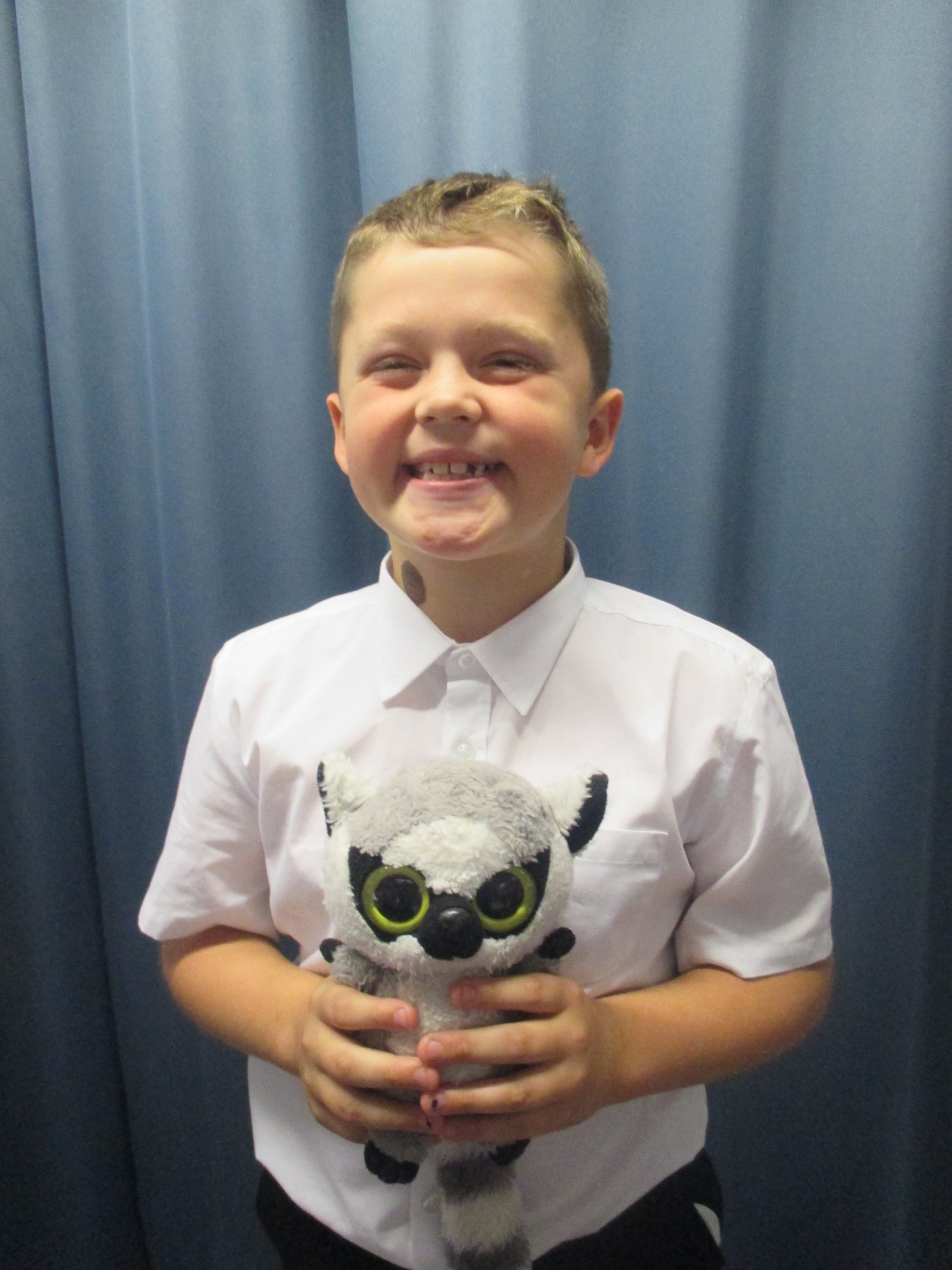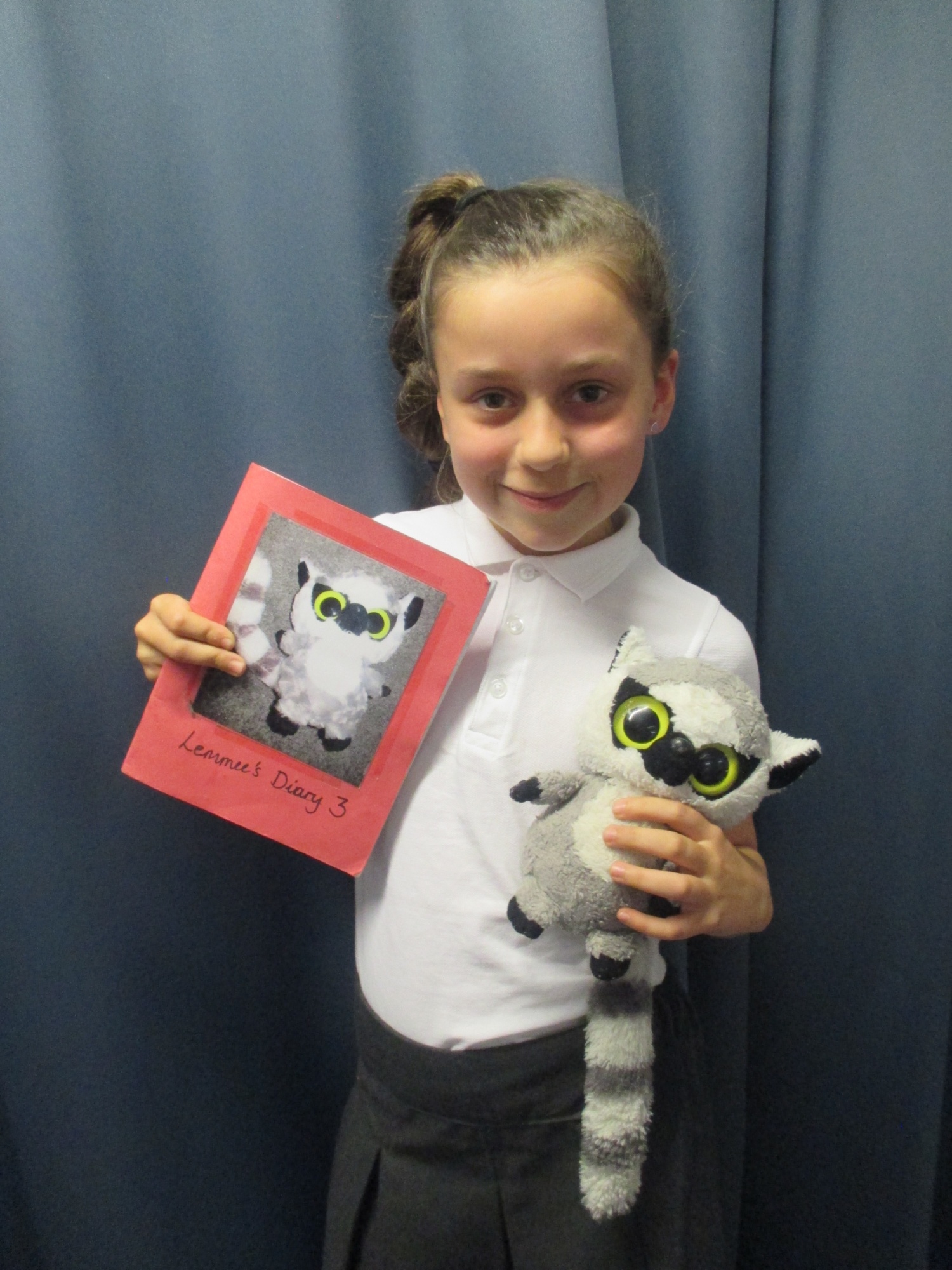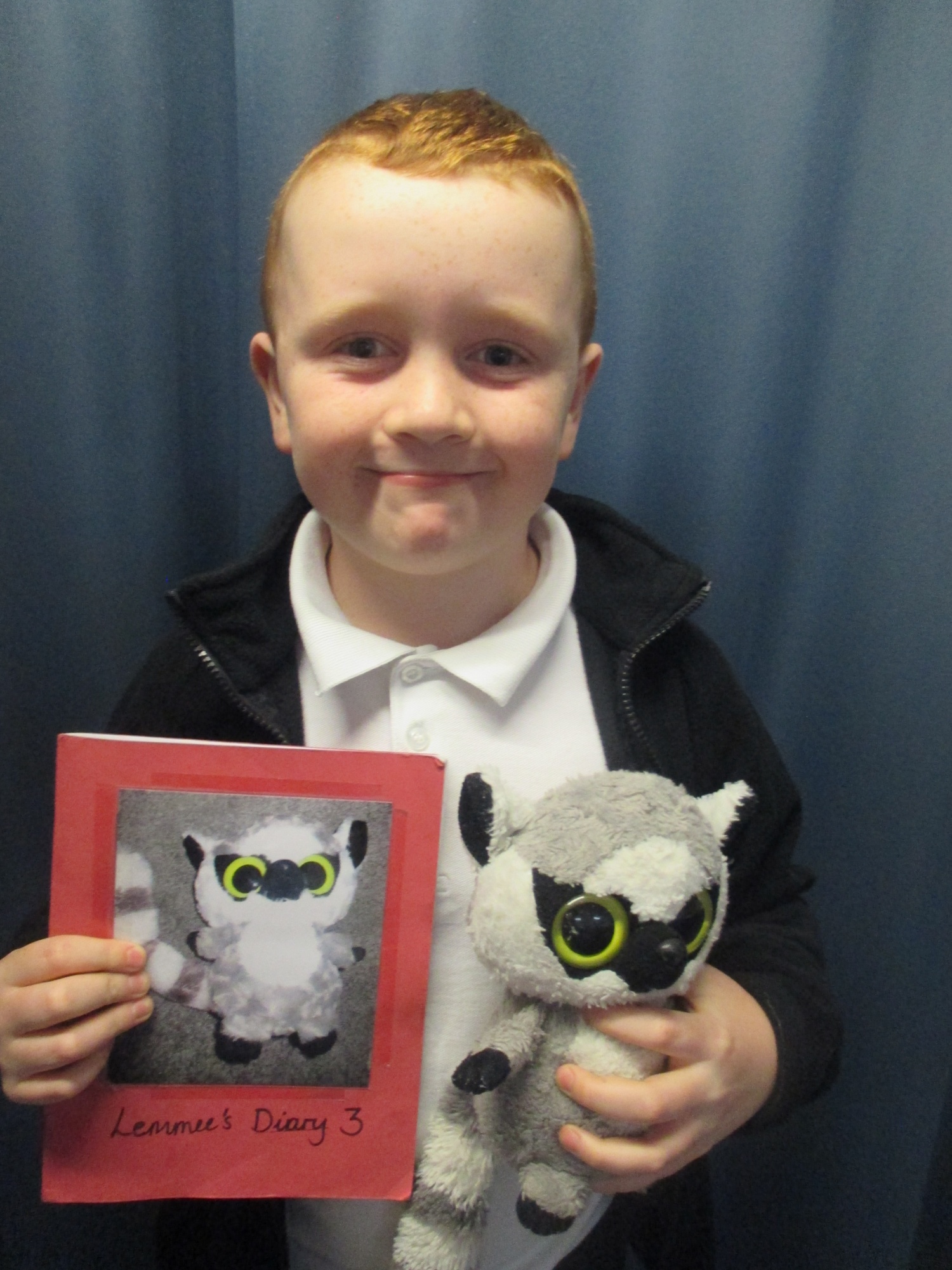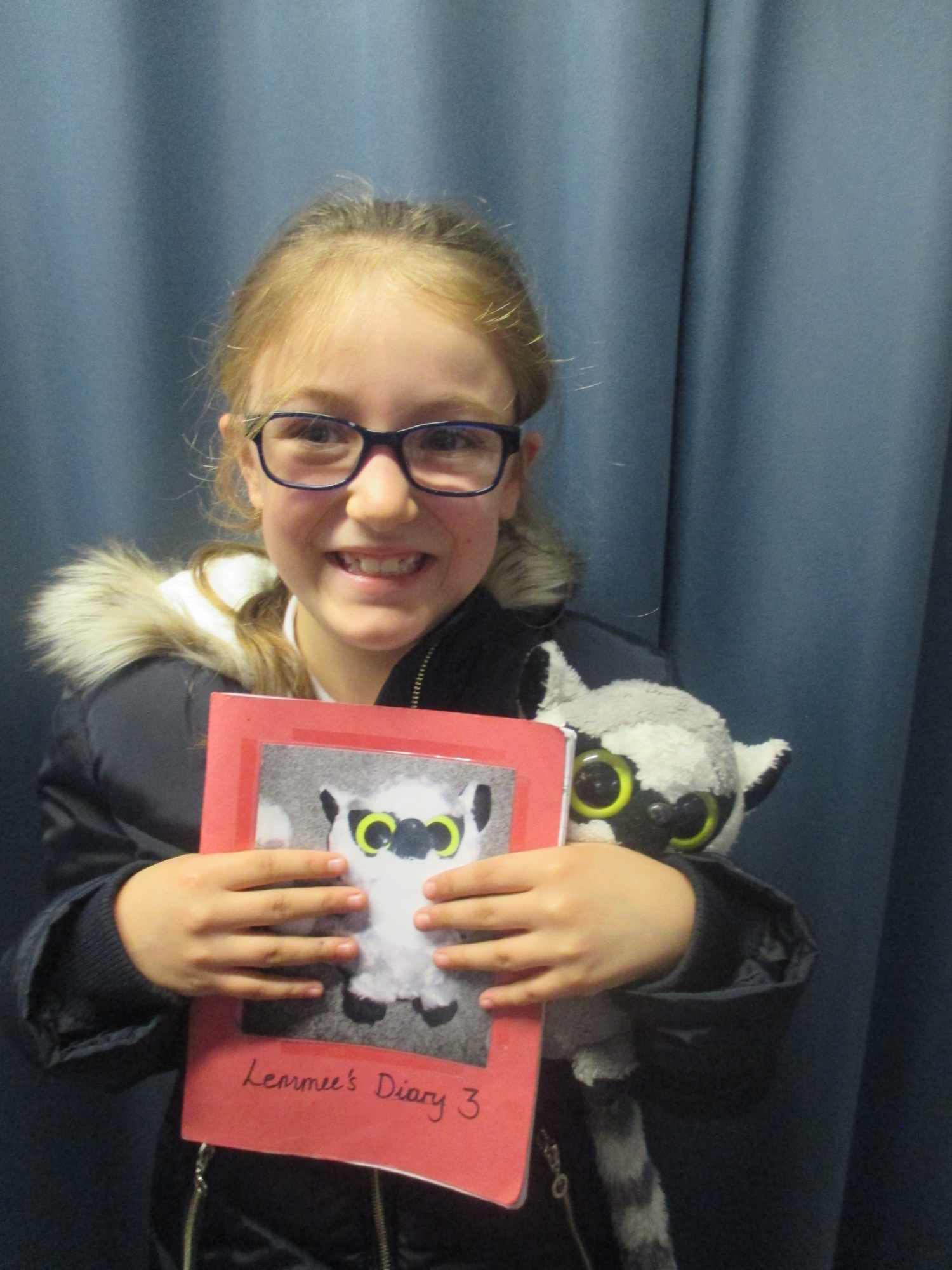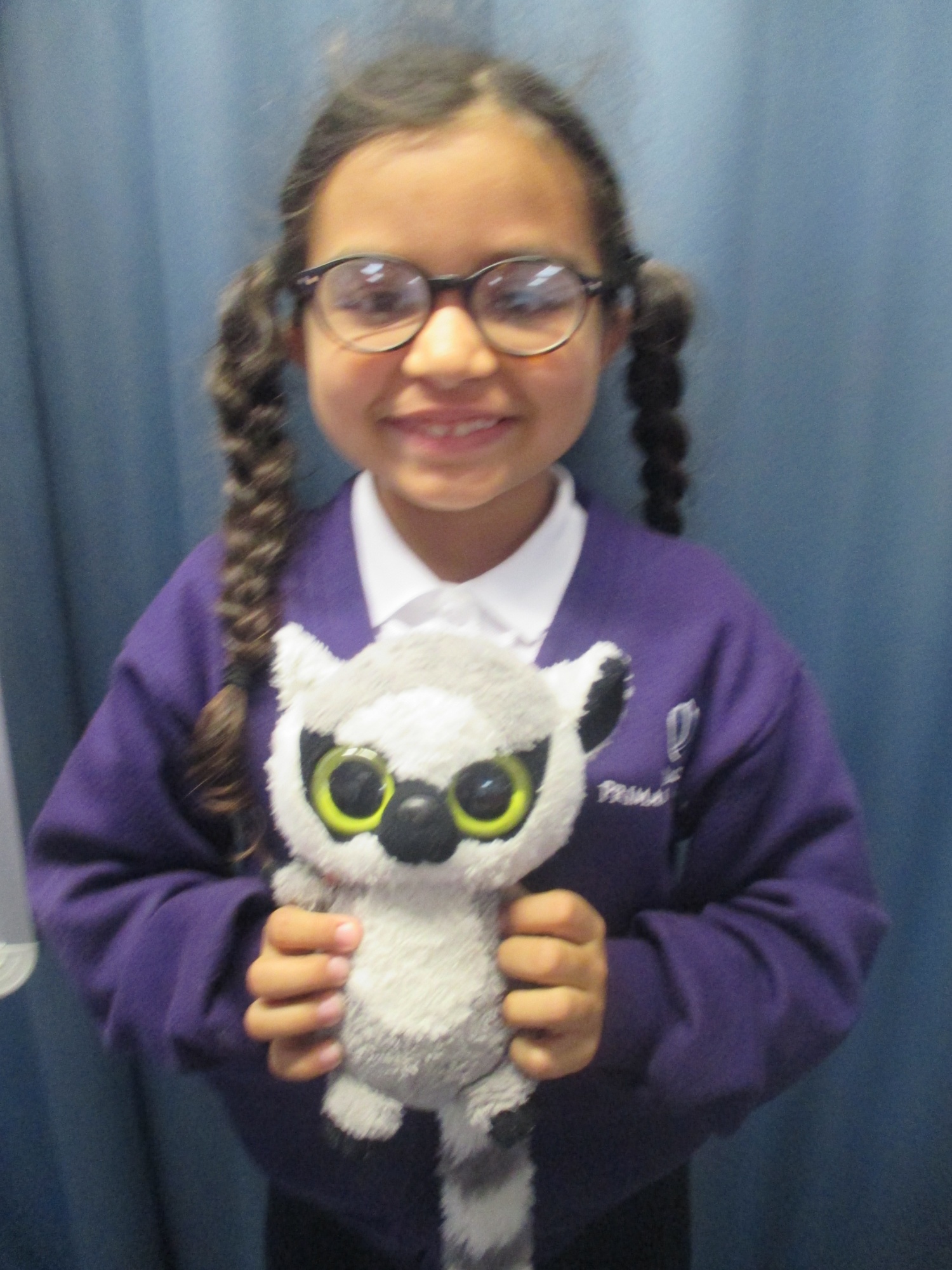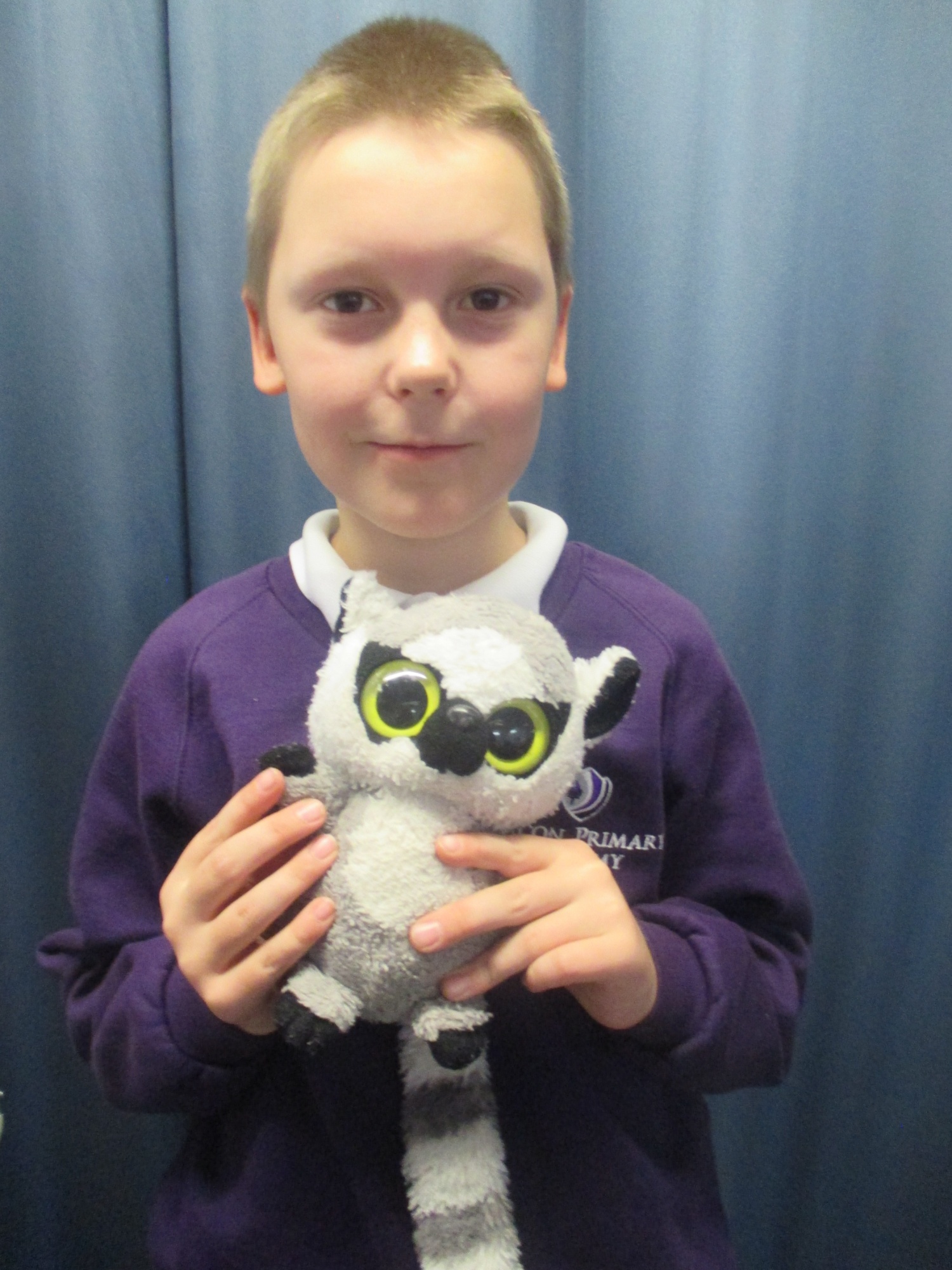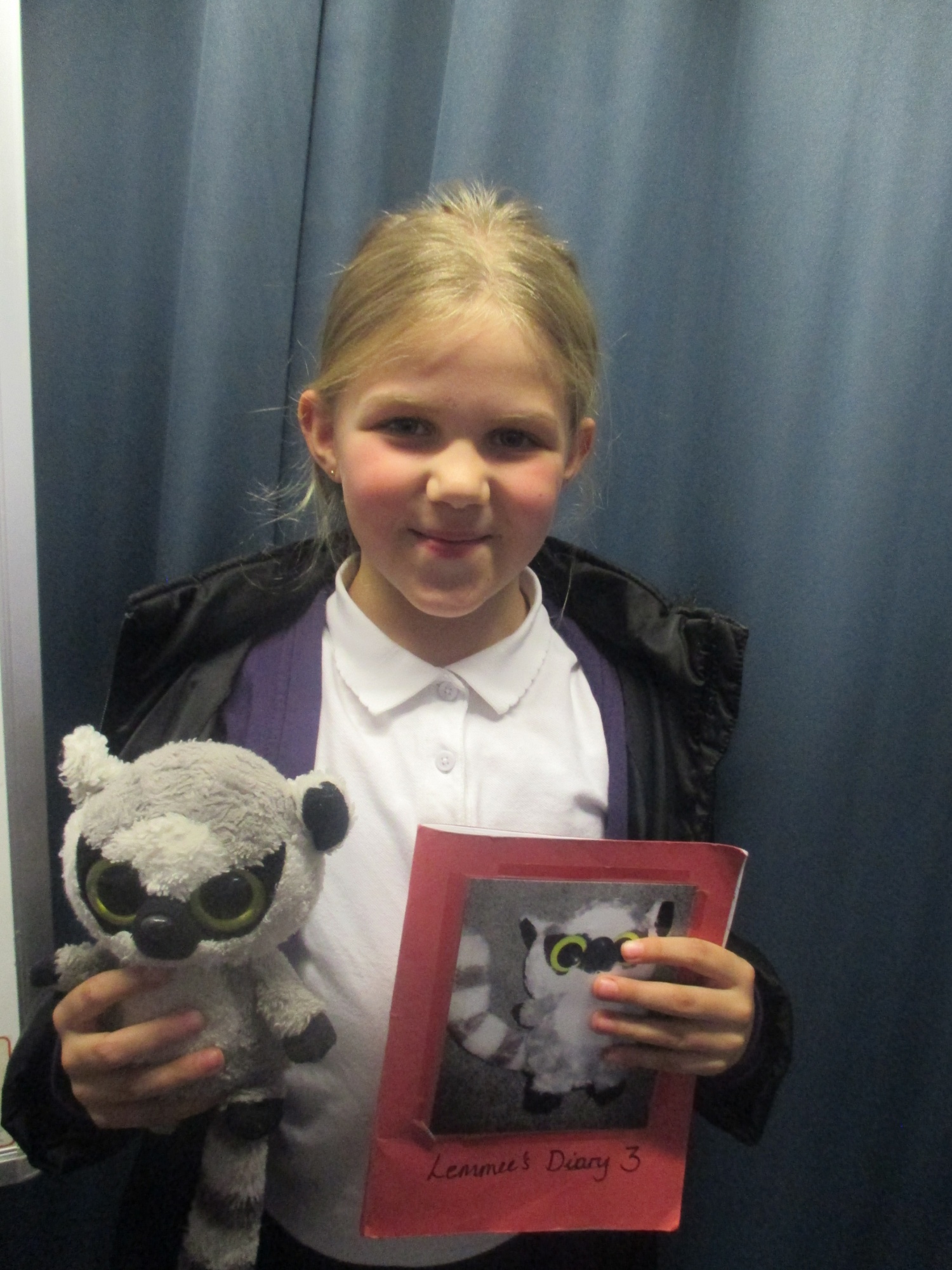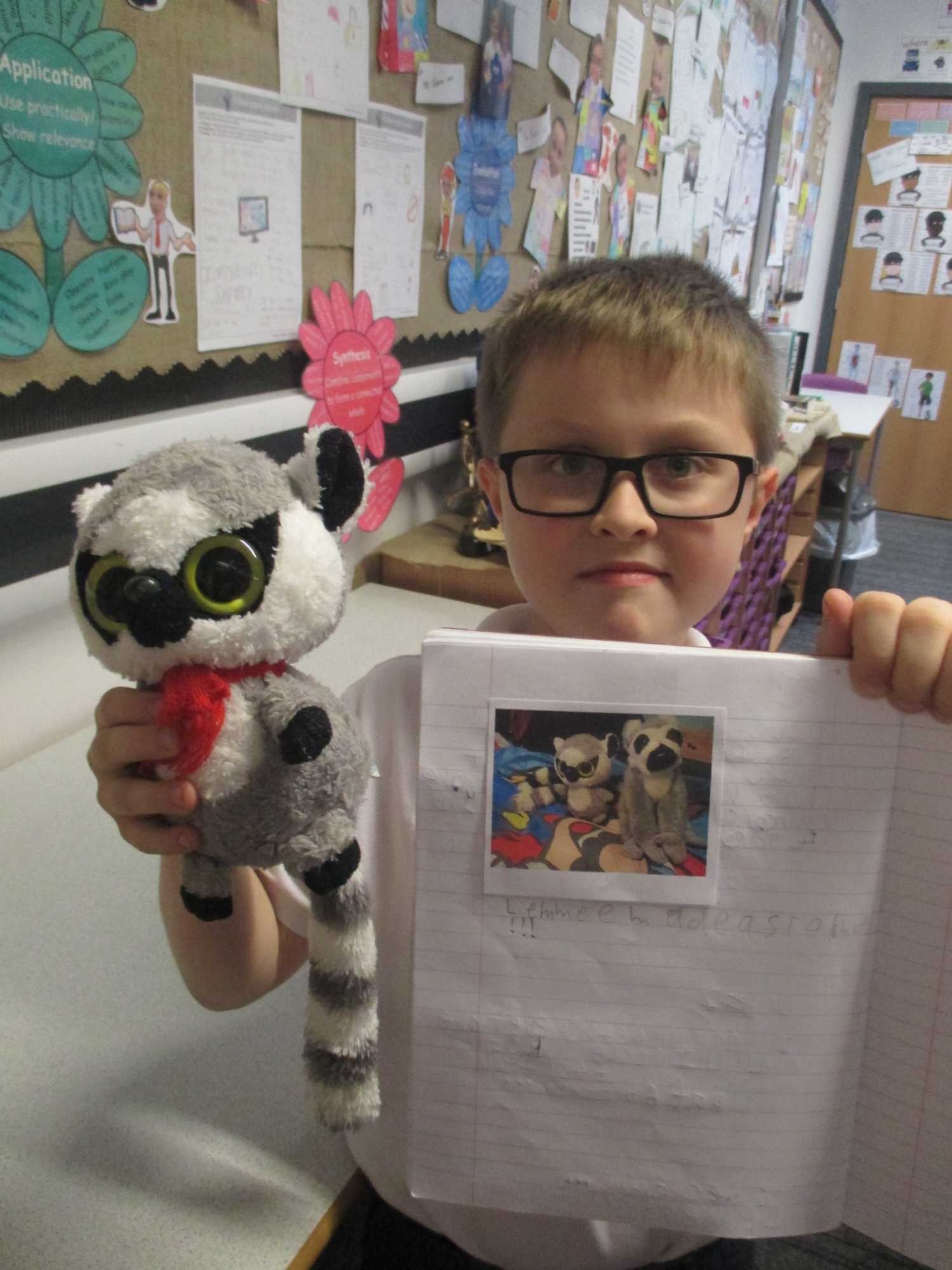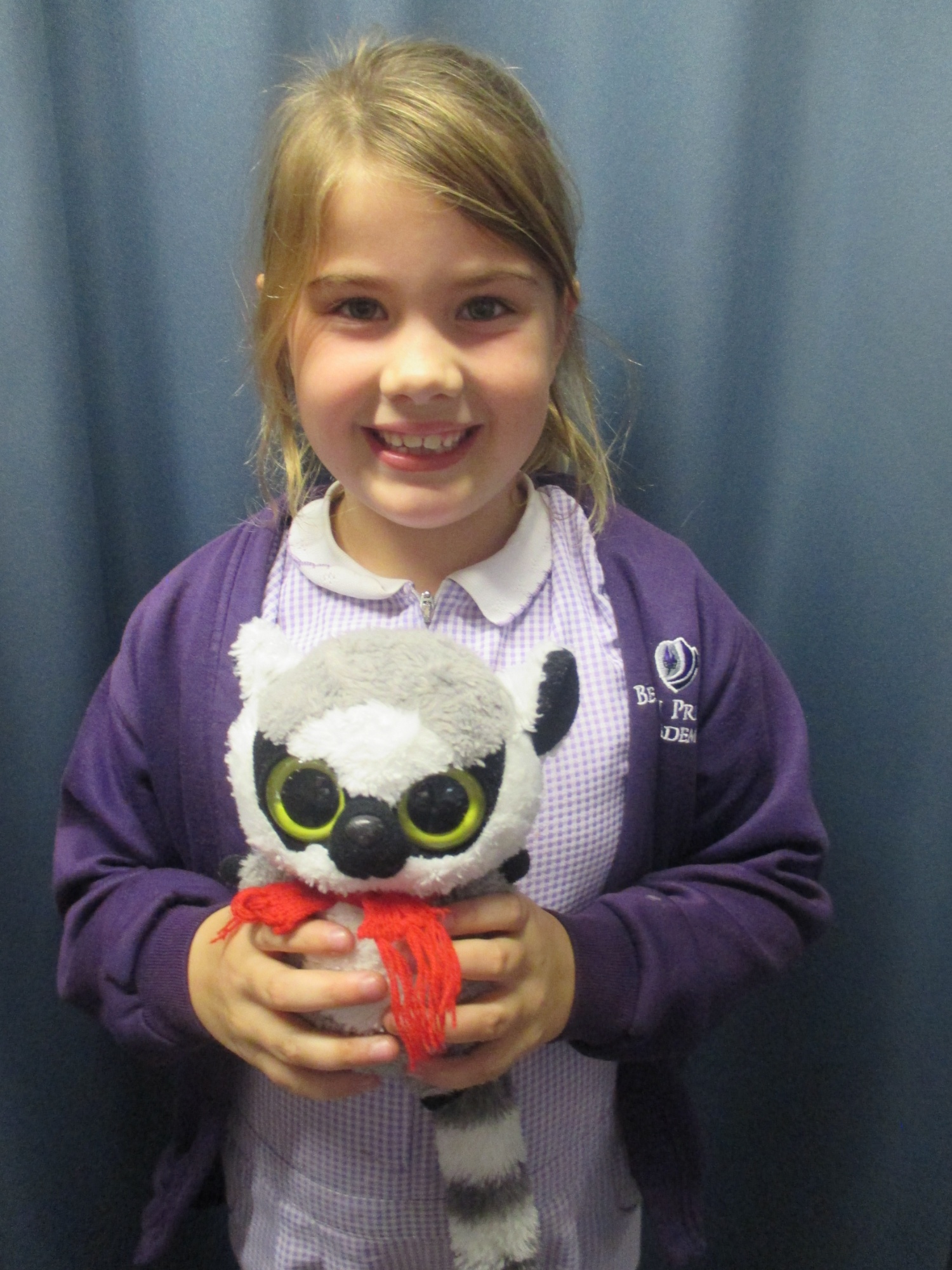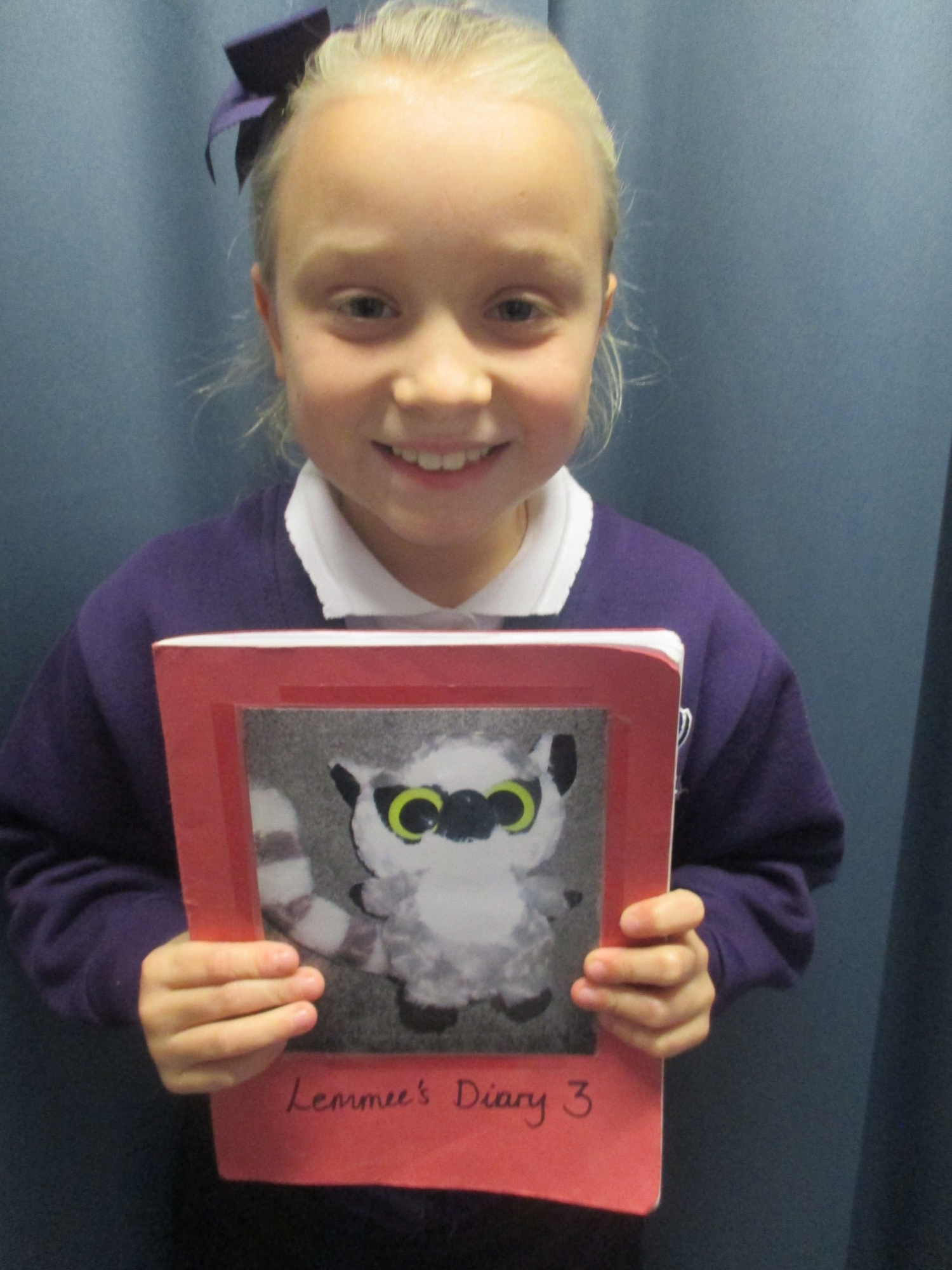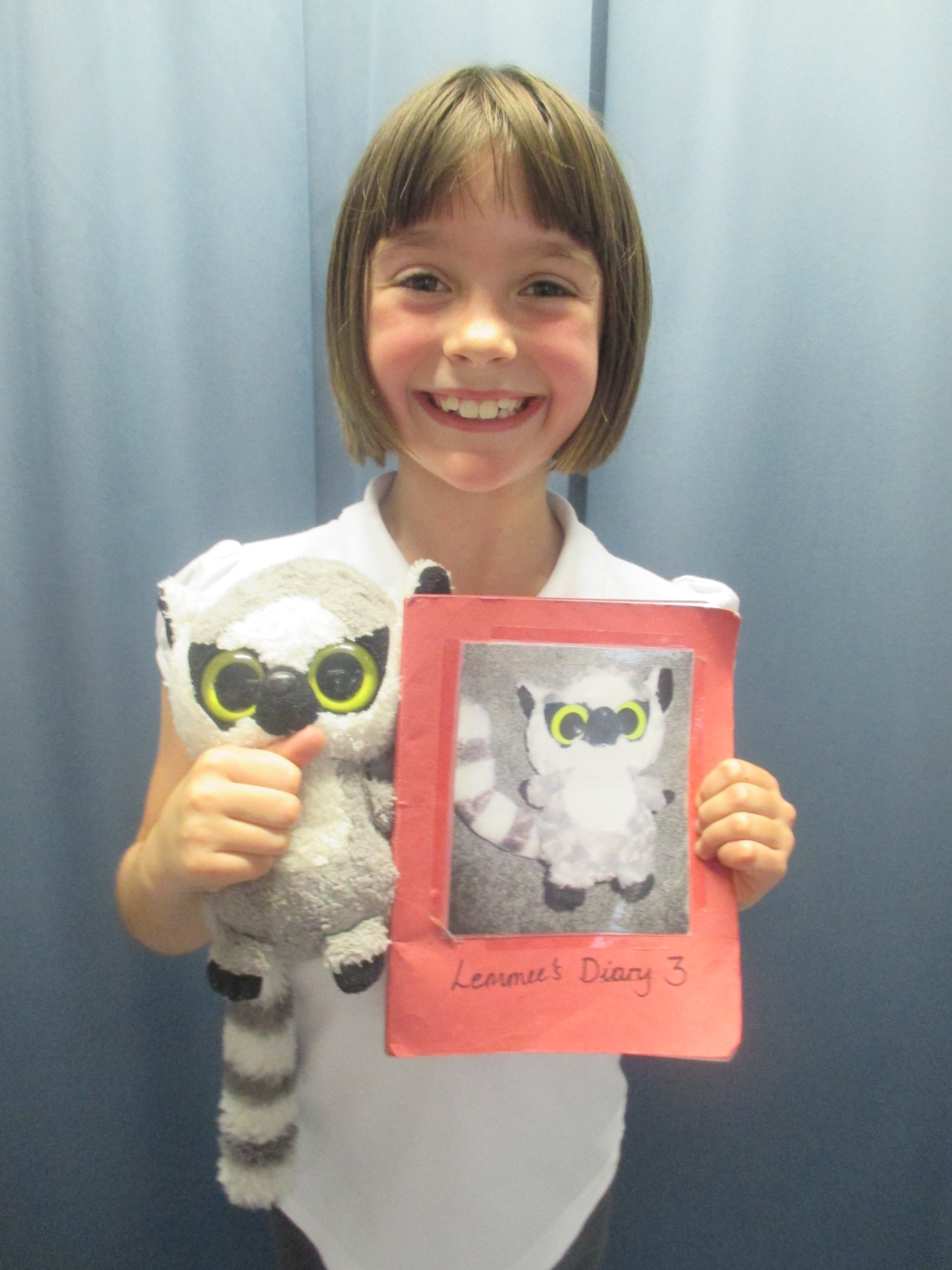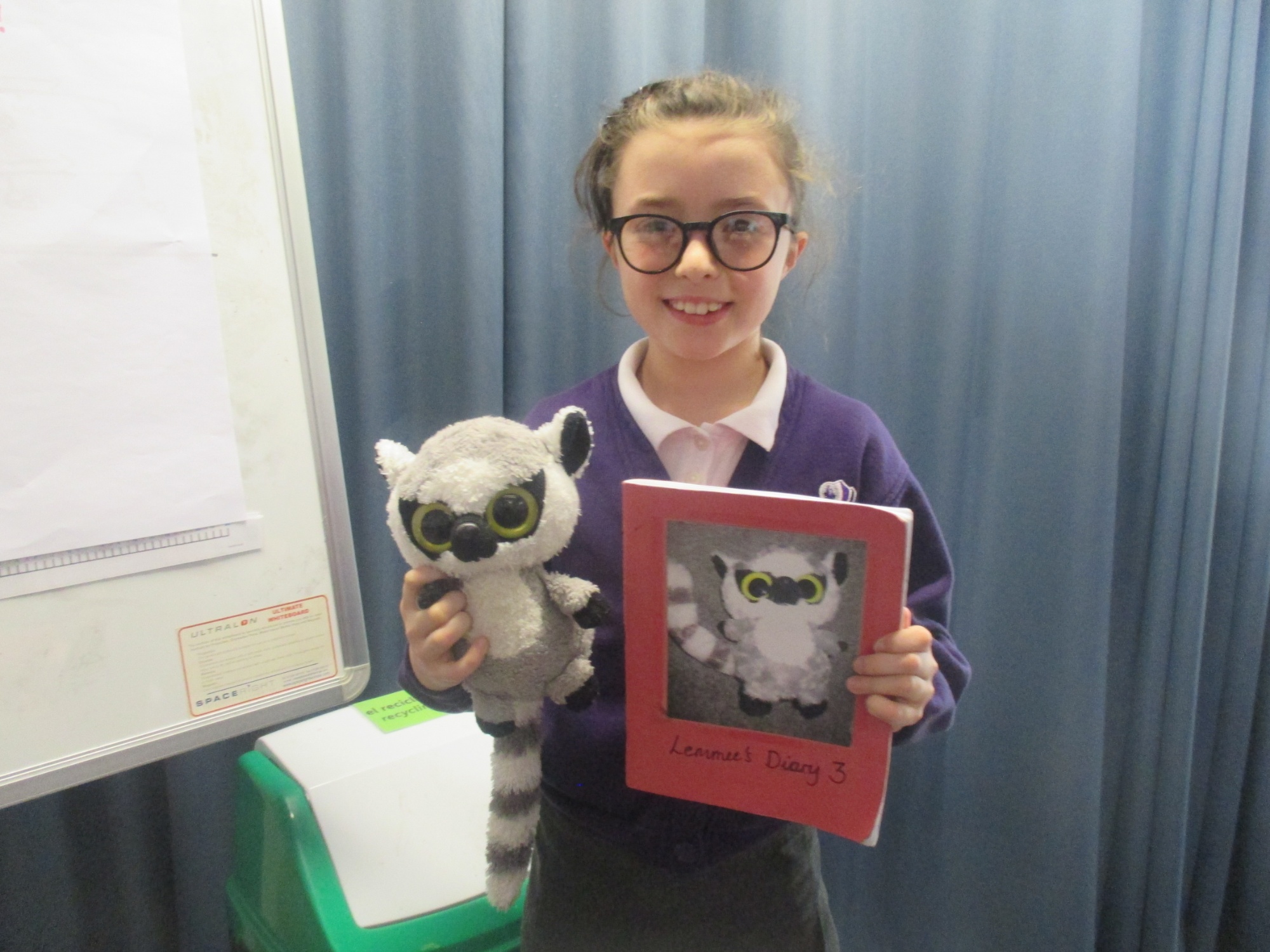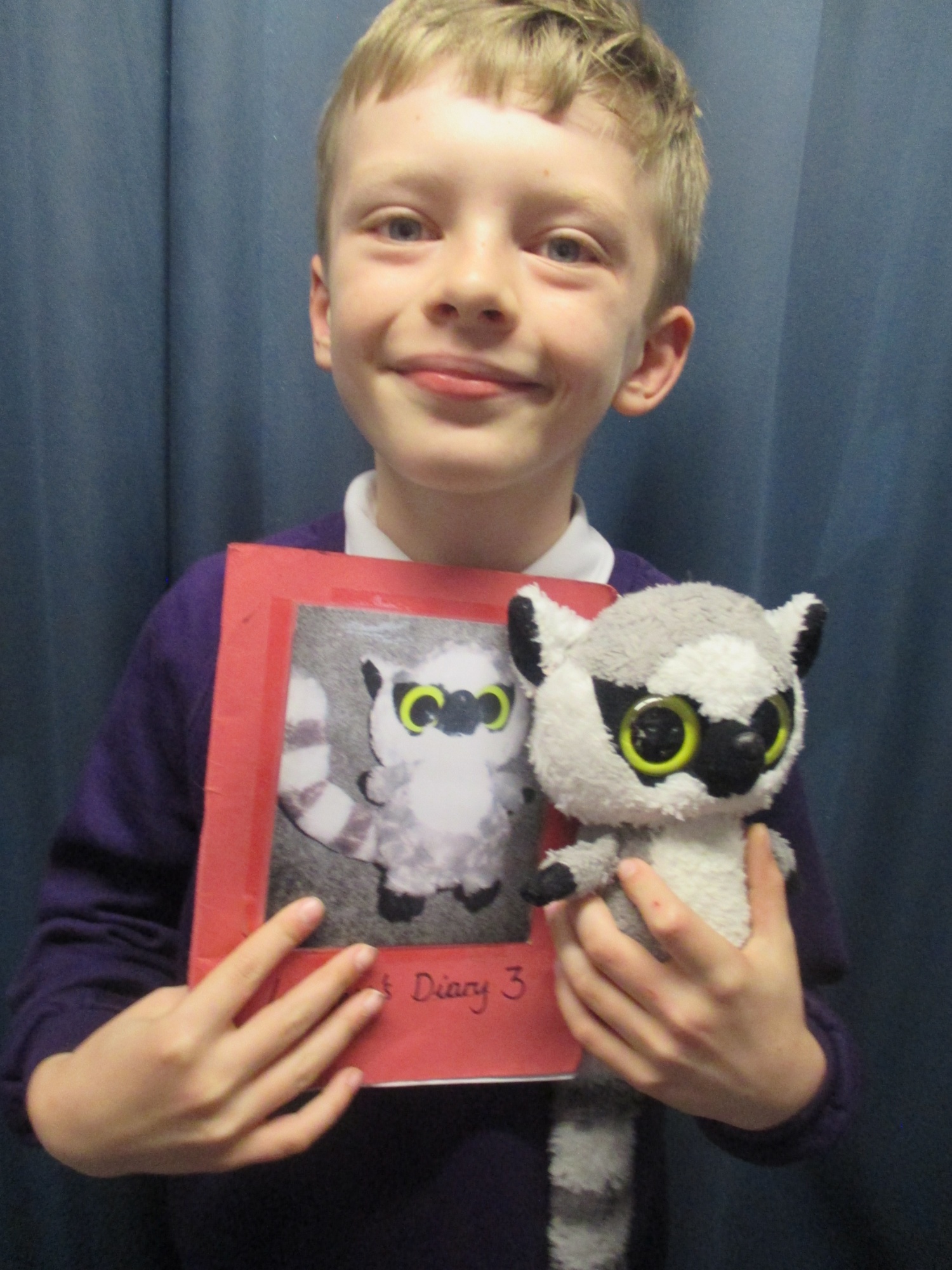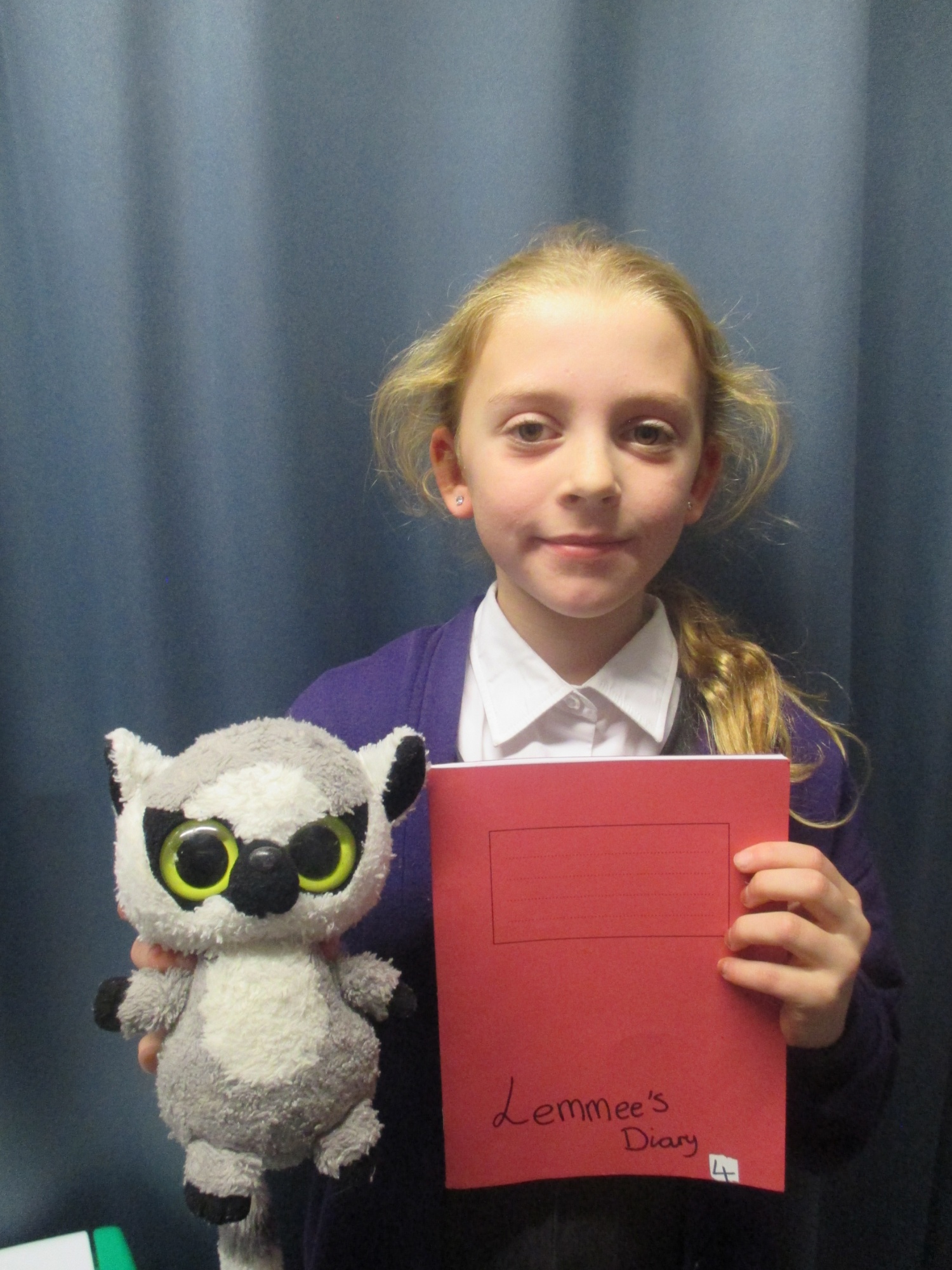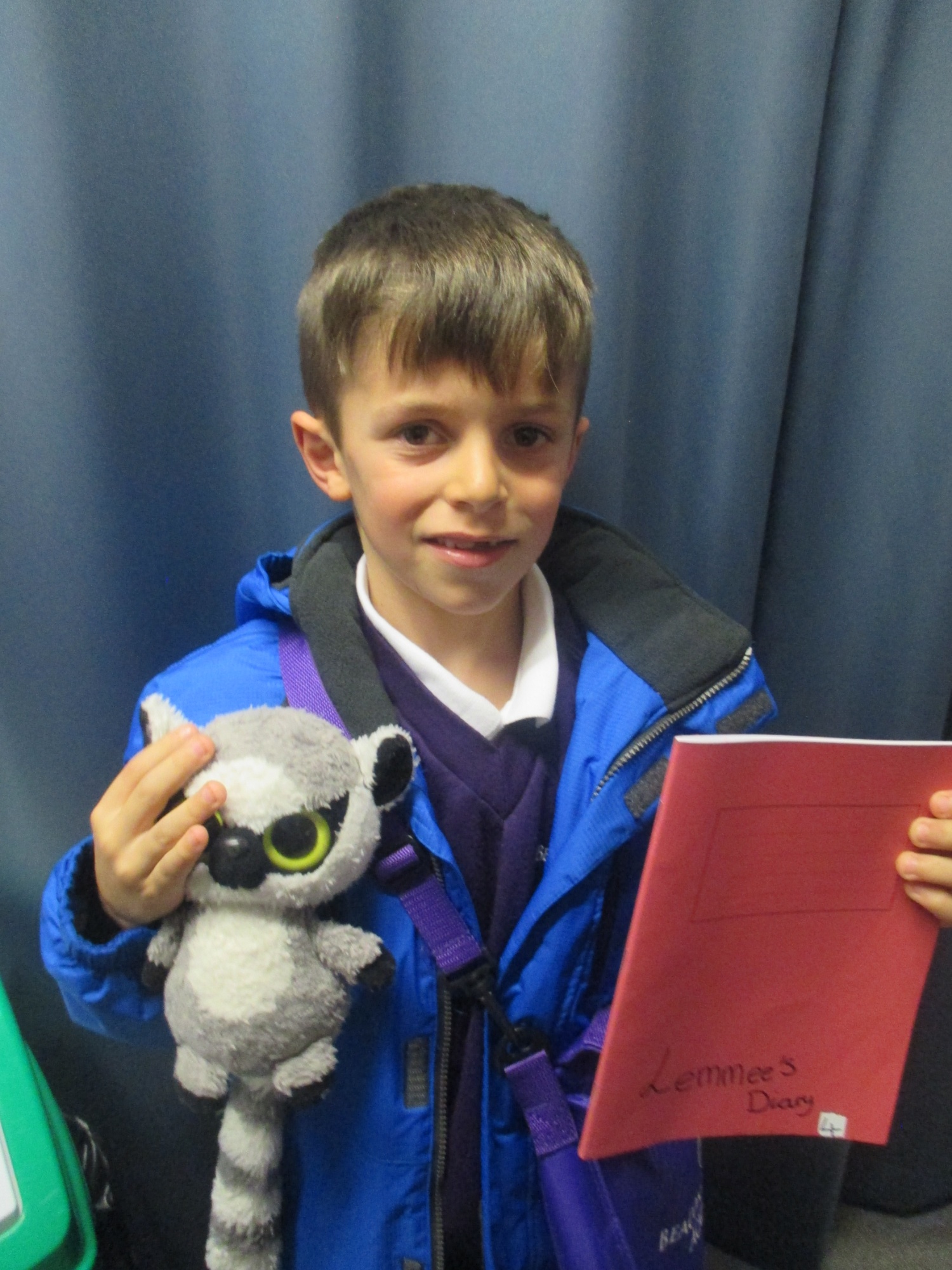 We love hearing about her adventures! Who will she visit next?