Year 5 (The Leopards)
Fortnight beginning 15th October 2018

The Leopards had a really busy first week back after half term. We really enjoyed starting our new P.E topics, which includes gymnastics on a Wednesday where the Leopards impressed the adults with their imagination, creativity and flexibility to think of different ways to move around the room. We also began our Boxercise sessions where we learnt two different punches and how to move around and keep our balance. The Leopards really enjoyed being able to wear boxing gloves!
In English, the Leopards have been investigating the features of a newspaper report and we are investigating the mysterious theft of a caterpillar cake from our classroom! We have been interviewing witnesses and suspects and gathering information for when we write our own reports.

Fortnight beginning 1st October 2018

Over the past two weeks the Leopards have been creating some magnificent leaflets bursting full of information about Skegness as part of our topic examining our local area. Mrs Dawber and Miss Scholes have been really impressed both with the high standard of presentation that the Leopards have shown with these leaflets and with the amazing information that they have found out! Well done Leopards! In Maths, we have been consolidating our knowledge of place value and we have been working on addition and subtraction. Despite some of these questions requiring a lot of carrying and exchanging, the Leopards have worked really hard on these important calculation skills.
We have been looking at how weather and climate can have an effect on our lives day to day and in PE, the Year 5's performed their dance to the other year groups as well as getting to grips with Tag Rugby. Last week we also took part in a science challenge, called Stealing Circuits. The Leopards had to try and steal a chocolate bar from an electrical circuit without breaking the connection. We tried really hard - it was very tricky!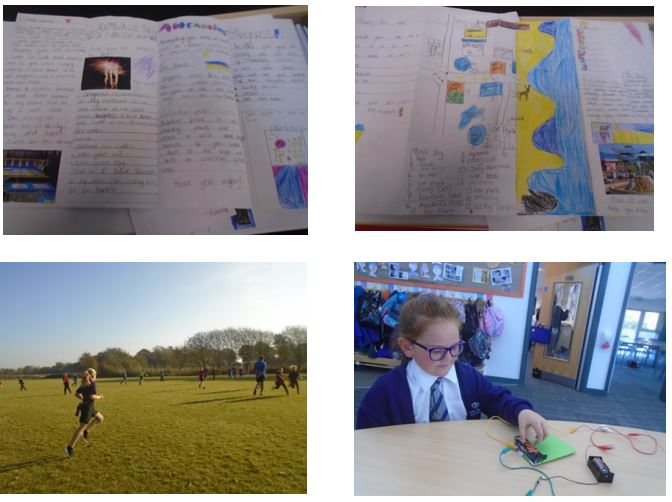 Week beginning 24th September 2018

This has been a very busy week for the Leopards!
On Wednesday lots of members of the Leopards class read out the speeches that they had been busily preparing at home to Year 4 and Year 5, so that they could vote for who they thought would do a good job as a member of the mini police. We were all really impressed with the speeches that the Leopards did- they obviously worked hard! Well done to those who were successful!
In P.E, we have been doing Tag Rugby and Dance. The Leopards worked hard to keep their tags safe in different games, to help them to start to build their skills which they will need when taking part in a game. In Dance the Leopards did Siege of Ennis, working with year 3, and they are going to be performing this for other classes in the school this week.
Finally, at the end of the week, we prepared for our Macmillan bake sale. The leopards would like to thank everyone who brought in some delicious treats for us to sell! We would also like to say thank you to everyone who came and bought something at the coffee afternoon. We managed to raise over £360 for this good cause!
Week beginning 17th September 2018

This week in English the Leopards have been busy learning about Macmillan- the Leopard's charity for the year. We have been writing letters, and practising our baking skills, ahead of our coffee afternoon which will take place on Friday 28th September, where we are hoping to raise lots of money. In Maths, we have looked at negative numbers and counting forwards and backwards through zero, as well as rounding numbers. In Spanish, we practised having conversations with each other, building and revising our skills learnt in previous years. We also had a visit from the Lincolnshire Police, who invited the Year 5's to join the Mini Police program. The Leopards learnt about the different equipment that members of the police carry around with them, how they use them and were able to ask them about their jobs.
Week beginning 10th September 2018

This week, the Leopards have been researching Roald Dahl for Roald Dahl day (13th of September). We used our research to write an information text about this famous author, and discussed our favourite books that he wrote. On Friday, to continue Roald Dahl day, we all tried a peach and thought of some super vocabulary that we could use to describe them. Lots of the Leopards hadn't tried a peach before but said that they would like to again! We then created some calligram poems in the shape of peaches. In PE, we continued to work on our team building skills, playing some fun games, which will help us when we are playing Tag Rugby later in the term. We have continued to look at words ending in –cious, and used play-doh to help us learn our spellings. We started our R.E topic of Hinduism and looked at where this religion is practised as well as where the religion is thought to have originated.
Week beginning 4th September 2018

The Leopards have been terrific this week. Miss Scholes and Mrs Dawber have both been very proud of the work the children have completed and the attitude to learning that they have all shown through these first few days. We have been busy writing about some of the interesting things we did during the summer holidays and we have been looking at spelling some words ending in –cious. In Maths, we have been looking at place value with numbers, including millions, as well as ensuring that we have a good strong knowledge of the 3 times table. In Topic, we have looked at where Skegness is in the United Kingdom and spoken about what makes Skegness unique. In PE, we did some team building games ready for when we start playing Tag Rugby next week.
Miss Scholes and Mrs Dawber would like to ask the Leopards to continue practising tying their ties over the coming week as some of us are still finding these tricky. We would also like to remind the Leopards that they need to do lots of lovely reading over the next week - we are all aiming to attend the purple party at the end of the year!