Year 5 (The Leopards)
Fortnight beginning 6th June 2019

Fortnight beginning 6th May 2019

The highlight of the past two weeks for year 5 has been our residential trip to PGL. We hope you saw all the pictures that we posted on twitter showing the children overcoming their fears, building their confidence and supporting each other. The children worked really hard on the different tasks, climbing to new heights on the trapeze, Jacob's ladder and on the high ropes, as well as shelter building and fire making, kayaking and raft building. Everyone had a brilliant time.
In the classroom we have learnt about the Battle of Hastings, and the Bayeux tapestry and have begun reading Beowulf, writing invitations to the feast at the Mead Hall. We have also started creating a tapestry of our own, creating a design on paper, then working hard to re-create it in thread.
Fortnight beginning 23rd April 2019
It has been a busy start to the summer term for the Year 5's.
We had the first of our curriculum visits to Skegness Grammar School who held a Harry Potter themed day for us. We got to create our own wands, meet some magical creatures, play quidditch, and learned that you can play a hosepipe like a trumpet. We had a fantastic day! In English, we then wrote formal letters to the Grammar school to thank them for the wonderful day.
To start our Anglo-Saxon topic, we have begun to read Beowolf, and created some formal invites to the King's New Meadhall at the beginning of the story. We will be moving on to look at the Battle of Hastings and the Bayeux tapestry. We have moved on to angles and shape in Maths and have been using protractors to measure and draw angles as well as learning some new terminology.
In Art we looked at our Artsmark artist of the month and created some amazing Pop Art!
Fortnight beginning 25th March 2019
The past two weeks, Year 5 have been working hard to produce an information text about a dragon they had created. We sculpted the dragons out of clay and painted them, then thought carefully about their habitats, diet, offspring and behaviour. We worked hard to include parenthesis, relative clauses, tier two vocabulary and to present our work to a high standard. Mrs Dawber and Miss Scholes are really impressed with the excellent standard of our work!
We have played basketball in PE, working on controlling the ball, and have progressed onto playing games against each other and in teams. In Maths, we have been learning about fractions, decimals and percentages and converting between the three.
Fortnight beginning 11th March 2019
Over the past two weeks the Leopards have been working hard creating some dragons, as part of our Vikings topic. They have sculpted their dragons out of clay and then painted them using layering to get a depth of colour and show shadows. We will be using these in the coming week to write a dragon information text and some dragon poetry. As part of our eco sessions this term, we have planted some daffodil bulbs and produced some observational drawings. In Maths we have moved onto decimals, recapping our previous learning and, moving forward, will be looking at expressing decimals as a fraction as well as a percentage. Last Thursday, we celebrated world book day. Mrs Dawber and Miss Scholes were very impressed with our costumes. In the afternoon, we joined Year 3, to share our favourite stories and to create a new story using the characters we were dressed as.
Fortnight beginning 4th February 2019

Year 4 have been busy writing a diary as a Roman slave in their topic lessons, and have been practising their spelling of homophones in English. These are words that sound the same such as there/they're/their, and your/you're. We are now looking for these words to be spelt accurately in every lesson – what a challenge! In Art, they have made some amazing Roman shields, using designs that reflect their personality and interests. In Maths, we have been learning about the properties of quadrilaterals. Ask your child to explain how we changed VIP into VIQ to help us to remember this!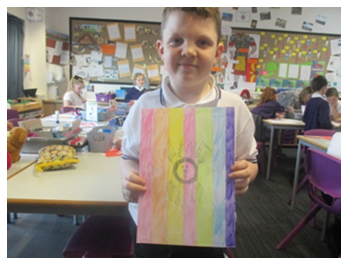 Fortnight beginning 21st January 2019
Over the past two weeks the Year 5 class have very busy working! In Computing, we have been using our coding and debugging skills to solve tricky problems. We were really impressed with the determination and perseverance that the children showed, as they completed the tricky tasks. In Maths, we have been continuing our work with fractions, including adding and subtracting fractions, identifying improper fractions and converting them to mixed numbers. Our times table skills have been really important this week- please continue to work on these at home because they make fraction work much easier!
In English, we have started to write adventure stories, which are set in space. So far we have created our main character, set our opening scene, and thought carefully about what snazzy vocabulary we might want to include.
In Topic the class finished off their Viking longboats. The children didn't give up, and all helped each other to finish as this was a very tricky task!


Fortnight beginning 7th January 2019
Year 5 have been very busy since we returned to school for this new term!
We have investigated a crashed U.F.O, which had landed in our school field, and written some fantastic newspaper reports about this surprising and unexpected event. We have also undertaken some research on Tim Peake, learning about his time on the International Space Station. Coupled with this, we have been tracking the International Space Station as it orbits the Earth, admiring the view it has over the globe. We have looked briefly at the different planets in our solar system and this is something that we are going to continue to investigate later in the term, as well as the spherical shape of the planets and how they orbit the sun. In Topic, we have been learning about the Vikings and have learned where and how they travelled. We have looked at the impact that they had on Britain at the time and how they became notorious for being vicious Vikings!
Some of the Year 5's represented our school at a TAG Rugby competition where they played really well as a team and won most of their matches. They had lots of fun, and got very muddy at the same time!
Fortnight beginning 19th November 2018

The Year 5 class have had a busy couple of weeks! We have been writing 500 word stories for the GAT 500 word story competition in the hopes that we might win some of the fabulous prizes. We focussed on using descriptive language to really set the scene for our readers. We have now typed them up ready to send to the judges.
We have also produced a dance performance, which we really enjoyed. We worked hard, and really impressed Mrs Dawber with how well we remembered the steps.
In Art, we created some wax crayon layered art, which we did in the shape of a fingerprint. We looked at different types of finger prints, and learned about why fingerprints are an important tool when it comes to finding evidence at a crime scene as part of our Crime and Punishment topic. We have also been researching Elizabeth Fry, in preparation for our school trip.
Fortnight beginning 5th November 2018
Over the past two weeks the Leopards have been creating some brilliant newspaper reports in English about the caterpillar cake that was stolen from our classroom. The class really impressed Mrs Dawber and Miss Scholes with the exciting and interesting vocabulary that they used and their high standards of presentation. Well done Leopards!
We also spent time considering the importance of Remembrance Sunday, reading the poem The Wound in Time by Carol Ann Duffy and creating some poppy artwork, which is now displayed in the corridor outside our classroom.
In Science, we have been looking at properties of materials and in Topic, we looked at Anglo Saxon laws and justice. We discussed our opinions on whether we prefer the system of justice we have now, to the trials by ordeal that some had to endure in Anglo Saxon time!
Fortnight beginning 15th October 2018

The Leopards had a really busy first week back after half term. We really enjoyed starting our new P.E topics, which includes gymnastics on a Wednesday where the Leopards impressed the adults with their imagination, creativity and flexibility to think of different ways to move around the room. We also began our Boxercise sessions where we learnt two different punches and how to move around and keep our balance. The Leopards really enjoyed being able to wear boxing gloves!
In English, the Leopards have been investigating the features of a newspaper report and we are investigating the mysterious theft of a caterpillar cake from our classroom! We have been interviewing witnesses and suspects and gathering information for when we write our own reports.

Fortnight beginning 1st October 2018

Over the past two weeks the Leopards have been creating some magnificent leaflets bursting full of information about Skegness as part of our topic examining our local area. Mrs Dawber and Miss Scholes have been really impressed both with the high standard of presentation that the Leopards have shown with these leaflets and with the amazing information that they have found out! Well done Leopards! In Maths, we have been consolidating our knowledge of place value and we have been working on addition and subtraction. Despite some of these questions requiring a lot of carrying and exchanging, the Leopards have worked really hard on these important calculation skills.
We have been looking at how weather and climate can have an effect on our lives day to day and in PE, the Year 5's performed their dance to the other year groups as well as getting to grips with Tag Rugby. Last week we also took part in a science challenge, called Stealing Circuits. The Leopards had to try and steal a chocolate bar from an electrical circuit without breaking the connection. We tried really hard - it was very tricky!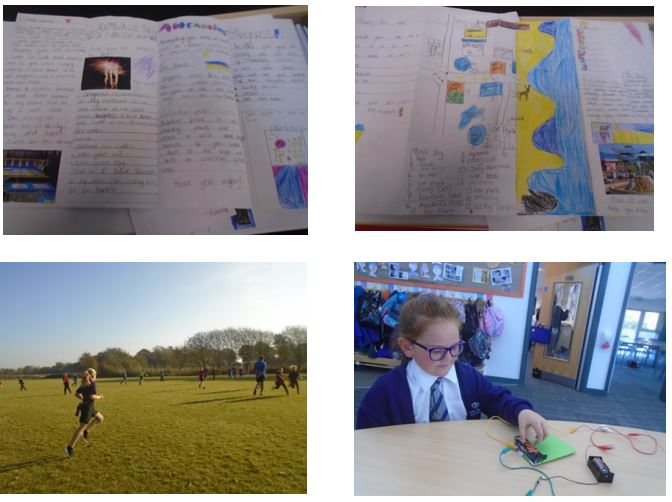 Week beginning 24th September 2018

This has been a very busy week for the Leopards!
On Wednesday lots of members of the Leopards class read out the speeches that they had been busily preparing at home to Year 4 and Year 5, so that they could vote for who they thought would do a good job as a member of the mini police. We were all really impressed with the speeches that the Leopards did- they obviously worked hard! Well done to those who were successful!
In P.E, we have been doing Tag Rugby and Dance. The Leopards worked hard to keep their tags safe in different games, to help them to start to build their skills which they will need when taking part in a game. In Dance the Leopards did Siege of Ennis, working with year 3, and they are going to be performing this for other classes in the school this week.
Finally, at the end of the week, we prepared for our Macmillan bake sale. The leopards would like to thank everyone who brought in some delicious treats for us to sell! We would also like to say thank you to everyone who came and bought something at the coffee afternoon. We managed to raise over £360 for this good cause!
Week beginning 17th September 2018

This week in English the Leopards have been busy learning about Macmillan- the Leopard's charity for the year. We have been writing letters, and practising our baking skills, ahead of our coffee afternoon which will take place on Friday 28th September, where we are hoping to raise lots of money. In Maths, we have looked at negative numbers and counting forwards and backwards through zero, as well as rounding numbers. In Spanish, we practised having conversations with each other, building and revising our skills learnt in previous years. We also had a visit from the Lincolnshire Police, who invited the Year 5's to join the Mini Police program. The Leopards learnt about the different equipment that members of the police carry around with them, how they use them and were able to ask them about their jobs.
Week beginning 10th September 2018

This week, the Leopards have been researching Roald Dahl for Roald Dahl day (13th of September). We used our research to write an information text about this famous author, and discussed our favourite books that he wrote. On Friday, to continue Roald Dahl day, we all tried a peach and thought of some super vocabulary that we could use to describe them. Lots of the Leopards hadn't tried a peach before but said that they would like to again! We then created some calligram poems in the shape of peaches. In PE, we continued to work on our team building skills, playing some fun games, which will help us when we are playing Tag Rugby later in the term. We have continued to look at words ending in –cious, and used play-doh to help us learn our spellings. We started our R.E topic of Hinduism and looked at where this religion is practised as well as where the religion is thought to have originated.
Week beginning 4th September 2018

The Leopards have been terrific this week. Miss Scholes and Mrs Dawber have both been very proud of the work the children have completed and the attitude to learning that they have all shown through these first few days. We have been busy writing about some of the interesting things we did during the summer holidays and we have been looking at spelling some words ending in –cious. In Maths, we have been looking at place value with numbers, including millions, as well as ensuring that we have a good strong knowledge of the 3 times table. In Topic, we have looked at where Skegness is in the United Kingdom and spoken about what makes Skegness unique. In PE, we did some team building games ready for when we start playing Tag Rugby next week.
Miss Scholes and Mrs Dawber would like to ask the Leopards to continue practising tying their ties over the coming week as some of us are still finding these tricky. We would also like to remind the Leopards that they need to do lots of lovely reading over the next week - we are all aiming to attend the purple party at the end of the year!